Short on Time? Here Are the Best Meal Delivery Services for Carmel
The Best Meal Delivery Services for Carmel Reviewed
Factor is my favorite prepared meal delivery service in the country. You can get its nutritionist-designed and chef-crafted dishes ready in just a few minutes. There's not much cleanup to do after you finish your meal, and it all comes at a reasonable price point.
The menu is made up of ready-made meals, as well as add-ons. There are about 30 to 40 meals that are already prepared and ready to eat. The 50+ add-ons include desserts, beverages, breakfasts, and snacks.
Pay attention to the tags that label each meal. These tags can help you find options that match your dietary needs and preferences. You'll see tags like Keto, Calorie Smart, Carb Smart, and Vegetarian, among others.
To personalize your meal selection, go to Our Plans. There, you can choose from 6 different categories to get meal recommendations: Keto, Protein Plus, Calorie Smart, Flexitarian, Chef's Choice, and Vegan & Veggie. Most recipes range between 350 and 900 calories on any plan.

Many of Factor's meals contain organic and non-GMO ingredients. For more information on ingredient quality and sourcing, you can check out our detailed review of this meal delivery service.
This service doesn't let you customize the ingredients in your meals. This makes sense due to the pre-made and diet-focused nature of each dish. If you prefer to have the freedom to customize your meals, you might consider subscribing to Home Chef, another meal kit and prepared meal service.
Factor delivers meals fresh, never frozen. Make sure you have enough space in your refrigerator because the company advises against freezing its food. They typically have a shelf life of around 7 days.
Factor offers meals inspired by different cuisines from around the world. You can try Mexican, Italian, Indian, Thai, and other dishes with this service. You can see upcoming recipes 3 weeks in advance, so you can plan your meals accordingly.
The service offers a free nutrition coaching session with your subscription. This is perfect if you're not sure which diet suits your needs best. During the 20-minute meeting with Factor's nutritionist, you'll receive personalized tips and guidance.
The more recipes you order, the lower the price per serving. The cost per serving starts at $6.19 for 18 single-serving meals. If you don't need many meals, you can choose from 6, 8, 10, 12, or 14 recipes per week. Also, please note that if you live in Carmel, there is a flat-rate shipping fee of $10.99, regardless of the size of your order.
Key Features
CCOF organic certification

Customers get pre-measured ingredients

Meals are available for weight loss, carb-conscious, and high-protein eaters

Current deal: Get $250 off + free shipping
Green Chef is the first meal kit delivery service to receive certification from the CCOF (California Certified Organic Farmers). Also, it is a USDA-certified (United States Department of Agriculture) company. Many of the ingredients you'll find on your plate are organic, and in fact, I consider Green Chef the best organic meal delivery service.
The service sources organic produce, eggs, chicken, beef, and wild-caught seafood. Local family farms supply many of its ingredients. What's more, Green Chef selects suppliers who complete regular compliance checks, ensuring you receive top-quality and responsibly-sourced food.
You won't always have 100% organic ingredients. You'll receive thorough communication whenever you get non-organic items due to supply or other issues. In these cases, Green Chef strives to provide the very highest quality ingredients.
Green Chef has recipes suitable for breakfast, lunch, and dinner. Find lunch and dinner options in the Meals section of the Weekly Menu. Breakfasts are available in the Add-Ons section, alongside other extras like desserts and protein packs.
Check the menu tags for insight into each dish's characteristics. These include Plant Based, Calorie Smart, and Gluten-Free. You'll also find serving time info attached to each recipe.
Tailor your meal plan by selecting any of the following categories:
Keto

Gluten Free

Plant Based

Quick & Easy

Calorie Smart

Mediterranean

Protein Packed

Delicious Discoveries
You can order from any of these categories at any time, but selecting your preferences helps Green Chef make better menu suggestions. To learn more about available dietary options, check our dedicated Green Chef review.
The company offers various dishes inspired by popular global cuisines. You'll find Mexican, Chinese, Italian, and many more recipes on its menu. You can see the menu 3 weeks in advance, giving you plenty of time to make up your mind.
Green Chef has customization options for omnivores and keto eaters. If you follow any other diet, you can either skip meals containing unwanted ingredients or leave them out during preparation. If customization is a priority for you, Home Chef is my favorite customizable service.
The shelf life of meals is relatively short since they don't contain preservatives. Enjoy your Green Chef meals no later than 5 days after delivery. Note that seafood remains fresh even shorter, up to 3 days from delivery.
The price per portion decreases the more meals you order. It starts from $9.99 for 4 weekly meals for 6 dieters. The minimum order is 3 servings for 2 individuals. The mandatory shipping fee for Carmel residents is $10.99.
HelloFresh's menu boasts 70 main dishes every week, give or take a few. And it changes its menu every week, providing a great variety of meals. Additionally, you can plan your mealtime well in advance since the service publishes upcoming recipes 5 or 6 weeks ahead.
Most meals of this service qualify for lunch and dinner. But I have also noticed some you can have for breakfast. For more specialized breakfast options, check out Green Chef's menu. As for HelloFresh recipes, you can find spaghetti, enchiladas, meatballs, tacos, burgers, and ramen, among other alternatives.
HelloFresh has nifty tags to identify cooking times and certain ingredients. Tags like Easy Prep and Quick identify speedy recipes. Other tags, like Veggie or Seasonal, give you a hint as to the ingredients used in the recipes.
HelloFresh also has tags to mark things like its most popular meals. Dishes with the Hall of Fame label are sure to please, or you can look for Premium Picks to get more complex recipes at a slight upcharge. You'll also be able to see the prep time and difficulty level for each meal.
Customize your meal plan by selecting any of the following categories from Our Plans:
Veggie

Pescatarian

Quick & Easy

Family Friendly

Meat & Veggies

Fit & Wholesome
Note that you can opt for meals from any category, even from those you don't select. That's because these are for recommendation purposes only. Check out our dedicated review to learn more about these meal plans.
HelloFresh has a small selection gluten-free and low-calorie meals. If you seek to limit your calorie intake, note that the service is 1 of the highest-ranking low-calorie meal delivery services countrywide. Just keep in mind that the number of low-calorie dishes may fluctuate from 1 week to another, but it shouldn't fall below a dozen.
You can swap proteins and sides with HelloFresh's HelloCustom feature. This is available for around 12 dishes per week. Sometimes, you'll have multiple proteins to choose from like shrimp, chicken, or steak. Other times, you get to swap out sides like crispy potatoes or roasted broccoli.
The company has meals inspired by many international cuisines besides American. Some of them are Mexican, Caribbean, Thai, and Italian. Take a look at the on-site Cookbook for further ideas. Among other options, you'll find Korean, Indian, Latin American, and French recipes.
HelloFresh's pricing is also highly competitive. The cost per meal starts from $3.32 for the maximum purchase of 6 servings for 4 dieters. You can purchase no less than 2 recipes for 2 people. There's also a shipping fee that may vary by location.
Key Features
The service has several customization options

You get fresh, pre-portioned ingredients

Options are available for high-protein, pescatarian, and carb-conscious eaters
Home Chef is an exceptional service for meal and ingredient personalization. It has 4 convenient food personalization levels. I also love that it has a "What kind of chef are you?" quiz to help you figure out what recipe types you should prioritize.
Use 4 filters to find the right meals when you land on the menu. These are Vegetarian, < 30min, Calorie-Conscious, and Carb-Conscious. If you're mindful of your carbohydrate intake, you'll likely find Home Chef 1 of the top low-carb meal delivery services in Carmel.
The company has 4 basic meal categories on the menu. These are Easy Prep Meal Kits, Meal Kits, Bundle and Save, and Extras. Each has several sub-categories as well.
Meal Kits and Easy Prep Meal Kits cater to cooks of varying skill levels. You'll find suitable options whether you're a beginner or an expert home cook. The preparation time for these dishes typically ranges from 10 to 45 minutes, depending on the recipes you choose. Check our review to learn about popular Culinary Collection meals falling into the former category.
If you're a busy eater, the Bundle and Save and Extras categories are right for you. You can prepare these recipes quickly, typically in just 5 or 10 minutes. If you have little time but prefer to prepare meals instead of ordering ready-to-eat recipes, check out Fresh and Easy, Home Chef's line of quick dishes.
Watch for the Customize It feature that accompanies certain dishes. Use it to personalize meals by choosing ingredients that suit you. In Portobello and Pepper Sauté, for example, you can choose between Filet Mignon, Pork Chops, and Chicken Breasts, among other options.
You can leave out up to 9 common allergens when selecting your meal plan. These are poultry, beef, pork, fish, shellfish, tree nuts, peanuts, sesame, and mushrooms. People with serious allergies should note that Home Chef doesn't guarantee against cross-contamination.
Home Chef caters to limited diets, but most of its menu is for omnivores. You'll find a handful of vegetarian and pescatarian recipes each week. If you're following a vegan or keto diet, however, you'll be better off with Green Chef.
The company's weekly menu offers dozens of dishes. Among them, you're bound to find recipes inspired by Middle Eastern, Mexican, Caribbean, Mediterranean, Italian, and American cuisines, among others.
You should consume most refrigerated food within 5 days of delivery. Eat poultry, seafood, and ground meat within 2 days of receipt. Freeze dishes if you plan to enjoy them beyond these recommended timelines. Freezing should extend their shelf life for at least 2 months.
You can order from 2 meals for 2 people up to 6 meals for 6 people. The cost per meal starts at $7.99, but all items are priced individually. Note that you'll also have to pay a fixed-priced shipping fee of $10.99 to get your food delivered to Carmel.
Key Features
You get pre-portioned ingredients

The service has 15-minute meal kits

Find recipes suitable for omnivores, weight loss, and low-calorie eaters
Fresh and Easy specializes in quick-prep meals. Its meal kits come with pre-measured and ready-to-cook ingredients, rarely requiring more than 15-30 minutes of your time. There are even entree salads that are ready to eat in just a few minutes.
You can look forward to receiving fresh and pre-prepped ingredients with this service. This means that you may get ground, sliced, chopped, and diced food. Occasionally, you'll get pre-washed food, too. For added convenience, the company may send you pre-cooked food, further shortening the time it takes to serve your meals.
Personalize meals with Fresh and Easy by swapping out proteins in selected dishes. Depending on the meal you choose, replace chicken breasts with shrimp or other meats with seafood. You might leave out animal proteins to make your meal vegetarian, for example. Read our comprehensive review to learn more about this.
Fresh and Easy occasionally has organic ingredients, but they aren't a given. Most of the time, your organic options are limited to organic chicken breasts that come with an upcharge. If you want a more fully-organic service, consider subscribing to Green Chef.
You can exclude some common allergens and meats from your diet. Some options you can leave out while setting up your dietary plan are peanuts, mushrooms, beef, and fish. Like its parent company Home Chef, however, Fresh and Easy can't guarantee against contamination.
Heat your dishes in a microwave or a conventional oven. And you'll get many recipes in oven-safe trays. If you order ready-to-grill meals, they'll likely come in grill-safe bags. So, besides quick prep, you'll also benefit from easy cleanup. And for good measure, many meals require no additional cookware or utensils, such as pans and pots, for preparation.
The service's range of quick meals caters to various foodies. You should find ample alternatives if you're a high-protein, balanced, vegetarian, or carb-conscious dieter. If you're a pescatarian, you should find Fresh and Easy 1 of the best pescatarian meal delivery services.
Try meals influenced by internationally acclaimed cuisines through Fresh and Easy. You can order Mexican, Italian, Mediterranean, and Middle Eastern recipes, alongside classic American favorites.
The pricing depends on the number of portions you select. If you choose a package of 6 weekly dishes for 6 people, the cost per portion will be $7.99. The minimum order, which comes at the highest cost per meal, is 2 weekly recipes for 2 eaters. Also, calculate a fixed-rate delivery fee of $10.99 to get the total cost of your order.
Key Features
The service has meal kits and ready-to-eat meals

You get 80% of ingredients straight from producers

Options are available for weight loss, vegetarian, and diabetic eaters
Blue Apron offers many kinds of meals for people with different lifestyles. It has a team of experienced chefs who make delicious dishes, and as much as 80% of the ingredients come directly from farms and other trusted suppliers.
The recipe cards make it easy to cook for yourself, even if you're not an expert in the kitchen. Ingredients are pre-portioned, so you never have to measure or guess. This not only makes it easier for you to prepare meals but also helps reduce food waste.
You can choose from up to 16 recipes every week, depending on your plan. If you're cooking for 2 people, you can look at the Signature, Vegetarian, and Wellness categories. If you have to feed a family of 4, go for the Signature for Four category.
You can check upcoming menu options 4 weeks in advance, giving you plenty of time to make changes. You'll find Italian, Middle Eastern, and American flavors, among many others. As mentioned in our in-depth review, there are pescatarian and diabetes-friendly dishes as well.
Add your personal touch to selected dishes by customizing them with ingredient swaps. For example, if you prefer poultry over seafood, you can substitute shrimp with boneless chicken breast pieces in the Pesto Shrimp & Orzo Pasta.
You can also add meat to select vegetarian meals or make certain recipes veggie-friendly. For example, you can add diced pancetta to the Oven-Baked Cheesy Pesto Gnocchi. To make One-Pan Beef & Udon Noodle Stir-Fry vegetarian-friendly, replace ground beef with pasture-raised eggs and sugar snap peas.
There's also an extensive market of add-ons like soups, desserts, and breakfasts. If you're looking for microwavable meals, check for dishes labeled Heat & Eat. Blue Apron has around 6 prepared meals each week, but check out Factor if you want a bigger selection.
When you sign up, you can personalize your meal plan with some preferences:
Veggies

Wellness

Fast & Easy

Chef Favorites

Family Friendly
You can still access and order the full menu, no matter which preferences you select. Your choices only affect which meals are recommended to you each week. I think it's a helpful, simple way to organize the menu.
Blue Apron boasts a 7-Day Freshness Guarantee, offering peace of mind. This means you have 7 days to enjoy your meals with a guarantee of freshness and quality. If you're dissatisfied with any ingredient you receive, customer support will rectify the situation.
The size of your order determines the cost per meal. For the maximum order of 5 meals with 4 servings each, the price starts at $5.74 per portion. The minimum order, which comes at the highest cost per serving, is 2 meals with 2 portions. You'll also have to pay $10.99 to get your food delivered to Carmel.
Key Features
The service has between 25 and 150 meals per plan

Your calorie intake will be under 1,400 calories a day

Options are available for diabetics, vegans, and low-carb dieters
BistroMD is a great service for individuals determined to lose weight. It has plans tailored to different dietary requirements with gender-specific options. And it has adaptable programs that let you customize your weight loss journey.
The service provides you with 3 meals and snacks every day, giving you a comprehensive approach to weight loss. BistroMD's nutritionists carefully design those to provide you with balanced and nutritious food. On average, females can expect a daily intake of 1,200 calories, while males get around 1,400 calories.
Our reviewer notes that the service is more about weight loss than about tasty food, so it's up to you to decide where your priorities are. That said, BistroMD ranks firmly among the leading weight-loss meal delivery services in America.
BistroMD has 7 dietary plans, each featuring dozens of meals, for you to choose from. These are:
Signature – the basic menu with over 150 dishes

Gluten Free – 100+ gluten-free recipes

Heart Healthy – 100+ meals suitable for heart health

Diabetic – 100+ diabetes-friendly recipes

Menopause – 100+ dishes for older women

Keto Flex – 85+ low-carb options

Vegan – 25+ plant-based meals
You can select a desired plan directly from the menu, too. Programs have options for Breakfast, Lunch/Dinner, and Snacks. The Vegan plan is more limited and currently only has Lunch/Dinner options. While the service doesn't have a pescatarian plan, you'll find various fish and seafood meals on its menu.
You can receive 3 daily meals for 5 or 7 days a week, plus snacks. But if you skip breakfasts, opt for the Lunches & Dinners plan. The full 7-day program includes 7 breakfasts, 7 lunches, and 6 dinners. You can eat anything you wish for the remaining My Night dinner.
BistroMD delivers frozen meals you can keep in the freezer for up to 1 year. Once you thaw dishes in the fridge, they're still safe to eat for the next 2 or 3 days. If you prefer fresh heat-and-eat food, consider subscribing to Factor.
Consider ordering larger quantities for bigger savings if you have a large enough freezer. The price per serving starts at $8.24 for the full 7-day plan and increases with fewer servings. Carmelites also pay a delivery fee of $19.95.
Key Features
You can choose between 100+ weekly dishes

The service offers ingredient customization for selected recipes

Options are available for meat and plant eaters
Dinnerly is a safe bet if you're looking for a budget meal delivery service for Carmel. In addition to competitive pricing, it allows you to personalize selected meals, which is pretty rare among low-cost food providers. And this combination of affordability and flexibility has earned Dinnerly the leading position among the best cheap meal delivery services.
You can choose between the standard Two-Person Box and the 4-person Family Box. You can choose to make your box vegetarian, which will give you a streamlined menu that excludes meat.
I found that most Dinnerly dishes are lunch and dinner options. But I came across breakfast alternatives, too. Note, though, that the service doesn't categorize meals into separate sections, which differs from many other food delivery companies. Also, its menu lacks individual proteins, snacks, and beverages. If you're after those, open a Home Chef account.
But Dinnerly accompanies its recipes with tags pointing out their main features. Nutritional info breakdown, chief ingredients, and serving times are some of them. You'll likely find Poultry, Low Carb, No Added Gluten, and Under 30 Minutes tags among others. I recommend checking out our complete review of this low-cost service for further details.
Check dishes featuring the Customizable label for ingredient swaps. Depending on the recipe, you may choose to replace ground beef with ground turkey or swap out 1 type of pasta for gluten-free pasta. Note that certain substitutions may come with a surcharge ranging from a few to several bucks.
Dinnerly has certain allergy-friendly recipes. But it doesn't offer dedicated plans for people dealing with allergies. So, review each dish's ingredients carefully to ensure it doesn't include food you're sensitive to. Otherwise, simply leave them out or swap them during cooking.
Besides omnivores and vegetarians, Dinnerly caters to carb-conscious foodies. What's more, you can find dairy-free, low-calorie, and vegan recipes, albeit the latter are generally in short supply. If you're a fan of global cuisine, you can enjoy Italian, Mexican, Indian, and Chinese dishes in addition to American.
You can eat most meats and veggies for up to 5 days upon receipt of your order safely. But you should consume seafood-based dishes 1st because their shelf life is typically 2 days. Chicken and ground meat can usually last 3 days.
The cost per portion depends on the box type and the number of servings. Prices start at $2.12 for the Family Box that contains the maximum number of servings. If you opt for the same number of recipes for the Two-Person Box, the cost per individual meal will be higher. Also, the price per meal increases the fewer dishes you purchase.
The fixed delivery fee for Carmel residents is $11.99, regardless of the size of your order.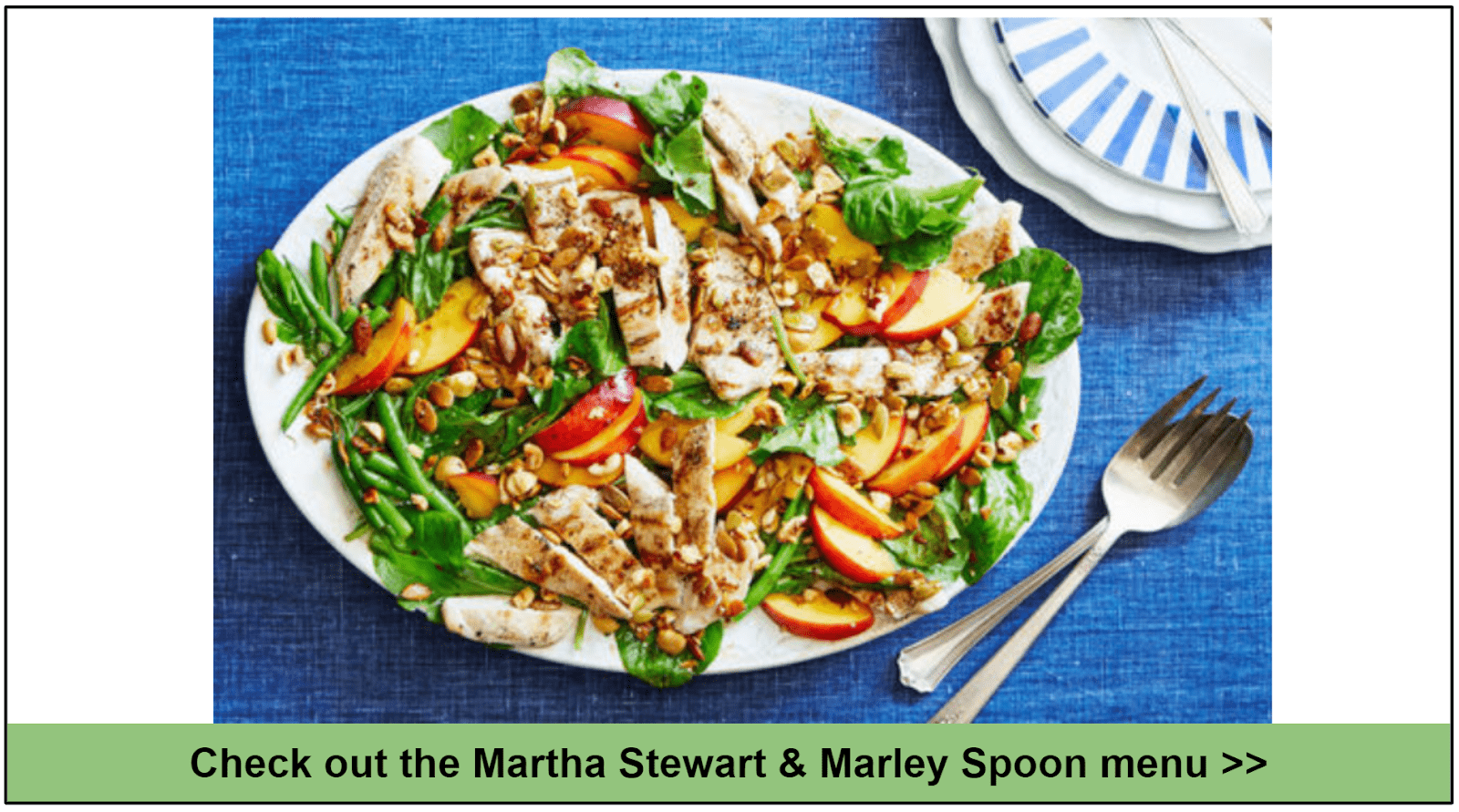 Key Features
The service commits to reducing the carbon footprint

You can personalize ingredients in selected recipes

Options are available for low-carb, calorie-conscious, and dairy-free dieters
Martha Stewart & Marley Spoon is an excellent choice for eco-conscious eaters. The company lowers its carbon footprint by portioning ingredients and thus preventing waste. And many of its dishes feature a Climate Friendly label. Furthermore, the packaging materials are recyclable while boxes and dividers are sourced from sustainably-managed forests.
The company has around 100 dishes on its menu each week. While it doesn't categorize them by any type, you'll find options for all 3 main meals – breakfast, lunch, and dinner – and even desserts. Salads, meatloaves, enchiladas, and cakes are some of the available alternatives. And if you like to plan ahead, check upcoming dishes up to 4 weeks in advance.
Pay attention to tags when browsing the menu to identify suitable options quickly. They point out the meal's main features, such as whether it's a meat-, fish-, or veggie-based recipe, for example. Additional tags inform you about whether they're child-friendly, dairy-free, healthy, and so on. Check our comprehensive review to learn how many tags the service has.
Look for dishes marked with the Customizable label when browsing through the menu. You can personalize these meals according to your taste and preferences. I was pleasantly surprised that around half of the available meals have this feature. Note that you may need to pay extra for some ingredient swaps.
Martha Stewart & Marley Spoon has 2 People and 4 People plans. What's more, it's among the top-rated meal delivery services for couples. If you have to provide meals for a larger group, I recommend checking out Home Chef. Given that you follow a plant-based diet, you can check the Vegetarian box when personalizing your meal plan.
This meal delivery service supports various diets. Besides options for omnivores, pescatarians, and vegetarians, it has food suiting carb- and calorie-conscious eaters and vegans.
Regarding menu diversity, the company has various culinary inspirations. You can opt for recipes characteristic of many acclaimed global cuisines such as French, Thai, Indian, Italian, and Mexican, among many others.
The shelf life of the service's recipes varies based on the meal type. In general, you should eat pescatarian dishes within 2 days of delivery. Ground meats can last a bit longer, up to 3 days. You can have vegetables and other meats within 5 days of your order receipt.
Consider ordering big to get the best value for your money. Purchase 6 meals for 4 people to get the lowest cost per serving, which is $2.99. The minimum order comprises 2 recipes for 2 foodies. Besides, you'll have to pay a fixed-rate delivery fee of $11.99 to have your order delivered to Carmel.
Key Features
The company has 4 meal categories

You can opt between regular and large portions

Options are available for keto and paleo dieters
You can choose between Regular Portion and Large Portion from Eat Clean to Go. While the larger portion comes at a slightly higher price, I find that it provides better value for money for foodies with hearty appetites. To customize the portion size, select Plans in the header and enter your email and Carmel zip code first. Then, you'll be able to tailor your meal plan.
The portion size determines the number of available servings. If you opt for regular portions, you can select from 6, 8, 10, 12, or 14 weekly recipes. Alternatively, if you prefer larger portions, you'll have 4, 6, 8, 10, or 12 servings available.
Eat Clean to Go has 4 dietary plans. These are Traditional, Keto, Paleo, and Plant Based. When selecting your meal plan, you'll have to choose 1 program. You won't be able to mix and match recipes from different plans.
Select a meal category on the menu to browse available meals. If you go for the Traditional menu, you can find Ground Turkey Italian Bolognese or Pesto Shrimp with Linguine. The Paleo plan may include Cookie Crumble Pancakes or Coconut Chicken with Sweet Potato Wedges. The number of available weekly options per plan is usually around a dozen at least.
The service has ready-to-eat meals you can't customize. So, thoroughly check the recipes to ensure they align with your preferences and don't contain any ingredients you're sensitive to. If you come across allergens you don't tolerate or any food you don't like, all you can do is skip that particular dish. Check Fresh and Easy if meal customization is a must for you.
Eat Clean to Go prepares specialties of various international cuisines. You should find its offer particularly appealing if you're a fan of Italian, Caribbean, or Mexican food. Of course, you can stick to American cuisine, if you prefer. Consult our dedicated review to learn when the service updates the menu for the following week.
Heat the service's meals in a microwave or a traditional oven. If you choose the microwave, your meal can be ready in as little as 3 minutes. If you opt for the oven, the typical heating time ranges from 25 to 35 minutes. In brief, you should serve the meals once their internal temperatures reach 165°F.
The portion size and the number of dishes determine the price per serving. The rule of thumb is the more recipes you order, the lower the cost per dish you'll pay. The price per serving starts from $8.60. Keep in mind that the shipping fee to Carmel ranges from $9.99 to $17.99, depending on the size of your order.
Quick Comparison Table