Short on Time? Here Are the Best Meal Delivery Services in Riverside, CA
The Best Meal Delivery Services in Riverside, CA Reviewed
Factor is all about helping busy individuals maintain a healthy lifestyle. It offers freshly prepared meals which means no weighing your food, cooking, cleaning, or even tracking your calories and macros. It's all done for you. Each meal is designed to be 1 serving for 1 adult.
All its meals are also free from gluten, antibiotics, and hormones. Interestingly, every dish is GMO-free and made with mostly organic produce. On top of that, all meats are pasture-raised (or grass-fed), and the salmon is sustainably sourced.
In terms of dietary options, I've found that Factor has you covered there, too. For instance, it offers special diets like Keto, Protein Plus, Flexitarian, Vegan, Veggie, and Calorie-Smart, which are great choices for fitness junkies (like me!).
In terms of calories, you can expect the meals to range from about 350 to 900, though most will fall somewhere in the middle at around 500. Each meal is clearly labeled with all of the macronutrients and calorie information you need to track your daily intake accurately. For someone like me, that's invaluable.
The meals you'll get from Factor can serve as either lunch or dinner depending on your preference. And, some specific cuisines you can pick include Latin American-influenced, classic American, Italian, French, and others.
There are also several add-ons you can choose from. These include breakfast items like quiches, frittata cups, smoothies, Cinnamon Roll Fat Bombs, desserts like cheesecakes and Keto Macaroons, and tons of proteins like smoked sausages, salmon, chicken, and beef tenderloin (filet mignon).
Finally, the minimum order is 6 meals per week up to a maximum of 18. If you go for the maximum (18), your price per serving will be lower at around $6.19.
HelloFresh is well-known for being family-friendly. This is because it offers a specific Family Friendly meal plan and because most of its meals are less exotic, fancy, and spicy than other services.
In addition to Family Friendly, you can pick from 5 other meal plans – Meat & Veggies, Veggie, Fit & Wholesome, Quick & Easy, and Pescatarian. You're free to mix and match across these plans, too. However, one drawback is that you won't find prepared meals here.
You'll find only healthy, farm-fresh ingredients in your recipes – and, you can access an online cookbook that features hundreds of recipes for even more inspiration. You can learn about its many offerings in the full review.
In terms of specific diets, there are quite a few on offer. For instance, you'll have your pick of Protein Smart, Carb Smart, Calorie Smart, Spicy, Veggie, and even Vegan meals (though there aren't all that many vegan options).
You can also check the menu for additional labels like Fast & Fresh, 10-Min Lunch, Premium Picks, and Brunch if you're looking for any of those. This helps you quickly see what's what since the menu is so large. Unfortunately, there are no menu filters that would help make browsing the menu a bit easier.
There are plenty of market add-ons, too, like quick breakfasts, sides and compliments, desserts and treats, extra proteins, fresh produce, and a variety of spices and seasonings. Specific examples include garlic bread, egg bites, cookies, chicken breasts, and more.
Lastly, you'll have to order at least 2 recipes for 2 people per week, but you're free to order as many as 6 recipes for 4 people. If you go for the maximum order, you're looking at a per-serving price of around $3.32 which is quite reasonable in my experience.
Key Features
Allows mixing and matching of meals across different menus

45+ unique recipes each week

Offers an app to help manage your subscription

Current deal:

Get $250 off

+ free shipping

I like Green Chef because you can get organic produce and eggs. I don't see very many other competitors offering this, so it's nice to see these items. You'll also get over 45 weekly meal kit options so there's little chance you'll get bored over time.
There are 8 meal plans you can choose from. And these are Keto, Protein Packed, Plant Based, Mediterranean, Quick & Easy, Delicious Discoveries, Calorie Smart, and Gluten Free. It's probably best known for its Keto offerings, though, since these are relatively rare to find. The Keto plan has some gluten-free recipes, and the company itself has been certified organic.
In terms of the meals, there are a wide variety of choices like chicken, salmon, pork, beef tenderloin, and more. If you're looking for a specific cuisine, you'll also get to pick from Cajun, French, Thai-style, Indian-influenced, Greek, Latin American-style, and a few more – though don't expect the largest selection of Michelin Star-level dishes.
Green Chef also pre-preps many ingredients for you, so that when you get to cooking, you won't have to do much on your own. Since you won't find prepared meals here, I find this to be a nice touch. Get the full scoop on that in my colleague's review.
Though not the largest selection available, you can get quite a few extra items. For instance, you'll find a respectable number of protein add-ons like beef tenderloin, ranch steak, ground beef, pork tenderloin, boneless pork chops, shrimp, seafood, and chicken.
You'll also get other add-ons and extras like egg bites, edamame salad, oatmeal, muffins, breakfast sandwiches, dutch babies, and more.
Finally, you'll be required to order a minimum of 3 meals for 2 people per week, but you're free to get as many as 4 meals for 6 people. And, if you go with the maximum order, you'll only pay $9.99 per serving.
Key Features
Easily-followed recipes

30+ variable recipes every week

3 distinct menu plan options
Home Chef stands out because of its protein customization feature called Customize It. Many proteins that you see can easily be replaced with something else. For example, take the Panko-Crusted Mahi-Mahi depicted here. You could opt for chicken breast or salmon filets instead.
On top of the Customize It feature, you get access to 4 specific meal plans – Vegetarian, Calorie-conscious, < 30 minutes, and Carb-conscious. Home Chef offers prepared meals as well – but the Customize It feature isn't available if you're ordering those. For detailed info on this feature, check out our review.
If you're looking for meal kits, prep times range from about 10 to 60 minutes. You can pick from different categories like Express, Express Plus, Fast & Fresh Family, or regular kits. The prepared meals come in a couple of formats – oven- and grill-ready, or entreé salads.
Another area where Home Chef stands out is in its massive selection of extras. You'll find all sorts of items like breakfast, salads, desserts, smoothies, coffee products, breads, soups, spreads, mac and cheese, and more.
Specific add-ons include Lobster Bisque, egg bites, pretzel bites, crunch rolls, canned lattes, frittata, quiche, and Blueberry Lemon Butter Cake and Chocolate Chip Cookie Skillet Dessert Duo, just to name a few. I couldn't possibly name everything in just a couple of sentences.
One thing I appreciate about the signup process is that you can select your preferences, and any ingredients you want to avoid. You can choose calorie and carb-conscious offerings, and whether you want to avoid things like pork, beef, poultry, fish, tree nuts, and more.
The minimum Home Chef order is 2 recipes for 2 people per week up to a maximum of 6 recipes for 6 people. Pricing starts at around $7.99 per serving.
Key Features
Super quick meal kits

Offers pre-portioned meals

Microwave-, grill-, and oven-ready meals plus meal kits
Fresh and Easy is a Home Chef brand that focuses on convenience above anything. It helps you create striking dishes that taste great in as few as 10-15 minutes. You can get prepared meals that are oven- or microwave-ready, grill-ready meals, <15-Minute meal kits, and entreé salads. And you get access to the entire Home Chef menu at the same time (which includes Home Chef's Customize It feature).
You can also mix and match Fresh and Easy and Home Chef meals in the same order. There's a bit more to it than that, though – so if you'd like to get the full scoop on Fresh and Easy, check out my colleague's full review.
The way you can find Fresh and Easy meals is to look for the labels on the Home Chef menu. For instance, the Jalapeño-Popper Chicken with Corn and Zucchini is one of the Express (Fresh and Easy) meals and only takes 10-15 minutes to prepare. But there are a few more labels to look out for.
You'll see around 3 Express, 3 Express Plus, 6 Oven-Ready, and 3 Fast & Fresh meal kits on the menu at any time. The Express, Express Plus, and Fast & Fresh options will be the fastest at around 10-30 minutes. Look out for the turquoise and red labels on the menu if you want these. The Oven-Ready options take a little bit more time.
You'll find cuisines from all over the world. These include Latin American-influenced, Italian, Greek, southern American, classic American, and even French-inspired. I like seeing this much variety for such a specific niche category.
Finally, the minimum order is the same as Home Chef at 2 recipes for 2 people per week up to 6 recipes for 6 people. And again, pricing starts at around $7.99 per serving.
Key Features
An online cookbook with a huge list of recipes

35+ different meals and Market items every week

A modest selection of microwavable meals
Blue Apron offers both prepared meals and meal kits, and a large list of add-ons, extras, sides, bundles, and even kitchen items.
It has 4 distinct menus – Signature for 2, Vegetarian, Wellness, and Signature for 4. Each menu lets you choose between many options like Ready To Cook, Fast & Easy, Chef Favorites, Craft, Family Friendly, Premium, and Make It Veggie.
You get around 35+ weekly meal options, including breakfast, dinner, dessert, appetizers, and even side dishes. Some specific add-ons include ground beef patties, black bean and red pepper patties, boneless skinless chicken breast pieces, whole chicken breasts, rice pudding, salads, cakes, soups, and tons more.
If you're after international cuisines, Blue Apron also has you covered. It offers lots of those, including Italian, Indian, Spanish-influenced, Greek, classic American, and tons more. You can learn more about the specific options in my colleague's full Blue Apron review.
If you're looking for prepared meals, you'll find those on the add-ons menu. You'll find a large selection of those like Lemon Chicken, Mac and Cheese, Spanish-Style Beef and Rice, Butter Chicken, and many more.
Where Blue Apron truly sets itself apart is its offering of Market items. These include meal kits and prepared meals you can try without becoming a member. So, if you aren't convinced that the meal subscription service's recipes are right for you, click on Market and try them out.

Lastly, the minimum order is 2 meals of 2 servings per week up to a maximum of 5 meals of 4 servings weekly. If you opt for the maximum order, pricing starts at around $5.74 per serving.
Key Features
Dietitian-approved weight loss meals

Breakfast, lunch, dinner, and tons of extras available

Plans for women, men, and more
BistroMD is very different from the other services on this list. It's a weight loss-specific meal delivery service for men and women. All its meals are prepared, so you don't have to spend time cooking or cleaning. You also don't have to weigh your food or track calories.
As our main review pointed out, BistroMD has several specific meal plans, including Men's, Women's, Heart Healthy, Gluten Free, Keto Flex, Diabetic Friendly, Vegan, and Menopause. Though its primary focus is on weight loss, it's nice to see that it's an all-around health-focused service.
You can get meals for either 5 or 7 days per week, depending on how much you want to spend. The plan for 7 days per week is the most expensive, and the one for 5 days per week will be slightly less expensive.
It's nice to see that you'll find many whole foods-based meals. For instance, the Turkey Breast with Cranberry Apple Chutney and the Jerk Spiced Chicken with Mango Chutney are 2 of the most popular Lunch/Dinner options.
There are plenty of other meal types, too. For example, you can get breakfasts like frittatas, omelets, and waffles, snacks like shakes, smoothies, parfaits, and nutrition bars, and desserts like cheesecake, chocolate chip cookie dough, and cinnamon toast pretzels.
The website also states that certified dietitians design every program and plan to help you along your health and weight loss journey. Any program you buy also includes support from these same dietitians if you need help.
You'll be required to buy at least lunches and dinners for 5 days. However, there are a few other ordering options. You can get lunches and dinners for 7 days, or the Full Program which includes breakfast, lunch, and dinner for 5 or 7 days. Pricing starts at around $8.24 for the maximum order.
Key Features
Provides both family-friendly and vegetarian recipes

45+ unique recipes each week

Simple, easy-to-follow, step-by-step recipes
Marley Spoon has brought on board none other than Martha Stewart, the TV kitchen legend herself. And she brings with her far more than a winning smile. The Marley Spoon menu incorporates several of Martha's signature meals and a fair number of her special spice blends.
You can learn more about Marley Spoon in our dedicated review. Marley Spoon also has an app you can download and use to keep tabs on your subscription and manage your account.
What you're getting here is one of the largest menus of meal kits on the market. You can choose from around 45+ weekly options. Specific cuisines include Italian to Mediterranean, Korean to Chinese, German, Latin American-influenced, French, Japanese, and a bunch of classic American dishes, too. You can also choose from a few prepared meals, too.
There's also no shortage of dietary preferences for you to pick from. Options include Low-Carb and Calorie, No Gluten Added, Kid Friendly, Healthy, Nutritious, Dairy Free, Optional Spice, Veggie, Vegan, and several more.
Most meal kits you'll find are pretty standard and take around 30 to 60 minutes. But you'll also find several easy-to-prepare options like <30 Minutes and One Pot Meal, both of which are great for busy nights.
One thing I particularly like is that you'll see the difficulty level for each recipe directly on the menu. These include Easy, Medium, and Hard. However, I find even the Hard recipes pretty simple once you factor in the easy-to-follow instructions included in each delivery box.
There are also plenty of sides and add-ons like waffles, pork buns, cakes, cupcakes, Cajun Dirty Rice, Pots de Crème, breakfast enchiladas, oatmeal, pot pies, and tons more.
Finally, the minimum order is 2 meals for 2 people up to a maximum of 6 meals for 4 people per week. If you opt for the maximum order, prices start at around $2.99 per serving.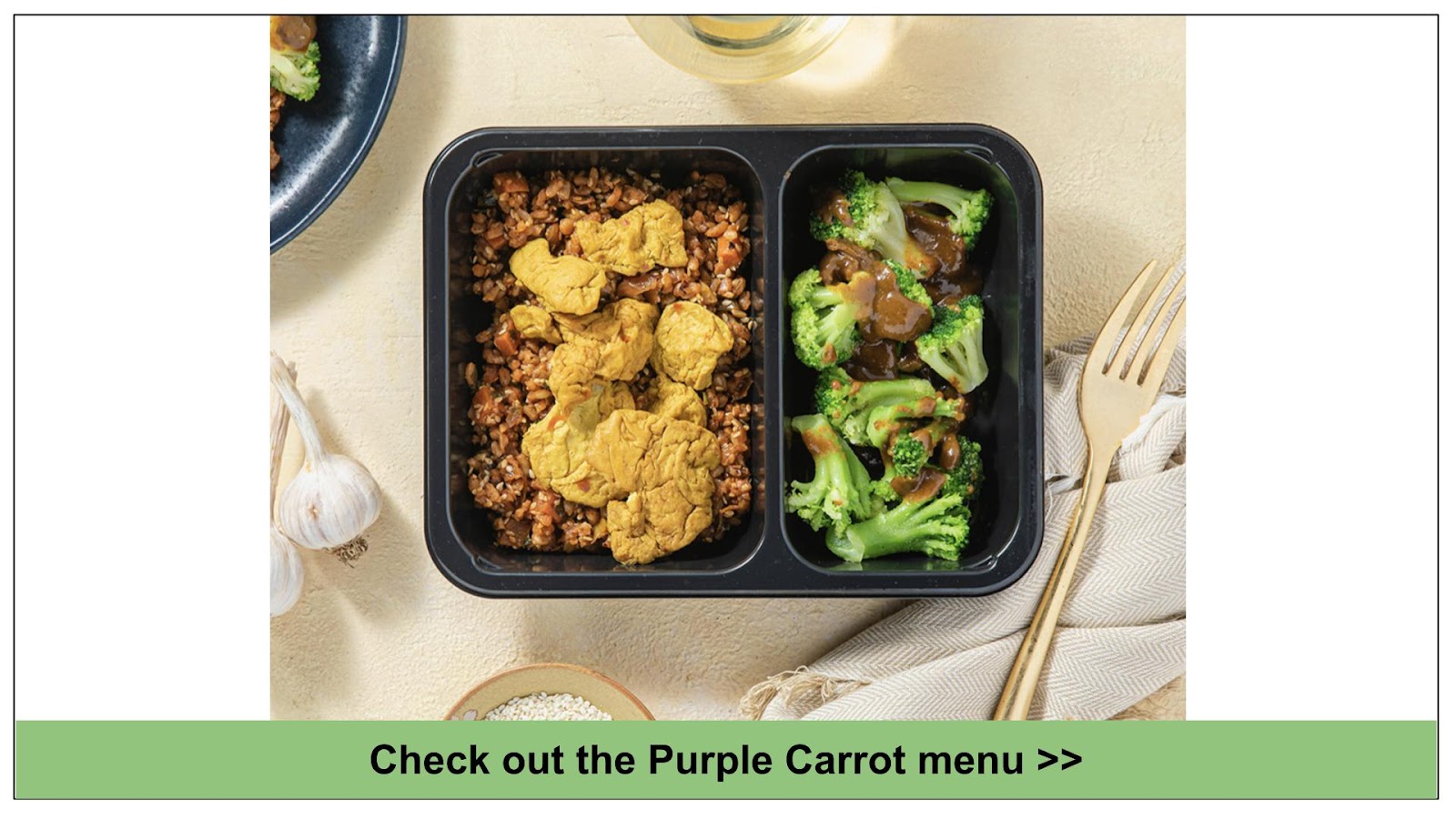 Key Features
Vegan meal kits and prepared meals available

20+ unique recipes each week

Lots of "Plantry" items like bagels and cookies
Purple Carrot is a vegan-only, plant-based service delivering prepared meals, meal kits, and more. Unlike other competitors who may offer some vegan dishes, its plant-based meals don't rely on imitation meats like Beyond products – instead, it makes the veggies the star of each dish according to our recent review.
You're looking at around 20+ weekly meal options that include a combination of microwave-friendly prepared meals, and meal kits that take no longer than 45 minutes. Dietary preferences include gluten-, nut-, soy-free, high-protein, <600 cals, and a couple more.
It also offers what it calls Less Prep, which is a series of meals that include pre-made sauces, and pre-sliced and/or diced veg and produce which further cuts down your total cooking time. Purple Carrot also claims that these meals require fewer pots and pans – which means less cleanup, too (which I'm personally a huge fan of!).
The menu is heavily internationally inspired. For instance, you can find Thai, Italian, Middle Eastern, Korean, Indian, traditional Mexican, Cajun, and a small assortment of classic American dishes. I'd say that at least 95% of the menu isn't kid-friendly, though.
Purple Carrot offers plenty of other meal types, too. For instance, you get access to a bunch of breakfasts, lunches, and snacks like chia pudding, breakfast tacos, tartine, veggie bowls, cashew cream cheese, donuts, soft cookies, lumache, black bean burgers, and even the famous UFO Burger Sauce.
The minimum order is 3 meal kits of 2 servings per week (up to a max of 4 meals of 4 servings) – and if you prefer prepared meals, you can order anywhere from 6, 8, or 10 meals. Pricing starts at around $8.50 for the maximum order.
Key Features
Astonishing number of weekly recipes at 100+

Meals that only require 5 steps

Several diets like low-calorie and dairy-free
I put Dinnerly on this list because it's straight-up the cheapest service out there. But it's not just cheap – it still offers high-quality meals that cater to various preferences (even though you're mostly getting meal kits here).
Each meal kit takes anywhere from 30 to 60 minutes to prepare, with most falling somewhere in the middle. Keep in mind it also offers a few prepared meals, too, that can be heated up in the microwave or oven.
For example, there are plenty of dietary considerations you can choose like No Gluten Added, Healthy, Dairy Free, Low Carb, Low Cal, Meat, Poultry, Nutritious, Spicy, and several more. Each meal on the menu is clearly labeled for easy identification.
It's also impressive to see that Dinnerly tries to use high-quality ingredients. For instance, my colleague noticed that Dinnerly only sources sustainable proteins and produce from trusted suppliers. Not all other competitors can say the same (though some can).
For such a cheap service, I was also impressed with the number of cuisines on offer. You can get anything from Italian, French, classic American, Mexican-influenced, Creole/Cajun, Thai, Moroccan (which is quite rare!), Greek, Mediterranean, and even Asian-influenced.
Finally, you can get a few add-ons and extras as well such as cookies, pimento cheese dip, soups, beignets, waffles, oatmeal, rice pudding, omelet muffin cups, and several more. Again, taking into consideration its cheap cost, I'm impressed overall.
Dinnerly's minimum order is 3 meals for 2 people per week, but you're free to order as many as 6 meals for 4 people. Since most meals are kid-friendly, that makes it great for families, too. Pricing starts at around $2.12 per serving.
Quick Comparison Table