Blue Apron vs. Nutrisystem 2023: Which One Takes the Cake?
Blue Apron and Nutrisystem are quite different, but both claim to support a healthy lifestyle. So, which one fits your needs?
I think Nutrisystem wins this battle if you're looking to lose weight while following a well-balanced diet. The company offers a wide range of options for breakfast, lunch, dinner, and snacks, and everything is ready-made (no prep necessary).
Blue Apron is best-suited for couples and families who enjoy cooking and like to experiment with international cuisine. While all the ingredients are fresh and nutritious, the menu is more focused on providing a fine dining experience and less on weight loss.
Keep reading to learn more about menu variety, customization options, and prices, and also find out which one's best for you!
At a Glance: Who Won Each Category?
| | |
| --- | --- |
| 💲 Price: | Nutrisystem ($8.54 per day) |
| 🍔 Menu Variety: | Nutrisystem (150+ choices per month) |
| ⏰ Prep Time: | Nutrisystem (3 to 8 minutes) |
| 🍴 Customization: | Nutrisystem (2 dietary options) |
| 👍 Ordering and Delivery | It's a tie |
| 🙋 Customer Support: | |
Winner: Nutrisystem
Even though Blue Apron works hard to deliver a varied menu, it simply can't compare to Nutrisystem's 150+ options! Plus, Nutrisystem has six meal plans, while Blue Apron only has five.
In all fairness, the difference in the number of meal plans isn't that big, but Nutrisystem's offer is bigger for each meal plan. For instance, both services have a veggie-forward meal plan, but Blue Apron's offer only has four dishes per week, while Nutrisystem offers 75+ dishes that include options for breakfast, lunch, and dinner.
When it comes to the types of meals offered, Nutrisystem wins in terms of convenience. All the meals on the menu are ready-made for one person, and you can order as many servings of one meal as you want. On the other hand, Blue Apron offers meal kits and ready-made meals (around three options per week) for a minimum of two people –– there are no options for single servings.
Nutrisystem's main purpose is to help people lose weight while having a healthy diet. So, the focus is more on the number of calories and nutritional content and less on creating fancy meals.
Still, the menu is well-stocked with options for breakfast, lunch, dinner, snacks, shakes, and bars. Most of the dishes are inspired by standard American cuisine, but I was pleasantly surprised to find a few meals inspired by Italian, Mediterranean, and Asian cuisines.
Blue Apron, on the other hand, leans more toward creating restaurant-worthy meals that, even though a bit higher in calories, are still healthy and nutritious. I found the menu more culinary adventurous in terms of international cuisine representation and better suited for people who like to do the cooking.
Both services offer extra options besides the main course, but Nutrisystem is again better prepared, with more options and greater diversity. Blue Apron's add-ons section is mostly designed as a way to complete your meal with a few appetizers, sides, breakfasts, and desserts.
Now, I have to give Blue Apron an extra point for the wine menu. The company is keen on providing its customers with a complete fine dining experience, and wine can't be missing from the dinner table! Plus, there's a guide that helps you pair each food with the right wine. This way, you can look like a real foodie in front of your guests regardless of your food appreciation skills.
Meal Customization
Winner: Nutrisystem
Both services have limited customization options, but Nutrisystem's advanced filtering system tips the balance in its favor.
Neither service allows users to remove an ingredient from a meal or intervene in any other way on a recipe. However, there's an advantage with meal kits (only available for Blue Apron) since you can remove/add ingredients while cooking at home.
Both services are flexible in the sense that you can choose any meal you want from the menu regardless of the meal plan you selected. The only exception comes from Nutrisystem's Diabetes Friendly and Vegetarian meal plans, where, if selected, you only have access to the foods that fit that specific diet.
When it comes to dietary preferences, I find Nutrisystem is better prepared. Blue Apron customers with specific dietary preferences must carefully read each recipe to find the list of ingredients and allergens. Even so, when it comes to allergies, the facility handles everything in the same space, so cross-contamination is a real risk.
On the other hand, Nutrisystem customers have access to an extensive filtering system that lets them quickly filter out the menu. Still, if you apply too many filters, you risk ending up with a very limited offer, so don't overuse it.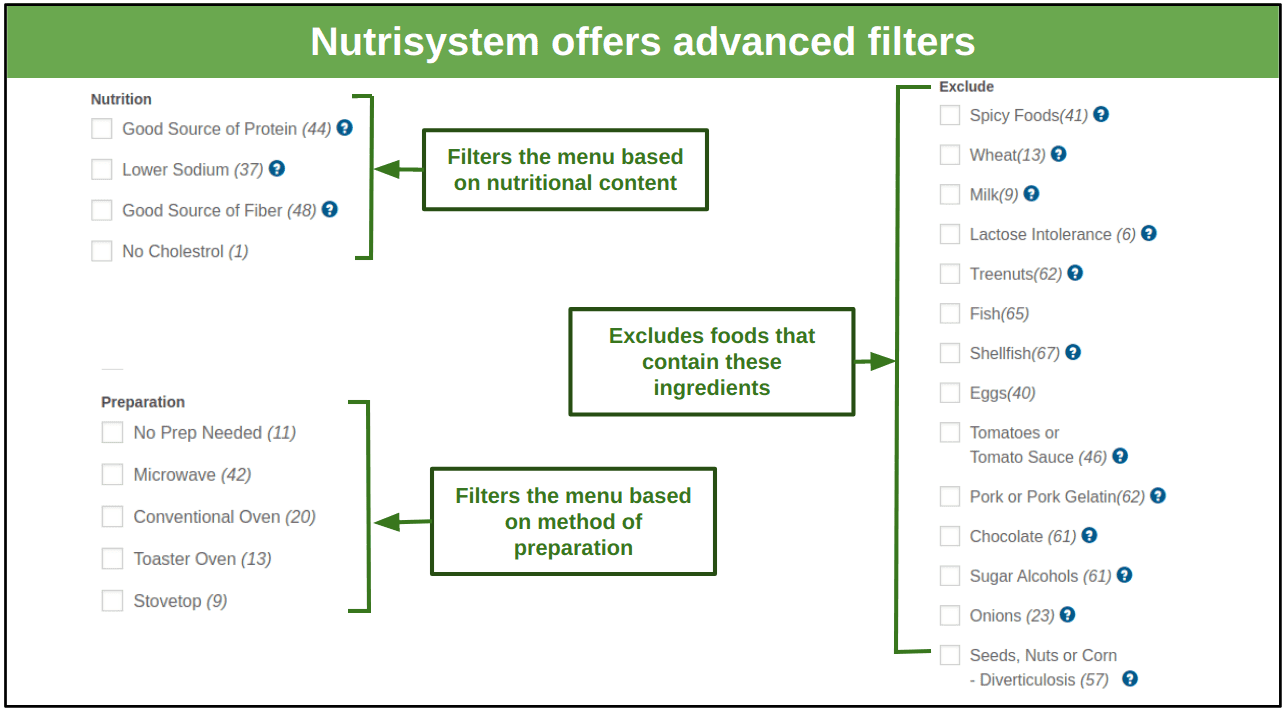 While some of the filters are a bit overkill, I truly appreciate that you can hide foods that contain specific ingredients. If you have an allergy or an intolerance, you can use the Exclude filters and check the meals you don't want to see. However, the system isn't perfect – you can't hide foods that contain gluten, for instance.
Blue Apron may not have an advanced filtering system, but it does have suggestive tags to help users make sense of the menu at a glance. This way, you can quickly identify veggie-forward meals by looking for the green leaf (for example).
Lastly, I think Blue Apron deserves a bonus point for its weekly rotating menu. Nutrisystem also adds new dishes, but the menu stays more or less the same. However, given the sheer number of options, it takes a while to try everything.
Ordering, Delivery, Unboxing
Winner: It's a tie
Both services make it easy to create an account and place an order. The main difference here is that Blue Apron's deliveries are weekly, while Nutrisystem delivers on a monthly basis. Also, Nutrisystem allows orders A la Carte, while Blue Apron only accepts orders based on meal plans.
I do like that Blue Apron offers the option to sign up with your Facebook or Apple account – it makes it more convenient to create an account. On the other hand, I also like that Nutrisystem gives you the "Chef's Choice" option. It works great when you're in a hurry and don't feel like choosing an entire month's worth of breakfast, lunch, dinner, and snacks.
In short, if you want to do a test run, the experience is different with each service. With Blue Apron, you have to choose a subscription and order at least two meals at two servings each. Nutrisystem is a lot more flexible as the minimum order is one food item (for A la Carte).
You can skip, pause, or cancel at any time with both services, even after your first order. However, if you choose the Monthly Auto-Delivery shipment option on Nutrisystem for your first order and then cancel before paying for your second shipment, you'll be charged $125 for the auto-delivery discount received on your first order. After the second planned shipment, there are no other charges whatsoever.
Blue Apron allows users to skip orders up to five weeks in advance, pause all deliveries for four, six, or eight weeks at a time, or cancel their subscription. Still, you have to pay attention to the cutoff date and time.
Blue Apron's cutoff is specified in your online account, which you can also use to cancel your subscription. Nutrisystem's cutoff date is 6 pm ET the day before your order is scheduled, and you can either call customer service for cancellations and changes or make them yourself using your account.
Both services are accessible to most Americans as deliveries cover the contiguous United States. However, Nutrisystem also delivers to AK, HI, Puerto Rico, APO and PO Boxes, military addresses and other U.S. territories and possessions, and Canada.
Once you receive the package and have a look inside, you'll notice a few differences. Blue Apron doesn't freeze meals; everything is delivered fresh in a box insulated with thermal liners and refrigerants. Plus, the packaging is constantly adjusted to the season and weather conditions.
Inside the box, the items are all placed in the same insulating bag, but everything is labeled, so there's no way you'd use the wrong ingredients by mistake. Plus, each item comes with extra info, such as the best-before date, nutritional content, and ingredients.
Everything is measured to fit the recipe, so you don't have to do anything besides dice/peel/slice, and add to the meal. And you can't mess up the order either because the recipe cards have text and images and are very easy to follow.
Nutrisystem delivers frozen and non-frozen items separately. Frozen foods are always packed with dry ice to make sure they stay at the right temperature during transit. Items in both boxes are well organized and labeled, so it's easy to know which is which.
In both cases, you should open the box as soon as it arrives and store the meals as advised on the label. Also, both services use recyclable packaging and provide detailed information on the what and how on their websites. So make sure to check it out!
Winner: Nutrisystem
Nutrisystem's meals are delivered ready to eat (frozen or chilled) and all you have to do is follow the heating instructions. In most cases, it takes about five minutes to have a meal ready for consumption. In other cases, no preparations are necessary (you don't have to heat an ice cream sandwich, for instance).
However, some Nutrisystem meals can also be heated in an oven or a toaster (as an alternative to the microwave). If you choose this method, it may take around 20 to 25 minutes for the meal to heat up. Plus, some of the meals need to be cooked on the stovetop – if this is the case, it may take around eight to ten minutes to cook.
Blue Apron delivers meal kits and ready-made foods, so the prep time differs. With ready-made meals, it takes a few minutes in the microwave before you can enjoy your lunch or dinner. This means around five minutes of prep time and no cleanup.
But things are different with meal kits since you have to do the actual cooking. All the ingredients are carefully measured and prepared, but you'll still have to dice, fry, boil, bake, and mix everything together. Depending on the meal kit, it may take between 25 and 50 minutes to cook a dish. Also, there's some cleanup involved.
I love that each meal has well-designed recipe cards with images and detailed instructions for each step. This way, it's easy to tell which kitchen utensils you'll need (also mentioned in the description) and how to pace yourself. Plus, all the ingredients (even garlic cloves or honey packets) come in the right quantity or size.
Customer Support
Winner: Nutrisystem
I found both customer service teams are fast to reply, friendly, and polite, but I have to tip the balance in Nutrisystem's favor because of the chat feature. When you have a question, you can simply open the chat on the website or in the app and get a reply.
I also like that both companies have an extensive knowledge base for commonly asked questions and can be contacted via phone. Blue Apron also offers a contact email address and is available Monday through Friday from 10 am to 9 pm ET or Saturday and Sunday from 11 am to 6 pm ET.
Pricing
Winner: Nutrisystem
Given the difference in meal plans and delivery frequency, it was a bit challenging to compare these two services. However, if you calculate a price per day, Blue Apron costs between $28 and $34 (no add-ons), depending on the number of servings. If you compare this to Nutrisystem's $9-$16/day (depending on the meal plan), it's clear why I think Nutrisystem is the winner.
But let me walk you through each company's offer so it makes more sense. Blue Apron's prices start at $11.99/serving but can also be $5.74 per serving if you order the maximum available. You also pay $9.99 for shipping with each order. You can have add-ons and wine, but each cost extra.
For instance, if you want to add a breakfast option, like the Egg and Smoked Gouda Spread on Baguette meal kit, it'll cost $11.99 for two servings. For wine, you'll pay $75.99/month (including shipping) and receive six 500mL wines with each order.
Nutrisystem is a bit different because it has two systems: A la Carte and meal plans. The A la Carte system is flexible (your choose how much and what to add to your cart), but you'll pay for shipping (standard rates apply).
However, if you turn your A la Carte into an auto-delivery option, you'll get free shipping and a discount. Also, frozen food orders of $75 or more are shipped for free. Anything less than $75 will have a $20 shipping fee.
With meal plans, you have three types of bundles for each (all include breakfast, lunch, dinner, and snacks):
Basic (most affordable) – Ready-to-go meals and snacks for five days a week

Uniquely Yours (most popular) – Includes top-rated favorites, frozen meals, snacks, and ready-to-go meals for five days a week

Uniquely Yours Max+ (most inclusive) – Access to the entire menu and new additions for five or seven days a week
You can add shakes and powders (paid separately) to each of these bundles, and you can mix meal plans and A la Carte shopping. The final price depends on whether you want auto-delivery and if you'd like to pay in advance. Your discount varies between 45% and 53%, depending on your selections. If you opt for One Time shipment, you'll pay full price.
Both services offer discounts, and Nutrisystem even has a 7-day money-back guarantee on your first order (you have to return the remaining food).
Features Comparison: Blue Apron vs. Nutrisystem



Best for

Fancy dinners with the family

Weight loss

Starting price

$5.74 per serving

$8.54 per serving

Shipping cost

$9.99




Free for auto-delivery

$7.99 to $20 for A la Carte and non auto-delivery

Minimum order

2 meals per week for 2 people

1 food item (A la Carte)

22 breakfast, lunches, dinners, and snacks (for monthly deliveries)

Menu variety

19+ choices per week

150+ choices per month

Prep time

5 to 50 minutes

3 to 8 minutes

Low-prep options

Microwave-ready

Oven-ready, microwave-ready, stove top ready

Allergies catered to

General diet – allergens mentioned on the label

General diet – allergens mentioned on the label

Special diets

Diabetic, WW, Vegetarian

Diabetic, Vegetarian, Weight loss

Customer support

Email, Phone

24/7 online chat, Phone

Promotions
And The Winner Is: Nutrisystem
Nutrisystem is a great option if you want to follow a well-structured meal plan for weight loss. It also offers flexible ordering (via the A la Carte system), and all the meals are ready to eat – no prep needed.
However, if you enjoy cooking and only want a meal service that'll take the burden of shopping off your shoulders, Blue Apron may be the better option. Even though limited in options, the menu is more varied than Nutrisystem's. Also, when it comes to meal plans, you only have to commit for one week at a time.
If you like these two services and want to see more, make sure to check our list of the best meal delivery services as well.
FAQ
Is Blue Apron good for weight loss?
Blue Apron isn't a weight loss meal delivery service, but it does include WW-recommended and health-conscious meals. Still, you can find low-calorie and low-carb meals on the menu that will fit a more restrictive diet.
Which is better, Nutrisystem or Blue Apron?
It depends on your needs. If you want to lose weight without worrying about what to eat, Nutrisystem is a good option. However, if you like cooking fancy dinners and don't worry too much about calories, Blue Apron is a better choice.
Are Nutrisystem meals healthy?
All the meals on Nutrisystem's menu are designed by a dietitian to fit the needs of a low-calorie weight loss diet. Also, the menu offers plenty of meal options so that anyone can choose the ones that fit their needs the best.