Diet to Go vs. Nutrisystem 2023: Which is the Winner?
Diet-to-Go and Nutrisystem both specialize in meals for weight loss. Both offer convenience and support for people looking for diet-friendly meals. Whilst Diet-to-Go focuses more on providing calorie-controlled meals, Nutrisystem takes a more holistic approach with its very own NuMi app acting as your very own health coach.
If you're looking for the perfect balance of delicious meals, convenience, affordability, and customer support then there's a clear winner. Nutrisystem promises its customers the prospect of a steady one-to-two pounds of weight loss per week using its meal plans, along with diet-specific options, and affordable prices.
At a Glance: Who Won Each Category?
| | |
| --- | --- |
| 💲 Price: | Tie |
| 🍔 Menu Variety: | (250+ prepared meals) |
| ⏰ Prep Time: | Tie |
| 🍴 Customization: | Nutrisystem (7 dietary options) |
| 👍 Ordering and Delivery | Tie |
| 🙋 Customer Support: | |
Winner: Diet-to-Go
In terms of the sheer number of menu items on offer, Diet-to-Go is the clear winner in this category. Diet-to-Go has upwards of 250 prepared meals to choose from. It works on a five-week cycle, meaning you'll be able to choose your meals from one of five set menus that rotate on a weekly basis. Plus, all of your meals are fully prepared, pre-portioned, nutritionally balanced, and come with all of your extras and sides included including fruits and condiments like maple syrup, cranberry syrup, and orange marmalade.
Despite the vast menu, Diet-to-Go doesn't have much in the way of different cuisines on offer. Most meals are based on classic American recipes. It's also worth noting that both Diet-to-Go and Nutrisystem are diet services serving single-serve meals so they're not really designed for children or families.
Nutrisystem also offers a large menu of 150+ prepared meals, though it doesn't get much more adventurous when it comes to experimenting with new flavors. That said, one of Nutrisystem's best features is that it provides food for six small meals a day so you won't be left feeling hungry.
As well as your core prepared dishes, Nutrisystem provides snacks and bars to keep you going between meals. And a lot of Nutrisystem's snacks are diet-friendly takes on all-time favorites. The menu includes really appetizing treats like a Vanilla Ice Cream Sandwich, Chocolatey Fudge Bar, Butter Popcorn, and salty Pretzel Nuggets.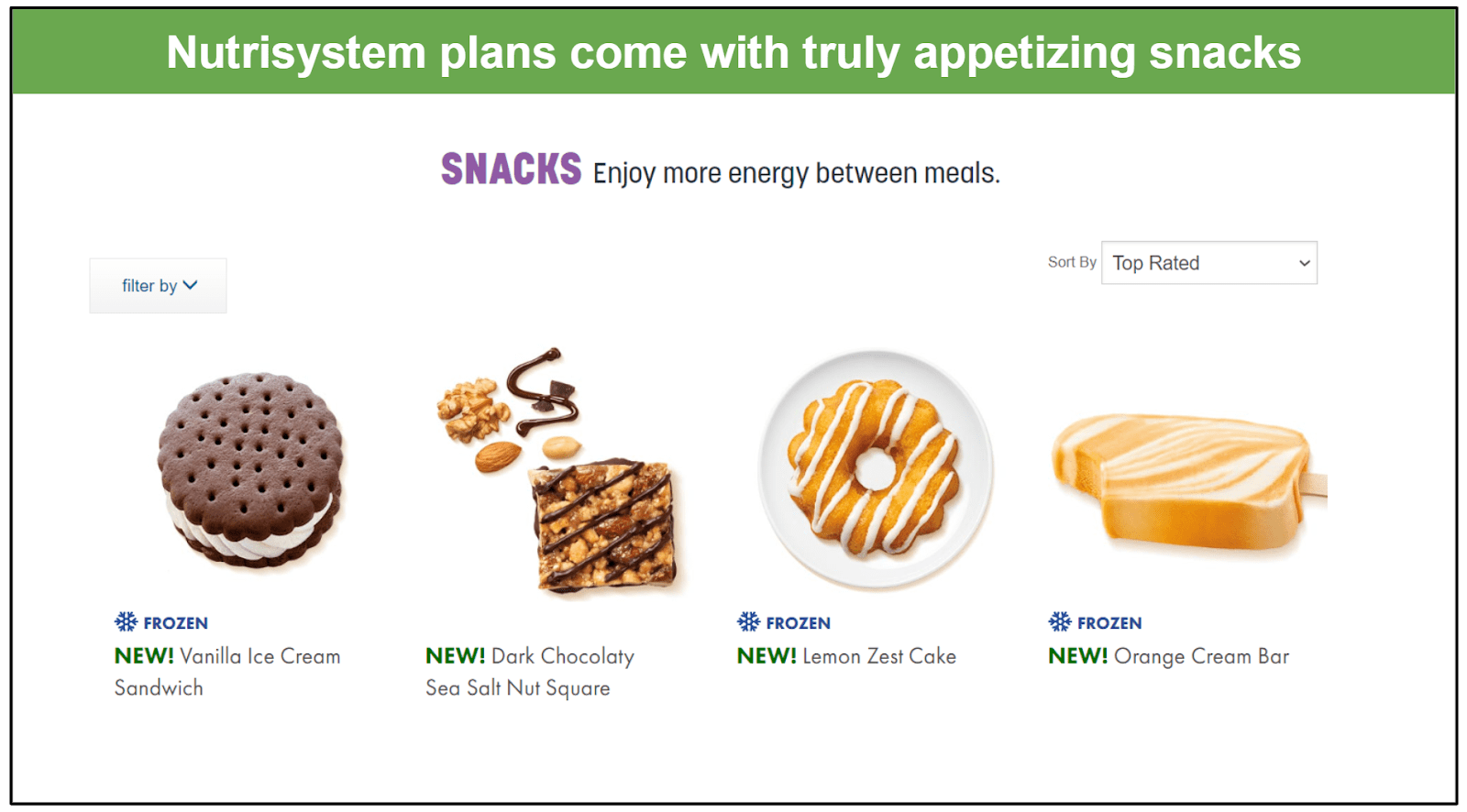 The truth is that both prepared meal delivery services are focused more on diet and convenience than expanding your culinary horizons.
The best thing about these meal delivery services is that they offer specialist dietary plans. For example, Diet-to-Go has a dedicated diabetes-friendly menu designed to help you control your blood sugar naturally. Diet-to-Go also offers several other specialist plans including the carb-restricted Keto-Carb30 plan, a Vegetarian plan, and a Mediterranean plan.
Nutrisystem also offers diet-specific plans including a diabetes plan, a vegetarian plan, a complete plan, male/female specific plans, and even partner plans with convenient weight loss meals for two to help you and your roommate or significant other team up on your weight loss journey.
Winner: Nutrisystem
If you're after a custom plan, then Nutrisystem is a great option. Nutrisystem will generate a custom plan just for you based on your dietary needs and weight loss or fitness goals. Once you sign up you'll get a personalized menu full of options that fit your personal plan.
Nutrisystem has six plan types to choose from. These include Women's Plans, Men's Plans, Partner Plans, Diabetes Plans, Vegetarian Plans, and a Complete Plan. Within each plan type you can choose from three variations: Basic plan, Uniquely Yours, or Uniquely Yours Max+. All plans include breakfast, lunch, dinner, and snacks.
Basic plans include convenient pantry-ready foods, Uniquely Yours plans include popular menu items and frozen foods, and Max+ plans include premium meals and the best variety of menu choices (150+).
Even though Nutrisystem doesn't let you remove specific ingredients from the meals, there's a great filtering system which is helpful if you have very specific dietary restrictions or allergies to take into account. You can filter meals by ingredients you want to exclude, preparation preferences, special dietary needs, nutrition-based criteria, or meal types.
You'll also be able to access your personalized plan through Nutrisystem's NuMi app. Although there's not much flexibility in the way of direct ingredient swaps, you'll be free to mix and match the meals selected for you as part of your plan for any other Nutrisystem meals should you wish.
Diet-to-Go also offers five customized meal plans (Balance, Balance-Diabetes, Vegetarian, Keto-Carb30, and Mediterranean) and comes with an intuitive menu management feature that allows users to substitute meals. Each meal comes with a list of eligible substitutions. For example, Diet-to-Go's Sofrio Chicken Melt can be substituted for other lunch options such as the Field Greens Salad with Chicken or Orleans Tuna Salad.
There's no way to customize meals by swapping out individual ingredients. You can check the nutritional information and ingredients for each meal before selecting it but if you dislike a specific ingredient you'll have to pass on the entire meal. Thankfully the number of substitutions available should mean that you'll always find something you like.
Nutrisystem narrowly comes out on top, however, in terms of specialist diet programs, a unique six-meals-a-day program, and super customizable plans.

Ordering, Delivery, Unboxing
Winner: Tie
In terms of the ordering, delivery, and unboxing process, both Diet-to-Go and Nutrisystem are pretty well matched.
Nutrisystem offers delivery in the US and Canada. There's no minimum order volume since, as well as full plans, you have the option to order a range of single "a la carte" meals.
The company uses an auto-delivery system and deliveries are scheduled to arrive at your home every four weeks. Delivery typically takes between one and five business days for customers in the continental US and between four and ten days for customers residing in Canada. Your order will repeat every month unless you pause or cancel. You can cancel your auto-delivery program up until 6 pm ET the day before your order is scheduled to be processed via phone or live chat.
Each box from Nutrisystem contains all of your meals for the month packaged in either cardboard or plastic containers. All products are labeled with a production code stating when the item was made, a shelf date, clearly marked expiration dates, and storage instructions. Packaging is also color coded so you can keep track of breakfast, lunch, dinner, and snacks.
Most of the packaging is recyclable and the frozen packs used in the delivery boxes are also 92% biodegradable meaning you can just throw them away in the trash. Many of the items you'll receive are shelf stable, but you'll also receive a range of chilled meals suitable for refrigeration and frozen meals that you can store in your freezer and reheat in your microwave, oven, or skillet.
Diet-to-Go offers home delivery to all locations in the contiguous US as well as a Fresh Local Pickup service for anyone in the Baltimore, New Jersey, greater Los Angeles, or Washington DC Metro area. Orders are set to a minimum of two meals per day for five days.
The delivery schedule depends on where you live. If you're eligible for the nationwide service, your meals will be flash-frozen, packaged, and shipped out weekly. Local delivery customers are eligible for twice-weekly deliveries or fresh meals (packed with cold packs) which take place on Tuesdays and Fridays. Unfortunately, there isn't the option to choose a specific delivery day or time so it might be tricky to plan deliveries for when you're at home.
If you need to skip or reschedule a delivery you can do so from your online account but be aware that any changes need to take place before weekly cutoff dates – you'll find these in your online account.
Inside each box, you'll find all of your frozen meals for the week boxed and ready to store in the freezer. Everything is kept fresh in ice, although when it comes to recycling things get a little bit on the confusing side. Diet-to-Go's meal trays can be recycled at any recycling center that takes plastic. The styrofoam trays, on the other hand, are only recyclable in some areas meaning that, if you don't live in an area that accepts styrofoam for recycling, you'll have to throw out these parts in the regular trash.
Meal Prep
Winner: Tie
Both Nutrisystem and Diet-to-Go are prepared meal services meaning there's virtually no prep involved whatsoever so they're ideal for people who don't want to cook. Meals are prepared and cooked in advance so all you need to do is reheat your meals and enjoy.
With Diet-to-Go, you'll receive prepared, fresh meals that you can store in the fridge for up to seven days. There's no prep required. You can either eat the meals straight from the fridge or heat them up in 2-3 minutes in a microwave as per the instructions on the packaging. If you don't have a microwave, don't worry. You can also find instructions for heating up meals using other appliances (such as a conventional oven) on the Diet-to-Go website. Meals can also be frozen for up to 30 days but must be fully thawed before heating.
Nutrisystem is also a close-to-no-prep option but some menu items require some basic additions (such as adding boiling water to soup). Likewise, for some of Nutrisystem's entrees, there may be a couple of additional ingredients you'll need to buy and prepare in order to complete the meal. For example, if you're having Nutrisystem cereal for breakfast, you'll need to prepare the milk (Nutrisystem recommends ½ cup) per serving. Some Nutrisystem menu items also call for a whole-grain roll or cracker.
Customer Support
Winner: Nutrisystem
There's a very clear winner when it comes to customer support and that's Nutrisystem. Nutrisystem offers customers support on three channels including telephone, email support, and live chat support. Their operational hours are pretty good too. All support channels are in operation seven days a week with opening hours from 8 am to 8 pm EST time Monday through Friday and 9 am to 5:30 pm on Saturday and Sunday.
When you contact Nutrisystem's support team you'll be connected with a representative quickly. If you're calling to enquire about the service you'll be asked some simple questions about your preferences, lifestyle, and goals. You'll also be able to chat with on-demand weight-loss counselors who are there to help you through the process and pick the best meals.
One of the best things about Nutrisystem's customer support is that it also offers a range of program guides and self-service support options, as well as a dedicated FAQ page for finding answers to common questions.
Diet-to-Go's customer service is a bit more bare-boned. Diet-to-Go has a dedicated phone line but it's only operational from Monday through Friday, 8 am to 5 pm ET time. There's also the option to email the support team via the online form on the website's Contact Us page.
I emailed both Nutrisystem and Diet-to-Go's support teams asking about vegan options to see what response I'd get. After receiving automated confirmation emails from both companies, I received my first response from Diet-to-Go (on the same day!).
The representative answered my question (they didn't have a vegan meal plan) and offered some alternatives (suggesting the vegetarian plan and meal swaps), although the bulk of the email consisted mainly of marketing content. The following day I received a response from Nutrisystem telling me that I can get started on a vegan-specific menu plan by calling their Program Specialist via the number provided, which was super helpful.
Pricing
Winner: Tie
In terms of price, both plans are pretty evenly matched but Diet-to-Go is marginally cheaper per serving. The lowest price per serving, before discounts, for a Diet-to-Go meal is $4.60 per serving as opposed to Nutrisystem's $8.54 per day. That said, since these plans are based on custom weight-loss menus, it's important to weigh up the price based on your own personalized plan.
A great feature of Diet-to-Go is that, when you create your plan, the system will automatically calculate a weekly and per-meal price based on your selections. Typically, you should expect to spend somewhere between $10 and $14 dollars per meal but prices vary between plans. There's also an additional shipping fee of $19.98 per week for all shipments in the contiguous United States.
Prices for each Nutrisystem plan vary by gender and subscription type. It works out cheaper if you buy multiple boxes upfront. One-time orders end up costing a lot more (as much as double in some cases) than ordering with a subscription. For example, if you order a 28-day Basic Plan box as a one-time order it'll set you back $508.71. The cheapest available plan is the Women's Basic which costs $279.79 per month with monthly auto-delivery.
Nutrisystem charges between $7.99 and $19.99 for shipping on one-time orders, but shipping is free with auto-deliveries, so it typically works out cheaper to buy more in advance. You'll get a whole lot of stuff included with this price including six meals a day for every day of the week.
In fact, when taken as a monthly plan, Nutrisystem is actually the cheaper option. The typical monthly personalized plan will set you back around $400.99 per month. The equivalent from Diet-to-Go would be almost double (around $839.72).
Features Comparison: Diet-to-Go vs. Nutrisystem
| | | |
| --- | --- | --- |
| | | |
| Best for | Menu variety | Supported weight loss |
| Starting price | $4.60 per serving | $8.54 per serving |
| Shipping cost | $9.99 to $19.98 | $7.99 to $19.99 for a la carte orders or free for all 4-week plans |
| Minimum order | 2 meals per day 5 days a week | Option to order individual "a la carte" meals |
| Menu variety | 250 choices per week | 150 choices per week |
| Prep time | No prep | Minimal prep |
| Low-prep options | Oven-ready, microwave-ready | Oven-ready, microwave-ready |
| Allergies catered to | 0 | 0 |
| Special diets | Balance, Balance-Diabetes, Keto-Carb30, Vegetarian, Mediterranean | Diabetes, Balanced, Vegetarian |
| Customer support | Email, phone | Email, phone, live-chat, FAQ |
| Promotions | | |
And The Winner Is: Nutrisystem
Both Diet-to-Go and Nutrisystem are great options for people who want an easy way to stick to a weight-loss or fitness plan. In fact, they're pretty evenly matched (especially when it comes to things like price, prep, ordering, and delivery). If I have to pick a winner, Nutrisystem marginally comes out on top overall for its excellent customer service, dedicated app, and customization options.
Nutrisystem offers everything you need to revamp your diet without the hassle of cooking or tracking nutrition. Plus, its commitment to sustainable packaging is a great addition if you're also trying to limit your environmental impact.
That said, it's a pretty close call and Diet-to-Go also offers some fantastic features and an impressively extensive menu. For example, if you want to follow a Keto diet then I'd suggest opting for Diet-to-Go over Nutrisystem.
FAQ
Is Diet-to-Go effective for weight loss?
Yes, Diet-to-Go is an effective weight-loss tool. This delivery service is specifically designed to help you lose weight with a personalized menu. All meals are nutritionally balanced and fully prepared. There are five menus to choose from including the Balance, Balance-Diabetes, Keto-Carb30, Mediterranean, and Vegetarian menus. By eliminating the planning from dieting, Diet-to-Go makes it easier to stick to your weight-loss goals.
Can I lose weight with Nutrisystem?
Yes, Nutrisystem is designed to help you lose weight and meet your fitness goals with dietary-specific meal plans. Nutrisystem also comes with a handy app (the NuMi app) to help you keep on track. The app is designed to be your personal health coach and will provide you with directions for your meals and extra weight-loss tips.
Is Nutrisystem an effective weight-loss program for women?
Nutrisystem offers a great weight-loss program specifically for women. Nutrisystem has a range of dietary plans including one specifically for women (and there's one for men too). As part of these plans, you get to opt for one of three levels depending on your needs – Basic, Uniquely Yours, and Uniquely Yours Max+ which features premium meals and the largest menu variety.