At a Glance: Who Won Each Category?
| | |
| --- | --- |
| 💲 Price: | Blue Apron ($5.74 per serving) |
| 🍔 Menu Variety: | Blue Apron (19+ choices per week + add-ons + bundles) |
| ⏰ Prep Time: | Freshly (2-3 minutes) |
| 🍴 Customization: | Freshly (6 dietary options) |
| 👍 Ordering and Delivery | Tie |
| 🙋 Customer Support: | Tie |
| 👑 Overall Winner: | Blue Apron |
Winner: Blue Apron
Blue Apron is renowned for its diverse menu of meal kits, and each week, you can choose from around 15 to 16 options. There are also 3 or 4 prepared meals each week, all of which are single serving and just need to be heated in the microwave. This allows diners to have the best of both worlds.
The menu is accommodating for different tastes and needs, with dishes ranging from several types of pasta to craft burgers, tacos, rice bowls, and more. Some of the kits are even labeled Family Friendly, so they should be a hit with youngsters as well.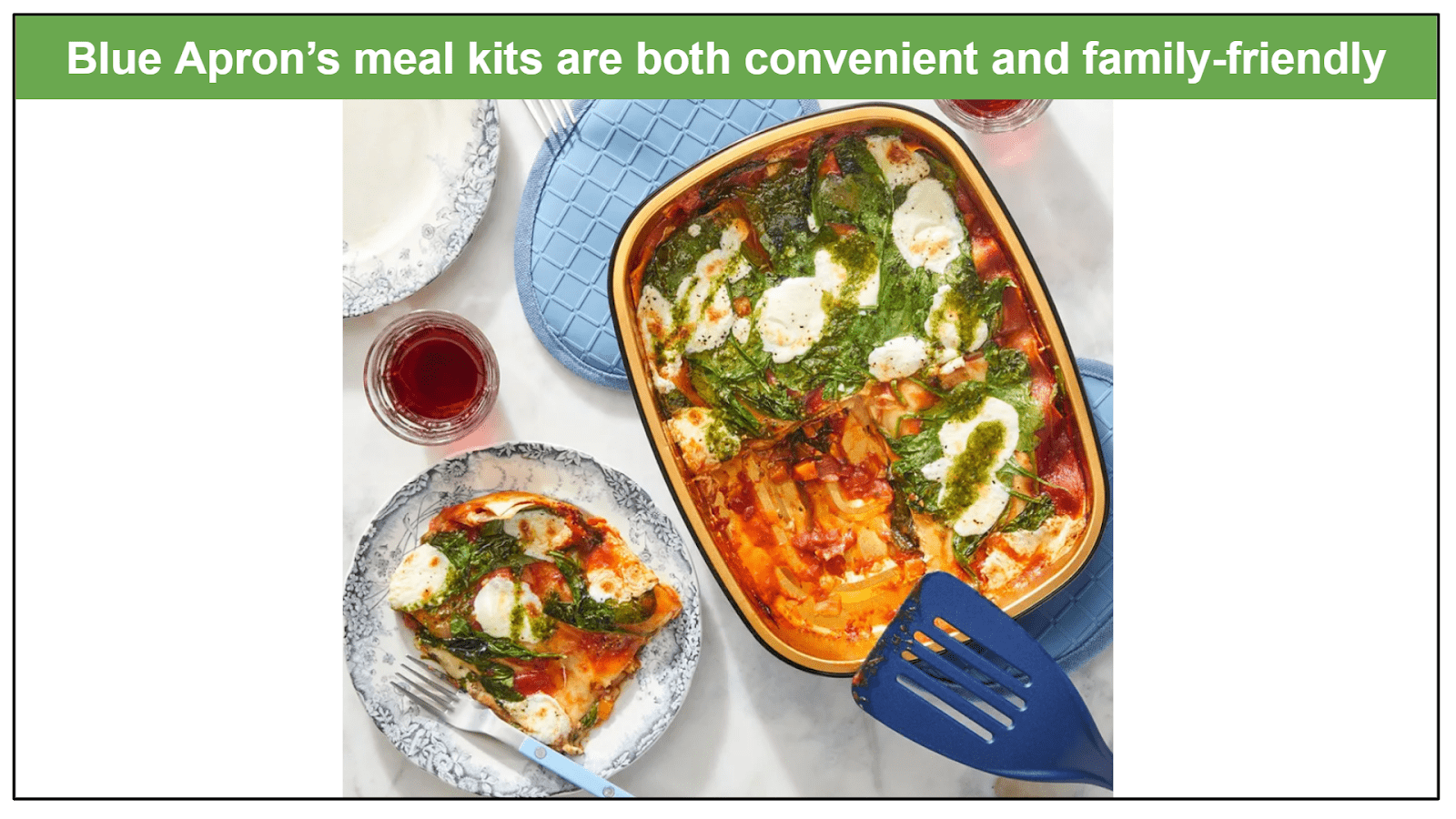 And if you're a busy parent, you'll be glad to hear about Blue Apron's Ready to Cook meals, too, like the Oven-Baked Three-Cheese Lasagna with Pesto and Spinach (pictured).
All the ingredients come prepared – you just need to assemble them in the accompanying recyclable oven-proof dish, which makes for super easy cleanup! From Italian to Asian flavors, Mexican, and even good-ol' American, you won't get bored with Blue Apron's recipes. The menu changes weekly and takes you on a world tour each time.
Alongside the meal kits and prepared meals, you can also find add-ons that include everything from breakfast dishes to salads, a la carte proteins to desserts.
Additionally, Blue Apron offers holiday bundles that can feed a small crowd of up to eight people, plus a marketplace with signature spices and kitchen utensils.
And what's perhaps the most interesting feature of Blue Apron is the complementary wine delivery that you can subscribe to whenever you like or purchase a la carte. Order wines to perfectly match the meals in your box, or get bundles for special occasions.
Freshly, on the other hand, is a service that only offers prepared meals. Each dish is single-serving, so this service is best suited for singles or couples that might want to share a subscription.
The menu is fixed and doesn't change on a weekly basis, although new recipes are added now and again. Choose from a whopping 38+ entrees that can be enjoyed for lunch or dinner, plus 4 breakfasts and 2 protein packs (usually grilled chicken or turkey meatballs).
You'll also find that 2 of the entrees are designed to be more premium than the rest, with their fancier proteins and sides. Right now, this is the BBQ Bison Burger with Mac and Cheese, and the Flame-Seared Top-Blade Steak dish with Green Pea Risotto and Parmesan Crumble (look out for the dark-brown background on the menu).
The rest of Freshly's entrees are either Italian, Asian, or American and Mexican inspired, like the Tex-Mex Grilled Chicken with Creamy Queso Sauce, Sausage and Peppers (pictured).
All the meals promise to be a healthier take on your favorite dishes, low in sugar and carbs, and packed with protein.
All in all, Freshly's menu is interesting and creative enough, despite not changing weekly like Blue Apron's does. In my opinion, if you enjoy experimenting in the kitchen and have time to assemble your own burger or home-baked pizza, Blue Apron is the better choice.
Meal Customization
Winner: Freshly
When it comes to catering to allergens, Freshly has the great advantage of offering a mostly certified gluten-free menu. The entrees that have gluten are prepared in separate kitchens, too, so you don't have to worry about cross-contamination.
Many of the meals are dairy-free, soy-free, and peanut-free, too, and there's a limited selection of plant-based dishes (hello, plant-based mozzarella!).
Blue Apron, on the other hand, doesn't cater to any specific allergies, so you'll need to thoroughly check the ingredient lists of your desired meals. It's also worth noting that the meals are prepared in the same kitchens as many common allergens so if you're severely allergic, this perhaps isn't the best service for you.
What Blue Apron does (that Freshly doesn't) is allow you to customize your dishes by swapping the protein in some of its meal kits. For example, if you wanted to add pancetta to its otherwise-veggie Potato Hash and Eggs with Kale, Cheddar and Hot Sauce – you can! Plus, you can of course supplement your Blue Apron order with add-ons, something that isn't an option at Freshly.
If you prefer plant-forward meals, Blue Apron's Vegetarian plan has around 5 or 6 options per week, while its Wellness menu offers lower-calorie and diabetes-friendly meals.
In the same spirit, Freshly's FreshlyFit menu has meals that are lower in calories and carbs, and most of the dishes in general are high-protein and targeted at those who want to manage their portion sizes.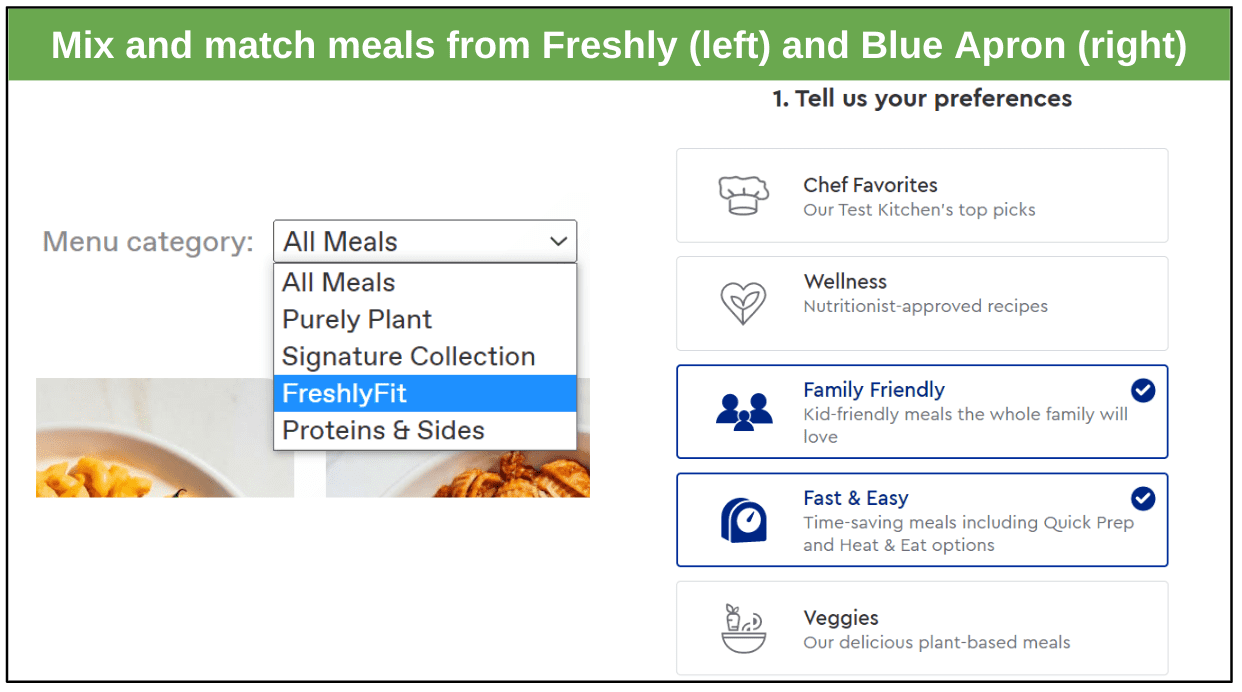 What's more, you don't have to stick to a single menu: both Freshly and Blue Apron let you mix and match meals across all categories.
Ordering, Delivery, Unboxing
Winner: Tie
Ordering from both Blue Apron and Freshly is a straightforward business. I think it's nice that you can browse the menu beforehand to see what you like.
With Blue Apron, you first need to choose your plan – how many meals you want to order per week and for how many people (the minimum is 2 meals for 2 people). At this point, you need to sign up so you can choose your meals and go to checkout.
Freshly starts by asking you to input your email address and zip code, so you can choose your preferred delivery date from a drop-down menu. I got 3 options for a Dallas order, but it depends on your location. Then, you're ready to add meals to your box (between 4 and 12).
A cool thing about Freshly is that you can order more of the same meal – so if you really like a certain dish, you can fill your box with as many servings of it as you like. Blue Apron's meals only have up to 4 servings each.
Both Blue Apron and Freshly deliver across contiguous US states. If you're ordering Blue Apron wines, however, some local laws can be a bit tricky – so check before you sign up!
I also really like that both companies have useful and easy-to-use apps that streamline all your meal delivery-related interactions. If you have to reschedule a delivery, for example, both Blue Apron and Freshly make it easy to do so, both on the website or using the app. In just a few clicks, your next delivery is scheduled – no customer support needed!
Freshly's meals usually take 2 to 3 working days to arrive. You'll find your box filled with neatly stacked trays that are ready to go in the fridge – or freezer, if you don't plan on eating them that week.
Blue Apron's meal kits come equally organized alongside detailed recipe cards with step-by-step instructions. You can also find recipe cards on the website, but I feel it's more convenient to have them to hand rather than dirtying my laptop or phone while cooking.
A cool fact about Blue Apron? It is now a carbon-neutral company, which means it funds offsets to balance out all of the emissions it causes. This, plus the attention it pays to recyclable packaging, makes Blue Apron a pretty eco-friendly option.
Freshly isn't as far in its eco-awareness journey yet, but it's still doing a great job – especially with its recyclable packaging. I really like the idea of reusing the denim insulation (that is 85% recyclable, by the way) as bedding for your pets!
Winner: Freshly
Freshly wins this category because all of its options come prepared and ready to heat.
For a no-cleanup dinner, you can heat the meals directly in the microwave for around 3 minutes. You can also transfer the food into an oven-proof dish and cover with tinfoil to heat in the oven for around 30 minutes.
Freshly's meals arrive chilled – never frozen – and will fare well for around 3 to 5 days in the fridge. If a meal contains seafood, for example, there will be a badge on the packaging to acknowledge that that meal should be eaten first. But don't worry, all of them have a use-by date on the back.
Blue Apron's prepared meals can also be heated directly in the microwave for around 3 minutes. You'll need to remove the outer packaging first, then pierce the film a few times to allow ventilation. After it's done, take the film off and stir it a bit to help it cool down.
Blue Apron's meal kits, meanwhile, have varying levels of prep and cooking time, though most are ready in 30 minutes – around the same time it would take to heat Freshly's meals in the oven!
However, I like that Blue Apron's meal kits are easy to make, even if you're not very experienced in the kitchen. With step-by-step photos of every process and even online video tutorials, your hand will be held every step of the way.
Customer Support
Winner: Tie
First of all, both Freshly and Blue Apron have extensive, easy-to-understand online help centers with tons of FAQs. I found it easy to find my answers there – even for what I thought were less popular questions, which is great!
But even if you have inquiries that require you to talk to a real person, Blue Apron has a live chat where you can text with a customer service representative. Alternatively, you can call on the phone Monday through Friday, 10 am to 9 pm (ET) or 11 am to 6 pm (ET) on weekends. The only exceptions are Thanksgiving and Christmas Day, when naturally the company is closed.
Freshly doesn't have a live chat option, but the customer support team is available on the phone every day from 6 am to midnight (ET) to answer any questions. Not only is that a very large window, but they're also available to text if you feel more comfortable. For less time-sensitive issues, you can send an email to Freshly and you'll get a response as soon as possible.
If you want to cancel your subscription from either service, you can do it directly in the app. I like that there's no need to call anyone for that (I personally hate having to explain my reasons on the phone). Just log into your account, follow the directions, and say why you want to cancel. Done!
However, if you want a step-by-step guide on how to cancel your Blue Apron subscription, take a look at my colleague's article which details the process in full.
There's one for Freshly as well if you want to know how the cancellation process differs.
Important: You can contact customer support for both services even if you're not a subscriber just yet. Both Freshly and Blue Apron are willing to respond to anyone's queries, so feel free to ask anytime.
Winner: Blue Apron
Blue Apron wins this category fair and square. For its meal kits, you can get the best deal by ordering 4 meals for 5 people per week – that's $7.99 per serving without coupons. For Blue Apron's prepared meals, each portion costs 1 dollar more.

The premium recipes featured each week cost extra, too, depending on the dish and number of servings. They vary between $13.99 and $19.99 per portion. However, you can check out our ongoing coupon (Enjoy $180 off across your first 6 orders) to get an even better deal!
Now let's take a look at the price of some of the add-ons: if you want extra protein, you can get 2 chicken breasts or 2 portions of Beyond Chicken® Tenders for around $6.99, which works out at $3.48 per serving. Bistro steaks are around $12.99 for 2, while tail-on shrimp will set you back $9.99 for 2 servings.
Some dishes get even cheaper when they serve more people. For example, a 4-serving Prosciutto & Cheese Board with Toasted Baguettes, Walnuts and Truffle Honey costs $18.99 – that's $4.74 per serving. For dessert, a Pear and Chocolate Bread Pudding with Cinnamon and Cardamom costs $14.99 and comprises nine servings, so it's only $1.66 per portion!
Blue Apron is a great way of getting a party started without breaking the bank. The Classic Thanksgiving Box, for example, features 6 dishes that serve 6 to 8 people and costs $139.99. For wine, a Dinner Party Essentials bundle of 3 750ml bottles is $49.99.
What's more, you can get extra discounts if you happen to be part of one of the following groups: Military and Veterans, Students, Teachers, Seniors (+55), Medical Staff, or First Responders. Freshly also offers discounts, but only for students.
Freshly operates a much more basic service. The meals start at $9.58 per portion (if you order the maximum amount of 12 meals per week), and the more meals you order, the more you save. It's worth noting that breakfasts also count as meals in your plan, so they cost the same as the other entrees.
Depending on the dishes you choose, you could pay up to $2.49 extra for some meals if they contain more premium ingredients like steak or seafood. But you can always check if there's a discount going on to sweeten the deal.
Now, about delivery fees. The shipping for Blue Apron is fixed at $10.99 per week, while if you order from Freshly, you'll pay between $9.99 to $11.99 each week based on your location.
Features Comparison: Freshly vs. Blue Apron
| | | |
| --- | --- | --- |
| | Freshly | |
| Best for | Busy individuals | Small families and couples |
| Starting price | $6.90 per serving | $5.74 per serving |
| Shipping cost | $9.99 to $11.99 | $10.99 |
| Minimum order | 4 meals per week | 2 meals for 2 people per week |
| Menu variety | 38+ choices per week | 19+ choices per week |
| Prep time | 3 minutes | 3-45 minutes |
| Low-prep options | Prepared meals | Prepared meals, Ready to Cook, Fast & Easy meal kits |
| Allergies catered to | Gluten, Peanuts | None |
| Special diets | Vegan, Low-Carb, Low-Calorie, Soy-Free, Dairy-Free | Vegetarian, Low-Carb, Low-Calorie |
| Customer support | Phone, text, email | Online chat, email, phone |
| Promotions | No active deal | |
Blue Apron is my top choice because it offers a greater variety of recipes and meal types for a better price. And since the Signature for Four plan accommodates small families, I think it's the most convenient option if you're cooking for more people.
But, if you want meals ready to go, Freshly might be a better fit for you. It also does a great job with food issues and allergies.
Before making your final decision, I should add that both of these services made it into our top 10. To see the complete list, take a look at our Best Meal Delivery Services of 2023. Maybe you'll find one that is even better suited to your lifestyle or dietary needs.
FAQ
Which is more affordable, Freshly or Blue Apron?
Taking into consideration the starting price per serving, Blue Apron is a more affordable choice than Freshly. With meals starting at $5.74 per portion, you can comfortably feed a family of 4. The add-ons are reasonably priced, too, and some come out at as little as $2 per serving.
Which is better for weight loss, Freshly or Blue Apron?
Both Freshly and Blue Apron have low-calorie and low-carb meals that are suited for weight loss. Blue Apron's Wellness Plan has several low-calorie and Mediterranean-inspired options, while Freshly's FreshlyFit meals are portion-controlled and similarly created with health in mind.
Which has easy prep, Freshly or Blue Apron?
Both Freshly and Blue Apron offer prepared meals that require zero prep on your side, but Freshly has more. Freshly's entire menu is prepared, while Blue Apron has only a few prepared meals per week alongside its more popular meal kits. So, if you're looking for a wider menu of prepared meals, Freshly is a better choice.