Freshly vs. Plated 2023: One Crucial Thing You Need to Know
Choosing between Freshly or Plated hasn't always been easy in the past. However, fortunately, it's now easier than ever since Plated is simply no longer in business. That means you can't subscribe for its meal delivery, nor can you snap up its meals in your local grocery store either.
So, what makes Freshly a worthy alternative to the once-infamous and highly regarded Plated? My team and I have extensively researched, tested, and validated Freshly and have come up with a list of reasons why we've crowned it the best Plated alternative for this year.
In my testing, I've found that Freshly is the best alternative to Plated for several reasons. It offers a massive, diverse menu of very affordable heat-and-eat prepared meals for breakfast, lunch, and dinner, tons of dietary options, an extensive menu filtering system, and certified gluten-free ingredients that are also free from processed sugars and artificial additives.
At a Glance: Who Won Each Category?
Winner: Freshly
In terms of menu variety, there's a lot to love about Freshly and that's why it's the winner here. It offers up over 35 weekly prepared meal options across breakfast, lunch, and dinner – though, you can't technically order breakfast items until after you make your second order. If you want to find out how exactly to unlock the breakfast menu, you can check out the detailed FAQ section on the Freshly site.
Plated, on the other hand, only offered meal kits, not prepared meals. All of the meals were also multi-serving meals meaning they weren't ideal for single individuals unless you wanted to eat the same thing for several days in a row.
If you're wondering about specific ingredients, there are a couple of things you should know. Freshly's dietary considerations include gluten-free, dairy-free, plant-based, carb-smart, and calorie-conscious. Plated used to offer Family-Friendly, Meat, Seafood, Vegetarian, Low-Calorie, Low-Carb, and Gluten-Free meal options.
Specific Freshly plans include Purely Plant, Signature Collection, and Freshly Fit. The Signature Collection is a group of meals that are always available, and Freshly Fit is a smaller meal selection for those who are fitness and weight loss-oriented. As well as the main meals, Freshly also offer a small selection of multi-serve proteins but there are no snacks, desserts, or vegetable sides.
All of Freshly's meals are microwave-ready but haven't been tested using other forms of heating. It recommends you try to heat your meal up for two minutes first, and then add additional time if it's still not hot enough.
There's a quite healthy variety of cuisines you can choose from as well. These include classic American, Italian, French, Indian, Latin American, Thai, Swedish, and more. Freshly claims that it rotates its menu and replaces some meals every week, but that it also tries to "keep some of the customer favorites" such as the Chicken Tikka Masala which is available every week. Plated had a decent selection of cuisines as well which included classic American, Indian, and many more.
You'll find that about one-third to one-half of the menu is made up of classic American dishes, and the other portion is international recipes. This keeps things exciting if you're a bit more adventurous but also basic enough if your household has any picky eaters.
One thing I found is that, since many of the meals are classic American-influenced, they're also quite kid-friendly. And since the meals feature very little processed sugars or artificial ingredients, they're also quite safe to give to your kids. Personally, I like the fact that Freshly provides mostly whole foods-based ingredients.
In terms of meals, one of my personal favorites is the Creamy Chicken Fettuccine Alfredo. It has a great combination of Italian-influenced flavors and ingredients that I love like fettuccine pasta, parmesan cheese, grilled chicken, broccoli, and parsley. It also happens to be a fairly child-friendly recipe with no real exotic ingredients, spices, or flavors.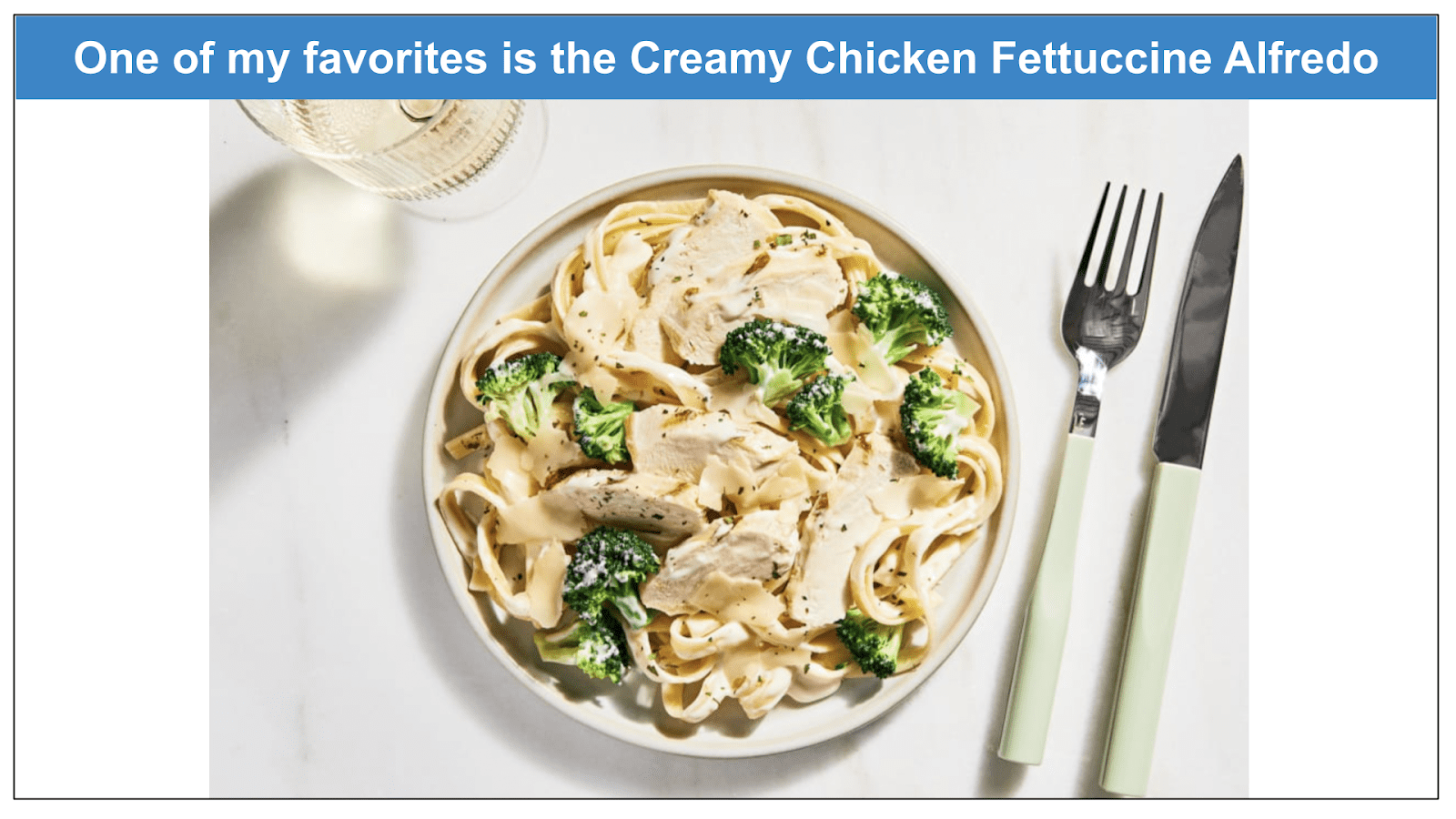 Lastly, in terms of portion size, each meal is meant for one person, for one meal. However, you can easily order enough meals for at least a week or two. You'll be able to get between four to twelve meals per order – but more on that below.
Meal Customization
Winner: Freshly
Freshly wins this one due to its extensive filtering options.
When it comes to individual meals, Freshly's aren't customizable, and ingredients can't be swapped as the meals are already prepared. What you see in the list of ingredients is what you'll get – but there are other ways to customize your options and get only those items and ingredients you actually want and that fit your diet.
For example, Freshly's menu filtering system will allow you to avoid any ingredients that don't work for you. You can start filtering a few options before you sign up, but many more options become available once you've actually signed up. Pre-signup options include gluten-free, carb-conscious, plant-based, and dairy-free. Once you sign up, you'll find a lot more.
Each meal is also tagged with specific ingredients and allergens for easy recognition. You'll be able to easily pinpoint meals that are soy-free, dairy-free, under 500 calories, fewer than 35g of carbs, high protein, spicy, gluten-free, vegetarian, and plant-based. Freshly's a certified gluten-free company. The gluten-free meals are prepared in a separate kitchen which makes it a great service for celiacs or those with gluten sensitivity. All of Freshly's meals are also peanut-free.
Though you're able to filter down the menu and sort by a variety of preferences, keep in mind that, the more you do this, the fewer options will be available to you. Not every meal will fall exactly into your specific dietary preferences, especially the more preferences you have. I'm OK with this, though, as the same can be said for pretty much any other meal delivery service out there.
Plated did also offer a host of dietary options and special dietary considerations like Family-Friendly, Meat, Seafood, Vegetarian, Low-Calorie, Low-Carb, and No-Gluten recipes. You could filter down the menu by any of these options in the past.
For those with severe allergies, it was never a good idea to order from Plated as it couldn't guarantee that all ingredients were free from known allergens. For those with less-severe allergies, it may still have worked out, but definitely not for those with life-threatening allergies. Plated offered the ability to omit any ingredients from your meals at the time of preparation since everything was unprocessed and individually packaged.
Ordering, Delivery, Unboxing
Winner: Freshly
Freshly wins here since Plated is no longer around. Ordering from Freshly is about as easy as it gets. From the home page, you can either click on the number of meals you want to order, or the Get Started button right below. Both options will take you to the exact same page.
If you need to change your order or delivery or make any other changes to your plan including adjusting the number of weekly meals, you can do so by the weekly cutoff date. Please keep in mind that the specific cutoff date depends on your exact location in the US. Freshly's FAQ section states that you'll have around five or six days before receiving your delivery to make any changes to anything I've just mentioned.
The minimum order is four meals per delivery, and the maximum is 12. It also really doesn't matter what you order – you can get 12 separate dishes, or 12 of the exact same thing if you really like it. Freshly doesn't stipulate that you must order any combination of anything – it's entirely up to you.
In terms of delivery, Freshly offers weekday and weekend delivery, so there's no shortage of days on which you can schedule your order to arrive. You're welcome to change your delivery date for one specific order or change it permanently for all subsequent orders. Any updates you need to make to your subscription or order can easily be completed from within your account dashboard.
There's also an app available for Android and Apple devices including phones and tablets which makes managing your subscription and deliveries on the go a breeze. Make any changes, reschedule deliveries, or order your favorite meals all without having to whip out your laptop or sit at your desktop PC. Freshly truly offers one of the most frictionless meal delivery services I've ever come across.
Exact delivery days might vary slightly based on your geographical location throughout the US. You can generally expect a good availability of delivery dates for all locations.
Freshly delivers to all 48 contiguous states minus Alaska and Hawaii. Plated used to deliver to all 48 contiguous states minus Alaska, Hawaii, and a few cities in Texas including San Antonio, Corpus Christi, Laredo, and Midland.
All of your Freshly orders are packed in chilled boxes for shipping, which takes one to two days, depending on your location. Once your box arrives, the box can keep everything cool and fresh for an additional 12 hours. After that, it's recommended to store everything properly.
Your meals will arrive beautifully packaged, neatly organized, and labeled with nutritional data, and best-before dates. This way, you know exactly what's in each box. It's always easy to see what each meal is and decide what to do with it without having to crack it open.
Freshly states that each meal has a refrigerated shelf life of about five to seven days. It's recommended that meals containing seafood be eaten sooner. These specific meals have stickers on them to indicate eating them first. However, it's OK if you don't eat them right away as each meal has an exact best-before date printed on the back label.
If you can't consume the meals within those five to seven days for any reason, Freshly also suggests that you could freeze the meals. Once frozen, just make sure to heat them in the microwave directly from their frozen state. Don't let them thaw out first. The colder your freezer, the longer the meals can be frozen. For above-fridge freezers, don't freeze anything for longer than a month. For super cold chest freezers, don't exceed three months.
Lastly, in terms of recyclability, the containers in which the meals come in are reusable for anything else you may want to store. These containers are made from Go-Green plastic which Freshly claims is made with a 30% cleaner process than "other plastic manufacturing". All of the containers and plastic are also recyclable if you'd rather take that route.
The cardboard box, sleeves, and other paper products are also all recyclable. However, keep in mind that the gel packs that keep your food cool are non-recyclable and must be discarded in the trash. Or, alternatively, you can reuse the gel packs instead.
All of Plated's shipping and packaging materials were also once recyclable, depending on your exact location as well, of course. This included the delivery box, liners, its "Jute" gel packs (but not the gel – though the gel itself was compostable), and the bottle bags and containers.
Meal Prep
Winner: Freshly
Meal prep is super easy with Freshly. Since all the meals are prepared, you just have to heat them up in the microwave. They come fresh, never-frozen, and last for about five to seven days in the fridge.
Plated offered meal kits only, so you would've had to do all the prep and cooking yourself. Everything plated offered was pre-portioned and included everything you needed, right down to individual pinches of the exact spices you'd need. Of course, there are a couple of staples you would've had to have on hand including eggs, salt (Kosher or sea salt), pepper, olive oil, and vegetable oil.
Plated's recipe cards were also included in each box with easy-to-follow, step-by-step instructions. This helped you create the perfect meal without worrying about doing something incorrectly, or taking more time than necessary.
If you need to freeze them, you're welcome to do so – but for maximum freshness and taste, it's always recommended to order just the number of meals you need for the week. The meals should then be heated directly from their frozen state to maintain optimal taste. Depending on how cold your freezer gets, you could freeze the meals anywhere from one to six months.
There's no prep or cleanup involved if you want to recycle your containers. However, if you want to keep them, they can easily be washed in the dishwasher or by hand for future use. Other than that, there's really not much else to the prepared meals as they make life super simple and easy.
Customer Support
Winner: Freshly
Freshly has an excellent live chat feature if you have any questions before you place your order, or as an existing customer. Every time I've tried it out (about seven to eight times by now), an agent connects within about 20 seconds. It's always blazing-fast, reliable, friendly, professional, and courteous.
Though the agent didn't know the answer to my question right away, at least they took the initiative to find out the answer to my questions. Here was his response before finding out the answer.
Sure enough, after only about two minutes, the agent got back to me with some answers. It was confirmed that there are a few extras available, but that you won't find any pantry items, desserts, or snacks.
You can easily reach someone seven days a week from 6 am to midnight (12 am) EST via live chat and phone. An email address is also available to you 24/7 along with an extensive FAQ section for any additional questions you might have. Overall, my experience with Freshly's support is always no less than stellar.
On the other hand, Plated once offered phone support on Weekdays from 9 am to 10 pm and on weekends from 9 am to 5 pm (EST). It also offered an email address available to you 24/7 if you didn't want to have to call somebody.
Winner: Freshly
Freshly pricing starts at around $6.90 per serving. The more you order at one time, the more you'll save. You can add meals from any meal plan as the pricing is the same for all of them.
Plated once offered three plan tiers – two servings, three servings, or four servings for two, three, or four nights per week. Its price-per-serving fell somewhere between $9.95 to $11.95.
With Freshly if you want to add on a side of extra chicken breast, for example, pricing for that is around $0.99 which I found pretty reasonable for a 9.75-oz serving. An add-on of 10 ounces of baked turkey meatballs costs the same at $0.99.
Unfortunately, however, you won't be able to add on any breakfast items until your second order. I'm still not entirely sure why this is the case – but if you do end up wanting breakfast items, make sure to add them during your second order.
In terms of shipping fees, pricing varies from about $9.99 to $11.99, depending on how many meals you order. From 4-8 meals, pricing is $9.99, from 9-10 meals it's $10.99, and from 11-12 meals it's $11.99. I assume this is because your physical box will be heavier the more meals you order at a time.
Features Comparison: Freshly vs. Plated



Plated

Best for

Prepared meals

Meal kits

Starting price

$6.90 per serving

$9.95 per serving

Shipping cost

From 4-8 meals = $9.99,

9-10 meals = $10.99,

11-12 meals = $11.99

Free shipping over $60, $7.95 under $60

Minimum order

Four meals per week (one serving each)

Two meals for two nights

Menu variety

35+ choices per week

18 choices per week

Prep time

2 to 3 minutes (depending on microwave strength)

30-60 minutes

Low-prep options

Microwave-ready

None

Allergies catered to

"Certified" Gluten-free, peanut-free

Dependent on recipe

Special diets

Carb-conscious, calorie-conscious, plant-based, dairy-free, and gluten-free diets

Family-Friendly, Meat, Seafood, Vegetarian, Low-Calorie, Low-Carb, and No-Gluten

Customer support

7 days a week from 6 am to midnight (12 am) EST via live chat and phone

24/7 via support email

Phone and email

Promotions

N/A
And The Winner Is: Freshly
At the end of the day, Plated was once an excellent service and is now sadly no longer in existence. However, I've found Freshly to be the best alternative for this year.If you enjoy simply heating and eating your meals with zero prep time or cleanup, I think it could work quite well for you.
Freshly has a large menu selection of around 35+ weekly options, is certified gluten-free, offers a diverse array of other diets, is one of the most affordable services, and even offers weekend deliveries. All of these things, to me, make it the most worthy Plated alternative for this year.
FAQ
Is Plated still in business?
Sadly, no – not since around November 2019. But I've found there to be a few great alternatives, the best of which my team and I have determined to be Freshly. Freshly is a prepared meal delivery service that offers many diets and is certified gluten-free.
Are Freshly meals expensive?
As a prepared meal service, I've found Freshly's prices to be right on par with, if not even less, than the industry standard for prepared meals. Simply put, it's already very affordable – and the more meals you order at a time, the lower the price will be per serving.
Is Freshly good for weight loss?
Freshly's food isn't magic, and it's no better or worse than any other food for weight loss. It's not about what you're eating or where you're getting your food from, it's all about how many calories you're consuming vs. how many you're expending every day. However, Freshly does have a specific weight-control plan – FreshlyFit – which helps you get access to meals that contain fewer calories than its regular meals to aid you in your weight loss journey.