Freshology vs Freshly 2023: Which One is Right for You?
Introduction
At a quick glance, it's easy to get Freshology and Freshly confused. Both services offer healthy, fully-prepared meals that are ready to eat in 3-5 minutes. But a closer look reveals that while their names may be similar, Freshology is geared toward weight loss, while Freshly offers a more generalized menu.
To help you decide which meal delivery service works best for you, I've closely examined the Freshology and Freshly menus. I've reviewed ingredients, compared prices and shipping fees, and looked closely at ingredient lists.
For those who are simply seeking to eat healthier meals, Freshly is the better choice. It offers a choice of over 50 fresh delicious single-serving meals every week. But if you're looking for a weight loss meal delivery service, you may find Freshology better meets your needs.
At a Glance: Who Won Each Category?
| | |
| --- | --- |
| 💲 Price: | Freshly ($6.90 per serving |
| 🍔 Menu Variety: | Freshly (50+ choices) |
| ⏰ Prep Time: | It's a tie |
| 🍴 Customization: | It's a tie |
| 👍 Ordering and Delivery: | Freshly |
| 🙋 Customer Support: | ]Freshly |
Winner: Freshly
This was a difficult comparison because Freshly's meals are aimed at a wider audience, while Freshology focuses on weight-loss dieters. While I gave Freshly the nod because it offered more meal choices, I would note that Freshology gives you a better variety of appetizing meals than most diet meal delivery services.
Both Freshly and Freshology deliver single-serving prepared meals that just need to be heated. Both menus are largely geared toward American favorites with a sprinkling of Italian and Mexican entrees and occasional entrees inspired by more far-flung cuisines. Because they offer single-serving meals, neither Freshly nor Freshology are really geared toward feeding families.
Once you get past those common traits, however, you'll find some big differences between the two menus.
Freshology is a subsidiary of Diet-to-Go, one of America's most popular weight loss meal delivery plans. Diet meal delivery services typically provide more meals than a more generalized meal delivery service to ensure your calorie intake is restricted. Freshology lets you choose whether you want meals five or seven days per week, with two or three daily meals.
Freshology's menus are on a five-week rotation that includes over 25 breakfasts and over 35 lunches and dinners. Like many diet meal delivery services, Freshology provides a fixed menu. However, as we'll see in the next section, it gives you the flexibility to swap out entrees. Unlike Freshly, Freshology doesn't offer bundled protein packs or any other extras.
Diet food is typically something you tolerate rather than love. But Freshology does better than many meal delivery services in offering a variety of interesting meals. The Harissa Salmon pictured above includes mandarin orange and almond couscous and a blend of steamed vegetables, yet comes in at just 350 calories.
Freshly offers healthier takes on filling classics. Most pasta dishes use gluten-free lower-carb cauliflower pasta and zucchini noodles ("zoodles") in place of traditional carb-heavy pasta and replace breadcrumbs with gluten-free almond flour.
Freshly adds four to six new meals every month, but many customer favorites like Protein-Packed Chicken Parm are in constant rotation on the Freshly menu.
While it offers several Breakfast Scrambles and protein packs like meatballs and chicken breasts, Freshly meals are primarily designed as quick lunches or dinners. And while they're not part of a complete diet plan, most Freshly meals are under 650 calories with FreshlyFit meals coming in under 550 calories.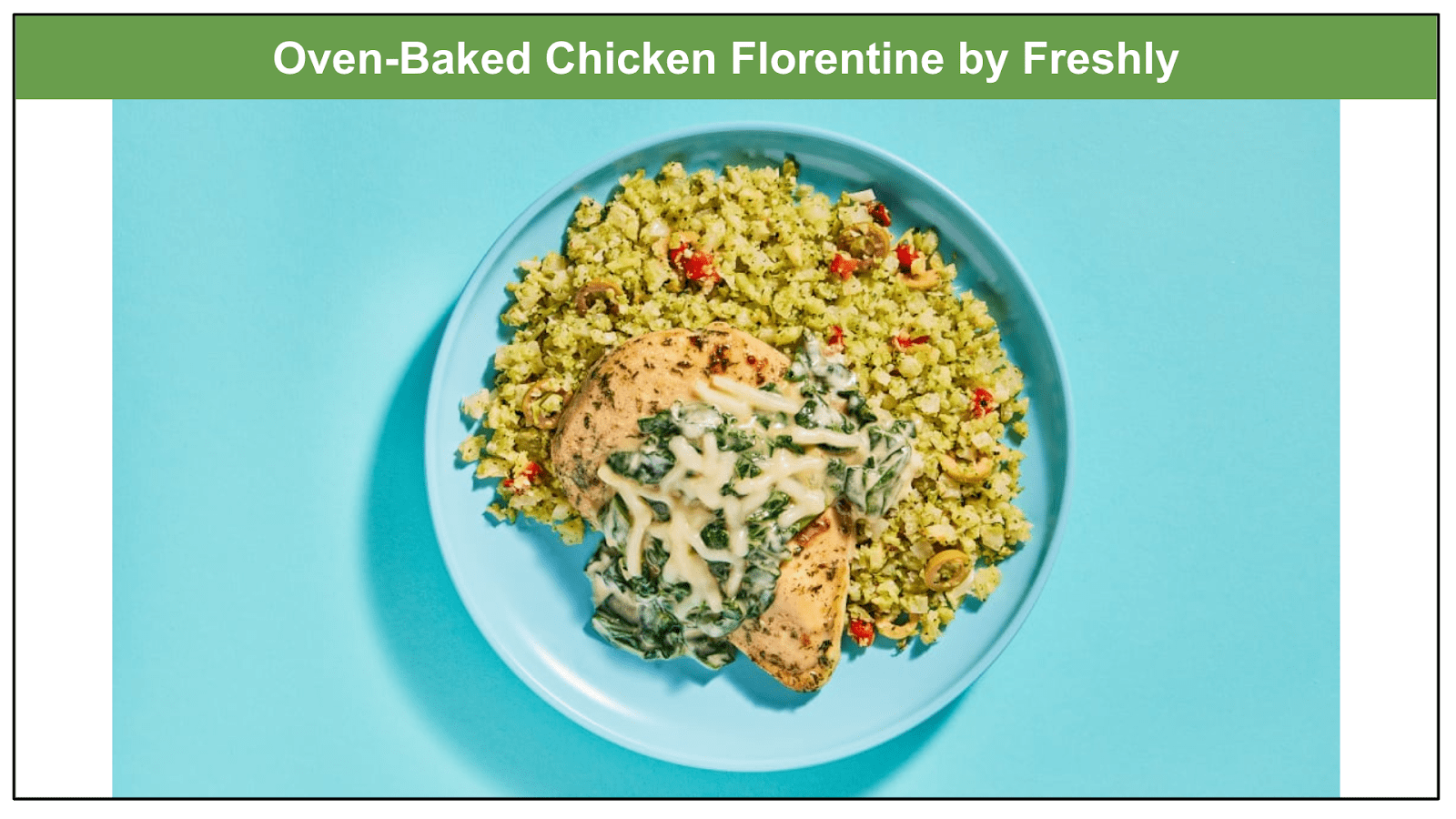 Meal Customization
Winner: Tied
This one's a draw. Because both Freshology and Freshly offer prepared meals, neither offers options to swap out proteins or change ingredients in their entrees. And while both offer options for people with allergies or ingredient sensitivities, neither service offers allergen filters so you must check ingredient lists yourself.
If you don't like or can't eat an item on Freshology's menu, you can substitute another item from a list of over 25 other meals. This swap list lets you account for ingredient sensitivities or personal tastes. In addition to the standard Balance menu, Freshology offers Balance-Diabetes, Keto-Carb30, Vegetarian, and Mediterranean diet plans.
While ingredient lists are available, there are no allergen filters so you must check each individual item. All meals are prepared in a facility handling all common allergens, so Freshology is probably not for you if you have any serious allergies.
In addition to FreshlyFit (under 550 cal), Freshly offers a vegan Plant-Powered menu, as well as dairy-free and carb-conscious (under 30 g carbs) meals. You can also choose from a selection of Proteins & Sides and search for the Signature Collection of Freshly's most popular meals.
All Freshly meals are peanut-free and, with the exception of a few clearly labeled entrees, most Freshly meals contain less than 20 parts per million of gluten.
Freshly provides ingredient lists for all meals so you can check for allergens on the site and on the entree packaging. Tags lets you see at a glance whether your entree is high in protein, under 500 calories or 25 g of carbs, and whether it contains soy or gluten.
When you're ordering, Freshly gives you filters that let you choose dairy-free, carb-conscious, gluten-free, and plant-based meals or focus on meals from one particular category like FreshlyFit or the Signature Collection. You can also sort by the amount of fat, calories, carbs, protein, or sodium in each meal.
Freshly kitchens keep allergen-containing ingredients separated, covered, and labeled to avoid cross-contamination. While their gluten-free meals are certified by the Gluten Intolerance Group (GIG), Freshly recommends that people with severe intolerances or allergies consult their physician or nutritionist before signing up for their service.
Winner: Freshly
Freshly wins this round by virtue of sending fresh rather than frozen meals. Frozen meals are more expensive to ship, less convenient to cook, and generally less tasty than fresh, prepared meals. Freshly also offers a wider range of delivery dates, making it easier to ensure your meals arrive at a time that's convenient for you.
Ordering from Freshology is straightforward. You choose your plan, then decide how many meals you want. The smallest order available is a ten-meal weekly plan, while the largest covers you for every meal throughout the week (21 meals).
Freshology offers home delivery to addresses in New Jersey and the Baltimore/DC metropolitan area as well as some addresses in the San Francisco and greater Los Angeles areas. For orders coming from elsewhere in the continental United States, Freshology ships its meals flash-frozen.
Those living in local delivery areas receive fresh meals on Tuesdays and Fridays. All other orders go out on Mondays and typically arrive within one to four days, depending on your location. Freshology provides tracking information for each shipment.
You can skip a Freshology delivery, change your order, or manage your account information on your Mydiettogo page. All changes must be made by 12 noon ET on the Friday before your order ships. Freshology customers living in a local delivery area must get their changes in by noon on Monday before their Tuesday delivery ships.
Freshology meal trays may be placed in any recycling receptacle that accepts plastic. The styrofoam coolers may also be recycled in select recycling facilities throughout the country. If you don't live in an area that accepts styrofoam for recycling, you may have to throw the cooler in the trash.
Freshly allows you to choose between four and 12 meals per week and gives you many choices for delivery date. When I entered my northern New Jersey zip code, I received six potential delivery dates (all but Tuesdays). When I entered the zip for my birthplace in rural Pennsylvania, I was given five delivery dates (all but Tuesdays and Saturdays).
Freshly delivers throughout the continental United States, with the exception of a few remote locations. If you live in a very rural area, enter your zip code to see if Freshly is currently available in your area.
Freshly sends you a tracking number by email as soon as your package ships. You can also check on the website or app by clicking Track Delivery in the top right corner of your current order. You can also use the website or app to reschedule your delivery or change your delivery address.
If you need to make any changes to your upcoming order or future orders (you can make changes up to three weeks ahead), you can do this from your account. Your deadline will depend on your delivery day and location but you can find this information easily in your confirmation email or check with customer service.
Freshly meals are made fresh and arrive chilled, not frozen. Meals can be stored in the refrigerator for four to seven days, and Freshly recommends you cook seafood entrees first after you receive your order. If you can't finish your Freshly meals before the recommended date, you can pop them in the freezer for an additional two weeks.
Freshly has extensive recycling information in its FAQ section. The meal containers can be recycled with other rigid plastic products. The cardboard meal sleeve, cardboard box, paper products, and scratch foam insulation liners can be curbside recycled.
Freshly recommends disposing of the gel pack contents in the garbage (not the sink) and then recycling the plastic bag but it also gives ideas for reusing the gel packs such as for camping or road trips as long as you freeze them when they arrive. Even the denim-insulated liners can be recycled!
Meal Prep
Winner: Tie
This round is too close to call.
Both Freshly and Freshology send prepared meals in microwave-safe trays. Both Freshly and Freshology meals typically require around three minutes in the microwave, though the time may vary depending on your microwave.
Both also provide instructions for heating meals in a conventional oven. (While their trays are microwave-safe, you'll have to transfer your Freshly or Freshology dinners into an oven-safe container before heating them).
Freshology meals should be defrosted in the refrigerator before heating. Freshology recommends placing your flash-frozen meals in the refrigerator as soon as they arrive and eating them within seven days.
If you freeze any Freshly meals, Freshly suggests that you microwave them straight from the freezer, and add additional time to ensure your meal reaches an internal temperature of 165° F. Freshly recommends you eat any frozen meals within two weeks.
Customer Support
Winner: Freshly
Freshly wins this race for its fast response. They got back to me in minutes while Freshology's response took nearly 24 hours.
You can reach Freshly's Customer Care team every day between 6 am and midnight Eastern time. The team is available via live chat or by text or phone at 1-844-373-7459 (1-844-FRESHLY).
I reached out to Freshly via their email form with a question about how long Freshly meals could be kept in the freezer. Within five minutes I received a reply from Stacy, who informed me that Freshly meals can be frozen for up to two weeks.
Freshology's customer support is available by phone at 800-743-7546 from Monday to Friday between 8 am and 5 pm ET. Telephone Relay Service (TRS) is available for customers with hearing or speech difficulties. You can also leave a message via Freshology's web form.
On a Monday evening, I asked Freshology via their web form if they offered protein bundles and diet desserts. It took me nearly 24 hours to receive a reply informing me that Freshology only offers meals.
To be fair, Freshology also offers diet counseling. When you sign up, Diet-to-Go, Freshology's parent company, puts you in touch with a team of weight loss health professionals, including a Registered Dietitian, a Nutritionist, and a Certified Health Coach.
Diet counseling is very helpful when you're trying to lose weight and almost made this round a tie. But ultimately Freshly's lightning-quick reply speed carried the day.
Winner: Freshly
While a few of these rounds have been too close to call, Freshly pulls way ahead in the pricing contest. When you compare Freshly's lowest price per serving at $6.90 with Freshology's starting serving price of $4.60, you might think Freshology was the cheaper choice. But let's take a closer look.
Shipping on Freshly meals ranges between $9.99 (for 4-5 meal orders) to $11.99 (11-12 meals). Freshology shipping on fresh meals costs $9.99 per delivery with two deliveries per week. Frozen meals are sent out weekly at a cost of $19.98, so you're spending nearly $20 on shipping no matter how your Freshology order arrives.
The least expensive Freshology subscription, a five-day Balance lunch and dinner 1,200-calorie women's plan, will set you back $158.97 every week when shipping is included. The men's plan, a 1,600-calorie plan, costs an additional $8.50 per week. And a full seven-day plan for men will cost $245.97 per week with shipping.
Freshology's other menu offerings don't distinguish between a men's and women's plan. The Balance-D, Mediterranean, and Vegetarian Diets range from $158.97 with shipping for the five-day Lunch and Dinner plan to $223.97 with shipping for the seven-day three-meal plan. The KetoCarb30 costs between $171.97 to $245.97 depending on the number of meals.
If you purchase a 10-meal plan from Freshly, you'll be spending $110.99 with shipping, a savings of nearly $50 a week! Freshly also offers several premium entrees and protein packs that cost an extra $0.99 to $2.49 each, but you're still saving money even with a few modest splurges.
Features Comparison: Freshology vs. Freshly



Freshly

Best for

Weight loss

Meal variety

Starting price

$4.60 per serving

$6.90 per serving

Shipping cost

$19.88/week

$9.99 to $11.99

Minimum order

10 meals

4 meals

Menu variety

50+ choices per week

50+ choices per week

Prep time

2-3 minutes

3 minutes

Low-prep options

Microwave-ready

Microwave-ready

Allergies catered to

Seafood

Gluten, dairy, soy, peanuts

Special diets

Diabetic, carb-conscious, vegetarian, Mediterranean

Low-calorie, carb-conscious, vegetarian, vegan

Customer support

Phone, TRS, webform
8 am to 5 pm Eastern Mon-Fri

Phone, text, live chat
6 am to midnight Eastern

Promotions
And The Winner Is: Freshly
For most people, Freshly will be the best choice for a prepared meal delivery service. Freshly has a broader menu and is less expensive than Freshology. It also delivers fresh rather than frozen meals, which has benefits in the shipping price, convenience, and taste.
Freshly's FreshlyFit entrees are a great choice for calorie-conscious eaters, but if you're seriously committed to weight loss you may want to look at a dedicated weight loss service with a more structured plan and diet counselors.
Freshology has a lot to offer those looking to drop some pounds quickly. You may also want to check out our list of the best weight loss meal delivery services.
FAQ
Are Freshly meals expensive?
With prices starting at $6.90 per serving, Freshly is very reasonably priced for a prepared meal service. Freshly offers healthy, nutritious, fully prepared meals that use natural ingredients for less than you would pay for a comparable restaurant entree.
Does Freshly send frozen meals?
All Freshly meals are shipped fresh, not frozen. If you're not going to be able to finish your Freshly meals immediately, they can be frozen for an additional two weeks' shelf life.
Is Freshology the same as Diet-to-Go?
Freshology is a subsidiary of Diet-to-Go. Its menu is identical to that offered by Diet-to-Go and you manage your Freshology subscription with an account on the MyDietToGo website, as you would with a Diet-to-Go subscription.