Hungryroot vs Splendid Spoon 2023: There's Only One Winner
Both Hungryroot and Splendid Spoon offer something that goes beyond a classic meal kit service – but which one is better?
Hungryroot is a hybrid grocery-meal kit delivery service that supplies meat and plant-based ingredients. You can purchase these products individually (like you would in a grocery store) or order them as part of a meal kit. Whatever the case, Hungryroot's huge number of recipes and ingredients makes it a strong contender in this matchup.
Splendid Spoon offers plant-based ready-to-eat meals that may require just a little bit of heating. This reduces prep time, making it perfect if you're a vegan who doesn't want to spend too much time in the kitchen.
I compared both services across all categories, including ordering, delivery, unboxing, pricing, customer support, and meal prep. Overall, I found Hungryroot to be the clear winner.. It has better menu variety and meal customizability compared to Splendid Spoon. Read on to see how they compare side by side.
At a Glance: Who Won Each Category?
| | |
| --- | --- |
| ? Price: | Tie |
| ? Menu Variety: | |
| ⏰ Prep Time: | |
| ? Customization: | |
| ? Ordering and Delivery: | Tie |
| ? Customer Support: | Tie |
Winner: Hungryroot
Hungryroot is a meal kit and grocery delivery hybrid. You can use its ingredients either in your daily cooking or when preparing Hungryroot's recipes.
I found the selection of grocery items and recipes to be quite extensive. In fact, I had spent a minute or two scrolling through the various recipes before giving up.
Hungryroot divides its food into a broad range of categories like Mains+Sides, Grain Bowls, Pastas, Tacos, Stir-Fries, Wraps, Burgers, and more. In each of these categories, you can choose from vegan, vegetarian, pescatarian, and meat-based options.
Its meals are easy to prepare and can be made within 15 minutes. Its dishes are a mix of American, Italian, Mexican, and other types of cuisine.
Now let's look at Splendid Spoon. Although this service has a great selection of vegan and vegetarian food, it doesn't hold a candle to the variety that Hungryroot offers. You only get to select from four categories of dishes: smoothies, soup & grain bowls, noodle bowls, and light soups.
As you can see, there are more liquid foods than solid ones on its menu.
The solid food options include grain and noodle bowls, such as Kimchi Fried Quinoa Grain and Creamy Mushroom and Spinach Noodles.
There's a good chance you may get bored of Splendid Spoon's menu after a while. However, it's unlikely that'll happen with Hungryroot, as there's always a new recipe combination to experiment with.
With all these factors being considered, I'd recommend Hungryroot over Splendid Spoon without hesitation – the variety of choices in the former is unbeatable.
Meal Customization
Winner: Hunrgyroot
Hungryroot has an incredible number of customization options.
For example, you can customize the food by proteins such as beef, pork, poultry, lamb, fish, and even vegan-based ones. Or you can choose from purely vegan or vegetarian recipes.
If you're trying to lose weight, you can filter for meals <500 calories. Or, if you like spicy food, you can filter for recipes that are spicy.
And that's not all – on a broader level, you can choose from meal categories like Mains+Sides, Grain Bowls, Pastas, Tacos, Burgers, Flatbreads, and more.
Lastly, if you are allergic to certain foods, Hungryroot gives you the option to exclude dairy, gluten, soy, tree-nut, peanut, eggs, and shellfish.
Splendid Spoon doesn't measure up to Hungryroot in terms of customizability. All of its meals are premade, whereas Hungryroot delivers kits that let you amend ingredients while cooking.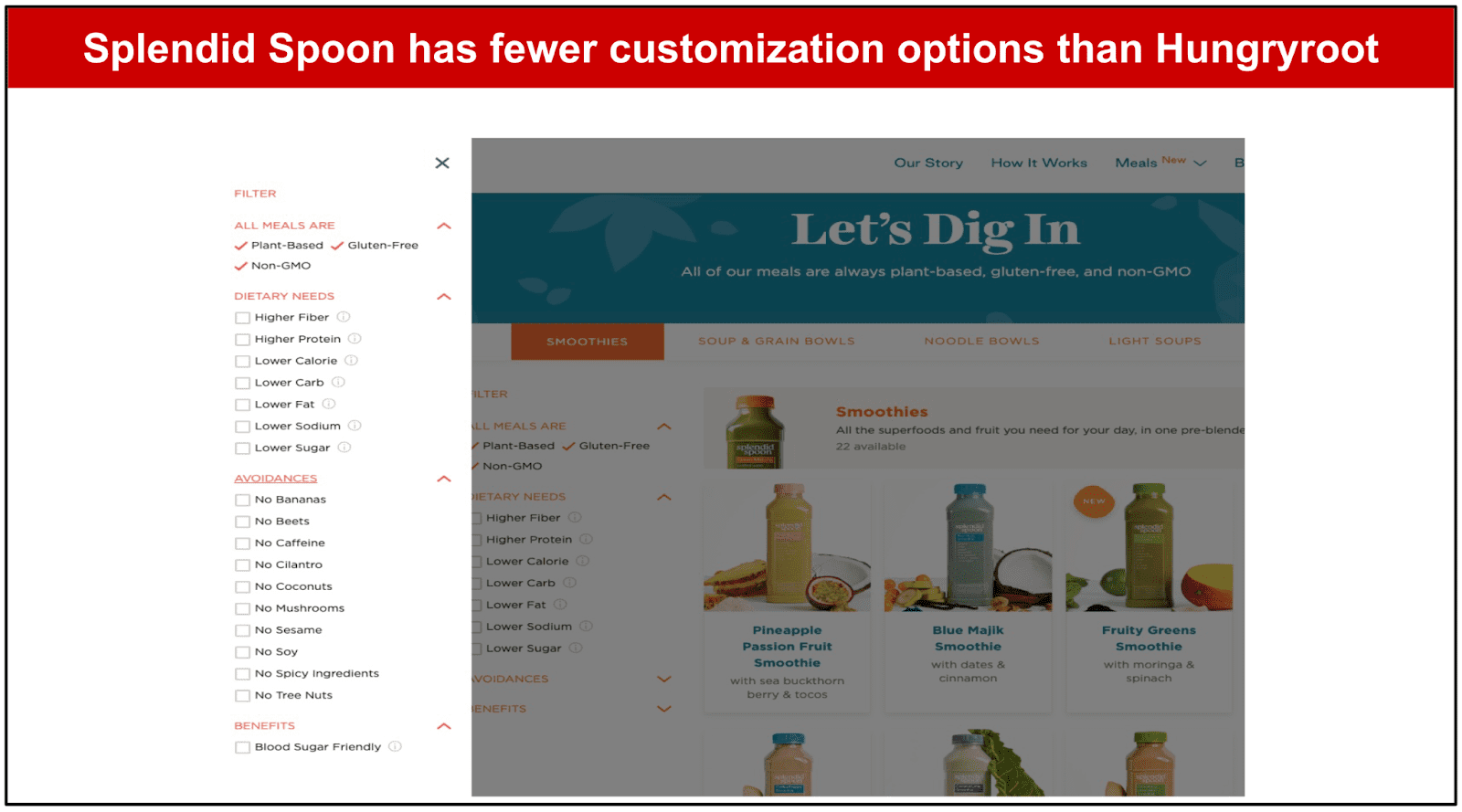 With Splendid Spoon, you can filter for meals labeled Higher Protein, Higher Fiber, Lower Calorie, Lower Carb, and more. You can also avoid possible allergens like beets, caffeine, cilantro, coconuts, mushrooms, soy, spicy ingredients, and tree nuts. This is a good range of filters, although the menu has far less flexibility and fewer choices than Hungryroot overall.
Ordering, Delivery, and Unboxing
Winner: Tie
Ordering
Ordering from Splendid Spoon is slightly faster than ordering from Hungryroot.
If you order from Hungryroot, you'll have to complete a quiz that determines your food preferences, eating habits, allergies, and other information. Hungryroot then gives you recommendations based on your answers. The quiz does take a few minutes, but I think it's worth the small time investment as it gives you customized meal kit and ingredient suggestions.
Next, you'll need to create an account to access the recommended order. If you like it, you can accept the recommendation (and if you don't, you can amend it), add your payment details, and finish the order.
When signing up for Splendid Spoon, you'll choose between four options:
Breakfast

Breakfast + Lunch

Breakfast + Lunch + Reset

Breakfast, Lunch, Dinner + Reset
Next, add your personal details and exclude any ingredients that you're allergic to. Finally, add your payment information and complete your order.
Delivery
Hungryroot delivers six days a week (it doesn't deliver on Thursday), while Splendid Spoon only delivers on Wednesday and Friday.
Hungryroot makes it easy to reschedule or edit a shipment if you made a mistake in your order; however, you would need to make these changes before 7 pm EST on either Monday or Thursday.
I get impatient when I order something, so it was good to see that Hungryroot gives you the option to track deliveries on its website. If you find damaged or missing items when your order arrives, you can report them on the site.
Both services deliver to 48 states in the US.
Unboxing
Hungryroot comes with recyclable materials such as a cardboard box, and ice packs. There are also instructions on how to recycle these items. I liked this feature as it shows the company is at least partially environmentally conscious.
All of Splendid Spoon's packaging is recyclable as well. The individual items come wrapped in recyclable paper, and recyclable plastic is used for storing the noodles, bowls, and smoothies. Meals meals that require heating come in microwave-safe containers.
The company also uses ClimaCell insulation to keep foods fresh. Smoothies are chilled, whereas the soups and bowls are frozen and kept cold with dry ice.
Splendid Spoon adds an "Enjoy by" date on its containers, so you don't have to worry when the food expires. In any case, the meals last for two weeks if you refrigerate them and for one to three months if you freeze them.
Even though ordering from Splendid Spoon is slightly easier, I didn't find the difference drastic enough to give it the win. So I give both services a tie in this category.
Meal Prep
Winner: Splendid Spoon
Some of the ingredients from Hungryroot come prepped, like chopped vegetables, prepared sauces, and fully cooked proteins.
Most of Hungryroot's meal kits have only four ingredients. This makes it easy to prepare meals within 15 minutes. Some recipes can be prepared by mixing the ingredients in a bowl, whereas others may require basic cookware like a skillet, oven, or a pot to boil water (especially for pasta or linguine).
Splendid Spoon flash freezes its grain, noodle, and soup bowls. These are best eaten within seven days of thawing or within 1-3 months of keeping them in the freezer. You can either microwave the contents in the soups or bowls or heat them with a stovetop for about 2-3 minutes. The smoothies can be consumed directly from the bottle.
Since Splendid Spoon's meals don't require extra cookware and can be made quickly, I give them the point for meal prep.
Customer Support
Winner: Tie
Both Hungryroot and Splendid Spoon have excellent customer support.
Both services have a thorough FAQ section. If you want your questions answered by a customer service representative, you can use email or text message for Hungryroot, and email or Facebook messenger for Splendid Spoon.
Also, both services offer 24/7 customer service should you need assistance at any time. And if you want to cancel subscriptions and orders, doing so is easy through their websites.
Winner: Tie
Hungryroot's pricing depends on how many servings you order per week. The minimum number of servings is six, with each serving costing $11.39. Since the total order is less than $70, you would need to spend $6.99 on shipping. The maximum serving size is 16, with each serving costing Price: Missing price for Product undefined, and the shipping is free.
The prices for Splendid Spoon vary depending on the plan you choose. Its cheapest option, the breakfast option, starts at $65 ($13 per portion), and its largest plan costs $185 ($6.50 per portion). However, there's no shipping fee for Splendid Spoon.
With Hungryroot, each serving is of a dinner-style meal, whereas with Splendid Spoon, a serving can include lighter options like smoothies or soups. So what's better value for money for you will depend on what you appreciate more – hearty meals or lighter, healthy plant-based ones.
I found the prices comparable, which is why I gave them a tie.