Plated vs. Purple Carrot 2023: What Do You Need to Know?
Since Plated is no longer in business, it's fairly easy to see how Purple Carrot comes out on top. But in the past, how did Plated stack up against Purple Carrot? And is Purple Carrot a worthy alternative today? Find out the answer to that in this article.
My team and I have researched each company to find out what the key differences are, and what Plated used to bring to the table. Now, since Purple Carrot is the only company left out of both options, it could prove to be one of the best alternatives – especially if you prefer plant-based, vegan food.
I've found Purple Carrot to be the better option, overall. It offers unique, high-quality, and no-fuss meal kits and prepared meals that make the veggies the star of the show. The meal kits offer you the chance to be more adventurous in the kitchen, and its prepared meals are perfect for those nights when you just don't have much time or desire to cook and clean up.
At a Glance: Who Won Each Category?
Winner: Purple Carrot
Purple Carrot is the clear winner here with over 20 meals spanning across different meal types like breakfast, lunch, dinner, and "Plantry" items. Plantry items include things like Cashew Cream Cheese, Almond Soft and Chewy Cookies, Chocolate Glazed Mini Donuts, Hand-Packed Lumache, Black Bean Burgers, gluten-free and cookie-inspired snack bars called Whoa Dough Variety Packs, and UFO Burger Sauce.
Around half of Purple Carrot's meals are meal kits, and the other half are prepared meals. I've found the prepared meals to be some of the highest quality out there today, especially if you're vegan. For example, the Quinoa Burrito Bowl is a high-quality, family-friendly prepared meal that only takes around 2 to 3 minutes to heat up in the microwave. With Purple Carrot, you can order up to 3 meal kits of 4 servings each, or 10 prepared meals per week.
You can find different cuisines from Purple Carrot like Korean-style, Latin American-influenced, Middle Eastern, Asian-influenced, Sicilian, and even classic American. Most of the dishes are slightly fancier and may not all be entirely kid-friendly, either.
On the other hand, the cuisines you could once find on the Plated site included French, Moroccan, Latin American-influenced, Italian, Indian, Korean, Greek, and Thai. I found many of the Plated dishes to be more exotic. That meant that not all dishes were entirely kid-friendly – but you could always omit any ingredients to gear them more toward children.
There were also once a few extras and sides that Plated offered. For example, you could order Thai Lime Cheesecake Bars, Steak Frites, or even Chocolate Dutch Babies. Plated never offered the largest selection of add-ons, but it was nice to see that you could at least get something.
On the other hand, Plated once offered meal kits only, which meant you always had to cook. No prepared meals were offered at the time of their existence. All its meals were multi-serving ones which meant it wasn't an ideal service for single individuals.
In terms of dietary preferences, Purple Carrot offers high protein, soy-free, gluten-free, nut-free, and <600 calorie meals. Plated, on the other hand, once offered Family-Friendly, Meat, Seafood, Vegetarian, Low-Calorie, Low-Carb, and Gluten-Free meal options. This is a much more extensive selection, but since Plated is no longer around, again, the win here has to go to Purple Carrot.
If you're wondering about how to heat up Purple Carrot's meals, it recommends heating them in the microwave, as heating the meals in the oven or on the stove hasn't yet been tested.
Meal Customization
Winner: Purple Carrot
You'll find that many of Purple Carrot's non-produce ingredients are organic like beans, nut milk, tofu, tempeh, vegan cheeses, and yogurts. Purple Carrot's specific dietary options include high protein, <600 calories, gluten-free, nut-free, and soy-free. None of these meals are from any particular plan, so you can mix and match any dietary preferences you desire.
It's very simple to either see these options directly on the menu while browsing. Alternatively, you can also choose your preferred dietary options during the signup process. Simply choose whether you prefer High Protein, Gluten-Free, Quick & Easy, or no preference. However, there aren't any filters on the menu, and you can only select your dietary preferences during the sign-up process.
If you have a severe allergy to anything other than gluten, Purple Carrot may not be the best service for you as it can't guarantee its ingredients are allergen-free. However, all of the allergens you need to know about are also listed directly on the menu. That way, you can at least omit what you can't eat.
Also, keep in mind that Purple Carrot offers meal kits. This helps you easily omit any ingredients at home before cooking any of the kits if you can't eat something specific. At this time, there also aren't any customizations possible for individual meals or ingredient substitutions when ordering.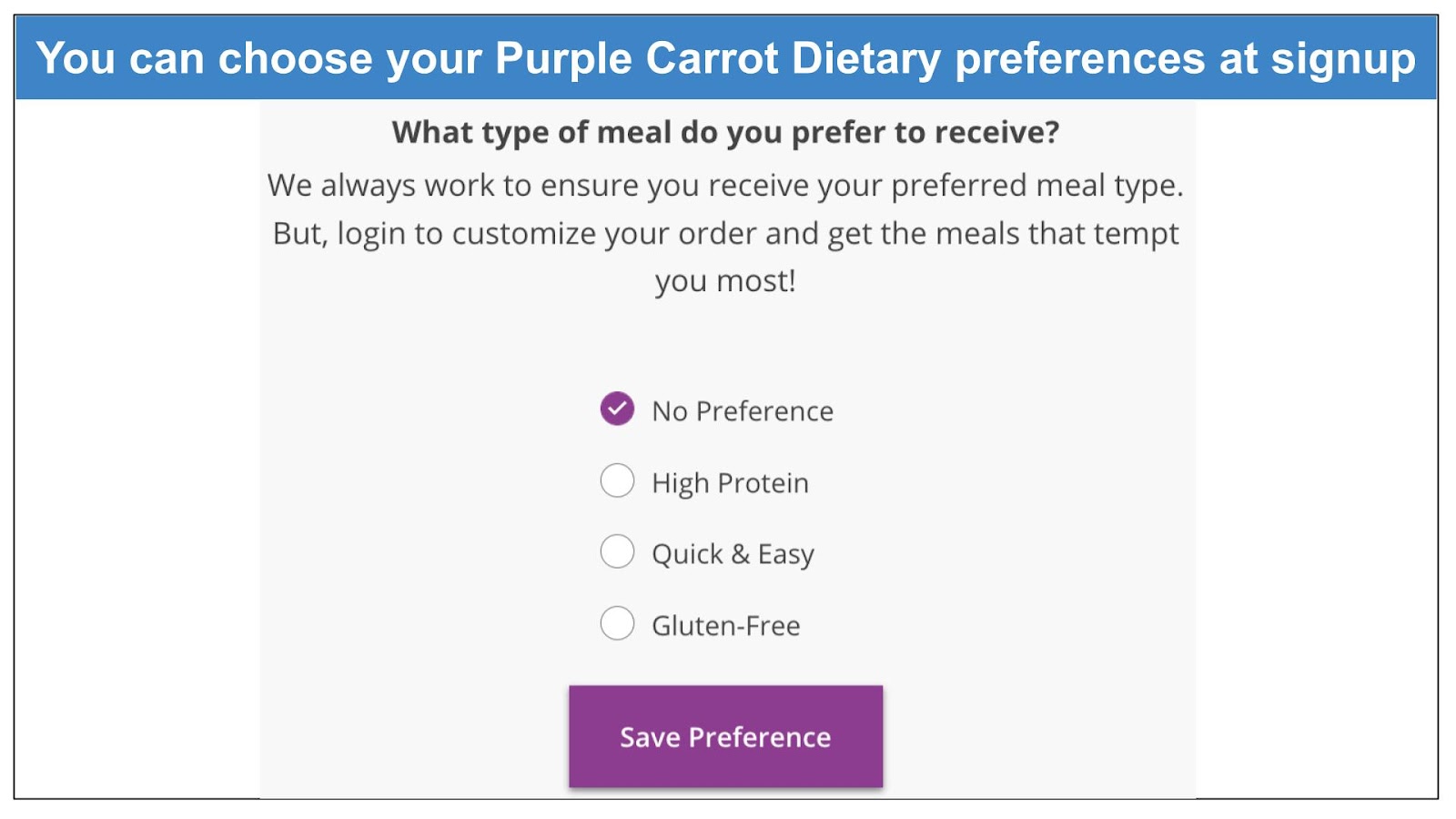 On the other hand, Plated used lots of organic ingredients in its recipes wherever possible, hormone and antibiotic-free meat, and sustainably sourced fish. It also offered lots of diet plans like gluten-free, balanced, vegetarian, pescatarian, low-carb, and low-calorie.
There were also never any real allergen filters on the Plated site. That meant that, if you had any severe allergies, Plated wasn't the best service out there.
However, just like Purple Carrot's meal kits, you were able to simply omit any ingredients. If there was something specific you weren't able to eat, Plated made it easy for you to omit any ingredient you didn't want, right at home, before cooking your meal.
Ordering, Delivery, Unboxing
Winner: Purple Carrot
Again, Purple Carrot wins this category by virtue of Plated no longer being around. But how does it stack up to what Plated once offered? First, navigating the Purple Carrot website is about as simple and clean as it gets. You can jump right into the menu from the top navigation bar, or proceed directly to the pricing page.
Finding your meals and placing an order is very straightforward. Once you sign up for an account, you can choose your meals and check out. But what if you need to change your order once it's placed? You can make any necessary changes to your order by no later than Tuesday at 11:59 pm EST the week prior to your scheduled delivery.
It looks like the Plated site was also fairly easy to navigate when it was still in business. Ordering meals and signing up was straightforward, and you could even manage your subscription using the iOS or Android apps. Changing your order was just as simple. You just had to do it by 12 pm (noon), 6 days before that box's scheduled delivery day.
You could also choose from one of Plated's various meal plan options. These included 2, 3, or 4 servings per night for 2 to 4 nights per week. Its minimum order was 2 servings for 2 nights per week.
Purple Carrot's minimum order for meal kits is 3 meals of 2 servings each per week. You're welcome to order more than that, though. You can order up to 4 meal kits of 4 servings each per week. Its prepared meals have a minimum order of 6 single-serving meals per week – but you can order up to 10 per week. With its meal kits, the more you order per week, the lower the cost will be per serving.
Something interesting to note here is that Plated used to have an app for iOS and Android, but Purple Carrot doesn't. Keep that in mind when you're looking to change your order or manage your account. You'll have to make any of these changes using the desktop website.
In terms of delivery locations, both Plated and Purple Carrot ship to the contiguous US. Obviously, again, Plated is no longer around. Specific delivery days for Purple Carrot include Mondays, Tuesdays, or Wednesdays. You can customize your exact delivery days anytime you like.
When you got your delivery box from Plated, you used to be able to expect everything to be organized and neatly labeled. All ingredients were pre-portioned, so all you had to do was follow the simple recipe cards. Everything came in an insulated box, and you didn't have to be home to accept delivery.
You'll notice a very similar trend from Purple Carrot as well. Everything in your Purple Carrot delivery comes in an insulated box to keep things chilled until you can place them into the fridge. If you ordered prepared meals, they'll all come neatly labeled for easy recognition. If you got the meal kits, you'll find each of the ingredients packaged separately. Each ingredient belongs to a specific meal so you don't have to spend time figuring out what's what.
Most Purple Carrot ingredients come pre-portioned and measured, however, some recipes do require a bit of prep work. You might need a few tools like pots, pans, skillets, cutting boards, knives, blenders, and general kitchen utensils like spatulas and ladles. It's recommended that you cook your Purple Carrot meals within 3 to 5 days of receiving your box for optimal freshness – but do keep in mind that, if stored properly, many ingredients can stay fresh for up to 7 days.
It's also recommended that you store the ingredients and prepared meals in the fridge. The site's FAQ section states that the meals stay fresh for at least 7 days (if not longer). However, each meal also has a best-before date printed on it so you don't have to guess.
Also, if you aren't planning on cooking the meals immediately, Purple Carrot also recommends you cook meals with sensitive ingredients first. Sensitive ingredients could include leafy green veggies and salads.
It doesn't recommend that you freeze any of its meals or ingredients. The reason for this is that the meals are meant to be consumed fresh. Freezing anything could change the texture or flavor profile significantly.
All of your delivery boxes arrive insulated and contain non-toxic ice packs to help keep everything at the right temperature. The Purple Carrot site states that "most of its packaging is made from recyclable materials" – but I'll go over some specifics for you.
Anything made from paper or cardboard like the boxes and ClimaCell liners is recyclable. You may find some different plastics like bubble liners, cooling packs, and others, so the recyclability of those will depend on your specific city's rules. These can either be #1, #4, or #7 plastics.
Many of Plated's delivery materials were also once recyclable like the delivery boxes. Other materials like the liners could either be made from jute or denim. The jute could be composted, and the denim either reused, donated, or simply thrown away in the trash.
Winner: Purple Carrot
It's pretty easy to see how Purple Carrot wins this category, and that's even if Plated were to still be in business. The reason is that Purple Carrot offers both meal kits and prepared meals. Plated only ever offered meal kits. If you're looking for a way to eat super healthy, plant-based vegan meals that take only 2 to 3 minutes to heat up, Purple Carrot is your best bet.
Everything it sends to you is fresh and never frozen which applies to both its meal kits and prepared meals. Again, most of its meal kits come pre-portioned and pre-measured, but some will definitely require additional chopping, slicing, or dicing. However, even with that in mind, most of Purple Carrot's meal kits take fewer than 30 minutes to prepare which is still great if you're in a bit of a rush. This is clearly labeled on the main menu.
Plated's meal kits, on the other hand, could take anywhere from 20 to 40 minutes – so, not too different from Purple Carrot's. But, of course, again, it never offered prepared meals, so make of that what you will.
In terms of storage instructions, Purple Carrot doesn't recommend freezing its meal kits or ingredients. Everything is sent to you fresh, and never-before-frozen.
If you're not planning on cooking or eating the food right away, it recommends you consume anything with delicate ingredients first such as leafy greens like spinach. That's because these ingredients tend to go off more quickly than other types of solid veggies.
Customer Support
Winner: Purple Carrot
Purple Carrot offers support via phone and live chat from 9 am to 5 pm EST. You can also contact the support team via email 24/7. I took the opportunity to test out the live chat support to see what it's like. Overall, I was impressed as the agent connected with me quickly and answered my questions in detail with a friendly attitude.
My specific agent connected to the chat in under one minute, and took only around 15-30 seconds to begin typing their response. That's great to see as some other competitors can take much longer than this which ends up wasting a lot of time.
Of course, this applies even before you're a customer. Its pre-sales support will help you understand more about the service, or answer any specific questions you may have. There's also an in-depth, searchable FAQ section that answers most questions that might arise.
Regarding Plated, it once offered support via an email address, and phone between 8 am and 12 am (midnight), every day of the week. But, unfortunately, they're no longer around, so this is sort of a moot point.
Pricing
Winner: Purple Carrot
Overall, Purple Carrot is the winner here, again, by virtue of being the only company left standing between the two. But what sort of pricing did Plated once offer, and how does it compare to that of Purple Carrot? Plated's pricing started at around $12 per serving for 2 servings for 2 nights per week. The more you ordered, the more you would stand to save as well.
On the other hand, Purple Carrot's pricing starts at around $8.50 per serving. If you're ordering meal kits, the more you order at a time, the more you'll save per order. The same doesn't apply to prepared meals, unfortunately. Those are always the same price, no matter how much you order at a time.
There also are a number of snacks and add-ons you can get from Purple Carrot. These range from around $4 to $15 per order. The Chocolate Glazed Mini Donuts are the cheapest add-on you can get, and the Whoa Dough Variety Pack is the priciest.
It looks like Plated only really ever had a couple of desserts if you're wondering about the extras on offer. The pricing for these depended on your plan, and they were able to be added after signing up.
Speaking of Plated pricing, shipping started at around $3.95 per order but could vary depending on your location. This was quite a bit cheaper than Purple Carrot's shipping cost.
Purple Carrot has a bit of a complex shipping fee structure. For example, orders under $85 cost $8, and if you spend more than $85, shipping is free. Your first order is free, and you'll get free shipping after your 20th box.
Features Comparison: Plated vs. Purple Carrot
| | | |
| --- | --- | --- |
| | | Plated |
| Best for | Vegan prepared meals | Meal kits |
| Starting price | $8.50 per serving | $9.95 per serving |
| Shipping cost | <$85 is $8, >$85 shipping is free; first box is free and always-free shipping after 20th box | Free shipping over $60, $7.95 under $60 |
| Minimum order | 3 meal kits of 2 servings each per week, or 6 prepared meals per week | 2 meals for 2 nights |
| Menu variety | 12 meal kits covering breakfast, lunch, and dinner, and 8 prepared meals | 18 choices per week |
| Prep time | 3-45 minutes | 30-60 minutes |
| Low-prep options | Microwave-ready prepared meals; fast meal kits | None |
| Allergies catered to | Gluten-free, high-protein, nut-, soy-, and dairy-free | Dependent on recipe |
| Special diets | Vegan only | Family-Friendly, Meat, Seafood, Vegetarian, Low-Calorie, Low-Carb, and No-Gluten |
| Customer support | Phone and live chat from 9 am to 5 pm; email 24/7 | Phone and email |
| Promotions | | N/A |
I don't want you to think that Purple Carrot wins here, just for the sake of it. If Plated was still in business, it would definitely be a compelling option as well. However, since Purple Carrot is the only one left, offers a great plant-based menu, and has both meal kits and prepared meals, it's the clear winner.
A few years ago, I would've said to at least give Plated a chance because of its excellent, quick, and easy meal kits. But since it's no longer around, I believe Purple Carrot is a great alternative if you're looking for simple, vegan meal kits and prepared meals.
FAQ
Is Plated coming back?
Unfortunately, at this time, there's no indication that Plated will be making a comeback. If you're looking for meal kits and prepared meals that are based on the vegan lifestyle, I think that Purple Carrot makes an excellent alternative. Its prepared meals can be heated up in under five minutes, and most of its meal kits can be fully ready to eat in fewer than 30 minutes.
Is Purple Carrot genetically modified?
Not always. Purple Carrot promises to do its best to source only non-GMO ingredients – however, sometimes it can be a bit limited depending on its exact suppliers. It does promise that most of its non-produce ingredients are organic such as beans, nut milks, tofu, tempeh, vegan cheeses, and yogurts.
Is Purple Carrot good for you?
Yes, Purple Carrot absolutely can be good for you. It offers highly-nutritious, plant-based vegan meals that are rich in fiber and micronutrients. If you're vegan, or simply prefer plant-based food, there really isn't a better meal delivery service out there that supports the vegan diet.