Splendid Spoon vs. Purple Carrot 2023: Pick Your Vegan Meals
Splendid Spoon and Purple Carrot are two of the best vegan meal delivery services on the market. But this doesn't mean that both services will be a good fit for everyone. So how do you know which one's best for you?
My experienced team and I looked into what makes Splendid Spoon and Purple Carrot special and why you should choose one over the other. And, to make it easy for you to find your favorite, I've detailed all the key points below.
Overall, both have strong points, but when you look at the finer details, Splendid Spoon comes out on top. That's because, with Splendid Spoon, you get a more diverse menu that caters to a wider range of dietary needs. Keep reading to learn more about these two meal delivery services.
At a Glance: Who Won Each Category?
Winner: Splendid Spoon
Both services offer plant-based, gluten-free meals, but Splendid Spoon's menu has more choices (50+) than Purple Carrot's (16+). Plus, Splendid Spoon has a variety of meals, such as smoothies, soups, grain bowls, noodle bowls, and extras (cold-pressed juices and shots).
Compared to this, Purple Carrot's menu, which only includes meal kits, prepared meals, and add-ons seems a bit limited. Also, Splendid Spoon's meals are all ready to eat, which makes it a lot more convenient. On the other hand, if you like cooking, Purple Carrot's meal kits may be a better choice, since most take 30+ minutes to prepare.
Both meal delivery services focus on helping you create easy meals while developing healthy eating habits. Splendid Spoon promises 100% plant-based meals made from whole organic (where it matters) ingredients. Its food is also low in sugar and sodium.
Purple Carrot takes it one step further and shows that eating more plants isn't just good for your health, it also has a positive impact on the environment. And honestly, if I didn't already know its meals are delicious, this argument would have won me over anyway.
Both companies offer breakfasts, lunches, and dinners. However, Splendid Spoon comes out on top because it has more options for each category, while Purple Carrot only has two choices for lunch and two for breakfast per week.
On the other hand, if you're not used to having a smoothie for breakfast, you may find Purple Carrot's options a bit more filling. Regardless of your choice, you'll have access to new and fresh menu items each week, as both companies rotate their menus. I also like that both have seasonal meals or flavors, depending on which plants are in season.
Splendid Spoon offers more in terms of flavor variety. The soups, grain bowls, and noodle bowls are a nice mixture of Italian, Asian, Indian, American, and Mexican cuisines. I like that there's a plant-based spin to various popular meals and that the chefs use special sauces, spices, and seasonings to enhance the taste.
A great example is the Vegetable Bolognese Grain Bowl, which is rich in nutrients and low in carbs, sodium, and calories.
Purple Carrot does a similar thing, but the menu is more focused on Indian, American, Middle Eastern, and Asian foods. You'll find different takes on all-time favorites, like the White Lentil Risotto, a delicious plant-based meal with Italian accents.
Both companies offer extras. Splendid Spoon offers cold-pressed juices and immune-boosting shots, and Purple Carrot offers shelf-stable foods, such as tahini, pesto, or pumpkin spice cookies.
Both Splendid Spoon and Purple Carrot run special offers. An example is Splendid Spoons Fall Seasonal Meals offer, which includes seasonal items like the Pumpkin Spice Smoothie or the Roasted Brussels Sprouts Grain Bowl.
Purple Carrot offers the Celebrations Box, a special type of delivery created for large gatherings such as Thanksgiving dinner, a birthday, or a special occasion. This box includes a three-course meal that serves four people.
Meal Customization
Winner: Splendid Spoon
Besides the fact that both services allow you to choose your meals (no fixed meal plans) with each order, there aren't many customization options. The only things that stand out are Splendid Spoon's filtering and tags systems.
The filtering system on the left side panel of the menu page lets you find the meals you want, based on dietary preferences and ingredients you want to avoid. This makes it easy to browse the numerous options, but if you check too many boxes, you may end up filtering out most of the meals.
Both companies use tags to help you find the meals that best suit your preferences, but I found Splendid Spoon's a lot more useful than Purple Carrot's. With Splendid Spoon it's easy to tell if a meal is low-calorie or low-sodium because the tags stand out. Also, if you click on a tag, it'll act as a filter.
Purple Carrot only uses tags for meal kits, and they aren't as visible. This means you have to carefully read the ingredients of each meal and study the recipe in order to understand its composition. If you're in a hurry, this can be quite annoying.
Both services offer allergen info, but you have to check each recipe. Still, once you know where to look, the information is easy to spot.
All Splendid Spoon meals are gluten-free and are prepared in gluten-free kitchens that adhere to strict protocols to avoid cross-contamination. It's not a certified gluten-free service though so if you have a severe allergy you may want to check with your healthcare professional before signing up. Purple Carrot offers gluten-free meals but again, the facility isn't certified gluten-free so may not be suitable for severe allergy sufferers.
Lastly, Purple Carrot has an option where you can create a custom box that includes meal kits, prepared meals, and even grocery items. I'm quite excited about this one because up until recently, you had to choose between meal kits and prepared meals.
Ordering, Delivery, Unboxing
Winner: It's a tie
The ordering process is straightforward with both services. First, you need to create an account and register your address and payment details (less than five minutes). Next, you get to choose the meals you want according to the selected meal plan (around five to ten minutes). Lastly, you place the order and receive a tracking number to check the status of the delivery.
Both companies work as subscription-based services, but Splendid Spoon has a commitment-free option called the On-Demand Box. Here, you can choose a pre-defined bundle of smoothies, bowls, juices, soups, shots, or mix and match.
You can change the flavors and recipes, but you can't change the number of items from each category. For instance, if you select the "5 smoothies, 3 cold-pressed juices + 2 shots" bundle, you can choose the flavors but can't change the number of smoothies, juices, and shots.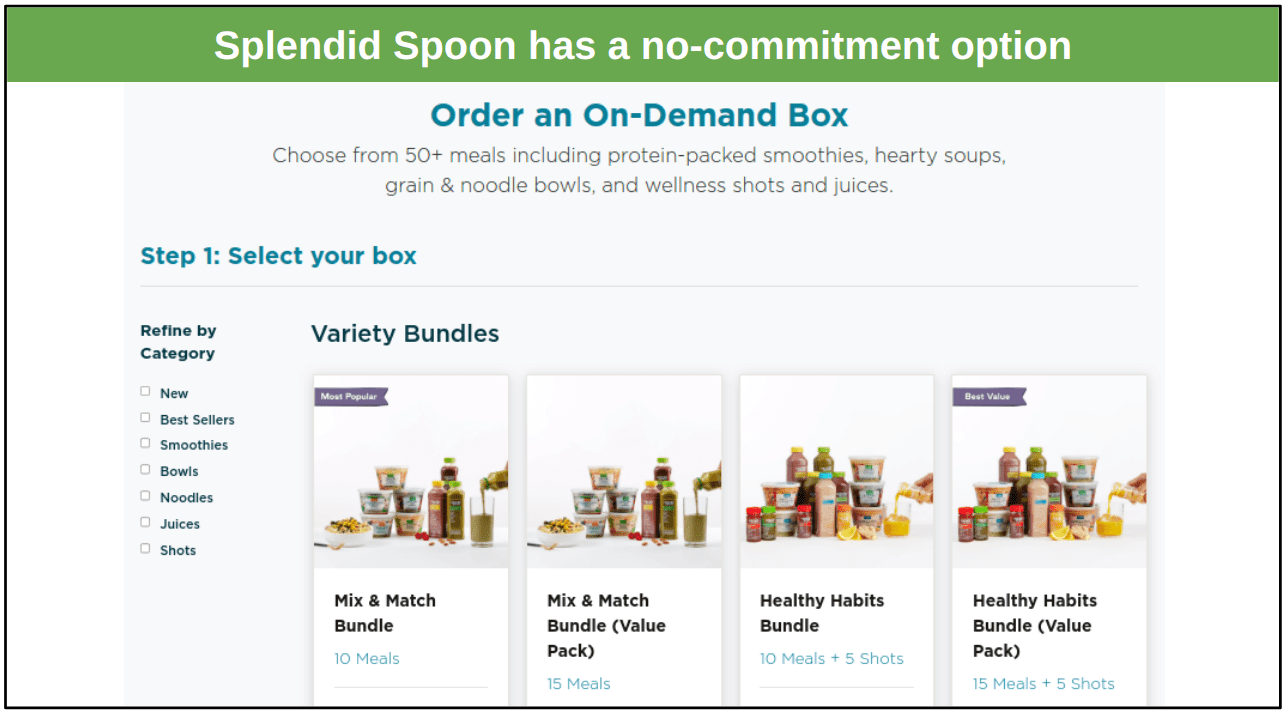 In terms of delivery frequency, Splendid Spoon is a lot more flexible and offers deliveries weekly, every other week, or once a month. You can also choose the delivery day, although there are only two (Wednesdays and Fridays). Purple Carrot only has weekly deliveries on Mondays, Tuesdays, and Wednesdays, and you can't choose which one's best for you.
Both companies make it easy to edit orders, pause deliveries, skip orders, or cancel, using your online account. However, you have to respect the cutoff dates and times for each order, which you'll see in your online account. Splendid Spoon sends an email reminder three days in advance.
Purple Carrot's cutoff date is 11:59 PM EST on Tuesday, the week before your order is scheduled for delivery. Splendid Spoon has two cutoff dates – 4 PM ET on Thursday for Wednesday deliveries and 4 PM ET on Sunday for Friday deliveries. This way, you have six days before you receive your meals to make changes to your next order.
The minimum order on Splendid Spoon is seven meals, while Purple Carrot's is six single-serving prepared meals or three meal kits for two people. The meal plans are also very different, with Splendid Spoon offering options for Lunch, Breakfast, and Dinner (separately or combined) and Purple Carrot offering Meal Kits and Prepared Meals.
Both companies deliver to all 48 contiguous U.S. states and use recyclable packaging. Splendid Spoon's packaging is 100% recyclable, while Purple Carrot says most of its packaging materials are recyclable. One thing's sure – both companies provide detailed instructions on how to proceed.
Inside your Splendid Spoon box, all your meals (protected by ClimaCell insulation) are nicely stacked and labeled. Splendid Spoon recommends placing all the meals in the refrigerator as soon as you open the box, but you can also freeze some of the items, and they'll stay fresh for up to three months.
I like that Splendid Spoon has a well-detailed preparation process to keep the food fresh and nutritious for longer. For instance, the bowls are flash-frozen, while the smoothies and shots are high-pressure processed. Also, if you want maximum taste and freshness, you should consume smoothies, cold-pressed juices, and shots by the "Enjoy By" date printed on the bottles.
Purple Carrot's box looks different depending on whether you've ordered meal kits or prepared meals. In both cases, the box is insulated with ClimaCell, but for meal kits, you'll receive all your ingredients packed, prepared, and labeled. The prepared meals are delivered in microwave-safe containers, which you can also use for eating.
For optimal freshness, it's best to use the ingredients within three to five days of receiving them. If not, keep perishable ingredients in the fridge. Prepared meals will stay fresh in the fridge for up to seven days or before the "best by" date specified on the sticker. Purple Carrot doesn't recommend freezing the meals because this could change the texture and taste.
Winner: Splendid Spoon
Even though both services offer ready-to-eat meals that require little to no prep, Splendid Spoon is the only one where the time spent on prep and clean-up is minimal. The smoothies and cold-pressed juices can be consumed as is, and the soups, grain bowls, and noodle bowls only require around two to four minutes in the microwave. You can also heat them up on the stove, but it's going to take a few minutes more.
Purple Carrot's prepared meals are also ready after a few minutes in the microwave (read the instructions on the label), but the meal kits can take between 20 and 45 minutes to prepare and cook. Plus, you have to clean up after.
As a side note, Purple Carrot strongly recommends using the microwave to heat up its prepared meals. That's because the quality assurance team hasn't tested them in the oven or stove, so they can't guarantee the same taste and quality.
Customer Support
Winner: It's a tie
Purple Carrot and Splendid Spoon have reliable customer service teams, but also provide users with well-developed FAQ sections that offer replies to a wide range of inquiries. Plus, I think it's cute that Splendid Spoon calls theirs the Self-Service Support Center.
Purple Carrot's team is available via live chat (9 AM - 8 PM EST Monday to Thursday and
9 AM - 3 PM EST on Fridays), email (replies in one to two business days), and phone (Monday to Friday, 9 AM - 5 PM EST). Users can also connect with the brand via social media or by reading the Purple Carrot blog, which is full of posts on nutrition, health, and fitness tips.
Splendid Spoon is available Monday to Friday (9 AM - 9 PM EST) and weekends (9 AM - 6 PM EST) via email, Facebook messenger, and a contact form. When things aren't too busy, you should get a reply within two hours. Users also have access to a well-stocked blog (recipes, updates, nutrient info, and more) and the brand's social media channels.
Winner: Purple Carrot
Neither of these services would be the first choice for someone on a budget, which is understandable considering how challenging plant-based cooking can be. Still, when you run a cost analysis, Purple Carrot is the more affordable.
Purple Carrot's 4-Serving Plan for meal kits offers the best price per serving ($8.50), but even with the minimum order, you'll pay $13.25 per serving for meal kits and $13 for prepared meals. Also, shipping is free for all orders.
Splendid Spoon has different prices for each meal category – $9.99 for smoothies, $12.49 for soups and grain bowls, and $13.49 for noodle bowls. Shipping is free for orders that include 10+ meals and $12.99 for fewer items.
To get the best price per food item, choose between the Breakfast + Lunch and Breakfast, Lunch, and Dinner weekly meal plans. The Breakfast + Lunch (14 items – seven smoothies and seven veggie-filled bowls) costs $10.52/item, while the Breakfast, Lunch, and Dinner meal plan (21 items – seven smoothies, seven soups and grain bowls, seven noodles) costs $10.79/item.
In conclusion, it's easy to see that the cost of a Purple Carrot cooked meal is lower than the cost of a noodle bowl from Splendid Spoon. As much as I enjoy Splendid Spoon's dishes, and even though it's tempting to have all the meals of the day prepared and waiting for you in the fridge, Purple Carrot offers a more filling meal, with a higher nutritional value, for a lower price.
Features Comparison: Splendid Spoon vs. Purple Carrot



Best for

Effortless meal prep, Busy people, Healthy lifestyle, Single people

Families, Single people, People who enjoy cooking, Healthy lifestyle

Starting price

$9.99 per serving

$8.50 per serving

Shipping cost

Free for 10+ items per order or $12.99

Free

Minimum order

7 meals per order

3 meal kits for 2 people

Or 6 one-serving prepared meals

Menu variety

50+ choices per week

16+ choices per week

Prep time

2 to 4 minutes

2 to 4 minutes for prepared meals

or 20 to 45 minutes for meal kits

Low-prep options

Microwave-ready

Microwave-ready

Allergies catered to

Allergens mentioned on the label

Allergens mentioned on the label

Special diets

Vegetarian, Vegan, Gluten-free, Dairy-free, High-protein, Low-calorie, Low-carb, Low- sodium

Vegetarian, Vegan, Gluten-free, Dairy-free, High-protein

Customer support

Email, online contact form, and Facebook messenger

Online chat, email, phone

Promotions
And The Winner Is: Splendid Spoon
Splendid Spoon has the advantage due to its diverse menu which can cater to several dietary needs. Plus, all the meals are ready to eat, so you can try out a wide range of tastes and textures without investing time in prep and cleanup.
Purple Carrot, despite its limited menu, could be a great option if you're not particularly fond of smoothies and soups, thanks to its strengths like better pricing. Both these services have earned their place on our best vegan meal delivery services list for a reason!
FAQ
Is Purple Carrot plant-based?
Yes, all the Purple Carrot meals and snacks are vegan. All the recipes are high in protein, low in calories, and many are also gluten free to provide you with the most nutritious and tasty plant-based meals. Plus, the service is affordable and the menu rotates weekly to keep things interesting.
Has anyone lost weight with Splendid Spoon?
There are Splendid Spoon users who claim the meals helped them lose weight. However, the menu is designed for a healthy lifestyle and doesn't focus on weight loss. Also, the meals are designed to make it more convenient and enjoyable to switch to a plant-based diet.
Are Splendid Spoon smoothies good?
Splendid Spoon smoothies are delicious and good for your health. Plus, there's little to no preparation necessary, and you can easily carry them in your bag while out and about.