Veestro vs. Fresh N Lean 2023: There's Only One Winner
If you've gone in search of prepared organic meals that also happen to be vegan, gluten-free and/or calorie-controlled, you've likely come across both Veestro and Fresh N Lean.
At one point, both were great options that had different pros and cons. But now? Fresh N Lean is your only choice of the two, since Veestro closed its doors and is no longer in business.
The good news is, there's lots to love about Fresh N Lean. Not only does it offer more variety in terms of plans, with paleo and keto options alongside its vegan offerings, but the ingredients are top-notch and the meals delicious.
And if you considered signing up to Veestro because you wanted a weight loss plan, Fresh N Lean has that in spades, too. But enough chatting, let's dive in!
At a Glance: Who Won Each Category?
| | |
| --- | --- |
| 💲 Price: | Fresh N Lean ($7.53 per serving) |
| 🍔 Menu Variety: | Fresh N Lean (100+ choices per week) |
| ⏰ Prep Time: | Fresh N Lean (3 minutes) |
| 🍴 Customization: | |
| 👍 Ordering and Delivery: | |
| 🙋 Customer Support: | |
Menu Variety
Winner: Fresh N Lean
Let's start with the basics: both companies were designed to spare you the hassle of cooking anything, as all the meals are prepared. There are no meal kits on these menus – everything is ready to eat after a few minutes of heating in the microwave.
The key difference is that Veestro's menu was entirely plant-based, which made every meal suitable for vegans. You'd often see plant-based twists on popular takeout dishes from all over the world, including Chick'n Shawarma and Red Curry with Tofu.
The company also offered a weight loss menu based on three plant-based meals per day, amounting to 1,200 calories. They were just as creative and comfort-forward as the rest of the menu (in fact, there was some crossover between the two) only lighter. A great example was the Portobello Steak at just 270 calories. Now that's a steak to have every day…
With Fresh N Lean, the options are a little more varied, with several meal plans to choose from: Protein+, Keto, Paleo, Vegan, Low-Carb Vegan, Whole30 Approved, and Mediterranean Diet. It's particularly great if you have special dietary needs.
Similar to Veestro's a la carte menu, you can stock up on meals, sides and proteins by ordering from the Bulk plan, and pick up extras like snacks and breakfasts from the more limited a la carte menu.
Fresh N Lean's other meal plans work slightly differently however, in that the meals are automatically chosen for you based on your taste profile. This could be helpful to you if you're someone who wants to put healthy eating on autopilot.
You won't get to see the meals Fresh N Lean chooses for you beforehand, but you could consult the menu for that week to work out what you might expect, or you can go in and select your own if you remember to do so before the cut-off.
A typical day on Fresh N Lean's Vegan plan might look something like this: Apple Cinnamon Oatmeal for breakfast, Herb Roasted Potatoes and Brown Rice with Green Beans for lunch, and Maple Parsley Carrot With Tofu for dinner.
You can also expect some dishes made with plant-based meat alternatives, as Fresh N Lean recently added Daring and Beyond Meat to the menu.
If you're looking for the real deal, however, the company's other plans feature plenty of meat and fish. And whether you're vegan or not, you can be sure that all the meals are fresh, balanced, nourishing, and packed with organic ingredients.
Fresh N Lean's single-serving meals will certainly appeal to most people wanting an easy-to-follow diet plan, particularly those who were keen to give Veestro a shot.
Meal Customization
Winner: Fresh N Lean
Veestro offered you complete control over its chef-crafted menus. Whether you wanted to order from the weight loss plan or the a la carte menu, you could happily mix and match to your heart's content.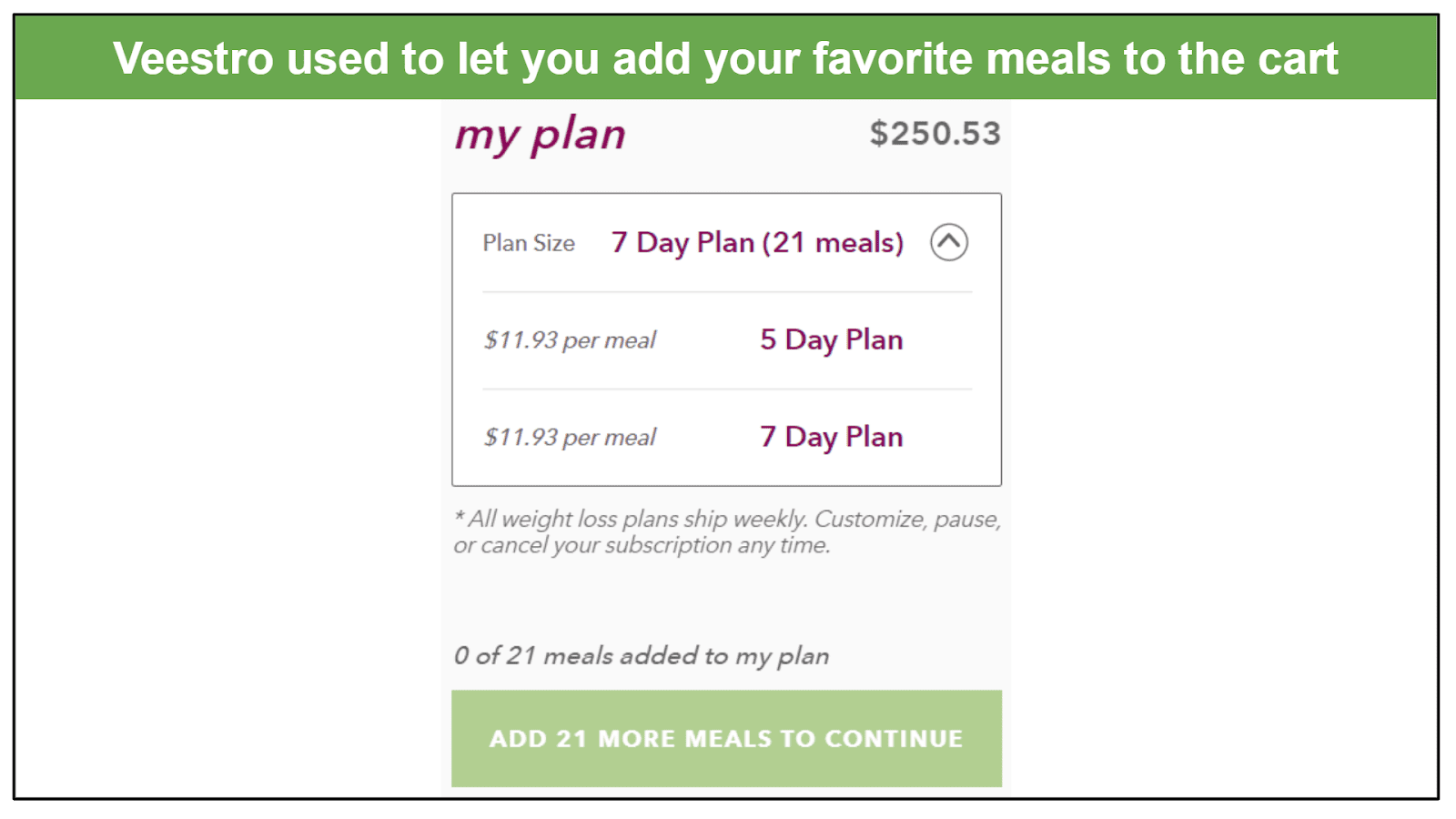 You could choose from around seven breakfasts and 50 entrees – that's a lot of choices, if you ask me.
However, as mentioned, when you sign up to a plan from Fresh N Lean, you'll receive the chef-curated selection from a rotation of breakfasts, lunches, and dinner options unless you remember to go into your account and pick your own meals before the cut-off time (Saturday 12 pm PT).
There are more than 100 meals on the rotating menu. This is awesome if you love the thought of being surprised and don't want to eat the same meals over and over again – like you would with Veestro's now-defunct fixed menu.
As for what goes into the meals themselves, you'll have zero control over that. Fresh N Lean's meals are already prepared and custom orders are not available, so you need to look up any potential allergens to be sure the meals are suitable for your diet. The good news is, there shouldn't be many allergens.
Veestro's whole menu was vegan, so everything was free from meat, fish, dairy, eggs, and honey by default. You could also filter the menu to see meals that were high-protein, gluten-free, low-calorie, nut-free, soy-free, and kosher.
Fresh N Lean also has well-defined plans that cater to vegan, low-carb vegan, high-protein, paleo, keto, Whole30, and Mediterranean diets. All Fresh N Lean plans are certified gluten-free and most are dairy-free (the Keto and Mediterranean plans may contain dairy) to ensure that the most common allergens don't give you any trouble.
The company also lets you exclude up to three ingredients (without resulting in smaller portions), and you can ask to see if they can be replaced with something else.
You can also specify if you are allergic to sesame, tree nuts, or soy when you place your order so Fresh N Lean will make sure to not send you any meals containing these ingredients.
Finally, the company promises only sustainably farmed, non-GMO proteins and organic-where-possible produce in its dishes – so you can be sure that the foods you're consuming are the best. Veestro used to select its ingredients with similar care, too.
Ordering, Delivery, Unboxing
Winner: Fresh N Lean
Ordering from the Fresh N Lean website is really easy, and making amends to your order before it's processed is just as simple.
This was the case with Veestro as well. You simply added the meals you wanted to your cart until you reached the 10-, 20-, or 30-meal quota (or 15 or 21 in the case of the weight loss plan), created an account, filled in your info, and paid.
You could see reviews and star ratings from other customers for each meal, so it was easy to make an informed choice.
Veestro also delivered anywhere in the contiguous US – though that meant no Hawaii, Alaska, or Puerto Rico. Orders were shipped either via FedEx, OnTrack, or CDL, and shipping was always free for recurring orders.
Orders would arrive in around one to three days depending on where you live. You could consult the color-coded map on Veestro's website to see which region you fell into.
You could easily change your order, skip, cancel, or reschedule a delivery directly from your account if it hadn't yet been processed.
Your meals would arrive frozen and packed with dry ice to keep them that way.
Every dish was individually portioned – but when it came to sustainable packaging, Veestro did this particularly well. Both the food trays and the BPA-free plastic pouches were recyclable, and the insulation was made from starch so you could cut it open and dissolve it with water, then recycle the bag.
When you order from Fresh N Lean, you first choose the number of meals you want per day (whether that's breakfast, lunch, and dinner or just one or two meals) and the number of days a week you want them (five or seven).
Then you can highlight any allergies you might have, and add any additional meals, snacks, or "bulks". Standard delivery is weekly, but you can ask to have your schedule adjusted to suit a bi-weekly or monthly delivery if you'd prefer – just speak to customer service.
Rather than signing up to a particular plan, you can choose to just order meals a la carte. However, the minimum order for this is $85.
Fresh N Lean delivers anywhere in the US – no exceptions. Your meals are shipped via GLS or FedEx Air, and you'll get a tracking number by email once the order is ready to go. For food safety reasons, meals do not ship over weekends and your order will arrive on either a Friday or Saturday.
Similarly to Veestro, Fresh N Lean sends your meals in individual trays inside an insulated cardboard box with ice packs to keep them chilled. So, if you're not home at the time of delivery, don't worry. The meals are well-insulated and should stay fresh for up to 12 hours.
The trays are BPA-free and recyclable, as are the plastic seals and the cardboard box. But for the gel ice packs, Fresh N Lean doesn't offer any guidance, so you'll need to follow the manufacturer's instructions. The insulation is biodegradable, though.
Meal Prep
Winner: Fresh N Lean
Since Veestro's meals contained no animal products, the possibility of spoiling was very low. In any case, it was important to pick up your package as soon as possible to prevent thawing.
These meals were designed to be stored in the freezer for up to eight weeks – and just one or two days of meals at a time could be placed in the fridge to thaw out before heating.
Veestro recommended heating the meals in the oven or in a skillet on the stove for the best results, but you could also use a microwave. The packaging contained detailed instructions as to how long you needed to heat the meals in each case.
On the other hand, Fresh N Lean delivers its meals chilled, and so recommends storing the meals in the fridge and consuming them within seven to 10 days for optimal taste results. But if you can't eat them all, you can put them in the freezer, where they'll last for six to eight weeks. Just remember to thaw them in the fridge for 48 hours before you plan to eat them.
To heat the meals, you first need to peel off the label and puncture a few holes on the plastic film. Then you can microwave your meal for three minutes and serve. If you prefer using the oven or stove, you can totally reheat the meal that way, but it's gonna take a bit longer.
Customer Support
Winner: Fresh N Lean
When it was in business, you could contact Veestro's customer support team either by phone, email, or via an online form on the website. There would always be someone available from Monday through Friday, 8 am to 5 pm PT, and you would usually get a response within 24 hours.
You could also check out the FAQ section on the website for a bunch of basic info.
If you wanted to cancel your subscription after your first order, you could do it either via your account or by emailing customer service and following the instructions you'd receive. You just needed to do it before your next order was processed.
Fresh N Lean also has customer support reachable by phone, email, and an online form on the website. The time it operates is 7 am to 5 am PT, every single day. Yes, this means the weekend too!
The online form is rather detailed – you can select your reason for reaching out from a list, as well as attaching any additional files (such as photos) with your issue. You also need to select whether you have an account already, and even if you're not a customer, you're still welcome to ask questions.
Customer support is there to help you cancel your subscription or skip weeks if you need to. Otherwise you can also do this super quickly via your customer dashboard. Just remember to do it by Saturday 12 pm PT before your next order if you don't want to receive (and pay for) it.
Pricing
Winner: Fresh N Lean
When ordering from its a la carte menu, Veestro would give you three options: 10, 20, or 30 meals. Intuitively, the more meals you ordered, the lower the price per meal. Prices started at $11.03 if you ordered 30 meals, and went up to $12.82 per dish for 10 meals.
However, for Veestro's weight loss menu, whether you picked the five-day plan (15 meals) or the seven-day option (21 meals), the price was always $11.93 per dish.
These prices were all in the case of signing up to recurring orders. For one-time orders, prices were around 10% higher.
With Fresh N Lean, the pricing structure is a bit more complicated, as it depends on factors such as the plan you choose, the type of meals, and the number of meals you order.
As mentioned, there's also an $85 minimum for a la carte orders.
Fresh N Lean plans start at $7.53 per single-serving meal, however.
As expected, the vegan plans will have a lower price per serving than the paleo or keto plans (fresh meat and fish will always be more expensive). And ordering five meals per week will always cost more per dish than ordering seven meals per week.
In addition to your chosen plan, you can expect to pay anything from $2.99 to $6.50 for extra snacks or breakfasts that you add to your order. Basic sides, such as sweet potatoes or brown rice, start from $6.99.
So, even though Fresh N Lean has a lower starting price, there are lots of add-ons available and factors that could mean you end up paying a bit more. Since Veestro had more consistent pricing, realistically it may have ended up being the better deal at one point.
What about shipping, you ask? There was a standard $9.99 shipping fee for one-time orders from Veestro, but shipping was free on all auto-deliveries and subscriptions. Shipping is also free on all orders from Fresh N Lean – so you can take one worry off your mind!
Features Comparison: Veestro vs. Fresh N Lean
| | | |
| --- | --- | --- |
| | Veestro | |
| Best for | Vegans, those seeking a weight loss plan | Keto and paleo dieters, vegans, anyone with an active lifestyle |
| Starting price | $11.03 per serving | $7.53 per serving |
| Shipping cost | $9.99, or free for subscriptions | Free |
| Minimum order | 10 meals | 5 meals |
| Menu Variety | 50+ choices | 100+ choices |
| Prep Time | 3 minutes | 3 minutes |
| Clean-Up | None | None |
| Convenient Options | Prepared meals | Prepared meals |
| Allergy Options | Gluten-free, nut-free, soy-free, dairy-free | Gluten-free, dairy-free, sesame-free, tree-nut-free, soy-free |
| Special Dietary Options | Plant-based, high-protein, low-calorie, kosher | Keto, paleo, vegan, low-carb vegan, Mediterranean, high-protein, Whole30 |
| Customer support | Email, phone, online form | Email, phone, online form |
| Promotions | | |
And The Winner Is: Fresh N Lean
It goes without saying that Fresh N Lean is the winner here, as Veestro is no longer available.
Still, in the past, both companies have been known for offering prepared meals made with organic ingredients that make mealtimes less of a chore and more of a relaxing, well-deserved break in your busy day.
If you like the idea of having your meals chosen for you, Fresh N Lean is a good alternative to Veestro – and in some cases, a more affordable one. Plus, if you follow any special diet other than plant-based, such as keto or paleo, you'll be glad to find those plans on Fresh N Lean's menu.
Fresh N Lean even made it into our list of the 10 best organic meal delivery services of 2023, but you can take a look to see which other services managed to make it, too. Maybe you'll find some that suit your lifestyle even more.
FAQ
Is Veestro or Fresh N Lean cheaper?
Fresh N Lean has meals starting at just $7.53 per serving, but it ultimately depends on the plan you choose and the number of meals you order per week. For a la carte items, sides can go as high as $29.99, so be careful what you add to your cart!
Veestro, on the other hand, had meals starting at $11.03 per portion, but in some cases, it could be cheaper than Fresh N Lean because the pricing structure was more basic. If you're interested in Fresh N Lean, you could always use our current offer ($20 off + free shipping with money back guarantee) to your advantage!
Is Veestro or Fresh N Lean organic?
Veestro was organic, and Fresh N Lean is too. Veestro's meals would promise at least 96% organic ingredients, while Fresh N Lean states that everything the company uses is organically grown where possible. All of Fresh N Lean's meals are gluten-free and non-GMO, too.
Is Veestro or Fresh N Lean vegan?
Veestro had an entirely vegan menu with tons of options, including twists on popular takeaway dishes like Chick'n nuggets, pizza, curries, and more. It also had vegan weight loss meals.
Fresh N Lean offers a vegan and low-carb vegan plan alongside its keto and paleo options, so if you're looking to stick to a vegan plan even after Veestro has gone out of business, you switch to Fresh N Lean with no worries.