Overview

Sometimes you just want a good snack to dig into. If so, a meat jerky treat can be just the thing you need and Chomps may be the website you're looking for. It's not a meal delivery service, but it fills a specific dietary niche online: snacks!
Chomps offers a variety of jerky treats in different flavors and is made from different kinds of meat – from beef to turkey to venison. No matter what you're craving, Chomps may have the snack that's right for you.
So, keep on reading, if you want to learn more about Chomps. I'll cover everything from its selection of snacks to its delivery practices and customer service, and much, much more. I'll even cover some recipes Chomps provides that incorporate jerky as one of the ingredients.
So, get ready! And let's dig in!
Pros
Cons
No snacks other than jerky

24-hour customer service response time

A little pricey
Unlike many of the sites I've reviewed, Chomps isn't a meal delivery service, but rather an online store specializing in jerky. I can't say "beef" jerky alone, because, although it offers eight different kinds of beef jerky, it also offers four different kinds of turkey jerky and one of venison.
The jerky flavors run the gamut from Original Beef to Original Turkey to Jalapeno Beef and more!
That's a pretty good range of options considering that everything offered is basically a variation on the jerky theme. All told, the company offers 13 different kinds of jerky to satisfy your late morning or afternoon munchies.
As it's not a meal delivery service, Chomps doesn't offer anything in the way of add-ons or extras like breakfast, lunches, or what-have-you. It only offers jerky-based snacks. That's its specialty. And at 13, that's an impressive array of options. There's also a useful filter on the site that allows you to easily sort through the options according to the type of meat you want.
There's one more important point to mention, namely, the dietary compatibility and the nutrition facts of its treats. First, most of the treats are compatible with the keto diet, the paleo diet, and/or the Whole 30 diet. That's a big plus. Next, both its turkey treats and beef treats are WW-approved. Furthermore, the beef treats are NON-GMO (as are some, but not all the Turkey treats).
In terms of allergens and such, Chomps labels itself as allergen-friendly. The company is SQF certified and produces products that don't contain any of the top nine allergens – wheat, milk, soy, peanuts, tree nuts, egg, sesame, fish, and shellfish.
However, please be aware that the products are prepared in a facility where soy, milk, and sesame are also present. So, if you're highly allergic to one of those three allergens, you might want, out of an abundance of caution, to give Chomps a pass.
Likewise, the company's products are certified gluten-free. And again, the facility does handle gluten, but Chomps follows strict procedures to prevent cross-contamination. It also tests products monthly to make sure. All that being said, I would repeat the same caution about gluten that I gave above about soy, milk, and sesame. There's lots of detail on its FAQ if you want to know more.
Unboxing
A typical Chomps package will contain one or more packs of meat sticks. Meat stick packs will, in turn, contain either 10 meat sticks or 24 meat sticks depending upon the size of the pack. The product is well-organized. The meat stick packs are wrapped in plastic to keep them fresh and every individual pack consists of sticks of only one type of meat.
Unfortunately, the individual plastic packaging of the meat sticks isn't recyclable. However, the boxes in which they're transported are.
The labels on the packs are clear and informative. The meat sticks are easily stored. They don't require freezing or refrigeration. And, when left unopened, the meat sticks have a shelf-life of approximately 365 days. Yep. One full year. Wow!
The meat sticks provided by chomps can be eaten as is, or, alternatively, if you wish to be creative, you can cut them up and add them to a meal. As mentioned above, since the meat sticks are sealed in plastic, they're shelf-stable, fine at room temperature, and should last around 365 days.
In fact, if you poke around the Chomps website, you'll find a collection of recipes incorporating meat sticks that you can look through and make use of. There's also an extensive filter for these recipes that makes finding what you're looking for incredibly easy. Whether it be a burger or a salad or something else altogether, you can just click the filter and it'll take you there.
Shortlist of My Favorite Meals
The original beef-flavored jerky is one of the staples on the Chomps site. It can be eaten right out of the package or, as mentioned above, it can be chopped up and used in one of the site's popular recipes.
The website has dedicated a full page to the list of recipes you can try out (with your own ingredients, though – remember, it's NOT a meal delivery service). The recipes incorporate a variety of different Chomps snacks of varying flavors.
For example, one recipe that stuck out for me was the grilled beef kabobs. This delicious-looking meal consists of a mix of vegetables and cut-up Chomps placed on skewers and then grilled to perfection. Doesn't that sound yummy?
Another intriguing recipe I found appealing was the Classic Italian Pasta Salad. I absolutely love pasta salad. It's just a great mix of pasta, vegetables, and meat – with a touch of olive oil and vinegar for the dressing. The one featured on Chomps has a pretty basic recipe that takes only about 20 minutes or so to prepare. And that, of course, makes it all the more enticing.
There are more options and recipes on the site. The above-listed ones are just a few that really stuck out to me. But there are plenty of others that I'd love to give a whirl.
Shipping & Delivery
A typical order from Chomps usually takes from 3-5 business days to arrive. The company delivers to the entire contiguous United States with free shipping. That's right. It's free to those locations. It also delivers to Alaska, Hawaii, and Puerto Rico at a $10 flat shipping rate.
If for some reason, you need to edit your order, you can do so from your Chomps profile. Click the Manage Subscriptions button. That'll take you to a page where you can edit any aspect of your subscription. Should you run into any unexpected difficulties, all you have to do is contact customer service.
The last point I want to mention here is that Chomps provides tracking for all its orders. You'll find a convenient link to Tracking on the FAQ page.
Subscription
Subscribing to Chomps is really quite easy. Just follow the procedure listed below.
How to Sign Up
The sign-up process is simple:
Go to the Login page.

At the bottom left, click the Register link.

Create your account by providing the required information.
Managing Your Subscription
Managing your subscription is pretty basic, too. Ideally, you should create an account and password to do so. However, you do have the option of managing a subscription without a password through a special login link at: https://chomps.com/tools/recurring/get-subscription-access
With an account, you'll be able to view previous orders, edit upcoming orders, and get loyalty discounts.
Customer Service
A critical component of any company is how well it treats its customers. Knowing this, I tested out Chomps' customer service center by sending an inquiry over the chatbot. As promised, the company got back to me via email within a day with the answer.
My only real concern here is that, although they got back to me, it took a full day. Generally, when I use a chatbot, I'm looking more for something like live chat so that I can get an answer immediately.
According to the contact page, the live chat is only available Monday through Friday from 9 am to 1 pm CT and, unfortunately, I didn't use it in that time frame so maybe that's why they response wasn't immediate. But, when all is said and done, 24 hours isn't too bad. Not spectacular. But not terrible either.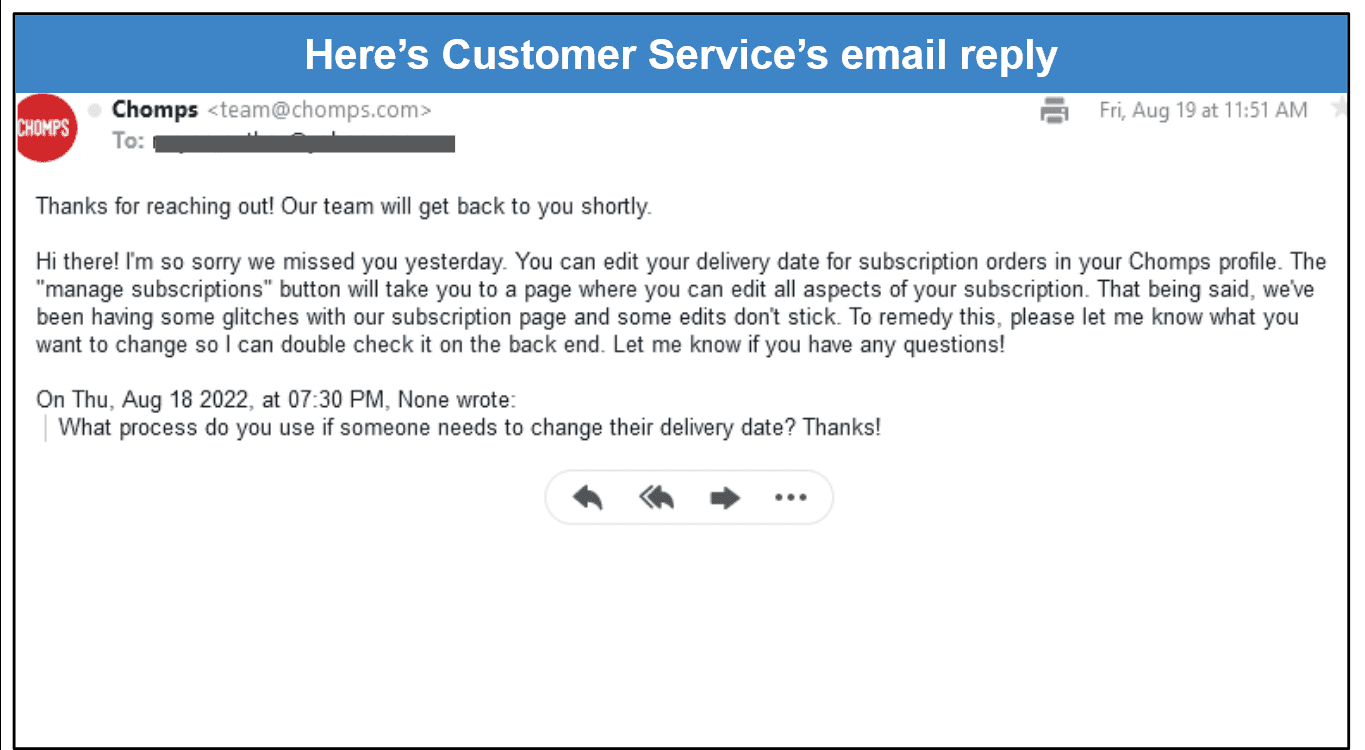 I could've also contacted the company via email, snail mail, or phone (open Monday through Friday, 9 am to 1 pm CT). I just happen to like chatbots and chose that method because they're usually pretty quick.
Finally, if you wish to cancel your subscription, you should be able to do so from your Customer profile. Simply navigate to the Manage Subscriptions page and proceed from there. As always, if you have issues, you can contact customer service.
Prices
| | | |
| --- | --- | --- |
| Starting from | Minimum Order | Shipping Fee |
| $22.50 per portion | 1 package of 10 sticks: $22.50 | Free |
Because Chomps isn't a meal delivery service, there really isn't much to say about pricing.
Although Chomps offers a modest discount for students, at the time of this writing, it has pretty much standard pricing across the board: $22.50 for a 10-pack, $49.00 for a 24-pack, and $28 for a 24-pack of "Chomplings" (roughly half-size sticks). Pricing is consistent regardless of flavor.
Also, as noted above, shipping is free across the contiguous U.S. and only $10 for Alaska, Hawaii, and Puerto Rico.
A big plus for Chomps is that it has a clear and concisely delineated policy for refunds. Unused and unopened portions of any product can be returned within 30 days of the order being received. You'll have to provide some information and possibly a photo or two if there's a manufacturing defect or damage.
As a rule, damaged and defective products shouldn't be returned. Just send the company pictures. After the company reviews the pictures and approves the refund, you can throw out the damaged/defective product.
The Bottom Line: Is Chomps Worth It?
In my opinion, Chomps is definitely worth it. It offers responsibly-raised, nutritious, high-quality meat jerky snacks. In total, there are 13 different flavors spread across three different categories of meat. And the snacks are quick, handy, and great on the go.
So, if you're looking for a great snack to try out, check out Chomps. The treats are compatible with a number of different diets, are allergen-friendly, and can even be used in cooking. All around, they're great!
FAQ
Are Chomps Gluten-Free?
All Chomps products are gluten-free. However, the facility in which they're produced also handles some gluten products. The company performs monthly testing and does its best to ensure that no gluten contaminates its products, but if you're extremely allergic, you might want to reconsider subscribing – just to be safe.
Are Chomps Beef Sticks Safe During Pregnancy?
According to the company, it has many "mamas and soon-to-be-mamas" who enjoy Chomps Jerky Sticks. So, generally, the products should be safe, but since every pregnancy is different, you should ask the advice of your doctor to get specific approval.
Are Chomps Keto-Friendly?
All Chomps products are Keto-Friendly EXCEPT the Cranberry Habanero Beef sticks which have some sugar from the cranberries. All the rest of the company's selection fit comfortably in a Keto diet.