American Ostrich Farms 2022: "Red Meat with Wings"
CEO & Founder of American Ostrich Farms, Alex McCoy, gives DeliveryRank the lowdown on Ostrich farming in America, sustainability and the benefits of eating ostrich meat over any other red meat on the market.
When were ostriches first farmed in America and why American Ostrich Farms over another?
Native to Africa, ostriches have been farmed since the 1860s. In North America, however, it wasn't until more than a century later – beginning the 1980s – that the industry began to develop. Some readers may recall an 'ostrich boom' that began to heat up in the late 80s and early 90s.
Unfortunately, there was no domestic value chain in place at that time. The difficulty of connecting products with a sustainable consumer market, due in part to logistical challenges, as well as a dearth of consumer education, along with the absence of operational frameworks that would allow farmers to scale production, ultimately led to the fledgling industry's demise by the end of the 1990s.
While training for an Ironman Triathlon in South Africa I encountered ostrich meat for the first time. When I realized that ostrich presented a rare trifecta of benefits – great flavor, healthfulness, and environmental sustainability – I became determined to introduce this incredible protein source to the American market.
My family and I founded American Ostrich Farms in 2013, with the purchase of a 120-acre property just outside of Boise, Idaho. Following much research and a fair helping of trial and error, we have established ourselves as the industry leader, developing many agricultural innovations – from feed formulas to breeding programs to ranch infrastructure – that have allowed our business to achieve what so many others failed to in the 90s: an economically viable, scalable, and reproducible ostrich farming operation.
Unlike other suppliers, ostrich is all we do & we're constantly developing ways to do it even better. We don't operate a petting zoo, we're not sourcing birds from far-flung or poorly regulated places, and we manage every step – from hatch to harvest, and from warehousing to shipping –here on our flagship farm & on-site processing facility.
With a level of control and expertise that is unprecedented in our industry, our customers can trust that this is the freshest, most natural, and most humane ostrich available to the U.S. market. We also offer the widest variety of cuts, including ground, steaks, filets, roasts, and specialty items, like soup bones.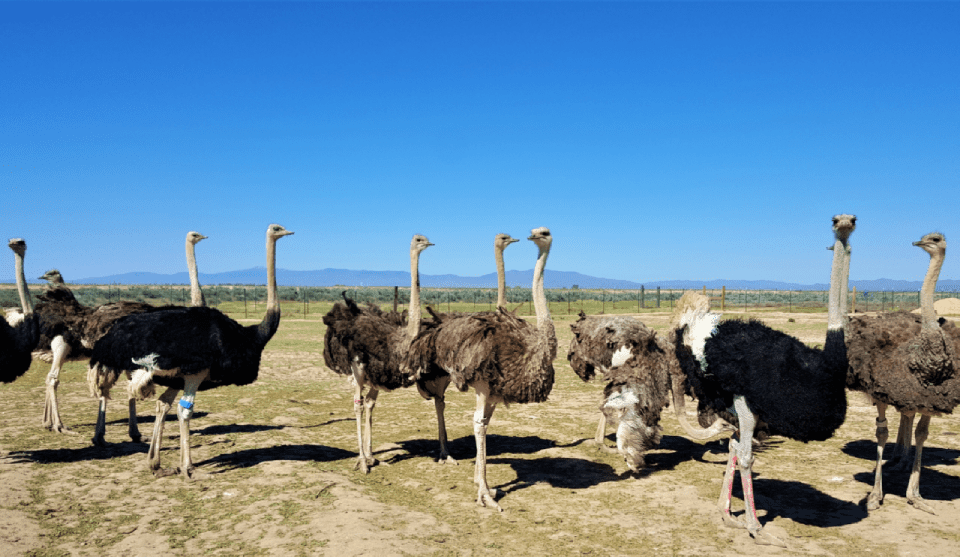 How does Ostrich farming differ from cattle farming in terms of environmental impact?
Ostrich farming is dramatically less resource intensive than traditional cattle farming. Pound for pound, ostrich requires about 1/3 the fresh water and 1/50 the land. Considering they evolved in an arid climate, ostrich can be successfully farmed in areas that would require significant supplemental irrigation to support cattle and many other species of livestock.
Additionally, ostrich have a higher feed-conversion ratio than cattle, and reach their optimal harvest weight more quickly, both of which translate into less feed and water consumption.
Ostriches also generate less waste than cattle, and on average, emit just 1/10th the greenhouse gasses.
We further limit our carbon footprint by sourcing local and domestic materials (i.e. feed, building materials, packaging supplies) to the greatest possible extent. Because the vast majority of our flock is hatched, raised, and harvested on site, and because we produce, package, store, and ship all of our products from one location, transportation-related emissions are minimized. Perhaps somewhat surprisingly, shipping flash frozen items is more efficient than those that are simply refrigerated, as the need for climate-controlled transportation is eliminated.
What health benefits does Ostrich meat offer?
When it comes to eating healthy, red meat often gets a bad rap. While some studies have indicated regularly consuming conventional red meat and processed products like sausage and bacon is linked to increased risk of conditions like heart disease and diabetes, it's important to remember; not all red meat is created equal. Ostrich is, in fact, a red meat that looks, tastes, cooks, and eats almost exactly like lean grass-fed beef or bison.
Compared with traditional red meats, ostrich is nearly fat free (95-97% lean, on average), and contains less than 1/3 the saturated fat found in 80:20 ground beef. Ostrich is actually higher in protein and iron than other red meats, is a good source of potassium, and contains zero grams of trans fat.
More readily digestible than mammalian meats, ostrich is gentle on sensitive stomachs. Even those who no longer tolerate rare or medium rare beef can enjoy ostrich cooked to these temperatures. Ostrich meat is even safe for those who've developed an allergy to beef as the result of Alpha-Gal Syndrome, a tick-borne disease.
Does ostrich meat feature in households countrywide or are there still some skeptics out there?
Ostrich has not yet become a mainstay in the American kitchen. This is mainly due to a lack of public awareness that ostrich is a delicious, nutritious, and sustainable protein choice. Furthermore, as a young industry comprised of so few producers, many of the frameworks that facilitate the widespread production and consumption of more traditional proteins have not yet been established.
Nevertheless, a majority of those who have tried ostrich are instant fans. More and more often, we receive requests from chefs, restaurants, and specialty retailers who are interested in making ostrich a regular feature of their menu or store offerings.
What can you tell our readers about your all-American supply chain?
From a business standpoint, an all-American supply chain allows us to support and reinvest in both domestic and local economies. In turn, they are able to contribute to a more prosperous, sustainable, enduring, and ethical American food system. As a small family-run operation with strong ties to its community, this model has always made sense.
From a consumer standpoint, shortening the supply chain gives us both the flexibility and control to achieve a level of quality and consistency that would otherwise be out of reach. Our primarily direct-to-consumer model gives our customers a direct connection to the farm their food comes from. This connection, along with our commitment to transparency, opens up an ongoing dialogue that helps us better understand consumer needs so we can continue to further improve our products and services.
How does the price of ostrich compare to that of other meats?
Ostrich is competitively priced with other similarly high quality red meats. While there are certainly less expensive options, it's true that you get what you pay for with animal protein. We go to great lengths to create what we believe is the highest quality, all natural, ethically produced red meat in the world. Our goal is to price competitively with other premium red meats, like Wagyu beef, bison, or American lamb - and in fact, our products are less expensive than premium red meats from other high quality independent producers.
One thing that is underappreciated about ostriches is that they are extremely difficult to raise - more difficult than any other livestock, to be sure. There has been virtually no research done, and certainly no universally agreed-upon best practices established, to improve the ability to humanely raise ostriches in large numbers. Our priorities are the welfare of our birds and the quality of the products we produce from them. It requires a lot of hard work, the cost of which needs to be reflected in product costs if we are to be able to invest in the growth of the industry.
What lies in store for American Ostrich Farms?
With the recent addition of an on site USDA-inspected harvest facility, we are positioned to scale our operations to an unprecedented degree, while simultaneously raising the bar in terms of quality control and consistency in a way the ostrich industry never has before.
That will afford opportunities to grow into new and expanded markets, providing gourmet ostrich meat and value added products, including our lines of premium skin care and award winning pet treats, to broader audiences. As we continue to add efficiencies, we'll be able to offer even more competitive prices, making this uniquely healthy, sustainable red meat more accessible to the families who will benefit from it the most.
With a fully-integrated, hatch-to-harvest model in place, American Ostrich Farms can more nimbly respond as the world and its needs change. In the wake of pandemic-related interruptions to the meat-packing industry, for example, we opened our harvest facility to other small producers of high quality, sustainably raised livestock.
This offers them an accessible, humane, USDA-inspected alternative to large, impersonal commercial processing plants. In addition to custom butchering, packing, and labeling services, we provide fellow family farms the opportunity to leverage our existing customer base in order to quickly and reliably turn livestock into cash so they can spend their time doing what they do best. American Ostrich Farms' partners benefit from our efficient 'farm-to-freezer' distribution capabilities, as well as our ongoing investments in digital marketing, online merchandising, sales & customer service to grow the market for their products & reach more people.
Want to find out more about American Ostrich Farms, visit https://www.americanostrichfarms.com/ or follow on https://www.instagram.com/americanostrich/