Dinnerly vs. Hellofresh 2023: In-Depth Comparison + Discounts
Dinnerly and HelloFresh have a lot in common, with both promising fresh, seasonal ingredients and family-friendly recipes for you to prepare at home. But what sets them apart?
Dinnerly markets itself as a budget-friendly meal kit service, and it does a great job of essentially being "HelloFresh – but cheaper." But what do you sacrifice in exchange for the lower price point?
After extensive research and testing, I discovered that Dinnerly really does hold its own against more expensive competitors like HelloFresh. However, I have to say that the perks you get with HelloFresh – such as some recipe customization – are worth the higher price.
At a Glance: Who Won Each Category?
| | |
| --- | --- |
| 💲 Price: | Dinnerly ($2.12 per serving) |
| 🍔 Menu Variety: | Tie! |
| ⏰ Meal Prep: | |
| 🍴 Customization: | |
| 👍 Ordering and Delivery: | |
| 🙋 Customer Support: | |
Winner: Tie!
Meal kit behemoth HelloFresh has one of the biggest menus in the business, so I was expecting it to come out on top in this category. Imagine my surprise when I realized just how much Dinnerly had grown since I last reviewed it… This category is too close to call.
With a few breakfast options, desserts, and additional proteins (chicken or ground beef) alongside its entrees, Dinnerly's menu boasts more than 50 items each week.
Our in-depth review touches on the various dishes in greater detail – but any way you slice it, this is an impressively large menu!
Dinnerly advertises just six ingredients per dish, playing into its demographic as a meal kit for parents and other people who are often too busy to cook complicated dishes. These aren't gourmet dinners to impress with on date night: they're wholesome, hearty meals that taste great, allowing you to fuel your family on a budget.
And yet Dinnerly manages to offer an impressive amount of variety in its meals. Sure, much of its menu is American mainstays, like meatloaf or chicken and dumplings, but there are also Japanese curries, Indian biryanis, and Mediterranean-inspired falafel dishes.
To temper your expectations, though, I should remind you about that six-ingredients-per-dish promise. While great for simplifying the cooking process, Dinnerly's pared-down recipes sometimes lack complexity – especially when it comes to those internationally-inspired meals.
Compared to Dinnerly, HelloFresh's menu initially appears smaller. Though it advertises more than 30 recipes per week, HelloFresh's full menu easily contains more than 50 items when you include the alternate protein and side options available on many of the dishes (but more on that later).
Like Dinnerly, HelloFresh is also a great choice for families, with an extensive selection of quick and easy-prep meals, and an entire plan dedicated to Family Friendly recipes. It also has some great lunch dishes.
HelloFresh's menu offers at least as much variety as Dinnerly's, too. Half the menu is made up of unique takes on American comfort food – like the Beef & Mushroom Ranch Burgers with Bacon and Herby Potatoes – while the rest is a mix of global-inspired dishes like Pork Katsu and Banh Mi.
In fact, HelloFresh generally offers more complex recipes with more detailed steps and multiple ingredients. This contrasts to Dinnerly, which aims for as few steps and ingredients as possible.
Ultimately though, I can't give either service an edge here – both have more pros than cons.
I personally find that HelloFresh's more detailed recipes lead to tastier dinners, but many folks are likely to prefer the ease and speed with which they can put Dinnerly on the table.
Meal Customization
Winner: HelloFresh
This round, however, is pretty cut and dry. Neither Dinnerly nor HelloFresh offers much support in terms of customization for allergies or dietary preferences. In fact, Dinnerly doesn't offer customization at all – but this is to be expected from a budget meal kit.
HelloFresh takes this round for offering some customization. A select number of the meals on its menu can be upgraded with HelloCustom. On top of this, HelloFresh offers a whole series of add-ons.
HelloCustom simply means having the choice between a couple of side items or a couple of protein options. Sometimes it means you can "upgrade" a veggie dish with protein, like adding chicken to the Mushroom & Chive Risotto.
These customizations usually (but not always) come with an extra per-serving cost, which is typical of all meal delivery services. If being able to customize your meals is a priority, choosing HelloFresh over Dinnerly is the way to go.
Winner: HelloFresh
Both services are squarely matched in this category. HelloFresh wins by a nose, however, thanks to a few of Dinnerly's cost-saving measures.
Ordering from both Dinnerly and HelloFresh is pretty much an identical experience. You create an account, choose your plan, and pick your meals: neither site is particularly difficult to use. When it comes to receiving your delivery, however, HelloFresh edges out its competitor.
HelloFresh delivers across the entire contiguous United States. Dinnerly has yet to reach more remote areas, so you may not be able to receive Dinnerly where you live. You'll have to input your zip code on its website to find out for sure.
In the locations where delivery is available, HelloFresh is also more likely to have multiple delivery day options. In many regions, Dinnerly will only deliver one day per week. Again, you'll have to input your address to see your options.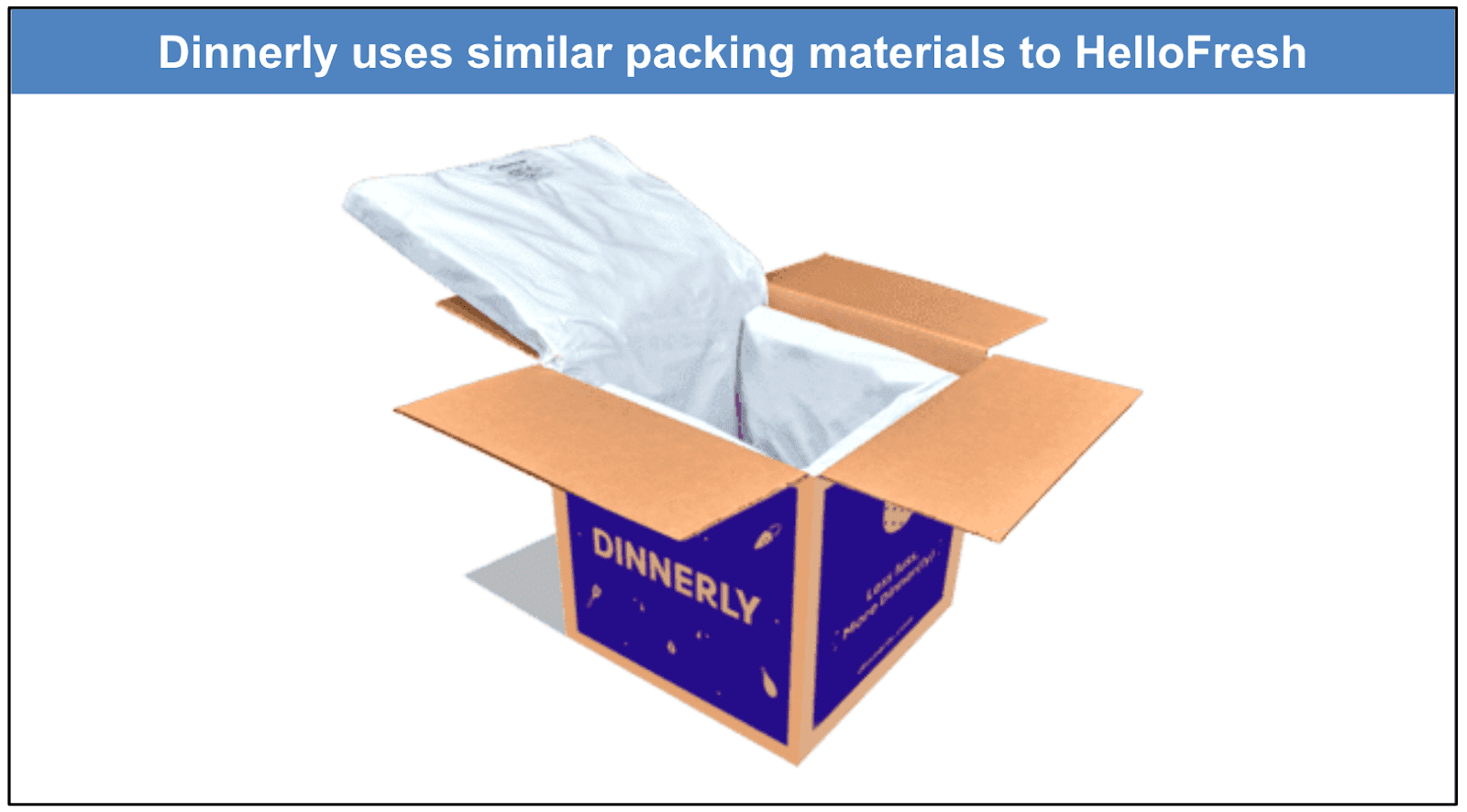 Finally, HelloFresh also comes out on top when it comes to packaging, organization, and support materials.
Both services deliver their food items in similar-sized cardboard boxes with insulated liners and ice packs. I was also happy to find that both also make better-than-average efforts to be environmentally conscious.
But inside the box, Dinnerly has a more basic approach: you won't find anything but a jumble of the ingredients you need for each week's recipes. HelloFresh includes a printed recipe card, but Dinnerly saves on costs by only providing a digital version.
HelloFresh also sorts the items for each recipe into labeled paper bags, making it easier for you to find the ingredients you need for each dish. With Dinnerly, you have to do the sorting yourself.
As far as the ingredients themselves, I was surprised to find that the food in Dinnerly's shipments are comparable to HelloFresh. Dinnerly boasts grass-fed beef and antibiotic-free chicken, while HelloFresh is relatively tight-lipped about its proteins. They seem pretty equal in terms of quality.
I do think the cost-saving measures like not organizing the ingredients or providing printed recipe cards are reasonable sacrifices for the lower cost of Dinnerly, however, HelloFresh's more premium service prevails in this category.
Meal Prep
Winner: Dinnerly
When you find yourself hungry and tired after work, it can be easy to skip the grocery shop and opt for takeout instead. But since hitting the drive-thru every evening is not exactly budget-friendly, let's look at the time and effort that goes into preparing meals from HelloFresh and Dinnerly.
Because Dinnerly aims to keep prices low for its customers, you can expect the meals to have fewer ingredients and simpler recipes. This has the added benefit of making dishes incredibly easy to prepare.
In fact, the bulk of Dinnerly's recipes have time-saving tags like Easy Prep, No Chop, One Pot, and more. Many of the recipes don't require cookware beyond a single pot or sheet pan, and some don't even call for a knife – perfect for when the kids are helping out!
But again, the ingredients don't come organized by recipe, so you may have to dedicate some time to sorting through them. Plus, don't forget that Dinnerly doesn't provide printed recipe cards: you'll need to keep a phone or other device handy when cooking.
Meanwhile, HelloFresh has the advantage of sorted ingredients and high-quality recipe cards to make the cooking process more straightforward. But in my opinion, that's not enough to give it the edge in this category.
HelloFresh also offers a dedicated menu of Quick and Easy meals, but the majority of its menu is still made up of dishes that take anywhere between 30 and 60 minutes to make. Its selection of sheet pan recipes and one-pot meals is more limited than Dinnerly's.
To be fair, HelloFresh's more complex recipes generally result in more enjoyable meals. And you can find out what my colleague thought of the dishes when she tried and tested HelloFresh for herself.
However, if easy meal prep is your priority, Dinnerly is the easy winner.
Customer Support
Winner: HelloFresh
Here's another category that's easy to call. HelloFresh is a huge company with the means to offer fully comprehensive customer support. To illustrate the difference shortly and sweetly, though, check out my experiences with each service's chat feature:
When I tested each service's chat function, both started with a chatbot. This is pretty standard – the chatbots respond to a number of common key words and phrases. Unfortunately, though, my question wasn't something the bots recognized.
Dinnerly's chatbot was powerless to understand my query, and instead asked me to rephrase it (which also didn't work). Meanwhile, HelloFresh quickly redirected me to a real person, who was able to accommodate.
Both services offer comparable apps, toll-free phone numbers, and detailed FAQ pages. All of these – particularly the FAQs – are useful in getting answers to any burning questions. But HelloFresh wins this round thanks to the real people behind the chat.
Winner: Dinnerly
Affordability is Dinnerly's main selling point, and as you might expect, the service is virtually unbeaten in this sector, with meals as low as $2.12 per serving when you use our current discount: Get up to $142.75 off 3 orders, from $1.29 per portion!.
The exact cost of your box will depend on how many meals you order each week. First, choose between the plan that serves two or the plan that serves four – then select whether you would like three, four, five, or six recipes per week. Larger orders mean a lower price per serving.
To put it in perspective, let's say you want to order four meals per week for a family of four. With no discounts, that comes to $138.83 with HelloFresh. That same order is just $97.83 with Dinnerly. (Both of these costs include shipping.)
Even without our discount, Dinnerly's highest possible cost per serving ($6.39) is cheaper than HelloFresh's lowest possible cost per serving ($7.99). That's how affordable this service is.
There was no way Dinnerly was going to lose this round. To be honest, though, HelloFresh is still an affordable service in the grand scheme of things. Just like Dinnerly, HelloFresh is cheaper per serving on larger orders. And with our discount, you can try it for as little as Get 25 free meals + free shipping + 3 surprise gifts per serving.
Both services are comparable in terms of shipping costs. Dinnerly charges a flat fee of $9.99 while HelloFresh charges between $9.99-10.99, depending on the size of your order. All things considered, Dinnerly is the obvious choice for affordability.
Features Comparison: Dinnerly vs. HelloFresh



Best for

Families on a budget

Inspired recipes

Starting price

$2.12 per serving

$3.32 per serving

Shipping cost

$9.99

$9.99 to $10.99

Minimum order

3 meals for 2 people per week

2 meals for 2 people per week

Menu variety

50+ choices per week

30+ choices per week

Prep time

10 to 40 minutes

15 to 60 minutes

Low-prep options

No Chop, One Pot,
Under 30 Minutes

Easy Prep, Easy Cleanup, Quick

Allergies catered to

None

None

Special diets

Vegetarian, No Added Gluten, Healthy, Dairy Free

Vegetarian, Calorie Smart, Carb Smart

Customer support

Toll-free phone, automated online chat, FAQ

Toll-free phone, automated and live online chat, FAQ

Promotions
And The Winner Is: HelloFresh
These two meal kits really impressed me with their extensive menus, tasty meal ideas and quality ingredients. But HelloFresh gets my final vote, mainly thanks to its more complex recipes and extra features like excellent customer service, organized ingredients, and fun recipe cards that can be kept for a rainy day.
Each meal kit has its own pros and cons. If your biggest priority is a budget-friendly service or access to easy, kid-friendly meals, you can't go wrong with Dinnerly. Ultimately, though, both these services are great, and I'm happy to recommend either.
FAQ
How much does Dinnerly really cost?
Dinnerly's pricing starts at just $4.99 per serving or just $2.12 with our current discount. The cost varies based on the size of your order, but it's possible to get a box for less than $50, which includes three meals for two people, including shipping.
What's like HelloFresh but cheaper?
Dinnerly offers a variety of family friendly meal kits for a much lower price point than HelloFresh. You can enjoy quality recipes and ingredients for just $2.12 – a fraction of the cost of HelloFresh!
Does Dinnerly include meat?
Dinnerly's menu includes grass-fed beef and antibiotic-free chicken, as well as other responsibly-sourced proteins. You can also add protein packs to your orders for an extra serving of meat. There are also, however, plenty of vegetarian options on the menu.