Overview
Pet food delivery can come at a higher price than the average pet store brands, because you're paying for higher-quality food as well as delivery. This is the case with Spot & Tango – and I want to find out if it's worth the money.
Spot & Tango started out as a small batch food company in New York City and, in recent years, it's expanded to all of the Lower 48 states. The brand has two different food types and a range of recipes, so it's easy to find something that your dog will love and will provide them with all the nutrients needed.
I've thoroughly researched the company and reviewed everything it offers to help answer any questions you have. I'll cover pricing, packaging, ingredients, and more so you can make the best decision on food for your family pets. It certainly got my pup's seal of approval!
Not only does Spot & Tango offer your dog a healthy, balanced diet but the whole process is extremely convenient thanks to its pre-portioned meals and auto-delivery options.
Pros
Cons
The fresh option takes up a lot of freezer storage

Not a huge variety of recipes

More expensive than the average pet store dog food
Spot & Tango Is Best For
Busy pet owners who want pre-portioned meals ready to go

Pet owners who want high-quality ingredients in their pet's food

Environmentally conscious pet owners
Spot & Tango May Not Be Great For
Families on a tight budget

Pet owners with limited storage options

Pets who need grain-free, raw diets
Spot & Tango has two different types of food to choose from. The UnKibble is a dry option and the Fresh recipes are more akin to human meals.
UnKibble is dried using the company's Fresh Dry process, which ensures nutritional integrity. There are three different recipes to choose from – duck & salmon, beef & barley, and chicken & brown rice.
The Fresh recipes are made with 100% fresh ingredients. Each one is balanced for both puppies and adults. There are three different recipes to choose from in the Fresh range – turkey & red quinoa, beef & millet, and lamb & brown rice.
All recipes have been formulated by veterinary nutritionists and meet all the levels documented by the AAFCO.
Ingredients
All of the ingredients used in Spot & Tango's food options are fresh and locally sourced. Recipes are created using only lean proteins, fresh fruits and vegetables, and high-quality carbs for a balanced diet for your pup. There'll never be any fillers, additives, or preservatives.
One of the most popular options is the turkey & red quinoa Fresh recipe pictured above. The ingredients include turkey, red quinoa, spinach, carrots, peas, apple, eggs, parsley, apple cider vinegar, safflower oil, vegetable stock, vitamins, and minerals.
Each ingredient is clearly labeled on the website to make it easy if you have a pup with allergies or sensitivities to any foods.
Nutrition
I took a closer look at the Fresh meals. For the turkey & red quinoa recipe, for example, the breakdown is around 13.69% crude protein, 5.86% crude fat, and 1.44% crude fiber. The rest is moisture. In the UnKibble meals, I found a slightly different breakdown, which is to be expected as it's dry food. The Duck & Salmon UnKibble is 29.68% crude protein, 25.30% crude fat, and 1.88% crude fiber.
Each ingredient is selected to maximize vitamins and minerals to make sure your doggo's getting the proper nutrition. You'll receive a meal plan recommendation when you sign up, and you can switch it up over time if you'd like.
Unboxing
Your Spot & Tango delivery will come in a nice branded box within a few days of placing your order. For Fresh orders, you'll receive a box with insulation to keep the food cold while it travels. Put it away in your freezer as soon as possible to maintain the freshness.
The packages use dry ice to keep them cold. This will evaporate if left in a well-ventilated area. Once the ice is all gone, the packaging is completely recyclable.
Each Fresh order is pre-portioned, so you just grab the food for the next day and move it to the fridge to thaw (a bowl of cold water will work as well if you're short on time). The food will stay fresh for up to six months in the freezer and four days in the fridge.
Your first UnKibble order will come with a scoop that's the perfect size for your pup. UnKibble doesn't need to be refrigerated. Just store it in a cool, dry place. Unopened bags will stay fresh for up to 12 months. Once you open the bag, make sure to reseal after each meal and the freshness will last about eight weeks.
Spot & Tango starts by offering a 14-day trial, with two weeks of food for 20% off the normal price. Once you're happy and finished with the trial, the food will auto-ship every four weeks.
The company uses FedEx Ground and you'll be able to track your order to find out exactly when it'll arrive. Everything is prepared in small batches at Spot & Tango's facility and shipped out within days of cooking. Most orders come in about three business days from the purchase date.
Ordering from Spot & Tango
Once you're ready to make your selections and get the process going, the sign up and ordering process is simple. It'll just take a few minutes and you'll have your trial box ordered.
How to Sign Up
To sign up for Spot & Tango, take a quick quiz to help select the best food for your dog. You'll answer questions about size, energy level, breed, age, and any health concerns. The algorithm will do the work behind the scenes and make suggestions of which food to order during your trial.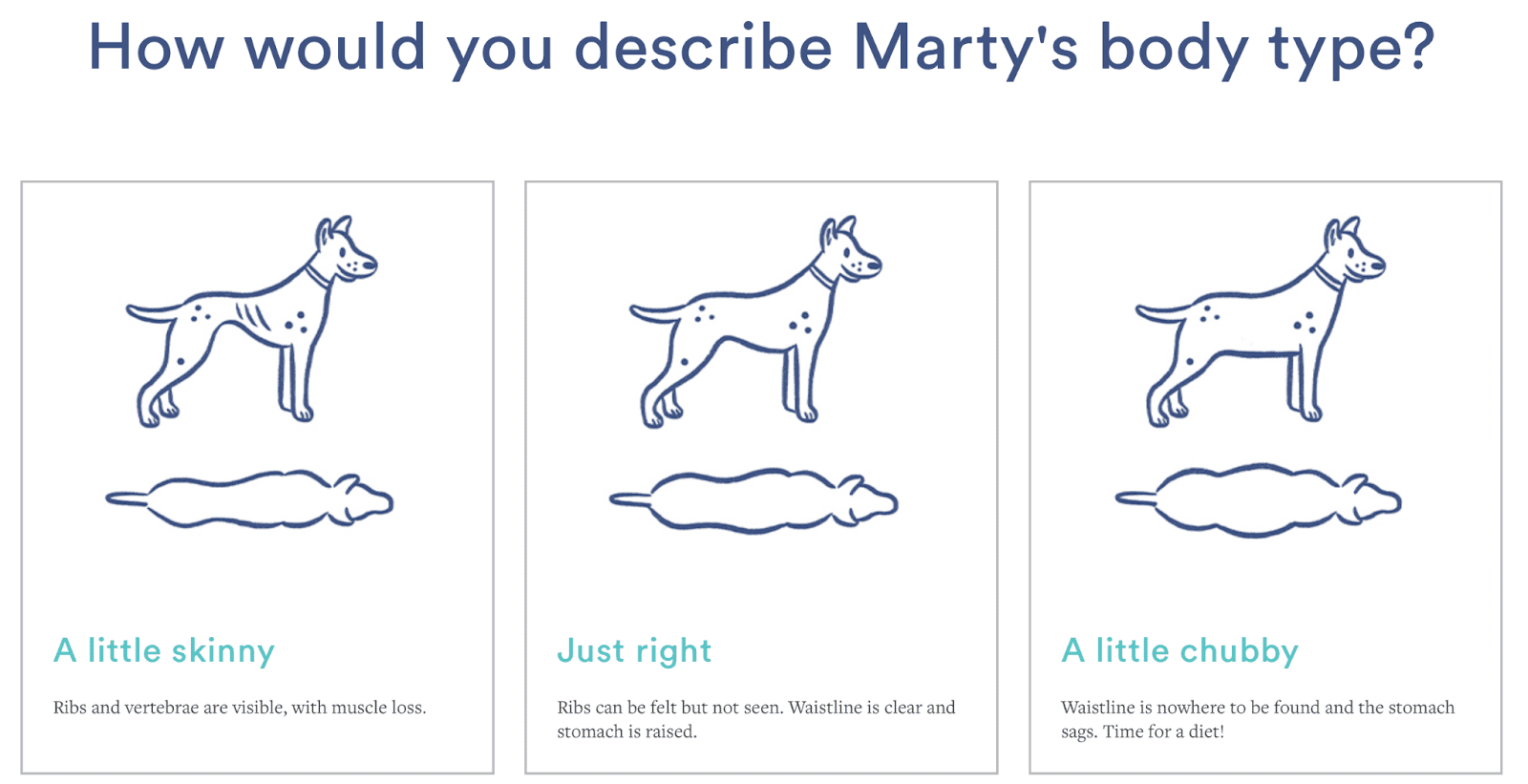 Once you receive the recommendations at the end of the quiz, you'll enter your shipping and billing information. You can also add one of the two treat options to your order.

Managing Your Subscription
After your trial period, you can log on to your account at any time and make changes to the recipes or the quantity ordered for your pup. Switch from fresh food to dry food or just change up the recipes – all of it can be done through your account.
If you need to pause your subscription, you can do that through the website too.
Customer Service
For any concerns or questions, the Spot & Tango website has a comprehensive FAQ page. There's also a live chat feature. The team is staffed seven days a week from 9 AM - 8 PM ET and you can send a quick email, phone, or text if there isn't an answer available on the website. This is helpful if you have any questions before or after placing an order.
If you're looking to cancel your account, there's a simple option right on the website under "Your Account". By canceling, you won't be charged for any future orders, but you'll still receive any orders you've already paid for.
Spot & Tango Recalls
Spot & Tango has not had any recalls of its products.
Prices
| | | |
| --- | --- | --- |
| Starting from | Minimum Order | Shipping Fee |
| From $1.28 per day per portion | 4 weeks of food ($89.44 for a 25 lb dog) | Free |
Spot & Tango's prices differ according to which recipe you choose. Each dog requires a different portion size based on activity levels and breed. I've taken a 25 lb mixed breed dog with regular activity to compare the different options.
The UnKibble is the more affordable option. The beef & barley recipe came out to $22.36 per week compared to the chicken & brown rice which was $25.36 per week. Both of those work out to be less than $2 per meal.
For the Fresh food, there are two different options – full meals or toppers to another type of food. Many people switch their pups completely to this diet, while others choose the Topper plan, which sends a smaller amount that you add to your dog's regular food to boost the nutritional content.
For the turkey Fresh recipe, which is the most popular, the price is $39.87 per week for a 25 lb dog and $19.99 per week for the Topper plan. The beef & millet plan comes to $42.88 per week for the Full plan and $21.49 per week for the Topper plan. That's around $3.00 per meal for the full serving.
Having an option to just mix in the fresh food can make this more affordable. You can also use our special discount Get 50% off your first order + a free bag of chicken munchies.
There are snacks and treats available to add, too. The Yam Yums sweet potato treats are $12 per bag and the Chicken Munchies are $14 per bag. You can add either of these options before you check out.
The initial trial period gives you two weeks of food for 20% off the normal price. This allows you to test the options with your pup and, if you're not happy, Spot & Tango offers a full refund.
The Bottom Line: Is Spot & Tango Worth It?
Absolutely! If you're looking to switch your four-legged family member to high-quality dog food, Spot & Tango offers a dry option and a fresh food option. It makes it easy to feed your dog human-grade food with ingredients you recognize and can find at your local farmer's market.
If you're still not convinced that Spot & Tango is the right choice for your dog, we've tested some other top pet food delivery services so you can check out the full list of the best dog food delivery services.
FAQ
Is Spot & Tango food good for dogs?
All Spot & Tango meals are created by veterinary nutritionists to give your pup the most nutritious meals possible. Each recipe is created with lean proteins, fresh fruits, fresh vegetables, and healthy carbohydrates to provide well-balanced meals every time.
Does Spot & Tango offer healthy dry food options?
Spot & Tango offers a healthy dry food called UnKibble that uses a special Fresh Dry process to maximize the nutritional content of the food. The recipes are made with just 12 ingredients and it's all human-grade food.
Where is Spot & Tango dog food made?
Spot & Tango food is made in small batches in facilities in New York and Wisconsin. When I researched the shipping process, I found that everything is prepared and shipped out within a few days to keep the food is fresh.