Nutrisystem vs. Optavia 2023: 2 Weight Loss Programs Battle
Optavia and Nutrisystem both offer weight-loss meal plans that rely on small, healthy snacks to quell mid-day cravings. Their goals are similar on the surface, so I put them to the test in a head-to-head comparison.
After extensive research across 6 categories, I found Nutrisystem to be the easy winner. It offers a much broader variety of meals and snacks, and it's more cost-effective, too. Nutrisystem offers a full line-up of shelf-stable and frozen meals, while Optavia offers very little beyond basic snacks like granola bars and brownies.
Optavia gives you access to healthy recipes, but you'll have to shop for the groceries yourself, which makes it less convenient. Optavia does have some unique resources including a network of weight-loss coaches. However, its multi-level marketing approach to business means new customers should be wary.
| | |
| --- | --- |
| ? Price: | Nutrisystem ($8.54 per serving) |
| ? Menu Variety: | Nutrisystem (Up to 160+ choices per week) |
| ⏰ Prep Time: | Tied |
| ? Customization: | Nutrisystem (6 diet plans) |
| ? Ordering and Delivery | |
| ? Customer Support: | |
Winner: Nutrisystem, because it offers a much bigger variety of prepared meals.
Both services have a huge selection of nutritionally-balanced, single-serving snacks like cookies and nut bars, but only Nutrisystem has a large menu of prepared meals.
Optavia's leading plan is its "5 & 1" program, which refers to the 5 snacks or meal replacements you'll eat every day (Optavia calls these "Fuelings"). The "& 1" refers to a "Lean & Green" meal to round out your daily nutritional needs. Optavia's other plans, like the "4 & 2 & 1" or the "3 & 3" plans, all center around the same Fuelings of snacks and smoothies. The only difference is the ratio of fuelings to Lean & Green meals.
With Optavia, you'll still be doing some grocery shopping and cooking every day. It has a very limited selection of frozen Lean & Green meals (sold in packages of 6 servings) you can add to your order, but in general, you're expected to cook this meal yourself. The company provides recipes and guidelines to help you make healthy, balanced meals, but that's about it.

Nutrisystem is much better designed for convenient meals, and it offers lunches, dinners, and snacks. Most of the dishes are American cuisine, with some international dishes like Chicken Teriyaki to round out the menu.
In short, Nutrisystem makes it easier to stick to a weight-loss diet with minimal effort. Its long-term plan lets you transition to making your own meals or even eat out while keeping to your diet.
Meal Customization
Winner: Nutrisystem because of its better menu filters.
Prepared meal delivery services don't usually offer ingredient swaps or omissions because the food items are prepared and packaged in bulk.
The best you can do with either service is swap out individual items in your shipment, such as 1 flavor of shake for another. Because of this, it can be difficult to use these services if you have any dietary restrictions.
While Optavia's plans are organized by intensity, Nutrisystem has specialized menus for different dietary needs.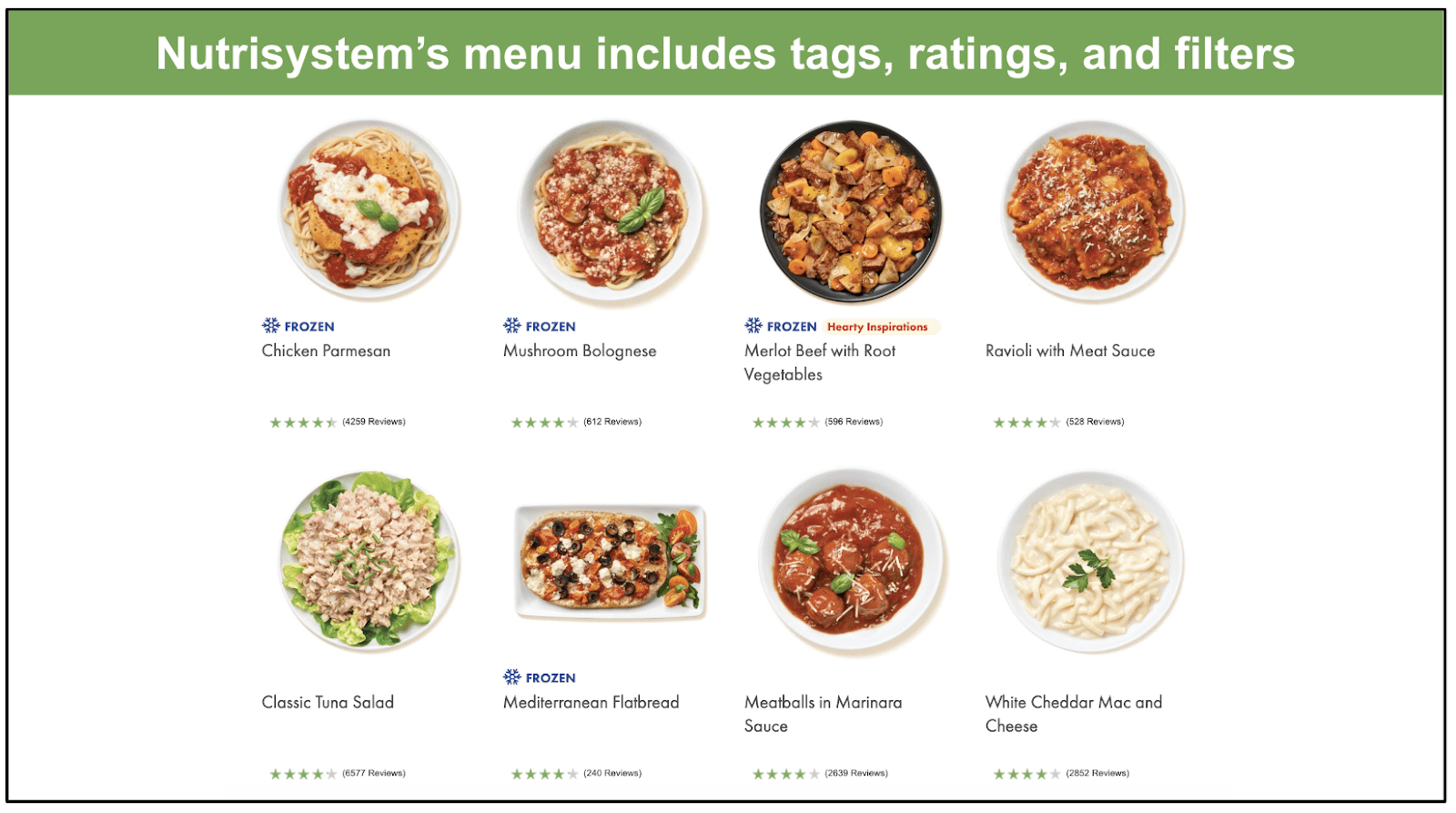 For example, the Nutrisystem D plan offers an entire menu of low-glycemic foods for people with diabetes. Nutrisystem also offers a vegetarian plan with 90+ meals as well as plans for men and women with different caloric needs.
There are 6 plan categories in total at Nutrisystem:
Each plan has further options depending on how many meals you want each week and how many days per week you want to eat Nutrisystem meals.
Nutrisystem's menu filters allow you to narrow down the menu further by excluding certain items. It's easy to view which meals are nut-free, wheat-free, and more. However, applying too many filters can limit your options, and anyone with allergies should use caution as many meals are produced in the same facility.
Optavia's diet and allergen filters are almost non-existent. The company leaves it to you to figure out if dishes are suitable for your diet.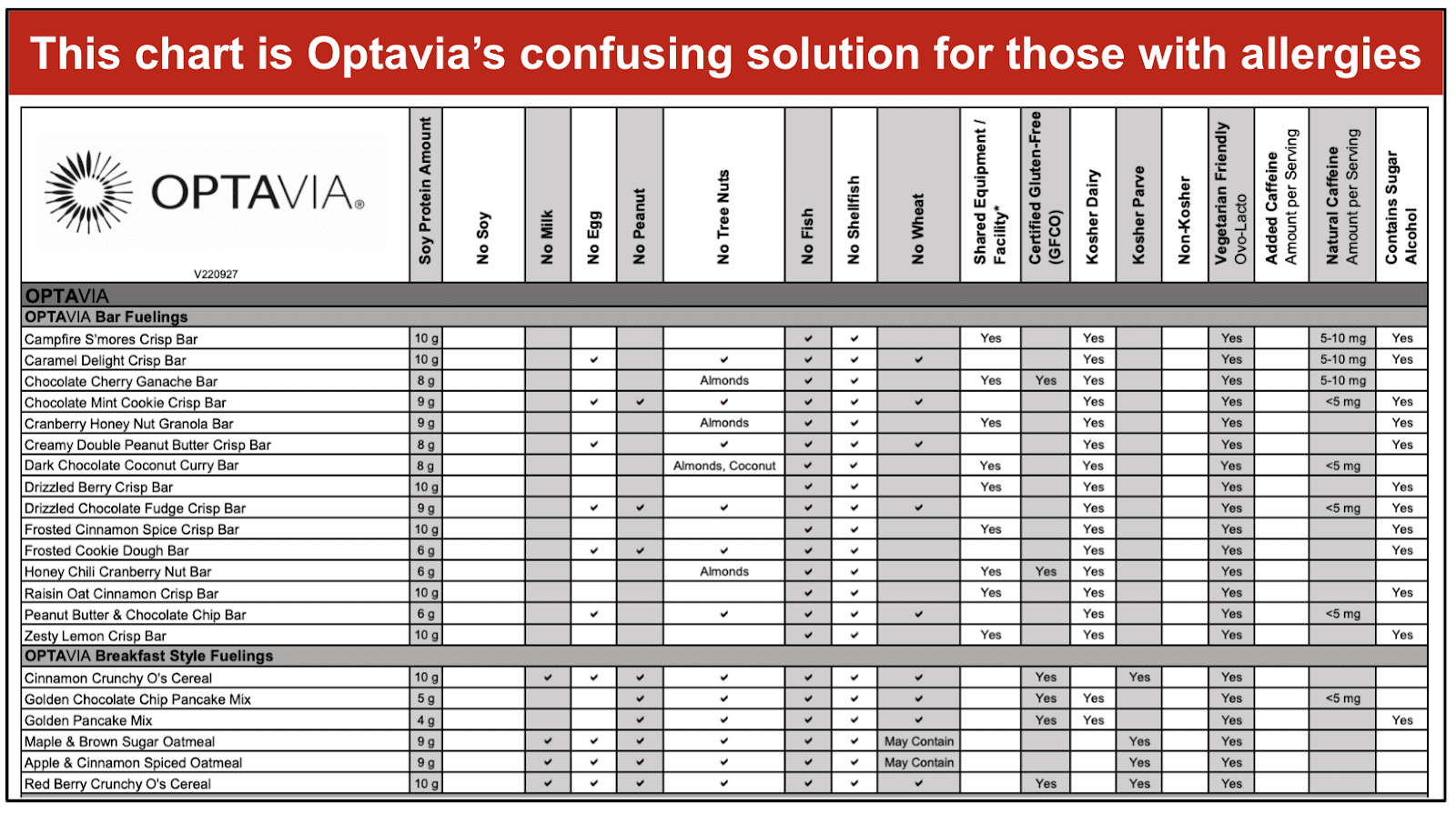 Ordering, Delivery, Unboxing
Winner: It's a tie
Both Nutrisystem and Optavia send portioned, prepared meals and food items in boxes or cooler containers. All items are clearly labeled.
Nutrisystem's minimum order is the 7-day reboot, which consists of 28 meals. Most people opt to choose a 5-day or 7-day plan that comes with all the meals and snacks they need for each day.
Nutrisystem's packaging and materials are slightly more environmentally friendly than Optavia's. The NuMi app has replaced a lot of materials that were previously printed. Nutrisystem also utilizes biodegradable and recyclable packaging that works like a Styrofoam cooler. Once unpacked, it can be reused or taken to a recycling center.
You can expect your first order to arrive within 3 weeks. The frozen food is shipped separately from the ready-to-serve items, which arrive first. Nutrisystem's frozen foods will arrive within 14 days after that.
Optavia also uses biodegradable packaging for individual products. You'll receive 17 boxes of Essential Fuelings in the 5&1 Plan. You can expect your products to be shipped within 5 to 7 days if there are no issues with availability.
Optavia doesn't have a minimum order – you can order a single box if you wish. However, the shipping fee will be high as only larger orders benefit from free shipping.
Neither Nutrisystem nor Optavia offers a guaranteed delivery date thanks to the shelf-stable nature of the products. You'll have to follow the provided tracking information when your order is shipped.
Unlike many meal delivery services, both Nutrisystem and Optavia ship beyond the contiguous United States. Both services ship to Alaska, Hawaii, and US territories. Nutrisystem even ships to Canada!
Meal Prep
Winner: Nutrisystem
Neither of these services requires much prep because most of their offerings are grab-and-go items like bars and other snacks.
Nutrisystem's food items are premade and ready to eat in a matter of minutes. Depending on the dish, the recommended preparation method may be tossing it in a skillet, popping it in the microwave, or heating it up in the oven.
Optavia offers a range of processed products, from popcorn and crackers to granola bars to puddings and cookies. The most intensive prep you're likely to find is adding water to a powdered shake mix. For most items, it's just removing a wrapper.
However, you'll spend more time prepping overall with Optavia, as you'll be shopping for and cooking your own meals using its recipes. Many of these recipes are advertised as "ready in under an hour," which is far more effort than heating up 1 of Nutrisystem's prepared dishes.
Winner: Nutrisystem because the NuMi app is free, and because Optavia's coach program is a multi-level marketing scheme.
Both companies have fairly standard customer support offerings. Optavia's customer service can be reached by email or by phone from 8 am to 11 pm ET on weekdays and 9 am to 6 pm ET on weekends.
Nutrisystem's hours are slightly shorter, but it offers a live chat option in addition to phone and email lines. The customer support team is available from 8 am to 8 pm ET on weekdays and from 9 am to 5:30 pm ET on weekends.
I ran into some trouble when I tested Nutrisystem's chat feature. It wouldn't work at all on my Chrome browser, and I still had some issues getting a response when I tested it on Safari. I finally got the answers I was looking for from "Nutribot," though I wasn't able to get in touch with a real person as advertised.
Nutrisystem is more flexible if you ever want to cancel an order or your service completely. You can make changes up until 6 pm ET the day before a shipment is scheduled to be processed. With Optavia, you have a maximum of 24 hours from when you place an order to cancel it. This difference is because Nutrisystem functions more like a subscription, while Optavia is generally for on-demand orders.
As weight loss programs, both Optavia and Nutrisystem incorporate a coaching element into their business model. Nutrisystem has the free NuMi app, while Optavia has a network of live coaches, giving you the opportunity to connect with a real person. However, there's a pretty big downside to Optavia's coach program.
Optavia's coaches can be more focused on profits than helping people lose weight. This is because Optavia's corporate structure requires would-be coaches to pay hundreds of dollars in startup costs. In turn, coaches are obligated to upsell customers in order to make back their own expenses.
Nutrisystem offers a phone line where you can reach out to dietitians to help with questions about your diet or if you just need some extra support. It's perhaps not as comprehensive as Optavia's coaching program, but I think you'll get better advice without an agenda.

Nutrisystem's main day-to-day resource is the NuMi app. There are no ulterior motives here, and it's free. The NuMi app lets you track your progress, participate in challenges, browse recipes, and much more.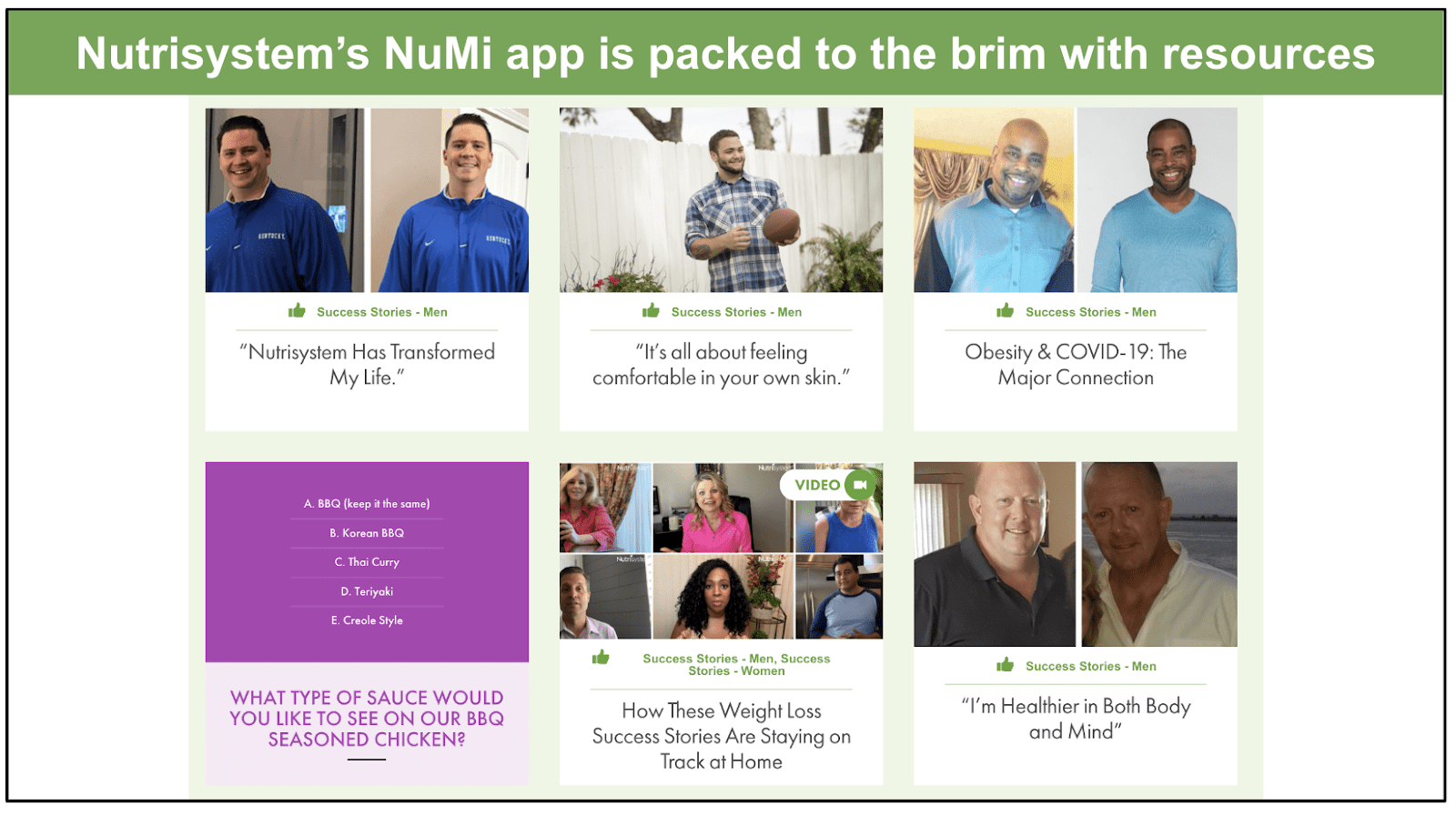 Winner: Nutrisystem, which starts at just $8.54 per serving (with discounts).
Nutrisystem's starting prices are listed as "per day," whereas Optavia's pricing is based on which Fueling package you order. For example, Optavia's Essential Optimal Kit for the 5&1 Plan costs $395.25 for 17 boxes of Fuelings. You can customize the shipment at no extra cost by swapping out boxes of your favorite snacks.
I found Optavia's pricing quite misleading. For example, the kit above is advertised as a 30-day supply, but it doesn't come with enough food for 30 days. You only get a full month's supply if you order the kit with Optavia's introductory offer (where you'll get an extra 5 boxes of Fuelings for free). Existing customers have to pay for those additional 5 boxes every month.
This detail is not only confusing and a little predatory, but it makes Optavia a really expensive service. Plus you still have to pay for grocery shopping and make your own dinner from scratch every day.
On the other hand, Nutrisystem lists its prices per day for each program, which includes either a 5-day or 7-day option. In all programs, the shipping is free.
As well as offering lower prices than Optavia, Nutrisystem also has more frequent discounts. For example, you can try Nutrisystem starting as low as $8.54 per serving with this current deal (50% off all plans + free shipping!).
There's a caveat to Nutrisystem's pricing, too. If you order a 1-off month of meals, the price per day is almost double what it is with a subscription. You can also prepay up to 3 months for a further discount.
Features Comparison: Nutrisystem vs. Optavia



Optavia

Best for

Quick weight loss meals on a budget

Weight loss snacks without meals

Starting price

$8.54 per day

$13.18 per day

Shipping cost

Free

Free on orders over $250

Minimum order

$305.40 per month with subscription (6 meals per day)

$395.25 per month (5 snacks per day)

Menu variety

160+ choices (fewer for those on the Basic plan)

60+ choices per week

Prep time

7 minutes or less

5 minutes or less

Low-prep options

Prepared meals

Prepared snacks

Allergies catered to

spicy foods, wheat, milk, lactose intolerance, tree nuts, fish, shellfish, eggs, tomatoes, pork or pork gelatin, chocolate, sugar alcohols, onions, seeds, nuts or corn – diverticulosis

shellfish, fish

added caffeine, vegetarian, tree nuts, peanuts, kosher, wheat, egg, gluten-free, whey, soy, milk

Special diets

Diabetes-friendly, vegetarian, gender-specific

-

Customer support

Online chat, email, phone

Email, phone

Promotions

-
And The Winner Is: Nutrisystem
Nutrisystem outperforms Optavia in nearly every aspect, especially when it comes to price. Nutrisystem offers a more comprehensive and all-inclusive plan for those looking to shed pounds. Don't forget to check for coupons that can further reduce the price for new customers (here's the latest I found).
Optavia has a couple of useful features, like the potential for community and close relationships with your coach. But its business model gives me pause, and I personally feel like Optavia's lack of substantial meals makes it less convenient than other alternatives. For more options to achieve your weight loss goals, be sure to check out this updated list of the best weight loss meal delivery services.
FAQ
Which is better for weight loss, Nutrisystem or Optavia?
Both are suitable for weight loss, but Nutrisystem is better overall as it sends you prepared meals as well as just snacks.
Optavia is more focused on counseling and provides a more personal approach to losing weight. But you'll be eating more bars and shakes – and you'll still have to cook your main meals yourself.
Which is cheaper, Nutrisystem or Optavia?
Nutrisystem is more affordable than Optavia for monthly meals. When I compared the pricing between the 2 services, I found that although you can pay less for smaller orders from Optavia, Nutrisystem's subscription model makes it much cheaper in the long run.
What's the difference between Nutrisystem and Optavia?
Nutrisystem has a larger menu than Optavia and offers prepared meals compared to just bars and shakes. Plus, with Nutrisystem, you don't have to cook anything. Optavia asks you to cook at least 1 meal per day for yourself, or else you'll be stuck with the same few options on the menu.
What are the cons of Optavia?
Optavia's unclear pricing model can lead to you spending more than you expect. It's also a multi-level marketing company, so coaches you interact with may try to upsell to you.