Sunbasket vs HelloFresh 2021: Both Healthy, But Who Wins?
Sunbasket has emerged as a leading provider of meal kits and prepared meal delivery, especially for those with particular dietary preferences such as vegan, keto, or paleo. But how does its unique brand of California goodness compare to rival HelloFresh?
Our experts have thoroughly reviewed both of these meal delivery services, and here's our position on Sunbasket vs. HelloFresh. For an overview, take a look at our chart:
At a Glance: Sunbasket vs. HelloFresh
| | | |
| --- | --- | --- |
| | Sunbasket | HelloFresh |
| Dietary preferences | Paleo, Vegan, Vegetarian, Pescatarian, Gluten-Free, Soy-Free, Dairy-Free, Diabetes-Friendly, Lean & Clean, Carb-Conscious, Mediterranean | Vegetarian, Beef-Free, Pork-Free, Seafood-Free, Calorie Smart, Family-Friendly |
| Menu variety | 26+ options per week | 25+ options per week |
| Starting price | From $8.99 per serving | From $7.49 per serving |
| Shipping cost | $5.99 | $8.99 |
| Prep time | 20 minutes or less | About 30 minutes |
| Special Discounts | Delivery Rank special discount available – Get $90 off and 4 FREE gifts from Sunbasket | Delivery Rank special discount available – Get $80 off plus free shipping from HelloFresh |
| Learn more | | |
Dietary Preferences
Sunbasket has to be one of the best meal kit delivery services for those with specific dietary preferences. The service's menu includes paleo and vegan dishes, as well as options for dietary restrictions like dairy-free and gluten-free.
HelloFresh, on the other hand, has fewer specialized options. You can choose from the Vegetarian or Calorie Smart plan in addition to its standard Meat & Veggies menu, but it doesn't offer specialized paleo, vegan, or other plans.
If you don't have specific dietary needs, then this likely isn't an issue, but for those with specialized diets, Sunbasket is the clear choice here.
Winner: Sunbasket
Meal Variety
Both Sunbasket and HelloFresh are excellent at providing a dynamic variety of menu options.
Sunbasket offers a range of plans to suit different dietary needs. On each plan, you'll have the option to choose from 17+ meal kits a week, and you can even mix and match dishes from different menus. And trust us: you'll want to try every dish in order to get a taste of Sunbasket's global-inspired menu, including dishes like North African Black Lentil Pitas and Yucatecan Salmon with Tomatillo Verde Sauce.
While it doesn't have the same specific dietary plans as Sunbasket, HelloFresh does offer a wide variety of weekly menu options. In fact, HelloFresh lets you choose from 25+ chef-curated dishes each week , including its "Hall of Fame'' recipes like Crispy Buffalo-Spiced Chicken, as well as gourmet options like the Balsamic & Fig Beef Tenderloin.
At this point, HelloFresh and Sunbasket are pretty evenly matched. Ultimately, however, the edge goes to Sunbasket for its Market: In addition to its meal kits and prepared meals, Sunbasket provides an online grocery shopping experience where you can purchase everything from breakfast bars and smoothies to sustainably sourced meat and fish, to be added to your delivery box each week.
Winner: Sunbasket
Starting Prices
HelloFresh's affordable pricing is one of the reasons why it's been able to hold the title of most popular meal delivery service. Depending on how many meals you order per week, HelloFresh can cost as little as $7.49 per serving, and even less on your first order. Shipping is a flat $8.99, but free on your first box, as well.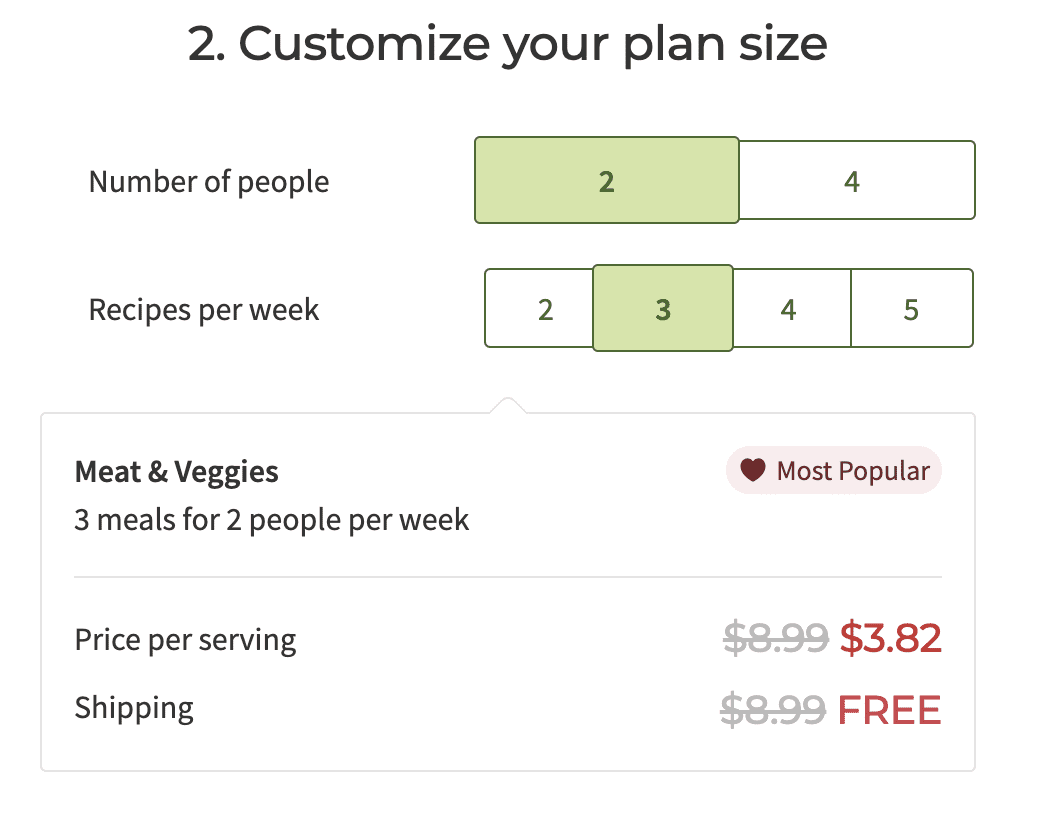 To put it simply, Sunbasket is the more expensive option. The service's meal kits start at $10.99 per serving, and even its Fresh & Ready options start at $8.99. On top of this, Sunbasket charges a flat shipping fee of $5.99.
These starting prices can be a little confusing, so let's put these numbers into practice: Say you want to order three meals a week for two people. At Sunbasket, this will cost you $11.99 per serving – a total of $77.93 per week (including shipping). At HelloFresh, the same number of meals comes out at $8.99 per serving– costing a grand total of $62.93 per week (including shipping).
This comparison makes it easy to see that HelloFresh is far less expensive than Sunbasket, especially for first-time customers.
These numbers hold up no matter how many mouths you're feeding: Sunbasket's largest weekly plan – four meals for four people – costs $181.83 after shipping, while the same plan from HelloFresh with shipping costs just $121.83.
One big caveat here, as we've already discussed, is the fact that Sunbasket's menu options are far broader and more specialized. Sunbasket's higher prices are easily justifiable if you want to take advantage of its organic and ethically sourced produce. But in terms of simple dollars and cents, HelloFresh is the clear victor in this category.
Winner: HelloFresh
Delivery and Packaging
Both Sunbasket and HelloFresh deliver your meals weekly. While HelloFresh offers every day of the week, Sunbasket only offers delivery Monday to Thursday.
Both companies give a broad 12-13 hour window in which you'll be receiving your packaging. That means you really have to be strategic with where you want your package to be left in the event that you're not home. Unless you're planning on staying home all day, but that seems unlikely on a weekday, like with Sunbasket.
HelloFresh also provides an online tracking link, allowing you to watch – in real-time – when your delivery leaves the warehouse and arrives at your front door. My colleague wrote about this in detail in her full-length HelloFresh review .
Sunbasket and HelloFresh make a point of advertising their commitments to sustainability on their websites, and this was reflected in the use of reusable, recyclable, and compostable materials in both packages. Unfortunately, neither company has gone 100% plastic-free, but if the websites are to be believed, totally sustainable packaging is hopefully in our near future.
Both, for example, have an interesting approach to their insulation.
Sunbasket uses recycled denim:
And HelloFresh offers clear recycling/reusing directions for its packaging.
Overall, HelloFresh's delivery tracking and options are a little better, but I found Sunbasket's packaging to be more environmentally-friendly. In this case, it's a tie.
Tie: Both Sunbasket and HelloFresh
Meal Prep
For those of us who aren't as experienced in the kitchen (or just prefer low-effort meals), ease of preparation is a hugely important factor.
In addition to its meal prep options, Sunbasket offers a Fresh & Ready menu to provide the ultimate convenience. Dishes from Sunbasket's Fresh & Ready plan come prepared and ready to heat and eat in just six minutes or less. The service gets bonus points for providing this ultra-low-maintenance option for those days you don't have time to prepare your own meal.
HelloFresh doesn't have any premade meal offerings like Sunbasket, but its menu does display several options each week that are designated One Pot/Pan, Lightning Prep, or simply Quick, letting you know which dishes will be the easiest and quickest to make.
Sunbasket's meal kits don't provide quite this much detail, but again, it's hard to beat the convenience of its Fresh & Ready meals.
Both companies also provide ample instruction on their websites in the form of recipes, videos, and general cooking tips. Between these resources and the multiple meal options from both companies, it's hard to pick a winner. HelloFresh and Sunbasket are both great in this category, so we have another tie.
Tie: Both Sunbasket and HelloFresh
The Bottom Line
It's hard to go wrong with Sunbasket or HelloFresh, as both services provide delicious meals and top-notch service.
The biggest difference comes down to whether or not you want to take advantage of Sunbasket's specialized plans for dietary preferences or its extensive Market section. If not, you may prefer HelloFresh for its lower prices. Whichever service is the right fit for you, I can guarantee you won't be disappointed with either.
Winner: Sunbasket for catering to special dietary preferences with its premium quality meal kits and prepared meals.