Green Chef in a Nutshell
Green Chef is a USDA-certified organic meal kit delivery service that offers vegetarian, vegan, keto, and paleo recipes. The menus may be limited compared to some other meal delivery companies, but the brand prides itself on its eco credentials and sustainably sourced ingredients.
What I Liked
What I Didn't Like
$9.99 weekly shipping fee

Unable to add meals from other plans to your order

Limited menu
Green Chef Is Best For
People who want to learn to cook healthy food

People who follow keto or paleo diets

Vegetarians and vegans
Green Chef Overview
Like everyone, I know that processed snacks and frozen ready meals aren't doing me any good, but eating healthily requires time, planning, commitment, and often willpower. It can be challenging.
And accessing healthy, organic ingredients can be a hassle – from tracking down the right health-food stores for specific essentials to finding creative recipes. Plus, some diets are notoriously hard to stick to – like keto or paleo.
With that in mind, Green Chef promises the perfect solution. So I took a closer look at this certified organic meal kit delivery service to find out whether it really is the ideal option for eating healthy or following a strict diet.
How Green Chef Works
In many ways, Green Chef is a classic meal kit delivery service. You choose the recipes you'd like to cook from one of its dedicated menus, then you get all the ingredients you need to put those meals together – most of which take about 30 minutes.
But here's what sets it apart: the USDA organic certification, the diet-focused menus, and the premium quality of the produce.
Not only that, but all of the produce arrives prepped and ready to cook. Picture squash cubed to perfection and unique sauces and spice blends mixed by Green Chef staff.
And when it comes to signing up, this company looks pretty promising from the start. After all, how can you not be tempted by a service that offers up to $99 off your first four orders?
First you have to choose which menu you'd like:
Plant-Powered is a range of vegan and vegetarian dishes that include plant-based proteins and a variety of wholesome sides. Balanced Living is the company's signature menu, featuring an array of meat, seafood, and veggie recipes.
The last plan – Keto + Paleo – features an ultra-healthy menu of gluten- and grain-free meals that all contain less than 35g of carbs each.
You're then asked how many people you're cooking for and how many meals you'd like to order each week. If you choose the two-person plan or the six-person plan, you can opt for either three or four meals per week. If you go for the four-person plan, you can choose two, three, or four recipes.
At this point, you'll have to sign up, which you can do via Facebook. I always like having this option because I'm all about ease!
Add your shipping and payment info, and you're good to go.
After this, pick your delivery day, and it's time to choose your recipes!
Green Chef Menu
While there are plenty of prepared meal delivery services that offer keto and paleo meals, it's harder to find good meal kits for these diets. The fact that Green Chef gives you what you need to create your own keto and paleo meals is really helpful.
It also means you don't have to rely on Green Chef forever in order to stick to these diets. With every meal, you're upskilling and learning how to create healthy meals you may not have thought of before.
It's frustrating that you can't add a recipe from another plan to your order, though (unlike what my colleague found when writing our Sunbasket review, that you can mix and match as much as you like).
Your best bet (if you're looking for variety) is the Balanced Living plan, with 12 meals to choose from, including vegetarian and low-carb options.
You won't be overwhelmed with choices, but with meals like Sun-Dried Tomato Flatbreads, Barramundi with Mango Salsa, and Black Bean Taco Salad, you'll certainly find plenty of dishes to tempt you.
It's obvious to me that Green Chef aims to be as healthy as possible. While other meal delivery services offer up a lot of heavy-looking pasta and other carb-loaded dishes, Green Chef packs its meals with lean proteins, whole grains, and veggies.
So I definitely think this would be a perfect meal kit delivery service if you're trying to boost your diet, or are watching your cholesterol or fat intake.
While you can't filter the recipes by ingredient or allergen, each recipe card gives you all the nutrition information you need – though it would be great to see this at first glance without having to click through. Here's an example from Green Chef's Keto + Paleo menu:
You then click through to see the Nutrition Facts:
Here's a quick overview of Green Chef's pricing and meal plans:
| | |
| --- | --- |
| Pricing | From $6.00 per serving |
| Meal Plans | Keto, Paleo, Vegan, Vegetarian |
| Availability | Almost 98% of the continental US, excluding Alaska, Hawaii, and parts of Louisiana |
| Shipping cost | $9.99 per week |
| Special deal | |
Green Chef Delivery
Green Chef offers only weekly deliveries at the moment. The order can arrive any day from Monday to Saturday, depending on where you live. There are a lot of meal kit companies that don't deliver on weekends, so it's nice that Green Chef has a Saturday option.
Deliveries will arrive between 8 am and 8 pm. You can track the status of your order with the link that will have been sent to your email.
Green Chef Unboxing
Alongside its USDA certification, Green Chef really prides itself on its sustainable practices.
The logistics of shipping organic produce are anything but simple, though. As they're free of preservatives and bacteria-busting chemicals, organic vegetables tend to have a short shelf life. This is why Green Chef's packaging is extremely well insulated and contains ice packs to keep things cool.
Not only that, but Green Chef also wants to make your meal prep as easy as possible, so all the ingredients come portioned, chopped, and ready to cook.
The proprietary spice blends and sauces come mixed and ready to use, too.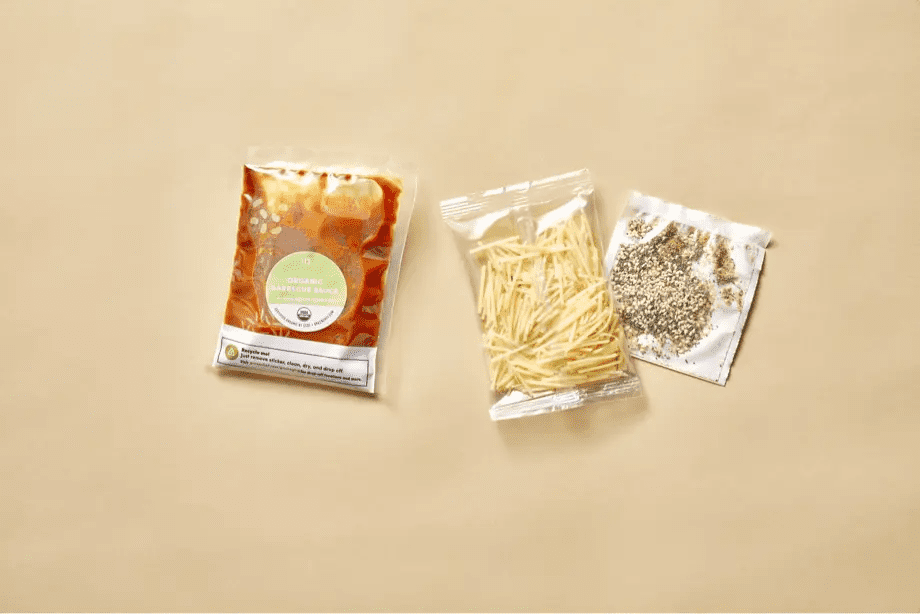 Green Chef's website goes through every piece of material you'll find in your kit and gives clear instructions on how to dispose of the packaging sustainably.
The cardboard box is insulated with a material called ClimaCell, which is curbside recyclable. I've seen it used by plant-based meal delivery service Purple Carrot, which is also super eco-friendly, so I think this is a good sign.
The ingredients are wrapped separately in paper bags – not plastic, as with some other companies. Inside the bags, there are small Number-4 plastic packets. You can recycle them, depending on your location, or reuse the bags that contain dry produce, as the website instructs.
You'll need to find out if your local facility accepts plastic films. Many do not, but this is clearly an industry-wide issue and I think Green Chef does a good job at minimizing its carbon footprint.
Favorite Green Chef Meals
These are the meals that caught my eye:
Southern Chicken with Dijonnaise, Cheesy Sautéed Broccoli, and Jasmine Rice with Tomato…
And from the Plant-Powered menu, the Veggie & Pesto Flatbreads with Kale Salad, Carrots, Dried Apricots, and Roasted Almonds.
These recipes seemed particularly easy to put together. It's important to note that you may not have some of the required kitchen utensils, like a meat thermometer or a microplane grater, but you can easily spot them by looking at the cooking instructions before you order.
And the instructions couldn't be more simple to follow. Each recipe is detailed and broken down into steps, and comes with useful images (so you know you're on the right track!).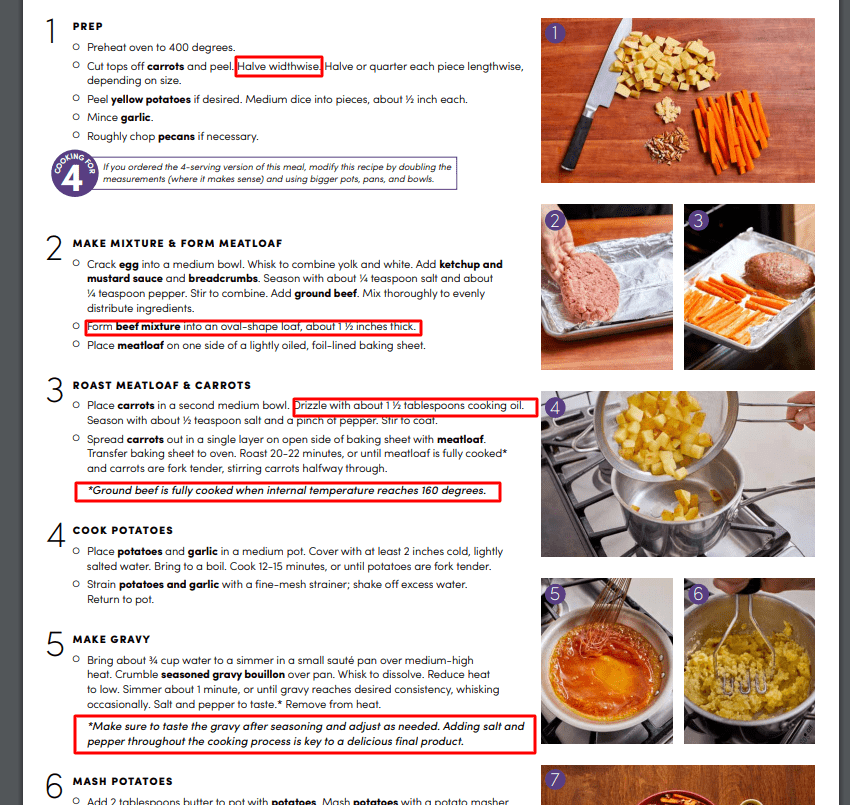 They're perfect for an amateur like me. Plus, the expected preparation time is really short, so even though you're cooking a dish from scratch, you won't end up spending hours in the kitchen.
Having said that, you can end up using a lot of pots, pans, and utensils. For example, you'll often have two veggie sides that need to be cooked separately, which can create a lot more mess and cleaning up than anticipated. My colleague had this complaint when trying out HelloFresh, but it might have a lot to do with the recipes you choose.
Green Chef Customer Service
Green Chef has an in-depth FAQ page, with sections on every type of question you may have – whether that's your delivery, the ingredients used, membership, or something else.
As far as contacting the support team goes, there are three options: email, phone, and live chat. All emails are replied to within 24 hours, but if you have an urgent inquiry, you can call Monday to Friday between 6 am and 11 pm EST, or Saturday and Sunday, 7 am to 7 pm EST.
The chat option is available Monday through Sunday from 9 am to 7 pm EST. Just click on the chat icon on the lower right-hand corner of your screen and text with a customer support agent, directly on the website.
If you want to cancel your Green Chef subscription, you can check out my colleague's short blog post about the whole process.
Green Chef Prices
As is the case with most meal delivery services, the price you pay per serving at Green Chef decreases the more meals you order.
The Plant-Powered and Balanced Living plans start from $10.49 per serving – that's based on a family or household of six ordering three or four meals per week. If you're only ordering for two, you're looking at paying from $11.49 per serving.
The Keto + Paleo plan is more expensive, likely because it's rich in sustainably sourced seafood and non-GMO, antibiotic-free meat that's been raised by local farmers. For a two-person plan, expect to pay from $12.49 per serving, while a family of six will pay $11.49 per serving.
Plus, there's a delivery fee of $9.99 each week. All in all, this is one of the pricier meal delivery services on the market.
If you want to enjoy more plant-based meals, Purple Carrot is a more affordable, healthy option.
Alternatives to Green Chef
Here's a quick overview of how Green Chef compares to other healthy meal delivery services.
| | | | | |
| --- | --- | --- | --- | --- |
| Alternatives to Green Chef | | | | |
| Starting Price | $6.00 | $5.99 | $8.32 | $1.99 |
| Dietary Plans Available | Balanced Living, Keto + Paleo, Plant-Powered | Vegetarian, Paleo, Mediterranean, Carb-Conscious, Diabetes-Friendly, Gluten-Free, Pescatarian, Lean & Clean, Chef's Choice, Fresh & Ready | Vegan, High-Protein, Gluten-Free | Health & Diet, Vegetarian & Vegan, Meat & Fish, Family-Friendly |
| Menu options (per week) | 10-12 | 40 | 8-12 | 27-29 |
| Meal Types | Meal kits | Meal kits and prepared meals | Meal kits and prepared meals | Meal kits and prepared meals |
| Products Available | Lunch/dinner | Breakfast, lunch, dinner, snacks | Breakfast, lunch, dinner, snacks | Lunch/dinner, dessert |
| Vegetarian | ✔ | ✔ | ✔ | ✔ |
| Vegan | ✔ | ✔ | ✔ | ✔ |
| Keto/Low Carb | ✔ | ✔ | ✔ | ✔ |
| Paleo | ✔ | ✔ | ✘ | ✘ |
| Special Deals | | | | |
If you're looking for more variation, Marley Spoon might be a better choice. It offers around 29 recipes per week, and also has some tasty-looking desserts for special occasions. You can read more about how Marley Spoon works and where its ingredients are sourced from in our in-depth review.
If you have dietary restrictions, such as those imposed by Type 2 Diabetes, you should check out Sunbasket's healthy meal plans. As well as a dedicated Diabetes-Friendly plan, it has other specific diets like Gluten-Free, Paleo, and Mediterranean. Check out our official review for the full list of dietary preferences Sunbasket caters to.
If you follow a strict plant-based diet, Purple Carrot is definitely worth a try. You can add breakfast, lunch, and snacks to your order – all of which are super nutritious. In fact, you can read about how my meat-eating colleague enjoyed Purple Carrot when writing his official review of this meal delivery service.
The Bottom Line
Green Chef might be on the pricier end of the meal delivery services I've reviewed, but it is one of the healthiest and easiest kits to cook. Plus, knowing the ingredients are all organic where possible is a huge bonus.
I'd say this is a great option for paleo and keto dinners, and maybe even for vegans, but for anyone else without specific dietary needs or a desire to eat all-organic food, you might want to look elsewhere for a lower-priced meal kit delivery service.
FAQ
How much does Green Chef cost?
The costs vary based on the number of people you order for and how many meals per week you want. Prices start at $10.49 per serving if you order four meals per week for six people, and can go up to $12.99 if you order three meals a week for two people.
Plus, there's a $9.99 weekly shipping fee.
But don't worry, you can save $99 and get free delivery if you use our special discount code.
Where does Green Chef deliver?
Green Chef delivers to all contiguous US states, except for certain parts of Louisiana. It also doesn't deliver to Alaska or Hawaii. Find out if Green Chef delivers to your town by entering your zip code on the website.
Is Green Chef good for Keto?
Green Chef is perfect for anyone on the keto diet. The Keto + Paleo plan has been created by nutrition experts and offers sustainable, organic ingredients and creative recipes to help you whip up keto-friendly meals in the kitchen. Did I mention it's also certified gluten-free?
Does Green Chef deliver wine?
No, but Naked Wines is one of the top wine delivery services for their prices and wine selection.
Learn more about what sets this monthly wine club apart in our full-length Naked Wines review.