Green Chef in a Nutshell
A USDA-certified organic meal delivery service that offers keto and paleo meal kits, flexible delivery options, and healthy, though somewhat limited, menus.
What I Liked
Generous first-delivery discounts

Easy-to-follow instructions – even for kitchen novices like me!

Completely organic ingredients

Gluten Intolerance Group-certified gluten-free meal kits

Dedicated meal plans for stricter diets
What I Didn't Like
$8.99 delivery charge per week

Unable to add meals from other plans to your menu
Green Chef Overview
I like anything that helps me to eat healthier. Like everyone, I know that processed snacks or frozen meals aren't doing me any good, but it can be so difficult trying to figure out what to eat and finding time to make it.
Unfortunately, eating healthy organic food can be a hassle – from tracking down the right health-food stores for ingredients to finding and cooking healthy, delicious recipes. Then there are the healthy diets that are notoriously hard to stick to, like keto or paleo.
All things considered, Green Chef promised the perfect solution. So I decided to take a closer look at this certified organic meal delivery service, compare it to the competition, and find out whether it really is an ideal option for anyone looking to eat more healthily or follow a strict diet. Here's what I found.
How Green Chef Works
In many ways, Green Chef is a classic meal delivery service. You choose recipes you'd like to cook from one of its dedicated menus, then you get all of the ingredients you need to put those meals together in about 30 minutes.
But here's what sets it apart: the USDA organic certification, the dedicated menus for today's top healthy diets, and the premium quality of produce. Not only that, but all of the produce arrives completely prepped. Picture squash cubed to perfection and unique sauces and blends developed by the Green Chef staff.
When it came to ordering, this company looked pretty promising from the start. After all, how can you not like a service that offers you up to $80 off your first orders?
Next, you have to choose which menu you'd like to create recipes from:
This last menu option is new. The Green Chef plans for keto and paleo used to be separate, but they were recently combined for a powerful, ultra-healthy menu of gluten- and grain-free dishes that contain less than 35g of carbs each. Here's a tasty-looking example of a dish from that plan:
You're then asked how many people you're cooking for and how many meals you need a week. If you choose the two-person plan or the six-person plan , you can opt for either three or four meals. If you go for the four-person plan , you can choose two, three, or four recipes.
At this point, you'll have to sign up, which you can do via Facebook. I always like this option because I'm all about ease!
Then add your shipping and payment info and you're good to go.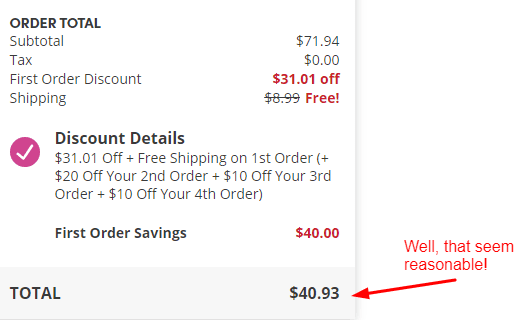 After this, pick your delivery day, and then it's time to choose your recipes!
Green Chef Prices
I actually found Green Chef's pricing a little confusing as it was different from every other plan I've tried.
Take the Balanced Living plan , for example. If you order three meals on the two-person plan, each portion starts at $6.82 (after the discount is applied), but if you decide you want four recipes, each portion costs $8.11.
The same happens on the four-person plan. The cheapest option is to only take two recipes, for $8.11 per recipe, which increases to $10.05 for the four-recipe plan. Usually, per-serving prices get cheaper the more you order, but that doesn't seem to be the case here.
Plus, there's a fee of $8.99 for delivery each week (which can go up to $17.98 for larger orders). All in all, this is one of the pricier meal delivery services on the market.
If you're into vegan cuisine and are interested in all-natural, partially organic meal kits, Purple Carrot is a more affordable option.
Green Chef Menu
While there are plenty of prepared meal delivery services out there that offer keto and paleo meals, it's harder to find good meal kits for these diets. The fact that Green Chef gets you what you need to create your own keto and paleo meals is impressive.
It also means you don't have to rely on Green Chef forever to stick to these diets. With every meal, you're upskilling and learning how to create healthy meals you may not have thought of before.
With that in mind, let's take a closer look at Green Chef's menus.
I was a little annoyed to find I couldn't add a meal from another plan to my order (unlike Sunbasket , where you can mix and match as much as you like). It's a bit inflexible, and your best bet (if you're looking for a bit of variety) is the Balanced Living plan, with nine meals to choose from, including vegetarian and low-carb options.
You won't be overwhelmed with choices, but with meals that look this delicious, maybe that's not such a bad thing:
One thing I will say is that Green Chef looks like it's trying to be as healthy as possible. While other meal delivery services have a lot of heavy-looking pasta and other carb-loaded dishes, Green Chef doubles down on the lean proteins, whole grains, and veggies. I think this would be a perfect meal kit delivery service if you're on a healthy diet, or are watching your cholesterol or fat intake.
While you can't filter the recipes by ingredient, each recipe card gives you a lot of important information, including allergies, though it would be great to see this at first glance without having to click through. Here's an example from Green Chef's paleo menu:
You then click through to see the Nutrition Facts:
| | |
| --- | --- |
| Pricing | |
| Meal Plan Options | |
| Availability | Almost 98% of the continental US |
| Shipping costs | From $8.99 per week |
| Special deals | |
Green Chef Delivery
Green Chef offers as much flexibility as you need with your delivery schedule. You can order weekly, biweekly, or even monthly.
Deliveries are available from Monday to Saturday, depending on where you live.
Because many meal kit companies deliver throughout the week, they opt out of weekend deliveries. It's nice that Green Chef does not.
Deliveries arrive between 8 am and 9 pm. You can track the status of your delivery with the link sent to your email.
Green Chef Unboxing
Alongside its USDA-certification, Green Chef really prides itself on its sustainable practices:
That being said, the logistics of shipping organic produce are anything but simple.
As they're free of chemicals, organic vegetables are known for having a short shelf life. This means the packaging has to be extremely well insulated, and the ice packs have to be that much more effective at keeping things cool. Not only that, but because Green Chef wants to make your meal prep as easy as possible, all of the ingredients come pre-portioned and almost all the produce comes pre-chopped.
The proprietary spice blends and sauces come ready to use, too.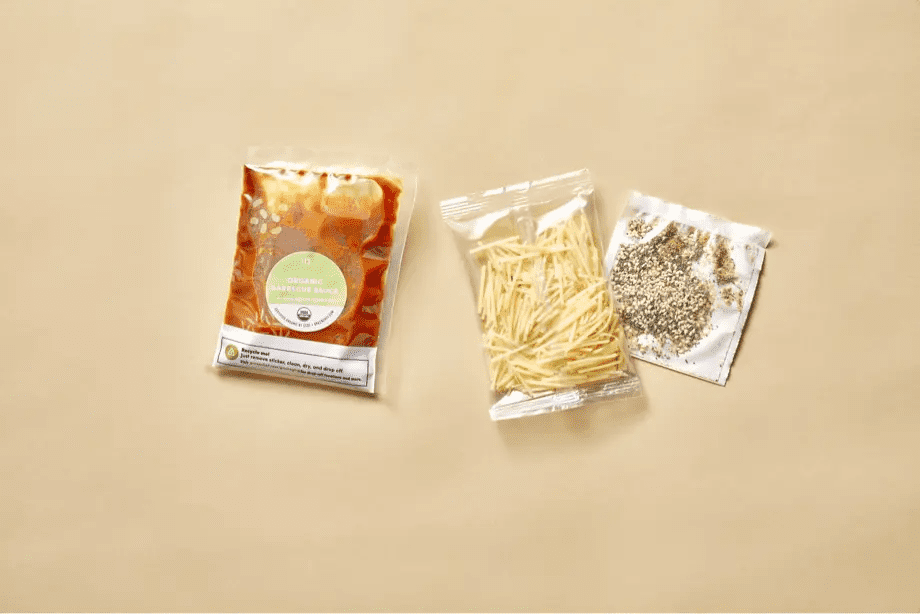 Green Chef's website goes through every piece of material you'll find in your kit and gives clear instructions on how to dispose of the packaging sustainably.
The main cardboard box was insulated with a material called ClimaCell, which is curbside recyclable, a touch I haven't seen elsewhere. The separate ingredients were wrapped in paper bags, not plastic, as with other companies.
Once I opened one of the paper bags, I saw small plastic packets but followed the site's instructions on reusing the bags that contained produce or dry vegetables. Any bags that contained meat, fish, or poultry, I tossed out, as I didn't have a recycling facility near me that accepts #4 plastic film.
This is clearly an industry-wide issue and I was impressed at the lengths Green Chef goes to in order to minimize its carbon footprint.
Favorite Green Chef Meals
From my first box, these are the meals I was most excited about:
Southern Chicken with Dijonnaise
And for my vegetarian night, Veggie & Pesto Flatbreads:
I found these to be some of the easiest recipes to put together. Some of the recipes require kitchen utensils you may not have, like a meat thermometer or a microplane grater, but you can easily see the cooking instructions before ordering and decide which recipe is right for you.
When it came to cooking the recipe, it wasn't difficult at all.
While other recipes have confused me in the past, Green Chef gave me very detailed, step-by-step instructions, complete with useful images: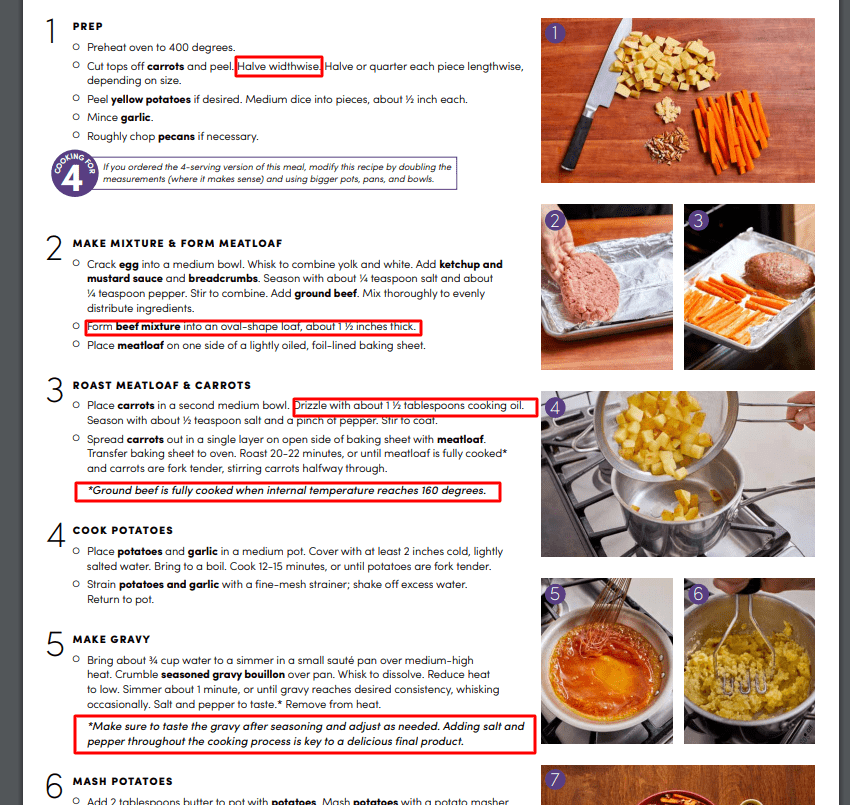 It was perfect for an amateur like me, even explaining how to mix the ingredients together! There was very little preparation time, which made it one of the quicker meal kits I've experienced.
Having said that, I did end up using a lot of pots, pans, and utensils. At one point, two of my vegetable sides had to be cooked separately and it created a lot more mess and cleaning up than I'd anticipated. My colleague had the same complaint when trying out HelloFresh and writing this review . It might have to do with which recipe you choose.
Either way, I managed to make every meal I received perfectly, mostly thanks to the helpful images showing me how each step should look.
Green Chef Customer Service
Green Chef has an in-depth FAQ page, with sections for each type of question you may have – delivery-related, food-related, and more.
As far as contacting the support team goes, there are three options: email, phone, and live chat.
I decided to try out the customer service via phone. My call was answered within 10 seconds, which really impressed me. The customer service agent sounded like she was smiling while speaking to me and she seemed genuinely happy to help me find a solution to my issue.
That was pretty impressive. It's not the pre-recorded tones of Martha Stewart for Marley Spoon… but it's also not the 40+ minute wait I had with the customer support of another meal delivery service I tested!
Alternatives to Green Chef
Even with all of the great qualities of Green Chef, it may not be right for everyone.
Sunbasket is another certified organic meal delivery service that caters to an even wider range of specific diets. With 10 different dedicated menus to choose from, including paleo, Mediterranean, and even diabetes-friendly , you can order from a mix of menus. Sunbasket now also offers "Fresh & Ready" pre-cooked meals that you can just heat and eat on your busier days.
Purple Carrot is another service that sends you premium ingredients to put together colorful meals. All recipes are completely plant-based, and you can even order organic, gluten-free snacks to brighten up your day. With options like the Low-Carb and High Protein plans , Purple Carrot proves that vegan food can be exciting and satisfying.
The Bottom Line
Green Chef might be a little on the pricier end of the meal delivery services I've reviewed, but it was one of the healthiest and easiest kits to cook. Plus, an all-organic service is a huge bonus.
I'd say this a great option for paleo and keto dinners, and maybe even for vegans, but for anyone else without specific dietary needs, you might want to look elsewhere for a lower-priced meal kit delivery service.
FAQ
How much does Green Chef cost?
Green Chef pricing is based on the plan you choose and how many people will be eating each dinner. Choose food for either two, four, or six people and 2-4 meals a week. Individual meals start at $9.99 for the Plant-Powered plan and go up to $12.99 for the GIG-certified gluten-free Keto + Paleo plan .
For a slightly cheaper, organic option, take a look at Sunbasket , which starts at just $8.99 per serving.
Where does Green Chef deliver?
Green Chef delivers almost everywhere in the continental United States, with the exception of some parts of Louisiana. At the moment, it's unable to deliver to Alaska and Hawaii.
If you're looking for a certified organic meal delivery service that ships to those areas, check out Fresh n'Lean's healthy meal plans . Like Green Chef, Fresh n'Lean provides dedicated plans for stricter diets like paleo, keto, and even low-carb vegan .
Is Green Chef good for Keto?
Green Chef's dedicated keto plan is great for maintaining ketosis! You can choose from seven different recipes each week and all of them make it easy to follow a keto diet without any of the usual hassle. Green Chef's keto and paleo plans are even certified gluten-free by the Gluten Intolerance Group, so it's ideal for celiacs as well.
Not only that, but you can enjoy your diet even more, knowing that you're eating meals made from responsibly sourced and organic ingredients.