Short on Time? Here Are the Best Vegan Meal Delivery Services
The Best Vegan Meal Delivery Services Reviewed
Factor's meals are prepared and ready to eat after just a few minutes in the microwave. This makes it a great option for busy individuals who often find themselves eating lunch at their desks or who want a quick and easy meal post-workout.
The core menu accommodates several diets and features well-balanced recipes inspired by international cuisine. Vegetarians and vegans have between 5 and 8 delicious options each week, which isn't much. However, the recipes are quite impressive, so it's worth giving it a try. After all, who couldn't enjoy more than 1 serving of Tomato and Roasted Vegetable Risotto or Three Bean Vegan Chili per week? Plus, the menu changes each week, so there will always be new recipes available.
Moreover, you can get more out of your Factor subscription with the add-ons menu. Here, you'll find more vegan and vegetarian recipes, as most smoothies, juices, snacks, and some desserts fit the bill. Plus, the smoothies and juices can be consumed on the go, so you can have your breakfast at the office or while taking a walk in the park. This kind of convenience and menu versatility makes Factor a great option for singles, couples, and families.
Everything on the menu is made using GMO-free ingredients that don't include any artificial preservatives. And, according to our in-depth review of Factor, the service definitely passes the taste test. Each recipe is designed by a dietitian and cooked by a professional chef, so you'll have restaurant-worthy meals in the convenience of your home.
I like that Factor doesn't freeze its food. The meals arrive chilled and fresh at your door due to the ingenious packaging and insulation system. So, as long as you place everything in the fridge as soon as it arrives, your food will maintain its freshness and taste until it's time to eat it. In addition, since everything comes in recycling microwave-safe containers, there's no need for prep time or cleanup. Also, almost all the packaging materials are recyclable!
This all makes Factor great for those who want to eat healthily and conveniently. However, you should also consider your budget since Factor can get pricey (especially if you only order the minimum 6 meals per week). To get Factor's best price per serving ($6.19), you'll have to order 18 meals per week.
HelloFresh has a good number of options for vegetarians and plant-based dieters. And, even if there's no dedicated vegan menu (there's a Veggie one), there are still plenty of recipes you can customize to fit your needs.
I think HelloFresh is one of the most flexible meal delivery services due to its customization options. First, you have HelloCustom, a feature that allows you to swap proteins and sides to change the meals based on your preferences. However, this feature doesn't apply to all the meals available on HelloFresh's menu. You have 12+ customization options each week, and usually, there's only 1 alternative.
Plus, HelloFresh is a meal kit service. This means you have plenty of customization options since you'll cook the meals. For instance, a veggie meal kit like Coconut Curry with Chickpeas can be made vegan-friendly by leaving out or replacing some ingredients. In this case, you can replace the yogurt and butter with their vegan versions. Plus, since we're talking about small amounts (2 tablespoons of yogurt), you're not wasting food.
With these customization options, the HelloFresh menu becomes more vegan-friendly. Not to mention that the recipes are really easy to follow. When my colleague tested this service at home, they found the recipe cards extremely helpful and well-designed, especially for beginners.
HelloFresh has plenty of crowd-pleasing, family-friendly options, which makes it a great fit for vegans living with non-vegan families, partners, or roommates. And, even though there aren't many vegan dishes on the weekly menu, you have permanent access to a wide range of vegan recipes in the Cookbook section. Unlike Purple Carrot, which only offers plant-based meals, HelloFresh has something for almost everyone. It's also affordable, especially if you take advantage of a new customer discount.
HelloFresh is quite budget-friendly. It starts at $3.32 per serving when you place the maximum order (6 meals for 4 people). On the other hand, if you only order the minimum (for 2 meals for 2 people), the price per serving can get a bit high without a discount.
Key Features
Recyclable packaging and sustainably sourced produce

45+ unique recipes per week


8 dietary options including keto, plant-based, and gluten-free


Current deal: Get $250 off + free shipping
Green Chef has a Plant Based meal plan, which include meal kits with certified organic ingredients and global flavors that can be hard to come by. The service specializes in balanced dishes with high-quality ingredients free of GMOs, pesticides, or antibiotics.
Green Chef was the 1st CCOF-Certified organic meal kit company on the market. This means that most of the fresh produce and eggs used in these recipes are organic. Whenever an organic option isn't available, Green Chef will replace that product with a conventional one of the highest quality and include the information on the label.
Green Chef also offers organic beef, chicken, and wild-caught seafood options and only works with farmers that practice high animal welfare standards. Therefore, all the recipes you order are nutritionist-approved and include organic produce and premium proteins.
The menu changes each week, and there are around 10 vegetarian and vegan options. If you're OK with the occasional dairy ingredient (or don't mind making at-home swaps using your pantry), Green Chef's vegetarian meals are even better. There's also a large section of the menu dedicated to keto, gluten-free, and high-protein meals. You can mix and match dishes from different menus, so Green Chef is a great choice for households with a mix of diets.
All the recipes come with step-by-step instructions, chef's tips, and photos. Plus, some of Green Chef's ingredients arrive washed and prepped, while all its seasonings, sauces, and marinades are ready to use. Our reviewer loved this aspect when they tried it at home, along with the easy-to-cook recipes, which take around 30 minutes to prepare and cook. I also like that the recipe cards and meal kit bags are color-coded. This way, it's easier to organize the meals in your fridge and find everything when cooking.
Admittedly, everything comes with a premium price tag. But, if you order for 4 or 6 people (maximum 4 meals each), you can bring the price down to $9.99 per serving. However, if you're only ordering for 2 people (3 or 4 meals per person), you may find Green Chef's pricing a bit steep.
Key Features
4-6 vegetarian dishes on the menu each week

19+ unique recipes per week plus add-ons

Dietary options include diabetes-friendly, vegetarian, and health conscious
Blue Apron is a great choice for foodies who enjoy cooking. You'll find gourmet-style recipes that are tagged as Premium dishes. The company has a dedicated vegetarian menu, but the offer is pretty limited, with only 4 to 6 vegetarian options (out of 19 meals per week). Furthermore, there's no dedicated vegan plan.
Blue Apron's core menu is flexible, so you can easily customize meals to fit your needs. There are a handful of non-vegetarian meals that you can turn vegetarian by swapping the animal protein with plant-based protein (this works only for recipes marked with the "Make it Vegetarian" label).
Moreover, Blue Apron is a meal kit service. This means that you can customize the meals right before cooking them. For instance, you can swap milk with almond or coconut milk from your pantry. Also, if the meal includes meat, you can set it aside and cook the dish vegetarian. In all fairness, this approach only works if you're sharing the meals with a partner who eats meat so as not to waste the meat. This was our reviewer's conclusion who, despite the limited plant-based offerings, loved Blue Apron for its variety and extras.
Blue Apron's vegetarian menu includes gourmet meals like Smothered Tomatillo Burritos and Honey-Sambal Glazed Tofu Bowls. And, if you don't know how to cook them, the well-detailed recipe cards will be of great help. The ingredients arrive whole, so you should allow some extra time for peeling, dicing, and slicing.
Each week, the core menu is accompanied by a varied selection of add-ons. Here, you can find more vegetarian and vegan recipes for breakfast or snacks, but also extra protein, soups, salads, healthy desserts, and ready-made meals.
I think the menu is best for vegetarians and vegans living with flexitarians or meat eaters (considering the menu options). It's also a great option for couples and families since you can order for 2 or 4 people between 2 and 5 meals per person.
In terms of costs, Blue Apron is quite affordable. Its best price per serving is $5.74, but even when you're ordering the minimum amount, the costs aren't too high. But don't forget to add the flat transportation fee of $10.99 to every order.
Key Features
A good selection of gluten-free meals

16+ unique weekly recipes (meal kits and prepared) + add-ons

6 dietary options including soy-free, vegan, and high-protein
Purple Carrot is an all-vegan meal delivery service with a wide range of recipes. The menu is divided into meal kits and prepared meals, and you also have access to extras that include spices, sauces, healthy desserts, and grocery items like pasta and plant-based cheese.
Each week, Purple Carrot offers 16 entrées (8 meal kits and 8 prepared meals), 2 speedy lunch options, and 2 breakfasts. Plus, the meal kits section includes around 4 Less Prep recipes which only take 30 to 35 minutes to prepare and enjoy. All these meals and extras cater to various dietary requirements, such as gluten-free, nut-free, and high protein.
Purple Carrot's recipes have been designed to celebrate veggies – a feature my colleague appreciated when he gave Purple Carrot a go for himself at home. Plus, all the meals contain complex carbohydrates, healthy fats, and lean proteins (all derived from veggies, seeds, nuts, and fruits). Each recipe contains between 500 and 800 calories per serving and is designed to provide you with energy for the entire day.
Purple Carrot's menu is a combination of recipes inspired by international cuisines known for their focus on cooking with plants. I honestly fell in love with recipes like Almond Butter Tofu or Pesto Flatbreads because they're flavorful and satisfying. Additionally, I'm sure you'll fall in love with the Purple Carrot sauces as well! These pre-made sauces are original recipes designed to fit the foods they accompany.
Purple Carrot doesn't offer any customization options, but you don't really need it. Each dish is well-balanced and was carefully designed to bring out the flavors and textures of the plants involved. Also, if you order meal kits, you can customize each recipe to your heart's content since you're the one cooking them.
The meals are flavorful and varied, and only a couple of details keep Purple Carrot behind Green Chef for me: you can order more servings with Green Chef, and Purple Carrot doesn't allow you to add meal kits and prepared meals to the same order.
Purple Carrot and Green Chef are similarly priced. Purple Carrot starts at $8.50 per serving for the maximum number of meal kits. You can order for 2 or 4 people, and you can have 2 or 3 meal kits per person. If you order ready-made meals, you can order 6, 8, or 10 single-serving meals. Also, keep in mind that, with meal kits, the price per serving varies, while with ready-made meals it's fixed.
Key Features
Healthy home-cooked meals

40+ meals per week

Dietary options include traditional, paleo, keto, and plant-based
Eat Clean is a meal delivery service that offers fresh, ready-made meals made from premium proteins, vegetables, and complex carbohydrates. Plus, all the ingredients are natural and organic (whenever possible), and the meals are cooked with little to no sodium (300 to 500 mg).
The service caters to several specific diets, like paleo, keto, and plant-based, but it also has a more inclusive menu for people who don't have special dietary needs. However, you can't mix and match between meal plans, so you have to stick to 1 weekly menu.
Eat Clean is a great option for busy professionals who want nutritious and delicious meals. The recipes combine flavors and textures from several famous cuisines, such as Indian, Caribbean, Hawaiian, Chinese, American, and Italian, so even the pickiest of eaters will find something they like. For vegan and vegetarian customers, Eat Clean's menu includes recipes like Vegan Southwest Burger with Vegan Cheese with Red Potato or Vegetable Lasagna with Broccolini and sweetens the deal with Blueberry Vegan Pancakes with Fresh Fruit. See our well-detailed Eat Clean review for more details on meals and plans.
Since this is a ready-made meal delivery service, you can't customize any meals. However, you can change your meal plan from 1 week to another, so you can have 1 week of traditional meals and 1 week of plant-based recipes. There's also no way to mention allergens, and it's difficult to identify the ones used in recipes since Eat Clean only offers information on ingredients and macronutrients.
The meals are delivered fresh, never frozen, in an insulated box. But, unlike any other meal delivery service, Eat Clean requires you to return the packaging materials. All you have to do is place the bags and ice packs outside on a specified day, and a driver will pick them up. If you don't return the packaging materials within 10 days of delivery, you'll be charged a packaging fee.
Overall, I think Eat Clean is great for single professionals and couples since you can order between 4 and 12 single-serving meals per week. It's also one of the most affordable services, with prices starting at $8.60 per serving.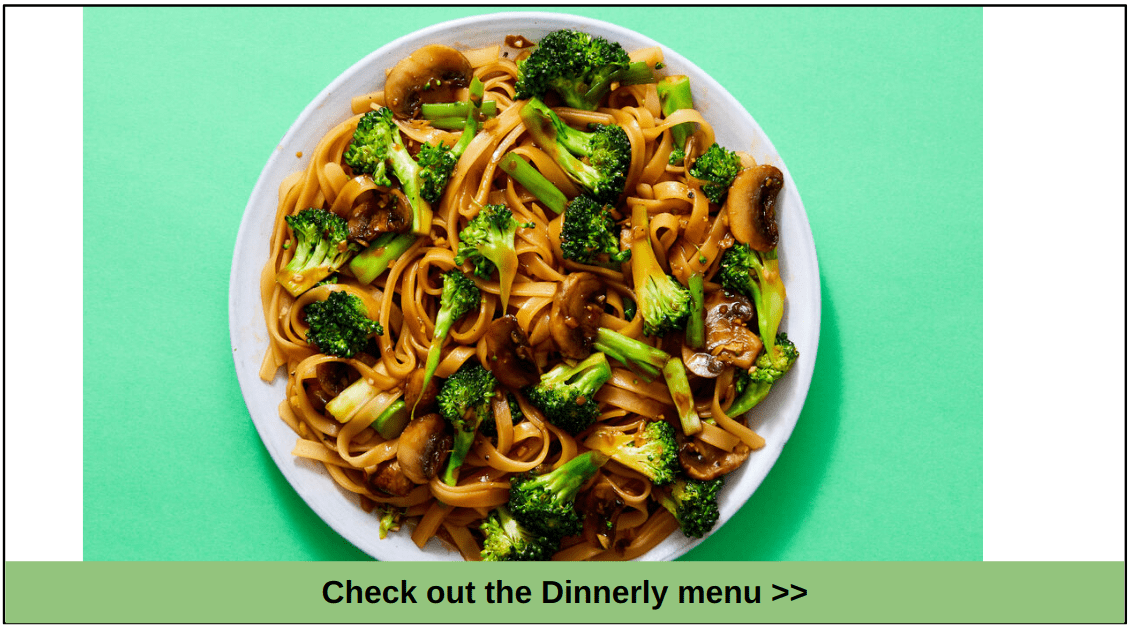 Key Features
6+ vegan recipes each week

100+ meal kits and prepared meals per week + extras

Dietary options include low-calorie, vegetarian, and low-carb
Dinnerly is a budget-friendly meal kits delivery service that caters to a wide range of diets and preferences. The menu includes kid-friendly dishes, low-calorie and low-carb recipes, and vegan and vegetarian meals (among others).
The company uses prime-quality seasonal ingredients from trustworthy local suppliers. Plus, whenever possible, Dinnerly will use organic ingredients, but these are mostly reserved for the PremiYum collection. This is Dinnerly's deluxe collection, where you can find recipes like Chicken Sausage and Tortelloni Soup or Crispy Maple-Tamari Tofu and Brown Rice. These dishes come with an added cost, but I love the option of restaurant-worthy meals.
Dinnerly's veggie recipes include plant-based carbs, seasonal vegetables, and spices. Also, each plant-based meal has a rich source of vegetarian proteins and a well-balanced macronutrient profile. After seeing the menu and its impressive versatility, I fully agree with my colleague's in-depth review of Dinnerly, where they state that "Dinnerly has more variety than most services out there".
Moreover, you get some customization options, which is impressive for a budget-friendly meal kit delivery service. Around 40+ recipes are marked "Customizable," which means you can upgrade the side dish or the protein to something a little fancier (like changing russet potatoes with sweet potatoes). However, the upgrade usually comes with an added charge, so not everyone may want to use this feature.
Dinnerly manages to maintain its low-cost status through no-fuss packaging methods. The branding is minimal, and you only receive items that are absolutely necessary to keep the meals cold during transport. This also means you won't receive any paper recipe cards (digital versions available) and the freshest produce will be placed right inside the box, without any plastic wrapping. In all fairness, this is extremely good news for the environment as I think Dinnerly is one of the most eco-friendly meal delivery services on the market.
Dinnerly is a great option for couples and families who want affordable, delicious, and nutritious meals. With prices starting at $2.12 per serving for the maximum order (6 meals for 4 people per week), Dinnerly is one of the best low-cost options. However, even if you order the minimum (3 meals for 2 people per week), the price per serving is still low.
Key Features
Get coaching and support to meet your health goals

25+ unique recipes each week

Dietary options include Whole30, paleo, keto, and vegan/vegetarian
Trifecta is a weight-loss and fitness-oriented meal delivery service that delivers prepared breakfasts, lunches, and dinners weekly. If you don't fancy picking your own meals you can put meal planning on autopilot and allow pro chefs to decide what you eat. This way, there'll be one less thing to stress about, which comes in handy when following a strict diet.
All the dishes are seasonal and prepared using fresh ingredients. Trifecta's team of nutritionists and chefs works mostly with local family-run suppliers that employ sustainable practices. As a result, all the ingredients are harvested at their peak to ensure maximum quality and nutrition.
Trifecta supports practices that promote ecological balance, which is why, whenever possible, the meals include organic ingredients. Moreover, each meal plan is designed in collaboration with registered nutritionists to make sure the recipes follow the macronutrient and calorie requirements of the diet.
So, each subscription feels like you're getting a personalized menu that fits your needs. Plus, for each meal plan, you can remove 2 ingredients from a list of allergens. As my colleague found out in their in-depth Trifecta review, this is a meal service that works with most allergies and dietary preferences.
The Plant Based meal plan features nutrient-dense recipes that include vitamin-rich, high-protein ingredients such as veggies, fruits, grains, nuts, seeds, and plant-based meat and dairy alternatives. Each meal averages 15 g of plant-powered protein and the dishes are well-planned to fuel your body with energy for the day.
Trifecta also has an A la Carte system where you can build a personalized menu. You can purchase proteins, side dishes, and ready-made meals as you see fit. However, the veggie-forward options are a bit limited.

I like that Trifecta is actively looking to improve its packaging system and trying to achieve fully biodegradable packaging. For now, there are still areas that don't accept the plastic trays and plastic film for recycling, but the rest of the packaging materials, such as the cardboard box and the insulation lining, are fully recyclable.
The pricing is quite steep at $6.00 per serving, but Trifecta promises nothing less than high-quality, nutrient-dense ingredients. Plus, the Plant Based meal plan is a bit cheaper since there's no meat included. If you choose a meal plan, you can order between 5 and 14 entrées per delivery, with the option to add 7 breakfasts.
Key Features
Between 5 and 9 vegan recipes per week

100+ unique recipes per week

5 dietary options including health-conscious, vegetarian, and dairy-free
Marley Spoon is one of the most well-rounded meal kits delivery services out there. The company features an extensive menu that includes recipes inspired by international cuisines. And, if this isn't enough, the meals are designed in collaboration with Martha Stewart, and Marley Spoon users have access to her Signature seasonings and sauces.
The recipes are easy to prepare and cook since most are ready in 6 steps or less and take about 30 minutes to put together. As my lovely colleague discovered while working on their in-depth Marley Spoon review, these recipes are easy enough for amateur cooks who don't spend much time in the kitchen.
Now, the menu isn't too friendly for vegans and vegetarians since there are only about 5 or 6 recipes each week. However, you can take advantage of the flexibility of meal kits and customize the recipe by replacing ingredients like milk with almond milk from your pantry. In all fairness, this strategy works best when you're sharing the meals with a non-vegetarian partner or roommate.
The menu has 50+ customizable recipes where you have the chance to upgrade either the protein or the side dish. However, the upgraded version comes with a charge since your options are to choose between high-quality ingredients and premium ingredients, like sirloin steak vs. organic sirloin steak. You'll see 1 or 2 recipes where meat can be swapped for a plant-based alternative.
Most of Marley Spoon's recipes are entrées, but there are a few breakfasts and desserts, like Chocolate Brownies or Breakfast Enchiladas. In addition, each week, there are 3 ready-made meals (to heat in the microwave or oven) and around 15 fast meal kits that take around 15 to 20 minutes to prepare and cook.
Keep in mind that the produce doesn't arrive prepped in any way. So, if you're a slow cook (like myself), I recommend setting aside a couple of extra minutes. The ingredients are always fresh and arrive chilled in a well-insulated box. As a plus, Marley Spoon uses minimal packaging, and everything is recyclable or reusable.
Marley Spoon isn't a low-cost meal kit service, but it won't break the bank either. For once, if you order for the entire family (6 meals per person, for 4 people), you'll pay $2.99 per serving, which is quite affordable. Things get a bit steep when you're ordering the minimum, which is 2 meals for 2 people, but it's still within range.
Key Features
Chef-cooked, organically sourced meals

100+ unique recipes per week

8 dietary options including Mediterranean, paleo, vegetarian, and more
Fresh N Lean is a gluten-free meal delivery service targeted at athletes and those with active lifestyles. The company has 2 performance-focused vegan plans – Standard Vegan and Low-Carb Vegan, and each offers lean meals that rely on a combination of vegetables and plant-based proteins like Beyond Meat.
The menus are centered around 10+ lunch and dinner options each week, but breakfasts like the Banana-Cinnamon Chia Pudding and Tofu Scramble are also available. Moreover, all the Fresh N Lean meals are gluten-free, and the Paleo and Protein+ plans are dairy-free.
The Low-Carb Vegan plan has fewer options, but all the meals are nutritionally balanced and designed to give your body everything it needs without scrimping on portions. This makes Fresh N Lean great, not just for those into fitness, but for all vegan lifestyles, as my colleague discovered in their review. However, if you're not too particular about your macronutrients and calories and want full control over your meals, I think Factor may be a better fit.
Fresh N Lean lets you exclude up to 3 ingredients and select 1 allergen between tree nuts, sesame, or soy. Also, the menu is designed based on what local fresh ingredients are in season, which helps keep prices at a reasonable level and creates the most nutrient-rich meals. There's also an add-on menu with a good selection of vegan snacks, such as Granola, Cinnamon Maple Almonds, and Coconut Almond Buttercups. Plus, you can order in Bulk (Fresh N Lean's version of A la Carte), but there aren't many plant-based options here.
If you choose a meal plan, you can order breakfast, lunch, and dinner for 5 or 7 days. How much you'll pay depends on how much you order, but Fresh N Lean's prices typically start from $7.53 per serving. The minimum order is 5 meals per week, and the maximum is 21 meals per week (7 breakfasts, 7 lunches, and 7 dinners). You can also add snacks to your meal plan, but these will be charged extra.
Quick Comparison Table
$6.19 Per Serving

$3.32 Per Serving

$9.99 Per Serving

$5.74 Per Serving

$8.50 Per Serving

$8.60 Per Serving

$2.12 Per Serving

$6.00 Per Serving

$2.99 Per Serving

$7.53 Per Serving

6 prepared meals

2 meals for 2 people

3 meals for 2 people

2 meals for 2 people

3 meal kits for 2 people/6 prepared meals

4 meals

3 meals for 2 people

7 meals

2 meals for 2 people

5 prepared meals

Prepared meals

Meal kits, speedy kits, prepared meals

30-minute meal kits

5 - 60 min. meal kits

Meal kits, prepared meals

Prepared meals

30-minute meal kits

Prepared

30 min. meal kits

Prepared meals

2-3 min

5-50 min

25-40 min

5-45 min

3-40 min

3 minutes

20-45 min

0-3 min

20-40 min

3 mins
Tips for Choosing the Best Vegan Meal Delivery Services
The right meal delivery service can make plant-based eating a breeze, but how do you know which one is right for you? These are some of the criteria I considered when compiling my list:
Are there enough vegan options? If you're sticking to a plant-based diet 100% of the time, look for a service that's fully vegan, like Purple Carrot, so you get enough variety. If you're simply looking to cut down on your animal-product intake, a more mainstream service with a vegan plan or a few plant-based dishes each week might be enough.
Are the meals balanced? The dishes should provide a balanced nutrition profile, containing crucial nutrients like B12, iron, calcium, and protein. Services that lean heavily on processed meat substitutes can include excessive amounts of sugar, salt, and unhealthy fats, so check the nutrition information carefully.

Does it work with your lifestyle? If you often find yourself too busy to cook, look for prepared meals. Otherwise, you might enjoy learning new recipes and cooking techniques with a company that provides DIY meal kits like Green Chef.
Do you have additional dietary needs? Make sure the service caters to all your dietary requirements. Many vegan services also have gluten-free, nut-free, and soy-free choices.

FAQ
What is the best vegan meal delivery service?
Factor came on top of my list thanks to its healthy meals and great range of vegan add-ons. It's my top choice for plant-based dieters with busy lives who are looking for nutrient-rich, prepared meals that are delicious and high-quality.
Does HelloFresh have vegan meals?
When I researched HelloFresh's vegan offerings, I found several vegetarian dishes and a few plant-based dishes. It may not be the best choice for a dedicated vegan household, but HelloFresh would be a good option for a vegan who lives with non-vegans.
Does Blue Apron have vegan meals?
Blue Apron has a dedicated plan for vegetarians that includes a few vegan options. All of Blue Apron's ingredients are GMO-free, and it tries to accommodate a wide range of dietary preferences with a focus on wellness and holistic health. For some recipes, you can customize the protein and swap in Beyond Meat alternatives.
What's the cheapest vegan meal delivery service?
If you're not looking for a fully plant-based service, the cheapest on my list is Dinnerly. However, the number of vegan options may not be enough for people on a strictly vegan diet.
Do vegan meal delivery services offer ready-to-eat meals?
Purple Carrot offers a selection of vegan-friendly prepared meals you can simply heat and eat. It also offers meal kits for when you feel like cooking from scratch. Other services on my list that offer prepared plant-based meals include Factor, Fresh N Lean, and Trifecta.
Best Vegan Meal Delivery Services in 2023 — Final Score: