Short on Time? Here Are the Best Organic Meal Delivery Services
The Best Organic Meal Delivery Services Reviewed
Key Features
Easy-to-follow meal kits with helpful shortcuts

45+ recipes to choose from each week

Dietary options include keto, high-protein, plant-based, and more

Current deal: Get $250 off + free shipping
Green Chef takes the top spot as the only certified organic service on my list. This means the service has been approved as an organic food handler by both the CCOF and USDA.
The service's premium meal kits include certified organic eggs and fresh produce, as well as organic beef and chicken. For non-organic meats, Green Chef focuses on the highest quality, sourced from local farms with stringent animal welfare standards. Other ingredients that simply can't be organic, such as wild-caught salmon, are screened extensively for quality and integrity.
Green Chef's menu caters well to specialized diets, such as keto, plant-based, and gluten-free. You can sign up to a single plan to help streamline the menu that's shown to you, or you can mix and match recipes from the entire menu to build your box each week.
The dishes themselves are easy to put together. Though Green Chef doesn't offer microwavable meals, its meal kits frequently come with time-saving shortcuts like prepared sauces and seasonings, or pre-chopped and portioned vegetables. Plus, each week, there are at least 2 10-minute lunches and 4 daytime bundles, with options for brunch, lunch, and breakfast.
The meals taste great, thanks to the high-quality ingredients. My colleague was impressed when they gave Green Chef a go for themselves at home. You can find out which meals were a highlight in their review.
There's a selection of extras on the menu, too. For even more choice, Green Chef offers quick and easy breakfasts like oatmeal, muffins, and egg-white bites, as well as salads, lunch options, and organic proteins such as ground beef. These come at an additional charge but are great to save time on extra grocery trips.
In addition to its animal welfare standards, Green Chef is committed to sustainability. The company is carbon-neutral, offsetting 100% of its emissions from operations. Almost all of the packaging is made from recyclable, reusable, or compostable materials, including the ClimaCell insulation, which keeps your ingredients fresh in transit.
Green Chef's meals start at $9.99 per serving, based on the largest plan. You can sign up to feed households of 2, 4, or 6, ordering between 2 and 4 recipes each week. The option to order 2 meals per week is only available to those feeding 4 people.
Factor takes my number 2 spot thanks to its balanced microwavable meals. While many other prepared meals are purchased frozen for convenience, Factor is a subscription service for busy food lovers who want healthy, prepared meals delivered fresh.
Factor tries to use organic ingredients where possible, although it isn't a certified organic service. You can see which ingredients are organic by checking the ingredients list for each meal. Factor is open about its mission to provide high-quality and sustainably farmed ingredients. All its produce is fresh, the seafood is sustainably caught, and the chicken promises to be cage-free.
This is a service that also accommodates different dietary needs well. The dishes have been designed by registered dietitians, with options for keto, high-protein, low-calorie, and plant-based diets. The Keto and Protein Plus sections of the menu are especially large, with 19+ Keto and 25+ high-protein meals each week.
On average, the dishes come in at around 600 calories per serving but can vary from 350 to 900. Factor is always transparent when it comes to the nutritional information on each dish, so you can choose the right meals for you each week. These filling meals are anything but bland, too. Look for big, bold flavors like Peruvian Chicken and Louisiana-Style Mahi Mahi.
You'll also find a wide range of add-ons. These include items like smoothies, cold-pressed juices, breakfast options, keto-friendly desserts, and extra portions of protein like salmon, chicken, and pork.
My colleague had a great experience when they reviewed Factor, though they felt there could be more plant-based options to accommodate vegan diets (right now, there are only 2 or 3 options per week). If you're looking for only quick-to-cook plant-based meals, check out Purple Carrot's prepared options.
Factor offers a free 20-minute consultation with a nutrition coach when you sign up. This is particularly great for anyone wanting to kick-start their journey to healthier eating in general, or if you want more information on how to eat to bulk up or lose weight. There are further coaching programs available for an additional fee.
Factor's packaging materials are mostly recyclable and/or reusable or at least made from recycled materials. The plastic film and some other items may not be curbside recyclable, but as a prepared meal delivery service, I think this company does a great job at lessening its global footprint.
Meals start at $6.19 per serving, but the price you pay will depend on the size of your subscription. You can order between 6 and 18 meals per week, and larger orders offer better value.
Key Features
Protein swaps and upgrades available on almost every dish

30+ meal kits and prepared meals each week

Dietary options include low-carb and low-calorie
Extensive customization options are the cornerstone of Home Chef's service. Almost every dish on the menu has protein substitutions to choose from. Often these include organic upgrades such as organic boneless and skinless chicken breast.
Home Chef has many impressive features, despite a relative lack of organic ingredients. The service focuses on seasonal ingredients rather than on specifically organic produce, so while strict organic adherents won't be satisfied, the quality often speaks for itself.
The menu offers more than 30 meals each week, and the customization feature expands this even further. Steak, shrimp, turkey, pork, and more are regularly available, so it's an ideal option for omnivores who want a choice of quality proteins to choose from.
The vegetarian offering varies from week to week, and the options are pretty diverse. When my colleague tried and tested Home Chef, they found around 6-10 veggie options, but no vegan options. You can also find plant-based protein swaps, including Impossible Burger, which help to expand the menu further. If you're a strict vegan, though, you'll find more choices with Green Chef.
You'll find meals that cater to every kind of schedule, too. From standard meal kits to Express kits (which take just 15 minutes to put together), and even oven-ready options, this is a service that offers serious flexibility. Look out for tags like "Plus" and "Family", which indicate options that contain more premium ingredients and larger, family-sized portions, respectively.
Home Chef also offers a handy Family Menu. This filter is accessible through a button in the bottom-left corner of the main menu screen. It brings up crowd-pleasing dishes available in larger, family-sized portions. You can also find these meals by looking for tags like "Plus" and "Family" in the core menu.
Home Chef allows you to filter out some ingredients from a basic list. You can exclude allergens such as nuts, or different proteins from the menu, and you can also filter for carb-conscious and calorie-conscious dishes. This service doesn't cater to specialized diets like paleo or keto.
There are also tons of extras on the weekly menu. These include everything from ready-to-mix salad bundles and smoothies to breakfasts, desserts, and bread. Protein packs are available as well, and this sometimes includes organic meats.
Home Chef's prices start at $7.99 per serving, but unlike other meal delivery services, the meals are all individually priced. You can order between 2 and 6 meals per week for 2, 4, or 6 people.
Key Features
Quick meals great for busy schedules

20+ dishes on the menu each week

Dietary options include low-calorie and low-carb
Fresh and Easy is a plan from Home Chef that includes only its easiest recipes. This makes it the best option for someone who has no interest in the service's standard meal kits or 60-minute Culinary Collection recipes but who wants meals that require very little prep and cleanup instead. Most Fresh and Easy meals will be on the table in 30 minutes or less.
Fresh and Easy subscribers can still benefit from all of Home Chef's wider offerings, though. The 2 brands share subscription models, pricing, and ingredients – including organic offerings. In fact, you'll have access to both services' menus when you sign up to either. My colleague who reviewed this service goes into more detail on the differences.
Fresh and Easy's menu includes Express meal kits and Fast & Fresh microwave meals, plus Oven- and Grill-Ready dishes that only require some minor assembling in the accompanying recyclable pan. You'll also spot some entree salads – these come with pre-cooked proteins, so all you need to do is combine the ingredients and enjoy.
Just like Home Chef, Fresh and Easy's organic options are limited, but there is a focus on seasonal ingredients. As before, you'll have access to its organic protein swaps and the organic proteins available in the add-ons section of the menu. The only meals where protein swaps aren't available are the Fast & Fresh prepared dishes.
Fresh and Easy doesn't have as many options for vegans or vegetarians as the full Home Chef menu. There are usually a few veggie dishes on offer, but it's a better choice for omnivores who like to eat the occasional, easy, plant-forward meal. Vegans looking for low-prep options should check out Factor instead.
Fresh and Easy's prices are the same as Home Chef's, starting at $7.99 per serving. The meals are priced individually, and you can order between 2 and 6 meals per week for 2, 4, or 6 people. Add-ons are priced separately.
Key Features
Calorie-controlled meals for every day of the week

150+ recipes in rotation

Dietary options include diabetes-friendly, gluten-free, keto, and more
BistroMD is designed for strict diets and weight loss, which means it won't be suitable for everyone. Its organic offerings are vast, however, and the service is fully committed to using responsibly sourced ingredients in all its prepared meals, including environmentally responsible seafood, hormone-free chicken, and rBGH-free beef.
The service has 7 different weight loss programs, depending on your dietary needs. There are Signature plans for both men and women, as well as Heart Healthy, Gluten Free, Keto Flex, Diabetic Friendly, Menopause, and Vegan options. You can also contact customer service if you have any dietary needs that are not included in any of the programs.

You'll have access to more than 150 prepared breakfast, lunch, and dinner options. It's a rotating menu, but the service occasionally adds new meals into the mix. The dishes themselves are flash frozen and mostly comprise homestyle American flavors – meatloaf, turkey breast, and salmon are all mainstays on BistroMD's lunch and dinner menu, but there are also more flavorful options like Chicken Mole and Blackened Tilapia.
BistroMD's service is designed to replace most or all of your daily meals. The largest plan provides 3 meals a day, 7 days a week. My colleague was pretty pleased with how the chef-prepared dishes turned out in their review but noted that the main focus of this service is to steer you on the path to weight loss rather than flavor.
You can also order calorie-controlled snacks to help keep you on track. There are more than 45 EATS (essential and tasty snacks) to choose from, including grass-fed whey protein bars and shakes, granola and nut mixes, chips, cheesecake, and more.
The doctor-designed plans are great for people managing specific health conditions. There's a dietitian team on board to give advice when needed, online tools and resources to refer to, and the meals promise to be nutritionally balanced. However, for those who simply want healthy prepared options that don't require much commitment, Factor could be the better choice.
BistroMD meals start at $8.24 per serving. You can subscribe to 2 or 3 meals per day, 5 or 7 days per week. The 2-meals-per-day plan doesn't include breakfast and the Full Program (3 meals per day) is not available for the Vegan plan.
Key Features
Dedicated Wellness plan for healthier options
70+ unique recipes and add-ons each week
Dietary options include vegetarian, family-friendly, and calorie-conscious
Blue Apron stands out for its careful sourcing. Every ingredient is responsibly sourced, non-GMO, and of top-notch quality, and many of the family farms and local growers Blue Apron works with practice organic farming.
Recipes at Blue Apron cater to a wide range of culinary skills and tastes. Whether you're a seasoned chef or a beginner in the kitchen, Blue Apron has something for you. Its clear recipe cards and online video walkthroughs are great for cooking newcomers. Our Blue Apron reviewer recommended Blue Apron for those who want to learn new kitchen skills.
Blue Apron's recipe selection combines the best of global and local flavors. You'll find a mix of international and American recipes with sophisticated twists. If you like exploring new cuisines and ingredients, you'll never get bored with Blue Apron.
When you sign up you, can choose between 5 different Blue Apron plans.
Chef's Favorites – top Test Kitchen picks
Wellness – nutritionist-approved recipes
Family-Friendly – kid-friendly meals
Fast & Easy – time-saving Quick Prep and Heat & Eat meals
Veggies – delicious plant-based meals
The Crispy Skin Salmon above features sustainably harvested salmon. You pan-cook the salmon with onions and sprinkle it with za'atar, a smoky, mildly hot Middle Eastern spice. Plate it atop a bed of couscous with tomatoes and cucumbers marinated in lemon juice, and you have a restaurant-quality meal that's ready in just 25 minutes.
Beyond dinners, Blue Apron's Market offers a range of extras. You'll find breakfast options, desserts, and even kitchen utensils, all aimed at enhancing your cooking and dining experience. Should you need to stock up on additional items, the Market has you covered. From spices and utensils to desserts and meal bundles it's a one-stop-shop for all your culinary needs.
Blue Apron lets you order between 2 meals of 2 servings per week and up to 5 weekly meals for 4. Prices start at $5.74 per serving.
Key Features
Meal kits and prepared meals

16+ recipes to choose from per week

Dietary options include high-protein, soy-free, and nut-free
Purple Carrot is the only fully-vegan meal delivery service on my list. This makes it far and away the best choice here for strict, plant-based dieters. Only Factor and Green Chef come close, as both offer between 5 and 10 vegan and vegetarian options per week.
This service offers a wide range of organic ingredients. Most of its non-produce items are organic, including its beans, tofu, tempeh, and nut milks, and it prioritizes organic fruits and vegetables where possible. However, Purple Carrot is sometimes unable to guarantee non-GMO ingredients due to sourcing and location constraints.
The menu is varied, colorful, and exciting. I reviewed Purple Carrot for myself and loved how the recipes celebrate vegetables rather than relying on processed meat substitutes. I discovered several recipes – like the Spinach Artichoke Grilled Cheese and the West African Peanut Stew – that I plan on making again.
In addition to its meal kits, Purple Carrot also has microwavable prepared meals. These single-serving dinners are super convenient if you have a busy schedule and don't like to cook. You'll have to choose one or the other during the sign-up process, but it's possible to mix and match meal types when you edit your order.

The Less Prep menu offers a happy medium between meal kits and prepared meals. These recipes come with shortcuts like chopped and portioned vegetables, ready-made sauces, and fewer cooking steps, which means they're generally on the table in 25 minutes or less.
You'll also find a selection of healthy breakfast and lunch dishes each week, in addition to its dinner entrees. You can add these meals – think Loaded Avocado Toast or Green Goddess Bowls – to your shipment for an extra fee. There's a "Plantry" too, featuring plant-based snacks and produce like cashew cream cheese and black bean burgers.
Overall, Purple Carrot is a great option for anyone – not just vegans. Its high-quality ingredients and healthy recipes are well worth a try, even if you aren't strictly vegan. I'm an omnivore, and it's one of my favorite services!
Prices start at $8.50 per serving based on the largest plan. If you want meal kits, you can order 3 or 4 meals per week for either 2 or 4 people. For prepared meals, you can choose from 6, 8, or 10 single-serving dishes each week.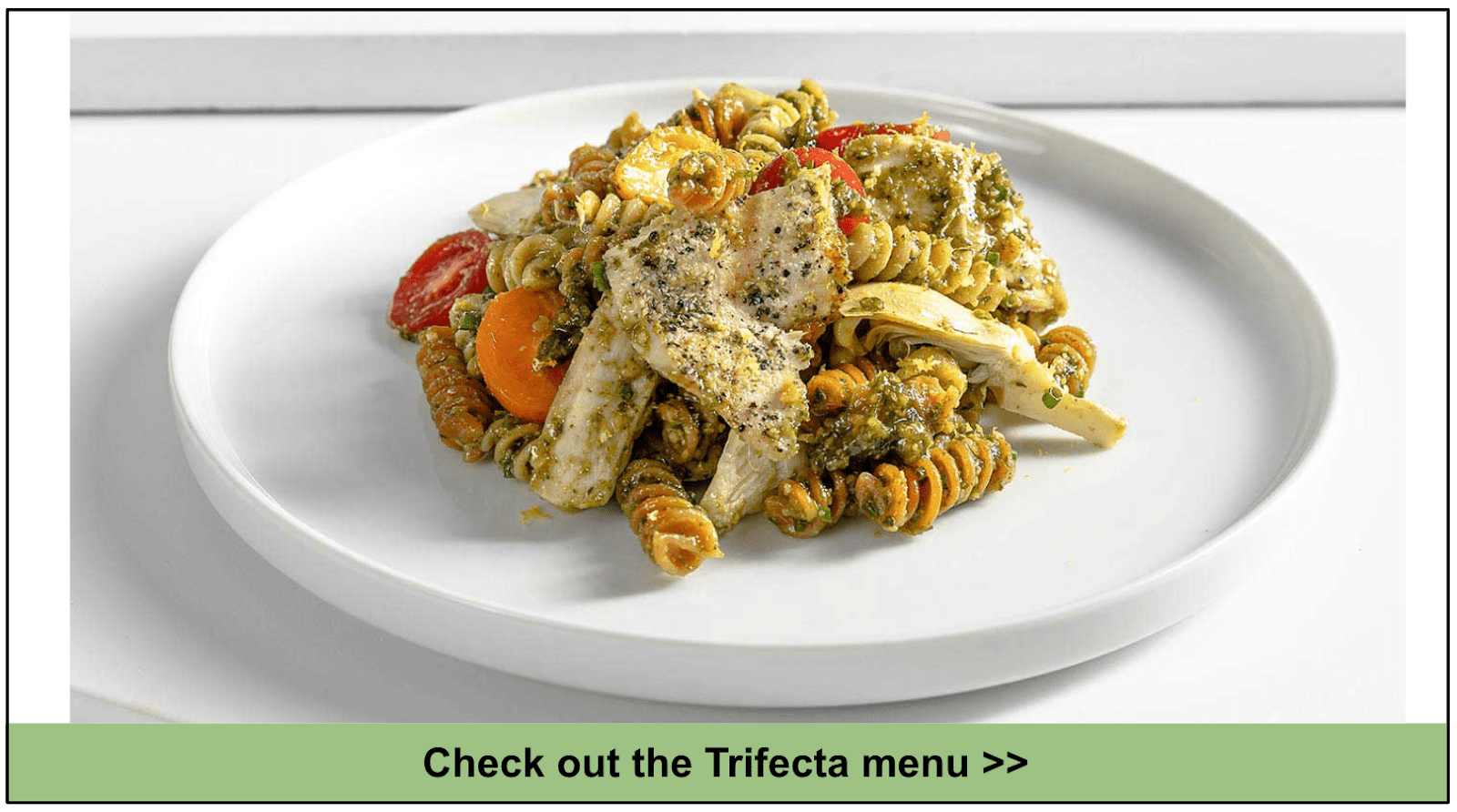 Key Features
Personalized plans for every health goal

28+ meals to choose from per week

Dietary options include keto, paleo, Whole30, and more
Trifecta's goal-driven plans put a huge emphasis on fitness and muscle-building. This meal delivery service is one of the most expensive on my list, but it also comes with many premium features, including the use of organic ingredients.
This is also a service that caters to many different diets. While bulking up and losing weight can often be a meticulous game of shoveling protein or cutting calories and serious meal planning, Trifecta aims to take the hassle out of that with its macro-balanced plans, including Keto, Clean, Paleo Whole30 Approved, and Plant Based.
You can opt for Chef's Choice – which means the meals are chosen for you. This helps put your meal planning on autopilot. However, you can also decide to pick your own meals if you prefer. Alternatively, build your own weekly delivery from the a la carte menu. You have the option to exclude ingredients from a limited list, including mushrooms, shellfish, and tree nuts, for example.
Since the focus is on nutrient-dense foods, Trifecta uses organic produce where possible, sourcing as much as it can from local farms. Any seafood used in the Clean, Paleo Whole30 Approved, and a la carte plans is non-GMO, antibiotics-free, and sustainably caught, while the beef is also grass-fed, and the chicken and turkey free-range.
Subscribers will also have access to helpful resources via the website and app, including mini-challenges, health and nutrition articles, and the option to track your progress as you go, which my colleague found useful when they reviewed Trifecta. They also found this to be a great service for people who aren't necessarily athletes but who just want to eat healthier.
Trifecta prices start at $6.00 per serving, but your total cost will vary depending on the diet plan and plan size you choose. You can order 5, 7, 10, or 14 entrees per week, with the option to also add 7 breakfasts for a full day of eating. The more you order, the better the price per serving.
Key Features
Top-quality organic and natural ingredients
12-15 meals per menu
Keto, Paleo, Plant-Based, and Traditional menus
Eat Clean to Go emphasizes balanced macronutrients in fresh organic meals. Meals arrive fresh and never frozen to preserve valuable vitamins, and each entree is designed to meet your nutritional needs. Our reviewer noted that Eat Clean to Go meals are healthy and quick to make, ready in just 2-3 minutes.
This service offers up a variety of menu choices. Meals include Latin American, Indian, classic American, Italian, Caribbean, Chinese, and Hawaiian cuisines. But most dishes are relatively simple, featuring clean proteins, fresh organic vegetables, and a sauce. Eat Clean to Go never uses any artificial flavors or preservatives, relying instead on high-quality fresh ingredients.
All Eat Clean to Go produce is organic and grown with no synthetic pesticides or fertilizers. Proteins include free range chicken, grass fed beef, and farm fresh eggs. Eat Clean to Go offers 4 meal plans:
Traditional
Keto
Paleo
Plant-Based
The Chicken Tikki Masala pictured above is made with free range chicken thighs smothered in a spicy and creamy homemade masala sauce. Eat Clean to Go substitutes starchy white rice with low-carb cauliflower rice and nutritious organic vegetables for a Paleo meal that contains just 166 calories with 26 g of protein, 8 g of carbs, and 5 g of fat.
Unfortunately, Eat Clean to Go doesn't allow you to order meals outside your menu. This helps you resist temptation if you are trying to stick to your diet. But people who are not dedicated bodybuilders or athletes might find the choices a bit restrictive and feel more comfortable with a more flexible meal delivery service like Factor.
You can order between 6 and 14 Eat Clean to Go prepared meals each week. Prices start at $8.60 per serving.
Key Features
Martha Stewart curated meals
100+ unique recipes per week
Vegetarian, low-cal, low-carb, pescatarian, and other options
Marley Spoon offers over 100 recipes weekly. You'll be impressed with the extensive array of recipes and add-ons presented each week. The diverse selection ensures that there's always something new and exciting for you to try. And with Marley Spoon's customization feature, you can upgrade to organic meats in many recipes.
All Marley Spoon recipes are curated by Martha Stewart. Meals draw widely from American and international culinary traditions, with options to fit most dietary preferences. Marley Spoon does a great job of providing family-friendly food that introduces new flavors in an accessible way.
Tags make it easy to sort through Marley Spoon's lengthy recipe list. You can look for One Pot, Vegetarian, Pescatarian, Vegan, Kid-Friendly, and other recipes to suit your needs and cooking time constraints.
The Chili-Rubbed Cod pictured above is tagged as Spicy, No Added Gluten, Fish, and Kid-Friendly. Mild cod is baked in a hot chili chorizo spice mixture, then cooled with a bed of jasmine rice and beans with roasted peppers and onions. Everything comes together with a creamy guacamole sauce and a sprinkling of toasted pepita seeds.
While Marley Spoon recipes may sound intimidating, they're straightforward to pull together. Our expert reviewer found Marley Spoon's recipes guided them smoothly through the whole cooking process.
Marley Spoon is also committed to eco-friendly operations. It operates as a 100% carbon-neutral service, and all its packaging materials are recyclable. You can enjoy your meals and protect the environment at the same time.
For all that it offers, Marley Spoon's prices are surprisingly reasonable, starting at just $2.99 per serving. You can order between 2 meals for 2 to 6 meals for 4 every week. Subscribers can also buy desserts, bundles, and other a la carte items at the Marley Spoon Market along with their order.
Quick Comparison Table
Tips for Choosing the Best Organic Meal Delivery Service
Still uncertain about the ideal service for your needs? Here's what to keep in mind when looking for top-notch organic selections:
5 Benefits of Eating Organic
Organic food is grown without synthetic fertilizers, pesticides, or GMOs. Organic farming seeks to produce foods using natural and sustainable methods, with minimal harm to the environment or to human health.
This often means a slightly higher cost for organic products due to the intensive labor and the absence of chemicals that might increase yield, but many consumers believe the health and environmental benefits are worth the extra cost
Here are some key benefits of eating organic:
1. No Synthetic Pesticides, Herbicides or Fertilizers
Organic crops are grown without synthetic pesticides and herbicides. While some natural pesticides may still be used, they typically have less environmental impact than their synthetic counterparts. Organic farming relies on natural fertilizers like compost and manure to enrich the soil, as opposed to chemical fertilizers.
2. No Synthetic Hormones or Antibiotics
Organic livestock isn't treated with synthetic hormones or antibiotics. Overuse of antibiotics in farming can contribute to antibiotic-resistant bacterial strains, which are a growing concern in global health. The hormone rBST, used on many beef farms, is banned in Europe as a health hazard.
3. Sustainable Farming Practices
Organic farming emphasizes practices that enhance soil and water quality, reduce pollution, and promote a self-sustaining, ecological balance. A significant aspect of organic farming is maintaining healthy soil. Crop rotation, companion planting, and natural fertilizers are used to improve soil fertility and structure.
4. Natural Animal Rearing
Organic meat, poultry, eggs, and dairy products come from animals that are given organic feed and are not administered antibiotics or growth hormones. Additionally, these animals should have access to the outdoors and be raised in humane conditions.
5. More Nutrients
Some research indicates that organic foods can have higher levels of certain nutrients. For example, organic crops might have higher levels of vitamin C, certain minerals, and antioxidants. And studies have found that organic dairy and meat contain higher levels of heart-healthy omega 3 fatty acids than commercially raised products.
FAQ
How much do organic meal delivery services cost?
Organic meal delivery services average around $11.50 per serving without shipping. Though the exact cost depends on which service you use and how large your orders are. Many services lower the cost-per-serving when you place bigger orders. Others have more unique pricing structures, such as Home Chef, which prices each meal individually.
What are organic meal delivery services?
Organic meal delivery services ship meal kits or prepared meals made with fresh, chemical- and GMO-free ingredients to your door. Certified organic handlers like Green Chef will use only organic produce and eggs. Other services may state that they use organic ingredients "where possible" but don't guarantee them.
Does HelloFresh have an organic option?
HelloFresh doesn't prioritize organic ingredients. It occasionally uses organic produce in its meal kits, but there are other services out there if organic ingredients are important to you. My top pick is Green Chef, which is owned by HelloFresh.
Does EveryPlate use organic ingredients?
EveryPlate doesn't offer organic ingredients. EveryPlate is a budget meal delivery service and organic ingredients would increase the price. For affordable organic ingredients, consider Home Chef, which allows you to make some organic swaps.
What is the healthiest prepared meal delivery?
Factor's prepared meals are healthy and delicious. The service uses sustainably-sourced ingredients and organic produce where possible to provide holistically healthy meals that are balanced and convenient. Its meals are delivered fresh, ensuring maximum flavor.
Can an organic meal delivery service help you lose weight?
An organic diet has many health benefits, but it is not specifically geared toward weight loss. If you want to lose weight, BistroMD's low-calorie prepared meals use organic and non-GMO produce from family farms whenever possible and always use hormone and antibiotic-free chicken and beef.
Are Factor meals organic?
Factor is not a certified organic company, but it uses pasture-raised, grass-fed meats that are free of antibiotics, hormones, soy, and genetically modified organisms. Factor meals do not contain refined sugar, artificial preservatives, or chemical additives.
Are Green Chef meals organic?
Green Chef is the first USDA-certified organic meal delivery service. It uses certified organic eggs and fresh produce in its meals, as well as organic beef and chicken. Non-organic meats are locally sourced from local farms with stringent animal welfare standards, and all seafood is sustainably harvested.
Best Organic Meal Delivery Services in 2023 — Final Score