Dinnerly in a Nutshell
A great low-cost option for non-fussy eaters on a budget – but not suited to anyone with specific dietary requirements.
What I Liked
The low price – from $4.69 per serving

A good number of recipes to choose from each week

Easy-to-follow cooking instructions

Delivery Rank special discount available – Get 57.5% Off Your First Order!

What I Didn't Like
Limited range of delivery days, depending on location

Caters to a limited number of areas

Shipping is $8.99 per week
Dinnerly is Best For
Families and individuals looking for money-saving options

Seasoned cooks and novices alike

Anyone requiring convenient meals without the high price tag
Dinnerly Overview
If it was up to me, I'd never spend another evening hungrily searching through the kitchen cupboard hoping for inspiration to strike again. I'd also never enter another grocery store and I'd never wake up to a sink full of dirty dishes. If it was up to me, I'd live off meal delivery kits and enjoy easy, healthy, and creative meals every day of the week.
Unfortunately, there aren't many meal delivery kit services that fall into the budget-friendly category, so for some, that reality isn't sustainable. When I heard about Dinnerly and its low price point, I was interested to see how it lived up to the more expensive options out there.
How Dinnerly Works
Dinnerly makes it really easy to sign up. To start, it asks you what plan you'd like – a Two-Person Box or a Family Box, and how many meals per week.
The fact that it offers up to six meals makes it great for planning a whole week of dinners. It's easy to change week to week as well.
Another thing I liked? The price per portion goes down as the number of meals increases – admittedly by only a few cents in some cases, but as they say, every cent counts! This is the same approach some other companies, like Blue Apron, take – though Blue Apron also adds in free delivery on orders of three or more meals per week.
After entering my zip code and email address, it was time to choose my delivery day. I was given three to choose from, but it varies depending on where you live.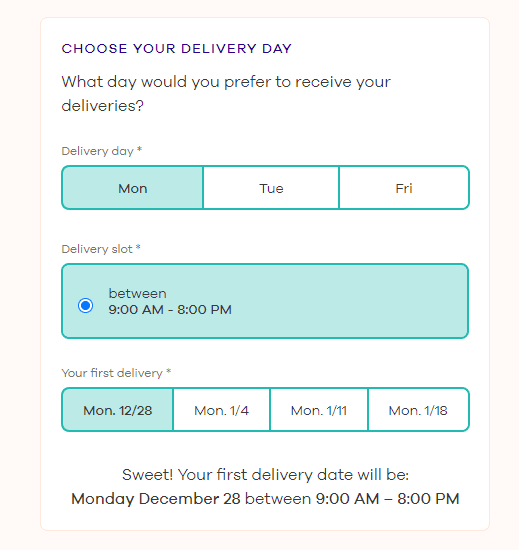 Once you've confirmed your personal details and payment method (credit card or PayPal), it's time to choose your meals.
Once the delivery is locked in, you'll see the full range of dishes on the menu. In addition to meals, you can add on protein packs and a weekly breakfast and dessert. You'll find them at the bottom of the menu.
Dinnerly Menu
The fun part is selecting your meals each week. Dinnerly will make suggestions based on your taste profile, but it's very easy to edit those and see the full assortment available each week. In the taste profile itself, you select all the options you like. It includes different kinds of meat and whether or not you like spicy foods.
When I decided to edit the recipes in my box. I was given a whopping 16 meals to choose from, plus the add-ons. For a low-cost meal kit delivery service, that's a great number. Its closest competitor, EveryPlate, gives you 14. Other providers like Home Chef give you an average of 20 choices each week, so I was very impressed.
Even better, there was a good mix of both meat and veggie options, with at least one fish dish available, too. EveryPlate offers all three as well, but at Dinnerly, I had a much better selection of veggie meals along with seafood and meat options to try.
Each recipe gives a basic breakdown of the nutrition facts – you can see the number of calories and how much fat, protein, and carbs each meal has. Looking through the options, I would suggest each meal has an average of 660 calories, 35g of fat, 35g of protein, and 55g of carbohydrates.
Just a note here: there are no specific dietary options for vegans or those on a keto or paleo diet. If that's what you need, it might be worth looking elsewhere. Otherwise, you'll find the allergens clearly labeled.
I wasn't expecting super high-quality ingredients for such a low price, but I was pleasantly surprised. All the chicken used is antibiotic-free, and Dinnerly only sources sustainable proteins and produce from its trusted suppliers. Some of the fruits and vegetables are organic, too, which is surprising considering the price point.
The recipes on offer include popular favorites and a good variety of cuisines. In addition, there are helpful tags on each dish to make it easier to sort through your choices. You can easily see which meals are kid-friendly, have no added gluten, or are ready to eat in under 30 minutes. Look out for the Special tag to take advantage of recipes available for occasions like Mother's Day or Christmas.
Once your meals have been selected, you'll have the option to include add-ons. The protein packs come with two varieties of meat and a few suggestions on how to prepare them.
There's also a dessert and breakfast option to add a little something extra to your delivery. They come as a meal kit just like the dinners. The desserts usually take closer to an hour to prep and bake, but it's such a fun way to create something a little special at home.
Here's an easy overview of what Dinnerly offers and how much it costs:
| | |
| --- | --- |
| Pricing | From $4.69 per serving |
| Dietary Preferences | Balanced, Pescatarian, Vegetarian, Gluten-Free, Dairy-Free, Low-Calorie |
| Availability | Almost 98% of the contiguous US |
| Shipping costs | $8.99 per week |
| Special deals | |
Dinnerly Delivery
Dinnerly is a little bit secretive about when it delivers, and says it depends on your location. After playing around with zip codes, that very much seems to be the case. In some instances – for anyone lucky enough to live in Beverly Hills, for example – Dinnerly delivers four days a week. A New York address scored me three days a week, while Chicago (hardly the back of beyond) was two.
The company does a good job of making sure the food is delivered fresh though, even if you're not there to receive it. The food is packaged in an insulated box, so it will stay cool all day.
If you're looking for more delivery options, however, Blue Apron offers Saturday deliveries. Even EveryPlate, another low-cost meal kit delivery service, offers at least three days per week.
Dinnerly Unboxing
As a low-cost meal kit delivery service, Dinnerly doesn't add anything unnecessary or extravagant to your box. It feels good to see that there isn't any more packaging than I would have coming back from a trip to the supermarket.
In some cases, the produce – like the tomatoes, garlic, and cucumbers – were placed straight into the box and not separately wrapped in plastic (like Blue Apron tends to do). Because of this, it feels a little more disorganized and takes some time to make sure you received all the right ingredients and match them with the correct recipe.
Most of the packaging was easily recyclable, but you might find a few plastic clamshells (for yogurts and other liquids), as well as some other plastic wrapping. In some places, these might be recyclable, but not everywhere.
All in all, it was good to see that plastic wasn't overused.
Favorite Dinnerly Meals
I like that, even while the dishes are all kept as simple as possible to keep costs low, you still get some interesting-looking options. For example, you can get your burger fix with Dinnerly's Grass-Fed Burger with Caramelized Onions & Garden Salad. There's nothing more satisfying that creating your own mouth watering burger meal, with a recipe designed by experts.
I also appreciated the comfort food meals, like the Crispy Gnocchi with Tomatoes, Mozzarella & Pesto. Because you just can't go wrong with a bit of carbs, melted cheese, and a little refreshing kick from the pesto.
Need to get your Asian food mix? There are several options for that each week as well. I liked the looks of the Vegetarian Pad Thai.
All the meals seemed pretty easy to cook, thanks to the clear and simple instructions:
I would have liked it if there had been photos to follow. However, I understand that this is part of the attempt to keep the price down, so I just made sure I read the recipe numerous times and always double-checked which step I was on.
I also really appreciated the breakdown of what I would need to provide and what utensils I would use.
The meals tend to require around five to 10 minutes of prep work per recipe, and you'll typically be chowing down on your home-cooked meal within 30 to 40 minutes. I liked that simple approach. After all, some meal kit delivery services, like HelloFresh, have dishes that can take up to an hour.
Dinnerly Customer Service
As this is a budget meal kit delivery service, I didn't have the highest of hopes when it came to customer support. I wasn't expecting the awesome standard of live chat that you get with HelloFresh, or the recorded Martha Stewart greeting of Marley Spoon, but I was still pleasantly surprised by the range of ways to get in touch.
The Help Center has the answers to many frequently asked questions, but you can also call, email, or fill out the contact form on the website. The response time on emails isn't immediate, so a phone call during business hours might be quicker.
I decided to call – and got through within 10 seconds. I was on the phone for less than a minute and was very impressed with the professional and friendly way the customer service agent handled my request.
Dinnerly Prices
Dinnerly prides itself on being the first subscription meal kit service to offer meals at such a low price. With prices from $4.69 per serving, it's certainly one of the less expensive – if not the cheapest – out there.
That price is for the Family Box, for four people eating six meals per week. The most expensive option is the Two-Person Box, for two people eating just three meals a week, when the price per portion jumps to $5.29. Regardless of your plan or number of meals, shipping is always $8.99 per week.
Even at its highest price point, Dinnerly is still a lot cheaper than most other meal kit delivery services on the market. It's a fraction of the price of Home Chef or Marley Spoon, for example. It's almost the same price as EveryPlate's offerings – with the same shipping charge – but EveryPlate doesn't decrease its price per serving when you order more meals.
Alternatives to Dinnerly
If you're on a budget, but Dinnerly isn't quite doing it for you, it might be time to give EveryPlate a go. Meals are priced at an affordable $4.99 per serving, no matter how many you order or how many people you want to feed, which makes it easy to work out how much you'll be paying.
Of course, the budget price means EveryPlate doesn't have the extensive choices of some other meal delivery services, but with 14 meals to choose from each week, you shouldn't have any difficulty finding something to eat. Though if you're vegan or vegetarian, there are limited options – if any – so that's something to keep in mind.
Home Chef is another meal delivery service that won't break the bank. It also has a large range of recipes and offers the ability to customize each meal, so whether you're veggie, on a tight schedule, or you're planning a dinner party for six, you'll be able to find exactly what you need.
| | | | |
| --- | --- | --- | --- |
| | | | |
| Starting Price | $4.69 per serving | $4.99 per serving | $6.99 per serving |
| Plan Sizes Available | Two or four | Two or four | Two, four, or six |
| Meal Types | Under 30 Minutes, Kid Friendly, One Pot Meal, Healthy, Special | Premium | Culinary Collection, 15-Minute Meal Kits, Oven-Ready, Grill-Ready, Under 30 Minutes, |
| Pescatarian | ✓ | ✓ | ✓ |
| Vegetarian | ✓ | ✓ | ✓ |
| Low-Carb | ✓ | ✗ | ✓ |
| Low-Calorie | ✓ | ✗ | ✓ |
| No Added Gluten | ✓ | ✗ | ✗ |
| Dairy-Free | ✓ | ✗ | ✓ |
| Special Discounts | | | |
The Bottom Line
Dinnerly offers a really good range of budget-friendly meals, and though it does offer some gluten- and dairy-free dishes, the kits are more suited to those who don't have specific dietary requirements. It's ideal for anyone wanting dinner inspiration while sticking to a low-cost plan.
FAQ
What meal plans does Dinnerly offer?
Dinnerly has two plans to choose from. The Two-Person Boxserves two people three, four, five, or six times a week. The Family Box serves four people, also three, four, five, or six times a week. Dinnerly also offers occasional extras such as breakfast and desserts.
If you're looking for more high-end dishes at a good price, take a peek at the Premium recipes from EveryPlate.
How much is Dinnerly per week?
Dinnerly is among the cheapest meal delivery services on the market, with prices starting at just $4.69 per serving. It manages to keep its prices low by cutting out some of the extras you might get with other companies, such as digital recipe cards, as well as using fewer ingredients per dish, basic packaging, and no fancy marketing campaigns. For two people ordering four meals per week, it would cost $48.91 in total, including shipping.
If price is your main concern, EveryPlate offers similarly priced meal kits. Home Chef is also not too heavy on your wallet and offers a good selection of great-value meals. For two people ordering four meals per week, the price would be around $71.92 without any meal customizations (or shipping).
Check out our list of today's cheapest meal delivery services for more information.
How do I cancel my Dinnerly account?
Dinnerly makes it really easy to cancel your subscription and you can do it directly from your account settings on the website. If you don't want to receive Dinnerly every week, you can also switch weeks on and off, up to two months in advance.
If you're still in the market for a meal delivery service, EveryPlate is similarly priced to Dinnerly, with meals priced at $4.99 per portion. If you're looking for value for money, and don't mind paying a little extra, Home Chef offers meal kits and prepared meals so you'll always find something to suit your schedule and kitchen skills.
Does Dinnerly deliver wine?
No, but Wine Insiders is a wine delivery services that sends you boxes of premium wine monthly.
You can learn more about what makes Wine Insiders stand out in our dedicated Wine Insiders review.