Written by: Mike Pawlik on May 20th, 2023
Failed to extract documentHTML TypeError: Cannot read property 'link' of undefined
Marley Spoon's partnership with Martha Stewart makes it one of the US's most popular services. The meal delivery giant promises only top-quality ingredients, flexible plans, and customizable meals, all of which cater to a wide range of lifestyles. It's also a particularly popular option with families since it's affordable and many of the recipes are kid-friendly.
There are meals for all kinds of dietary needs and tastes. Our reviewer noted the wide variety of categories, including Vegetarian, Low-Calorie, No Added Gluten, Dairy-Free, Healthy, and Nutritious options.
The menu features a lot of crowd-pleasing American classics, like burgers, stews, and barbecue chicken, but there are internationally-inspired options, too, like the Thai Lemongrass Salmon (pictured). In fact, the menu is so extensive, I do wish there was an easier way to navigate it. Still, it's a really fun one to browse, since you'll also find tons of extras, like desserts, breakfast dishes, and seasonal bundles. The quick-cook desserts, like the Double Chocolate Zucchini Cake or the Cookie-Dough Skillet, are a huge hit with families.
Most of the meals can be ready in 30 to 40 minutes. Marley Spoon does a great job of ensuring the recipes are easy to follow so the kids can get involved, and the ingredients are known for being fresh, seasonal, and of high-quality. You might need a few pantry essentials to hand, but these are clearly stated on each recipe card, and each dish is rated by difficulty – with more than 70% falling within the Easy category.
Marley Spoon also allows you to customize some of its recipes – simply look for the Customizable tag on the menu. When you click through to the recipe, you'll see your options. These include being able to upgrade to an organic protein, swap for another protein altogether (including a plant-based alternative), or swap traditional pasta for a gluten-free version.
This service also prides itself on its commitment to sustainability. The company uses eco-friendly packaging – including recyclable and compostable boxes and bags – to minimize its environmental impact. You'll also find a great deal of info on the website about how Marley Spoon became carbon neutral.
Marley Spoon prices start from $2.99 per serving, based on the largest plan. You can order between 2 and 6 meal kits each week serving either 2 or 4.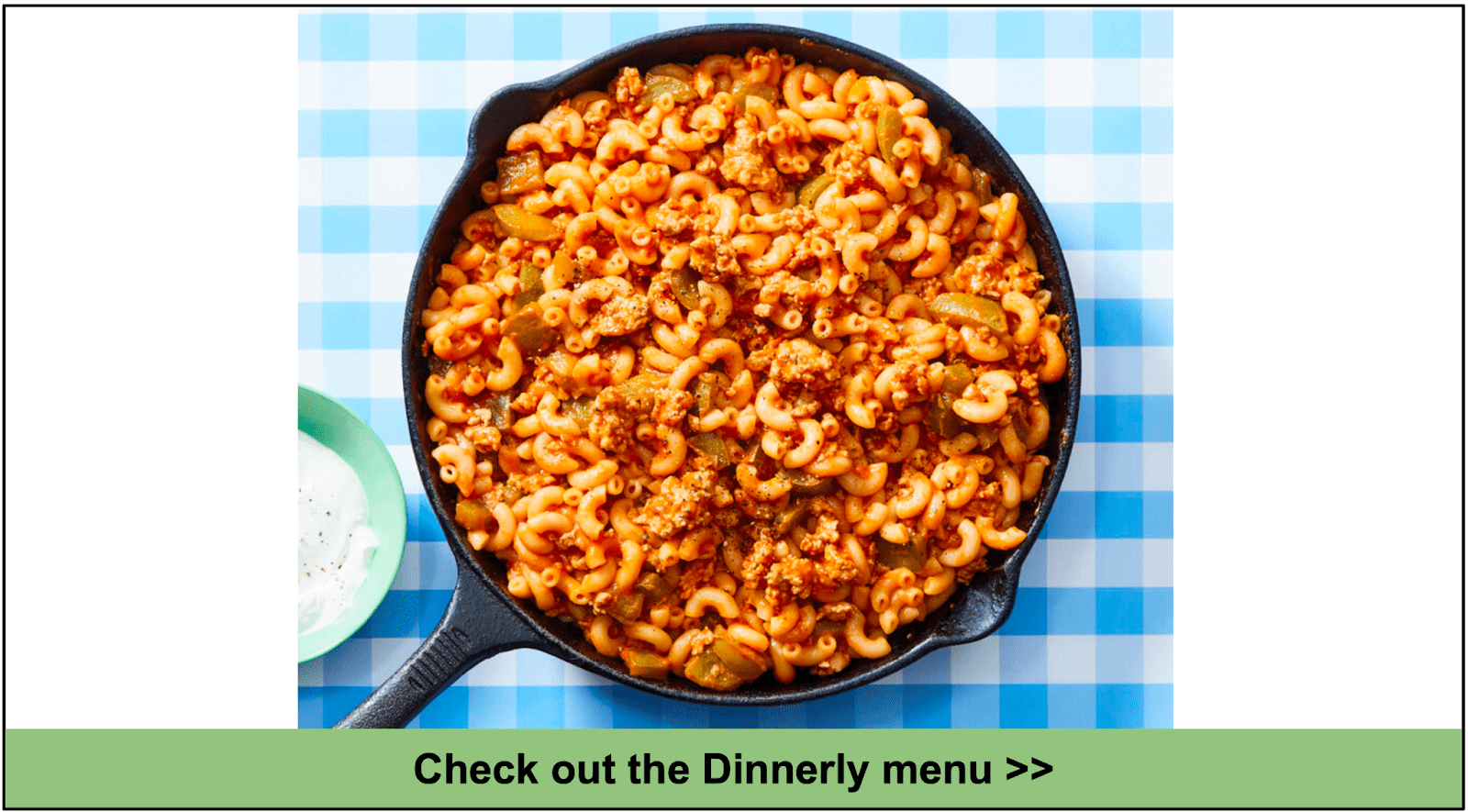 Key Features
Huge variety of crowd-pleasing meals

100+ menu items each week

Dietary options include low-calorie, dairy-free, low-carb, and more
Dinnerly is the most budget-friendly meal delivery service in Maryland. Its affordability and wide selection of recipes makes it particularly great for families – but how does Dinnerly keep its prices so low?
The service is owned by the same company as Marley Spoon – so you'll spot some similarities in the menu and branding. However, while Marley Spoon offers more gourmet recipes and premium extras, Dinnerly takes more of a no-frills approach to its meals, with each recipe featuring fewer and more pared-back ingredients.
You won't find any paper recipe cards in your box, either. Dinnerly also takes a simple approach to packaging (you won't find any individually wrapped ingredients here – as my colleague discovered when they unboxed a Dinnerly package for themselves).
The ingredients are of the same high quality as Marley Spoon, and you're certainly as spoiled for choice when it comes to the menu. You'll find more than 100 items to browse week after week, with a number of options for different lifestyles and dietary needs, including kid-friendly, vegan, veggie, no added gluten, and more.
For such a budget-oriented service, you also get a good range of international dishes, like Kung Pao Chicken and Greek Chicken Meatballs. Like Marley Spoon, many of the meals can be customized to suit your tastes and preferences, although you don't get quite as many options as you do with a service like Home Chef.
You also get a respectable number of add-ons, snacks, sides, and desserts. Choices include the S'mores Skillet Cookie, Apple-Cinnamon Baked Oatmeal, and Bacon Cinnamon Rolls (um…yum!). You might also spot some prepared meals on the menu each week, like Chicken Rigatoni Alfredo and Beef Bolognese.
Dinnerly's prices start at a super affordable $2.12 per serving when you sign up to the largest plan of 6 meals for 4 each week. That said, even Dinnerly's minimum order is competitively priced. You can order between 2 and 6 recipes per week for either 2 or 4.
Quick Comparison Table
$5.74 Per Serving

$6.19 Per Serving

$5.99 Per Serving

$3.32 Per Serving

$7.99 Per Serving

$7.99 Per Serving

$8.24 Per Serving

$8.50 Per Serving

$2.99 Per Serving

$2.12 Per Serving

2 meals for 2 people

6 prepared meals

3 meals for 2 people

2 meals for 2 people

2 meals for 2 people

2 meals for 2 people

10 prepared meals

3 meal kits for 2 people/6 prepared meals

2 meals for 2 people

3 meals for 2 people

20 - 60 min. meal kits

Prepared meals

30-minute meal kits

20 - 30 min. meal kits

Kits, speedy kits, oven-ready, prepared

Oven- & grill-ready, kits, prepared

Prepared meals

Meal kits, prepared meals

30 min. meal kits

30-minute meal kits

5-45 min

2-3 min

25-40 min

15-40 min

5-50 min

15-30 min

2-3 min

3-40 min

20-40 min

20-45 min
Tips for Choosing the Best Meal Delivery Services in Maryland
Here's what I took into consideration when building this list. I highly recommend keeping these points in mind when deciding for yourself!
Convenience: Do you want prepared meals or meal kits? Prepared meals, like those offered by Factor, just need to be warmed up in the microwave, while meal kits come with pre-portioned ingredients and a recipe for you to cook at home. Consider your cooking ability, how much time you have, and what kitchen equipment you have at your disposal to determine which option suits you best.

Menu diversity: Opt for a meal delivery service that offers a broad and customizable menu with options accommodating different dietary preferences, such as vegan, gluten-free, or low-carb. This is especially useful if you have several people to feed.

Dietary preferences: Consider your dietary restrictions. Look for services, like Green Chef, that provide specialized meal plans for specific diets, such as low-calorie, vegan, veggie, keto, paleo, Mediterranean, and more.

Affordability: Compare prices and evaluate the value for money. Consider the portion sizes, quality of ingredients, and the number of meals per week that you need, taking into account any additional groceries you might need to buy. Look for discounts or promotions that can help you save money, too, and consider if the service offers flexible subscription options to fit your budget. Dinnerly is my most affordable choice.
FAQ
What is the best meal delivery service in Maryland?
Blue Apron takes my top spot as the best meal delivery service in Maryland. With its varied menu, high-quality ingredients, and great range of extras to choose from, it's a great all-rounder. It's also competitively priced, offering Maryland households great value for money.
What is the cheapest meal delivery service in Maryland?
Dinnerly is Maryland's cheapest meal delivery service, with prices starting at $2.12 per serving. Dinnerly keeps its prices low by offering no-frills dishes made with simple ingredients that can be created in just 6 simple steps. It also helps save you money by opting for less packaging.
What is the best prepared meal delivery service in Maryland?
Factor gets my nod for best prepared meal delivery service in Maryland. The fresh and healthy, ready-made meals are unlike anything you'll find in the supermarket – they taste great, are made with high-quality ingredients, and take just minutes to heat and eat. You'll also find a range of meals that cater to certain diets like keto and plant-based.

Best Meal Delivery Services in Maryland in 2023 — Final Score
Provider
Our Score
Meal price starting at
Active Deal
Visit Website