Factor75 Bottom Line
A cool, modern 'no fuss' approach to meal delivery services - 'for busy people who want to eat well and perform their best'
What I Liked
Contact-free delivery and other COVID-19-related safety measures in place

Antibiotic and hormone-free, gluten-free and non-GMO, guaranteed

No cooking needed - just heat the meals up!
What I Didn't Like
Portions are a little pricier than other meal delivery services

Upgraded options are expensive
Factor75 Delivery
Factor75 delivers to all contiguous US states, but only offered me one delivery day a week - that's not terrible, but similar meal kit delivery services like Freshly and Diet To Go offered me at least 2 - in fact, Freshly offered me 6 delivery days, including Sundays.
I did like that the first delivery day available to me was in 4 days from the time of my order. When I'm having to wait at least 6 weeks for a supermarket delivery slot, Factor75's quick delivery is very impressive, and might just make all the difference too!
Factor75 Pricing
Much like similar no-cook meal-kit services Freshly and Diet To Go, Factor75 is a little pricier per portion than you'd expect for traditional meal kit delivery services like Hello Fresh and Blue Apron. As you'd expect, you end up paying more for prepared meals than those that deliver you only the ingredients.
The price per portion goes down the more portions you order:
Considering that within these 4-18 meals a week there are a number of dietary specific plans, including Keto, Paleo, high-protein, low calorie, low carb and more, I'd say that's a pretty sweet deal.
Some providers who offer specialist plans, like Sun Basket and Green Chef, charge the same amounts (and even more) for meals you have to cook yourself. I'd say Factor75 is pretty reasonable in this respect, and even includes free shipping (which most other meal delivery services don't).
In fact, the most interesting thing I've seen at any meal delivery service is something so simple that it's genius:
Yep - a completely free 20-minute consultation to discuss your nutrition. That's exactly the thing that I didn't know I wanted. After all, if I'm using a meal delivery service for weight loss (or for any other health-related goal), isn't it worth speaking about my goals with a trained professional beforehand, who knows exactly what I should be ordering from the menu provided?
If that's not cool and speaking to your customers' needs, then I don't know what is.
Factor75 Meal Variety
| | |
| --- | --- |
| Pricing | From $11 per portion |
| Foods served | Meat, vegetarian, fish, keto, paleo, low carb, high carb and more |
| Shipping costs | Free |
| | |
Factor75 has a LOT of options each week - 18 options to choose from for the basic menu, with another 12 upgrades (known as Factor+) for additional prices - things like protein shakes, more exotic seafood and more exotic meats, and even desserts:
The standard menu looked absolutely delicious, and even had some helpful little icons underneath each option to help me choose meals that were in my selected diet:
I really had an issue choosing… so luckily, Factor75 chose for me. All I did was set a few dietary specifics with these helpful filters -
I then made some changes in my Account settings, removing some ingredients I wasn't a fan of, and was left with some very exciting options.
I chose -
The Verdict
I always worry that my food will be bland and rubbery when I reheat it… but maybe that's because I'm not cooking it right in the first place.
Amazingly, each meal I chose was tasty and seemed fresh, even though I knew it wasn't, because it had been stored in my fridge and prepared before it landed on my doorstep.
I chose my meals after I had the complimentary nutrition coaching session - my coach listened to the past issues I'd had with eating, and asked me about my goals in using Factor75. It turned out I needed to eat more protein, and these meals are what we decided on.
Amazingly, I felt full after every meal, had a lot more energy and slept better. I even started looking forward to my next meal, which isn't something that's really happened before. I also felt like I had more time on my hands, as I didn't have to worry about what to make for dinner, and if it was what I really should be eating.
All in all, a huge success in my books!
How It Works
You'll be asked for your email address and zip code straight away when you start the sign up process, and will then be taken to see the plans available: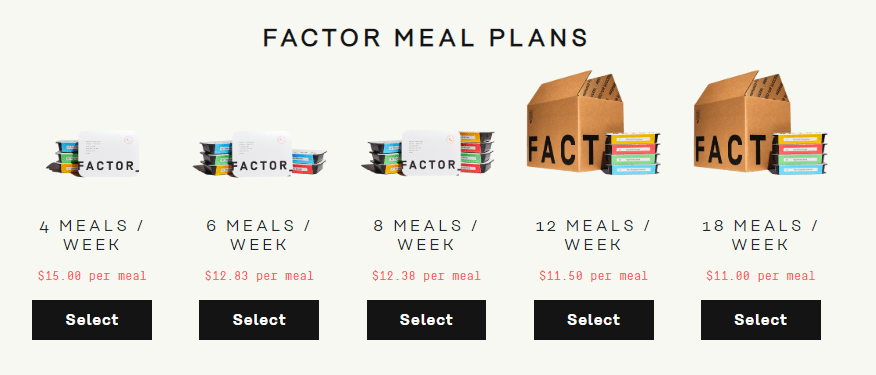 I really like this upfront way of doing things! Factor75 just screams 'millennial', in the way it approaches its menu and processes in general.
Choose your plan, and you'll be taken to choose your specific meals, and make any necessary substitutions:
You'll be asked if you want to upgrade any of your protein - which is an attractive option, but also a little pricey -
And then it's time to create a password, enter your delivery details, and pay!
One thing that shows just how young and cool Factor 75 is - it offers you the chance to pay with GPay (as well as credit card)! I couldn't believe it and immediately jumped on the chance. That's definitely the first time I've ever seen GPay as an option!
What's in Factor75's Box
One thing that always annoys me about meal deliveries, is how they aren't fully recyclable.
I understand that some meal kits have to use plastic bags for some of the loose produce - but my city doesn't allow me to recycle plastic bags, so they go in the general waste instead.
As a plastic-free wannabe, this doesn't sit very well with me… so I was really appreciative that everything about Factor75, from the big cardboard box that my delivery came in, to the plastic containers each meal was packed in, was completely recyclable or reusable.
This was just another way that I could tell Factor75 had us millennials in mind with this service - and I really appreciated this approach.
Customer Support
Wow, Factor75 really is the meal delivery service for millennials - you can even contact customer support via text.
There's email support, phone support, text support and even Facebook, Instagram and Twitter available to you for getting in touch. The team is available Monday-Friday, 9AM-5PM CT.
When I texted (!) I had a response within minutes, and had my issue sorted in just a few texts - very impressed indeed.
Canceling Your Plan
Factor75 makes it super easy to cancel your subscription - in fact, you don't even need to speak to a human to do it. Just login to your account and find the 'cancel my subscription' button.
You can cancel your subscription but, if you have an outstanding orders you may still be charged for it: you'll need to cancel your order before Wednesday at 11:59PM CT to avoid being charged.
I like how straight forward it is to cancel - just remember to do so in time!
Expert Bottom Line on Factor75
I felt like Factor75 was tailor made for me. I loved that it took away the stress and hassle of not only knowing what to eat, but having the time to make it - and make it well.
The 20-minute complimentary session with a nutritionist was an amazing, very helpful and appreciated touch, and one I've never seen from a meal kit delivery service.
I thought the meal upgrades were a great touch, but a tad pricey, but overall, I'd say that Factor75 is a great option for anyone looking to eat more healthily, whether they're a millennial or not.