Factor Review 2021: Is Free Nutritional Consultation Worth It?
Factor in a Nutshell
A cool, modern, "no fuss" approach to meal delivery services – but how does it compare to the biggest competition in the world of healthy prepared meals?
What I Liked
Contact-free delivery

Antibiotic and hormone-free, gluten-free, and non-GMO, guaranteed

No cooking needed – just heat and eat!
What I Didn't Like
Meals are quite expensive compared to other meal delivery services

Upgrade options are pricey
Factor Overview
Some of the meal delivery services I've tried have been a little, well, on the bland side – and I'm not necessarily talking about the food. Factor looks way cooler than any service I've tried with everything from the website right down to the packaging designed to impress.
The food is also aimed squarely at the avocado toast crowd. It's much more exotic and aspirational than many other delivery sites I've tried.
But is Factor a case of appearance over substance or do these meals really live up to the promise of fresh, ready-prepared meals that support even the busiest of lifestyles? I took a closer look, and compared it to the hottest prepared meal delivery service today, FreshlyFit. Find out how Factor really fares.
How Factor Works
One thing I liked about Factors' website is that you can view the current menu and see all the nutritional information and ingredients for each meal before signing up. You can also view the individual plans and see their price but once you select a meal plan, you need to enter your email address and zip code before continuing.
Choose your meal plan (more on that below), and you'll be taken to pick your specific meals and make any necessary substitutions:
You'll be asked if you want to upgrade your protein, you can do that too – though it is pretty pricey.
After choosing your meals, add-ons, and any substitutions, it's time to enter your delivery details and pay.
Factor is the first meal delivery company I've seen that offers Google Pay as well as credit card. This is pretty cool and makes Factor stand out from the crowd.
Factor Prices
Factor is pricier per portion than FreshlyFit .
Similar to FreshlyFit, though, the more Factor meals you order, the lower the price per portion, although Factor's pricing does include shipping.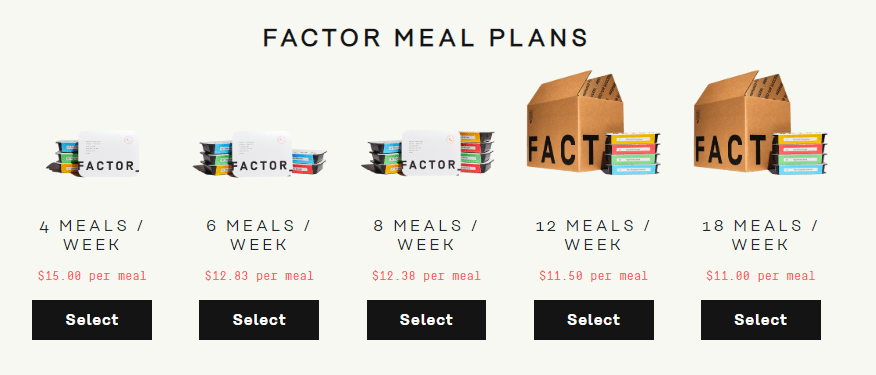 Another thing that both FreshlyFit and Factor offer is an exciting feature included in the price, which really makes it stand out from other meal delivery services:
Yep – a completely free 20-minute consultation to discuss your nutrition. It's such a fantastic idea to help customers achieve their health-related goals. A free consultation with a trained professional before getting started will help you to order the correct meals for your needs from the menu.
Factor Menu
On the basic menu, Factor has more than 20 options to choose from each week. If that's not enough, you can upgrade your order with Factor+ Add-Ons (for an additional price) and add items like protein shakes, extra meat and fish, and even desserts:
The standard menu looked delicious and even had some helpful icons underneath each option that explain the key when you hover over them or tap them. This helped me choose meals that were in my selected diet:
I found it difficult to decide on dishes…but luckily, Factor helped me choose. All I did was set a few dietary specifics with these helpful filters:
In Account Settings, I was then able to personalize my dishes by removing some ingredients I wasn't a fan of. This left me with some very exciting options.
Here's a quick overview of Factor and the dietary requirements it's best for:
| | |
| --- | --- |
| Pricing | From $11 per portion |
| Diets served | Balanced, vegetarian, pescatarian, keto, paleo, low carb, high carb |
| Shipping costs | Free |
| Best alternative | |
Factor Delivery
Factor delivers to all contiguous US states and the website states that delivery is Monday, Tuesday, and Wednesday, although the exact delivery day depends on your zip code. Similar meal delivery services like FreshlyFit gave me the option of at least two delivery days – in fact, Freshly offered me six days, including Sundays.
I did like that the first delivery day available to me was only four days from the time of my order. It's just as quick as booking an online supermarket delivery slot.
Factor Unboxing
Something that consistently comes up with meal delivery services is whether the packaging is fully recyclable.
Of course, some meal delivery services have to use plastic bags for some of the loose produce. Unfortunately, plastic bags often can't be recycled, so they go in the general waste instead.
As a plastic-free wannabe, this doesn't sit very well with me… so I was pleased to see that, like FreshlyFit , everything about Factor, from the main cardboard box to the plastic containers each meal was packed in, was completely recyclable or reusable.
Favorite Factor Meals
I always worry that prepared food will be bland and rubbery when I reheat it… but when you think about it, it's not that different from heating up leftovers...from a meal that was cooked by a professional chef.
I had the complimentary nutrition coaching session before choosing my meals – my coach listened to the past issues I'd had with eating, and asked me about my goals in using Factor. They recommended I eat more protein, so I selected the high-protein meals.
Let's take a look at what I chose. Talk about a great way to start the day with a Breakfast Enchilada Bake:
Followed by this mujadra for lunch:
And how about Winter Spiced Salmon for dinner?
Imagine eating well, which gets you more energy, plus getting more free time on your hands to find more ways of maximizing your workouts and your day.
That's the main premise of Factor and FreshlyFit, and I can definitely stand by that one!
Factor Customer Service
Customer service at Factor is super flexible – you can even contact customer support via text.
There's email support, phone support, and text support as well as Facebook, Instagram, and Twitter for getting in touch. The team is available Monday to Friday, 9 am to 5 pm CT.
When I texted, I got a response within minutes, and my issue was sorted in just a few texts – very impressive indeed.
Alternatives to Factor
Factor has a good selection of paleo and keto meals, but if you're looking for another gluten-free alternative, check out Freshly's new brand, FreshlyFit . Designed for athletes, body-builders, and anyone looking to maximize protein and fiber with minimal carbs and calories.
On the other hand, if weight loss is your main goal, try Ketogenic Diet-to-Go . meals are all perfectly designed for people following a rigorous keto diet, while keeping you in a calorie deficit to make sure you get the results you want.
The Bottom Line
I felt like Factor was tailor-made for me. I loved that it took away the stress and hassle of not only knowing what to eat but having the time to make it – and make it well.
The 20-minute complimentary session with a nutritionist was amazing and very helpful. It was an appreciated touch, and one I've never seen from a meal delivery service.
On the other hand, I thought the meal upgrades were a great option despite being a bit pricey, and I would have liked to see more extensive dietary options, like those offered by FreshlyFit. If you're looking for prepared healthy meals to fuel your active lifestyle, and at a lower cost, then FreshlyFit is worth looking into.
How do you cancel Factor?
Factor makes it easy to cancel your subscription. There's no need to email anyone or call a hotline. Instead, you can cancel either on the website or through the mobile site in just a couple of clicks.
Like every meal delivery service, make sure you make any changes ahead of the deadline of 11:59 pm CT on Wednesday for delivery the following week, and remember you can't modify or cancel an order that has already been processed.
Don't think that it's back to old-fashioned meal prep for you. Why not see if FreshlyFit can better suit your needs?
What are the alternatives to Factor?
If Factor isn't what you're looking for, there are great alternatives that might fit the bill. There's FreshlyFit , which offers prepared food that's low in calories and completely gluten-free.
Another option that keeps carbs to a minimum is Ketogenic Diet-to-Go . These meals have an average of 30 net carbs a day and replace carbs with fat for rapid weight loss.
How much do Factor meals cost?
Like most meal delivery services, the cost of Factor varies depending on how many meals you order. The more you order, the less expensive the cost per portion. Meal prices start at $11 per portion if you choose 18 meals a week or $15 for just four meals (with options for six, eight, and 12 meals in between). No matter how much food you order, shipping is always free.
If you're looking for a cheaper option, FreshlyFit is a great alternative.
Are Factor meals healthy?
Absolutely! Factor says it delivers "no-nonsense good food, free from fluff" that helps take the guesswork out of healthy eating. Factor offers keto, high protein, low-carb, paleo, plant-based, vegetarian, low-calorie, and dairy-free options. There's also the option for a free 20-minute dietitian consultation so you can make sure you're eating the healthiest option for you.
If you want an entirely gluten-free alternative to fuel your healthy lifestyle, check out FreshlyFit .