Fresh and Easy Bottom Line
Easy, straightforward meal prep at affordable prices, for busy professionals or very reluctant cooks.
What We Like
The ease of use - even the pans are included, and the ingredients are pre-cut

The price point - this is cheaper than going out or ordering in

The range of meals on offer
What We Don't Like
There's a lot of plastic used in the packaging

There are no special meal plans for vegans, paleo and specific dietary requirements
Fresh and Easy Delivery
Just like parent company Home Chef, Fresh and Easy delivers during the week, and actually seems to deliver more often: Monday through Friday from 8am to 8pm.
My order arrived at my door at about 12.30pm on the day I'd arranged, and I received a notification once it had done so. By the time I got home at around 6.45pm, the ingredients were still cold, thanks to the ice pack, and still looked fresh.
While other meal delivery services - such as Hello Fresh and Blue Apron - have a trackable link for your delivery, or give you a certain delivery window, Fresh and Easy does not. However, no one stole my delivery (although you'd need to consider where your order can be left safely if you're not home or live in an apartment), and it was perfectly fine when I eventually got to it.
Fresh and Easy Pricing
Meals officially start from $6.99 at Fresh and Easy, but these are mainly what I would call "snacks", rather than meals: the $6.99 meals are typically salads which, if you're anything like me, just won't keep you satisfied unless you're into eating smaller dinners, and if so, I commend you.
Otherwise, most other meals are $9.95, which is about what you'd expect to pay for a nice main course at a restaurant too. I like that Fresh and Easy give you the almost-restaurant experience right from the comfort of your own home, while also making you work for it a little.
Fresh and Easy probably isn't the cheapest meal delivery kit on the market - that would be super affordable Dinnerly, and it isn't the most expensive, which from my research, is probably Sun Basket. Actually, it's not even as expensive as some of the options given by Home Chef, which offers some gourmet meals for the price of $17 and up!
Still, I'd say the menu options at Fresh and Easy are well worth the price. After all, it actually saved me money, because I didn't eat out as much, or order in.
Fresh and Easy Menu and Meal Options
| | |
| --- | --- |
| Pricing | From $6.99 per portion |
| Foods served | Meat, vegetarian, fish |
| Regions served | US |
| Availability | Almost 98% of the continental US |
| Shipping costs | Free shipping on your first order, free shipping over orders of $49 or $10 if under |
Much like its parent company Home Chef, there's a lot of varied menu choices here: the key difference between Fresh and Easy and Home Chef is that it's for busy people: Fresh and Easy meals come pre-chopped and with the pan itself - all you need to do is assemble and heat it up. Home Chef's menu, on the other hand, requires you to do all the prep work yourself.
It's just the solution you need as a busy professional, or even a lazy chef - and I tick both those boxes! Could I really have my meals and eat it too… without having to suffer any of the cleanup? I was excited to see what was in store for me!
Here's what Fresh and Easy automatically selected for my first order: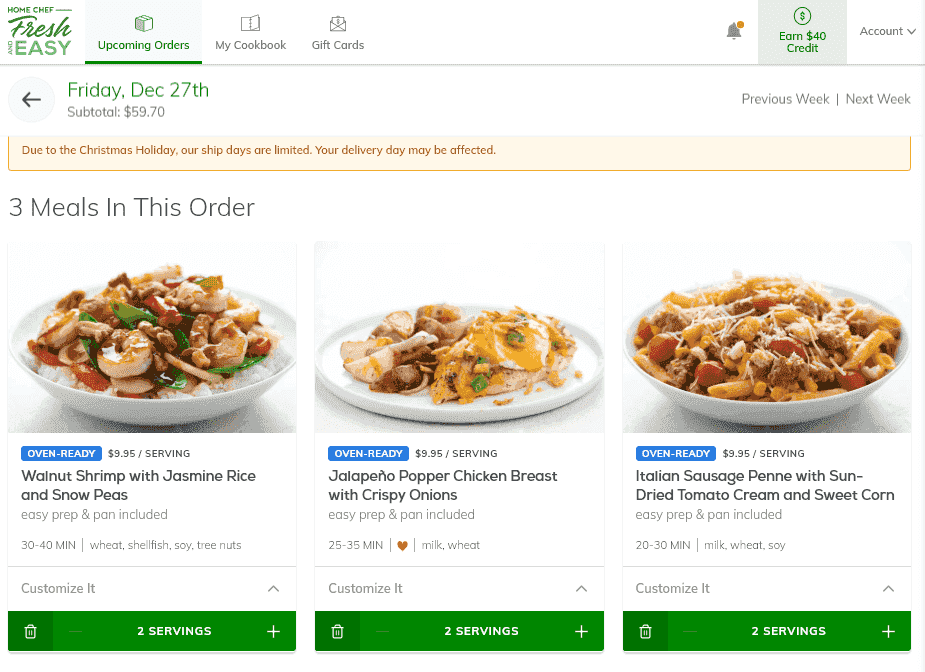 There are also other options below, but one of the things I really liked about Fresh and Easy (and Home Chef) is that it's so easy to customize your order! Just click the "Customize it" button and check out your options!
It's super easy to switch out the meals that have been pre-selected for you: just click on the trash icon, and choose another meal!
There are about 11 different options a week, all of which are oven-ready and come pre-sliced and diced, and with a pan to cook in. Some of the choices I had were:
BBQ Ranch Chicken with Cheesy Potatoes and Corn ($9.95 per serving)

Shrimp Scampi Couscous with Parmesan and Corn ($9.95 per serving)

Cheesy Steak Pizza Baked Rigatoni ($9.95 per serving)

Tuscan Chicken with Roasted Grape Tomatoes and Crispy Zucchini ($9.95 per serving)

Stone Mustard and Pecan Crusted Pork Chops with Parmesan Butternut Squash ($9.95 per serving)

Miso Honey Boneless Pork Chop with Sesame Rice and Broccoli ($9.95 per serving)

Hatch Chile Pork Burger with Elotes Style Corn ($9.95 per serving)

Sesame Grilled Chicken with Broccoli and Snap Peas ($9.95 per serving)

Roasted Red Pepper Spinach Salad ($6.99 per serving)
It all looked so appetizing, that I just stuck to what was pre-selected for me. I wondered what customization options were available for the chicken:
Interesting indeed, and pretty affordable too! In fact, if you click on the recipe card, you'll see a whole range of recipe details - the difficulty, the nutrition facts...
As well as allergy information, which is always useful!
But what I really loved was the ease of the recipe. When I reviewed Home Chef's meal kits, I really enjoyed their super-simple recipes (so simple that even I, an absolute mess in the kitchen, could easily follow and get right the first time) - but Fresh and Easy's instructions were even simpler:
In fact, I think this was the easiest of any meal delivery kit I had experienced. It was certainly a far cry from Blue Apron's slightly confusing instructions, which ended up with me burning my meals!
The Verdict
Wow, just wow. It's amazing what can happen when you remove any potential room for error, and just simply assemble the ingredients together in a certain order.
This was the very first meal delivery kit that I didn't ruin in some way. All I had to do was turn on the oven to the right temperature, put the ingredients into the pan provided in the right order, maybe arrange a few of the ingredients here and there… et voila! Dinner was served!
I'm so proud to say that I "cooked" (if you can call it that) the BBQ Ranch Chicken to perfection (I have a particular problem with cooking chicken - I usually get freaked out that it's undercooked and overcompensate by… overcooking it). The Shrimp Scampi was absolutely delicious, and it probably even tasted better because all of the ingredients had been put together beforehand for me!
But my favorite was the Cheesy Steak Pizza Baked Rigatoni. I have a soft spot for anything Italian and cheesy, so this wasn't really a fair match. Needless to say, everything in it was flavorsome, fresh, and just made for the perfect hassle-free dinner. It was all fresh, and, well… easy.
How it Works
Fresh and Easy's sign up process is the exactly the same as Home Chef's, except you can sign up with your grocery account too:
Here's what you need to do:
Answer the questions related to your dietary preferences:
Set the number of diners and number of meals you'll need a week…
And then you're ready to choose your meals! See above for an in-depth look at what's on offer.
Add in your shipping information (where you'll also see if Fresh and Easy deliver to your area or not - I'm almost certain they will, if you live in the contiguous US):
Enter your payment information, and you're done! It's time to choose your meals….
What's in Fresh and Easy's Box
The best part of my delivery was seeing every aspect of the meal nicely laid out in the box. I found:
Because I'm plastic-free, I especially like it when meal delivery kit services go the extra mile to provide a recyclable or plastic-conscious experience, and it was here I was disappointed a little.
Each ingredient was sectioned off into a plastic bag when really, it could have been in paper bags (like Hello Fresh does). Instead, Home Chef seems to rely on the availability of your city's recyclable plastic bags program:
...my city doesn't accept plastic bags for recycling, so this left me in a bit of a predicament.
Customer Support
Clicking on "FAQs and Support" will lead you to the Home Chef help center page, where you'll see a whole range of articles...
And a handy search bar. Actually getting in touch with Fresh and Easy is a different matter though. For that, you need to scroll all the way down to the bottom of the screen and find the "Get in touch with us here" note.
Here's what you'll see once you get there:
I decided to call, and before long - about 20 seconds - I was connected with the lovely Katie (who even managed to get my rather complicated email address spelled right on the first go!
She helped me with my questions, and I left the conversation feeling satisfied with my experience.
Canceling Your Plan
Canceling your Fresh and Easy plan is very easy, and identical to Home Chef's account cancelation process. Just go to your account information:
Scroll to the "pause your account" option in red:
Choose the reason you're canceling…
Either choose one of the options provided, or continue to "Pause my account":
And you'll receive confirmation that your account has been paused, and whether or not you'll be charged for any outstanding orders.
You should also know that you won't be able to cancel an order that's already been processed - which will be any time after Friday 12pm CST.
Expert Bottom Line on Fresh and Easy
Fresh and Easy is probably my favorite meal delivery service. It was the easiest and quickest of any meal delivery kit I've experienced, and I really liked the price points too.
I will say that I hope the company chooses to use less plastic going forward, but otherwise if I had to recommend any meal delivery service, I'd go for Fresh and Easy any time.