Blue Apron vs HelloFresh 2022: Which is the Best Quality?
Blue Apron and HelloFresh are both excellent meal kit delivery services that provide quality food to customers all over the US. They both offer balanced, family-friendly meals and have plenty of vegetarian options as well. But the differences are there if you look close enough.
Blue Apron has meal kits that cater to the average American's taste, including low-carb and diabetes-friendly options, while guaranteeing that all of its produce is non-GMO. HelloFresh has a wide range of recipes that can be ready in super-quick time and will satisfy even the fussiest of families.
Read on for our in-depth Blue Apron vs. HelloFresh comparison and learn about the strengths of each. If neither of these meal kit delivery services fully cater to your tastes or dietary requirements, make sure to check out the full list of the best meal delivery services of today.
At a Glance: Blue Apron vs. HelloFresh
| | | |
| --- | --- | --- |
| | | |
| Dietary preferences | Vegetarian, WW-Approved, Diabetes-Friendly | Veggie, Pescatarian, Calorie-Smart |
| Menu variety | 14 recipes per week | 25+ recipes per week |
| Starting price | $7.49 per serving | $7.49 per serving |
| Shipping cost | $7.99, or free on orders of three or more meals per week | $8.99 |
| Prep time | 20 to 55 minutes | 15 to 50 minutes |
| Special discount | | |
In addition to its signature Meat & Veggies plan, HelloFresh offers a Veggie plan, Pescatarian plan, and a Calorie-Smart option for those wanting to keep an eye on their calorie intake. Though there's no specific vegan plan, there are recipes that you can make vegan at home by leaving out or replacing some ingredients.
It also gives diners the option to customize their plan settings and choose from a range of "free" plans, which include beef-free, pork-free, and seafood-free.
Over at Blue Apron, customers can choose the Vegetarian For 2 plan, which usually includes a Beyond Burger iteration. There are no specifically vegan options, though.
Another category is the Wellness For 2 plan, which gives you low-carb recipes approved by WW (formerly Weight Watchers). These are perfect if you're interested in keto or paleo diets – or just healthy eating in general – as the meals tend to be high in protein and low in carbs and saturated fats.
HelloFresh has some organic produce in its meal kits but doesn't focus much on this aspect. What it does do well, though, is source all its ingredients from sustainable business partners and local farmers. It also keeps things seasonal to ensure peak freshness.
On the other hand, Blue Apron has made a mission of only having non-GMO certified products and ingredients in the kits it offers.
While there's no filter on the HelloFresh menu to eliminate certain ingredients when you're choosing your recipes, every dish has the allergens (like wheat or soy) listed, so you can choose the meals that best suit your needs. Blue Apron lets you sort recipes containing shellfish or different types of meat, and also offers recipes that are certified diabetes-friendly.
All things considered, neither company can guarantee that its food is safe for people with serious allergies, so you should be extra careful if that's you.
Winner: It's a tie!
When it comes to numbers, HelloFresh wins without a doubt. It offers at least 25 weekly recipes to choose from, while Blue Apron only has 14. If you're looking for vegetarian meals, you have around seven weekly options from HelloFresh, compared to the three or four meals on Blue Apron's Vegetarian plan.
With HelloFresh, I liked that you're able to see the menu for the next six weeks, so you can plan your meals in advance. Blue Apron only allows you to see the menu for the next week (and previous ones), so you can get an idea of what may be coming next.
Blue Apron has a few gourmet-style dishes that may take longer to make, but there's no hierarchy in terms of difficulty among its other recipes. At HelloFresh, the meal kits are categorized based on their difficulty into Levels 1, 2, and 3, ranging from Easy (involving only some minor multitasking) to Hard (requiring more advanced techniques).
The food at Blue Apron is created with the average American family in mind. The recipes include classic comfort-food favorites like Cheddar & Spicy Red Onion Burgers with Ranch-Dressed Green Beans & Tomatoes or different types of tacos, but you'll also find internationally inspired dishes, such as the Spicy Vegetable Lo Mein with Shishito Peppers, Broccoli, & Carrots.
HelloFresh is family-friendly as well, but focuses more on international cuisine, from Tuscan Pork-Stuffed Peppers with Pearled Couscous & Melted Mozz to Sweet Heat Shrimp Tempura Bowls with Sesame-Roasted Broccoli & Quick Pickles. But sometimes you'll find twists on popular American takeaway such as the Saucy Pineapple-Chipotle Pork Sandwiches or various craft burgers.
Neither of the services offer breakfast or lunch options, as they focus on dinner plates. Aside from food, Blue Apron also has an online store where you can find spice blends and kitchen utensils – and it also has a wine subscription service available.
Winner: HelloFresh.
The pricing is very similar at Blue Apron and HelloFresh, from $7.49 per serving at both companies.
At Blue Apron, the starting price of $7.49 per serving is what you'll pay when you sign up to the Signature for 4 plan and order four recipes each week. For any other Blue Apron plan, you'll pay $9.99 per serving, no matter how many meals you order.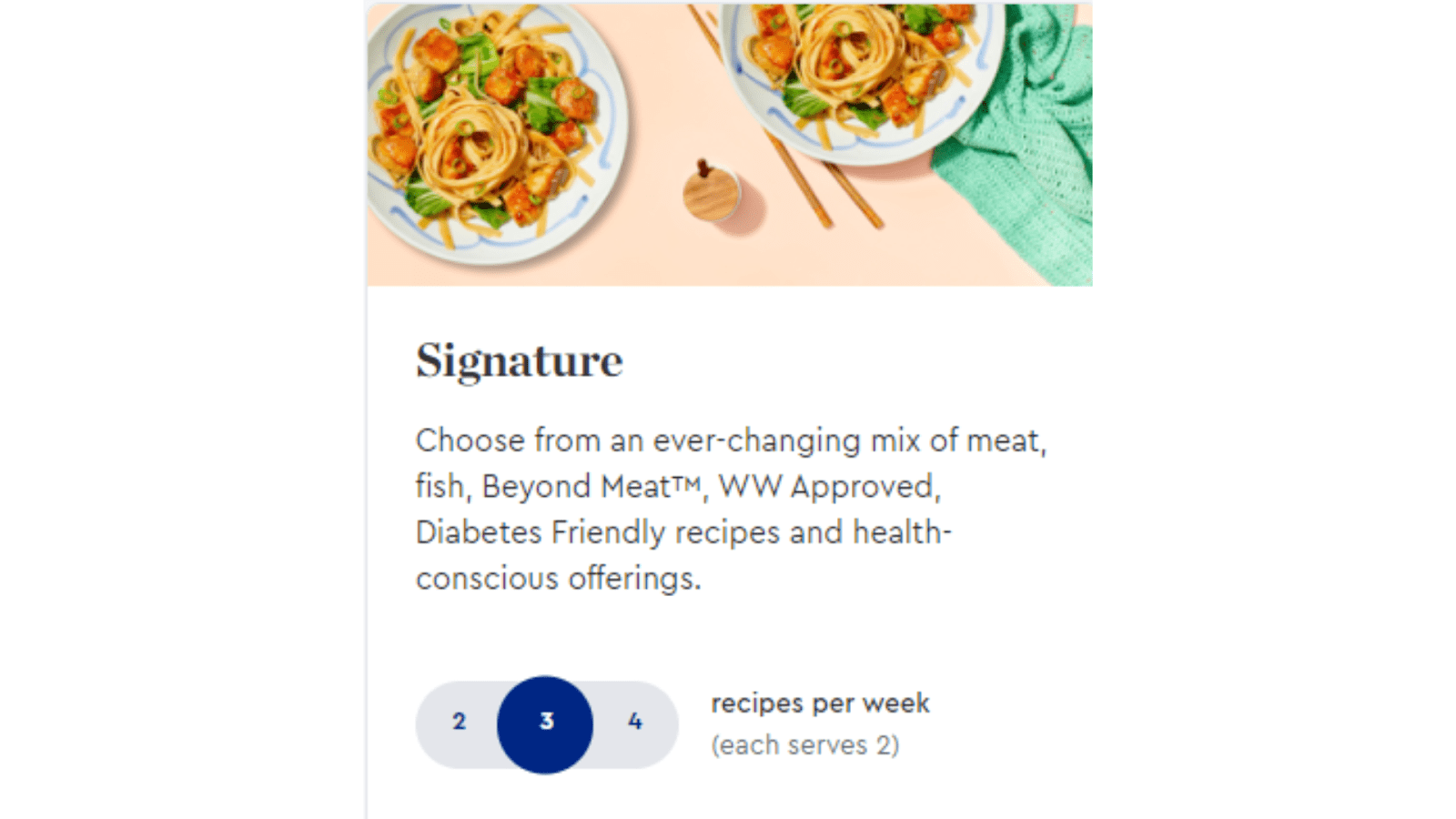 At HelloFresh, six recipes per week for four people costs $7.49 per serving, so you get two more recipes for the same price. However, the costs get higher for smaller orders. Prices can go up to a whopping $12.49 per serving if you choose a two-person plan of just two recipes per week.
So if you have a big family, HelloFresh may be the better deal, but if you only need food for one or two people, Blue Apron works out cheaper.
As for shipping costs, you pay a fixed $8.99 for each order from HelloFresh. Blue Apron has a $7.99 fee that's waived when you choose a two-person plan with three or more recipes per week, and is always free on the four-person plan.
Winner: It's a tie.
Delivery and Packaging
Both companies deliver to the continental US states – excluding Hawaii and Alaska.
Both also allow you to select a weekly delivery day based on your zip code from the options available – but you can change it afterward if you want. And they both have apps that can help you track your orders and make the whole process smoother.
When it comes to packaging, both companies' websites have detailed instructions on how to responsibly dispose of the materials in which your meal kits arrive. HelloFresh uses more cardboard, which is easier to compost or recycle, but both services may use plastics that cannot be recycled depending on your area, so it's best to check with your local facilities.
Winner: It's a tie.
Meal Prep
You'll find the estimated time it takes to cook each meal on each individual recipe card from both Blue Apron and HelloFresh. Blue Apron recipes range from 20 to 55 minutes, the longest ones being the gourmet-style dishes.
Meanwhile, HelloFresh recipes vary from 15 to 50 minutes and are generally quicker to make. On average, the meal kits take about 30 minutes to make, compared to Blue Apron's 35 minutes. Its sheet-pan recipes are also perfect for easy cleanup and minimal time spent in the kitchen.
With both companies, you'll receive the printed recipes in your box, with step-by-step instructions to guide you through the entire process. HelloFresh also has some videos available on its website to help you out even more.
You'll receive all the ingredients already portioned and individually packaged in both cases, so you only need to get cooking!
Winner: HelloFresh.
The Bottom Line
HelloFresh wins this comparison because of its considerably larger menu, global influences, and its range of meals to suit different schedules. It's also really family friendly and its dishes are varied enough to suit adults and kids alike.
Blue Apron may be a better choice if you only want to get meal kits for yourself and/or a loved one, as it has better deals for smaller orders. It also includes diabetes-friendly recipes as well as some low-carb meals for people who follow special diets, and all of its ingredients are certified non-GMO.
Both of these services made it into our top 10, but before you make a decision you can check out our complete list of the best meal delivery services of 2022.
Overall winner: HelloFresh.