At a Glance: Who Won Each Category?
| | |
| --- | --- |
| 💲 Price: | Ollie ($4-$8 per day) |
| 🍗 Ingredient Quality: | Ollie |
| 🍴 Recipes | Chewy |
| ⏰ Packaging and Prep | Ollie |
| 👍 Ordering and Delivery: | It's a tie |
| 👑 Overall Winner: | Ollie |
Winner: Ollie
Ollie wins this round thanks to its small batches and top-quality ingredients. While Chewy offers an enormous selection of premium brands and even some fresh prepared dog foods, none of them rank as high as Ollie on our list of the best fresh dog food meal delivery services.
Ollie offers 5 standard fresh recipes featuring chicken, turkey, beef, pork, and lamb. They also have 2 baked recipes with beef and chicken. Each recipe includes nutrient-dense starches, vegetables, seeds, healthy fats, and superfoods like kale and blueberries. The ingredients used are human-grade and USDA Process Verified.
When you feed your dog Ollie, you never have to worry about added corn, wheat, or soy. Most Ollie meals are grain-free, but Pork Dish with Apples contains oats for owners who are concerned about canine dilated cardiomyopathy (DCM).
Ollie sources its lamb from free-range farms in the US, New Zealand, and Australia. Ollie strives to select natural, quality ingredients, and there are no fillers, artificial flavorings, or preservatives in any of the meals. Meat proteins and organ meat are the top ingredients, resulting in protein-rich meals.
All Ollie recipes are formulated to provide a balanced, complete meal for dogs. The ingredients used in Ollie's meals are sourced from reputable suppliers, and the recipes are designed by veterinarians to ensure the best quality and nutritional value for pets.
Turkey Dish with Blueberries starts with lean, protein-rich turkey. Turkey is less likely to trigger food allergies in sensitive dogs than chicken and beef and also contains zinc and vitamins B6 and B12.
Ollie then adds blueberries, which are rich in antioxidants and fiber to keep your pet's immune and digestive systems in good working order. The recipe also includes carrots, kale, and pumpkin, 3 superfoods that are rich in vitamin A, fiber, and other necessary nutrients.
The dish also contains 11% protein and 7% fat. This makes it a good choice for dogs who require a lower-fat diet for medical or weight loss reasons.
Chewy offers dry food, wet food, toys, treats, and more from many different brands. It even carries prescription vet-designed foods for different dietary needs, with options like grain-free and low-fat. And its large Premium Food section lets you choose from a selection of top brands and human-grade recipes.
If your dog needs a prescription diet, Chewy will be your best choice. Chewy carries veterinary diets from several well-known suppliers, including Royal Canin, Hill's, Blue Buffalo, and Purina Pro. While Ollie's meal plans are fully balanced and can help alleviate many health issues caused by commercial food, Ollie does not offer prescription plans tailored to dogs with serious medical conditions.
Winner: Chewy
Chewy wins this one simply because its selection of products is so much bigger. Ollie is a boutique firm that does 1 thing exceptionally well – make dog food and treats. Chewy is a pet supply storefront with an enormous inventory. Comparing the 2 is like comparing an artisan's Etsy shop to Amazon.
Chewy has many filters that will help you find food that meets your dog's specialized needs. And with over 4,200 different items on its dog food menu, chances are Chewy has a selection of meals and snacks for your canine companion no matter what you are looking for.
In addition to its wide range of dog meals and treats, Chewy has a selection of food for your other pets. Cats, fish, birds, mice, hermit crabs, ponies – Chewy offers food for everything from your Madagascar hissing cockroaches to the ostrich in your backyard.
But that's not all – you get to choose from a wide range of pet accessories. Leashes, dinner bowls, crates, toys, and beds are just a few of the items you can find at Chewy. If you are looking for a one-stop shopping experience, Chewy can take care of just about all of your pet needs.
Chewy also offers a veterinary pharmacy that can fill many pet prescriptions. It offers a wide range of medications that cover chronic conditions, acute illnesses, and preventative care. Chewy's Pharmacy works directly with vets to verify and process prescriptions, making it easy for you to get your pets the medication they need.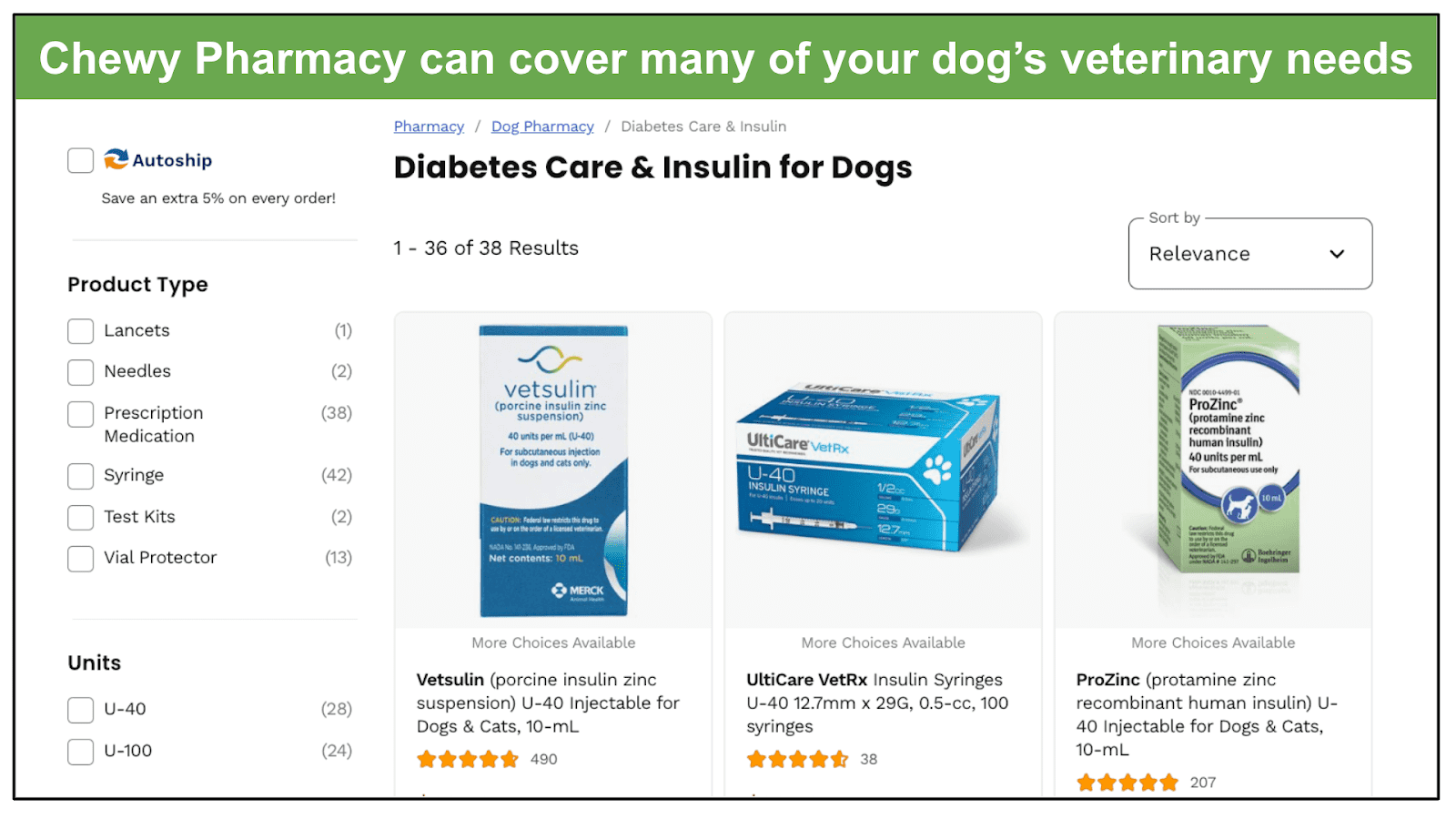 You start your Ollie journey with a questionnaire that asks about your pet's breed, age, sex, spay status, weight, target weight (optional), and food allergies ranging from common proteins like chicken and fish to dairy, grains, and even flax seeds. This information helps Ollie recommend recipes for your dog.
Ollie offers 5 different fresh recipes:
Beef Dish with Sweet Potatoes

Chicken Dish with Carrots

Lamb Dish with Cranberries

Pork Dish with Apples

Turkey Dish with Blueberries
In addition, Ollie offers 2 baked recipes as a healthy alternative to commercial kibble:
Gently Baked Beef and Sweet Potatoes Recipe

Gently Baked Chicken and Carrot Recipe
Ollie subscribers can also order a selection of human-grade treats and all-natural supplements. These are made to the same high standards as Ollie's meals.
You can choose from 3 Ollie treats:
Beef and Sweet Potato

Chicken and Apple

Sweet Potato
Ollie's supplements contain probiotics and natural ingredients for a variety of conditions:
Probiotic Supplements

Hip & Joint Supplements

Chill Pill Supplements
Ordering and Delivery
Winner: It's a tie
Ollie and Chewy both make ordering and delivery easy. While Ollie focuses on delivering customized meals and Chewy offers a diverse range of pet products, both companies prioritize customer satisfaction, convenience, and your dog's well-being.
After you complete the Ollie questionnaire, Ollie will customize a meal plan for your dog. They take into account your dog's nutritional requirements and preferences. You then set up a subscription with a 2-week Starter Pack, and future deliveries arriving every 1 to 8 weeks as best fits your schedule.
You can choose a full plan that provides your dog with an exclusively Ollie diet or a half-plan that lets you mix Ollie with another dog food. You can also choose between a Fresh, Baked, or Mixed plan.
Ollie offers flexibility in managing your subscription. You can easily make changes to your delivery schedule, update your dog's profile, adjust portion sizes, or pause/cancel your subscription through your Ollie account.
Chewy ships anywhere within the continental United States. Most boxes arrive within 1-2 days after you place the order, though prescription and personalized items may take longer.
Chewy Autoship is a convenient and flexible subscription service that allows pet owners to schedule automatic deliveries of their pet's favorite products. Choose the products you want to subscribe to, then set the frequency of your deliveries. You can select the desired interval, such as every 1, 2, 3, 4, 6, or 8 weeks, depending on your pet's needs, or you can place a one-time order.
You can easily track your delivery in the Orders section of your Chewy account, with updates provided via email as your order progresses through the stages of Preparing for Shipment, Shipped, and Delivered. You can also adjust Autoship frequency, change order dates or delay shipments from your account.
How Do the Meals Arrive?
Winner: Ollie
Ollie wins this round for its personal touch. Its delivery service ensures that the meals remain fresh as they travel to your doorstep. It takes into account factors like portioning and packaging to maintain the quality and freshness of their meals.
Ollie meals are portioned individually and conveniently packaged, making it easy to store them in your refrigerator or freezer until they are ready to be served. You store Ollie meals in the freezer and defrost them overnight in the refrigerator before serving. Ollie meals will last 4 days in the fridge or up to 6 months in the freezer.
Refer to Ollie's feeding guidelines to determine the appropriate portion size for your dog. Ollie's meals can be served as a complete meal or mixed with your dog's existing food, depending on your preference.
Most Ollie packaging is recyclable. The bags used for Gently Baked Bites are recyclable through a store drop-off program: you can find the nearest drop-off location by scanning the QR code on the bag or checking Ollie's website. The insulating liner is curbside recyclable, and the utensils and food container are BPA-free for your pet's safety.
Chewy has a large selection of pet items, so it's hard to say how your order will be packaged. You can find the instructions for each item on the Chewy website or on the label, but you don't get the personal attention you get from a boutique pet retailer like Ollie.
Chewy's free shipping on orders over $49 makes it a great choice for buying big bags of dog food. Shipping can add up when you're buying food for a big dog or a big family of dogs.
Pricing
Winner: Ollie
If feeding your dog a fresh human-grade diet is important to you, you'll probably spend less on Ollie than on fresh food at Chewy. It all depends on which brand you order from Chewy, but most of its fresh food ends up costing more than Ollie's.
Our Ollie reviewer looked at orders for 3 dogs of different sizes. I compared these numbers to the costs for fresh food at Chewy to see how the numbers shake out.
Feeding an active 4-month-old, 3 lbs Toy Poodle a full Ollie diet would cost $18 per week, with a half-fresh plan costing $12.60 per week. A 4-pack of JustFoodForDogs 12.5 oz pouches would last our poodle around 8 days, and cost $30.50 at Chewy ($29.26 with Autoship), for a total of $26.69 or $25.60 per week.
A 1-year-old 40-lb. Alaskan Kee Kai will eat $51 per week of Ollie on a full plan, $35.70 per week on a half-fresh plan, and $42 per week for a mixed plan of fresh and baked Ollie. A 3-week supply of JustFoodForDogs Turkey and Macaroni (a 21-pack of 18-oz pouches), the least expensive JFFD option, will cost you $205.59 or $195.81 with Autoship at Chewy), $68.53 or $66.17 weekly.
A 4-year-old 180-lb St. Bernard on a full-fresh Ollie plan will set you back $125 every week, $77 per week for a half-fresh plan. and $115 per week for a mixed plan. At Chewy a 2-week supply of JFFD Turkey and Macaroni (7 pouches of 72 ounces each) will cost you $223.93 or $212.73 Autoshipped. That's $111.97 or $106.36 per week.
If your dog doesn't like the first order, Ollie will refund your money. All Ollie orders ship free. Chewy will accept returns or replacements within 365 days of purchase. Chewy orders over $49 ship free, with a $4.95 shipping fee added to orders under $49.
Chewy vs. Ollie — Quick Overview



Best for

Variety of pet food, medicine and accessories

Fresh, gently cooked, nutritious dog food

Starting price

Varies

$4-$8 per day

Shipping cost

$4.95, free on orders over $49

Free

Subscription

Autoship

Monthly, weekly, one-off purchases, etc

Recipes

Over 4,000 dog food choices

5 fresh and 2 baked choices

Meal storage

Varies

4 days in the fridge.

Up to 6 months in the freezer.

Are meals pre-portioned?

No

Yes or no

Ingredient quality

Human-grade, organic, and many other options available

100% Human-grade

Free-from

Varies between meals

Corn, soy, wheat, artificial preservatives, bone meal, fillers

Customizable based on:

Allergies, age,

Age, weight, breed, sex, spay/neuter status, activity level

Recalls

Varies

None

Money back guarantee?

Yes, up to 365 days

Yes, on first order

Our reviewer's rating

Current deal
And The Winner Is: Ollie
If you want fresh food for your dog, Ollie is the clear winner. Ollie ranks highly on our list of the best fresh dog food delivery services and is a great choice for anybody who wants to make sure their canine companion has a healthy, nutritious human-grade diet.
But even if you go with Ollie for food, you can still take advantage of Chewy's wide inventory. Chewy is a great place to shop for pet accessories and will be a better choice than Ollie for pet parents whose dog is on a veterinarian-prescribed diet.
If you're still not sure what service is right for you, check our list of the best dog food delivery services. There's sure to be a service on there that you and your pup will love!
FAQ
Are Ollie's ingredients truly human-grade?
Ollie uses only human-grade ingredients in its meals. This means that the ingredients it sources meet the same quality standards as those used for human consumption. Ollie's commitment to using premium, human-grade ingredients ensures the highest level of quality and nutrition for your dog.
How does Ollie customize meals for my dog's specific needs?
Ollie personalizes meals based on your dog's individual profile. This includes factors like age, breed, weight, activity level, and any dietary restrictions or allergies. The information allows Ollie to create a tailored meal plan that meets your dog's unique nutritional requirements.
Does Chewy offer prescription medications for pets?
Chewy Pharmacy can fulfill your veterinary prescriptions for medications. Simply provide Chewy with your pet's prescription details, and their team will work with your veterinarian to process and ship the medications directly to your door.