Overview
Today many pet parents want healthier and more nutritious alternatives to processed dry dog food. The Honest Kitchen, a family-owned California company, offers several types of dog food made with high-quality human-grade ingredients. But do The Honest Kitchen's products live up to expectations?
As a longtime pet owner and dog lover, I want every dog to eat well. Toward that end, I've performed a thorough study of The Honest Kitchen. I've examined its ingredients, read its reviews, consulted colleagues, and weighed and measured its advantages and disadvantages versus other higher-end dog services.
After compiling all this data, I have to say that The Honest Kitchen is a fabulous choice for anybody who wants to feed their furry companion healthier meals. Plus with our special discount you can make a great saving – Up to 60% Off! Code: FALLSALE.. Read on and learn more about how The Honest Kitchen can improve your pup's health and quality of life.
Pros

Cons

Easy-to-digest dehydrated food

Can be expensive

FDA-recognized human-grade ingredients

Dry food can arrive crushed

A range of formulations

Feeding charts don't cover giant breeds


Current deal – Up to 60% Off! Code: FALLSALE.
The Honest Kitchen Meals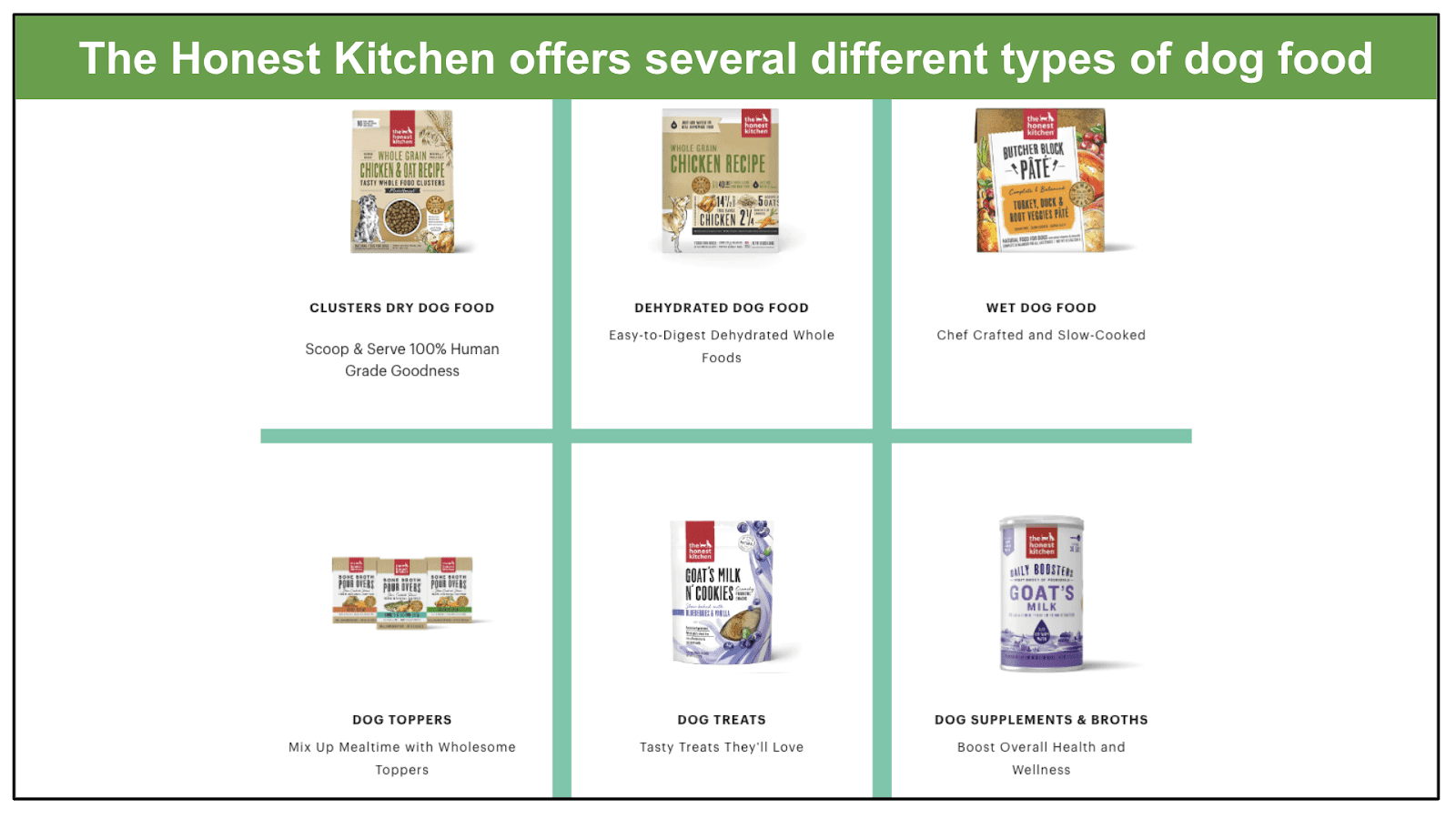 The Honest Kitchen offers grain-free, legume-free, low-sodium, low-carb, low-fat, and high-protein meals. Each recipe at The Honest Kitchen is created in collaboration with a team of veterinarians, including a veterinary nutritionist.
Customers can choose between chicken, beef, turkey, duck, fish, and lamb. You can also order Veggie Packs containing nuts, seeds, fruits, and berries that you mix into your dog's protein. And The Honest Kitchen sorts its recipes by life stage and dietary needs to help you find the food that's best for your pet.
Dogs with allergies or sensitivities may benefit from The Honest Kitchen's Limited Ingredient meals that contain only six whole food ingredients along with supplemental vitamins. The Honest Kitchen never uses artificial preservatives, feed-grade by-products, fillers, GMO ingredients, corn, wheat, or soy.
The Honest Kitchen is best known for its dehydrated dog foods. These are nutrient-dense meals that maintain the nutrients, aroma, and taste of whole foods. It also offers cold-pressed, roasted and dehydrated dry dog food and slow-cooked wet food, as well as a selection of toppers, treats, broths and supplements.
Lucy Postins, who founded The Honest Kitchen in 2003, is a companion animal nutritionist skilled in advanced nutrition and holistic health, including complementary modalities such as herbalism and homeopathy.
You can order The Honest Kitchen's dehydrated dog food in 2, 4, 7, and 10-pound boxes, as well as a pack of 12 1.75 oz containers. You add warm water to the food and let it rehydrate before serving. A 2 lb bag of dehydrated dog food is equal to about 8 lbs of regular dog food, so a little goes a long way.
The Honest Kitchen dehydrated dog food comes in the following flavors:
Dehydrated Whole Grain Chicken

Dehydrated Whole Grain Turkey

Dehydrated Whole Grain Beef

Dehydrated Grain Free Beef

Dehydrated Grain Free Chicken

Dehydrated Grain Free Turkey

Dehydrated Grain Free Fish

Dehydrated Gourmet Grains Chicken and Duck

Dehydrated Gourmet Grains Turkey and White Fish

Dehydrated Whole Grain Fish and Oat

Dehydrated Gourmet Grain Beef and Salmon

Dehydrated Limited Ingredient Chicken

Dehydrated Limited Ingredient Turkey

Dehydrated Limited Ingredient Beef

Dehydrated Limited Ingredient Duck

Dehydrated Limited Ingredient Fish

Whole Grain Veggie and Fruit Dehydrated Base Mix

Dehydrated Grain Free Fruit and Veggie Base Mix

Dehydrated Grain Free Veggie, Nut, and Seed Base Mix
The Honest Kitchen's Clusters come in several sizes and can be served like regular dog kibble.
The Honest Kitchen's dry dog food flavors come in the following flavors:
Grain Free Chicken Clusters

Whole Grain Chicken Clusters

Grain Free Beef Clusters

Whole Grain Beef and Oat with Turkey Clusters

Grain Free Turkey Clusters

Grain Free Chicken Clusters for Small Breeds (only in 1, 4, and 10-pound sizes)

Whole Grain Chicken Clusters for Small Breeds (only in 1, 4, and 10-pound sizes)

Grain Free Chicken Clusters for Puppies

Whole Grain Chicken Clusters for Puppies
The Honest Kitchen's wet food is available in stew and paté form and comes in packs of six 10.5-ounce boxes, with sampler three-box variety packs available. You can serve it as a complete meal or mix it in with your dog's usual food. If you only use part of a box, refrigerate the rest.
The Honest Kitchen's wet food comes in the following flavors:
Slow Cooked Chicken One Pot Stew

Tender Turkey One Pot Stew

Roasted Beef One Pot Stew

Braised Beef and Lamb One Pot Stew

Simmered Salmon and Chicken One Pot Stew

3pk One Pot Stew Variety Pack

Chicken and Super Greens Butcher Block Pâté

Turkey and Autumn Veggies Butcher Block Pâté

Turkey, Duck, and Root Veggies Butcher Block Pâté

Beef, Cheddar, and Farm Veggies Butcher Block Pâté

Beef, Lamb, and Spring Veggies Butcher Block Pâté

3pk Butcher Block Pâté Variety Pack
The Honest Kitchen only buys ingredients from producers who maintain human-edible status at every step from harvesting through delivery. It requires a Statement of Country of Origin, and certification that the supplier adheres to Good Manufacturing Practices (GMPs). All ingredients are non-GMO and free of chemicals, adulterants, and chemical preservatives.
The term "human grade" isn't permitted on conventional pet food products, even if they're made with human grade or human quality ingredients unless the finished product itself isn't made in a human food production facility. The Honest Kitchen has been certified as human grade by the FDA since 2013.
As a representative sample, The Honest Kitchen's Dehydrated Grain Free Turkey combines turkey with dehydrated vegetables like spinach, carrots, coconut, and apples. It also includes supplemental vitamins E and D3 as well as B12, B1, B5, and B2, and minerals like iron amino acid chelate.
All The Honest Kitchen dog food is Association of American Feed Control Officials (AAFCO) approved to provide complete and balanced nutrition for a dog's life stage. A third-party veterinarian group also performed feeding trials on The Honest Kitchen dog food and found that the trial dogs received excellent marks for general health and well-being.
The Honest Kitchen's dry and dehydrated food is prepared at low temperatures. This preserves nutrients and vitamins that might be broken down by cooking. But also kills pathogens and makes the food easier to digest, which is great for dogs with sensitive stomachs or compromised immune systems.
The Grain Free Turkey recipe mentioned above contains a minimum of 29% protein and 18% fat as fed, with a maximum of 9.6% fiber. This high protein level makes it a great feeding choice both for puppies and adult dogs.
The Honest Kitchen includes vegetables and fruits for vitamins, nutrients, and fiber, as well as fish oil to ensure your dog gets healthy omega-3 and omega-6 acids. All products are marked to show their suitability for puppies, adult dogs, active adults, and seniors.
Unboxing
The Honest Kitchen's offerings are all shelf-stable for up to 12 to 24 months after the manufacturing date, so long as they're stored in a cool dry place. The use-by date is plainly marked on all packages.
All The Honest Kitchen recipes include a feeding chart that gives you an idea of how much you should feed your dog based on its weight and activity level. These guidelines will help ensure your dog gets an appropriately sized meal without the risk of underfeeding or obesity.
61% of The Honest Kitchen's packaging is made from renewable materials and is fully recyclable after use. 18% of the cardboard used in The Honest Kitchen food boxes and 40% of the shipping cartons are made with post-consumer paper.
Dehydrated food that has already had water added can be left in the refrigerator for 2-3 days, or the leftovers can be frozen. You can also refrigerate unused portions of The Honest Kitchen wet food for 2-3 days.
While dogs generally love Clusters, some pet owners complain that a significant portion of the dry food is crushed to dust and crumbs upon delivery, making it difficult to measure and serve unless you mix the Clusters dust with other foods. It's unclear whether this is due to packaging issues or whether Clusters is more fragile in transit than heavily processed commercial kibble.
Shipping & Delivery
The Honest Kitchen ships orders Monday through Friday. Orders usually ship within two to three business days after they were placed, and typically arrive within three to five business days thereafter. The Honest Kitchen also ships to Alaska, Hawaii, and Puerto Rico and to military APO addresses. (Be advised these orders can take up to four or five weeks for delivery).
You can track the progress of your shipment on The Honest Kitchen's website or sign up for text alerts. You can also reschedule a delivery on the website, or you can call 1-866-437-9729 or e-mail questions@thehonestkitchen.com for assistance.
Ordering from The Honest Kitchen
The Honest Kitchen welcomes one-time purchases, but it also offers subscriptions to the food your dog loves. Not only do you save 5% when you schedule recurring orders with The Honest Kitchen – you also ensure your dog has a steady supply of healthy food they love.
Signing up for recurring The Honest Kitchen orders is easy. While many human-grade pet food companies give you a quiz to determine what foods best suit your dog, The Honest Kitchen gives you nutritional information and recommended life stages and lets you choose the meals that are best for your canine companion.
How to Sign Up
1. Decide on the items you want to order for your canine companion
2. Choose whether you want a reship every 2, 3, 4, 6, 8, 10, or 12 weeks
3. Enter your address and payment information
4. Confirm your order
5. Yes, it's that easy
Managing Your Subscription
If you're not sure what food suits your pooch, The Honest Kitchen's "Find Your Recipe" quiz guides you to meals that fit your dog's age, activity level, and preferred meals. The quiz also lets you avoid ingredients like flaxseed, sweet potatoes, lentils, gluten, and eggs. If you're still confused, The Honest Kitchen also offers a free 15-minute consultation.
Managing your subscription is as easy as signing up. To update your card info, reschedule a delivery, or cancel a subscription, go to your account on The Honest Kitchen's website and click the appropriate link or change your delivery frequency.
Customer Service
If you're not sure what food will be best for your dogs, The Honest Kitchen offers a 15-minute consultation with an HonestExpert who will advise you on the best meal choices for your pooch. While HonestExperts aren't veterinarians, they're knowledgeable about both dogs and The Honest Kitchen's food offerings.
If there's a problem with your order or your dog turns up a cold nose at The Honest Kitchen meals, you can get a refund within 60 days of your purchase. To be eligible for a refund, at least half the product must be left in the box or bag and the product must not be past its expiration date.
For refunds, you can mail questions@thehonestkitchen.com with your order number or call or text 1-866-437-9729. The Honest Kitchen provides a free shipping label for you to ship the item back in its original packaging. When it arrives, they credit the payment method used for the original purchase price minus any shipping fees. Refunds may take up to two weeks.
I sent a text to The Honest Kitchen asking a question about wet food feeding sizes for 90+ pound dogs. The stated holiday hours were 10 am to 3 pm Pacific time: I sent the message at 10:21 am PT (1:21 PM in my time zone) and didn't hear back from The Honest Kitchen by my deadline date.
I should mention that I sent this during the holiday season when The Honest Kitchen was operating on a limited schedule. While Ebenezer Scrooge might criticize employees for taking some holiday time off, I won't, especially since The Honest Kitchen's Help Center answered all my other queries.
The Honest Kitchen Recalls
In February 2013, The Honest Kitchen recalled five lots of dog food after a supplier reported that a batch of parsley might be contaminated with salmonella. While quality control tests revealed no salmonella in the lots, The Honest Kitchen recalled the food as a precautionary measure.
Prices
| | | |
| --- | --- | --- |
| Starting from | Minimum Order | Shipping Fee |
| $5.99 for dry food | $5.99 | $5.00, free on orders over $49.00 |
The Honest Kitchen's prices are reasonable for human-grade dog food and comparable to many other higher-end dog foods. That being said, feeding a big dog a straight The Honest Kitchen diet may set you back a good-sized chunk of change, especially if you go with the wet or dehydrated plans.
The Honest Kitchen's feeding chart for its dehydrated meals lists 71-90 pound dogs – the size of an average Golden Retriever or German Shepherd – as "giant." But an average Saint Bernard or Great Dane puppy will weigh that much at six months, and a full-grown English Mastiff may weigh three times as much!
Prices on a 10-pound box of The Honest Kitchen dehydrated food range from $74.99 to $144.99. Let's look at this chart for an idea of our potential feeding costs.
A laid-back Yorkshire Terrier might need only a quarter cup of dehydrated food daily, so a 10-pound box would last around 160 days. So you could feed your Yorkie for between $0.46 and $0.90 a day. A hyperactive Chihuahua (is there any other kind?) might need twice as much food, but most of us can spare $1.80 a day for pet food.
71 to 90-pound dogs will be eating around ten times as much dehydrated The Honest Kitchen food. That adds up to $4.60 to $9.00 a day for a mellow Golden Retriever and as much as $18.00 a day for an active German Shepherd!
While The Honest Kitchen's dry food costs two to four times as much as commercial kibble, it's a great investment in your dog's health and quality of life. And with our special deal, you can make some great savings – Up to 60% Off! Code: FALLSALE..
A 20-pound bag of The Honest Kitchen Clusters contains approximately 80 cups and costs between $79.99 and $92.99. On a The Honest Kitchen dry food diet, that active German Shepherd would cost around $4.00 to $5.00 a day, or $3.00 to $4.00 to feed a less active 71-90 pound dog.
Following The Honest Kitchen's feeding chart, a 190-pound Saint Bernard would be eating around 10 cups daily, for a price of $10 to $12 a day. (On the bright side, a $49.99 10-pound bag of Chicken Clusters for Small Breeds would last that Yorkie or Chihuahua between 80 and 160 days, for a feeding price of between $0.32 to $0.64 a day!)
The Honest Kitchen's feeding chart for its wet food only goes up to 50 pounds. But at $22.94 per pack of six boxes, keeping a 50-pound dog on an exclusive Stews & Patés diet will set you back up to $30 a day! I tried doing the math in my head for what it would cost to keep a full-grown Saint Bernard fed, but all I came up with was "more than your mortgage."
That being said, you can use these meals as a topper for bigger dogs. Tossing some Stew or Paté over your Great Dane's usual dog chow can improve its appetite and provide them with vital nutrients.
The Bottom Line: Is The Honest Kitchen Worth It?
If you want something better for your dog than commercial dog foods and you don't mind paying extra for human-grade food, The Honest Kitchen is definitely worth it.
If your pup is a finicky eater, The Honest Kitchen's food will have them cleaning their bowl and looking up at you piteously for seconds.
If your dog has a sensitive stomach, The Honest Kitchen's high-quality ingredients will help their digestion and reduce their gas production. As the former owner of a flatulent Staffordshire Terrier, I can testify that this will improve the quality of life for both you and your dog.

For owners who love their dogs and want to give them the healthiest meals possible, The Honest Kitchen is a great investment in your furbaby's health.
FAQ
Is The Honest Kitchen dog food complete and balanced?
The Honest Kitchen dog food is AAFCO certified to provide balanced nutrition for dogs at their given life stage. The Honest Kitchen labels all its meals to let you know whether they're suitable for puppies, adult dogs, active adults, or seniors.
Is The Honest Kitchen dog food cooked or raw?
The Honest Kitchen dog food is neither cooked nor raw – it's dehydrated. Dehydrating at low temperatures preserves the nutritional benefits of raw dog food but eliminates any pathogens and makes the food easier to digest.
How long has The Honest Kitchen been around?
The Honest Kitchen was founded in 2003 by Lucy Postins, a companion animal nutritionist. In 2014 The Honest Kitchen received FDA approval to market its foods as "human-grade" and has maintained that certification since then.