At a Glance: Who Won Each Category?
| | |
| --- | --- |
| ? Price: | The Farmer's Dog: $2/day |
| ? Ingredient Quality: | It's a tie |
| ? Recipes: | JustFoodForDogs |
| ⏰ Packaging and Prep | It's a tie |
| ? Ordering and Delivery: | JustFoodForDogs |
| 👑 Overall Winner: | It's a tie |
Winner: It's a Tie
Both The Farmer's Dog and JustFoodFor Dogs use human-grade ingredients, with fresh, chopped whole foods and vegetables. Both slow-simmer their meals to kill pathogens while preserving the nutritional benefits of raw diets.
The Farmer's Dog meals are prepared in USDA kitchens, where each recipe is gently cooked at low temperatures according to USDA-facility standards. They're then quickly frozen (never deep frozen!) for safe shipping and your storage convenience.
JustFoodForDogs uses meats and vegetables intended for human consumption in recipes balanced to NRC standards. Its meals are cooked in small batches to ensure your canine companion gets the freshest food possible.
Neither company uses preservatives and both perform their own feeding trials to ensure the food is safe, healthy, and nutritionally balanced. Both formulate their meals in consultation with veterinarians and animal nutritionists.
The Farmer's Dog offers meals made with beef, turkey, pork, or chicken. All Farmer's Dog meals are grain-free and contain between 8-11.5% crude protein with 4.5-8.5% crude fat.
JustFoodForDogs offers chicken, turkey, fish, lamb, beef, or venison meals with whole grain and grain-free options. Its meals contain between 7.5-10% crude protein and 2-10% crude fat.
This round is too close to call. The big takeaway here: both competitors offer excellent, healthy food that your dog will love.
Winner: JustFoodForDogs
While our first round ended in a tie, JustFoodForDogs wins this one handily.
Both services start you out with a questionnaire asking about your dog's weight, age, breed, spay/neuter status and activity levels. Both ask if your dog is allergic to the ingredients offered. Both also offer nutrient mixes with recipes you can use to make your own homemade fresh dog foods. But JustFoodForDogs gives you a lot more flexibility.
In its questionnaire, The Farmer's Dog asks about health conditions. I repeated my earlier information for Big George, but added three conditions common to Chihuahua/French Bulldog mixes – gas, tear staining, and anxiety.
The recommended meal plan was identical to the one I received earlier. A healthy fresh food diet will definitely help most dogs suffering from gas, tear staining, or anxiety. But what if Big George had bigger medical issues? And what about doggie snacks? Sadly, The Farmer's Dog doesn't offer any.
JustFoodForDogs offers six prescription Veterinary Support diets like Low Protein Renal Support and Metabolic Diet for diabetes and thyroid disorders. And JustFoodsForDogs even offers customized diets created in consultation with their team of Veterinary Nutritionists.
In addition to fresh-frozen food, JustFoodForDogs also has PantryFresh meals that stay fresh in room temperature storage for up to two years. (You must refrigerate once the bag is opened).
If that isn't enough, JustFoodForDogs also has a line of healthy snacks, and those who have cats can buy fresh cat food for their feline furbabies. This selection is tough to beat, and JustFoodForDogs takes this trophy home.
Winner: JustFoodForDogs by a cold nose
JustFoodForDogs makes it easier to sample its products before shipping, so I gave them this round. In every other aspect, The Farmer's Dog offers an equally good ordering and delivery experience.
Both services deliver to the continental United States, but JustFoodForDogs also ships to Alaska and Hawaii. And while you must sign up with The Farmer's Dog to sample its products, JustFoodForDogs makes it easy for you to try without commitment.
You can buy JustFoodForDogs at its open kitchens in California, Washington, and New York. JustFoodForDogs meals can be found in over 200 veterinary clinics and at many Petco and Pet Food Express stores. You can even buy JFFD products on Amazon and Chewy!
JustFoodForDogs offers free shipping, regular deliveries, and a 5% discount through its Autoship program, but welcomes one-time orders (though with a $10 shipping fee). All Farmer's Dog orders include free shipping.
You can change your delivery address and pause or cancel your subscription through your Farmer's Dog customer account on their website. JustFoodForDogs also lets you change or cancel your autoship orders on their website.
How Do the Meals Arrive?
Winner: The Farmer's Dog
While this was another close round, I gave it to The Farmer's Dog for their convenient pouch sizes.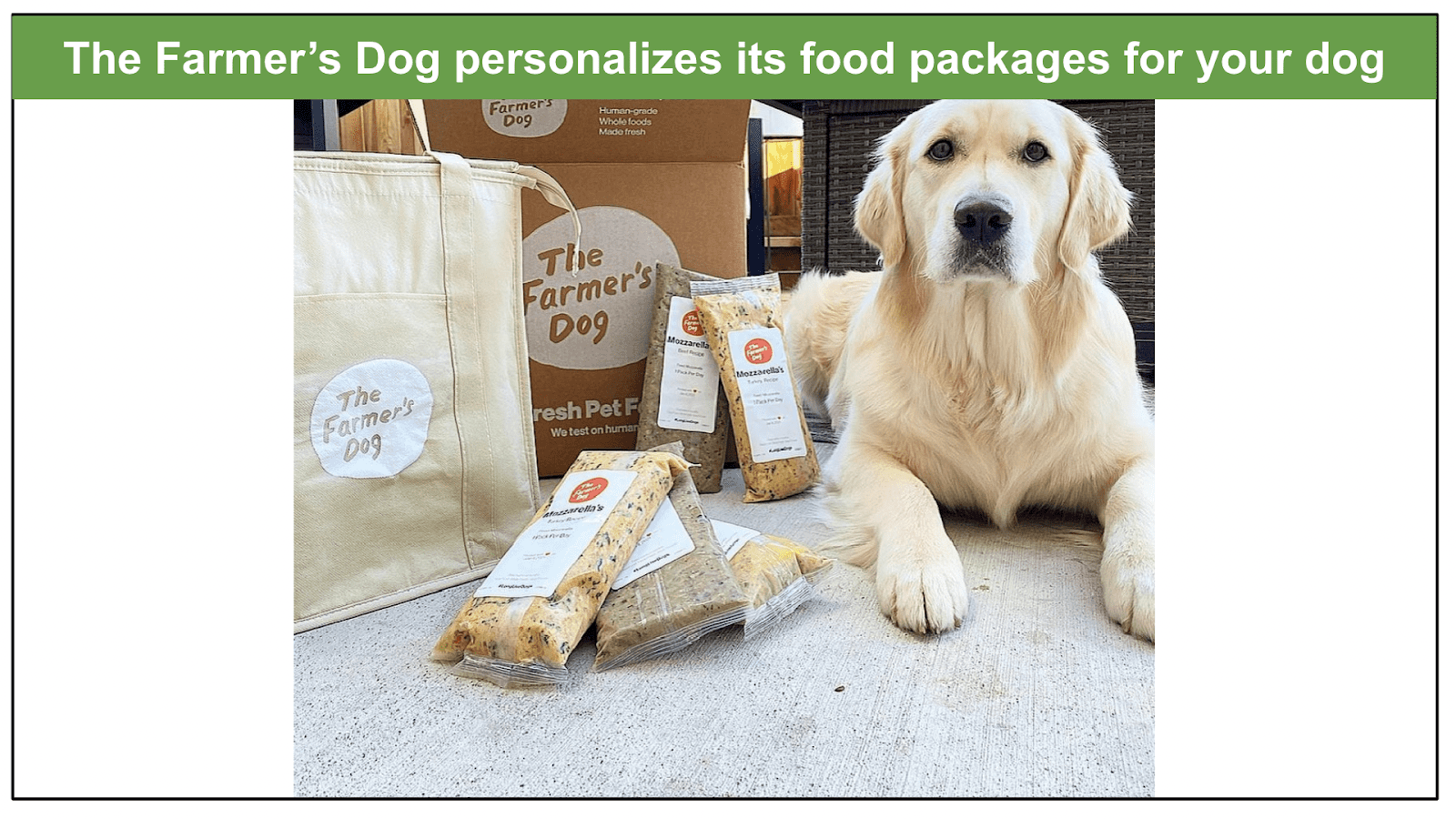 The Farmer's Dog sends orders in recyclable refrigerated cardboard boxes with biodegradable insulation. Your food arrives in packages with your dog's name prominently displayed. This is a nice touch and makes life much easier if you're feeding more than one dog. Your dog may take half a pouch, two pouches, or some other combination. Don't worry, the feeding amounts are clearly displayed.
JustFoodForDogs sends its frozen food in 18-ounce and 72-ounce sealed packages. You can order small (7 x 18-oz), medium (21 x 18 oz) or large (7 x 72 oz) boxes of food. All JFFD insulated shipping containers are CFC-free and 100% recyclable.
Like The Farmer's Dog, JustFoodForDogs provides you with the daily feeding amounts based on your dog's caloric requirements. But it gives the measurements in cups and ounces, which means you need to get a scale or break out the measuring cup when feeding your dog.
This makes feeding a bit more complicated than the personalized pouch approach offered by The Farmer's Dog. If you're feeding a small dog using large bags, you may wind up with a big bag taking up space in your refrigerator for days.
Because both companies send fresh-frozen food, you must store meals in the freezer. Leave the pack overnight in the refrigerator before feeding, then serve after it's completely thawed. You can warm the food up with a bit of hot water if your dog prefers.
JustFoodForDogs says that its food can be kept in the freezer for up to a year, while thawed and unopened JFFD food remains fresh in the refrigerator for up to seven days. Opened bags of its meat recipes can be refrigerated for four days, and three days for fish recipes.
The Farmer's Dog meals can be kept in the freezer for up to four months, while thawed Farmer's Dog meals are good in the refrigerator for four days.
Pricing
Winner: The Farmer's Dog
For most pup parents, The Farmer's Dog will be the less expensive option.
To calculate prices, I used the figures for Mookie, my late 72-pound American Staffordshire Terrier. I also checked how much it would cost to feed "Big George," a 13-pound French Bulldog/Chihuahua mix.
Feeding Big George according to The Farmer's Dog costs $3.33/day. Just Food For Dogs recommends its Turkey and Macaroni mix, which costs $3.01 per day.
Mookie's recommended Farmer's Dog plan costs $8.45/day. JFFD also recommends Turkey and Macaroni for Mookie, but their plan costs $9.48/day.
Both services let you move away from their recommendations. If you swap one Farmer's Dog meal for another, the price stays the same. But with JustFoodForDogs the price may increase.
For example, giving Big George JFFD's grain-free Beef and Russet Potato diet would cost $3.50/day, and feeding Mookie Chicken and Rice would set you back $12.75/day.
Your first Farmer's Dog box is a two-week trial order. If your dog turns their nose up at The Farmer's Dog, you can get a full refund if you donate the remaining food to a local animal shelter.
JustFoodForDogs offers a refund if you're dissatisfied with any purchase, so long as you make your claim within 30 days of your order.
Features Comparison: JustFoodForDogs vs The Farmer's Dog

| | | |
| --- | --- | --- |
| | | |
| Best for | Dogs with medical needs | General dog owners |
| Starting price | $6.45 | $2/day |
| Shipping cost | $10, free with autoship | Free |
| Subscription | Autoship every 2-8 weeks (optional) | 2 week trial, then every 8 weeks |
| Recipes | 6 choices + Custom Diet and Veterinary Support menu | 4 choices |
| Meal storage | Up to 1 year in freezer, PantryFresh up to 2 years shelf storage (unopened) | 4 days in refrigerator, 4 months in freezer |
| Are meals pre-portioned? | Yes | Yes |
| Ingredient quality | USDA kitchens, small batches, human-grade | USDA kitchens, small batches, human-grade |
| Free-from | Soy, preservatives | Grains, soy, preservatives |
| Customizable based on: | Weight, age, breed, spay/neuter status, activity levels, allergies | Weight, age, breed, spay/neuter status, activity levels, allergies |
| Recalls | 2018 (listeria on green beans) | None |
| Money back guarantee? | Yes | Yes |
| Our reviewer's rating | | |
| Current deal | Save 40% off your first order and 5% off recurring autoship orders! | |
And The Winner Is: It's a Tie
This was a tightly contested battle from start to finish, with both competitors showing that they are among the top pet food delivery services available today. While it's challenging to declare one as superior, each service excels in different situations.
If your vet has recommended a prescription diet for your pet, JustFoodForDogs is the ideal choice. This brand offers a variety of diets tailored to dogs with specific health requirements. Their prescription meals are designed to not only extend the lifespan of your sick pet but also improve their quality of life.
If you're watching your wallet or have a big dog, The Farmer's Dog is a solid choice. Even though fresh-frozen dog food isn't cheap, it's a worthwhile investment for your dog's long-term health.
This match may be a draw. But whether you choose The Farmer's Dog or JustFoodForDogs, you can be sure your dog will be a winner.
FAQ
Is JustFoodForDogs owned by Petco?
While JustFoodForDogs is an independently-owned brand, you can find JustFoodForDogs meals in many Petco or Pet Express stores. JustFoodForDogs products are also available at over 200 veterinary clinics and on Chewy and Amazon.
Can I microwave The Farmer's Dog meals?
The Farmer's Dog meals are cooked at low temperatures to preserve their vitamins and nutrients. Heating fresh dog food in the microwave destroys many of those nutrients. If your dog likes their food warmed, add a bit of hot water or bone broth before serving.
Do vets recommend JustFoodForDogs?
Vets recommend JustFoodForDogs both for its fresh and healthy general meals, and for its prescription line of Veterinary Support meals that are designed for dogs with serious medical issues.