Ollie Meals
Plans and Recipes
Ollie is a subscription-based meal delivery service for dogs that brings quality, freshly cooked dog food to your door on a regular, but flexible schedule.
Ollie offers 5 fresh recipes and 2 baked recipes with different main proteins. You can purchase fresh or baked recipes or a mixed bowl plan combining fresh and baked recipes for variation and cost-effectiveness. Apart from that, you can also order treats and supplements.
The meal plans are complete and balanced, ensuring your pup's nutritional needs are met. Every recipe was formulated by a board-certified vet nutritionist and meets the AAFCO standards, so you can rest assured that your dog is in good hands.
Ollie calculates the amount of food your canine needs after you take a short quiz. To do that, the pet food delivery service uses an algorithm curated by vet-formulated recipes. It also excludes any recipes that are unsuitable due to allergies or sensitivities.
All recipes are created with health issues in mind, so chances are you'll be left with all of the available options to choose from at the end. But except for the rare case where your pup is allergic to all chicken, turkey, beef, pork, and lamb, at least 1 fresh and 1 baked recipe will pop up at the end of the quiz.
You'll need to check the detailed ingredient list if your pup has any serious allergies, but for a regular dog in generally good health, all recipes should be safe.

You can choose multiple recipes to get a mixed box or only one of them. The price stays the same in both cases.
Note: Ollie provides meal plans for puppies at least 3 months of age and a weight of at least 3 lbs. There's also a superior weight limit of 180 lbs, so if your dog is larger than that, you might want to consider a different brand. Now, let's take a closer look at Ollie's recipes.
Fresh recipes
You can choose from 5 different fresh recipes for your furry friend: Beef with Sweet Potatoes, Chicken with Carrots, Turkey with Blueberries, Lamb with Cranberries, and Pork with Apples.
The beef recipe is a well-rounded meal for most dogs. It includes beef along with beef kidneys and livers as protein sources, which are great to fuel an active dog or growing pup. Potatoes, sweet potatoes, peas, and spinach add fiber, vitamins, and antioxidants.
The chicken recipe is a great choice if your pup is a picky eater or has a sensitive tummy. It includes chicken and chicken livers for protein, carrots, spinach, cranberries for fiber and vitamins, and rice for a gentle source of carbs.
The turkey recipe includes a light and lean protein source for muscle building, namely turkey breast. Kale, carrots, and blueberries add vitamins and fiber, while pumpkin is a grain-free carb source. This recipe is also low in calories, so it's great for dogs that need to lose some weight.
The lamb recipe is suitable for pups that are prone to allergies since it avoids common triggers. It includes lamb and lamb liver for protein, chickpeas, kale, cranberries, and green beans for fiber and vitamins. Butternut squash, potatoes, and rice add easily-digestible carbs to the recipe. This option is higher in calories, making it great for large or athletic dogs.
Go for fresh pork if your dog is a picky eater or prone to allergies. Apples are a great source of fiber, while butternut squash improves digestion and serves as an antioxidant. Sweet potatoes provide vitamins A and C, and oats supply vitamin B and omega 6 fatty acids that are beneficial to your pet's skin and coat.

All of these recipes include salmon oil and added vitamins and minerals such as E, D3, B1, B2, and B6 that make them nutritionally rich for your pup.
Dry recipes
Ollie offers 2 dry food recipes, Beef and Sweet Potato and Chicken and Carrot. Both are baked into bite-size morsels at safe, low temperatures to ensure minimal nutrient loss and a great crunch for your dog.
Both recipes include animal protein as the main ingredient, along with nutrient-packed veggies. Oats, sweet potatoes, chickpeas, pea flour, carrots, spinach, and apples are featured in both recipes for fiber, vitamins, and minerals, but also add some extra proteins.
The beef recipe includes beef and beef livers for protein. Healthy fats appear in the form of coconut oil and fish oil.
The chicken recipe has chicken, chicken livers, and whole dried eggs as animal proteins. Fish oil and sunflower oil add healthy fats to the mix.
Similarly to the fresh recipes, the baked ones contain numerous supplements like vitamins and minerals for a nutritionally complete meal.
What's different from most fresh recipes is the addition of oats, which promotes healthy skin and fur thanks to the vitamin B and omega 6 fatty acids it contains.
Ollie offers 5 standard fresh recipes, each with a single main animal protein: chicken, turkey, beef, lamb, and pork. There are also 2 baked recipes that feature beef and chicken as the main proteins.

Apart from the protein, each recipe contains carbs in the form of nutrient-dense starches, vegetables, and seeds, plus healthy fats and superfoods such as kale and blueberries. Vitamins and minerals are added to supplement each recipe.
All ingredients Ollie uses are human-grade, USDA Process Verified. You could basically eat the food yourself if you wanted to.
The lamb is pasture-raised and comes from free-range farms in the US, New Zealand, and Australia, so not all of it's local, but it surely is premium quality, as every farm partner goes through a rigorous certification process.
The produce, seeds, and oils are carefully sourced as well. While they're not certified organic, Ollie puts a lot of effort into only selecting natural, quality ingredients.
There are no fillers, artificial flavorings, or preservatives in any of the meals, and all ingredient lists are surprisingly short.
Each recipe comes with a breakdown of the full ingredient list. I took a closer look at the beef recipe, which is one of Ollie's most popular options.

This recipe provides 1540 calories per kilo and meets all the nutritional levels for dogs, as established by the AAFCO.

The recipe not only includes real beef but also some organ meats that make the meal more wholesome by adding loads of nutrients, such as taurine, an essential amino acid.
The sweet potatoes are a welcome addition of dietary fiber, helping with your pup's poop, but also essential minerals and vitamins.
Spinach is packed with vitamins A, B, C, and K, but also essential antioxidants that help fight the effects of aging, beta-carotene for eye health, and iron for healthy muscles and heart.
Peas are an important source of lutein, which helps with skin, eye, and heart health. It also contains a great percentage of plant protein, thus upping the protein intake even more.
The other recipes are crafted in a similar way and include nutrient-packed ingredients like kale, pumpkin, carrots, chia seeds, and cranberries.
When it comes to treats, they have very few ingredients. You can currently choose from 3 recipes: the single-ingredient Sweet Potato Slices and 2 types of jerky strips, Chicken and Apple, and Beef and Sweet Potato. Both simple and yummy, the treats are made with the same natural, human-grade ingredients.
Ollie also offers dog supplements as membership extras. There are 3 options available: Probiotic Supplement Chews for tummy problems, Hip & Joint chews for hip and joint problems, and Calming chews to make your pup calm and more relaxed.
The supplements are all-natural and are manufactured in a cGMP-certified facility. You should take note that the Hip & Joint supplements contain shellfish, in case your pup is allergic.

Important: You can feed the supplements to any dog older than a year, but it's best to consult with your vet before feeding them to your pup.
This is the Guaranteed Analysis for the fresh beef recipe:
Protein: min 9%
Fat: min 7%
Fiber: max 2%
Moisture: max 72%
Since it's wet food, when you consider the dry matter, these percentages are actually higher, including protein. This is very good news for your dog, as protein is very important for muscle growth and development.
The fiber content will help your dog have healthier poops. Some users have reported that their dogs had smaller, less smelly poops after transitioning to Ollie.
When it comes to the cooking process, Ollie uses low temperatures to cook the ingredients in small batches. In the process of cooking, bacteria are killed while nutrients remain almost intact, so the meals don't need the extra careful handling of raw food when you feed your dog.
Each meal is hand-packed in USDA Process Verified kitchens in the USA, so the highest safety and cleanliness standards are met at each step of the process.
Ollie even goes the extra mile and tests every single batch of food to make sure it's 100% safe to consume before it's shipped to you. Considering the batches are small, that surely takes some commitment.
For the baked beef recipe, the Guaranteed Analysis looks like this:
Protein: min 23%
Fat: min 13.5%
Fiber: max 4%
Moisture: max 10%
These are excellent numbers. The protein percentage is significantly higher than many commercially-available brands of kibble and has plenty of fiber for healthy digestion.
Another important thing to note is that all the recipes from Ollie meet the AAFCO profiles for dogs of all life stages, which includes puppies and large dogs (over 70 lbs as an adult). This means that you can feed your pup Ollie no matter the size or life stage.
What Makes It Different
Ollie surely stands out from other pet foods on the market. Here are some of the reasons why:
Human-grade quality dog meals
Not only are Ollie's ingredients high-quality, but you could eat them yourself. The ingredient lists are fully transparent and comprehensive, so you won't find any mysterious ingredients or fillers like in the low-cost brands you find at the supermarket.
The meals are prepared in USA kitchens at low temperatures in small batches by real people. This makes Ollie closer to a meal delivery service for humans in terms of quality than to an industrially-made dog food brand.
Great variety
Ollie's recipes are designed for all types of dogs. Whether your pup has weight problems, allergies, a sensitive stomach, or is simply very picky when it comes to food, Ollie has an answer on its menu.
The meals are free from the most common allergens and help with different health issues. Plus, since they have different protein sources, you can rotate them in your pup's bowl to keep mealtime interesting.
Flexible plans
You don't have to order a full plan if you don't want to. You have the option of a half plan, which makes it very convenient to try out Ollie and see how your dog likes it. You can also choose from fresh and baked meals or simply order a mix of both.
Ollie is also very flexible in terms of managing your subscription. You can edit your delivery address, frequency, and meal types, or add more dogs to your order at any time.
Unboxing
All fresh food packages are vacuum-sealed with a special modified atmosphere technique to ensure that the food is kept fresh without any preservatives or chemicals. The box will contain the packages, plus some really cold dry ice, so be careful when handling it (I recommend wearing gloves).
Packs are about the size of a smartphone or 2 stacked together, ranging from 1 to 3 inches in height and 4 to 7 inches in width, so they should be easy to store.
The 1st thing you need to do after the box arrives is to put all the fresh food in the freezer. It can stay fresh for up to 6 months frozen. Then, at least 24 hours before feeding your dog, you need to put a pack or 2 in your fridge to defrost.
You should store the baked food in a cool, dry place, and it's good for 6 months after you receive it. However, you should finish it in the first 6 weeks after you open each bag.
There's a resealable lid on each tray, so make sure to seal it back after opening the lid. After defrosting, the food can be safely stored in the fridge for up to 4 days, whether you've opened it or not.
As for the treats, you should also store them in a cool, dry place and keep them in the fridge after you open the package. You should also try to keep the treats in a sealed container or package after opening so they stay moist, soft, and fresh.
On your first delivery, your starter box will contain food packs and a free Welcome Kit. This includes a personalized feeding guide for your pup with instructions for a smooth transition and everyday feeding, a scoop to help you portion the food, and a Puptainer.
The Puptainer is a convenient food storage container that keeps the food fresh. You can put the remaining food from an opened tray in the Puptainer with the lid on instead, so your fridge stays clean and odor-free.
If you order for multiple dogs, you'll get multiple Puptainers and scoops, which I think is really generous.
The quantity of food you receive on your first order is meant to last for 2 weeks and is calculated based on the number of calories your dog needs in a day. If you have a really big doggo, however, you'll only receive enough food for 1 week.
Generally, a pack is meant to last for 1 day, so in most cases, you'll initially receive 14 packs. All you need to do is break it in half, feed your dog breakfast, and save the other half in the Puptainer for dinner.
However, based on your dog's size and age, a pack could be too much for 1 day, so you'll need to consult the instructions to portion it correctly.
Unfortunately, not all of the packaging is recyclable. The seal from the food packs is non-recyclable and you need to throw it in the trash. The bags in which the baked food comes are recyclable through a store drop-off program only. The liner is curbside recyclable, and so are the cardboard boxes.
| | | |
| --- | --- | --- |
| Starting from | Minimum Order | Shipping Fee |
| $1.29 per portion for fresh plan (tiny dog) | 2-week starter pack | Free shipping |
| $0.90 per portion for half fresh plan (tiny dog) | 2-week starter pack | Free shipping |
| $8.93 per portion for fresh plan (big dog) | 1-week starter pack | Free shipping |
| $5.50 per portion for half fresh plan (big dog) | 2-week starter pack | Free shipping |
| $8.21 per portion for mixed plan (big dog) | 1-week starter pack | Free shipping |
| $3.64 per portion for fresh plan (medium dog) | 2-week starter pack | Free shipping |
| $2.55 per portion for half fresh (medium dog) | 2-week starter pack | Free shipping |
| $3.00 per portion for mixed plan (medium dog) | 2-week starter pack | Free shipping |
Ollie's prices vary a lot based on your dog's specific dietary needs. Basically, the bigger the dog, the more calories it needs in a day, so you'll need more food.
Depending on the plan and which of the recipes you choose, the price per meal plan can change. For example, a beef-only fresh plan is slightly cheaper than other recipes, while a lamb-only fresh plan is the most expensive option. If you mix and match the recipes, the price adjusts accordingly.
If the fresh plans seem out of budget, you can always lower the costs with a mixed bowl plan of both fresh and baked meals – or get a half-plan and combine Ollie with your dog's current food.
To get an idea of what prices look like, I simulated 3 meal plans for different dogs, choosing only the beef options as they're the most affordable.
First, I introduced the info of an active 4-month-old, 3 lbs Toy Poodle. The results of the quiz told me it needed 112 calories in a day, so the starter box would only contain 3 (half plan) or 4 (full plan) packs of food. The total costs for this puppy would be $12.60 per week for the half-fresh plan and $18 per week for the full plan, excluding any discounts. The mixed plan wasn't available for a pup so tiny.
Then, I went for a very large doggo. A 4-year-old St. Bernard who weighs 180 lbs would need 14 packs of food. The starter pack would cost $125 for a full fresh plan that lasts 1 week, $77 per week for a half-fresh plan that lasts 2 weeks, and $115 for a mixed plan that lasts 1 week and contains 7 packs of fresh food and 2 bags of baked food.
Finally, I went for a rather average dog. For a one-year-old 40-lb Alaskan Klee Kai that eats 675 calories in a day, 14 packs would last 2 weeks and would cost $51 per week for a full fresh plan, $35.7 per week for a half fresh plan, and $42 per week for a mixed plan.
So, as a general rule, you can expect to pay around $6-7 dollars per day for Ollie, less for a small pup, and more for a large doggo. While this sounds like a lot, when you consider that you'd pay only a bit less for plain raw food or home-cooked meals that take time and energy to make, Ollie actually has fair prices.
Plus, it would be close to impossible to replicate these carefully crafted recipes that not only include high-quality ingredients but have the exact calculated quantities of every nutrient your dog needs.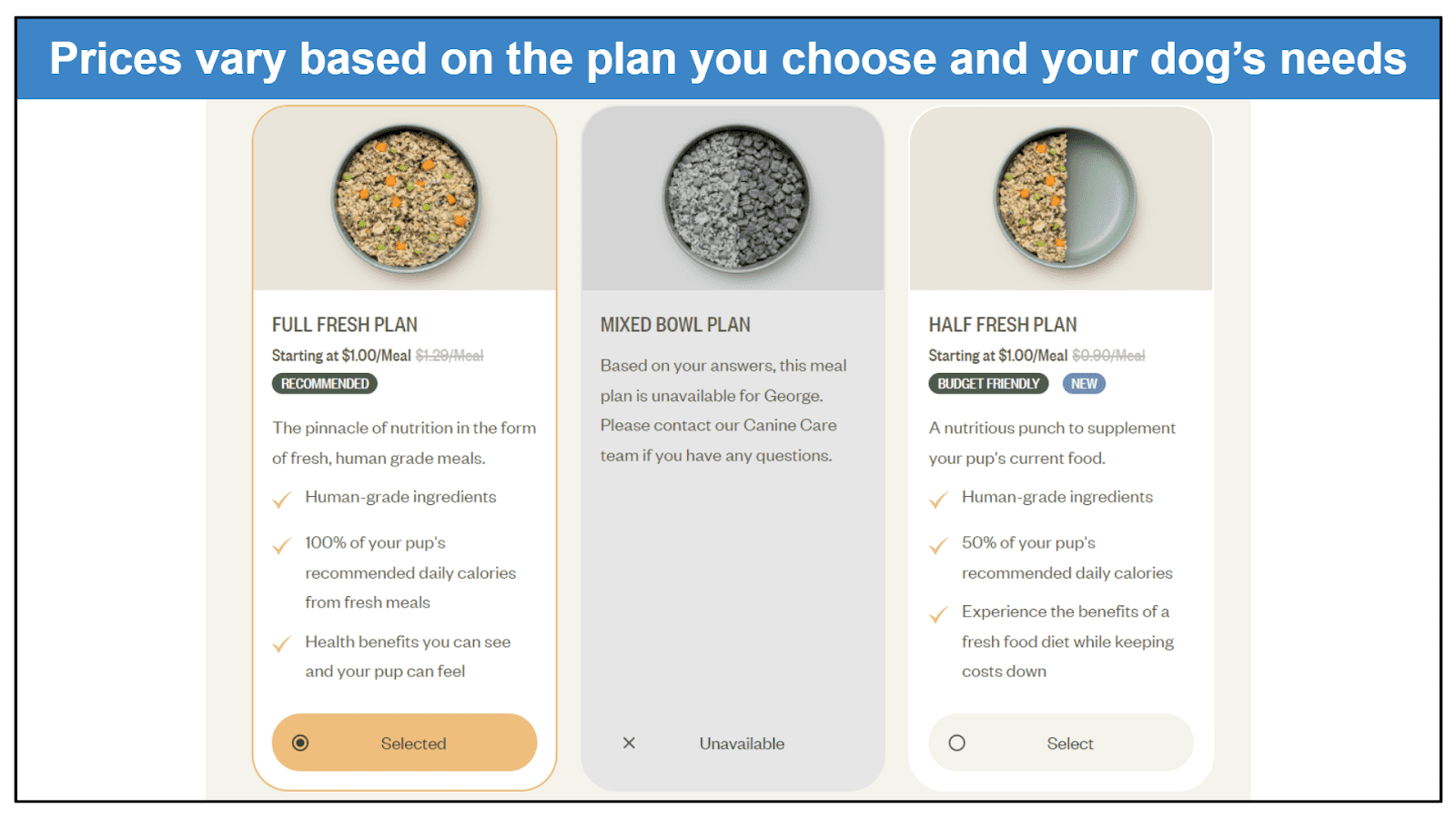 A great thing about Ollie is that shipping is always free, so you don't need to take any additional costs into account. You can, on the contrary, profit from 1 of Ollie's discounts – like 70% Off your first box + FREE bowl and jerky strips – and lower the cost of your order.
Apart from the fresh and baked recipes, you can also add extras to your order. The price for treats is $9 for the sweet potato slices and $10 for the jerky strip treats, while supplements cost $22 per jar (60 chews each).
Ollie offers a 100% money-back guarantee on your starter box if your pup doesn't seem to like the food. I think 2 weeks should be enough time to see if your pup truly likes its new food, and if it doesn't, you'll get a full refund. Just make sure you've closely followed the transitioning instructions to rule out any problems.
However, there's no return or exchange policy beyond the starter box, so if you continue your subscription after this initial delivery, you can't send it back. This is why you should be careful to cancel your subscription if you don't want to continue receiving Ollie boxes.
Shipping & Delivery
Ollie ships to all 48 continental US states. Ollie delivers every day of the week through different shipping partners, so you can choose your desired delivery day based on the carrier.
You'll receive your dog's food based on the frequency you selected after getting your starter box. From once per week to every 8 weeks, you have wiggle room to choose what's best for you and your dog.
You can put the trays in a cooler bag with some ice packs and take them on your trip if you want to travel with what food you already have.
Major holidays or inclement weather can affect delivery. You can make adjustments to your delivery dates to prevent not getting the food on the usual day of the week in such cases.
A big plus is Ollie's app (available on iOS and Android), which makes the process easier. Once subscribed, you can benefit from regular updates on your box, like the moment it ships and when it gets delivered.
Plus, you can manage your subscription directly in the app, like changing your delivery date or order frequency. You'll also receive updates on new Ollie products before they're launched.
How Ollie Works
Ordering from Ollie is super easy, and, most importantly, quick. You simply need to take a quiz about your dog, select the recipes you want in case there's more than 1, then proceed to checkout. There, you can add additional dogs as well if you're a lucky owner of more than 1 pup.
How to Sign Up
Land on Ollie's website and select Get Started.

You can take the quiz from other pages on the website, too.

Answer 8 questions. If you don't know some answers, make your best guess.

Some other questions you'll have to answer relate to your pup's breed and allergies.

Choose 1 of a few recommended plans. Hit Continue after that.

Whichever plan you choose, you and your pup will enjoy various benefits.

Pick meals and, optionally, treats and supplements. Once you're done, hit Continue.

You can choose 4 recipes at most.

Specify your shipping, account, and billing details. Click on Checkout to complete your purchase.

Scroll down the page to check your account details and available payment methods.
Managing Your Subscription
It's super easy to manage your subscription directly from your Ollie account. You can pause, skip, cancel your plans, or change delivery dates as long as you do it before your cutoff date. After you sign up for your starter box, you can adjust the delivery frequency for future orders as you wish.
You can make changes from your account page in a matter of minutes. These could be adding extras to the box, changing a delivery date, and more. Just make sure to do it at least 4 days ahead of time before your next order is shipped.
You can skip a delivery or reschedule up to 6 weeks at a time, which can be super useful, especially if you're traveling. But you also have the option to make Ollie travel with you by changing your delivery address on your account.

You can easily cancel your subscription from your Ollie account page. To do so, select Cancel subscription at the bottom of the Pup's Info page.
If you have more than 1 dog, you need to do this for each subscription individually. And remember to do it at least 36 hours before your next scheduled delivery to ensure you don't receive and pay for it.
Customer Service
You can contact the team by phone, SMS, online chat, or email. Ollie's customer service team is available during the weekdays from 9 am to 7 pm ET and on the weekends from 10 am to 7 pm.
I appreciate that the staff can also be reached through text. I believe this is an excellent feature, particularly for individuals who aren't fond of phone conversations.

The Canine Care team is really helpful. They'll do their best to solve any problems, even if your food melted during delivery.

For most issues, the Canine Support center on the website provides detailed answers to all your questions. The well-organized articles cover important topics ranging from food to delivery, making it easy to navigate and find the information you need.
Ollie Recalls
Ollie has no history of recalls, neither from the American Veterinary Medical Association, the USDA, nor from Ollie itself.
How Ollie Compares to Other Pet Food Services
Ollie vs. The Farmer's Dog: The Farmer's Dog is a great alternative to Ollie because it's a bit more affordable. Plus, I appreciate that The Farmer's Dog offers a DIY nutrient mix for home-cooking your dog's meals yourself, something that Ollie lacks.
Ollie vs. Nom Nom: Ollie is a better choice than Nom Nom thanks to its outstanding ingredient quality and short ingredient lists. Although they're similar services in terms of human-grade offerings and price, I think Ollie's higher protein percentages as well as higher amounts of "superfood ingredients" make it a winner here.
Ollie vs. We Feed Raw: Ollie is a better choice for pet owners whose dogs live on fresh or baked food. Besides, it tends to be more affordable, depending on the food you choose and your doggo's breed. But if your canine likes raw meals better than fresh or baked, then We Feed Raw would make a logical choice.

The Bottom Line: Is Ollie Worth It?
Yes! If you want to keep your dog in good health, providing quality food is the first step. And with Ollie's human-grade meat, fruits, and veggies, even the most sensitive dog will reap the benefits of a healthy diet, be it a shinier coat or increased energy levels.
Ollie provides dog food lacking preservatives, fillers, and artificial flavoring or coloring. And your pet will eat macro-balanced, freshly cooked meals every day. Let's face it, your dog will probably eat better than you do.
The only downside I can really see is the cost, but considering all the good things (and tons of enthusiastic testimonials) about Ollie, all I can say is that it's worth it.

Take a look at our list of the best human-grade dog food delivery services if you're still not convinced about Ollie. Note that we've researched and tested them extensively.
FAQ
Is Ollie dog food healthy?
Yes, Ollie offers healthy meal plans personalized for your dog's unique needs. All recipes were formulated by a professional veterinarian nutritionist and are made with
healthy and nutritious ingredients
.
Each recipe contains lots of welcome ingredients. Some of them are proteins from meats and organs, fresh veggies, and fruits, making Ollie a balanced and complete meal for your pup. No junk, no fillers, no preservatives. It's the perfect match for dogs with food sensitivities.
How is Ollie dog food cooked?
Ollie is cooked in small batches over low temperatures in USDA Process Verified kitchens. I was impressed that
the team tests every single batch before sending it to you
.
All ingredients are natural and farm-fresh. The cooking process helps eliminate any harmful microorganisms while preserving all the good nutrients in the food.
How much is Ollie dog food?
It depends. For a small puppy, you can pay as little as $4-$8 per day per day per week. For a very large breed,
the price can go up significantly
. On average, you can expect to pay around $50 a week for a 40 lbs dog.
The costs reflect the quality of the food, the human-grade ingredients, as well as the certifications Ollie has earned.
If you're a new subscriber, you can benefit from special discounts to lower the price. Plus, the starter box is fully refundable if your dog doesn't like the food.