How HelloFresh Works
It takes all of thirty seconds to sign up for HelloFresh. You can log in with either Facebook, Google, or Apple.
Once you're in, HelloFresh prompts you to update your menu preferences. I was pretty excited about seeing so many options, like whether you want to watch your calories or if you have dietary restrictions, like pork or seafood.
At this point, you also indicate how many meals you want to be delivered that week (two through six) and how many people you're ordering for (two or four). I wasn't able to order for just myself, but I have no problems with leftovers – or eating for two people – so I wasn't all that bothered.
The next step is entering your billing and shipping information. You can set your weekly delivery to any day of the week (including Sundays). Unfortunately, you cannot set a specific delivery window. This means that your meals could be delivered anywhere from 8 am to 8 pm, so your food could be sitting out for a while, or arguably arrive after dinnertime.

HelloFresh Prices
Dinner servings from HelloFresh range from just over $7 to about $10.
Since there's no ability to customize the meals, prices are pretty straightforward. You can, however, choose to add sides, snacks, breakfasts, lunches, or extra proteins to your order. I didn't see an option to just have these extras delivered (and not dinners).
As far as I can tell, shipping costs are set at $7.99 no matter how many meals you order. However, I do live in a major city, so this might vary depending on where you live.
I didn't see any discount options when I first signed up, but right after I placed my order I got a coupon in the mail – typical!
| | |
| --- | --- |
| Pricing | From $7.49 per serving |
| Meal plan options available | Meat & Veggies, Veggie, Family Friendly, Variety, Calorie Smart, Quick & Easy, Seafood-Free, Pork-Free, Beef-Free, Pescatarian |
| Shipping costs | From $7.99 |
| Special deals | |
HelloFresh Menu
Your meal preferences (e.g., Veggie, Quick & Easy) will impact the dishes recommended to you. This way, you'll still receive your scheduled delivery every week, even if you forget to go in and select your meals.
Since I selected the "Veggie" pack, four vegetarian options were auto-populated for me. To be honest, I wasn't blown away by the number of choices given, but the meals that were offered looked tasty enough.
Here's just one example, the Middle Eastern Chickpea Bowls (find out what I thought of this dish below):
This was lucky enough for me, as there was only one other vegetarian option that I could sub out. But what happens if I were to select six meals for the week? I clearly would have had to order double of the same recipe, with the hope that I'd enjoy it enough to eat it twice in one week.
Since I'm not a strict vegetarian, I decided to open up my options. This is where I got a little frustrated for the second time – there's no way to customize any of the meals. Each week there are about 20 meals to choose from, and what you see is what you get.
With Home Chef , you can sub out the protein for any dish. For example, you can swap chicken for fish, and sometimes you can turn a dish vegetarian. There are no such options with HelloFresh.
So I settled for a couple of vegetarian choices and a couple of fish dishes. They all sounded tasty, so no worries. However, if you do have real dietary restrictions your choices will be much more limited.
If you're not vegetarian, you can enjoy an extra package of protein to put your own favorite meat-based recipes together.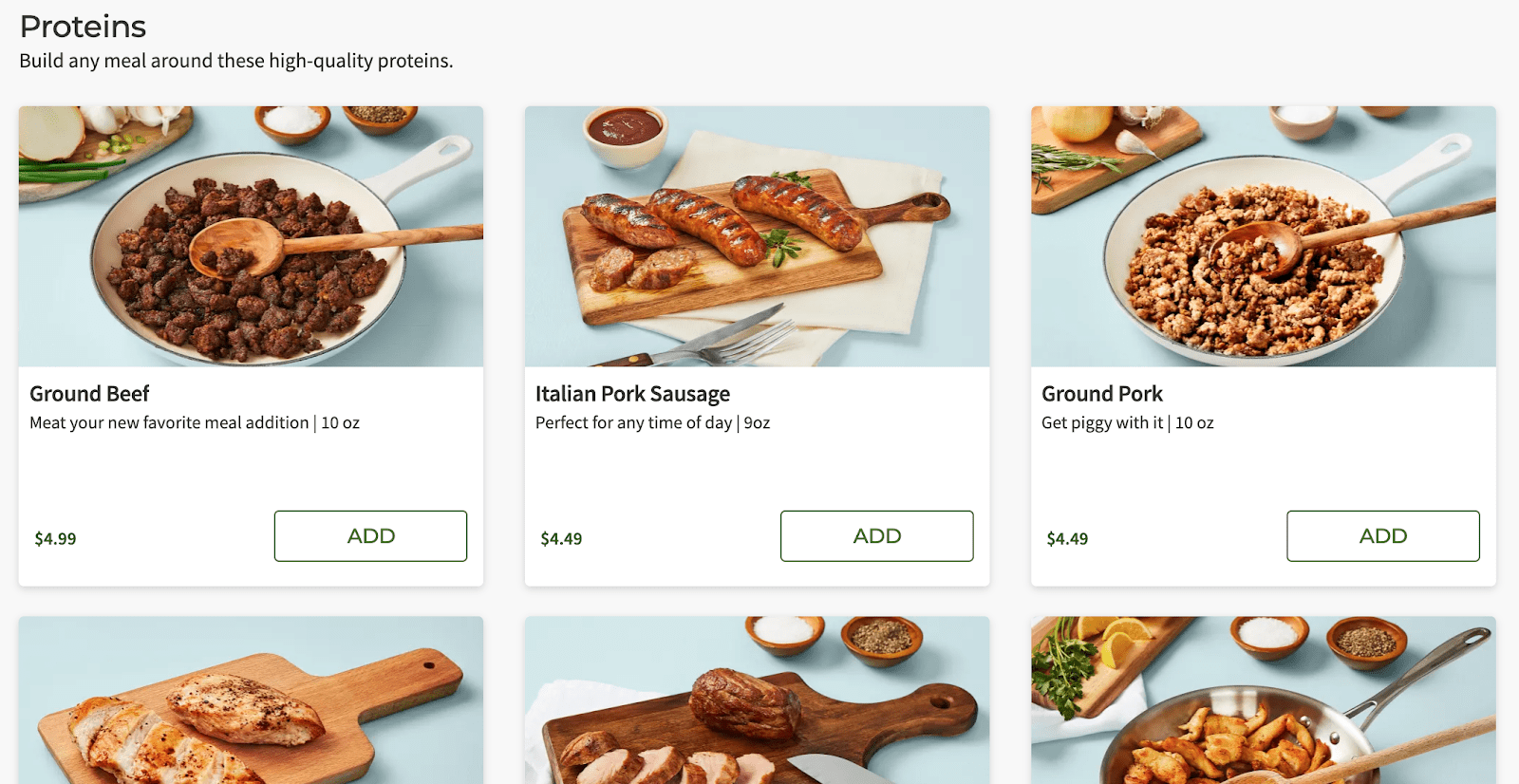 There isn't any way to filter your options by things like protein (e.g., beef, fish) or cooking time. But, then again, there aren't that many options, so scrolling through them all isn't too big of a deal.
HelloFresh claims it offers a bunch of international options, but as far as I can tell, this essentially means they count pasta as Italian. (I'm not complaining, just observing!) Overall, I thought there was a good range of meals for people looking for classic "American" dishes (e.g., Blackened Chicken Penne) as well as more adventurous meals (e.g., Brown Sugar Dijon Glazed Trout).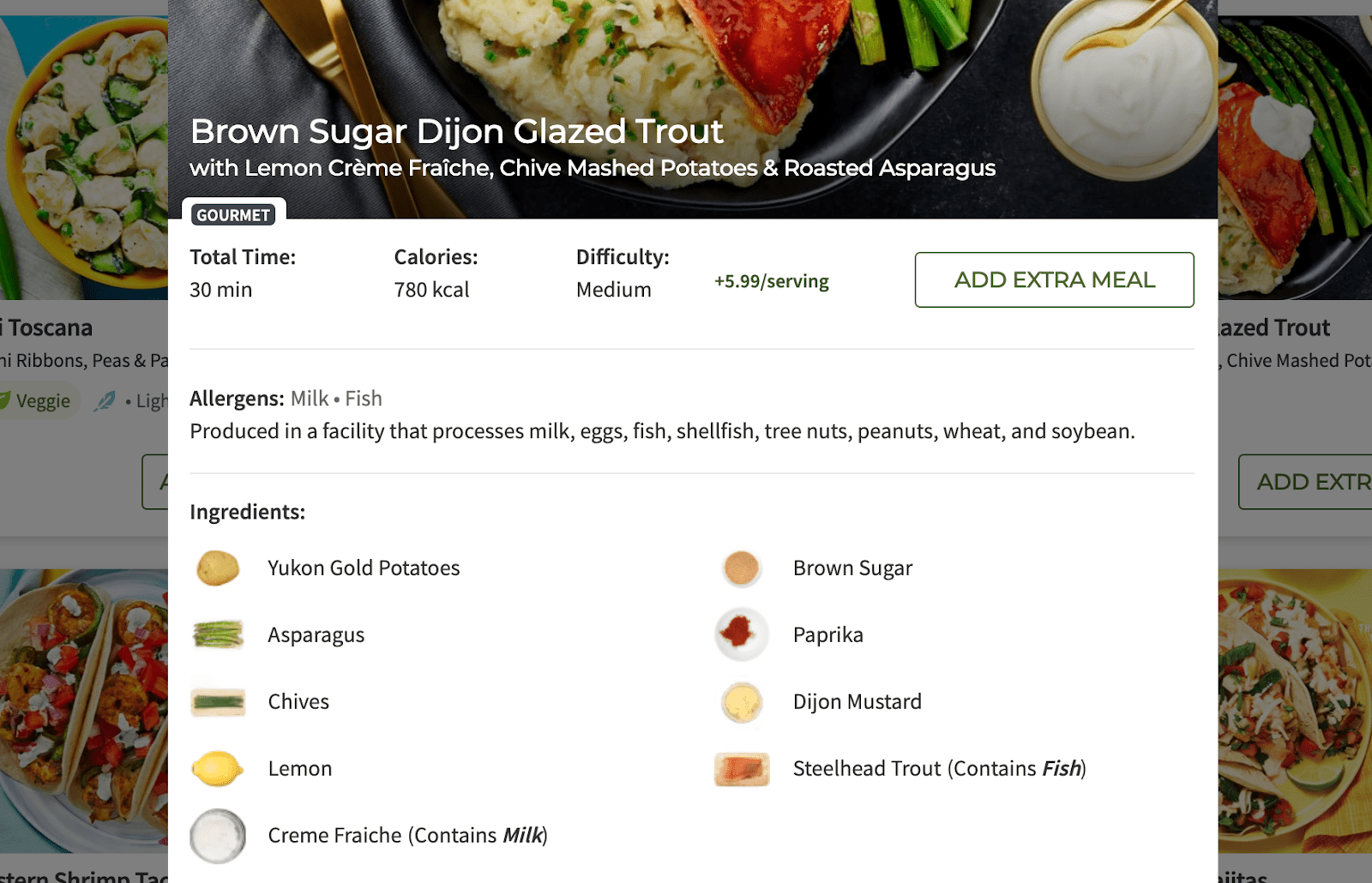 For each dish, you can click on the recipe card, where you'll find the total cook time, calories per serving, and difficulty level. You can also look at the "full recipe," which will give you tons of nutritional values, plus the full set of instructions.
For each dish, you can get a sense of what ingredients you're expected to have on hand, and what utensils you can plan on using. These all seem generally straightforward, but you may need to make sure you have a strainer or butter ready to go.
Overall, the menu options are really straightforward, but I think that HelloFresh could have done a better job with letting you filter your choices. However, being able to filter would probably show you how limited your selection in any category actually is...so maybe they wouldn't want to do that.
These are the four meals I selected:
Shawarma Chickpea Couscous Bowls

Broccoli-Carrot Donburi with a Fried Egg

Steelhead Trout in Cranberry Dijon Sauce

Ginger Lime Salmon
HelloFresh Delivery
I got an email notification letting me know when my order had shipped. For whatever reason, I didn't get text message notifications as I did with Home Chef.
Like I mentioned earlier, you can choose what day you'd like your meals delivered. I thought it was pretty convenient that you can choose any day of the week, as opposed to just weekdays. You can also update this week by week if your schedule or preference changes.
I had been a little worried when I saw my order could be delivered anytime between 8 am and 8 pm, but it ended up arriving just after noon on a Monday.
Unfortunately, I didn't actually know the box had arrived until I checked the tracking information on my computer. It also wasn't left outside my door, and instead was at the entry of my apartment building.
Not the end of the world, but also not super convenient as the box was a bit heavy!
HelloFresh Unboxing
I'd say that HelloFresh did okay with the packaging.
Despite being delivered early in the day (just after noon), the ice packs were mostly melted. They were still pretty cold, but things were starting to feel a little...moist.
The salmon for one of my meals was also leaking a little bit. It wasn't too bad, but I had to clean things before putting them in my refrigerator.
I really liked the recipe cards that came with each meal. I don't like having to try and follow instructions on my phone or computer while I'm cooking. Plus, these are perfect for saving and referring back to later.
It seems like HelloFresh does a pretty good job of choosing recyclable packaging, where possible. As someone who feels a little guilty about using individually packaged ingredients, I appreciate any effort to minimize waste.
Favorite HelloFresh Meals
While I was initially annoyed that I couldn't choose all vegetarian options, the dishes I did choose (which included two fish meals) were super tasty.
I think HelloFresh nailed it when it came to the prep and cooking instructions. It's so annoying when one part of your meal is done, and you have to wait for, like, an hour for the rest of it to finish. For each of the meals I cooked, everything was done at just about the same time.
Despite some of the recipes sounding or looking difficult (uh, am I even qualified to cook a Shawarma Chickpea Couscous Bowl?) it was all really easy. At the same time, I think the final result was always impressive. I was surprised I was able to make meals that were so tasty.
It's hard to choose, but my favorite was probably the Shawarma Chickpea Couscous Bowl (I guess I am qualified). In fact, I was happy I'd been "forced" to order two servings of this dish. There were no leftovers.
The flavors and seasoning of each dish were spot on, in my opinion. I even saved some of the sauce from the ginger lime salmon recipe to use on my salad the next day.
I do have one (relatively) small complaint. I felt like I had SO MANY dishes to do after cooking each meal. This was partially because everything finished cooking at the same time, so I couldn't clean up along the way. This won't be a big deal if you have a dishwasher, but some of us aren't so lucky.
HelloFresh Customer Service
There are a bunch of options when it comes to HelloFresh customer support.
In the Help section, you'll find "Self Service Actions," which can point you in the right direction when it comes to changing certain preferences or updating your account.
Underneath that, you'll also find a pretty robust set of "Help Articles," which you can search through by typing in some keywords. HelloFresh also has a list of the most frequently asked questions, which come with clear and succinct answers.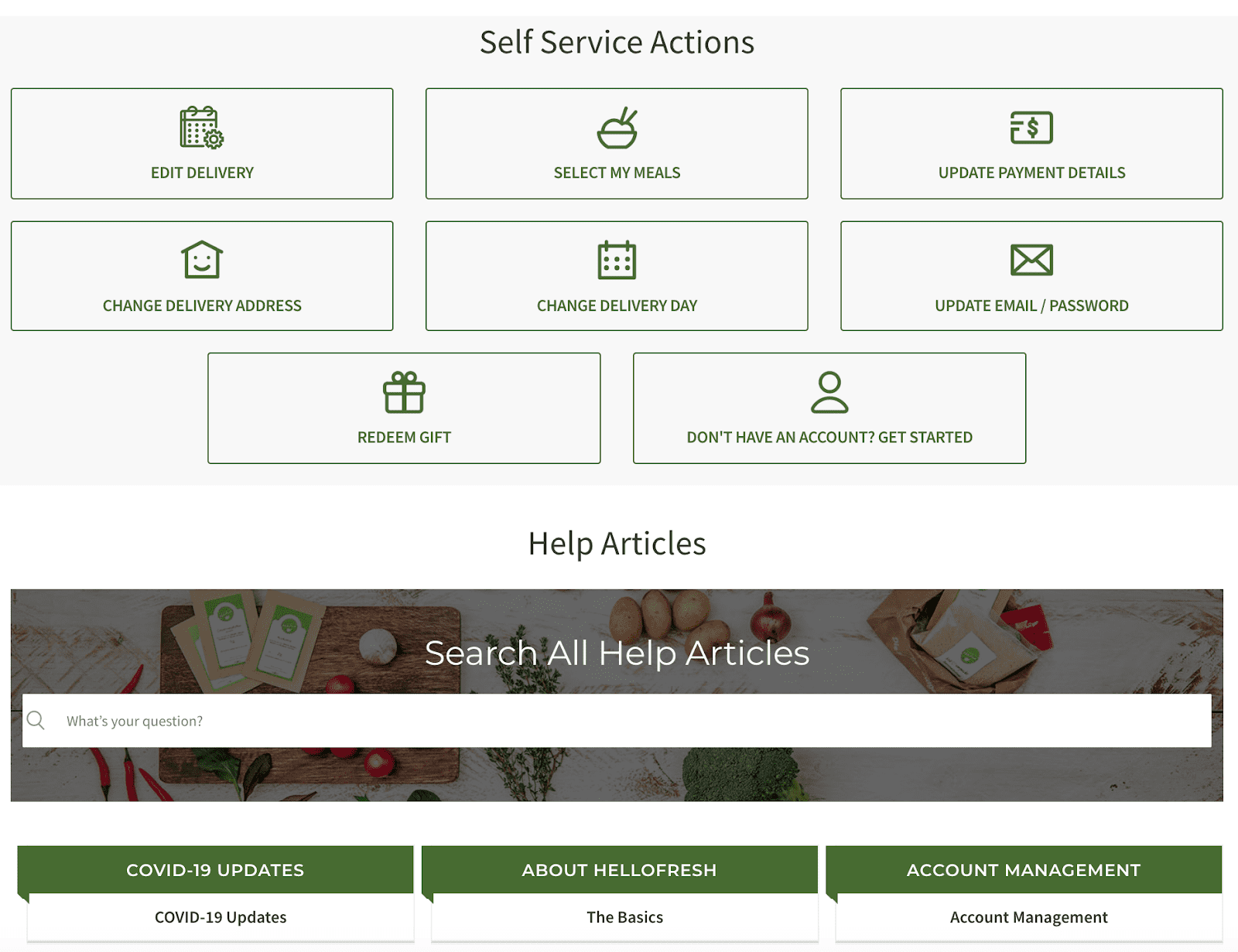 If you run through these options and still have questions, you can either place a call or use the online chat.
I reached out via online chat to see if I could apply a coupon I received to an order that I already placed (why not, right?). Straight away, it was clear I was chatting with a real person.
Kyla was not able to apply the full discount after the fact, but she did refund me a partial amount and credited my account the rest. Honestly, I couldn't believe it! I don't think I've ever had such a good customer service experience – maybe I should try asking for things more often!
I also tested out what it's like to pause or cancel your HelloFresh subscription, and wrote about it in this short blog post.
Alternatives to HelloFresh
HelloFresh is delicious, but there are some other good options out there.
If you have dietary restrictions when it comes to meat (maybe you don't eat pork or you're a strict vegetarian), then I would recommend Home Chef's customizable meal kits . For literally every single dish, you have the option of customizing your protein. This greatly expands your options.
Alternatively, if you're super concerned about things like sustainability and eating organic, you'd be better off going with an option like Green Chef's health meal plans , which are certified organic. Sunbasket's diet-friendly meal plans will also give you more options when it comes to meals that are either gluten-free or diabetes-friendly.
The Bottom Line
There are a lot of positive things I can say about my experience with HelloFresh. The recipes were well outlined and resulted in super tasty meals. Plus, the customer service I received was hands-down outstanding.
Of course, nothing is perfect (and I can always find something to complain about). It'd be nice if HelloFresh had more customization options for individual meals, so as to accommodate different dietary preferences or restrictions. There were also some bumps when it came to packaging and delivery.
At the end of the day, if your diet is pretty versatile I think you'll be happy with your HelloFresh meals. If you don't eat meat or are just more of a picky eater, you'll probably feel like your choices are a tad limited.