| | |
| --- | --- |
| 💲 Price: | The Farmer's Dog ($2/day) |
| 🍗 Ingredient Quality: | It's a tie |
| 🍴 Recipes | |
| ⏰ Packaging and Prep | It's a tie |
| 👍 Ordering and Delivery: | It's a tie |
Ingredient Quality
Winner: It's a tie
The Farmer's Dog and Ollie both use only human-grade USDA-certified food. Both services have veterinary nutritionists on staff who design healthy meals certified by the AAFCO (Association of American Feed Control Officials).
Ollie and The Farmer's Dog both offer meals slow-cooked at a relatively low temperature to kill pathogens and preserve nutrients. But Ollie also has a line of gently baked nuggets that are great for dogs that are accustomed to dry foods.
Ollie's meals contain at least 35% to 44% protein by dry weight. Ollie also includes healthy vegetables like kale, carrots, cranberries, and pumpkin to ensure your pup gets all the nutrition they need to thrive.
There's no corn, wheat, or soy in any Ollie meals. Most of the recipes are grain-free, but its chicken recipe contains rice for dog parents concerned about the possible link between grain-free diets and heart issues. All Ollie meals are slow-cooked in small batches.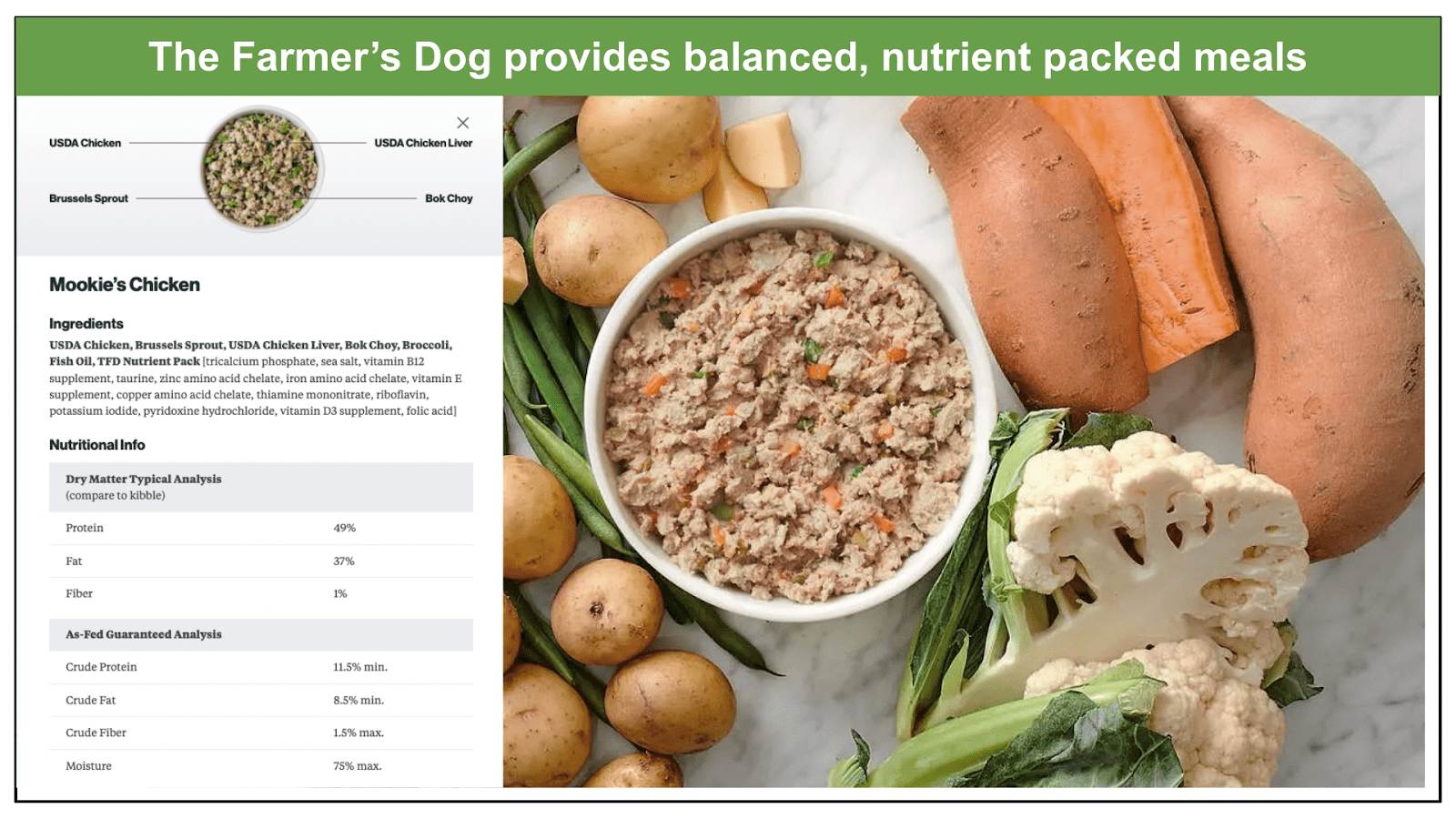 The Farmer's Dog offers gently steamed, grain-free food containing antioxidant-heavy vegetables like broccoli, carrots, green beans, and spinach, along with a "TFD Nutrient Blend" with ingredients like heart-healthy omega fatty acids and taurine to offset any potential issues with grain-free diets.
Meals and Customization
Winner: Ollie
I handed this one to Ollie because it offers a selection of treats and supplements, as well as a choice between slow-cooked and baked food. But the round was very nearly a tie, and both competitors certainly gave it their all!
The slow-cooked meals from Farmer's Dog are available in:
The slow-cooked meals from Ollie are available in:
Beef with Sweet Potatoes

Turkey with Blueberries

Chicken with Carrots

Lamb with Cranberries
Ollie's baked meals come in these flavors:
Beef and Sweet Potato

Chicken and Carrot
You can also get the following treats and supplements at Ollie:
Beef and Sweet Potato Jerky

Chicken and Apple Jerky

Sweet Potato Slices

Probiotic Chews Probiotic Formula

Zoomies Hip and Joint Formula

Chill Pills Calming Formula
Both services start your subscription with a questionnaire asking about weight, breed, build, age, and activity level. While commercial dog foods classify solely by weight, a thin 25-pound whippet clearly needs a different diet than an obese 25-pound pug.
Both sites made it easy to check prices for different types of dogs. I first entered the information for Mookie, my late and much-loved 72-pound American Staffordshire Terrier. To compare a smaller dog, I also entered the information for a very active 6-pound chihuahua.
Ollie checks for food allergies or sensitivities. The buttons cover the main ingredients in Ollie's meals, while the Other drop-down menu lists any superfood or extra ingredients that might show up in your Ollie order.
The Farmer's Dog asks for information on many canine health issues. I have no doubt that a diet of human-grade food will clear up many of the listed conditions, but TFD still only offers 4 different recipes and doesn't have an allergen filter like Ollie does.
Winner: It's a tie
This one was too close to call. Ollie offers partial plans, but The Farmer's Dog has 24/7 customer support, so I ruled this round a draw.
Both Ollie and The Farmer's Dog make ordering simple once you finish filling out their questionnaires. Each provides you with a recommended plan. And if you have more than 1 canine companion, both services will happily, if not cheaply, provide you with multiple plans.
Both services deliver anywhere in the continental United States. They both provide email tracking information when your order is shipped, so you can keep an eye on your delivery. You can also check the tracking information on their websites.
Ollie's support hours are 9 am to 7 pm Eastern time Monday to Friday and 10 am to 7 pm on weekends. If there are any problems with your order (for example, if your order was delayed and the food wasn't cold when you receive it), you can contact Ollie by phone or email.
You can reach The Farmer's Dog support team by phone or email, or through its Facebook or Instagram pages. Its support team is available 24/7.
To change your order or reschedule a delivery, simply go to your account page before the cutoff date (4-5 days before your next order ships) and make the changes. Ollie can cancel deliveries or ship to a new address if you and your dog are spending time at a different address.
Ollie also offers partial plans for dog parents who want to top up the food bowl with fresh Ollie food that meets 25% or 50% of their dog's caloric needs.
The Farmer's Dog sends meals every 3-8 weeks, depending on the size of your dog. You can change your order and reduce portions if you want to use your Farmer's Dog meals as a supplement, but you have to do it manually so it's a bit less convenient than Ollie.
Ollie sends meals every 2-8 weeks depending on the size of your dog. You can easily change, pause, cancel, or reactivate your subscription through your Customer Account page. Ollie and The Farmer's Dog are both subscription services and neither offers one-time orders.
Both Ollie and The Farmer's Dog typically send 1 or 2 extra days' worth of food in case of a delayed pack. Both let you pause deliveries for a bit if you get overstocked, but The Farmer's Dog also lets you put in rush orders if you run short.
How Do the Meals Arrive?
Winner: It's a tie
This was another round that was too close to call. Ollie's super-convenient packaging wins this round, but The Farmer's Dog personalized packages and recyclable insulation were hard to top. Ultimately, I decided to make this one a draw.
Both services recommend putting meals in the freezer upon opening and defrosting overnight before serving. Ollie recommends using frozen meals within 6 months, while The Farmer's Dog recommends storing them for a maximum of 4 months.
Both provide feeding instructions, including advice on transitioning to a fresh food diet. You can serve these meals straight out of the refrigerator or, if your dog prefers warmer food, bring them up to room temperature by mixing in a tiny bit of hot water.
Ollie meals arrive in a dishwasher and microwave-safe storage container. If your dog only takes part of a pack at 1 meal, you can put the rest aside in your refrigerator for tomorrow. Ollie even includes a scoop with their meals to make things easy.
Its containers and accessories are biodegradable and BPA-free, while the box and liner are curbside recyclable. Seal the pack and your remaining food is good in the refrigerator for up to 4 days. Unfortunately, its peel-back packs, which keep the food safe, aren't recyclable and must be thrown in the trash.
The Farmer's Dog sends each meal with your dog's name on it. Like Ollie, The Farmer's Dog provides a feeding tray and offers instructions on how to feed your dog and on transitioning from your old dog food.
If you're feeding a partial pack, you'll need another bag or container to store the remainder in your refrigerator. Like Ollie, The Farmer's Dog recommends you use your refrigerated remaining food within 4 days.
The Farmer's Dog uses eco-friendly cornstarch insulation. When you're done you simply put the insulation under running water. It dissolves into a harmless cornstarch slurry and goes down your drain. You have to recycle your Ollie insulation on the curb.
Winner: The Farmer's Dog
The Farmer's Dog comes in cheaper than Ollie, though the cost difference narrows when you're buying for a smaller breed.
I was offered a plan at $71.30/week after filling out Ollie's questionnaire with Mookie's information. For a 6-pound chihuahua, Ollie's meal plan costs $20.67/week. And for a 180-pound Newfoundland, a full Ollie diet will cost $118.83/week. Ollie's treats range from $9 to $10 for a 5-ounce bag, while its supplements cost $22 per 60 chews.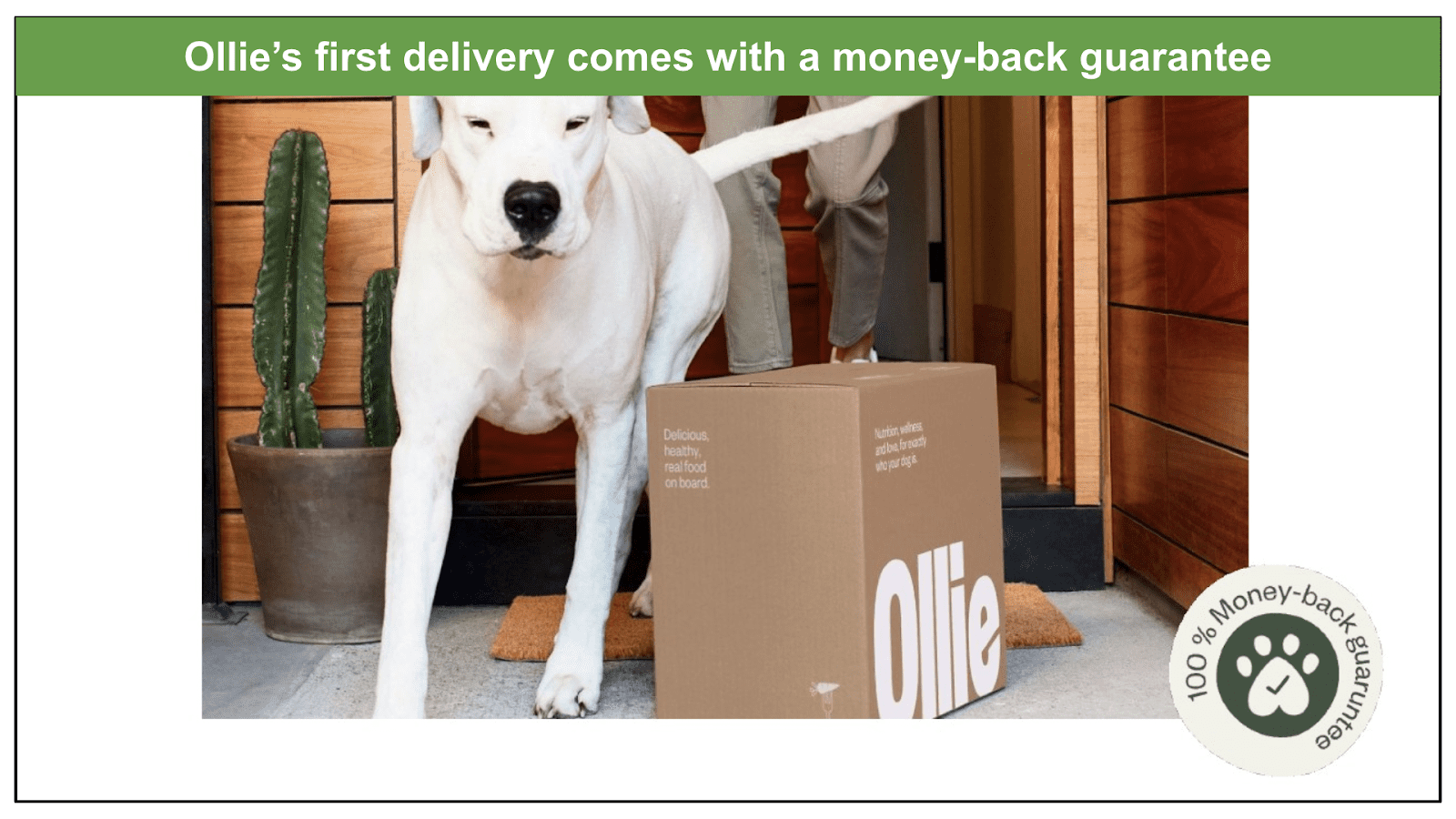 Ollie offers a money-back guarantee on your initial 2-week package if your dog doesn't like the food. Should your dog love Ollie, as is most often the case, you'll most likely receive biweekly shipments of food. Small dogs may get a box every 4 to 8 weeks since they consume less food.
You can also get a refund on your first order from The Farmer's Dog if you donate the remaining food to a local animal shelter.
The Farmer's Dog offered Mookie a plan at $65.01/week. For a 6-pound chihuahua, The Farmer's Dog offered a plan for $19.38/week. Putting a 180-pound Newfoundland on a straight The Farmer's Dog diet will set you back $116.06/week. Like Ollie, The Farmer's Dog includes shipping with the price of your subscription.
The Farmer's Dog comes in at a lower price point, though both brands are priced well within the usual range for custom fresh food services and the difference is relatively small.