bistroMD Review 2021 – "Eat Better, Not Less" to the Test
bistroMD in a Nutshell
A meal delivery service backed by medical expertise, that promises healthy weight loss without compromising on taste. In addition to carefully prepared meals, you also get a professional support team to keep you on track.
What I liked
Personalized plans backed by scientific research

Dietitian consultations and plenty of insider info

Eco-friendly packaging
What I didn't like
Shipping is expensive at $19.95

Limited choice for vegetarians, no vegan options

Five- or seven-day plans only
bistroMD Overview
The bistroMD meal delivery service is designed to make losing weight and improving health as easy and straightforward as possible. Meals are planned by a doctor and team of dietitians, and cooked by professional chefs.
bistroMD also takes a unique approach to its programs, with dedicated meal plans for diabetes and even menopause!
That being said, I had some concerns about this meal delivery service. For one thing, are the flash-frozen meals actually tasty? For another, does bistroMD's holistic meals and coaching approach actually work? I wanted to find out how well-founded these concerns were.
Here's what I discovered.
How bistroMD Works
bistroMD is not your average one-size-fits-all meal delivery service.
The founder of bistroMD is Dr. Caroline Cederquist, a certified physician specializing in bariatric medicine. She's had first-hand experience with patients that needed to lose weight under all kinds of circumstances. Cederquist has also witnessed the biggest obstacles these patients faced.
That's why she founded bistroMD with her husband – to create a weight-loss program that covers absolutely every element of weight loss, from the professional support to the food itself.
From looking at the range of programs, you can see bistroMD has put a lot of thought into its offering. There are five different plans, with different programs for men and women:
Standard : Combines the science of healthy weight loss with the convenience of chef-prepared meals.


Gluten Free : Free of wheat, rye, or barley and tested to the FDA guten-free standard.
I decided to test the Standard program as I thought it would appeal to the most people.
After I picked my program, I chose how many days I wanted to receive meals – the full program (which includes breakfast) or just lunches and dinners. I wanted to try as many meals as possible, so opted for the Full 7-Day Program .
At this point, I'd have liked to start filtering by allergy information or food preferences, but you can only customize your menu once you've filled in your personal and payment details.
I don't like this method of doing things because I prefer to see upfront what a company does and doesn't offer and whether it will suit my tastes and requirements. In this case, you have the option of working with a dietitian to customize your menu to avoid certain foods.
Once you decide which program and how many days and meals, hit "order" to go to the Create my profile page.
On the Program Options page, I could add snacks, which looked very tempting, but since I hadn't chosen my meals yet I didn't want to start with dessert (and figured I could add them later if I wanted).
It was tempting though!
Especially given bistroMD's approach to snacks – EATS, which stands for Essential and Tasty Snacks. These treats are loaded with nutrients to help cut down cravings and avoid unhealthy food decisions.
Anyway, back to the weight-loss programs.
If you fit the recommended "average woman" stats, i.e., 5'0"-5'5", you're encouraged to eat three meals on the standard plan and add two snacks that averages 1,200 calories.
For the average man (5'6"-6'0"), you're recommended 1,400 calories a day from three meals and two snacks.
If you don't fit in these guidelines, you can contact a dietitian for a customized plan to fit your body type and caloric needs.
Once you've completed your order, bistroMD's dietitians get to work creating your program according to your needs and preferences. They'll also work with you to create a unique menu geared toward your specific health conditions.
You'll get a list of meals that you can choose from to match your preferences. You can look at your menu per day, or see the entire menu for the week and approve your food in advance. You can remove any meals you don't want, and you'll never be offered them again.
Note: You can't change the recipes by adding or excluding particular ingredients. So the more ingredients you exclude, the more limited your choice of food becomes.
bistroMD Prices
bistroMD is not cheap, but there was a decent discount going on when I started to fill out my order. I was also glad to see free shipping on the first order. That's quite a saving because usually it's $19.95 a week.
Even though I chose the Standard plan , I played around with some of the other program options to check out the prices. I was pleasantly surprised they were all the same price since many other companies price each plan differently, and often charge more for niche menus.
If the full plan is out of your budget, you can choose to only get lunches and dinners delivered five days a week. That might make your weight loss a bit slower (helloooo temptation on those other two days!), but it's a bit easier on your pocket.
Just a quick heads up – you'll be charged for your second order before you've received your first delivery. That's due to the lead time cooking and delivering orders (up to six days).
bistroMD Menu
bistroMD may be a weight-loss delivery service, but a lot of thought and creativity has gone into the food. There are many tempting options among the 150+ chef-prepared entrees on offer and I was surprised (and pleased) to see a few dishes containing alcohol!
Given that these weight loss meals are prepared by dietitians, these little culinary twists aren't a given – especially since the meals clock in at under 450 calories each.
The menu is heavy on meat and chicken, so if you're a vegetarian you might feel a bit limited for choice. If you're vegan, you're out of luck. Diet-to-Go's vegetarian weight-loss meal plan might be a better option for you, particularly if you're an ovo-lacto vegetarian.
The breakfasts are also packed with protein and fiber, like these homestyle waffles with a side of scrambled eggs and sausage.
As for variety, bistroMD works hard to limit the number of duplications within each six-week program, so you won't feel you're eating the same food over and over again. bistroMD also adds new recipes so you'll be able to try something new regularly.
Losing weight on the bistroMD program breaks down into three stages:
Reclaim – take control of what you eat and start to correct your metabolism

Transform – experience metabolic adaptation to new portion sizes and calorie intake

Stabilize – it takes about six months for your body to stabilize at its new weight
The way that you manage each of these stages – which can take anywhere from weeks to months – is where the bistroMD community comes in. From professional trainers to health coaches, bistroMD promises to have your back throughout your weight-loss journey.
Here's a quick summary of bistroMD's pricing and the dietary needs it best accommodates:
bistroMD Delivery
bistroMD delivers throughout the continental US, Hawaii, and certain parts of Alaska (Anchorage, Eagle River, and Fairbanks). Your bistroMD meals can take up to six business days to arrive based on ground delivery time.
All bistroMD boxes are shipped using FedEx Ground. The meals are cooked to order and are shipped Monday through Wednesday. Note: if you place an order after 12 pm Tuesday, your box will ship the following week. However, given how long we're left waiting for grocery delivery slots these days, that timeline's not too bad.
bistroMD Unboxing
With bistroMD, I felt like I knew exactly what to expect. The hand-holding even extended to preparing me on how my box will arrive with a handy illustration:
Your box will include the meals and a menu, with a suggested order of how the meals should be eaten. Dinners and lunches are interchangeable, but bistroMD goes the extra mile to plan out a weekly menu for you. While this is just a suggestion, you'll get the best results if you follow bistroMD's advice.
Your first order will also contain a welcome kit with information to help make sure the program is successful.
When it comes to being eco-friendly, bistroMD goes further than any other weight-loss meal delivery service I've seen. Its sustainable shipping methods are comparable to organic, low-calorie meal delivery services, like Sun Basket .
The food arrives in a 100% recycled box insulated with an eco-friendly liner. This layer is made from biodegradable and compostable materials, mainly cotton that can also be reused as a hypoallergenic bed for your pet or to insulate reusable grocery bags. I just love this idea.
Favorite bistroMD Meals
One thing I can never wrap my head around when testing weight loss meal delivery services is the amount of food you get! The portions were on the generous side and left me feeling satisfied. I've always been a snacker, but I noticed less of an urge to start rummaging through the cupboards.
For example, the Spinach and Feta-Stuffed Salmon was both decadent and satisfying.
Many of the meals outline the reasons behind the ingredients. Here's what bistroMD had to say about this stuffed salmon dish: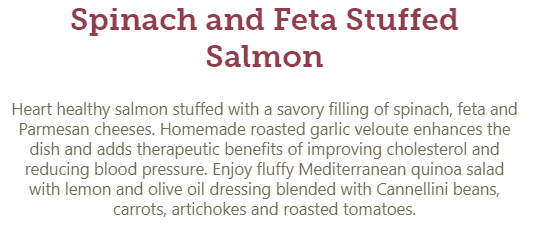 This gives you an idea of how much thought is put into designing each and every dish on the menu. And secondly – maybe even more importantly – you're learning the ins and outs of healthy eating straight from the experts. You'll retain this knowledge even if you stop ordering from bistroMD.
Another appealing dish was the Hickory Smoked BBQ Beef with Yukon Gold Potatoes. Nothing screamed "diet" about this one.
All of the meals come in microwavable containers. That means you have a delicious lunch or dinner ready in five minutes or less, with no cleanup.
Dr. Cederquist talks about how stressed out her patients were with the dilemma of eating healthier. When you're used to eating a certain way, and a certain amount, it's not easy to shift your mindset and approach to food prep. bistroMD solves that problem, giving you exactly what you need, without the stress.
bistroMD Customer Service
It's easy to get in touch with bistroMD's customer service. There are a couple of options: calling Monday to Friday from 8 am to 5 pm ET or emailing the customer support team with any questions.
One of the things that sets bistroMD's customer service apart from other meal delivery services is you can contact a dietitian directly for support. They can also create programs for specific goals and lifestyle needs, which is a great extra touch.
It was easy to make alterations to my order and to cancel the plan. You can do this by email or by calling the customer service team during business hours. To find out more about canceling your bistroMD plan, read this blog about the entire experience.
Alternatives to bistroMD
If the offered programs work for you, bistroMD has a lot to offer. If not, though, it may be worth looking into other options. Ketogenic Diet-to-Go , for example, has a dedicated menu of meals that keeps you in ketosis while effectively losing weight.
If the price tag is the problem, consider Nutrisystem's weight-loss plans . It's more affordable, although the ingredients aren't quite as healthy.
The Bottom Line
bistroMD does a great job of making weight loss stress-free. Everything is planned for you, including which meals you should eat on which day. That might sound restrictive, but it frees up headspace knowing you have registered dietitians taking care of your health. All you have to do is follow their instructions to see results.
The menu has an extensive range of choices, and I felt many of them were more creative and appetizing than other weight-loss services on the market. The six-week meal rotation and addition of new meals, means you're not likely to get bored eating the same thing.
While the upfront cost is quite hefty, once you break it down to a per-meal price, you'll see that it works out quite reasonably. And don't forget all the time and hassle you're saving yourself. That's priceless – especially now, when spending time in the grocery store isn't something you want to be doing.
As with any new, balanced diet, you aren't going to see results overnight. That's because the food is designed for long-term change rather than a crash diet approach. I recommend giving bistroMD an extended trial to see if it's the right service for you.
Given the current 25 percent discount on the first order, not to mention the free shipping offer, I'd say it's well worth a try.
FAQ
How much does bistroMD cost?
The cost of bistroMD varies according to how many days you order meals and how many meals you want to receive, so there's a lot of variation. The cheapest per portion cost is for the weekly, Full Program , which works out to $7.12 per meal or $142.46 a week at the time of writing. Shipping is extra and costs $19.95, though it's free with the first order.
Is bistroMD organic?
bistroMD has a lot of health benefits, but it isn't an organic meal delivery service. That's not to say it doesn't take its ingredients seriously! bistroMD meals don't contain phosphates, nitrates, or additives. The company also pays close attention to the sodium content of its food to keep it at healthy levels (without affecting the taste).
Does bistroMD let you set calorie limits?
bistroMD provides individual plans customized for each person in consultation with dietitians. The standard women's plan , which includes three meals and two snacks each day, is limited to 1,200 calories a day. The men's standard plan has a slightly higher calorie count at 1,400 calories. For each plan, approximately 40-45% of calories come from lean protein, 30-35% are complex carbohydrates, and 20-25% come from healthy fat.
How do you cancel bistroMD?
To cancel bistroMD, you can call the customer service team or send an email. Like most other meal delivery services, bistroMD has a strict deadline for making any changes.
To cancel or alter your order, you have to do it by 5 pm ET before your next week's order or you'll end up being charged for a box you don't want. See the full breakdown on how to cancel bistroMD in this separate blog post.