Short on Time? Here Are the Best Meal Delivery Services in Portland
The Best Meal Delivery Services in Portland Reviewed
Factor, formerly Factor75, is a great choice for Portlanders with hectic lifestyles. Its single-serving meals arrive fully prepared and simply need reheating. This takes a matter of minutes in the microwave or longer if you're using a conventional oven.
Ready-to-eat meals don't mean you have to compromise on your health as Factor supports several diets and nutritional goals. I love the sound of the Chipotle Queso Chicken from its Calorie Smart range. All of these dishes have 550 calories or less per serving.
Additional dietary support is available via a registered dietitian. This gives you a chance to get some professional coaching to help you identify or stick to your nutrition-related goals. You can book a virtual appointment through the website to get useful dietary hints and tips. This service is available even before you make an order.
Every dish is made to "restaurant quality" standards, and this is reflected in the variety on the menu. Some of the Top-Rated meals from existing customers include Butternut Squash and Sage Chicken Macaroni and Blackened Salmon.
There's a wide range of add-ons to choose from too. You're not restricted to entrees. You can add fruity smoothies, desserts, and salads.
There are a lot of choices here for those following a keto diet plan. For example, keto shakes, cookies, and even a picnic pack for food on the go. Our full Factor review includes more information on the diet plans you can choose from, and how the subscription works.
All dishes are prepared using GMO-free ingredients and use organic produce when possible. Ingredients are sourced from top-quality, sustainable suppliers. Factor assures customers that all products containing chicken or egg meet strict ethical and welfare standards. This also applies to its meat and seafood suppliers.
The ingredients are all listed so you can see at a glance whether a meal is suitable for your diet. I liked seeing allergens clearly stated and details about where the food was prepared can be checked in case cross-contamination is an issue.
The minimum order is 6 meals per week with a maximum of 18 meals per week. Pricing starts at around $6.19 per serving. The more meals you order, the lower your price per serving will be.
Key Features
USDA-certified organic produce

45+ recipes per week

Dietary options include vegan, vegetarian, keto, and more

Current deal: Get $250 off + free shipping
All of Green Chef's meal kits are organic. That means zero pesticides, antibiotics, or GMOs. In fact, it's the first meal delivery service to be certified as a USDA organic company. You can cook with responsibly sourced ingredients without the hassle of sourcing them yourself.
Most of the meal kits can be prepared in around 30 minutes, although some take a little longer. Some of the elements, such as sauces, are already prepped to save time while cooking.
As for the actual preparation, you'll need some basic skills in the kitchen. If you can chop, peel, grate, and slice, you'll find most of the recipes pretty straightforward. I like how the recipe cards list all the equipment needed so you can check you have everything to hand before starting.
Green Chef offers a good range of add-ons to supplement your order. You could choose a few extra protein servings to stretch one meal out over a couple of lunches instead.
Green Chef has plans for keto, plant-based, and gluten-free diets but you can mix and match all of its menus if you don't follow a set diet. Our full, tested review walks you through how to sign up and choose your plan.
Green Chef is great for people new to diets like keto or vegan. Keto choices include The Keto-Curious Dinner Bundle and the Keto Kickoff Sampler. This is really helpful if you're just starting out and clueless about recipes.
With premium ingredients and niche diets, you can expect a premium price tag. It's more affordable with our coupon, where prices start at $9.99 per serving.
You can order from 3 meals for 2 people up to 4 meals for 6 people each week. Green Chef is a good choice for larger families, but just check the recipes before you order in case, like me, you're blessed with a picky eater. They might not be convinced about some of the more adventurous dishes.
HelloFresh is a favorite with busy families. Portion sizes are generous and there are special family-friendly recipes to keep little ones happy. As an extra time-saver, you can opt for dishes labeled as easy prep or easy cleanup to make your mid-week dinners even less hassle.
Every shipment includes easy-to-follow recipe cards along with all the ingredients you need to make your chosen meals. If any pantry staples are required, like salt or oil, they're listed too.
If you forget to choose your meals in time, HelloFresh automatically delivers meal kits based on your chosen plan and preferences. This is a huge bonus when kids' soccer practice or dance lessons take over. You can view the full menu every week if you do need to make any adjustments.
Recipes are rated for difficulty level, so you can see at a glance how complex they are to make. Most of HelloFresh's meals are simple enough for novices, and every recipe is tested multiple times to make sure it's easy to follow. You can see what our reviewer cooked up in our in-depth review.
Most of the packaging materials can be recycled or even composted. HelloFresh is committed to sustainable business practices, and compared to other meal delivery services, which often use a lot of plastic wrappers, this is a positive change for the environment.
The majority of recipes are based on North American cuisine and are ideal for midweek meals. These include BBQ Cheddar Pork Burgers and Citrus Turkey Tacos. If you're looking for something a little more extravagant, you could opt for the Bavette Steak in a Mushroom Sauce. Recipes can also be seen up to 6 weeks in advance, which makes meal planning much easier.
HelloCustom lets you change, upgrade or swap your sides or proteins each week on some meals. This option will give you greater flexibility when catering to picky eaters. For example, you can decide whether to have crispy potatoes or broccoli with the Golden Chicken Schnitzel.
Managing your subscription plan is really easy to do online. You can make changes to your order or skip any deliveries at the touch of a button.
Prices for a HelloFresh order start at $3.32 per serving when using our coupon. The minimum order is 2 meals for 2 people per week with a maximum of 6 meals for 4 people a week.
Key Features
Breakfast and dessert options available

Over 25 recipes to choose from per week

Dietary options include high protein, low-carb, and low-calorie
Home Chef is a winner when it comes to customizable meal kits. Most of the recipes on the weekly menu have Customize It Options, which means you can swap or upgrade your protein. For example, the Black Garlic Chicken Pasta can be made with steak instead of chicken.
For busier nights, Home Chef's range of easy-prep meal kits can be made in just 15 minutes. Or for an even quicker option, there's a handful of prepared meals that simply need reheating and they're on the table before anyone whines about being hungry!
Breakfasts, drinks, and desserts are offered as add-ons to your subscription. These also include soup, bread, and snacks, which cuts down on any last-minute trips to the store.
If you feel overwhelmed with all the options, Home Chef has a handy quiz. When I first visited the site I clicked Take Our Quiz. This gave me a series of quick questions to learn what type of cook I am. The results showed I was a Wholesome Chef, which directed me to the calorie- and carb-conscious meals.
I found the recipe cards detailed and easy to follow. The instructions and helpful tips make them suitable for novice chefs. They're a good way to hone your skills in the kitchen. Have a look at our full Home Chef review to see more about the cooking process.
If you follow a specialized diet such as keto or vegan, there aren't many choices. Vegetarians will find a decent selection of options each week. Instead, I'd recommend trying Green Chef instead for a wider selection of dishes.

The minimum order for Home Chef is 2 meals for 2 people per week. Prices start at $7.99 per serving. You can order up to 6 meals for 6 people per week, so it's a good choice for larger families who want to cover most of their weekly meals.
Key Features
Access to the Home Chef menu

20+ unique recipes per week

Dietary options include high protein, low-carb, and low-calorie
Fresh and Easy is a meal delivery plan offered by Home Chef. The difference is that the Fresh and Easy meals are quicker to prepare and require much less effort. This makes it a great choice if you're looking to cut down on the time you spend in the kitchen. But even if you sign up for Fresh and Easy, you also have access to the huge menu available on Home Chef.
The Fresh and Easy plan includes a range of low-to-no-prep kits. These include 15-minute meal kits, oven-ready and grill-ready kits, and salads. Many of the recipe ingredients are prepped and ready to go. That means no fancy knife skills are required and preparation takes next to no time.
You'll be choosing from the smaller, easy-prep section of Home Chef's menu, but there are a range of cuisines on offer, from Mediterranean to Mexican, and proteins can still be swapped with the Customize It option. Dishes include Fire-Roasted Salted Chicken Tacos and Creamy Shrimp Diavolo Penne Bake.
One downside for environmentally-conscious customers is that most meal kits arrive in plastic that can't always be recycled. Our full Fresh and Easy review goes into the packaging and delivery process in greater detail.
Order sizes are the same as Home Chef, with a minimum of 2 meals for 2 people per week. Prices start at $7.99.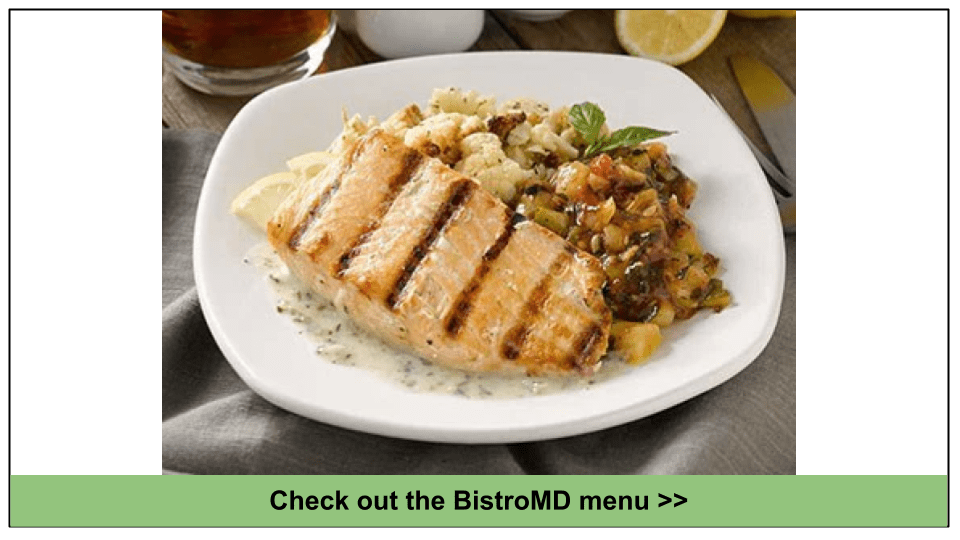 BistroMD has a huge range of 150+ menu options to choose from. Some of its options may surprise you, given its focus on weight loss – for example, the Manicotti with Vodka Marinara Sauce and Meatloaf with Honey Bourbon Glaze. It just goes to show eating healthily doesn't have to be restrictive.
If you order the full plan, this includes 7 days of breakfast, lunch, and dinner. All meals are fully prepared, so there's no meal prep or cleaning up required. Although you can't change a dietary plan once it's selected, you can go through the weekly menu and remove recipes you don't want. It's good to know that all your meals, including snacks, are chosen by dietitians.
There are different dietary programs to choose from such as the Heart Healthy, Gluten-Free, and Menopause plans. I liked the Keto Flex plan, which included some carbohydrates. This makes it much less restrictive than traditional keto diets and easier to stick to as you don't need to cut carbs completely.
If you have specific health needs, such as heart issues or diabetes, it's wise to check with your doctor before starting the plan. You can also check out the full review of BistroMD on our site to help you decide if it's right for you.
Starting at $8.24 per serving, it's one of the more expensive meal delivery services. But if you're on a specialist diet, it's very convenient. Shipping costs extra and is the same rate regardless of how many meals you order per week.
Key Features
Creative vegan recipes

20 recipes per week + breakfast and lunch

Dietary options include gluten-free, carb-conscious, and high-protein
All of Purple Carrot's meals are 100% vegan. If you're looking to include more plant-based meals in your diet, then it's a great choice. And with so much variety on offer, you'll be looking at vegetables in a completely new light.
You can choose recipes for every meal of the day. So that's breakfast, lunch, and dinner all sorted. If that's not enough, there are other plant-based offerings in the Plantry. These can be added to your weekly menu for an additional charge. I like the look of the Chocolate Glazed Mini Donuts for a special treat.
The recipes focus on using vegetables and plant proteins in a creative way. They're ideal for long-time vegans who want to try something new, as well as omnivores who want to eat more plant-based meals. Options include Miso Coconut Ramen Bowls and Maple-Chipotle Carrot Tacos. Our Purple Carrot review goes into more detail on the menu.
If 30-minute meal kits aren't your style, you can opt for the less-prep kits. These contain vegetables that have already been chopped to cut down on your slicing time. There are also a number of ready-to-heat meals that you can get on the table in under 3 minutes.
For meal kits, Purple Carrot's minimum order is 3 meals per week for 2 people and the maximum order is 3 meals for 4 people. For prepared meals, you can order 6, 8, or 10 meals per week. All prepared meals are portioned for one person. Prices start at $8.50 per serving.
Key Features
Covers all meals and snacks

Over 150 items on the menu

Dietary options include vegetarian, paleo, and diabetic-friendly
Nutrisystem is ideal for Portlanders who want to kick-start their weight-loss journey, as each Nutrisystem delivery will contain all the meals and snacks you need. Each meal contains around 200 calories per serving and when you eat little and often, as advised in the plan, it helps stop you from feeling hungry between meals.
This service operates a little differently from other meal delivery services on my list. Whatever plan you choose, your order will be delivered monthly rather than weekly. While this does mean clearing out freezer and cupboard space, it also prevents you from cheating on your weight-loss diet as you have everything you need.
Nutrisystem doesn't have a wide variety of cuisines on offer, but I love its take on popular restaurant dishes, like the Bistro-Style Toasted Ravioli. Comfort food isn't off the menu either and you can find pizzas, muffins, and, my favorite, mac and cheese.
The plans on offer can feel a bit confusing at first, but our full Nutrisystem review breaks it all down for you. Orders start with a full 28 meals for your first month. After that, you can opt to pay in advance, which can reduce costs.
Meals are premade and there aren't many customization options so it isn't great for picky eaters. If you prefer more choices and don't mind cooking for yourself, I'd recommend Blue Apron's Wellness Plan for its versatility.
Prices start at $8.54 per serving, with the 5-day Uniquely Yours Plan as the cheapest option. You can also add fat-burning shakes for an additional cost.
All Eat Clean meals arrive fully prepared to heat up in the microwave or traditional oven. So if you aren't a fan of shopping, cooking, and cleaning up, Eat Clean might be for you.
Eat Clean is a great meal delivery service for certain special diets. It offers 4 plans to choose from – Traditional, Plant-Based, Paleo, and Keto. You can find out more about each plan in our full review.
Proteins for vegan meals include chickpeas, beans, Chick'n Nuggets, and Beyond Sausage. However, if you're looking for a wide range of plant-based meals, you might struggle. I could only see 5 options on the current menu. Vegans wanting more choices might be better off with an all-vegan service like Purple Carrot.
Meals arrive fresh, so need to be stored correctly when they arrive. You can decide whether to refrigerate them or freeze them for later. After storing, you can return all packaging for recycling (delivery bags and ice packs) by leaving them out for collection on your next Eat Clean delivery day. I've not seen other services offer this and it's a great way to recycle without the hassle.
A minimum order is 4 meals per week at $8.60 per serving. It's worth noting that the more meals you order, the cheaper the cost per serving so it could be worth ordering in bulk if you have freezer space, especially as delivery is a flat rate regardless of how many you order. The maximum order is 14 meals per week.
Key Features
Wide range of cuisines to suit adventurous palates

16 meal choices each week + add-ons

Dietary options include low-calorie, diabetic-friendly, and vegetarian
Blue Apron's menu is easy to navigate, with meals listed under broad categories, including Signature, Vegetarian, and Wellness. All Wellness recipes are approved by nutritionists, and there's a good variety of calorie-conscious and carb-conscious options.

I love how easy it is to customize your weekly selection. You can choose meals to suit your diet and your schedule. When you've got a busy week, you can opt for a few Heat & Eat meals (from the Add-ons section) to cut down on food prep. The vegetarian choices are great too if you're looking to introduce meat-free Mondays.
With meals inspired by Mexican, Middle Eastern, and Mediterranean cuisines, I found plenty of options. Some particularly tempting choices include Togarashi Duck and Spicy Soy Glaze and Fontina and Panko Crusted Chicken. You can find out more about the weekly menu in our in-depth Blue Apron review.
Meal kits take around 30 minutes to prepare, which is about the average time for similar services. The instructions are clear and logical, making it really useful for kitchen newbies. The step-by-step photos in the instructions are really helpful so you can figure out exactly what to do at each stage of the cooking process.
Blue Apron also offers a range of add-ons. These include breakfasts, sides, ready-made meals, salads, and desserts like moreish Snickerdoodle Bars.
Blue Apron is great for those looking for gourmet meals on a budget. Prices start at $5.74 per serving with a minimum order of 2 meals for 2 people per week and a maximum of 5 meals for 4 people per week. If you're cooking for a family, you can find suitable dishes quickly by looking out for recipes labeled as family-friendly.
Key Features
Simple recipes that only need 6 steps or fewer
100+ easy-to-prepare meal kits
Dietary options include dairy-free, low-calorie, vegetarian, and more
Dinnerly specializes in meal kits with minimal ingredients for quick preparation. Each regular meal kit comes with 6 ingredients or fewer, and most kits take under 30 minutes to prepare. This simplicity allows you to enjoy more time at the table rather than in the kitchen.
The service offers a broad menu that focuses on choice and affordability. Dinnerly's massive menu is designed to give you more options without breaking the bank. The range includes international dishes, classic American comfort food, and much more, providing you with plenty of choices.
Quality is the main focus for Dinnerly when selecting ingredients for your meal kits. This is pleasantly surprising, considering the overall low prices. The meal kits include only the freshest fruits and vegetables, along with top-notch proteins. Some ingredients may even be sourced organically from local suppliers.
Furthermore, there are a few PremiYUM recipes each week. You can learn more about these from my colleague's Dinnerly review. Also, none of the sauces, creamers, or marinades that arrive ready-made in your meal kit contain preservatives or artificial flavors.
Dinnerly manages to cover several dietary options, but most meals are designed for a general palate. You'll find recipes for low-calorie, low-carb, and dairy-free diets, plus several options for vegetarians and vegans. However, if you're strictly vegan, you don't have that much variety.
Each recipe lists all potential allergens, enabling you to make an informed choice. However, all the kits are prepared in the same facility, so there is a risk of cross-contamination. So read the ingredient list carefully and decide based on your own dietary needs.
The meals come with customizable options. If you wish to switch up your meal, you have the option to change the protein or the side dish in most of Dinnerly's offerings. This feature allows you to add your personal touch to each dish.
Dinnerly is among the most budget-friendly meal delivery services. Prices start as low as $2.12 per serving when you order the maximum number of meals, which is 6 meals for 4 people each week. This pricing strategy places Dinnerly among the most affordable meal kit delivery options out there.
Quick Comparison Table