At a Glance: Who Won Each Category?
| | |
| --- | --- |
| 💲 Price: | The Farmer's Dog ($$2/day) |
| 🍗 Ingredient Quality: | It's a tie |
| 🍴 Recipes | PetPlate (8 recipes) |
| ⏰ Packaging and Prep | The Farmer's Dog |
| 👍 Ordering and Delivery: | It's a tie |
| 👑 Overall Winner: | The Farmer's Dog |
Winner: It's a tie!
Both companies use USDA-certified suppliers, so the ingredient quality is top-notch. The food is prepared in USDA-approved kitchens, so the standards are high, and everything follows a strict protocol for cleanliness and storage. Moreover, all recipes were designed by a veterinary nutritionist that specializes in understanding the needs of dogs.
Both companies use some of the same vitamins and minerals to help support your dog's health. For instance, salmon oil is a common ingredient that helps reduce inflammation and support eye health due to its rich Omega-3 fatty acids content.
Another commonly used ingredient is Taurine, which promotes good heart health. Taurine is easily absorbed in the proteins used in the food, so it reaches your dog's system quite easily. Lastly, both companies avoid artificial preservatives and fillers in the recipes.
PetPlate recipes each have a mix of produce and proteins, including nutrient-rich organ protein. The produce includes legumes, vegetables, fruits, grains, and seeds. Natural flavors are added to the meals, but the company doesn't go into detail about what that entails. Still, every other ingredient is clearly labeled, so you can make sure the food is according to your furry friend's needs.
Each PetPlate recipe is slow-cooked or slow-baked and packed while the food is still hot. Next, the packages are then flash-frozen and ready to ship. This way, the cooks make sure most of the nutrients remain in the food and that the food will stay fresh until your pooch is ready to eat it.
The Farmer's Dog has a similar process for cooking and packaging the meals. All of its recipes are slow-cooked at a low temperature and then flash-frozen. This helps maintain the nutrient density of the ingredients.
The makeup of the recipes is similar to PetPlate's, with a mix of protein and produce. However, none of The Farmer's Dog recipes include fruits, while some of PetPlate's recipes include apples.
Both companies use human-grade fresh produce and USDA-certified proteins. The recipes were developed by board-certified veterinarians and are slow-cooked or slow-baked (in the case of 2 of PetPlate's recipes) in USDA-grade kitchens. As a result, your furry friend is getting the highest quality, most natural nutrients available.
Meals and Customization
Winner: PetPlate
With 8 recipes, treats, and supplements on the menu, PetPlate wins this category. The Farmer's Dog only has 4 recipes, each featuring 1 protein, so PetPlate wins for the extra meal variety. Let's break down the details.
Both services ask all new customers to fill out a detailed questionnaire (9 questions long in both cases). The questionnaires inquire about the dog's breed, weight, age, activity levels, and any health issues. Based on the answers, you'll receive a menu recommendation with a mixture of recipes and quantities that best fit your dog's needs.
You can choose to go with the recommended recipes and quantities, or you can make changes before finalizing the order. Both companies allow you to create meal plans for multiple dogs, but The Farmer's Dog makes it easier to add the information of your whole pet family.
When ordering from The Farmer's Dog, you can choose from 4 different recipes (all are grain-free). The options are Beef, Chicken, Turkey, and Pork. The recipes contain only a handful of ingredients and supplements, so it's easy to understand what goes into each meal.
While you can't modify the content of any recipe, you can easily switch between the different recipes for each delivery. This makes it easy to figure out which recipe is your pooch's favorite.
The Farmer's Dog doesn't offer any treats or supplements, but you can get a DIY Nutrient Mix and cook your own recipes. The company even provides the recipes, so you only have to do the shopping and the cooking. This is a separate subscription, so if you already have a Fresh Food subscription, you have to get in touch with the customer service team for more details.
PetPlate's offer is a little different and more diverse. First, there are 6 Signature Fresh Entrees, which are slow-cooked recipes. These recipes include the 4 traditional proteins (beef, chicken, turkey, and lamb) and 2 new additions (venison and pork).
Second, there are 2 slow-baked recipes (chicken and beef), part of the FreshBaked Entrees collection. These are slow-baked recipes that have a nice crunchy texture most dogs love. The FreshBaked recipes are available in combination with the Signature Fresh recipes.
Once you select your recipes, you can choose between the Full Plan or the Topper Plan. With the Topper Plan, you mix PetPlate food with whatever dog food you want to add extra nutrients to your pup's current diet. You can also add some Chicken Apple Sausage Bites if you want to spoil your doggo with some delicious treats.
PetPlate also has a collection of Supplements you can buy a la carte as an addition to your subscription. There are 4 types of chews available in individual 4 × 9.8oz packs, or you can build your own 4-pack by combining the 4 chews and the Chicken Apple treats (which are organic).
Ordering and Delivery
Winner: It's a tie!
Both companies approach the ordering and delivery process in a similar fashion, so it's too close to call. I do like that ordering is easy in both cases, and I appreciate the fact that you can have different plans for different dogs.
With PetPlate, you have 4 major decisions to make before you can place an order:
Choose between FreshCooked and FreshCooked + FreshBaked (also called the FreshCombo plan)

Go with the recommended selection or select the recipes yourself

Choose between the Full Plan or Topper Plan (not available with the FreshCombo plan)

Decide if you want extras and make the choices. There's room for only 5 extra items on your order, and these can be all treats, all supplements, or a combination. Keep in mind that supplements and treats cost extra.
Once you've made these decisions, you can select the delivery frequency and place the order. Deliveries are scheduled based on zip codes and usually arrive in the beginning half of the week.
To change future orders, you can edit your subscription on the website with just a few clicks. You can also easily switch the type of food you're ordering, pause your subscription, or cancel.
PetPlate starts processing orders each Friday for the following week, so make sure to make your changes by then. If your current order is already in processing, your changes will apply starting with the following order.
The Farmer's Dog ordering process is similar, only there are fewer decisions to make. Once you get the recipe recommendations, all you have to do is decide if you want to follow them or not. Once you have a menu you like, you'll be directed toward checkout.
The first shipment is a 2-week taste trial to ensure your dog responds well to the food. After the trial, you'll receive regular shipments according to the schedule you set. If you need to change the frequency, the recipe options, pause, or cancel your subscription, you can use your online account.
Both companies deliver to the 48 contiguous states, and both have an accurate order tracking system. So, after placing your order, you'll receive an email confirmation and tracking details once the order is shipped.
Winner: The Farmer's Dog
The Farmer's Dog wins this category because of the way the meals are packaged. Each meal lays flat and takes up the least amount of space, making freezer storage easier than the PetPlate meals. Both can be served cold from the refrigerator.
The PetPlate meals come in small containers that stack on top of each other for storage. This can be great if your fridge has space vertically, but it can be a pain to arrange everything horizontally, especially with larger orders.
Each frozen container can be stored for up to 1 year. Before serving, the food must be defrosted in the refrigerator and must be used within 5 days of defrosting. Now, depending on the size of your pup, you might use 1 container for multiple meals.
All the materials used by PetPlate are recyclable once the containers are cleaned out and empty. If you order more than 1 type of meal, each is labeled clearly on the outside, making it easy to grab the right food. The only bummer is finding space for the containers because the packaging is more rigid than others.
The Farmer's Dog provides meals in portioned-out packaging designed for your dog's needs. All you have to do is figure out how much to feed according to the instructions on each bag. Each package lays flat, so they're easy to fit into small spaces. Also, each recipe is labeled with your dog's name, so if you have 2 or more furry friends, you won't mix things up.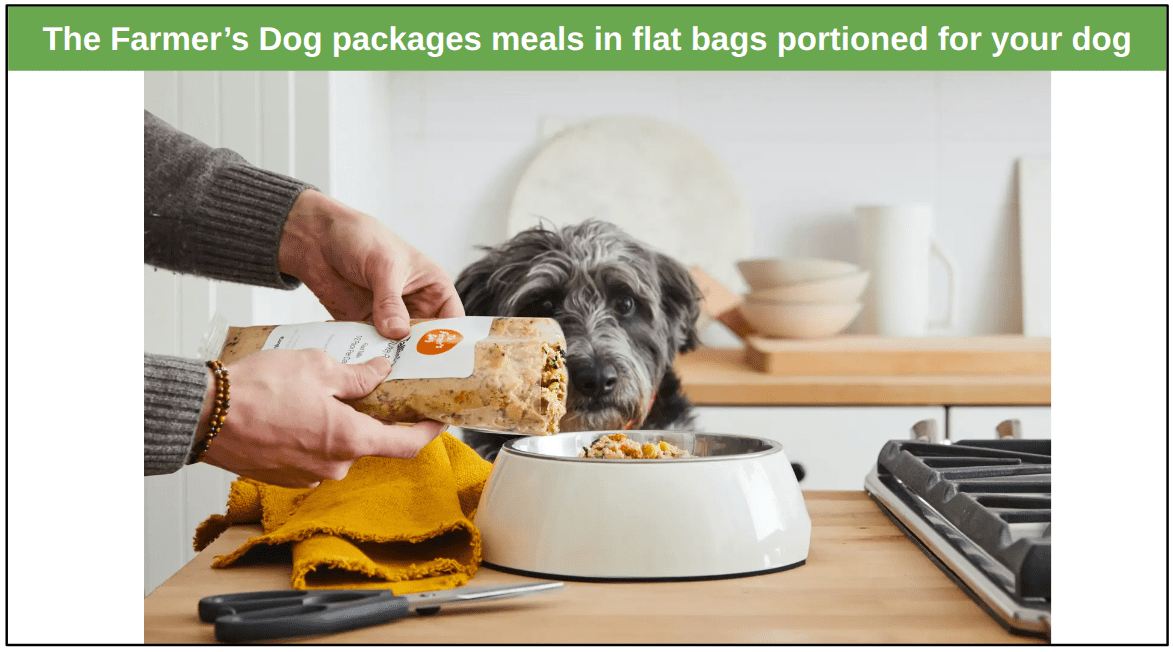 The food arrives frozen with dry ice and recyclable insulation to stay cold. You can throw it all in the freezer and move it to the fridge a few packages at a time. The food stays good in the fridge for up to 5 days, and you can keep it in the freezer for a few months. Your box includes a handy guide with all the info you need about storage and correct feeding.
The Farmer's Dog is committed to the environment. The cardboard box your order arrives in is fully recyclable, and the insulation and food storage containers are both biodegradable. What's more, all the packs are made from BPA-free materials and are non-toxic.
Winner: The Farmer's Dog
With either company, prices will depend on the size, activity level, and breed of your dog. Also, the recipes you choose may weigh in on the price. On average, The Farmer's Dog offers a lower price point for the full meal plans, so it's the winner of this category.
The PetPlate FreshCooked meals start at $2.85/day for the smallest pups. The Turkey, Chicken, and Beef recipes are the most affordable, followed by the Pork and Venison recipes. The FreshBaked recipes are also quite affordable, which is why the FreshCombo plan is great for pet parents on a tight budget.
Shipping with PetPlate is always free, regardless of which plan you get. Adding the treats to your order will cost a little more, but there's a deal with your first order – Get 61% off your first box and a FREE bag of treats or supplements.
PetPlate also offers a Topper plan if you want to try this type of food without making the full transition. The Topper plan is quite a bit cheaper, but it only covers about 25% of a dog's daily caloric intake, so you'll need to supplement with other foods.
The Farmer's Dog Fresh Plan starts at $2/day with free shipping. The DIY Nutrient Mix Plan starts at $1/week and includes free shipping, but you also have to consider the cost of the ingredients and your time.
In both cases, each dog will require a different amount of food or nutrient mix. So you can get the exact price for your pup by filling in the questionnaire. As a general rule, the beef recipes are cheaper than the chicken and turkey, so keep it in mind, as it can have an impact on your total price.
Both companies offer refunds in case your pup doesn't like the food or transit-related problems. The Farmer's Dog will offer a refund or a replacement recipe, while PetPlate gives you a refund up to 30 days after receiving the food.
PetPlate vs. The Farmer's Dog — Quick Overview



Best for

Health-conscious owners and happy furry friends

Healthy dogs with a preference for fresh food

Starting price

$2.85/day

$2/day

Shipping cost

Free

Free

Subscription

Monthly

Every few weeks (depending on the size of the dog)

Recipes

8 choices

4 choices

Meal storage

5 days in the fridge.

12 months in the freezer.

5 days in the fridge.

6 months in the freezer.

Are meals pre-portioned?

No

No

Ingredient quality

Human-grade produce and USDA-certified meats

Human-grade produce and USDA-certified meats

Free-from

Fillers, hormones, artificial preservatives

Fillers, hormones, artificial preservatives

Customizable based on:

Weight, breed, sex, age, health, allergies, activity level

Weight, breed, sex, age, health, allergies, activity level

Recalls

None

None

Money-back guarantee?

Yes, refunds are available up to 30 days after ordering

Yes, swap for other recipes or receive a refund

Our reviewer's rating

8.43/10

9.29/10

Current deal

Get 61% off your first box and a FREE bag of treats or supplements
Both companies are similar, but The Farmer's Dog is a bit better in price and packaging. If you've been thinking about trying fresh food for your dog, give The Farmer's Dog 2-week trial box a go.
Though PetPlate offers more recipes, it slightly falls short in other areas. Not just in this comparison, but The Farmer's Dog is also my recommendation among the top 3 services in our best fresh dog food services list.
FAQ
Do The Farmer's Dog meals require preparation?
The Farmer's Dog sends meals already prepared. Food arrives very cold and ready for you to put straight in the fridge or freezer. Portion sizes are determined by your dog's size, but your delivery will include instructions on how much of each package to feed your dog. You can dish it out straight from the fridge or add a little hot water if your pup prefers warmer food.
Is fresh dog food healthier for dogs?
The ingredient quality is top-notch for high-quality fresh dog food. The meals from The Farmer's Dog and PetPlate are created by board-certified veterinary nutritionists, so both are great healthy options as their recipes will deliver all the nutrients dogs need.
Is fresh dog food more expensive?
The price of fresh dog food can be higher than traditional dry food. Many services, like PetPlate, also offer a topper plan that allows you to order some of the food to supplement your current brand of dry food. This way, you provide your dog with the right nutrients without making the full transition.