Home Chef vs HelloFresh 2022: Crucial Differences Explained

Home Chef and HelloFresh are two of the biggest meal delivery services, and both regularly rank highly on our list of best meal delivery services. Home Chef and HelloFresh offer good value, family-friendly dishes, and a solid range of meal options – but which is the better meal kit delivery service for you?

With Home Chef's great customizable options and a range of low-calorie and low-carb dishes, you're likely to find something that suits you. HelloFresh, the world's largest meal delivery service, offers farm-fresh, sustainably sourced produce in its easy-to-cook meal kits.
This was a very close match between two worthy competitors. But, after careful study and a consultation with colleagues who have sampled both services, I gave Home Chef the win by a nose. Read on for a round-by-round ranking!
| | |
| --- | --- |
| 💲Price: | Home Chef (From $6.99 per serving) |
| 🍔Menu Variety: | HelloFresh (25+ choices per week) |
| ⏰Prep Time: | Home Chef (15 to 40 minutes) |
| 🍴Special Diets: | HelloFresh (8 dietary options) |
| 👍Convenience: | |
| 🙋Customer Support: | |
Menu Variety
Home Chef offers about 20 meals each week (including Vegetarian and Calorie-Conscious, so kudos!). The fare is mostly standard American food, with some more slightly adventurous options like Cajun Shrimp Tacos and Teriyaki-Lime Ahi Tuna.
Home Chef also offers some gourmet options, which are slightly pricier and take longer to prep and cook, as well as 15-Minute Meal Kits and Oven-Ready dishes for those on a busy schedule.
HelloFresh has more than 25 new recipes on the menu each week. Like Home Chef, HelloFresh offers mostly American meals, with a few global-inspired entrées like the Chimichurri Barramundi with Lemony Carrots and Garlic Couscous.
HelloFresh's more gourmet options include Hibachi Sweet Soy Bavette Steak and Shrimp, while the app lets you filter for categories such as Easy Cleanup and Easy Prep.
This was a tough call even for our panel of experts. But ultimately, HelloFresh offers more weekly choices, so we gave it this round on points.
Meal Customization
Home Chef's Customize It feature allows you to swap your protein for an alternative, double-up, or even upgrade it. Some swaps are free, while others might cost an extra few dollars. It makes for the most customizable meal kit I've ever seen though.
HelloFresh doesn't have the customization or upgrade options that Home Chef does. Instead, you'll start by choosing one of HelloFresh's six plans:
I played around with each plan, and there were always 17-20 meals to pick from, no matter which option I chose. I also really liked that the allergen information and nutritional facts are clearly displayed on each recipe card.
I think Home Chef just beats out HelloFresh here, for both the types of meal kits it offers and the customization options.
If you have specific dietary requirements, finding a meal delivery service that caters to your needs can be tricky. While both are excellent options, neither HelloFresh nor Home Chef are well-suited to people with serious allergies or specialized dietary needs.
Home Chef is the more limited of the two. When you sign up, you have the option to choose whether you're an omnivore, carnivore, pescatarian, or vegetarian, or if you want low-calorie or low-carb meals, and on the next screen, you'll be able to select from a small number of foods that you want to avoid.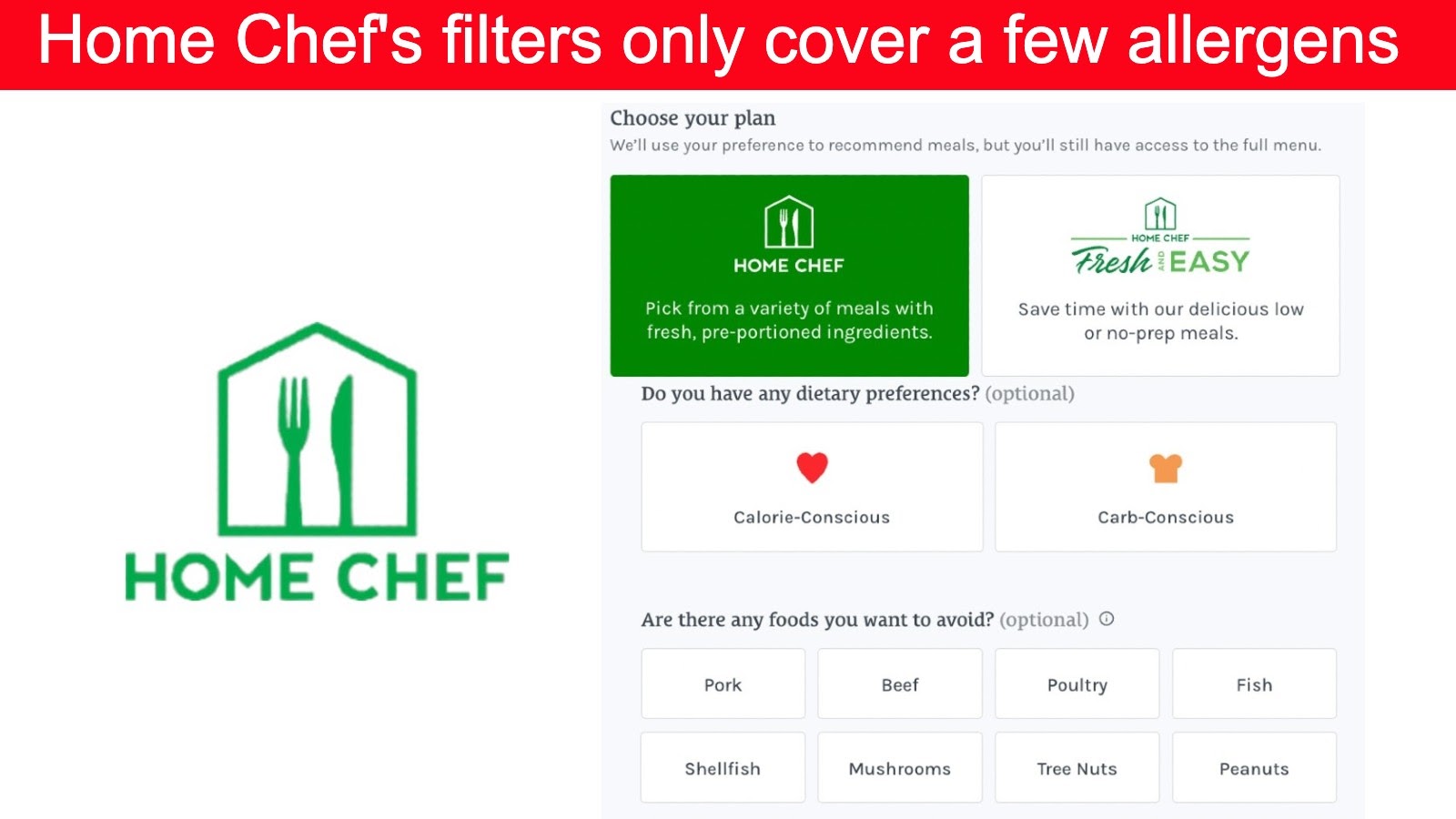 It's not quite enough if you have a serious allergy or dietary preference (there's no option to exclude egg, for example, if you'd like to make your box vegan), but if you're following a paleo diet, you might be able to make do with these options.
Things look a little better at HelloFresh, where you can choose from a range of "free" plans (beef-free, pork-free, seafood-free), as well as Veggie, Fit & Wholesome, Pescatarian, and more. Still, if you're very strict about your dietary preferences, you might still find it tricky.
I think HelloFresh just about wins over Home Chef here, simply because of those extra few plans.
Ordering, Delivery, Unboxing
Winner: It's a tie.
Both Home Chef and HelloFresh deliver your meals weekly – although the available delivery days will depend on your location. Home Chef only offered me a three-day window to receive my box, while HelloFresh offered me every day of the week.
HelloFresh also gave me an online tracking link, which allowed me to track my delivery right to my front door. Home Chef doesn't do this, although it does win out when it comes to packaging.
I try my hardest to be plastic-free, so I appreciated Home Chef's attempt to reduce its plastic use.
There was some really nice use of recyclable plastic containers, which I washed out and saved for reuse. For the most part, the loose ingredients were packed in these or paper bags.
HelloFresh was more disappointing. Its packaging was mostly recyclable but I noticed that the individual ingredients were each wrapped in plastic film – and this increased as the number of diners increased. There is information on the website about how to recycle plastic film, along with the insulator and ice packs, but I feel more work could be done here.
HelloFresh wins points for its flexibility and cool delivery tracking, while Home Chef has more eco-friendly packaging. This one is too close for even experts like us to call.
Meal Prep
Home Chef certainly gives you plenty of options when it comes to the amount of prep and skill involved. You can choose from standard meal kits that take around 30 minutes, speedier 15-Minute Meal Kits, and even a range of low- to no-prep options including Oven-Ready and Grill-Ready meals and salads.
With a range of quick and easy options, Home Chef gives you plenty of ways to fit cooking around your schedule. Alternatively, if you have more time or want to create something for a special occasion, check out its Culinary Collection – a range of premium dishes that take a little longer to make.
On the other hand, HelloFresh delivers standard meal kits for all of its recipes. Its dishes usually take around 30 minutes to prep and cook but there are "Quick" options as well as dishes that require "Lightning Prep". If your kitchen skills or equipment are limited, look out for recipes tagged as One Pan to keep things simple.
Cooking-wise, I'd say that Home Chef is a little more straightforward than HelloFresh. At times, HelloFresh's cooking instructions can be vague – there was one recipe that told me to cook my meat to my "desired doneness", which I didn't really understand, and I ended up burning the meal. The meat still tasted fine, but it wasn't perfect, as I had come to expect.
Customer Support
Home Chef has a detailed Help Center with relevant articles concerning most questions you might have about your subscription. Home Chef also offers customer support by phone (Monday to Friday: 9 am to 6 pm CST, Saturday: 10 am to 2 pm CST) or through its support ticket system.
HelloFresh has an FAQ section with "Action" buttons that will walk you through updating your account, changing your preferences, or other issues you might be having. It also has a large collection of clear, succinct articles you can search through keywords.
HelloFresh pulls ahead with its online chat feature that lets you talk with a live employee who can help you immediately with billing or item issues. Home Chef's customer service is excellent, but the company can take a day or more to get back to you.
Both Home Chef and HelloFresh make canceling your subscription easy, but HelloFresh requires you to answer a survey detailing the reason why you're canceling while Home Chef makes that survey optional. That's definitely a point in Home Chef's favor, but not enough to overcome HelloFresh's quick and convenient Live Chat.
It's a little tricky to compare Home Chef and HelloFresh when it comes to pricing.
Home Chef offers per-meal pricing, which doesn't change if you choose to order more servings per box. HelloFresh offers a set-price plan, with portion prices changing according to the number of diners and number of meals a week.
So while Home Chef's meals start from $6.99 per serving, in actual practice, these meals are mostly salads. Otherwise, you're actually looking at around $9.99 per serving. Home Chef also offers delicious-looking gourmet options, although these are slightly more expensive.
In contrast, HelloFresh's prices start from $3.79 per serving, based on an order of four or more meals a week for four people. But, you'll also have to pay a flat shipping fee of $9.99, bringing your grand total to $137.83 per week. For the same amount of food at Home Chef, you'll be looking at around $108 per week, plus a minimum of $7.99 shipping.
But how does it compare for two-person plans?
At HelloFresh, three meals per week on a two-person plan starts from $9.99 per serving, plus $9.99 shipping, which will cost you a total of $69.93 per week. The same plan at Home Chef (providing you don't buy any gourmet meals or upgrades) would cost $53.94, plus a minimum of $7.99 shipping, which comes in slightly more affordable than HelloFresh at $61.93.
For two-person plans, Home Chef definitely gets the nod, while families – especially those with children – might find the extensive menu is worth the extra cost at HelloFresh.
Features Comparison: Home Chef vs. HelloFresh
| | | |
| --- | --- | --- |
| | | |
| Best for | Meal Customization, Meal Prep | Customer Support |
| Starting price | $6.99 per serving | $3.79 per serving |
| Shipping cost | From $7.99 | $9.99 |
| Minimum order | Two recipes per week for two people | Two recipes per week for two people |
| Menu Variety | 20+ per week | 25+ per week |
| Prep Time | 15 to 40 minutes | 20 to 45 minutes |
| Convenient Options | 15-Minute Meal Kits, Oven-Ready, <30 Minutes, Grill-Ready, Fast & Fresh | Quick, One-Pan, Lightning Prep |
| Allergy Options | Wheat, Soy, Pork, Red Meat, Milk, Mushrooms, Shellfish, Nuts | Wheat, Milk, Soy, Eggs, Tree Nuts, Peanuts, Fish & Shellfish |
| Special Dietary Options | Balanced, Vegetarian, Calorie-Conscious, Carb-Conscious | Balanced, Veggie, Fit & Wholesome, Pescatarian, Beef-Free, Pork-Free, Seafood-Free, Family-Friendly |
| Customer support | Help Center, Support Tickets, Phone | Help Center, Phone, Live Chat |
| Special Dials | | |
Home Chef vs. HelloFresh was always going to be a tricky one. I enjoyed both services, and both are pretty similar in what they offer; the only real difference is the pricing structure.
If you're a serious vegan or have a different dietary need, maybe you should consider one of the other companies in our best meal delivery services roundup. But most people will find either Home Chef or HelloFresh to be a tasty and healthy way to eat better.
HelloFresh and Home Chef are America's #1 and #2 meal delivery services. While it may be second place in subscriber numbers, for us, Home Chef's Customize It feature wins the battle against German Goliath HelloFresh.
FAQ
Are Home Chef and HelloFresh the same company?
HelloFresh is the flagship brand of HelloFresh Group SE, a German conglomerate that also owns EveryPlate and Green Chef. Home Chef is owned by the supermarket chain Kroger. You can see in my side-by-side comparison above that both are solid meal delivery services aimed at a general audience.
Which is better, Home Chef or HelloFresh?
While both meal delivery services offer excellent food and customer service, I gave Home Chef the nod for its Customize It feature, which lets you swap or double-up on protein. Home Chef also wins points for availability. Before committing to a subscription, you can check out some of Home Chef's offerings at your local Kroger supermarket.
Which is cheaper, Home Chef or HelloFresh?
A family of four ordering three meals a week from HelloFresh would pay $111.87, including shipping. The same plan from Home Chef with shipping would run a bit over $115. If you're looking at smaller two-person plans, Home Chef is slightly more affordable than HelloFresh.
Is HelloFresh healthier than Home Chef?
While both offer lower-calorie options, HelloFresh's Family Friendly meals will be especially appreciated by parents trying to get their kids to eat better at home. HelloFresh also has a slightly wider range of offerings for those with specialized dietary needs.