Home Chef vs. HelloFresh 2023: Crucial Differences Explained
Home Chef and HelloFresh are two of the biggest meal delivery services, and both regularly rank highly on our list of best meal delivery services. Both services offer good value and a solid range of meal options – but which is the better meal kit delivery service for you?
Home Chef's bread and butter is its expansive customizability and flexibility. With quick-and-easy prep options and a wide variety of ingredient substitutions at your fingertips, there's something for everyone on Home Chef's menu.
HelloFresh's angle is similar, but with a particular focus on family-friendly, crowd-pleasing dishes. HelloFresh's team of chefs tests recipes over and over until they're perfected, ensuring you and your loved ones enjoy your dinners.
My team and I have closely reviewed these two titans of meal delivery, and we've compiled this in-depth comparison to help you pick the best option for your needs. At the end of the day, I decided Home Chef has a slight edge. Read on to see my round-by-round ranking!
| | |
| --- | --- |
| 💲 Price: | Tie |
| 🍔 Menu Variety: | Tie |
| ⏰ Prep Time: | (10 to 60 minutes) |
| 🍴 Customization: | |
| 👍 Ordering and Delivery | Tie |
| 🙋 Customer Support: | |
Winner: Tie
Between our two contenders, HelloFresh has the broader menu with over 50 recipes to choose from each week. The cuisine is largely American, including "Hall of Fame" dishes like Honey-Butter BBQ Pork Chops, but expect to find Asian, Italian, and other cuisines as well.
At first glance, Home Chef has a slightly smaller menu of around 30 dishes per week. However, I found there to be a great amount of variety in Home Chef's options. Beyond its customizable proteins, Home Chef offers 15-Minute Meal Kits, Oven-Ready dishes, and more.
HelloFresh offers some Easy Cleanup options and Easy Prep recipes that can be prepared in 10-15 minutes. These options are great, and the service continues to expand them, but it's yet to reach the variety I see with Home Chef.
Both services give you the cooking times listed under each meal and a difficulty level so whether you're experienced or a novice cook, you'll be sure to find something that works for you.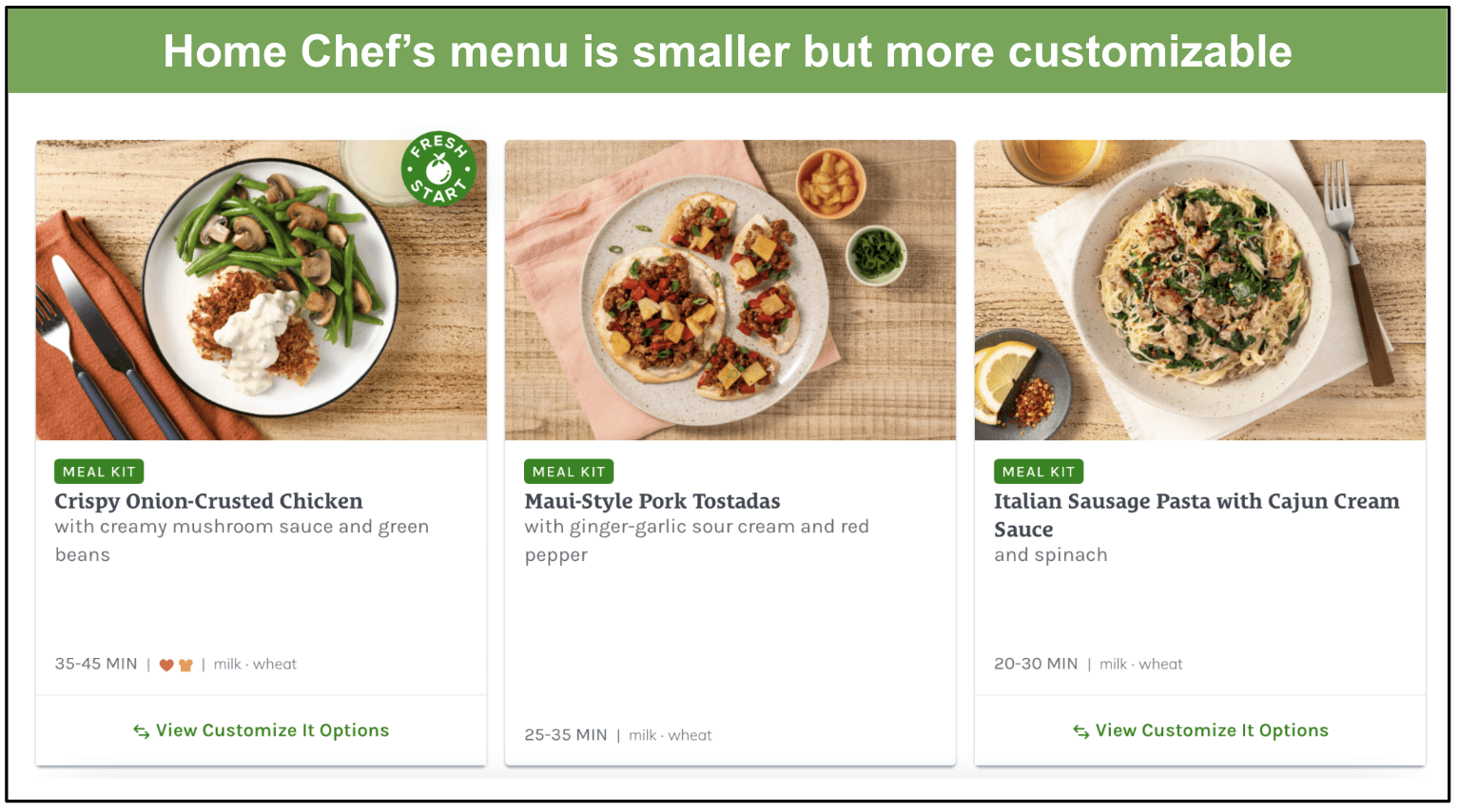 Both services allow you the option to include upgraded, gourmet recipes for an additional fee. HelloFresh calls them "Premium Picks," while Home Chef has the "Culinary Collection." Whichever alliterative term you use, these features even out.
Both services bring solid portion sizes to the table, but I should point out that Home Chef provides more options for getting extra protein, sides, and breakfasts (like chicken breasts, salads, bread, and biscuits), making it the better option for people with big appetites. HelloFresh now offers a range of 10-Min Lunches but currently doesn't have any extras beyond that.
Both services also offer a fair (but not really impressive) amount of diet-friendly recipes. Neither service offers meals for more restrictive diets like keto, paleo, or gluten free but vegetarian and low-calorie dieters will find a handful of suitable options with either service.
Home Chef does have some kid-friendly meals but HelloFresh is definitely the more family-friendly option with an entire plan dedicated to families.
Ultimately, I think HelloFresh and Home Chef are evenly matched in this category. I wouldn't feel right giving the edge to either service, so this round is a tie!
Meal Customization
Winner: Home Chef
As I mentioned, Home Chef's weekly menu appears to be smaller than HelloFresh's at first glance. But don't be deceived: Home Chef's customization options wildly expand your meal variety!
Home Chef's Customize It feature allows you to double-up on your protein, swap it out for an alternative, or even upgrade it. Some swaps are free, while others cost an extra few dollars. Regardless, this feature makes for the most customizable meal kit I've ever seen.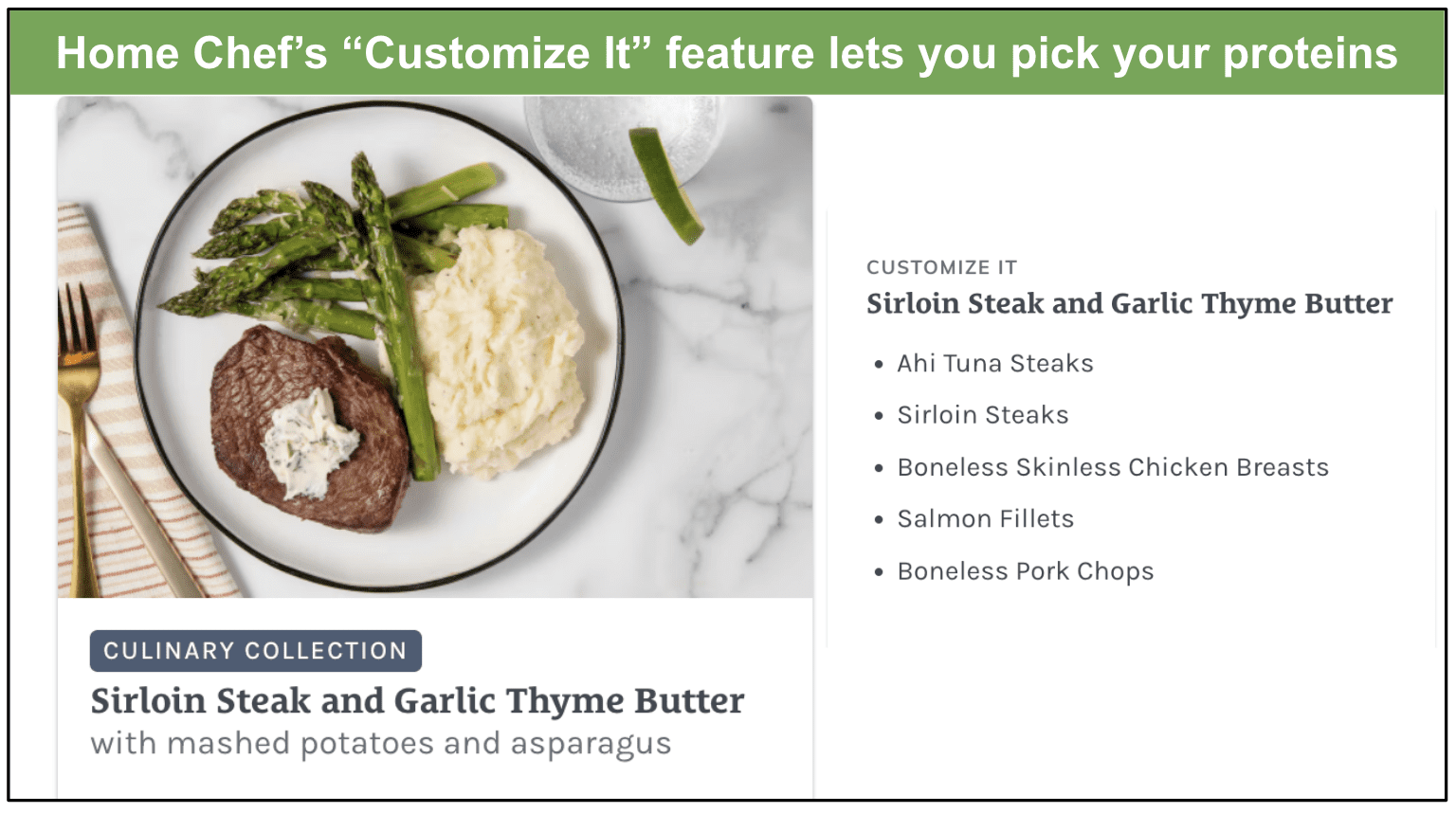 HelloFresh offers customization options on select dishes, but I found them to be pretty limited compared to Home Chef's expansive choices. Basically, you can choose between a couple of different proteins or side dishes for some recipes:
Neither service claims to offer specialized diets, though you'll find some vegetarian and other diet and allergen-friendly meals on the menu. Having said that, HelloFresh and Home Chef both give you the option to exclude certain ingredients or otherwise narrow down your personal menu. These options include things like avoiding peanuts or meat.
Although neither service lets you filter the menu based on allergens, the Home Chef menu shows the allergens on the main menu page so you can easily see which meals are suitable for you. HelloFresh does list the allergens but you have to click on each meal image to see this.
Having any customization options at all is a real treat, so I want to emphasize that both these services are ahead of the pack. Having said that, Home Chef easily wins out in this category with its much broader array of customization options.
Ordering, Delivery, Unboxing
Winner: Tie
As two of the largest and most-established meal kits on the market, it's no surprise that Home Chef and HelloFresh both have streamlined signup processes.
The whole process – from signup to unboxing – is quick and painless. Changing your order size or your weekly menu is easy too: just make the changes before the cutoff day. The cutoff for HelloFresh orders is 11:59 pm PST five days before your delivery. With Home Chef, it's Friday 12 pm CT the week before your next delivery is due.
By the way, both services offer a variety of menus and categories for your convenience, but this is really just to help streamline the process of selecting your meals. You can always go in and change what meals you want each week (again, as long as it's before your cutoff day).
Once you begin the subscription process with either service, you'll notice a few key differences. Home Chef lets you place larger orders, with up to six servings per meal. In contrast, HelloFresh maxes out at four servings per meal. The minimum order for both services is two recipes per week serving two people.
Home Chef gives you other customization options during the ordering process as well, such as the ability to adjust the number of servings on different meals in your order. Customization really is a cornerstone of Home Chef's model!
But Home Chef isn't the undisputed champ in this category. In fact, HelloFresh edges it out in several ways! First of all, HelloFresh offers more delivery day options. You also have more flexibility in making changes to your weekly shipment.
Your potential delivery days will vary depending on your address, but for me, HelloFresh offers delivery seven days a week!
Home Chef offers delivery just five days per week. And notably (for my address, at least), Home Chef doesn't offer weekend delivery. With either service, you can change your delivery day at any time.
The two contenders are also neck-and-neck in terms of packaging, with different approaches to making their services eco-friendly. Overall, I think HelloFresh does a better job of limiting its use of plastics in its packaging. The packaging is fully recyclable and extensive details can be found on the dedicated Recycling page on the HelloFresh website.
You'll also notice that HelloFresh's meals are discreetly packaged. Both services make it easy and keep the ingredients for each recipe packaged together so you don't have to waste time sorting through the entire box figuring out what ingredients belong with each recipe.
Home Chef uses less paper and more plastic in its packaging, but it still gets kudos for providing thorough recycling information on all its materials on its website.
HelloFresh's meat and seafood comes frozen, and the company recommends you store these ingredients in the freezer. Everything else comes fresh and should be refrigerated as soon as you receive your shipment.
Home Chef usually ships its meat and seafood fresh, but you can store it in the freezer if you aren't ready to cook it right away. Generally speaking, you have about five days to enjoy your meals at peak freshness (from either service).
In terms of quality, the ingredients themselves are pretty comparable between the two services. HelloFresh and Home Chef both claim to use responsibly-sourced animal products, though I will say that HelloFresh's published information on this matter is much more thorough.
Overall, each of these services has its own advantages in this category. When it comes to ordering, delivery, and unboxing, HelloFresh and Home Chef are tied.
Meal Prep
Winner: Home Chef
Home Chef gives you loads of prep options: classic Meal Kits, 15 Minute Meal Kits, Oven-Ready meals, Grill-Ready meals, and more. Fast & Fresh meals need only be microwaved, and Culinary Collection Meals features more involved, complex recipes.
I love the flexibility you get with Home Chef. Weeknights are a great time to utilize these easy-prep dishes, but that doesn't mean you can't also indulge in some more complex Culinary Collection recipes on your days off!
HelloFresh offers some similar quick and easy recipes, but I found there to be fewer than with Home Chef. I also thought HelloFresh's dishes weren't as clearly organized in terms of prep, though the one-pan or one-pot dishes offer a special level of convenience in cleanup!
Cooking-wise, I'd say that Home Chef is a little more straightforward than HelloFresh. If you're a total newbie in the kitchen, Home Chef's recipes do a better job of guiding you to a flawless dinner.
At times, HelloFresh's cooking instructions can be vague. One recipe told me to cook my meat to my "desired doneness," which I didn't really understand. This led to me overcooking the meal – something that could've been avoided with clearer instructions.
Both services offer additional convenience by including pre-portioned ingredients and dishes labeled as Easy Prep, 15 Minute Meal Kits, etc. Both also provide sauces and marinades prepped for you to keep things simple.
The two services are comparable in terms of what they expect you to provide – stuff like salt, pepper, butter, and oil. Overall, though, Home Chef gets the nod in this category.
Customer Support
Winner: HelloFresh
Home Chef has a detailed Help Center with a collection of thorough FAQs covering many of your potential needs. Home Chef also offers customer support by phone (Monday through Friday: 9 am to 6 pm CT or Saturday: 10 am to 2 pm CT) and through its support ticket system.
HelloFresh has an FAQ section with "Action" buttons that'll walk you through updating your account, changing your preferences, or other issues you might be having. It also has a large collection of clear, succinct articles you can search through keywords.
HelloFresh pulls ahead with its online chat feature that lets you talk with a live employee who can help you immediately with billing or item issues. Home Chef's customer service is excellent, but the company can take a day or more to get back to you.
Both Home Chef and HelloFresh make canceling your subscription easy, but HelloFresh requires you to fill out an exit survey (Home Chef makes that survey optional).
With either service, just make sure to make any changes or cancellations before the weekly cut-off date.
Customer support isn't likely to make or break either of these services for you, but HelloFresh's quick and convenient Live Chat easily gives it the edge for me.
Winner: Tie
It's a little tricky to compare Home Chef and HelloFresh in terms of price. Home Chef's offerings are individually priced, while HelloFresh offers a set price-per-portion. Unlike with Home Chef, HelloFresh's per-serving price goes down for larger orders.
Home Chef can be much cheaper if you only order, say, the low-price salads. But standard dinners – and especially the Culinary Collection meals – come with a higher price tag. As a result, Home Chef's week-to-week pricing can vary greatly.
When you sign up with Home Chef, you'll see the pricing advertised as $6.99 per serving. Though this number is just an average, it's comparable to HelloFresh's starting price of $3.32 per serving. Ultimately, the pricing is more or less the same with these two services.
Both offer extras and add-ons for an additional fee, but these are generally priced individually and can be added to your order at checkout.
Both services charge for shipping. HelloFresh charges a flat $9.99, but Home Chef's shipping rate varies depending on your order size. Smaller orders may cost up to $13.99, but larger orders will cost $9.99 for shipping.
HelloFresh may have the edge for families, thanks to the money you save per serving by placing a larger order. By the same token, Home Chef is a better choice for couples or individuals, since the price per serving doesn't go up for smaller orders.
Features Comparison: Home Chef vs. HelloFresh
| | | |
| --- | --- | --- |
| | | |
| Best for | Individuals or couples | Families with children |
| Starting price | $6.99 per serving | $3.32 per serving |
| Shipping cost | $9.99 to $13.99 | $9.99 |
| Minimum order | 2 recipes for 2 people | 2 recipes for 2 people |
| Menu variety | 30+ choices per week | 50+ choices per week |
| Prep time | 10 to 60 minutes | 20 to 40 minutes |
| Low-prep options | 15-Minute Meal Kits, Oven-Ready, <30 Minutes, Grill-Ready, Fast & Fresh | Quick, One-Pan, One-Pot, Easy Prep, Easy Cleanup |
| Allergies catered to | Wheat, Soy, Pork, Red Meat, Milk, Mushrooms, Shellfish, Nuts | Wheat, Milk, Soy, Eggs, Tree Nuts, Peanuts, Fish, Shellfish |
| Special diets | Balanced, Vegetarian, Calorie-Conscious, Carb-Conscious | Balanced, Veggie, Fit & Wholesome, Pescatarian, Beef-Free, Pork-Free, Seafood-Free, Family-Friendly |
| Customer support | Help Center, Support Tickets, Phone | Help Center, Phone, Live Chat |
| Promotions | | |
Home Chef vs. HelloFresh was always going to be a tricky one. My colleagues and I enjoyed both services, and both are pretty similar in what they offer. The only major difference is the pricing structure.
If you have specialized dietary needs such as gluten-free or plant-based, you'll be better served by another one of our top-rated meal delivery services. The average diner, however, will find plenty to love with either Home Chef or HelloFresh.
Although it's the top-selling meal kit in America, HelloFresh doesn't quite win out over Home Chef. For me, the wide-ranging customization options and time-saving meal ideas give Home Chef the edge.
FAQ
Are Home Chef and HelloFresh the same company?
HelloFresh is the flagship brand of HelloFresh Group SE, a German conglomerate that also owns EveryPlate and Green Chef. Home Chef is owned by the supermarket chain Kroger. You can see in my side-by-side comparison above that both are solid meal delivery services aimed at a general audience.
Which is better, Home Chef or HelloFresh?
While both meal delivery services offer excellent food and customer service, I gave Home Chef the nod for its Customize It feature, which lets you swap or double-up on protein. Home Chef also wins points for accessibility: before committing to a subscription, you can check out some of Home Chef's offerings at your local Kroger supermarket.
Which is cheaper, Home Chef or HelloFresh?
Home Chef and HelloFresh are fairly evenly priced, but it depends on the size of your order. HelloFresh's price-per-serving is lower on larger orders, making it great for families. If you're ordering just for yourself or for a couple, Home Chef is potentially the cheaper option.
Is HelloFresh healthier than Home Chef?
While both services offer lower-calorie options, HelloFresh's Family Friendly meals will be especially appreciated by parents trying to get their kids to eat better at home. HelloFresh also has a slightly wider range of offerings for those with specialized dietary needs.