7 Best Paleo Meal Delivery Services 2023 Low Effort & Healthy 123
Paleo-friendly meal delivery services are great for those new to the paleo diet, who have hectic lifestyles, and who care about high-quality, organic ingredients. There's a real buzz about the paleo diet, not least because of the fantastic results seen by so many people managing their weight and supporting their wellness.
However, there's an overwhelming number of paleo meal delivery services out there, each with a unique offering. To make this easier to digest and to find the best fit for you, we've compiled a list of the best meal delivery services for paleo dieters.
Short on Time? Here Are the Best Meal Delivery Services for Paleo of 2023
What to Look For in the Best Paleo Meal Delivery Services
Paleo meal delivery services come in a variety of styles and price ranges, but they can generally be divided into two categories: premade dishes that are delivered ready to heat and eat, and meal kits that give you all of the ingredients you need to prepare meals on your own. Whichever way you decide to go, here are some things you can look out for:
The Best Meal Prep Services
Recipes that suit your schedule – Meal kit delivery services often have recipes of differing lengths.
Premium ingredients – The healthiness of your meals starts with the quality of the ingredients. Many meal delivery services have a strong ethos in sourcing organic and in-season produce, and extra points for supporting local farmers, too!
Cooking processes you'll enjoy – Some delivery services include ingredients that are pre-chopped and some services leave it to you. So if you don't want to cut your own vegetables, make sure you pick services and recipes where the ingredients come ready prepared.
The Best Prepared Meal Delivery Services
How the meals are prepared – These are not your "TV dinner" microwave meals from decades ago. Instead, many meals are chef-prepared from superior, high-quality ingredients. Dishes are flash-frozen and shipped to your delivery address in a few days.
How to warm up your meals – Most meals come fresh or frozen, ready to store in your fridge or freezer. Meals are usually heated in the microwave, but some services also provide directions for oven or stovetop heating as well.
The boxes and packaging – Sustainability has been a primary focus for many meal delivery companies. Precooked meals come in microwave- or oven-safe containers that can be recycled or reused – as can many of the other packing materials, including the boxes themselves.
What to Look For in Both Prepared Home Delivery Meals and Meal Kits
Flexible plans – Most meal delivery services offer flexible plans that can be paused or canceled at any time. Some services also offer no-commitment a la carte options, allowing buyers to order one-off batches of meals.
Lots of recipes – Menus often change on a weekly basis, letting subscribers taste an array of flavors and spices. Recipes include easily recognizable comfort foods and dishes inspired by cultures around the globe.
Our Best Meal Delivery Services Reviewed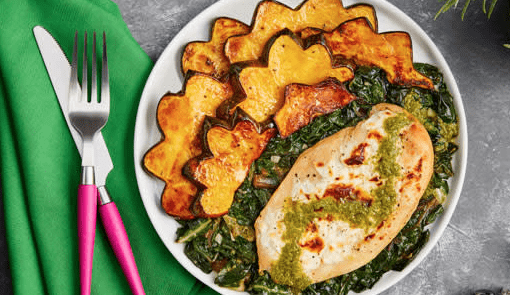 Green Chef Best Features
Boxes arrive with pre-measured ingredients and easy-to-follow recipes.

Packaging is made from recycled, reusable, or compostable materials.

Green Chef uses certified organic ingredients.
Green Chef in a Nutshell
Green Chef offers new recipes every week, ensuring you'll never get bored. All of the meals on its Paleo menu are gluten- and grain-free, allowing you to keep an eye on your carbohydrate intake. Every kit gets you organic ingredients that contain no irradiation, pesticides, antibiotics, GMOs, or growth hormones.
For the full scoop, check out this in-depth Green Chef review. Ingredients come clearly labeled and pre-measured, with signature sauces, spice blends, and marinades. Recipes take around 30 minutes to prepare and are designed by chefs to deliver amazing flavor.
Meals start at $12.99, not including shipping.
Paleo on the Go Best Features
Meals are specially sealed for a longer fridge- and freezer-life.

Commitment-free A La Carte menu available for one-time orders, including breakfasts, sides, and snacks.

Whole30 treats and desserts included in the menu.
Paleo on the Go in a Nutshell
Paleo on the Go provides premade meals perfect for both the paleo diet and the Autoimmune Protocol (AIP) diet, which removes all inflammatory foods, including nuts, eggs, dairy, nightshades, legumes, and seeds.
Paleo on the Go follows the Environmental Working Group's Dirty Dozen and Clean Fifteen guidelines by only sourcing the highest quality produce for their customers and using organic ingredients whenever possible.
Meal bundle options include the AIP Starter Pack, the Breakfast Meal Bundle, and the monthly meal bundle offering a unique menu every month. All meals arrive in microwave- and oven-safe trays ready to heat up.
Meals can be refrigerated for up to 10 days and frozen for up to six months so you can have great food on hand, whenever you need it.
There's a $99 minimum order and a flat-rate shipping cost.
Sunbasket Best Features
High-protein paleo meals, with 20-25 grams protein per serving.

100% organic ingredients.

Kits include everything you need to cook delicious meals (including in-house natural sauces and spice blends).

Options for classic meal kits and ready-made meals.
Sunbasket in a Nutshell
Sunbasket offers meal kits as well as a menu of premade Fresh & Ready dishes. It prides itself on high-quality, hand-selected seasonal ingredients, including organic produce and responsibly raised proteins. Meals in Sunbasket's Paleo menu are high in protein and fiber, with quality fats from olives, seeds, avocados, and nuts.
In addition to Sunbasket's fresh ingredients, organic eggs, and sustainable seafood, its signature sauces make these meals burst with flavor. Kits come in packaging designed to lock in freshness and are recyclable or compostable. You can learn more about Sunbasket's other menus and how it works in this dedicated Sunbasket review.
Recipes are inspired from around the globe, like the Mediterranean Turkey Kebabs with Carrot and Squash Ribbon Salad and the Vietnamese Shaking Beef with Filet Mignons and Muoi Tieu Chanh Sauce.
Meals start at $10.99 per serving.
Fresh n'Lean Best Features
Every meal of the day is covered, even snacks.

Nutritious meals delivered fresh to put healthy eating on autopilot.

Organic, fresh ingredients.

Meals delivered ready to heat and eat or freeze for later.
Fresh n'Lean in a Nutshell
Fresh n'Lean offers meals made from quality proteins, clean ingredients, and organic produce. The comprehensive Paleo menu includes meals that are high in protein (up to 42g of protein for a single dish!) and high in fiber, but low in carbs. Meals also include high-quality fats from olives, seeds, avocados, and nuts.
For the full scoop on how Fresh n'Lean works, check out our expert Fresh n'Lean review.
Meals are delivered to your home fresh and ready to heat and eat. Many dishes take inspiration from around the world, like the Chimichurri Grass-Fed Ground Beef and the Mediterranean Artichoke With Cage-Free Chicken.
Fresh n'Lean offers a simple subscription plan with a box of freshly made meals every Friday. You can also order bulk meat packages, including specialty meats like bison and elk.
Meals start at $10.99 per serving and shipping is free to all 50 states.
Pete's Paleo Best Features
Chef-prepared meals with organic, seasonal ingredients straight from farmers.

Endorsed by the paleo giants: Mark Sisson and Diane Sanfillipo.

Meals delivered the same week you order them.
Pete's Paleo in a Nutshell
Pete's Paleo was started with the goal of providing restaurant-quality paleo meals for you to enjoy in the comfort of your own home. Meals are delivered fresh and fully prepared and can be reheated in as little as 60 seconds in the microwave.
Each and every dish on the Paleo Menu is gluten-free, dairy-free, soy-free, and sweetener-free. The seasonal menu changes every week based on the farmers' harvest, ensuring the freshest and tastiest dishes.
The meal plan size has several options so you can order just a few meals or meals for an entire family! Subscribers also have some options to customize their orders with extra sides, double protein, and pork-free meals.
Meals need to be ordered by Monday night in order to receive your freshly prepared meals by Friday of the same week. Plans average about $15 per meal, and shipping is usually free.
Provenance Meals Best Features
Meals are free from gluten, dairy, and refined sugars.

The program features a mixture of fresh and frozen meals and snacks.

Includes healing foods and beverages.
Provenance Meals in a Nutshell
Provenance Meals is a nutritionist-led meal delivery service featuring highly nutrient-dense and immune-boosting dishes. The service has a membership program for regular users, but no subscription is required.
Provenance primarily serves the New York City metropolitan area, however, its flagship three-day "Feel Good Fix" detox program is available nationwide, as are items from its Wellness Shop, including everything from bone broth to granola to cacao protein powder.
Provenance's goal is to provide food that's healing and free of inflammatory triggers, utilizing traditional cooking methods like soaking, sprouting, and fermenting to make it easier for the body to absorb nutrients.
The service focuses on a "Primal" diet, which allows for some healthy fats and legumes that aren't part of a strict paleo diet. You can still enjoy a pure paleo diet through Provenance's customizable offerings, though.
Prices vary between various programs. The three-day Feel Good Fix plan starts at $198 before shipping and products arrive in compostable packaging whenever possible.
Trifecta Nutrition Best Features
Fuel your body with real, organic foods.

Lean, grass-fed proteins.

Meals designed for fat burning, high-endurance sports, and muscle gain.
Trifecta Nutrition in a Nutshell
Trifecta Nutrition is a meal delivery service designed for sports people. The company provides macro-balanced meals packed with all the nutrients you need to reach your weight loss and muscle-building goals.
Trifecta offers a variety of plans to suit any lifestyle, including a Paleo plan.
The weekly rotating menu includes exclusive recipes created by Mario Limaduran, Trifecta's professional, in-house chef. Trifecta knows how easy it can be to get bored with a diet, so it places a high value on keeping dishes fresh and interesting while remaining scientifically backed to help you eat clean, lose weight, and look great.
Meals are delivered ready to eat and are around $15. You can order one to four meals per day, five or seven days per week. Shipping is free.
Paleo Meal Delivery Services / Best Meal Delivery Services for Paleo: Comparison Table
| | | | | | |
| --- | --- | --- | --- | --- | --- |
| | Diet Preferences | Starting Price Per Serving | Meal Type | Order Options | |
| | | $7.82 | Meal kits | Weekly, biweekly, monthly | |
| | Autoimmune Protocol (AIP), keto, Whole 30, allergy-friendly, gluten-free, dairy-free | $19.80 | Prepared meals | Biweekly | |
| | High protein, paleo, low carb, low calorie, vegetarian, pescatarian, diabetes-friendly, dairy free, Mediterranean | $10.99 | Meal Kits & Prepared meals | Weekly | |
| | Organic, dairy free, gluten-free, keto, paleo, high-protein, vegan, low-carb vegan | $10.78 | Prepared meals | Weekly | |
| | | $14.94 | Prepared meals | Weekly or biweekly | |
| | | $22 | Prepared meals, comes with shakes and teas | 3-day program | |
| | | $15.49 | Prepared meals | Weekly | |
Bottom Line: Why Choose Paleo Meal Delivery?
The paleo diet is a fun and unique plan that can provide amazing results for anyone trying to lose weight or simply enjoy healthier meals. In a world filled with processed foods, the paleo diet can be difficult to stick to but a paleo meal delivery service like Green Chef or Paleo on the Go is an easy way to ensure you get the healthy meals you want.
FAQs
What is the Paleo diet?
The paleo diet—short for "paleolithic diet"—is a modern diet trend based on foods intended to mirror eating habits from the Paleolithic era (aka the Stone Age). This is why the diet is also sometimes called the "caveman diet" or the "Stone Age diet." No matter what you call it, the diet emphasizes unprocessed plant and animal products.
Nuts, fruits, and roots all feature heavily in the paleo diet, while grains, dairy, sugar, salt, coffee, alcohol, and especially processed foods are all off the menu. Some meal delivery services, like Green Chef and Paleo on the Go, specialize in providing delicious, paleo-friendly meals.
What's the difference between paleo and keto?
Paleo and ketogenic (keto) diets are easy to confuse because many foods fit into both regimens. Whereas paleo focuses on food from the Stone Age, a keto diet is more generally focused on consuming healthy fats and proteins while minimizing the consumption of carbs.
There are some distinct differences between these diets. Milk and dairy products aren't allowed on a paleo plan but are okay for keto. Fruits and starchy veggies are encouraged in paleo diets but severely limited in keto plans.
For those who can't decide between the two, Green Chef offers a unique gluten- and grain-free meal kit featuring both paleo and keto recipes.
Which meal delivery service has paleo?
No matter how you like your meals, there's a paleo meal delivery service for you.
Green Chef's Keto + Paleo plan provides everything you need to cook up delicious, paleo dishes.
For those with busy schedules, Paleo on the Go provides a variety of tasty premade paleo meals, ready to heat-and-eat. Sunbasket provides both premade and cook-it-yourself meal kits, ensuring you can enjoy healthy paleo dishes regardless of your lifestyle.
Does Blue Apron have paleo meals?
Blue Apron offers a healthy, reduced-carb meal plan, but it does not offer a specialized paleo menu.
If you're in search of paleo meal kits, try Green Chef's Keto + Paleo plan or Sunbasket's Paleo Diet Meal plan. Paleo on the Go is our top choice for premade, ready-to-eat paleo meals.