6 Best Pet Food Delivery for Small Dogs in 2023
Finding the best pet food delivery services if your pup is on the smaller side can be a bit of a challenge. You might be wondering if the portions you'll receive are too big, or if the delivery services you're considering will be too expensive. It doesn't have to be difficult though.
My team and I have researched and analyzed a number of the top options for small dogs. I've rounded up the results in this article so you can find a service that works best for your pup's needs. Whether you're looking for kibble-style, fresh, or even raw food, there's something here for all types of dogs. Even if your dog is sensitive to any ingredients or has any particular allergies, I'll show you how to find the perfect dog food delivery.
Overall, I've found The Farmer's Dog to be the best option. It offers board-certified and veterinarian-approved fresh food as well as a comprehensive quiz to help you get personalized meal recommendations. In addition, the meals are pre-portioned meals and simple to feed. There are lots of other great options on this list, so you're sure to find exactly what you're looking for.
The Best Pet Food Delivery Services for Small Dogs Reviewed
Current deal: Get 60% off on your first order!
Why I like it: What I like (and to be fair, what some other competitors are doing as well), is the comprehensive questionnaire that you fill out at the beginning. The questionnaire helps you get specialized food recommendations for your small dog by asking you about its breed, weight, and activity level. This helps ensure that you won't be sent more than is needed for your pup. All of the food is also pre-portioned for one day's worth of eating.
For a fresh dog food delivery service, the pricing here is also quite reasonable, especially compared to other services that might only offer dry food or kibble. All the ingredients are USDA-certified, human-grade, and have been designed by board-certified veterinary professionals. There also isn't a long laundry list of ingredients made up of tons of fillers and processed foods which I really like as well.
You can expect whole foods-based, nutritious ingredients like cauliflower, kale, parsnips, and sunflower seeds which have all been shown to benefit a dog's health tremendously. All the ingredients are also slow-cooked to maintain maximum nutritional value.
Overall, I can really tell that The Farmer's Dog truly cares about each and every dog out there, and just wants them to be as healthy as possible without breaking the bank.
Our reviewer said: "The service is not only convenient for pet parents (easy, no-fuss orders), but the dogs get to enjoy vet-formulated, human-grade high-quality recipes focused on their health."
Price: Fresh food starts from around $2/day for very small dogs. Though pricing can change slightly depending on the exact size of your dog, any allergies he or she has, or any health conditions that are present. You're also welcome to get a refund for your very first order if your dog doesn't like the food – as long as you donate whatever you have left over to an animal shelter of your choice.
Subscription options: Subscriptions are flexible. You can get a new box delivered every week, or pretty much any number of weeks.
Current deal: Get 60% Off Your Starter Box!
Why I like it: Ollie is another one of my favorite dog food delivery services. It's also USDA-certified, human-grade food featuring meals designed by veterinary professionals. Before being able to order, you'll have to fill out a comprehensive questionnaire. The questionnaire asks you about things like your dog's breed, weight, ideal weight, activity level, and whether he or she has any allergies or food sensitivities. This will help you get the ideal recipe for your dog to support his or her optimal health.
I also like the fact that Ollie includes super-healthy ingredients in its food like cod liver oil, organs, and lots of fruits and veggies like blueberries, peas, chicken liver, rice, and spinach. Something quite unique about Ollie as well is the inclusion of a biodegradable food scoop. This helps you portion your pup's meals perfectly without any measuring or having to think about it.
Our reviewer said: "After submitting a short quiz about your dog including its breed, size, activity levels, and food sensitivities, you'll get to choose recipes specially crafted for your pup's needs."
Price: I found the pricing to be very reasonable for a small dog at around $4-$8 per day. However, this could be slightly different depending on your pup's exact weight and how much he or she likes to eat.
Subscription options: You can get a delivery on a schedule that works for you – whether it be weekly, biweekly, or even monthly.
Current deal: Take 60% Off Your First Order
Why I like it: The number one thing I need to point out about Nom Nom is the quality level of its food. There are only around 100 board-certified veterinary nutritionists in the US and two of them are on staff and design the food at Nom Nom according to exceptionally strict AAFCO guidelines. I must say that Nom Nom probably provides some of the highest quality fresh food on the market today – though it's a very close call between The Farmer's Dog, Ollie, and Nom Nom.
In addition to four solid-quality, human-grade fresh food meals for your dog, Nom Nom offers up an impressive selection of extras as well. You can get probiotic supplements, treats, and a microbiome test kit to help you gauge your dog's exact health status. This is also helpful to see how Nom Nom's food is helping your dog's health over time. I thought that this was a pretty unique feature and one I haven't seen any other competitors doing.
Nom Nom now also cooks its food at very low temperatures to preserve as much nutrition as possible. You might've noticed that this is a common theme in this article. However, I like pointing this out as there are hundreds of poor-quality dog food brands out there that definitely don't small-batch, slow-cook their dog food.
Our reviewer said: "Nom Nom crafts delicious, nutritious recipes with fresh, whole ingredients that are balanced with essential nutrients and vitamins."
Price: Pricing for a small dog starts at around $2.40, but this can and will depend on your specific K9 buddy. No two dogs weigh the exact same, so you can expect this pricing to fluctuate according to your dog.
Subscription options: You can order one of two options – a full-portion or half-portion option on a weekly, biweekly, or monthly basis.
Current deal: $50 Off your 1st Order with code TRYNOW
Why I like it: Though on the surface, it would appear that A Pup Above is relatively similar to all other competitors here today, that's not necessarily the entire truth. For example, its food can be significantly higher in protein than some other competitors while being less heavy on carbs at the same time. All meals are prepared in a USDA-inspected facility and are cooked using the sous-vide method. This also ensures that the food doesn't get contaminated with pathogens.
Something very unique that the company is doing is offering 100% recyclable packaging, and not just the cardboard box. It partnered with another company called TerraCycle to be able to accomplish this. It's no secret that food delivery can be rough on the environment due to the carbon footprint of transportation vehicles, but also the trash that ends up in landfills. I loved seeing this super-specialized, recyclable packaging here.
Lastly, most dog food delivery services use some form of grain (or wheat). However, two of A Pup Above's meals contain zero grains. Try the Pork or Beef meals if you want your pup to avoid grains in his or her diet.
Our reviewer said:: "A Pup Above's pork and beef meals have no grains, while its chicken and turkey dinners include small amounts of healthy grains like rice and oats for your pup's complete nutrition."
Price: Pricing starts at around $7.50/lb for small dogs, but, as usual, this can fluctuate depending on your exact pup, his or her weight, and a number of other factors.
Subscription options: You can get full orders, half orders, and even one-off orders as well.
Current deal: Get 50% Off Your First Box
Why I like it: Though personally, I'm a huge fan of fresh dog food (for my dog, of course!), I do think there's a place for high-quality kibble. That's what actually sets Spot & Tango apart from the competition. It offers its own very high-quality version of kibble called UnKibble. UnKibble is basically "fresh dry" dog food containing 100% whole foods ingredients, but lasts a lot longer and costs a lot less than conventional fresh food.
It's sort of the best of both worlds. Oftentimes (if not most times), kibble can be an inferior choice for animals, and I love seeing how Spot & Tango turns that concept around entirely. Of course, you still get regular, fresh food with Spot & Tango as well – and I must say, it's some of the highest quality available. Again, all of it's formulated by veterinary professionals and meets strict AAFCO guidelines.
Each meal also has a long list of excellent superfood ingredients. It's not just about cramming as many fillers in as possible to maximize profits, rather, it's about cramming each meal with as many nutrient-dense foods that actually benefit your pup's health. Expect ingredients like red quinoa, spinach, carrots, peas, apples, eggs, parsley, apple cider vinegar, safflower oil, vegetable stock, vitamins, and minerals.
Our reviewer said: "Each ingredient is selected to maximize vitamins and minerals to make sure your doggo's getting the proper nutrition."
Price: Pricing starts at around $7 per week for the UnKibble. The fresh food will cost slightly more, of course. I recommend trying out the UnKibble first to save money – but if your dog has tried it and still prefers fresh food, you can always make the switch.
Subscription options: First, you can try out a two-week starter pack. After that, you're welcome to choose full meals or just get toppers for your current kibble. You can get deliveries every four weeks.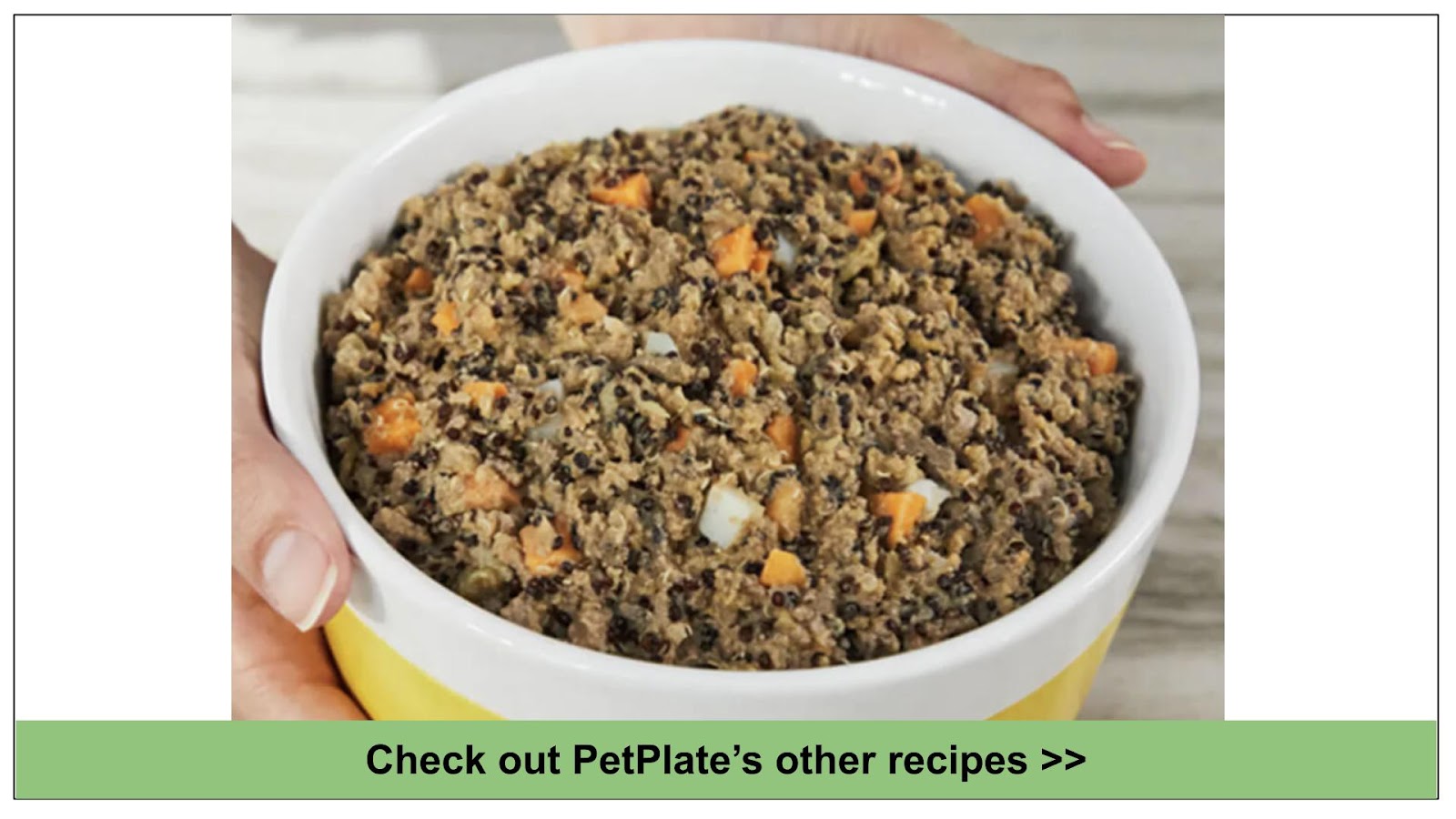 Current deal: Get 61% off your first box and a FREE bag of treats or supplements
Why I like it: I personally love PetPlate, so it was very difficult placing it in last place. Overall, don't take this one as the worst option on this list (it's one of the best!). I say that because it offers one of the largest selections of top-notch dog food on this list. In total, PetPlate offers up to six different dog food recipes.
Four of them are regular recipes – known as Signature – and include chicken, turkey, beef, and lamb. The other two are a high-fiber, high-protein pork option, and a low-fat, heart-healthy venison option. Those last two are ideal for small dogs who may have digestive issues or other sensitivities or intolerances.
Just like the other competitors on this list, all meals are also designed by veterinary professionals and cooked in kettles in small batches in USDA-approved kitchens. Of course, each meal is human-grade as well.
If you're looking for supplements or add-ons, you can get them in the form of cookies for mobility or digestion, and organic Chicken Apple Sausage Bites treats.
Our reviewer said: "With its formidable variety of healthy, human-grade food, excellent customer service, and veterinary-developed recipes, PetPlate really stood out from the competition."
Price: Pricing starts at around $2.85/day for small dogs. Again, this can vary depending on your exact pooch.
Subscription options: Choose from a full plan every two weeks, or the topper plan which includes one-quarter of the amount of food in the full plan and is delivered every four weeks. You can adjust the delivery frequency at any time from your account.
Tips for Choosing the Best Pet Food Delivery Services for Your Small Dog
Here are the most important things I looked for when choosing dog food for small pups. I highly recommend keeping these points in mind when shopping for dog food online:
Veterinarian-approved meals: Opt for a dog food delivery service that features veterinarian-approved meals and ingredients. That way, you can make sure that your dog is only eating the highest quality meals available on the market instead of poor quality ones containing tons of fillers.

Filler-free, high-quality food: Choose meals that aren't made up of mostly poor-quality fillers. Your dog deserves to eat as healthy as you do, and every dog food delivery service on this list provides human-grade dog food.

Support for small dogs: Go with a delivery service that supports dogs as small as tiny chihuahuas. This way you can make sure you're not spending too much, or getting too much food that's just going to end up going to waste.

High protein content: Choose meals that have at least 8% crude protein. High protein content is important to keep your dog healthy.
Bottom Line: What's the Best Pet Food Delivery Service for Small Dogs in 2023?
Overall, The Farmer's Dog is my top pick of the best pet food delivery services for small dogs in 2023. It offers an in-depth questionnaire that helps you get the perfect food for your puppy, fresh food approved by board-certified veterinary professionals, and pre-portioned meals that are super simple to serve. If fresh food isn't your dog's preferred eating style, there are still some other excellent options here.
For example, Spot & Tango has what's called UnKibble which is sort of a hybrid of fresh and dry food. It's made up of fresh food that's been dried slightly, making it much easier on your puppy's stomach and a lot healthier than traditional, big-brand kibble.
FAQ
What is the best home delivery dog food?
In 2023, I've found The Farmer's Dog to offer the best home delivery dog food for small dogs. It offers board-certified, veterinarian-approved fresh food, a comprehensive quiz to help you get personalized meal recommendations, and pre-portioned meals that are simple to feed.
What is the best way to feed a small dog?
In my experience, using an online questionnaire – such as the one from Ollie – is a great way to feed a small dog. It will allow you to answer questions about your dog's breed, age, weight, ideal weight (if applicable), activity levels, ingredient preferences, and any intolerances or allergies. All of Ollie's meals are also veterinarian-approved. Getting a specialized recommendation like this, in my experience, beats shopping randomly at a pet food supply store.
Can you overfeed a small dog?
Just like any mammal, it's actually much simpler to overfeed a small dog than it is a larger one. Getting the exact amount of food that's perfect for your tiny pooch can be difficult to get right on your own. That's why Nom Nom has created a professional questionnaire to help you get the exact amount of food your dog requires. What I also like about Nom Nom is that it has partnered with two of only around 100 board-certified veterinary nutritionists in the US to design perfectly balanced, human-grade food for small dogs.