Short on Time? Here Are the Best Wet Dog Food Delivery Services
The Best Wet Dog Food Delivery Services Reviewed
Key Features
The service prepares human-grade dog food

Nutrition surpasses AAFCO standards for dogs

The company doesn't play label tricks

Current deal: Get 60% off on your first order!
The Farmer's Dog offers USDA-certified food made of human-grade ingredients. Veterinarians formulate its recipes, and the company offers dog food at a great price. This is particularly true when you compare it to other brands that offer similar, high-quality dog meals.
You can choose between 4 wet food recipes for your pup. These are chicken, turkey, beef, and pork. The ingredient list is concise for all of them, so you don't pay for any low-nutritional fillers, like in the case of mainstream pet food.

All ingredients are locally sourced and slowly cooked to preserve their nutritional value. And your pup will get high-quality protein and chopped whole veggies in The Farmer's Dog's meals. This includes a bunch of very nutritious foods, from broccoli and parsnip to kale to sunflower seeds.
Get the DIY Nutrient Mix if you want to cook balanced meals for your pup at home. You can combine the mix with vitamins and minerals as you see fit. You get all the recipes and instructions you need along with it, too!
All plans are customized to fit your pup's unique nutritional needs based on the information you provide directly on the website through a detailed quiz. The questionnaire addresses various key factors, including your dog's breed, activity level, and food sensitivities. If your furry friend needs a prescription diet, you can talk to your vet to see if TFD's meals are appropriate (and usually, they are).
The Farmer's Dog food not only meets but exceeds the AAFCO standards (Association of American Feed Control Officials). Local farms are some of the reputable food providers this dog food delivery service cooperates with. Moreover, many veterinarians recommend this particular brand for overweight dogs that need to achieve a healthier weight. Check our complete review to learn more.
The Farmer's Dog's subscription options are flexible. You can get your box delivered weekly or for any number of weeks that suit you.
The service ships meals across the contiguous US using eco-friendly packaging. You can track your shipment through your online account. If you won't be available to receive the package, the excellent insulation and dry ice ensure that the items stay in good condition until 11 pm on the delivery day.
You should refrigerate The Farmer's Dog's meals since they're preservative-free. Check the box you get food in for instructions on how to store it and feed it correctly.
The cost of food for your dog depends on various factors. Some key parameters are its size, age, and health. However, the wet dog food plans start at $2/day for a small dog. And if your pet doesn't lick the bowl clean, you can ask for a refund on your first order, as long as you donate the leftover food to a dog shelter!
Ollie is a great option when it comes to USDA-certified, human-grade wet dog food. What makes it really stand out is that every recipe is packed with superfoods, like the rightly popular cod liver oil (unlike the generic "fish oil" used in many brands).
The service skips the middlemen and collaborates with distributors directly. That way, it can guarantee the highest quality of ingredients. The business gets its meat from trustworthy providers in the United States and internationally. Specifically, it buys chicken, beef, and turkey from American vendors, while it gets lamb from suppliers in America, Australia, and New Zealand.
With Ollie, your dog will benefit from plenty of nutrient-dense ingredients. The main proteins are chicken, turkey, beef, pork, and lamb (for sensitive pups). Some other ingredients are animal organs and whole veggies.
Whole foods provide a great deal of the vitamins and minerals your dog needs. So, the recipes don't have many added supplements. It also means the ingredient lists are more diverse than those from other companies.
Ollie offers baked dog food in addition to wet food. Those are basically real meat and veggies cooked in slow batches for crunchiness and convenience. You can choose a plan that combines wet and baked options if your pup is extra picky about texture. Also, combined wet and baked meals come with a lower price tag, helping you strike a balance between quality and affordability.
Your dog should eat fresh meals within 4 days of their arrival. To prolong their end date, freeze food to keep it good for up to 6 months.
Complete Ollie's brief questionnaire to tailor your dog's meals to its unique needs. The quiz asks about various factors, including your pup's breed, age, activity level, weight, and potential food sensitivities. Based on your responses, the system will suggest meals that are a good fit. Ollie's quiz is helpful, but I find The Farmer's Dog's questionnaire more detailed.
Subscription options are pretty flexible. You can get your box weekly, bi-weekly, or monthly.
Dive into our complete review for other useful information. In brief, our reviewer points out that Ollie's food is free from fillers, preservatives, and artificial colors and flavors. The conclusion is that your pup may have a superior diet to yours with this dog food subscription service.
The price of Ollie's meals depends on the plan you choose and your dog's appetite. Of course, its weight, activity level, and other factors play a big part, too. But the cost of meals starts at $4-$8 per day.
Key Features
You can order a gut health kit to test your pet's microbiome

The service has 4 fresh recipes

In-house Board Certified Veterinary Nutritionists formulate meals

Current deal: Take 60% Off Your First Order
Nom Nom is a great solution for pet-parents with more than 1 dog. From its multi-pet discounts to the healthy recipe for cats on the menu, there's a high chance you'll get quality wet meals at a better price than most other brands. And you get to feed your whole furry family with just 1 order, which is extremely convenient, to say the least.

The recipes are designed by the Board Certified Veterinary Nutritionists that work on Nom Nom's team to ensure optimal nutritional values. There's no compromise on quality, flavor, or texture either. Plus, all ingredients are human-grade, in case that wasn't obvious. Also of note is that this pet food delivery company employs 2 board-certified vet nutritionists out of around 100 in the entire USA.
The meals contain chicken, turkey, beef, and pork as the main protein sources for dogs. If you wish to feed lamb to your pup, I recommend checking out Ollie. Besides protein, Nom Nom's recipes contain veggies. Some ingredients the pet food delivery adds to its food are peas, carrots, sweet potatoes, squash, and spinach.
Nom Nom's recipes contain real food. This means that the company doesn't add harmful additives like artificial preservatives and fillers to its dishes. It cooks ingredients at low temperatures before mixing and freezing them. For this reason, your pup gets tasty food that boasts high quality and is safe for shipping.
Buy a Variety (Sampler) Pack if you're unsure whether your dog will enjoy the service's meals. The package contains 200 grams of each recipe, offering a taste test before you commit to a subscription.
But apart from these recipes, you can get some useful add-ons from Nom Nom. These are probiotic supplements for both dogs and cats and a gut health kit that you can use to test your pet's microbiome at home.
Full Spectrum Probiotics for Dogs should bolster your canine's immune system and digestion. The objective of GI Targeted Probiotics for Dogs is to aid in re-establishing digestive balance.
Take a look at the in-depth review to learn more about this service. In short, the reviewer noted that meal preparation is incredibly straightforward – simply thaw and serve. The meals come in perfect portions, courtesy of Nom Nom's uniquely designed machine, which is a 1-of-a-kind creation by the company itself. Each meal equates to 1 serving.
You have 2 subscription options – a full plan and a supplemental half-portion plan (so you can mix it in with your dog's current diet). You can get weekly, bi-monthly, or monthly deliveries.
The cost per meal varies depending on your doggo's age, weight, and activity levels.
In general, prices start at $2.40 for small dogs.
Key Features
UnKibble recipes are made with fresh ingredients

You can take a meal customization questionnaire

Vet nutritionists formulate the service's fresh meals
Spot & Tango offers 3 fresh dog food options that are balanced for puppies and adult dogs. These are Turkey and Red Quinoa, Lamb and Brown Rice, and Beef and Millet. Each recipe has 12 ingredients, all of which are GMO- and hormone-free. And these meals come in perfectly portioned packages, making them super easy to serve.
But Spot & Tango also has an unconventional fresh dry food (called UnKibble). It's cheaper and more convenient, and you can use it in combination with a fresh topper. That way, you can get the best of both worlds – all the nutrition of fresh food and money savings. Note that the company uses the Fresh Dry™ process, which gently dries food and maintains its nutritional integrity, to produce these recipes.
You can choose between 4 UnKibble recipes. These are Cod + Salmon, Beef + Barley, Chicken + Brown Rice, and Turkey + Sweet Potato. But unlike fresh recipes, which feature 12 ingredients each, these have around 15. You can find eggs, vegetables, and fruits in dog food of each type. Some of them are spinach, carrots, peas, apples, pumpkin, and strawberries.
Spot & Tango doesn't have a recipe where pork is the primary protein. If your dog prefers pork, consider subscribing to The Farmer's Dog. On the other hand, if lamb is what your 4-legged family member craves, Ollie would be a better match.
The service sources meats, fruits, and vegetables from reliable farmers and suppliers. Moreover, it uses only USDA-certified muscle and organ meats. You won't find preservatives or artificial flavors and colors in its food. The principal preservation technique for dry food is fresh drying.
Take an on-site quiz to personalize a meal plan for your canine. You'll have to specify your pet's age, gender, body condition, and activity level, for example. What I like about this quiz, in particular, is that the questionnaire covers more than 20 possible health concerns. And joint pain, diarrhea, flatulence, and urinary infections are some of them.
You can take a 2-week trial if you're unsure whether your dog will like Spot & Tango's food. A fortnight test package supplies your pet with all the essential nutrients for that period. Should you discover that the meals aren't a good fit, the company will provide you with a full refund for the trial purchase.
You'll start receiving food regularly once the 2-week trial ends. From then on, you'll get your box every week or every 2, 4, or 8 weeks, depending on your pup's portion size.
Consult our complete review to learn more about this wet dog food delivery. You'll learn how Spot & Tango prepares food and how long your order travels, among other useful information.
The cost of your purchase depends on different factors. The type of food (fresh or dry) and your pup's age and health condition are some. But the price tag starts at $7 per week.
Key Features
The service has a great pet food filtering system

Meals suit dogs in any life stage

Wet food features various proteins, including chicken and salmon
The Honest Kitchen offers a solid lineup of 11 wet recipes for dogs. Some single-protein dishes feature beef, chicken, or turkey as the principal proteins. You'll also find multi-protein combos that contain turkey and duck or beef and lamb. What's more, these wet food options boast impeccable ratings from pet owners.
If you're unsure whether your dog will enjoy food, consider grabbing the Variety Pack. It includes 3 wet food recipes, which are Roasted Beef Stew, Slow Cooked Chicken Stew, and Red Salmon & Chicken Stew. If Tender Turkey One Pot Stew or another recipe catches your eye, you'll have to add it separately. You can serve these stews as meals or toppers, as you see fit.
Each wet meal I checked suits puppies and adult canines. Also, you can order dishes 1-time or regularly. I appreciate that The Honest Kitchen sources human-grade ingredients nationwide and globally for its meals. Another thing I like as a pet owner is that vets vouch for its food.
This service boasts a series of filters that can help you shortlist options quickly. It's 1 of the most extensive filtering systems I've seen on any pet food delivery site. Filters I find especially useful for wet food options are Grains, Type of Protein, and Does Not Include.
The Grains filter has Whole Grain and Grain Free options. While researching this article, I found 5 wet grain-free options. Given the broad range of cereal-free meals across various food types, The Honest Kitchen deserves a place among the best grain-free dog food delivery services.
Use the Type of Protein filter if your dog has protein preferences. Available wet food options are Beef, Chicken, Turkey, Lamb, Duck, and Fish. Does Not Include is great for excluding ingredients your pup dislikes or is sensitive to. Some options include Flaxseed, Eggs, and White Potato.
Besides wet, The Honest Kitchen has dry and dehydrated dog (and cat) foods. But it doesn't have an on-site dog food customization quiz. I suggest going for The Farmer's Dog if you prefer personalizing your pet's food based on its unique dietary needs.
Check out our complete review of The Honest Kitchen for other details. You'll find lots of info there, like how to sign up, when the company ships products, and how long its meals can last. Also, you'll learn how to get your money back if your pooch gives the company's food paws down.
The price tag of the pet food delivery service's meals depends on different factors. The lowest cost you can pay per dish is $5.99 for dry food. But note that wet recipes tend to be pricier than dry or dehydrated food.
Key Features
The company has a Lower Carbon Options Collection

The service gets proteins from farms that apply animal welfare practices

Besides wet, the business has other meal types
Open Farm offers flexible diet plans for your furry friend. And it uses some of the most ethical ingredients you can get your paws on. All suppliers practice sustainable farming, and all fish are caught according to Oceanwise's strict sustainable fishing practices.

Each and every meal is gluten-free by design, so you don't need to worry about your dog's carb intake. However, the kitchens aren't specifically gluten-free, so if your dog has serious allergies, you might wanna check with your vet first.
You can choose from 6 wet rustic dog stew varieties. These include chicken, beef, salmon, chicken and salmon, mackerel and herring, and turkey. Besides proteins, recipes consist of various veggies and fruits, depending on your choice. For instance, Chicken & Salmon Rustic Stew contains pumpkin, carrots, and green beans, among other ingredients.
Besides wet dog food, you'll find gently cooked and RawMix meals on Open Farm's site. But dry food is where this company excels with its wide assortment, so you'll have ample options to mix and match wet and dry foods if you wish. Open Farm ranks highly on the top-rated dry dog food delivery services list compiled by our pet food expert.
I like that the business is fully transparent about ingredient origins. You can track where each ingredient originates on its website. To do so, find the lot code on the packaging and input it into the designated search bar.
Apart from meals, there are over a dozen treats you can spoil your pooch with. Some examples are salmon jerky strips, turkey treats, and pork treats.
You can also choose from several supplements to enhance your pup's health. At the time of research, Open Farm had calming, skin and coat health, immunity, hip and joint health, and probiotic chews.
I give Open Farm kudos for its sustainability efforts. It tries to minimize the environmental toll of its manufacturing process. Some of its dishes have low estimated greenhouse gas emissions, capped at 1kg CO2e or less per pound. These recipes are part of the Lower Carbon Options product line. Note that the service strives to cut its carbon footprint by 42% by 2030.
You'll learn various useful details if you read our in-depth Open Farm review. These include travel times, refund options, and who the service hires to formulate its meals.
The cost of Open Farm's packages fluctuates based on the food's type and weight. Some options are available in a range of sizes, whereas others are offered in just 1 size. Pricing starts at $7/lb without auto-shipment, but note that wet recipes are likely to be costlier than that. You can get a small discount if you opt for the Autoship option over 1-time purchase.
Key Features
The company has DIY Homemade recipes

You can consult an on-site feeding calculator

The service has diverse Variety Packs on offer
JustFoodForDogs has a varied selection of meals falling into 3 main categories. These are Fresh Frozen, Pantry Fresh, and DIY Homemade. If you feed your pet wet food for whatever reason, check out Pantry Fresh items. You'll find 9 meals that cater to various dietary and health needs there.
I found that Pantry Fresh products suit various purposes. If your pup is pretty healthy, you may go for Fresh Chicken & White Rice or Fresh Beef & Russet Potato, among other options. But if your dog deals with specific health concerns, you may wish to try Fresh Balanced Remedy, Fresh Joint & Skin Support, Fresh Hepatic Support Low Fat, or something else.
Consider buying Variety Packs to try the company's products first. It has an 8- and 4-pack and 2 different 6-packs. Depending on your choice, you may get Turkey & Whole Wheat Macaroni and Lamb & Brown Rice, among other options, in the bundle. To address a medical condition, you can only buy a dedicated Pantry Fresh item separately.
Opt for DIY Homemade blends if you'd rather make your dog's meals at home. You can pick from various proteins, including turkey, beef, fish, and venison. But if your pup is a pork fan, you won't find it here. In that case, you should check out Nom Nom, which has Board Certified Veterinary Nutritionists to formulate its meals.
JustFoodForDogs has health-boosting products across various meal types. For this reason, it ranks among the top 10 healthy dog food delivery services.
Use an on-site Feeding Calculator to level up your canine's diet. You'll start by picking 1 of 6 goals for your dog – like Boost Wellness and Eliminate Picky Eating. Then, you'll answer questions relating to potential allergies, your dog's breed, and so on. The whole thing will take only a few minutes of your time.
Or you can request a custom-made plan from a vet if your hound has a health problem that calls for a specialized diet. Some areas the service's veterinarians cover are digestive health, allergy management, and kidney and liver support. You can schedule a free nutrition consultation with a company's expert. But keep in mind that you'll have to pay a formulation fee to get the recommended food.
Take a look at our in-depth review to learn other useful info about the company. There, you'll find that each recipe contains USDA-approved ingredients, whether JustFoodForDogs is a subscription service or not, and much more.
Various factors influence the cost per meal. The type of product and the size of the box are 2 examples. But the starting price for the service's products is $6.45.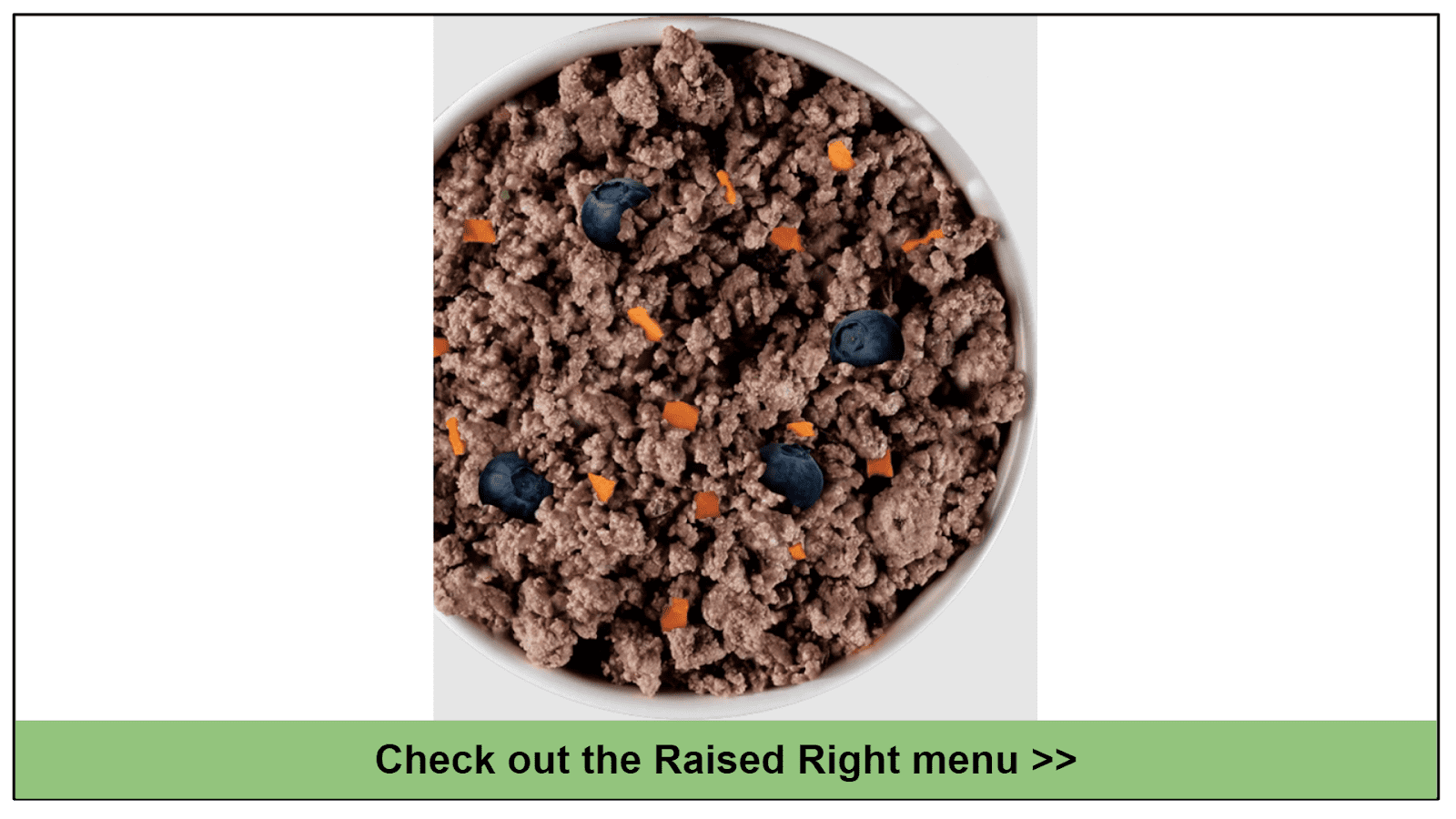 Key Features
Raised Right is plastic-neutral certified

The company cooks food in a USDA-inspected facility

You can create a custom meal plan for your pup or kitty
Raised Right puts a lot of effort into sourcing high-quality ingredients. All the recipes are cooked in USDA facilities that meet the standards required for human consumption. And every batch is lab-tested before the meals are shipped.
The recipes are designed to fit each animal's needs. Meals for puppies have 1 animal protein source (chicken, turkey, or beef). They also contain super nutritious ingredients like carrots, blueberries, organic spearmint, cod liver oil, eggshell powder, flaxseed oil, organic dried kelp, and amino acid chelates.

Adult dogs have 4 wet meals (chicken, turkey, beef, or pork), but also 4 patés where the carrots are replaced by pumpkin. The rest of the recipe contains similar ingredients to the puppy recipes, ensuring that your dog gets all the vitamins and minerals it needs, regardless of age.
Note that you can't buy meals in any random quantity with Raised Right. You've got 2 options: go for a 16-meal box or pick up a sample package with 4 16 oz bags. If you're after more flexibility, I'm sure that Ollie would be a better fit for you.
Use the on-site Custom Meal Plan tool to personalize your pet's food to some extent. While I find the feature convenient, I don't think it's especially comprehensive. At least not compared to the mealtime customization tools of other services on my Best Wet Dog Food Deliveries list. So, I suggest checking out Spot & Tango for a truly in-depth quiz that considers various factors.
Raised Right has food for cats as well. The standard cat recipes include animal protein (turkey or chicken) from the thigh, heart, and liver, plus taurine thiamine mononitrate. The patés for cats similarly use pumpkin instead of carrots. But note that cat dishes suit adult cats only.
You can buy 1-time or subscribe to get pet food regularly. If you opt for membership, you can set delivery anywhere from Every week to Every 28th week.
The pet food delivery service is big on high-quality pet food and sustainability. It partners with organizations that make a difference, like Carbonfund and rePurpose Global. That way, Raised Right invests in a greener future by offsetting carbon emissions and dealing with plastic waste. Check out our detailed review to learn more about this.
You can trace where Raised Right sources its ingredients. Scroll a bit on the company homepage to find the info. In my own digging, I found that most of its ingredients come from the USA.
The price of the package is the same whether you buy it for a doggo or a cat. Whether you buy a pate or an actual recipe, the cost is $9.99/bag. You're eligible for a refund on your first order if it turns out that your 4-legged friend dislikes Raised Right's food.
Key Features
The service has wet meals in cans and bags

The company has grain-free and grain-inclusive recipes

You can buy various treats from Jinx
Jinx is the right choice if you like preparing your dog's food at home. It has a selection of 8 wet dog food products, half of which are homemade offerings. The rest are ready-to-eat options. Since homemade products are in bags while prepared food is in cans, I find effective storage management a big bonus with the company's dishes.
The service has 3 wet homemade recipes and a Sampler Pack containing all 3. Dishes you can buy on the website are Grain-Free Chicken & Tuna Homemades, Grain-Free Chicken & Beef Homemades, and Chicken Homemades. Note that Chicken Homemades contain grain (brown rice).
Go for canned versions if you prefer feeding your pooch without prep. Note that these meals are all grain-free. You'll have a choice between Beef & Sweet Potato Pate, Chicken & Sweet Potato Pate, and Salmon & Sweet Potato Pate. You can buy a Sampler Pack containing all 3 meals to test if your canine will eat this food before committing.
With Jinx, you can buy wet food items individually, in 6-packs, or even 12-packs. If you go for sampler packs, you can buy either 3 or 36 pouches or cans, depending on whether you choose options with or without prep.
This pet food delivery service ensures that no nasty by-products make it into its recipes, wet or dry. So, you won't feed your furry friend fillers, preservatives, or any harmful artificial stuff with this service, just wholesome, real meat, fruits, and veggies. Dive into our detailed review to learn more about this.
Jinx didn't make it to our list of the top human-grade dog food delivery services. But I found that the company adds great ingredients to its meals, including over 20 natural superfoods. But if you wish to stick to foods that would suit humans, I recommend checking out The Farmer's Dog.
The company offers a variety of treats, dental chews, and meal toppers. Options include training treats, jerky, and dental chews sized for small to large dogs. If your pup is picky with its dishes, jazz it up with beef, salmon, or chicken toppers for a flavor boost.
You won't find a meal customization feature on Jinx's website. So, if your pet has particular dietary needs, you may be better off with a service that tailors food by your input. In that regard, I highly recommend taking Ollie's food personalization questionnaire.
The price of the service's food depends on various factors, like the type of food and the package. Additionally, homemade wet dishes tend to be more expensive than ready-made wet meals. You can also save a tiny amount per recipe if you subscribe. The most affordable Jinx's meal costs $30/bag.
Key Features
The company's vegetables are non-GMO

Vets approve A Pup Above's dog recipes

The service's food features high rankings from pet owners
A Pup Above only offers human-grade meals with high-quality ingredients. In other words, A Pup Above's recipes have more protein (read: fewer carbs) than most competitors. Besides, the veggies the company sources are non-GMO, and the meat is antibiotic-, steroid-, and hormone-free.
The service slowly cooks meals using the sous-vide technique, the one practiced in fancy restaurants. This helps enhance the flavor, lock in the nutrients, and ensure there's a high-quality protein in every bite. All ingredients are cooked in a USDA-approved human food facility.
A Pup Above's meals comply with AAFCO guidelines. This means it guarantees well-balanced nutrition for your dog. In accordance with this, vets approve of these dishes. The downside is that the company prepares food for adult dogs only. Consider subscribing to The Farmer's Dog if you're looking for meals tailored to puppies or suitable for all life stages.
This pet food service offers 4 different fresh food options. And each features a single protein – pork, chicken, turkey, or beef. If you're not sure which your canine will love, go for the Sampler Pack, which contains a bit of everything.
Other available sets are Poultry Free and Sensitive Stomach bundles. Poultry Free Bundle contains beef and pork recipes, while the Sensitive Stomach Bundle features chicken and turkey dishes. If your dog has tummy issues, check out the best food services for pets with sensitive stomachs for extra flexibility.
Note that beef and pork recipes are free of grains. Unlike them, chicken and turkey dishes contain beneficial grains like oats and barley. The company has dry recipes featuring the same proteins, too. And the grain distinctions apply to them, too.
You can trace the source of A Pup Above's ingredients with ease. All you have to do is input the lot number into the designated search bar on the website. Once you do, you'll discover where each ingredient hails from, be it a specific state or country. You can also find out if the ingredient is Certified Humane, non-GMO, free from pesticides, and more.
You can keep meals in the fridge for up to 7 days once you defrost and open them. What I like about the packaging is that the food comes in 1-pound individually-sealed patties, making portion control simple. Unopened and vacuum-sealed patties have a shelf life of approximately 14 days.
A Pup Above scores high in the environmentally-friendly department as well. It partners with TerraCycle, which means that all of its packaging, not just the cardboard boxes, ends up recycled. Check out the insightful review to learn the procedure.
Several factors affect the cost per meal. Your subscription status, the type of food, and the size of the package are some. Pricing begins at $7.50/lb.
Quick Comparison Table



Starting Price

Minimum Order

Meal Type

Shipping

Active Deals

$2/day

2-Week Starter Pack

Wet, DIY Nutrient Mix

Free

Get 60% off on your first order! from The Farmer's Dog

$4-$8 per day

2-Week Starter Pack

Wet

Free

70% Off your first box + FREE bowl and jerky strips from Ollie

$2.40

2-Week Starter Pack

Wet

Free

Take 60% Off Your First Order from Nom Nom

$7 per week

2-Week Starter Pack

Wet, UnKibble Fresh Dry

Free

Get 50% + FREE Chicken Bites on TWO orders from Spot & Tango

The Honest Kitchen

$5.99 for dry food

$5.99

Wet, Dry,Slow Cooked, Nutrient-Dense

$5.00, free on orders over $49.00

Up to 60% Off! Code: FALLSALE. from The Honest Kitchen

Open Farm

$7/lb without auto-shipment

No Minimum

Wet, Dry, Freeze Dried, Gently Cooked

$5.99, or Free for Orders over $50

Save 15% Off Your First Order With Code: HELLO15 from Open Farm

Just Food For Dogs

$6.45

7.8lb Bag

Wet, Fresh Frozen, Pantry Fresh (shelf-stable), DIY Nutrient Blend

$10, or Free for Auto-ship Deliveries

Save 40% off your first order and 5% off recurring autoship orders! from Just Food For Dogs


$9.99/bag

4 Bags of 1lb

Wet

$9.99 for Sample Box, or Free for Full Box

20% Off Your First Box (16 Bags) from Raised Right

$30/bag


No minimum


Freeze Dried


$5 for orders less than $35; free shipping over $35


A Pup Above

$7.50/lb

3lb bag

Wet

$15, or Free when you order 3 or more Bags


$50 Off

your 1st Order with code TRYNOW from A Pup Above

Tips for Choosing the Best Wet Dog Food Delivery Services
Differentiating the best wet dog food deliveries from the rest is easy with the right criteria. Stick to the following unwritten rules to figure out which 1 is right for your pup:
FAQ
What is the best wet dog food?
After careful deliberation, The Farmer's Dog takes the win. It's more affordable than other fancy options but still offers you human-grade ingredients, 4 vet-crafted recipes to choose from, and a customized meal plan for your pup's unique dietary needs. And it has DIY Nutrient Mix catering to pet owners cooking meals for their doggos at home.
What is the cheapest wet dog food?
Ollie is one of the most affordable wet dog food options, especially considering our special discount. It features wet fresh food that's healthier than the mainstream brand you'd usually find in stores. It comes in 5 different protein varieties to suit your pup's preferences and dietary needs. And the subscription is really convenient.
Is wet food healthier for dogs?
Yes, it is. Ultra-processed dog food like conventional kibble is a poor option for your dog's health, so human-grade wet food comes to the rescue. Take the vet-approved Nom Nom as an example. It has wet dog food on the menu, but also supplements like probiotics and gut-health kits that help you detect any digestive problem your pup might have.

Best Wet Dog Food Delivery in 2023 – Final Score