Freshpet vs. The Farmer's Dog 2022: Variety or Convenience?
So, your little buddy wants an upgrade in food? Freshpet offers a massive amount of variety. The Farmer's Dog offers the convenience of an online delivery service. Both have high-quality meals. Which is better? In this case, I'm going with The Farmer's Dog.
If they served humans, I would give the nod to Freshpet due to its massive number of options. But when it comes to dog food, variety isn't necessarily good. Well, once you've made your choice, that is. According to the vets I know, dogs don't tolerate too much change in their diet.
So, having a limited selection is actually a plus when it comes to feeding your dog. Plus, the convenience of getting your food consistently from an online site on a regular schedule is an added bonus. So, in this case, The Farmer's Dog gets the gold.
At a Glance: Who Won Each Category?
| | |
| --- | --- |
| ? Price: | The Farmer's Dog ($2/day per serving) |
| ? Ingredient Quality: | |
| ? Recipes | Freshpet (45 recipes) |
| ⏰ Packaging and Prep | |
| ? Ordering and Delivery: | |
Winner: The Farmer's Dog
This category proved to be a close call, but after careful analysis, I gave the nod to The Farmer's Dog because it uses human-grade meats and veggies to create its dog food.
The most critical factor in determining the winner of this category was the grade of ingredients used. Although Freshpet runs a close second, because it uses natural, fresh ingredients, human-grade ingredients are still a step above. So, The Farmer's Dog gains an edge.
The Farmer's Dog provides food that's made in USDA kitchens and exceeds the normal industry standard required for dog food established by the AAFCO. Its recipes are developed with the help of veterinary nutritionists. The Farmer's Dog makes sure it doesn't use any meals such as chicken meal, or any preservatives in its food.
Freshpet does a fair job itself. It develops dog foods made with all-natural, fresh ingredients that include such things as farm-raised chicken and beef, and 100% all-natural protein. Its food is made primarily in the USA and is free of artificial preservatives, antibiotics, and other unnatural chemicals. Freshpet food is also free of corn, wheat, and rendered meals.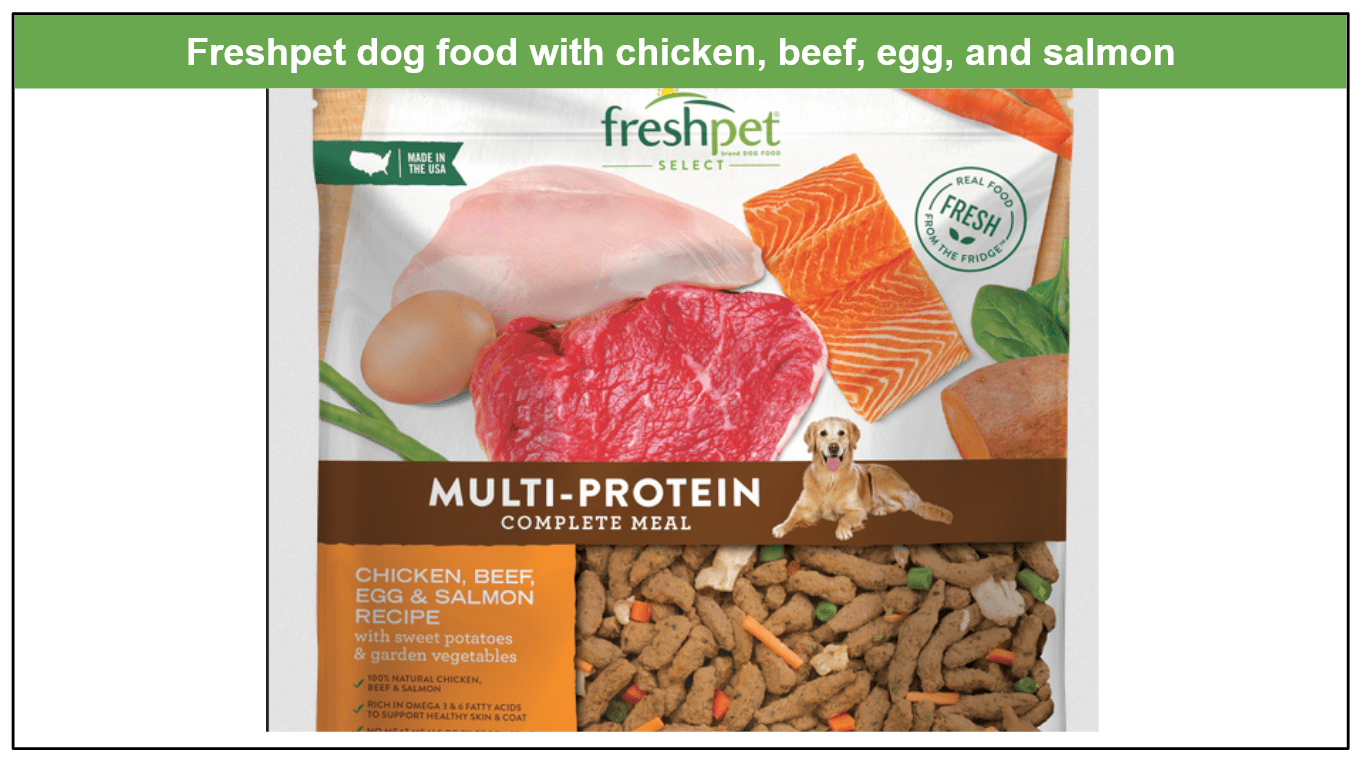 Around 97% of all the ingredients used by Freshpet come from either the USA or Canada. All poultry and meats come from suppliers that are registered with the USDA and APHIS and follow the appropriate guidelines. The fish used comes from sources registered with USDC and NOAA.
To get an idea of approximate protein content, I did a random comparison between The Farmer's Dog Beef meal. and the Freshpet Select Beef and Bison meal. The protein content of The Farmer's Dog food was 11% as-fed. For the Freshpet food, it was a little lower at 8.5%.
Both companies are comparable in terms of product development. Both use veterinary nutritionists to help develop meals and meal plans for the animals they serve. Each company takes into account many factors like breed, age, activity level, and more. Similarly, both companies gently cook the meals they prepare to retain nutrients and such.
Meals and Customization
Winner: Freshpet
Freshpet wins this category because of its enormous variety. Freshpet has seven product lines that give it a total of 45 different types of meals. Additionally, among those products are a selection of five treats to go along with its meals.
In contrast, The Farmer's Dog's has only four products:
That's probably about average for most online delivery services for pet foods, but it's clearly not as good a variety as Freshpet's offering. Also, the Farmer's Dog has no treats. So, another point in Freshpet's favor.
But let's go back to the beginning.
Freshpet has several questionnaires on its site. They're set up for multiple purposes. One allows you to select the best product for your animal depending upon its characteristics. There's also a questionnaire to compare Freshpet foods with other brands.
However, it's important to note that Freshpet isn't a delivery service. You typically buy Freshpet at different locations off-line, at a grocery store, or online through sites like Amazon and PetCo. It doesn't operate like a dog food delivery service.
At the time of writing, the website is simply a means of advertising the products and redirecting you to other stores where the products are sold.
Nevertheless, since it does use a questionnaire to determine which one of its products your dog should get, I'll give you an overview of that questionnaire now. It's separated into nine different pages and you answer one or two questions per page.
The questions run the gamut from basic issues like your dog's name, breed, and age to more specific details like his/her health concerns, dietary preferences, ingredients to be screened out, and type of food currently eaten.
Overall, it's a pretty thorough questionnaire. In the end, you'll get a list of suggestions of Freshpet food your dog might enjoy. But you'll have to go out, buy it, and portion it yourself.
The Farmer's Dog also has a very to-the-point questionnaire to get your animal's information. There are four screens that each ask multiple questions, the second one being the most detailed as it asks about any health issues your dog may have.
Overall, the questions range from general questions about your dog including breed and weight to more specific details like activity level, body type, scraps and treats, and other important information.
In the end, the Farmer's Dog does as good a job with its questionnaire as Freshpet does. However, it has the advantage of allowing you to check out and immediately purchase the food on the last screen.
Two areas of concern for many pet parents are health issues and allergies. On this point, I feel the two companies are tied. Although Freshpet has 45 products in its product line (which means it should be highly customizable), it only screened for three different health concerns (allergies, tummy-trouble, and plant-based) – although it did have an "Other" field.
In contrast, The Farmer's Dog allows you to screen for 21 health conditions, but only offers four different kinds of pet food. That's hardly a recipe for diversity and it seems to imply that there are really only a few limited ways of treating most health concerns.
Ordering and Delivery
Winner: The Farmer's Dog
This category is something of a conundrum. Freshpet is NOT a delivery service for dog food. It distributes its food through other stores like grocery stores, Wal-mart, Amazon, etc… As a result, it kind of loses this category by default. Which really isn't fair, in my opinion.
So, I think I'll give the victory for this category to The Farmer's Dog, but I won't count it in the final score. I'll simply use it as a tiebreaker, if necessary, and I'll give you a rundown of how The Farmer's Dog scores with respect to Ordering and Delivery, by itself.
Ordering on The Farmer's Dog is pretty straightforward. On the last page of the questionnaire (which we've already discussed) is the Checkout page. That's where you start your subscription by signing up and ordering your trial. The cost and the length of time will vary by dog according to its particular characteristics.
The ordering process is, also, very flexible. You can rush, edit, delay, or change the address for orders with relative ease. The minimum order size is dependent upon the size of the dog. The absolute minimum would be seven days worth of food – but that's for a larger dog. Partial plans are available to interested customers upon request.
Although The Farmer's Dog doesn't offer a one-off, it does offer a trial period. In my case, the trial period offered was two weeks, after which I would be billed and shipped to every six weeks.
The Farmer's Dog ships to the 48 contiguous states and its orders typically arrive sometime between Tuesday and Saturday of the respective week.
It's an easy process to reschedule a delivery. Simply go to the Subscription tab of your Customer Account and provide the necessary info to receive the order sooner or delay it as much as you need.
Unfortunately, the company doesn't have an app, but there's a page on your account where tracking information is provided. Simply log in and you'll be able to follow your order online until it arrives.
How Do the Meals Arrive?
Winner: Tie
Meals from The Farmer's Dog come in plastic bags that are, in turn, stored in a cooled box. The bags are clearly labeled to differentiate between recipes.
As noted previously, Freshpet isn't a delivery service. That means that either you pick the meals up at a brick-and-mortar store or order them through an online store. In either case, Freshpet isn't responsible for the transportation of the meals to your home.
However, there are aspects of "Arrival" I can discuss for Freshpet. Labeling is one such example. Because the meals pass through third-party stores, the packaging comes with complete grocery-store labels that are clear and easy to read.
Meals from The Farmer's Dog should be stored in either the refrigerator or freezer. They come with a feeding guide that'll help you sort through the details of such storage. But as a general rule, thawed meals last four days in the fridge and can be frozen for four months in the freezer.
Instructions for Freshpet packaging are clear and include Use-by Dates. The preferred storage space is the refrigerator where they can last up to seven days. However, the meals can be stored in the freezer if necessary – that may change their appearance somewhat, but flavor and nutrition should remain the same. They'll last 1-2 months in the freezer.
Meals from The Farmer's Dog are pre-portioned for your specific pet. Obviously, since Freshpet isn't customizing the meal for your particular animal, its meals are not pre-portioned. They're basically grocery store products that you must portion yourself.
Preparing your dog's meals is relatively easy when using The Farmer's Dog or Freshpet. You simply pour or scoop the food into his/her bowl and cut it up, if necessary. You can also add a little warm water if your pet prefers warmer food.
As for environmental concerns, the companies both make great efforts to make the world a little greener.
The cardboard box The Farmer's Dog delivers its food in is recyclable. The insulation is biodegradable and will even dissolve under running water. The food-storage container is also biodegradable. And the packs are all made from BPA-free materials that are non-toxic.
As Freshpet isn't a delivery service, it doesn't have the usual delivery box and such. However, Freshpet has several initiatives and programs that focus on the environment. It never uses landfills, always uses renewable energy, and saves water as much as possible.
Winner: The Farmer's Dog
The Farmer's Dog won this category because it's a delivery service. That means it deals directly with you, not third parties like grocery stores, and its prices will tend to be lower than Freshpet's.
To give you an idea of the price at The Farmer's Dog, I inquired about both a small dog and a larger one. Feeding a 5 lb Toy Poodle would cost $1.95 per day while a 100 lb Labrador Husky would cost $7.68 a day.
In contrast, I was able to find a price on PetCo for Freshpet's 5lb Beef and Bison recipe of Vital Grain Free. It cost $32.99, which works out to $6.60 per lb. For comparison, my dog Cicero would require $3.58 a day from The Farmer's Dog (for 1 lb of food), so The Farmer's Dog is cheaper for my needs.
Freshpet can be found in stores so you don't need to factor in shipping costs, but that doesn't necessarily make The Farmer's Dog more expensive as it offers free shipping.
Another criterion I like to look into is the question of money-back guarantees. That is, what happens if your dog doesn't like its meal? The Farmer's Dog states that if your dog doesn't like the food, you can try some of its other recipes, or you can get a refund if you agree to donate your remaining unused food to a dog shelter.
In contrast, Freshpet refunds have to go through the third party from which you made the original purchase. They are available, but they might be trickier to process.
Features Comparison: Freshpet vs. The Farmer's Dog



Best for

Variety

Human-grade food

Starting price

From <$5/pack

$2/day

Shipping cost

Not Applicable

Free

Subscription

One-off purchases through grocery stores

2 week-trial followed by 6-week subscription periods

Recipes

45 choices

4 choices

Meal storage

7 days in the fridge.

1-2 months in the freezer.

4 days in the fridge.

4 months in the freezer.

Are meals pre-portioned?

No

Yes

Ingredient quality

All natural, fresh minimally processed ingredients

Human-grade, USDA-approved

Free-from

No artificial preservatives or other unnatural chemicals, free of corn, wheat, and rendered meals

No preservatives or meals (chicken meal, etc…)

Customizable based on:

Dog v Cat, weight, age category, special dietary needs, favorite foods, ingredients to be screened out, type of food (wet, etc…),

Age, sex, weight, breed, body type, ideal weight, activity level, eating style, health issues (21 options), type of food, how much scraps and treats he/she gets, does he/she have a prescription diet, is he/she fixed?

Recalls

Yes, June 13th 2021

None

Money back guarantee?

Check individual third-party store

Yes, provided you agree to donate your remaining food to a dog shelter

Our reviewer's rating

8.88

9.30

Current deal



And The Winner Is: The Farmer's Dog

The delivery service that The Farmer's Dog provides eliminates third-party companies and provides a cleaner, more enjoyable ordering experience than Freshpet. It's also cheaper, customizable, and really convenient.
However, if you want a large selection of dog foods to choose from, Freshpet may be the better choice. I mean, 45 options? Wow! Also, Freshpet has a line for cats while The Farmer's Dog only offers dog food.
FAQ
Do Vets Recommend Freshpet Dog Food?
Freshpet was developed and is prepared with the assistance of veterinary nutritionists who have pets' best interests at heart.
Is the Farmer's Dog Expensive?
It is more expensive than the cheap mass-produced kibble you can get in a grocery store. However, I found the price to be good value for the fresh, human-grade meals that The Farmer's Dog provides.
Is the Farmer's Dog a Raw Diet?
No. The Farmer's Dog isn't a raw diet. It's a fresh diet made from human-grade food, but it's gently cooked to seal in nutrients and such, so, therefore, it doesn't constitute a raw diet.