At a Glance: Who Won Each Category?
| | |
| --- | --- |
| 💲 Price: | The Farmer's Dog ($2/day) |
| 🍗 Ingredient Quality: | Tied |
| 🍴 Recipes: | Ollie (6 recipes + extras) |
| ⏰ Packaging and Prep: | Tied |
| 👍 Ordering and Delivery: | Tied |
Ingredient Quality
Winner: It's a tie
Ollie, The Farmer's Dog, and Nom Nom all offer fresh dog food comprising human-grade, wholefood-based ingredients designed by board-certified veterinary nutritionists. Each and every recipe also meets strict AAFCO standards for all life stages. But there are perhaps just a few subtle differences you may want to be aware of.
Ollie states that its chicken and turkey are raised without added hormones, as per USDA guidelines, and its premium lamb comes from the US, New Zealand, or Australia. You'll also find carefully-sourced human-grade produce, seeds, and oils that contain no by-products, fillers, artificial flavorings, or preservatives – which is great to see. All of Ollie's recipes are prepared in a USDA-certified kitchen.
All of Ollie's recipes are also free from corn, wheat, and soy. However, not all the recipes are grain-free, namely the Fresh Chicken With Carrots. At the time of this article's publication, all of Ollie's other Fresh food meals are free from grains.
Ollie's ingredients are essentially the same whole foods a human requires for optimal health. These include nutrient-dense foods like carrots, peas, sweet potatoes, fresh turkey, chicken, beef, and more. You'll also find a healthy number of so-called superfoods like blueberries, spinach, chia seeds, and kale.
If you're concerned about protein content, Ollie's recipes are relatively high in protein. The Fresh Turkey dish is the highest protein offering, with a minimum of 11% per serving. You'll find that all the other dishes contain somewhere between 9-10% minimum.
Finally, Ollie employs a small-batch, low-temperature cooking technique that helps to preserve the most amount of vital nutrients and minerals.
The Farmer's Dog also promises only human-grade ingredients and processes. It uses clean, USDA-certified proteins combined with simple, fresh produce and an array of health-boosting vitamins and minerals, all balanced according to AAFCO standards. You'll never find feed-grade ingredients or foods that have been processed to be shelf-stable.
All the recipes are formulated by pet nutritionists and approved by vets. They're even tested on humans! The 4 recipes include a pork, turkey, beef, and chicken option, and all are grain-free. In each dish, you'll find a solid helping of superfoods such as sweet potato, liver, broccoli, spinach, parsnip, kale, sunflower seeds, fish oils, and brussels sprouts.
Each dish from The Farmer's Dog also contains a minimum of 8% crude protein, but the general range is somewhere between 8-11.5%. If you want the highest amount of crude protein right out of the gate, the chicken recipe contains the most, at 11.5%.
Much like Ollie's dishes, The Farmer's Dog's meals are gently cooked at low temperatures in line with USDA standards. After that, they're flash-frozen for convenience, safe shipping, and to maintain the high levels of nutrients without the need for preservatives. Preparing the meals in such a way ensures they're as fresh as possible once they finally arrive at your doorstep.
Nom Nom
Nom Nom follows a very similar trend to Ollie and The Farmer's Dog. Its nutrient-packed meals only use wholefood ingredients that are processed in the US. The ingredient profile of each recipe is developed by board-certified veterinary nutritionists for maximum balance.
Each recipe also includes a custom mix of vitamins D, E, B1, B2, B12, iron, iodine, zinc, selenium, copper, manganese, choline, and taurine, all of which work in harmony to ensure your pup remains as healthy as possible.
Nom Nom cooks each ingredient gently and separately, after which they're combined in batches. This helps to seal-in vital nutrients and maximizes digestibility. Of its 4 recipes, only the turkey dish contains grains. All the meats used are hormone-free.
You'll also find a large number of superfoods, including carrots, eggs, sweet potatoes, squash, spinach, kale, and mushrooms. The crude protein content for all 4 dishes is around 7%-10%, with the Turkey Fare being the highest protein meal.
Meals and Customization
Winner: The Farmer's Dog
Each service offers a questionnaire, but The Farmer's Dog asks more specific questions about your furry friend's health, with queries related to anxiety, bad breath, cancer, constipation, allergies, sensitivities, and more.
All 3 services will ask about your dog's weight, desired weight, breed, body shape, age, activity level, and if they have any allergies, but The Farmer's Dog is, without doubt, the better choice for those with pets who have more specific health concerns. The packets even arrive pre-portioned based on your pet's caloric needs, to prevent you from overfeeding.
Ollie will only allow you to select sensitivities and allergies from a limited list,
with options such as corn, dairy, fish, beef, chicken, and wheat, but it doesn't ask you about specific health concerns. However, it's still a relatively in-depth questionnaire that'll help you to source the right food for your dog.
Nom Nom will also ask about specific health conditions such as a sensitive stomach, arthritis, or a dull or flaky coat – it just doesn't have as many options to select as The Farmer's Dog. Since not all competitors in the dog food space offer this level of customization, it's still good to see.
The Farmer's Dog and Nom Nom both offer 4 recipes each, while Ollie has 6, though you should keep in mind that the dishes you'll have access to will depend on the results of your questionnaire – not all the meals will be suitable for your dog.
Ollie offers 4 Fresh recipes: Fresh Beef with Sweet Potatoes, Fresh Chicken with Carrots, Fresh Turkey with Blueberries, and Fresh Lamb with Cranberries. It also offers 2 vet-formulated, kibble-style Baked recipes – the Baked Beef with Sweet Potatoes and Baked Chicken with Carrots. Excitingly, you can mix and match and order both types of food.
The Farmer's Dog meals comprise a Turkey Recipe, Chicken Recipe, Beef Recipe, and Pork Recipe – all of which are fresh – while at Nom Nom you'll find Beef Mash, Chicken Cuisine, Pork Potluck, and the Turkey Fare.
Two of the services offer subscriber-only extras, too. At Ollie, you'll find 3 treats and 3 supplements. The treats include Chicken and Apple Jerky, Beef and Sweet Potato Jerky, and Sweet Potato Slices, while the supplements include Probiotic Chews and Zoomies hip and joint formula pills, which can all be good for your pup's teeth, gums, and overall health.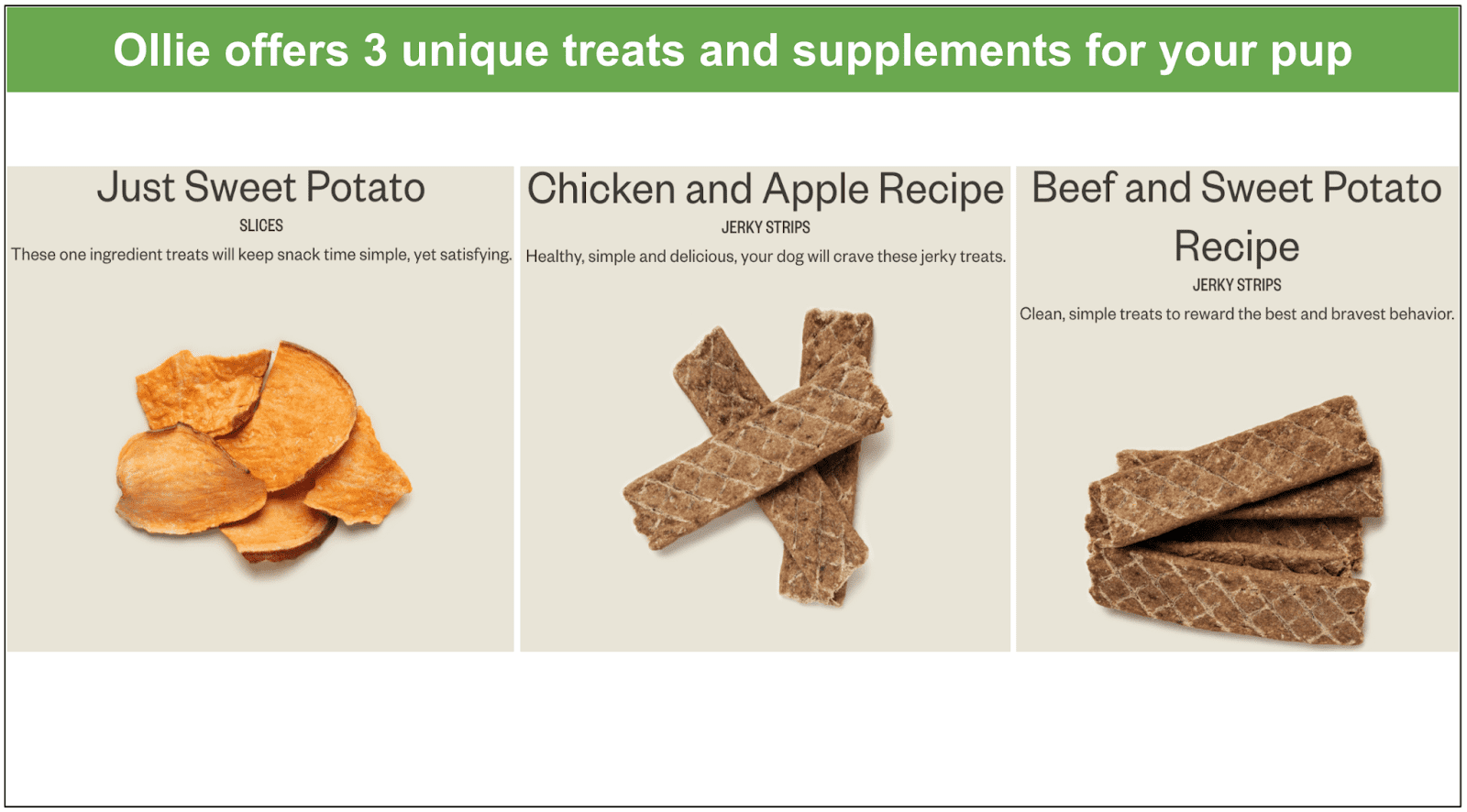 Nom Nom also offers some interesting add-ons, including probiotics and a microbiome testing kit that allows you to gauge your dog's gut health to find out how the food they eat is affecting them.
At this time, The Farmer's Dog doesn't appear to sell anything other than its fresh foods, but – as mentioned – it does do these especially well. The service's high personalization process means your dog's food will be created and portioned to meet their specific calorie, health, and lifestyle needs.
Winner: It's a tie
All 3 services make it easy to order your dog's meals. After filling out the initial questionnaire, you'll be presented with a list of options that could suit your pup. After that, you can add any extras, or simply check out. The process is virtually identical with all 3 dog food delivery services.
Ollie and Nom Nom also offer half-portions that'll net you around a 48% discount. The idea here is that you can combine it with your dog's existing pet food to simply boost their diet while keeping costs down. I found this a great way to test if your dog likes either Ollie or Nom Nom foods – and you can always switch to full portions if they do.
Ollie, The Farmer's Dog, and Nom Nom all require you to order a minimum of 2 weeks' worth of food. You'll automatically be signed up for auto-shipments after this, though you can pause or cancel your subscription at any time. And while one-off orders aren't advertised, nothing stops you from ordering your first batch then immediately canceling your auto-ship subscription.
All 3 services have flexible subscription models that allow you to receive your pet food at intervals to suit you, including weekly, bi-weekly, and monthly.
If you need to make changes to your order, you need to do so by a specific date and time with both Ollie and The Farmer's Dog. With Ollie, for example, your cut-off date for changes will be 4-5 days before your next order ships. You can also skip deliveries and reschedule up to 6 weeks in advance. Rescheduling your Farmer's Dog order is easy, too. You can organize it to arrive sooner or delay the shipment from within your account dashboard.
Nom Nom doesn't specify a cut-off time or date for changes – you'll simply have to do it before your order gets processed, which you can check via your account dashboard. The company suggests that contacting Nom Nom customer support by phone, chat, text, or email is the best way.
Ollie, The Farmer's Dog, and Nom Nom all deliver to the 48 contiguous states. Ollie's shipments will take around 6 days to arrive from the time you place your order, The Farmer's Dog deliveries promise to arrive in 1-week intervals, while I confirmed with an agent that Nom Nom shipments will take just 1-2 days.
If you prefer to use an app to manage your subscription, Ollie is the only service that offers one for both iOS and Android. With its app, you can manage your deliveries, make changes to your subscription, and explore extras.
How Do the Meals Arrive?
Winner: It's a tie
Meals from Ollie, The Farmer's Dog, and Nom Nom will arrive in an insulated box. Everything is neatly labeled, perfectly portioned, and vacuum-packed for convenience.
All 3 services recommend the fresh meals are stored in either the fridge or freezer upon delivery, though all will have slightly different guidelines. Ollie, for example, recommends that you store your packs in the freezer (where they will last 6 months if unopened). Once refrigerated, they'll need to be consumed within 4 days.
You'll even get a starter pack in your first delivery, which includes a handy precision serving scoop and a silicone "puptainer", which will allow you to preserve the freshness of your dog's opened food until it's eaten.
Nom Nom also suggests its meals can be frozen for up to 6 months and states that any refrigerated fresh food should be eaten within 7 days. The Farmer's Dog's instructions are to keep its food at a safe temperature in the fridge. Like Ollie, the food can be stored for 4 days in the fridge and up to 6 months in the freezer. Each order also comes with a storage guide inside the box.
You can feed your pet The Farmer's Dog's fresh food straight from the fridge or add a touch of hot water if they prefer warm meals. Each vacuum-packed portion is 1 day's worth of food, so you might have to divide it up depending on how many times a day your pup prefers to be fed. Again, there's a great guide to refer to.
Nom Nom's dog food comes perfectly portioned in individual packets that you can rip open, pour, and serve. There are no specific instructions about warming the food.
All 3 services do a solid job at offering sustainable and recyclable packaging. Your Ollie shipment will include a curbside recyclable liner to keep the meals cold, while the bags used for the service's Baked food are also recyclable through a store drop-off program.
The Farmer's Dog insulation is biodegradable; you can compost it or even just pop it in the sink and run some water over it and it will dissolve down the drain. The service also promises biodegradable storage containers, and the food packs are made from non-toxic, BPA-free materials. Nom Nom also delivers packaging that is either recyclable or made from recyclable materials – everything from the box and meal packs to the insulted liner.