Purple Carrot Review 2021 – Vegan Meal Kits with a Twist
Purple Carrot in a Nutshell
All-vegan meal kits, including breakfast and snack menus, delivered to your door. Prices are lower than other meal kit services offering vegan meal options.
What I Liked
What I Didn't Like
Only eight dinner options per week

No choice of delivery day
Purple Carrot Overview
I have sampled quite a few of the most popular meal kits on the market, so when it came to testing Purple Carrot, my standards were high. Not being a strict vegan, myself, I was wondering as I scrolled through the menu if Purple Carrot might just be the pivotal experience that'll change my mind about keeping up the vegan lifestyle. With ingredients exactly proportioned to create the recipes of your choosing, Purple Carrot is a great intro to what it takes to make satiating and tasty vegan meals. Have I been pulled over to the vegan camp for good? Not yet. But this was, without a doubt, an enlightening experience.
How Purple Carrot Works
Purple Carrot has the same easy signup process as other meal kit services, with a few key differences.
When signing up, I was given the one-click option of using my Facebook details to sign in. It's a small touch, but one I appreciated, nonetheless, for making the ordering process even faster.
Then, it was on to choosing between the two weekly plans on offer – a four-person, or a two-person:
What I really liked is that I received $20 off my first purchase and that discounted price is shown upfront.
On the other hand, you can't customize the number of meals a week. Also, it's strange that the two-person serving plan automatically gave me three meals a week, and the four-person plan only gave me two meals a week. Four people aren't less hungry than two. Moving on.
Once I selected the two-person plan, it was time to add my personal details and pay. I liked that Purple Carrot offers PayPal as a payment option as not all meal kit services do.
Next, I was taken to customize my meals. I want to draw your attention to one thing: unless you choose otherwise, your meals are automatically chosen for you.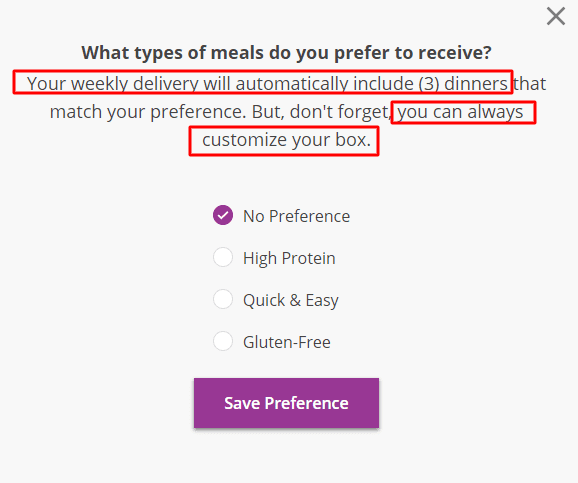 That's fine with me, but it might not be for you.
If you do want to put your own menu together, you can do that once you're all signed up. You'll see a range of recipes, categorized into dinner, breakfast, lunch, and snacks. This is refreshing, considering that most meal kits assume you're only looking for dinner recipes.
Click on a recipe card to see exactly what's in each meal, as well as any nutritional information.
Clicking that purple arrow next to "add to box" will take you to edit your meal:
Purple Carrot Prices
Compared to the cost of other specialty-diet meal kit providers, like Sunbasket or Green Chef , I think Purple Carrot is pretty reasonable.
With meals starting from just $9.99 per portion on the four-person plan, and $11.99 on the three-person plan, PLUS free shipping, Purple Carrot beats other vegan providers hands down (and even a few non-vegan providers).
Compared to Sunbasket (one of my personal favorites for non-standard diets like keto, paleo, and Mediterranean, which I've also reviewed here ) the $9.99 per portion and free shipping works out a lot cheaper than Sunbasket's lowest pricing.
For two people eating three times a week at Sunbasket, you'll be paying $11.99 per portion, which works out at $71.94. For the same two people eating three times a week at Purple Carrot, it's the same price, but you'll get $20 off your first order.
On top of that, Sunbasket charges $6.99 for weekly delivery. Purple Carrot doesn't.
Actually, it's rare to find a meal kit provider offering free shipping . Home Chef provides it on orders over $49, and Blue Apron on orders over three times a week, so this was pretty generous on Purple Carrot's account.
Purple Carrot Menu
On the two-serving plan, Purple Carrot offers eight different plant-based dinners a week to choose from, two breakfast options, two lunch options, and two snack options. I have to say, I'm used to having more choice across meals from other meal kits I order from.
The dinner options looked amazing though, and this coming from a non-vegan. There was a solid choice of Asian-inspired food, with Thai, Indian, and Chinese flavors and tastes, as well as a couple of American-style meals and even a few Mediterranean-inspired dishes. The menu options may be limited, but there's quite a bit of variety on the types of recipes you can choose from.
Each recipe card displays the calorie content, as well as preparation time. That's very useful information for someone like me, and I appreciated it.
I selected the "High-Protein" customization option as well as "I prefer to spend as little time as possible cooking my meals," so I was a little surprised to see a few options that were pretty high in calories and that took more than 40 minutes to cook. I'd have appreciated slightly fewer calories and less cooking time.
Still, I could just be spoiled by other meal kit services offering super-low calorie options (as described in our Freshology review ) or super-quick cooking (a great example of this can be found in our Fresh and Easy review ).
Here's what I went for:
Thai Tempeh Khao Soi

Curried Chickpea Bowls

Dal Makhani
Here's a quick recap of the prices and what dietary needs this meal delivery service best accommodates:
| | |
| --- | --- |
| Pricing | From $9.99 per portion |
| Dietary needs | Vegan, carb-conscious, gluten-free, weight loss |
| Shipping costs | Free |
| Special deals | |
Purple Carrot Delivery
While most meal kit services give you the option of choosing your delivery day (and some, like Blue Apron, even offer Saturday deliveries!), Purple Carrot chooses the day for you.
It chooses a delivery day based on your proximity to its distribution center, which makes sense for the company, but its inconvenient for the customer, so it riled me up a little bit. I also couldn't choose when my delivery would arrive, so I felt a little out of control.
My box turned up on Tuesday at around 2 pm, which meant the delivery missed my lunchtime cooking slot, but within plenty of time for dinner.
Since Purple Carrot is all-vegan, one good thing is you can technically leave its delivery box outside of your door for up to 72 hours, which is much longer than any other meal kit delivery service I've reviewed. I guess that's due to the lack of meat.
I can't really imagine a situation where I'd leave my delivery outside for such a long time, but it's nice to know it's a possibility, especially if you're not in when the box arrives.
You can also change your delivery plan or skip future weeks for your next delivery. If you want to pause your subscription, you can, but only for up to 10 weeks. Other meal kits let you pause your subscription indefinitely so I found this a bit of a strange choice. Purple Carrot states that you'll receive an email reminder 10 days before your delivery is due to resume.
Purple Carrot Unboxing
Maybe it was my fault for assuming that an all-vegan company would be more mindful of their plastic use, or maybe it's just wishful thinking, but I couldn't recycle half of the stuff that was in my delivery box.
The cardboard box holding the delivery was fine, but the fiber insulation, plastic wrap, and gel packs? What was I meant to do with those? The insulation was made of cotton fabric, so I put that with my clothes recycling, but as for everything else...it had to go straight to the general waste, which was a shame.
Each of the ingredients per recipe was placed in plastic bags. A quick and better substitution would have been recyclable paper bags. To add insult to injury, some of the smaller, looser ingredients, like herbs, were wrapped with another layer of plastic.
Thankfully, other ingredients were in recyclable, screw-top containers, but I'd have preferred a more holistic approach to recycling. While Purple Carrot has a whole page on its website dedicated to recycling the delivery box's contents, I felt more could be done.
Favorite Purple Carrot Meals
As a regular meat-eater, I was a little hesitant in eating only plant-based food, but I have to tell you I was really surprised at how delicious each recipe was.
The delivery came with a booklet containing every single meal on offer that week, instead of an individual recipe card. Sunbasket also does this, and I'm not a fan, it's such a waste of paper. If I wanted to know how to cook one of the other meals, I'd have ordered it to try it out. Or I'd have preferred to read the recipe online.
Booklet aside, I was also a little unimpressed at the presentation of the cooking directions:
While they're clear enough to guide you through successfully preparing your meal, I would have appreciated a more Sunbasket-esque guide to cooking. They provided plenty of helpful images for me to reference – you can see what I'm talking about in my Sunbasket review .
I immensely enjoyed the Curried Chickpea Bowl. Curry is that one food that I love ordering when I'm eating out and was always too intimidated to try cooking it myself. This opened up a whole new realm of untapped chef-skills I didn't know existed. Now I can make my curry, and eat it too!
Overall, I found the recipes tasty and interesting. I'd personally have liked something a little spicier or tangier in at least two of the recipes – but maybe that's just my taste.
Purple Carrot Customer Service
Purple Carrot has several support channels available. First up, there's an FAQ section, where you can easily search for an answer to your question.
Well, only some of the time:
But other times, nothing came up that matched my search.
I guess no company can be perfect and cover every topic, but I've never had this problem with the FAQs of other meal delivery services I've tried.
Along with the FAQ page, Purple Carrot has a live chat option available Monday-Friday, 9 am-5 pm EST. I contacted them on a Sunday and saw a "back tomorrow!" message, but was still invited to leave a message. The phone line is available with the same operating hours as the live chat. It didn't look like a toll-free number, though, so the email address might be a better option.
Since I tried to contact them at the weekend, I didn't expect a very quick return time for my live chat query – but I received a reply in less than 24 hours. Impressive!
Sometimes, you need to take a pause on your meal delivery service, or cancel it completely. I tested the cancelation process, and because I wanted to bring you as much value as possible on this subject, I dedicated an entire blog post to how to cancel your Purple Carrot order.
Alternatives to Purple Carrot
Have you gotten this far into the review thinking that Purple Carrot may not be the best idea for you after all? I've got a few suggestions that I can personally recommend. If you're looking to really save time on meal prep, check out Veestro's meal plans . You get ready-made vegan food in a wide range of recipes. If you are into preparing your own meals, Green Chef's plant-powered meal plan gets you organic vegan ingredients. Green Chef is a proud eco-friendly company, which is another perk, as well.
The Bottom Line
There was a lot I liked about Purple Carrot. As an all-vegan meal kit delivery service, it's pricing and tasty recipes give competitors a run for their money. The free shipping that's included as a standard service is also a generous feature. On the other hand, its limited menu could do with some bulking up.
FAQ
What are the benefits of Purple Carrot?
Purple Carrot offers all-vegan meal kits, including breakfast and snack menus, delivered to your door. The main benefit of Purple Carrot, compared to other services that offer vegan meal options, is that its prices are at the lower end of the scale.
Once you factor in the overall savings in time meal planning and grocery shopping, the cost of getting to and from the grocery store, the potential for food waste (one word - leftovers!), the benefits of Purple Carrot and meal kits in general are undeniable.
How much does Purple Carrot cost?
Purple Carrot currently offers two different plans - one for two diners and one for four.
If you choose the 2 Serving Plan you get either three or four dinners a week and it currently costs $11.99 per serving with free shipping. The 4 Serving Plan gives two or three dinners a week and it currently costs $9.99 per serving, also with free shipping.
Purple Carrot often offers discounts, and currently has a discount of $20 off your first week.
Is Purple Carrot organic?
Many of Purple Carrot's non-produce items are organic, which includes the extensive snack collection, which it curates from other fully organic and gluten-free providers. While it tries to offer as much organic produce as possible, Purple Carrot says sourcing and shipping limitations mean it's not always possible.
How do you cancel your Purple Carrot subscription?
Purple Carrot makes it easy for you to cancel your account directly from the My Account page of its website. Once you click "Cancel My Account" you have to fill out a short survey and then follow the cancelation instructions. Just remember, you have to cancel before the deadline! Find out more in this dedicated How to Cancel Purple Carrot blog post.