Purple Carrot Overview
It may be a purely plant-based meal delivery service, but that doesn't mean vegans are Purple Carrot's only audience! I'm not a vegan, but I have been striving to incorporate more plant-based meals into my diet. My biggest obstacle in this regard has been trying to come up with dinner ideas.
It's becoming easier and easier to purchase meatless versions of typical proteins like burgers and sausages, thanks to companies like Beyond Meat and Impossible Foods. But what if you want to make something from scratch without purchasing a processed meat substitute?
Purple Carrot is a perfect choice for vegans and omnivores who want to learn how to turn veggies into delicious and satisfying meals.
How Purple Carrot Works
If you're familiar with leading meal kits like HelloFresh and Blue Apron, Purple Carrot is one of the more conventional plant-based meal delivery services.
Its biggest competitors tend to have some more unique quirks: Veestro provides frozen meals in bulk from a never-changing menu, and Splendid Spoon focuses on smoothies and other light meals. Meanwhile, Sunbasket and Green Chef both offer meat-focused and vegetarian meals in addition to a selection of plant-based dishes.
We'll touch on the competition later in this review, but suffice to say, Purple Carrot is (to me, anyway), the most straightforward among them. This is because it functions just like any other meal kit, but with exclusively plant-based ingredients.
Purple Carrot's most basic plan gets you three vegan meals per week. Three recipes will be automatically selected for you from each weekly menu of nine dishes. This can be a good thing if you aren't picky and just want to let the meals come on autopilot, but I definitely wanted to choose my own.
Luckily, it's easy to choose your own recipes as long as you remember to click the Change Meals button before the shipping deadline. You can even add additional meals (up to a maximum of six per week) for an extra fee.
One final detail of note: Purple Carrot has recently started offering microwaveable prepared meals in addition to its meal kits. This is great news for folks who want something fast and easy! For this review, though, I only tried Purple Carrot's meal kits.
Purple Carrot Prices
Purple Carrot has a straightforward pricing structure because there are really only two plans to choose from: the two-serving plan and the four-serving plan. The two-serving plan starts at $11.99 per serving, which works out to $71.94 for a weekly shipment of three meals for two people. The four-serving plan starts at $9.99 per serving, or $79.92 for a weekly shipment of two meals for four.
These prices put Purple Carrot on the higher end of the scale. Its pricing is on par with other specialized services like Sunbasket and Green Chef, but it's more costly than mainstream services like Home Chef and HelloFresh. Especially when you consider that Home Chef offers discounts like $80 off over your first four orders.
Shipping is always free with Purple Carrot, though, which is a pleasant surprise.
Purple Carrot Menu
Purple Carrot's menu is a delightfully diverse collection of recipes inspired by cuisines from around the world. The options I had available to me included New England "Lobster" Rolls (made with hearts of palm), Korean-inspired Kimchi Mushroom Fried Rice, and Mexican Molletes.
You'll notice some allergens flagged up in the photo above. Every week there are gluten-, soy-, and nut-free recipes to help accommodate people with allergies or intolerances. The entire menu is plant-based, of course.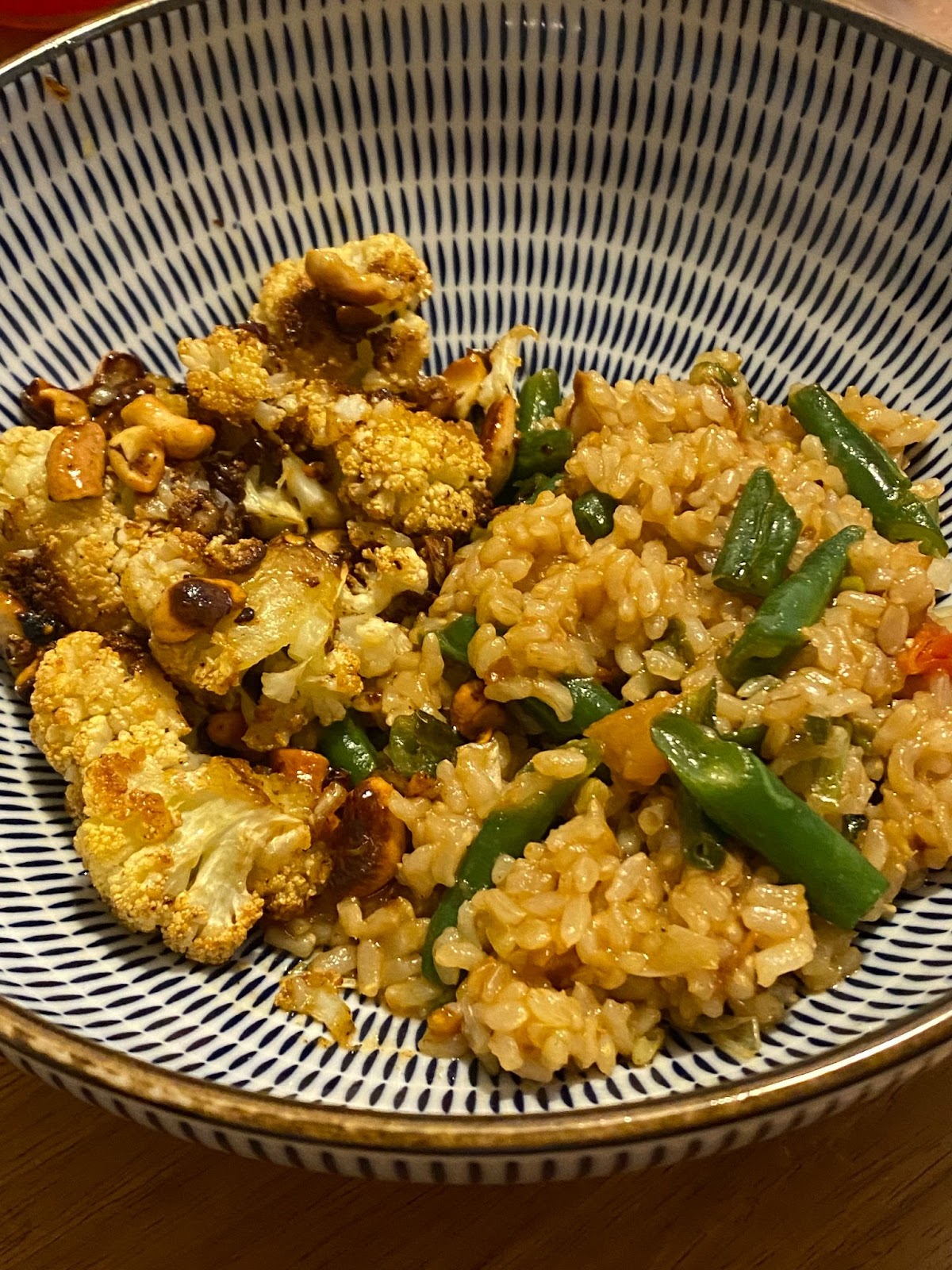 Unlike some leading meal kit services, such as Home Chef, Purple Carrot doesn't offer any customization options. This actually makes sense to me, because each dish is cohesive and thoughtfully planned.
Take, for example, the Tamarind Cauliflower dish shown above (prepared by yours truly). This perfectly balanced dish consists of vegetable fried rice and roasted cauliflower tossed in a tangy sauce. Once again, making the cauliflower the star of the show.
Here's a quick recap of the prices and what dietary needs this meal delivery service best accommodates:
| | |
| --- | --- |
| Pricing | From $8.32 per portion |
| Dietary needs | Vegan, carb-conscious, gluten-free, weight loss |
| Shipping costs | Free |
| Special Deal | |
Purple Carrot Delivery
I signed up for Purple Carrot on a Wednesday and didn't receive my first shipment until 10 days later (on a Monday).
As it turns out, Tuesday is the weekly deadline for committing to a shipment, so I essentially had to wait an extra six days before my order could be processed. This extra processing time is a bummer when you're eager to try some new recipes, but sometimes that's just how the chips fall.
Once my shipment was in the mail, I received ample information from Purple Carrot regarding tracking, what to expect, and how to prepare. Still, it would have been nice to be able to pick what day I wanted to receive my delivery. This is an option with most of the big names – HelloFresh, Blue Apron, etc – so hopefully Purple Carrot can step up its game in this regard.
Purple Carrot Unboxing
For me, the biggest challenge facing meal kit companies is their tendency to incorporate an inane amount of plastic and other packaging. Some services, like HelloFresh, have gotten better about this by replacing plastic bags with recyclable paper ones and reducing the amount of packaging overall.
I was expecting a plant-forward service like Purple Carrot to incorporate Earth-friendly practices and materials in its shipments. However, I found this wasn't really the case. Purple Carrot is far from the most wasteful meal kit service I've seen in terms of packaging (that "honor" goes to EveryPlate and its individually wrapped carrots), but it also wasn't particularly impressive.
A few days before my shipment was scheduled to arrive, I received an email with information on how to break down and recycle the packaging materials. I had already seen this info on the website, but it was nice that the company made an effort to be proactive and encourage its subscribers to recycle.
On the negative side, Purple Carrot still uses a number of different plastics in its packaging, and the recycling guidelines essentially boil down to "recycle this if your community accepts it." If meal kits are going to be a sustainable long-term solution, they need to be better about packaging ingredients in more easily recyclable materials.
Now that rant is out of the way: I don't have any complaints as far as the actual contents and organization of the package are concerned. The well-insulated box contained three clearly labeled bags, each corresponding to one of the three meals I received.
Curiously, there were a few loose ingredients in the box: a head of cauliflower, a bag of chopped leeks, and corn tortillas. I'm not sure why these weren't in the appropriate recipe bags, but it was no hassle at all to organize everything.
Favorite Purple Carrot Meals
I'll cut to the chase here and say I thoroughly enjoyed all three of the Purple Carrot meals I tried, but I could definitely rank them in terms of yumminess as well as ease of prep.
My favorite dish, hands down, has got to be the Mafaldine Pasta. "Mafaldine" simply refers to the thick, wavy noodles that form the base of this meal. Once cooked, the pasta combines with arugula, walnuts, and a sauce made from leeks, garlic, lemon, and vegan cheese.
This dish was the easiest to make and the tastiest to eat, and I guarantee I'll be recreating it.
My least favorite of the three were the Rajas Tacos. As with all of these dishes, I went in with an open mind. I'm an omnivore, and my idea of tacos usually involves some sort of meat or fish. These tacos, however, swap out protein for rice.
All the flavors worked well: browned onions, roasted corn and peppers, and creamy avocado. The ingredients were all tasty, but it felt like it was lacking something. Again, this may just be the omnivore in me talking, but I felt like an ingredient with more star power, like umami-packed mushrooms or shredded jackfruit, would have been far superior to rice.
And speaking of the rice: I received an unfortunate substitution in this recipe. The ingredients list calls for Spanish Rice, which appears to be highly spiced and flavored in the photos. Instead, I received plain Jasmine rice. I understand substitutions happen in meal kits fairly often, but there were no additional instructions to accommodate this change in ingredients.
I added my own seasonings (garlic, cumin, etc) and ended up with something pretty tasty. Someone who doesn't have the ingredients or know-how to improvise, however, will be left with an inferior dish. If I'd followed the recipe exactly, half of the filling in each taco would have been unseasoned white rice.
Two of the recipes I tried – the Tamarind Cauliflower and Mafaldine Pasta – were labeled as "quick and easy." I'm not sure if I noticed an appreciable difference in prep work compared to the Rajas Tacos, though.
In fact, the Tamarind Cauliflower took the most amount of time because the brown rice took 30 minutes to cook. Ultimately, however, none of the recipes felt overly complicated. It certainly wasn't as simple as putting a prepared meal into the oven, but I imagine anyone with the most basic of cooking skills would be able to prepare these dishes with little trouble.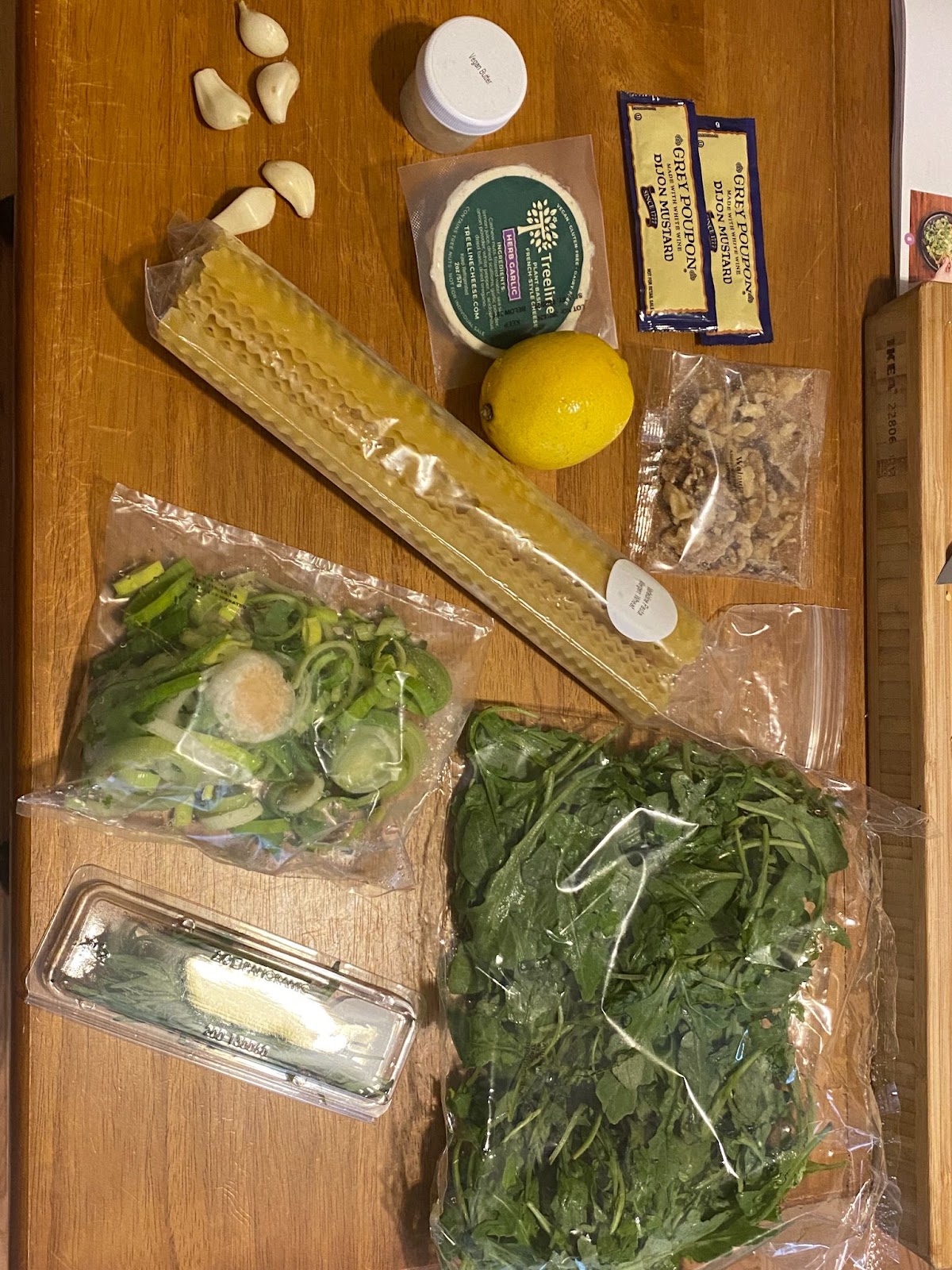 One of the things I love most about meal kits like this is the opportunity to learn new recipes. I can definitely see myself recreating any of these – especially the Mafaldine Pasta. The picture above shows all the ingredients it took to make this tasty Italian-inspired dish. It includes grocery store staples like leeks, arugula, walnuts, and pasta.
Even if I have to get a slightly different pasta or another brand of plant-based cheese, I'm confident I'll be able to recreate this dish time and time again. And I think this is part of Purple Carrot's goal: as a matter of fact, each week's recipes come in a sturdy booklet that I'm now keeping next to my collection of cookbooks!
Purple Carrot Customer Service
The Purple Carrot website features a Chat With Us option at the bottom right. Clicking on it opens up a search box where you can seek out information on just about any question you may have. If you can't find your answer, there's also an option to chat live with a representative.
Purple Carrot's FAQs are surprisingly in-depth, however, and I never had any need to talk to a real person. All the information is streamlined and easy to access, including how to cancel your service.
Image: The easily accessible cancellation page
My How to Cancel Purple Carrot blog post goes into the exact step-by-step instructions for ending your Purple Carrot subscription. I was pleasantly surprised at how easy it was.
Unlike so many other meal delivery services, Purple Carrot didn't make me jump through any hoops. In fact, I was able to cancel my subscription in just two or three clicks.
Alternatives to Purple Carrot
Purple Carrot fills a unique niche in the meal kit delivery community, but it's far from the only plant-based service on the market. Here's a quick look at how Purple Carrot compares to some other services offering vegan and vegetarian meals.
| | | | | |
| --- | --- | --- | --- | --- |
| Alternatives to Purple Carrot | | | | |
| Starting Price | $8.32 per serving | $7.16 per serving | $5.99 per serving | $6.00 per serving |
| Servings Available | Between two and four meals per week for up to four people | Between 10 and 30 meals per order | Between two and 10 meals per week for up to four people | Three or four meals per week for up to six people |
| Meal Types | Meal kits and prepared meals | Prepared meals | Meal kits and prepared meals | Meal kits |
| Vegetarian | ✔ | ✔ | ✔ | ✔ |
| Vegan | ✔ | ✔ | ✔ | ✔ |
| Organic | ✘ | ✘ | ✔ | ✔ |
| Low-Carb | ✔ | ✔ | ✔ | ✔ |
| Low-Calorie | ✔ | ✔ | ✔ | ✔ |
| Special Deals | | | | |
The Bottom Line
I'm a huge fan of this service. If you can afford the slightly higher price tag, Purple Carrot is absolutely a meal kit worth trying. Plant-based dieters will enjoy the fully-vegan menu and access to delicious recipes and high-quality ingredients. And even if you're an omnivore like I am, you owe it to yourself to try Purple Carrot and see just how satisfying a plant-based dinner can be!
FAQ
What are the benefits of Purple Carrot?
A plant-based diet offers a whole variety of health benefits, and Purple Carrot's biggest and most obvious plus is its comprehensive and ever-changing menu of fully plant-based entrees. This even includes, when necessary, vegan substitutions for store-cupboard ingredients like butter.
For folks new to a plant-based diet, Purple Carrot is a great resource for learning delicious and achievable vegan recipes. Unlike competitors Veestro and Splendid Spoon, both of which provide prepared vegan meals, Purple Carrot's meal kits give you the know-how to create your favorite recipes on your own.
In fact, Purple Carrot made it onto our list of today's top vegan meal delivery services.
How much does Purple Carrot cost?
Purple Carrot's four-serving plan starts at $8.32 per portion, and its two-serving plan starts at $11.99 per portion – so it's more expensive than services like Blue Apron and Home Chef. Compared to other plant-based meal delivery services, though, this is about average.
You can also take advantage of this special deal for new customers: Get $25 Off & FREE Delivery
Purple Carrot is a little more affordable than Green Chef and Sunbasket if you're only looking to order a couple of meal kits a week, though it's worth noting that Green Chef and Sunbasket provide certified organic ingredients, and Purple Carrot doesn't.
Is Purple Carrot organic?
I was actually surprised to learn that Purple Carrot is not a fully-organic company.
It claims most of its "non-produce items" are organic (ingredients like tofu, beans, and milk alternatives), but due to issues with sourcing and shipping, Purple Carrot doesn't consistently offer organic produce. If certified organic ingredients are high on your list of priorities, be sure to take a look at Green Chef, or our list of today's top organic meal delivery services.
How do you cancel your Purple Carrot subscription?
Unlike some other meal delivery services, which make you jump through a number of hoops just to end your subscription, I found Purple Carrot's cancellation process to be refreshingly simple.
To cancel your Purple Carrot subscription, simply open your account settings, click to change your subscription status, then select the option to cancel. I go into more detail in my How to Cancel Purple Carrot blog post.