Customization
The main attraction is definitely the assortment of Dinner options. But Purple Carrot also offers light and easy-to-prep options for breakfast and lunch, including Matcha Overnight Oats and Protein Power Bowls. You can add these to your weekly shipments for an additional charge, along with some snacks like almond milk chocolate and cauliflower crackers.
The company also offers Celebration Boxes for 2, with all the ingredients for an appetizer, entree, and dessert.
Purple Carrot doesn't offer any customization options, unlike HelloFresh and some other leading meal kit services. But this actually makes sense to me because each dish is cohesive and has clearly been thoughtfully planned.
Each ingredient perfectly complements the others, and I wouldn't have wanted to swap anything. Take, for example, the Tamarind Cauliflower dish pictured above (prepared by yours truly). This balanced dish includes ginger fried rice, cashews, and roasted cauliflower florets tossed in a tangy tamarind sauce.
Unboxing
My biggest gripe with meal delivery services is all the plastic and other non-recyclables. Fortunately, some services are switching from plastic to paper bags, which I find preferable.
Honestly, I was disappointed to find this much plastic in the box. I was hoping – and, frankly, expecting – a plant-forward, earth-loving service like Purple Carrot to incorporate eco-friendly practices and materials in its shipments. But the meals were well organized, at the very least.
Purple Carrot is far from being the most wasteful meal kit service I've tried in terms of packaging. But to be honest, it also wasn't particularly impressive.
I received an email with a guide to breaking down and recycling the packaging materials a few days before my delivery was scheduled to arrive. I'd already found this on the website, but it was nice that the company made an effort to be proactive.
On the negative side, Purple Carrot still uses a number of plastics within its packaging. And the "how to recycle it" guidelines essentially boil down to "recycle this if your community accepts it."
I'd prefer the ingredients to be packed in more easily recyclable materials. I use meal kits all the time, so I want the packaging to be completely and easily recyclable.
With this rant out of the way, I don't have any further complaints about the packaging. The actual box contents and their organization were impeccable. The well-insulated box contained 3 clearly labeled bags, each corresponding to 1 of the 3 meals I had ordered.
The ingredients I received were all high quality. The produce arrived at peak freshness – even the tomato and perfectly ripe avocado! With a plant-based meal kit, quality produce is key. It's all the more impressive when you consider that Purple Carrot ships everything fresh, too.
I tried 2 recipes labeled Quick and Easy – Tamarind Cauliflower and Mafaldine Pasta. I'm not sure if I noticed a real difference in prep work compared to the Rajas Tacos I'd also ordered, though, despite the tacos lacking the Quick and Easy tag.
In fact, the Tamarind Cauliflower took the longest of the 3, since the brown rice took 30 minutes to cook. Ultimately, though, all of the recipes felt simple enough. Then again, I'm a pretty avid home cook.
I can't imagine anyone having trouble preparing these dishes, as long as you have a basic knowledge of cooking. And if you need a quicker or simpler option, Purple Carrot also offers prepared meals that just need to be heated in the microwave.
Shortlist of My Favorite Meals
I thoroughly enjoyed all 3 of the Purple Carrot meals I tried. But I could definitely rank them in terms of yumminess as well as ease of prep.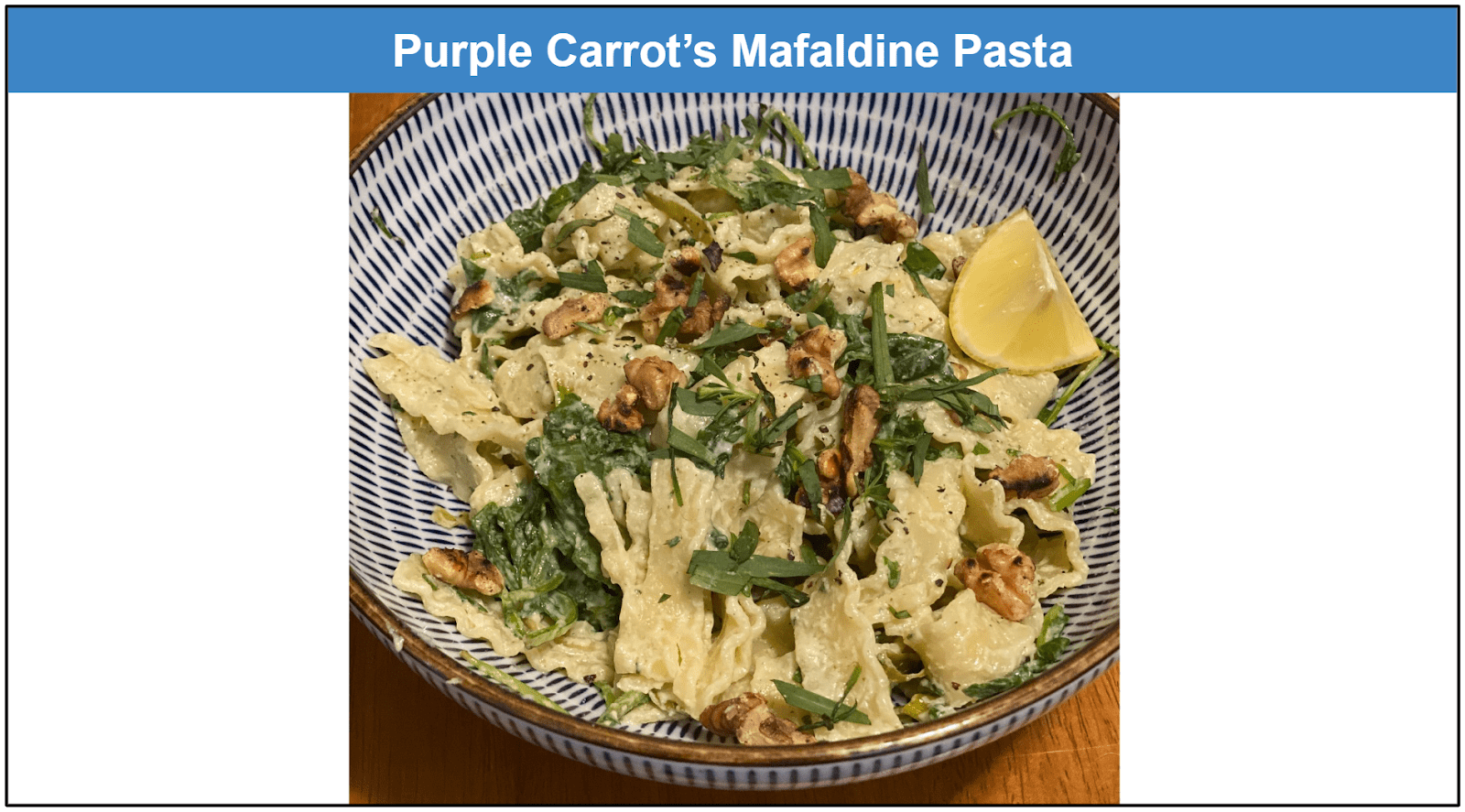 My favorite dish, hands down, has to be the Mafaldine Pasta. Mafaldine simply refers to the thick, wavy pasta that forms the base of this meal. Once cooked, it combines with arugula, walnuts, and a sauce made from sauteed leeks, garlic, lemon, and creamy vegan cheese. This dish was the easiest to make and the tastiest to eat, and I guarantee I'll be recreating it.
The Rajas Tacos were my least favorite. The flavors really worked – browned onions, roasted corn and peppers, creamy avocado – but it felt like it was lacking something cohesive to bring the dish together.
I think that an ingredient with more star power would have improved these tacos greatly. Umami-packed mushrooms or shredded jackfruit are some that come to mind.
The primary filling was rice instead of the mushrooms, seitan, or tofu that feature in many of Purple Carrot's recipes. And even worse, I received Jasmine Rice in place of the flavored Spanish Rice listed in the ingredients.
I understand substitutions happen fairly often. But there were no additional instructions on how to accommodate this change in ingredients. I decided to add my own seasonings (garlic, cumin, etc.) and ended up with something reasonably tasty.
Half of the filling would have been unseasoned white rice if I'd followed the recipe exactly. Someone who doesn't have the ingredients or know-how to improvise would be left with an inferior dinner. But this disappointment aside, I want to re-emphasize that I really did love almost everything about Purple Carrot's meals.
I can see myself recreating these dishes as I love using meal kits to learn new recipes. The picture above shows all the ingredients it took to make the Mafaldine Pasta. It includes grocery store staples like leeks, arugula, walnuts, and pasta.
Note that each week's recipes come in a sturdy booklet you can keep with cookbooks.
Starting From

Order Size and Price (Before Shipping)

Shipping Fee

$11 per serving

3 meal kits with 4 servings; $132




$10 for orders under $99

$11 per serving

2 meal kits with 4 servings; $88

$13.25 per serving

4 meal kits with 2 servings; $106

$13.25 per serving

3 meal kits with 2 servings; $79.50

$13 per serving

6, 8, or 10 single-serving, prepared meals
Purple Carrot's pricing varies based on how many meals you order. The cost per recipe also depends on whether you choose meal kits or prepared meals. The cheapest possible price per serving is $8.50 when you order 3 meal kits serving 4 people (plus current discounts), which is a great option for families. The price per prepared dish is a bit higher but remains the same whether you order 6, 8, or 10 servings.

You can score significant savings by taking advantage of our special deal. It tends to vary from time to time, but it's currently Cyber Monday Promo: 60% Off Your First Two Boxes + Free Shipping.
The Plantry is à la carte, and the items and their prices change regularly. At the time of my research, prices for individual items ranged from $3.50 for a cup of Blueberry & Vermont Maple Oatmeal to $8.99 for Asian Ginger Salad Dressing. Keep in mind that these costs are in addition to your weekly subscription.
Shipping is a flat $10 but is waived for orders over $99. Purple Carrot also provides free delivery for 1st-time customers.
Purple Carrot is among the more expensive meal kits out there, even with free shipping. And that's because it caters to a niche diet. However, its pricing is on par with other specialized services like Green Chef.
Shipping & Delivery
It took me pretty long to get my 1st order because of bad luck, not poor service. I signed up for Purple Carrot on a Wednesday and received my 1st shipment 10 days later (on a Monday). As it turns out, Tuesday is the weekly deadline for committing to a shipment.
I received ample information via email regarding tracking once my shipment was in the mail. I also learned what to expect and how to prepare. The service also offers a mobile app, but I found I didn't need it to get any of the information I needed.
It would have been nice to pick the day I wanted to receive my delivery, even though the delivery process was smooth. This is an option with most of the big names in the meal delivery game – including HelloFresh. So hopefully, Purple Carrot can step up its game in this regard.
How Purple Carrot Works
Purple Carrot's website makes it easy to both sign up and end your subscription. Here's the step-by-step guide:
How To Sign Up
Click Sign Up on the home page. You can find it in the top-right corner of the page.
Create an account. You can use your email address or sign up via an existing Google, Facebook, or Apple account.
Input your shipping info. Purple Carrot delivers across all 48 contiguous United States.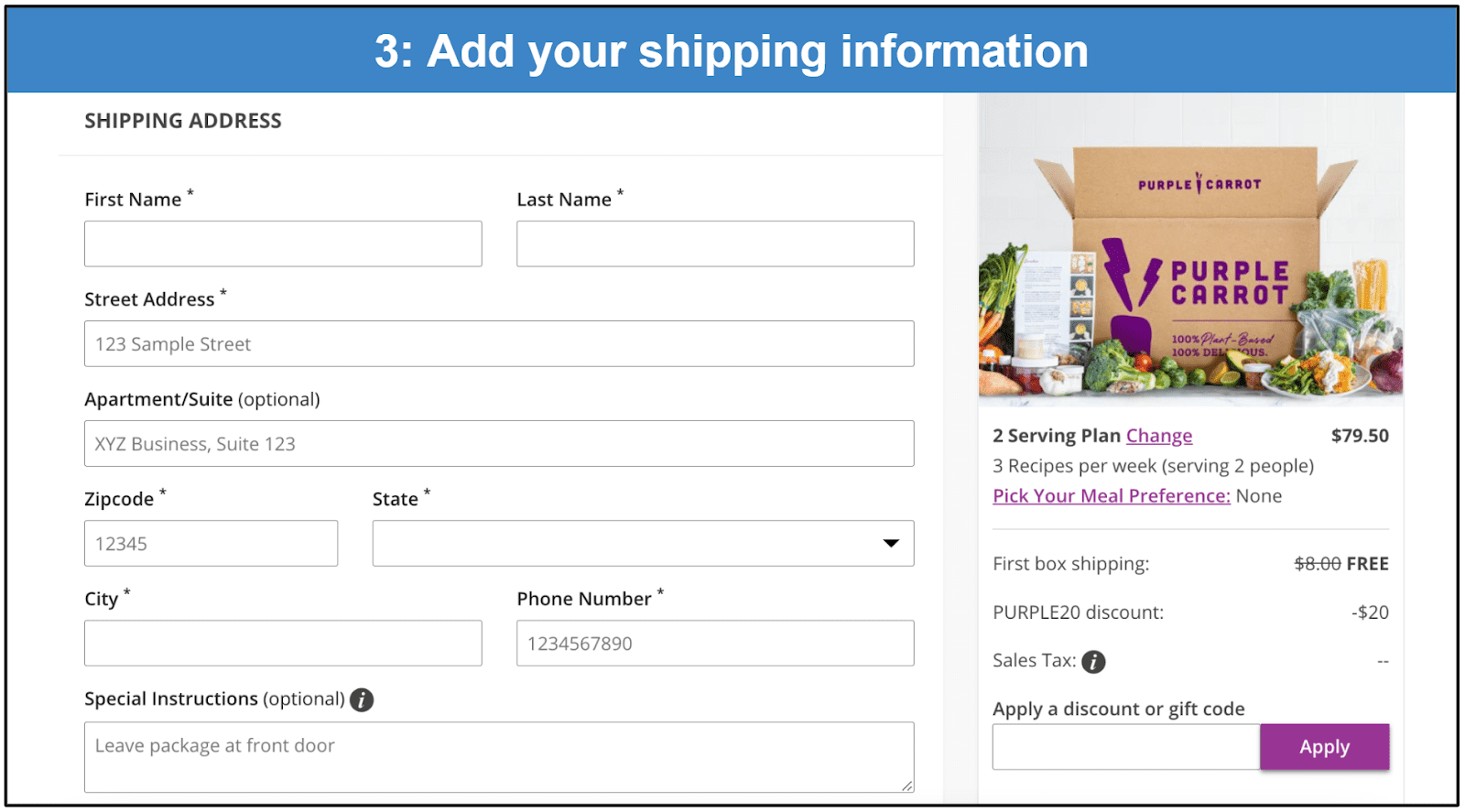 It's finally time to pick out your meals! You can also adjust your order to include extra servings or to add breakfast, lunch, and pantry items.
You can easily pause or end your subscription from the account page. I've tested services that make you get on the phone with an agent just to close your account. I'm pleased to say this isn't the case with Purple Carrot.
Once you click Change, there are a couple more steps. For more info, I've pulled together a step-by-step guide on how to cancel Purple Carrot.
Customer Service
I've never found it necessary to communicate with a real person. The FAQs provided by Purple Carrot are unexpectedly comprehensive. If you're unable to find an answer, you also have the choice of chatting with a live chat with a representative.
The Purple Carrot website has a Chat With Us option (in the bottom-right corner). A search box appears, and you can find answers to almost any question.
Purple Carrot vs. Green Chef: Green Chef has a decent Plant Based plan, although it isn't a completely vegan service. Purple Carrot strives to provide organic pantry items, while Green Chef is a certified-organic meal kit service and includes organic produce. Green Chef only offers meal kits though, so Purple Carrot is better if you only want prepared meals.
Purple Carrot vs. Home Chef: Where Purple Carrot doesn't allow any ingredient customizations, Home Chef has plentiful options. For example, you can exclude various types of meat, such as beef and pork, and common allergens, like sesame and tree nuts, from your meal plan. And Home Chef has dozens of weekly meals on its menu, many of which you can personalize to include Impossible meat thanks to its Customize It tool.

Purple Carrot vs. Blue Apron: The former is a great choice for vegans, while the latter might be a better choice for omnivores. Unlike Purple Carrot, Blue Apron offers some customization, including the option to remove or add meat to certain dishes. Blue Apron is also more affordable and publishes its menu 4 weeks ahead.

The Bottom Line: Is Purple Carrot Worth It?
Purple Carrot is absolutely a meal kit worth trying. Vegans and vegetarians will enjoy the fully plant-based menu and access to high-quality ingredients. It's particularly great for anyone new to the vegan diet who wants to learn new recipes or those who want to eat more plants for health reasons.
You should try Purple Carrot and see how satisfying a plant-based dinner can be. I recommend you to give it a try even if you're an omnivore like I am.
FAQ
What are the benefits of Purple Carrot?
The comprehensive and ever-changing menu of fully plant-based entrees is Purple Carrot's most obvious draw. The service is also a great resource for making healthy and approachable vegan-friendly recipes – I found its meal kits super easy to put together. For those who don't want to cook, it also offers a range of prepared meals that are ready in minutes.
How much does Purple Carrot cost?
The price per meal depends on the type of meal and the number of servings. Purple Carrot's 2-serving plan starts from $8.50 for larger orders. And it's even less if you use our discount code offering Cyber Monday Promo: 60% Off Your First Two Boxes + Free Shipping.
Is Purple Carrot organic?
Purple Carrot claims that most of its non-produce items are organic (stuff like tofu, beans, and milk alternatives). But due to issues with sourcing and shipping, it doesn't consistently offer organic produce.
How do you cancel your Purple Carrot subscription?
I found Purple Carrot's cancellation process to be refreshingly simple. To cancel your Purple Carrot subscription, simply open your account settings, click to change your subscription status, then select the option to cancel your subscription. It's as easy as that: no need to pick up the phone or write an email to customer support.