Key Features
Customized dog food meal plans

Human-grade and fresh whole-food ingredients

Regular deliveries so you won't run out of food

Current deal: Get 60% off on your first order!
The Farmer's Dog provides individualized nutrition plans specific to your border collie's distinct requirements. It'll consider things like your dog's age, weight, physical activity, and general health. And, it'll use that info to tailor a meal plan that guarantees the proper mix of macronutrients to sustain his or her overall health and well-being.
The Turkey, Beef, and Pork recipes contain some of the most balanced macronutrient profiles. These recipes contain 8 to 11% crude protein and 4.5 to 9% crude fat.
The ingredients are high-quality and contain tons of nutrients. Some ingredients you'll find are chickpeas, carrots, sweet potatoes, lentils, and green beans. Only fresh, human-grade ingredients that meet or surpass AAFCO standards are used in its meals. There are no artificial preservatives or fillers are used. All ingredients are obtained sustainably and ethically since The Farmer's Dog works closely with local farmers and suppliers.
You also won't have to stress about unexpectedly running out of food. Convenient delivery service is available, ensuring timely doorstep delivery of your dog's food every 3 weeks. The Farmer's Dog uses eco-friendly, easily recyclable packaging, making it an environmentally conscious choice. You can read more about this in our full review.
Prices begin at $2/day, but that's for a smaller dog. Costs for a larger border collie will likely be higher. The initial order is a 2-week trial. If you or your furry companion aren't satisfied with any aspect of the trial, you can receive a full refund as long as the remaining food is donated to an animal shelter.
Ollie creates tailored meal plans for your border collie, taking into account their specific dietary requirements and preferences. You'll be asked a series of questions when you sign up about your dog's breed, age, size, current weight, ideal weight, activity level, and any food intolerances. But it also has another unique trick up its sleeve.
Ollie uses a sous vide cooking technique to prepare its meals. This was once only found in the fanciest of Michelin Star-rated restaurants – but not anymore. The company has realized that it's just great at locking in flavors, juices, and vital nutrients in general. Since border collies don't suffer from many health issues, this is great since this type of food will help to continue that trend.
Each meal is prepared in small portions at a very specific, low temperature. Each meal is first vacuum-sealed, then placed in a temperature-controlled water bath. This is usually used for things like thick steaks in fancy restaurants. I love to see that in pet food too.
With Ollie, you can be confident that you're feeding your dog high-quality, human-grade ingredients sourced responsibly. You have the option of choosing between fresh food or baked kibble-style food.
Ollie's team of veterinary nutrition experts oversees each meal plan to guarantee it fulfills the nutritional requirements of every individual dog. This assurance allows pet owners to trust that their border collie receives a well-rounded, nutritionally complete diet.
Choose from Beef, Chicken, Turkey, or Lamb for fresh meals and Beef or Chicken for baked kibble. Our comprehensive Ollie review delves into greater detail about that. And, of course, its meals are devoid of any artificial preservatives, fillers, and by-products.
Additionally, you can buy treats such as Beef & Sweet Potato Jerky and Sweet Potato slices for your furry friend as well as supplements like Chill Pills and Probiotic Chews.
Each meal is crafted with superfood ingredients like sweet potatoes, peas, carrots, rice, blueberries, kale, squash, eggs, and plenty of veggies. These meals are packed with antioxidants, and abundant micronutrients like minerals and vitamins, and boast roughly 7-10% crude protein, on average. Most importantly, they're great for humans, which means they'll also be great for your pup.
Several plan options are available, including Full Fresh, Mixed Bowl (fresh + baked), and Half Fresh. The Mixed Bowl and Half Fresh plans offer cost savings over the Full Fresh plan, while the Half Fresh plan is an excellent introduction for your pup to sample the food.
A 2-week starter box containing 28 packs of food is the minimum order required, providing 2 meals daily for 14 days. Prices begin as low as $4-$8 per day for smaller dogs, with a slightly higher cost for medium-sized border collies.
We Feed Raw is devoted to delivering fresh, raw, human-grade food devoid of fillers, preservatives, or artificial flavors. Each meal is brimming with vital nutrients essential for your dog's health and well-being.
A standout feature of We Feed Raw is its dedication to customization. When placing an order, you can complete a questionnaire detailing your dog's characteristics, such as breed, age, weight, activity level, and any existing health issues, as explored in our full review. After that, you'll get a completely bespoke meal plan that's perfect for your pup. You can also order a la carte.
We Feed Raw's meals adhere to the stringent guidelines established by the AAFCO and are meticulously crafted to fulfill the specific nutritional demands of your pup. Your border collie is a unique pup, and its nutritional demands are different from those of other breeds.
Meal options include Chicken, Turkey, Beef, Duck, Venison, and Lamb, which feature nourishing ingredients like flaxseed, beef heart, beef liver, and beef kidney. The meals are also complemented by vitamin and mineral fortification.
There's a lack of veggies compared to other services. Even though each dog owner is free to decide whether they want to include veg in their dog's diet, you should still be aware of this. If you do want veg in your pup's diet, you'll have to look elsewhere, such as The Farmer's Dog.
Each meal is formulated by nutritionists and approved by veterinarians, which still ensures a well-balanced diet. Bear in mind that since the meals are raw, storage guidelines differ from those for fresh (cooked) food. We Feed Raw advises storing the food in the refrigerator for no more than 4 days, or in the freezer for up to 6 months (in its original packaging only).
A 2-week trial period is the minimum order requirement. Following this, new orders will be dispatched and billed every 3 weeks. Prices start at $6.59/lb for very small breeds, with costs for border collies slightly higher, depending on your pup's specific body size and activity level.
Key Features
Fresh, human-grade dog food

Personalized meals for your pup

Pre-portioned meals that are easy to serve
Nom Nom delivers various meals designed to meet your border collie's individual needs. You can choose from 4 different recipes – Beef Mash, Chicken Cuisine, Pork Potluck, and Turkey Fare. Each meal is crafted with fresh, whole ingredients, free of artificial flavors, preservatives, or fillers, as our reviewer found out.
Nom Nom also provides a microbiome testing kit for gut health to monitor your dog's digestion, with the option to select from 2 distinct probiotics – full-spectrum or GI-targeted. This all ensures that your pup's food is helping them and not causing additional health effects.
The recipes are all designed to address the particular nutritional requirements of your furry buddy. Moreover, each meal meets or surpasses the dietary guidelines established by the AAFCO.
Every Nom Nom meal is created by in-house board-certified veterinary nutritionists, of which there are fewer than 100 in the entire US. To me, this signals the company's commitment to the quality of its food.
Nom Nom also goes above and beyond to ensure freshness and nutrient density. For instance, the Beef Mash recipe contains USDA-grade beef, russet potatoes, carrots, peas, and other nourishing components rich in protein, fiber, and essential nutrients.
It also takes pride in offering customized meal plans along with high-quality ingredients. Upon signing up, you'll complete a questionnaire about your border collie's age, weight, breed, and activity level. This data generates a tailored meal plan specifically for your dog, ensuring they receive the nutrition necessary for optimal health.
Nom Nom provides pre-portioned meals and guarantees your dog receives the correct amount of food. This hassle-free approach eliminates the need for figuring out how much to feed your dog per meal, which would personally drive me crazy.
You can order a full meal plan or half portions. The latter allows your pup to sample the food without committing to a full order.
The minimum order required is a 2-week food trial. While the cost is $2.40 for a small pup, expect a slightly higher price for larger breeds like border collies.
Key Features
Slow-cooked in small batches

Gluten-free, grain-free, and soy-free meals available

Ready-to-eat meals
Spot & Tango specializes in tailor-made dog meals according to each canine's unique needs and dietary preferences. The food is fully preservative-free, which I love to see. As such, it's a great choice for your border collie.
The service provides 2 dog food varieties: fresh and UnKibble. You can learn more about the differences in our full review. Both types of food contain essential nutrients, but the UnKibble is more cost-effective. If your dog prefers raw food, check out We Feed Raw.
Spot & Tango transforms fresh food into a dried form without relying on fillers or preservatives. This basically results in a product with higher protein, fat, and carb content per gram. All recipes are developed by veterinary nutritionists and comply with or surpass AAFCO guidelines.
Ingredients include human-grade proteins like turkey, beef, and lamb, alongside fresh fruits and vegetables. The service caters to border collies' diverse needs with various meal options, including Turkey + Red Quinoa, Beef + Millet, Lamb + Brown Rice, UnKibble Beef + Barley, Chicken + Brown Rice, Cod + Salmon, and Turkey + Sweet Potato.
In terms of its fresh food, it all comes pre-portioned for easy serving, while UnKibble includes a personalized scoop to ensure accurate feeding for your border collie. I find this to be very unique as no other competitor has really done this. Knowing exactly how much to feed your pooch is priceless.
You can choose between full orders and topper-only plans, with the latter offering a cost-effective way to introduce your dog to the food. The topper-only plan allows your pup to continue consuming his or her dry food, but also give the wet food a trial run.
Spot & Tango offers treats and snacks such as Sweet Potato Bites, Chicken Bites, and Bison Bites. These are also made with quality ingredients, so you don't have to feel like you're missing out. Again, lots of competitors stuff the treats and snacks with ingredients you wouldn't want to feed your pup.
The minimum order consists of a 2-week UnKibble trial, a full fresh plan, or a fresh topper plan. Prices begin at $7 per week for small dogs, with costs for a border collie varying based on size. If your dog doesn't enjoy the food, you can also receive a full refund for the trial order.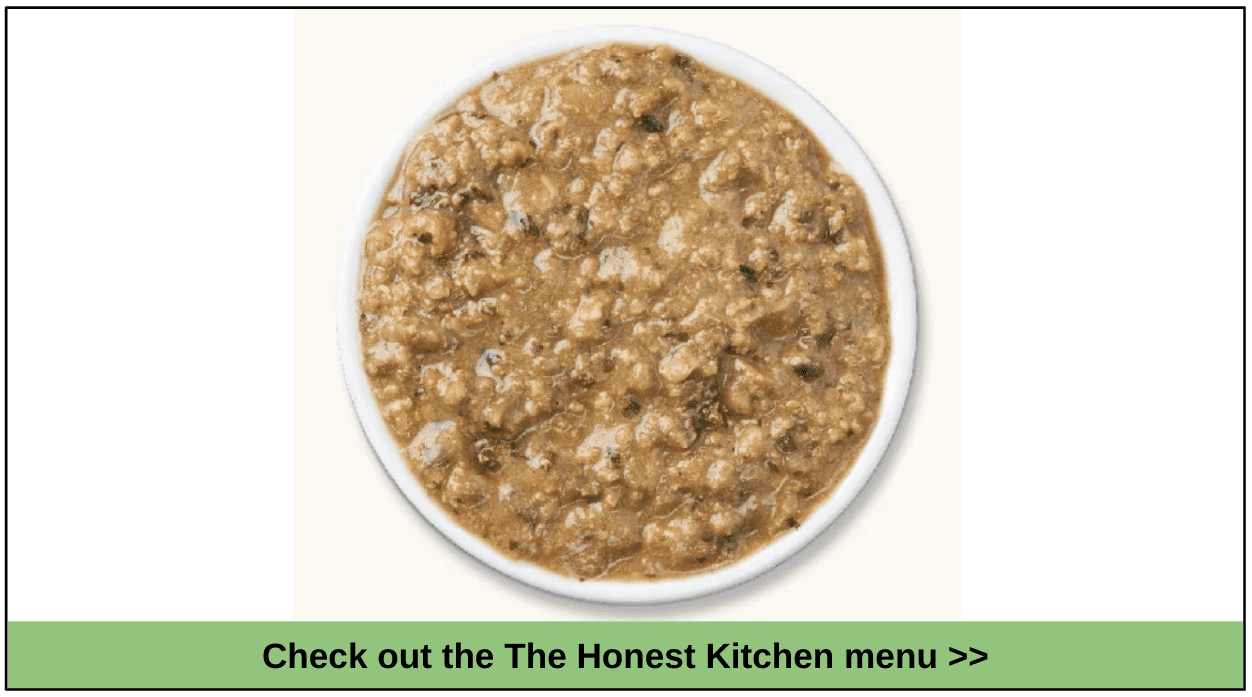 Key Features
Massive selection of dog food

Ingredients feature non-GMO fruits and veg

Dry, wet, and "dehydrated" available
The Honest Kitchen offers up an impressive variety of human-grade dog food to choose from. Each meal is carefully crafted using real, whole-food ingredients that are even safe enough for human consumption. The company's top priority is to offer your pup additive- and preservative-free food to support optimal border collie health. You can learn more about it in our official review.
Something unique about the company is its dehydrated food. You're basically getting the benefit of fresh food but in a cheaper, more convenient package. It's made by mixing dehydrated meat, fruits, and vegetables with water – plus, most of the nutrients are preserved this way, and it remains much easier to store away, too. For a more traditional approach to fresh food, try The Farmer's Dog.
You'll find ingredients like free-range chicken, wild-caught fish, and organic fruits and veg. These are all very high-quality. Not many other competitors can say that about the food on offer.
Dry food, wet food, toppers, supplements, broths, and treats are also on the menu, so if your pup isn't a fan of dehydrated food, they can try something else. There's everything from Grain-Free Chicken Clusters, Dehydrated Grain-Free Beef, Slow-Cooked Chicken One-Pot Stew, Blueberry & Vanilla Goat's Milk N' Cookies, and Instant Beef Bone Broth with Turmeric.
There are menu filters such as protein type as well as dietary options such as Low Carb and Low Sodium. The proteins you can choose from are Fish, Chicken, Beef, Turkey, or Duck. I love seeing the large variety of options on offer.
It's important to note that you're getting non-GMO fruits and vegetables. No meals contain any corn, wheat, or soy, either. Again, for a dog food delivery service company, I find these points to be quite impressive, and its dedication to quality is apparent to me right away.
There's no minimum order. Everything you buy is like shopping at Amazon or Walmart – simply place a one-off order whenever you wish. Keep in mind that you're welcome to subscribe as well for recurring shipments. Options for that include every 2, 4, 6, 10, or 12 weeks. Prices start at $5.99 for dry food, however, these will vary largely depending on what exactly you're buying.
Key Features
Good levels of protein and superfood ingredients

Grain-free options available

Customizable meal plans
Open Farm offers lots of meal options that are also human-grade. All of its ingredients are sourced in a sustainable fashion, and the ingredients come from places that focus on ethicality.
You can choose from options including dry, wet, freeze-dried raw, and RawMix options. Learn more about all of those in more detail in our full review. Everything you get comes from ethically and responsibly raised meat and wild-caught fish, and you're also getting organic fruits and veggies in the food too.
The quality of ingredients is high, with 100% grass-fed beef, wild-caught salmon, and humanely-raised poultry. All recipes also contain tons of vitamins and minerals too for added health benefits. It's great to see that its meals also feature high levels of protein. They're also loaded up with lots of added nutrients.
You can opt for a variety of snacks, supplements, and bone broths, too. For instance, there are dehydrated chicken, beef, and pork treats, probiotics, and beef, turkey, and chicken bone broths.
There's no minimum order. You could opt for either one-time purchases, or sign up for autoship every 1 to 16 weeks. For smaller dogs like border collies, pricing starts at $7/lb without auto-shipment – but for larger ones, you can expect the prices to be slightly higher.
Key Features
Cooked-to-order dog food

Human-grade, whole-food ingredients

In-store and home delivery options
Just Food For Dogs uses only human-grade ingredients from reliable suppliers in its meals. All meals are free from preservatives, fillers, and by-products, and feature premium proteins, fresh veggies, and brown rice. These ingredients help your furry friend maintain optimal levels of health.
The service offers personalized meal plans tailored to your dog's unique needs and preferences. You'll be brought through a questionnaire, which takes into account his or her age, activity level, and health status. By collaborating with veterinarians and nutritionists, you can create the perfect meal plan for your border collie. The meals are fresh so if you're looking for raw meals try We Feed Raw.
As well as full meals you can buy Do It Yourself Nutrient blends. The nutrient blends help you make DIY dog food while ensuring he or she is getting the proper nutrition. Some recipes on offer include Chicken & White Rice from the Fresh Frozen menu and Turkey & Whole Wheat Macaroni Recipe from the Pantry Fresh menu. There are also treats, supplements, and bundles like Beef Brisket Treats, Probiotic Live, and packages containing meals, treats, and toys.
It also provides prescription diets for dogs with specific health conditions such as kidney, liver disease, or diabetes. You can learn more about this in the full review. Thankfully border collies don't necessarily suffer from these conditions anyway but this could be useful if you have more than 1 dog breed.
The company is committed to exceptional customer service and transparency. Its team of veterinarians and nutritionists is available for assistance and advice on meal planning and nutrition.
Prices start at $6.45 for small dogs. One-time orders are available, but you can save with autoship. Autoships can be scheduled every 1 to 8 weeks, with in-store pickup also available. If you're dissatisfied with your 1st order, you can get a full refund, excluding shipping and delivery fees.
Key Features
Sous vide cooked meals for dogs

Restaurant-grade, high-quality ingredients

Customizable meal plans based on the dogs needs
A Pup Above's meals are made with high-quality ingredients prepared using the sous vide cooking technique. Cooking food using this technique leaves it more tender and ensures it retains much of its original nutritional value. It also leaves the food tasting great.
You can find 3 distinct dog foods here – dry, fresh, and a mixed pack, as you can learn more about in the official review. In terms of dry food, you'll find meals like Beef Pot Roast, and for fresh food, there's Texas Beef Stew. If you want a mixed pack, you can mix and match 4 different choices as you wish.
A Pup Above's meals feature meat as the very 1st ingredient. Any ingredient that shows up 1st on the list is usually the most prevalent. Your pup will also be getting humanely raised and antibiotic-free meat.
It's great to see that A Pup Above's meals contain very high average protein levels at 10%+. This is also ideal if your dog needs to lose weight. Meals with higher protein and fewer carbs keep your furry friend full for longer, which also means he or she won't be looking for snacks (or refills!) as often.
In addition to high levels of protein, you can also expect vitamin and mineral-rich veggies and other superfoods. For instance, you can expect to see ingredients like sweet potatoes, green beans, and carrots. And, all meals are free from fillers and preservatives, naturally, which I wouldn't expect any other way from A Pup Above.
It's easy to serve the meals – all you have to do is thaw them in the fridge until they're ready to go. And, you also don't have to measure out the food as it's all pre-portioned for you.
The minimum order is a 3 lb bag of fresh food or a 2 lb bag of dry food. You also don't have to subscribe, but you can if you want to. Both one-off and autoship orders are available to you. Autoshipments will save you money and are available every 1 to 8 weeks.
Prices start at $7.50/lb, but that's for very small dogs. Expect to pay slightly more for a larger breed like a border collie.
Key Features
Kibble, treats, and more available

Only a handful of quality ingredients

Real, human-grade meats
Jinx's pet food uses top-tier ingredients obtained from reliable sources. The meals consist of proteins like chicken, beef, and salmon, which are some of the healthiest available for border collies. Plus, you'll also get a proprietary probiotic blend with "20M+ microorganisms for enhanced gut health."
The menu consists of dry and wet food, meal enhancers, dental chews, and treats. Learn more about those in our comprehensive review. Offerings also include Beef & Sweet Potato Kibble, Grain-Free Chicken & Sweet Potato Pate Wet Food, Chicken & Pumpkin Topper, and 3 sizes of dental chews tailored to your dog's weight. There are some grain-free options but if you want grain-free fresh food, try Spot & Tango.
Besides excellent protein content, Jinx's meals also incorporate nutritious veggies such as sweet potatoes, carrots, and green beans. These are great for humans, which means they're a great addition to your dog food as well. The dry food typically contains 27 to 29% crude protein, while the wet food has around 8 to 10% protein content.
Moreover, Jinx's meals are free of artificial preservatives, fillers, and by-products. This ensures your dog receives only the finest ingredients without any potentially harmful additives. And, the treats feature high-quality ingredients, such as chicken and beef, and are devoid of artificial preservatives and fillers, just like the rest of the main meals.
There's no strict minimum order, as one-time purchases are available. Pricing starts at $30/bag. However, subscription options exist, with delivery frequencies ranging from every 3 to 8 weeks. If you choose to subscribe, you'll save some money. If your furry friend isn't completely satisfied, you can obtain a refund for any order by contacting the support team.
Quick Comparison Table
| | | | | | | |
| --- | --- | --- | --- | --- | --- | --- |
| | Starting Price | Minimum Order | Best For | Meal Type | Shipping | Active Deals |
| | $2/day | 2 weeks worth of meals | Dogs who like fresh food | Fresh | Free | Get 60% off on your first order! from The Farmer's Dog |
| | $4-$8 per day | 2 weeks worth of meals | Dogs who like fresh food | Fresh | Free | 70% Off your first box + FREE bowl and jerky strips from Ollie |
| | $6.59/lb | 3 weeks worth of meals | Dogs who like raw food | Raw (frozen) | Free | $30 off each of your first 4 boxes, $120 total from We Feed Raw |
| | $2.40 | 2 weeks worth of meals | Dogs who like fresh food | Fresh | Free | Take 60% Off Your First Order from Nom Nom |
| | $7 per week | 2 weeks worth of meals | Dogs who like fresh food and kibbles | Fresh, UnKibble | Free | Get 50% + FREE Chicken Bites on TWO orders from Spot & Tango |
| | $5.99 for dry food | No minimum | Dogs of all ages and breeds | Dehydrated, wet, treats, toppers | $5.00, free on orders over $49.00 | Up to 60% Off! Code: FALLSALE. from The Honest Kitchen |
| | $7/lb without auto-shipment | 1 item | Dogs of all ages and breeds | Fresh, dry, freeze-dried raw, raw mix, gently cooked | $5.99 or free for orders over $50 | Save 15% Off Your First Order With Code: HELLO15 from Open Farm |
| | $6.45 | 7.8lb bag | Dogs of all ages and breeds | Fresh Frozen, Pantry Fresh (shelf-stable), DIY Nutrient Blend | $19.99 or free for dry or frozen orders over $99 | Save 40% off your first order and 5% off recurring autoship orders! from JustFoodForDogs |
| | $7.50/lb | 3 lb bag | Dogs of all ages and breeds | Fresh | $15, or free when you order 3 or more bags | $50 Off your 1st Order with code TRYNOW from A Pup Above |
| | $30/bag | No minimum | Dogs of all ages and breeds | Dry, wet, toppers, treats, dental chews | $5 for orders less than $35; free shipping over $35 | Subscribe and save 15% from Jinx |
Tips for Choosing the Best Dog Food Delivery For Border Collies
FAQ
What dog food is best for border collies?
Border collies need a high-quality, balanced diet rich in protein, healthy fats, and essential nutrients. Also, yours should have 1 tailored to their age, weight, and activity level. For instance, The Farmer's Dog provides human-grade ingredients along with a fully customized meal plan for your specific pup and his or her unique needs.
What foods should I avoid for my border collie?
Avoid foods with artificial additives, high salt or sugar content, toxic ingredients (like chocolate or grapes), and low-quality fillers. This doesn't just go for border collies, either. Fortunately, there are plenty of high-quality dog food delivery services such as Ollie that emphasize human-grade, whole-food ingredients that meet (or exceed) the standards set forth by the AAFCO.
Is grain free better for border collies?
Grain-free can sometimes be beneficial for border collies with grain allergies or sensitivities. However, it's not necessary for all – so I always recommend consulting your vet to determine if this is really necessary for your pup. If you're looking for grain-free meals, I recommend trying Spot & Tango. It offers both grain-free UnKibble along with fresh food.
Best Dog Food Delivery for Border Collies 2023 — Final Score