Overview
Many leading chefs use sous vide technology – extended simmering at precise water temperatures – to preserve nutrients and flavor. A Pup Above makes extensive use of this technique in its fresh food offerings to treat your pooch to a culinary experience once found only in four-star restaurants. But is A Pup Above better for your dog?
I carefully studied A Pup Above's ingredient lists, reviews, and policies as well as consulting veterinary experts and dog owners to see how A Pup Above compared with other dog food delivery services.
A Pup Above offers tasty human-grade meals specially designed for your dog's nutritional needs. If you want to give your pooch the benefits of homemade food but don't have the time to prepare it yourself, A Pup Above may be perfect for you.
Pros

Cons

Fresh food is prepared sous vide

No puppy food options

Dried food is gently cooked

No options for senior or sedentary dogs

Human-grade food


Weighing fresh food is inconvenient

Current deal – $50 Off your 1st Order with code TRYNOW
A Pup Above Meals
Plans and Recipes
A Pup Above offers fresh and dry food in a range of flavors, formulated by board-certified veterinary nutritionists.
Fresh food recipes include:
Texas Beef Stew

Turkey Pawella

Porky's Luau

Chicka Chicka Bow Wow
Dry food "Cubies" include:
Beef Pot Roast

Chicka Pupatouille

Proky's Porchetta

Turkey Pilaf
A Pup Above also offers a mix-and-match Combo Bundle, where you can combine fresh and dry options.
A Pup Above uses 100% human-grade ingredients. There are no fillers or waste parts, just fresh non-GMO meat and vegetables with some added natural vitamins and minerals. Superfoods like natural anti-inflammatory turmeric appear in every A Pup Above meal.
The fresh meals recently added another superfood, bone broth, which contains essential minerals for your dog's health. These can help support a healthy liver and enhance the immune system. Bone broth also contains collagen that helps support healthy skin and coat, and supports joints.
Veteran nutritionists and food scientists formulate and review each recipe to ensure it meets appropriate American Association of Feed Control Officials (AAFCO) guidelines. And every meal comes with a number you can use to check the "Best By" date and look up where the ingredients came from.
While most dogs will do better on meals that include small percentages of grain, some pooches are grain-sensitive. A Pup Above's pork and beef meals have no grains, while its chicken and turkey dinners include small amounts of healthy grains like rice and oats for your pup's complete nutrition.
A Pup Above's fresh meals contain an average of 77% more protein than other dog food delivery services' do. And sous vide meals have up to 25% more nutrients than meals prepared conventionally at higher heats.
The Cubies dried meals are created using a trademarked "Nutri-dry" cooking process that gently dries ingredients to preserve the nutrients.
A Pup Above's meals are formulated for adult dogs. While you can feed puppies A Pup Above food as an occasional treat in conjunction with a puppy food diet, it shouldn't be their primary diet. (Also remember that large or giant breed dogs may need puppy food for two years or more!)
A Pup Above provides feeding guidelines for dogs of various sizes. Your five-pound toy dog's nutritional needs can be met by four oz. (one quarter of a vacuum pouch) of A Pup Above fresh food a day. An 80-pound dog needs two pounds (two pouches) a day. You can also mix A Pup Above meals with other dog foods in different ratios.
Dividing a fresh food pouch into equal parts can be challenging, especially when you're feeding your dog one third or one and three quarter pouches a day as per A Pup Above's instructions. It would be nice to see smaller or larger pouches offered. It would also be nice to see specialized diets for puppies and senior dogs.
The Cubies dried meals are much more convenient to portion, and just need to be scooped and then served.
Unboxing
A Pup Above's fresh meals come in three-pound and seven-pound bags. The food is separated into one-pound vacuum sealed pouches, then frozen after it's cooked in a sous vide bath. The shipping box contains dry ice and curbside recyclable box liners.
These meals are stored in the freezer. When you need a new bag, simply put it in the refrigerator overnight to defrost, then feed your dog the next day. An opened vacuum bag will be good for up to one week.
Frozen meal delivery is always going to require a lot of packaging. A Pup Above tries to keep its carbon footprint as low as possible. You can recycle most of the packaging and upon request you'll receive a prepaid TerraCycle envelope to recycle the vacuum bags.
Shipping & Delivery
A Pup Above currently ships to the continental United States via UPS or FedEx ground delivery. A Pup Above's shipping page gives you a list of estimated transit times based on your location.
Once you place your order, you should receive your package within 1-3 business days. A Pup Above doesn't ship on weekends or holidays. As soon as your package ships you'll receive a confirmation message with a tracking number and expected delivery date.
If there are any issues with your delivery, send a note to contact@apupabove.com and they'll help you sort things out.
If you want to try A Pup Above, check its website's store locator to see if it has any retail sellers nearby. I found sellers near my New Jersey home and also at zip codes in Georgia and California. (Alas, there were none near my childhood home in rural Pennsylvania, but Philadelphia has a few locations to choose from).
No nearby retailers? No problem! A Pup Above offers online deliveries throughout the continental United States. And while subscriptions are optional, you'll save 10% on the cost of three-pound bags and 25% on the cost of seven-pound bags.
How to Sign Up
A Pup Above's guidelines make it easy to determine the right subscription for your furry friend's feeding needs. Once you've decided, you place your order. Tasty sous vide dog food arrives regularly on your doorstep and your pooch can enjoy the finest in canine cuisine.
If you have multiple dogs, you can create multiple subscriptions. Your five-pound Chihuahua can enjoy two three-pound bags of Chicka Chicka Bow Wow every three weeks, while your variety-loving 80-pound Golden Retriever can get a 28-pound Sampler Pack of all four flavors every two weeks.
Managing Your Subscription
It's easy to sign up for a subscription, and just as easy to manage your account.
To cancel your subscription: Log in to your account, click "Subscriptions," then press the "Cancel" button beside the product or products you no longer want to receive. You can cancel at any time.

To skip or change a delivery date: Click "Delivery Schedule" to see all upcoming deliveries. Choose the date you wish to skip or change and make the desired adjustments.

To update billing information or address: Click "Manage Subscriptions", then "Billing" to update your card on file and billing address. To update your delivery address, go to "Addresses" and update your shipping address.

To add or change products in your subscription: Select "Subscriptions" then click "Add Product" for a pop-up where you can search, view, and select additional products. Select "Swap" to replace a current order with a new one.
Customer Service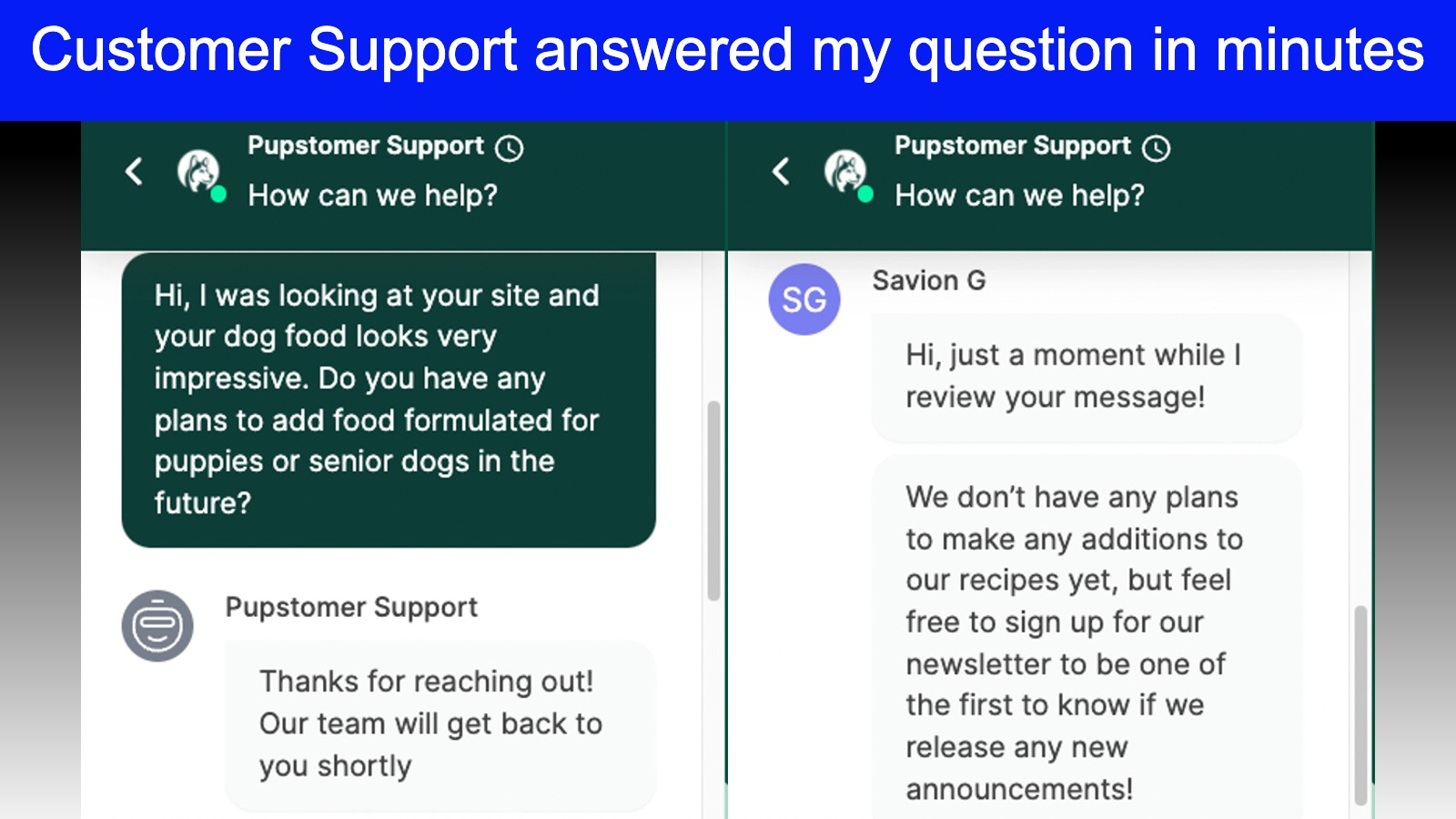 I asked A Pup Above's chatbot a question on a Friday afternoon and received a useful answer from Pupstomer Support within a few minutes. While bot conversations are generally an exercise in frustration, the Pupstomer Support office is manned by real people.
A Pup Above's Happiness Guarantee ensures that if your first order doesn't meet your pup's needs, you'll receive a cheerful refund. If there's an issue with subsequent deliveries, and you notify A Pup Above within seven days of the delivery, you may be offered a refund or store credit.
As I noted above, subscriptions are optional and cancellation is easy. You can change your orders or swap in a different flavor, all from the comfort of your browser. You can contact A Pup Above through live chat or by email at contact@apupabove.com.
A Pup Above Recalls
To date, A Pup Above has had no product recalls.
Prices
| | | |
| --- | --- | --- |
| Starting from | Minimum Order | Shipping Fee |
| $7.50/lb. | 3 lbs @ 34.99 | $15 (free with 3+ bag order) |
For one-time orders, three-pound bags cost $34.99 and seven-pound bags $69.99. The $15 shipping fee is waived on orders over three bags. A subscription can save you 10% on the cost of three-pound bags and 25% on a seven-pound bag order. You can also use our special discount code $50 Off your 1st Order with code TRYNOW for a further price reduction.
Giving your five-pound Chihuahua the recommended A Pup Above diet will set you back just under $3 a day. Feeding an 80-pound Lab that same diet will cost you almost $15 a day. You can also serve A Pup Above as just a part of your pooch's diet. This will cut your A Pup Above bill by 50% or more, depending on what ratio you use.
These prices are in line with what other dog food delivery services charge, and are quite reasonable given the quality of ingredients used by A Pup Above.
The Bottom Line: Is A Pup Above Worth It?
If you want to feed your furry companion homemade meals but don't have the time for research, shopping and preparation, A Pup Above delivers tasty food tailor-made to your dog's dietary demands.
If your dog has a sensitive stomach, A Pup Above meals can improve its digestion and reduce its gas production. As the former owner of a flatulent pit bull, I can attest that this will result in a higher quality of life for both your dog and your household.
If your dog's a fussy eater, A Pup Above meals will be a temptation not even the most finicky pooch can resist.
It may cost a bit more than dog food in a can. But if you want the peace of mind that comes from knowing your beloved pet is eating healthy and delicious meals, A Pup Above is worth it.
FAQ
Does A Pup Above Require a Subscription?
While many dog food delivery services require a subscription, A Pup Above welcomes one-time orders. A subscription will save you between 10% and 25% on your orders and will ensure your canine companion has a regular supply of healthy and delicious food.
Are A Pup Above Meals Grain-Free?
A Pup Above's beef and pork-based meals are grain-free, while its chicken and turkey-based meals contain small quantities of healthy grains like rice and oats to meet your pet's complete nutritional needs.
Does A Pup Above Make Puppy Meals?
While all A Pup Above meals are formulated for adult dogs, you can give puppies small amounts of A Pup Above food as a supplement to a puppy food diet. Put a small amount of A Pup Above atop the bowl and your little buddy will be sure to clean his plate.