Before we get into the product and its features, it's important to note that Check My Body Health doesn't check for allergies, only sensitivities. Sensitivity to an item is caused by a reaction from the digestive system, whereas allergy is caused by a reaction from the immune system.
The company has two primary tests – the Essentials Food Sensitivity Test and the Complete Food Sensitivity Test. I found it rather odd that they're called "food sensitivity test" as they also check sensitivity towards other environmental items like plants, flowers, herbs, and more.
Other services that CMBH offers include a Diabetes Risk Test (H1A1c), which is a test recommended by the American Diabetes Association, and a meal planning service that helps you maintain a plant-based diet
The Essentials Test tests 400 different items. The main categories include:
Food

Drink

Heavy Metals

Vitamins A-K

Additives
The Complete Test tests 970 different items. It includes two additional categories like Gut Health and Digestion.
The tests are carried out by a technology often used in the alternative/complementary medicine field called bioresonance testing.
Bioresonance testing
Bioresonance testing is easy to understand, despite its intimidating name.
Basically, the theory states that unhealthy cells and organs give off a different frequency than healthy ones. A bioresonance device can pick up these frequencies and determine the health of a cell.
I was worried that the bioresonance testing procedure would be overly complicated and drawn out. Thankfully, all you have to do is take a sample of your hair and send it to the company!
CMBH scans the hair sample using the bioresonance device to create a profile of your energy signature. Then it tests different food and environmental items against your hair sample.
If the food's frequency doesn't harmonize with that of your hair, and the machine detects a distortion above 85%, it means that the food isn't right for you.
Complementary/alternative health associations fully endorse the bioresonance test, even though it has not been scientifically validated. According to practitioners in this field and their clients the test works as intended.
What to expect from the test report
You'll receive a comprehensive report within 3-5 days from when the sample arrives at the lab. This turnaround time is an industry standard.
Let me walk you through the key sections of the report.
Food sensitivity analysis
The first main section of the report is the food sensitivity analysis. Here you will find out which food categories you have a high and moderate sensitivity to and which ones you have zero sensitivity to.
You then can see your sensitivity towards each food, as shown in the snippet of the report below. Each food is given a color code: red signals high sensitivity to a particular food, orange signals moderate sensititivity, and green signals zero sensitivity.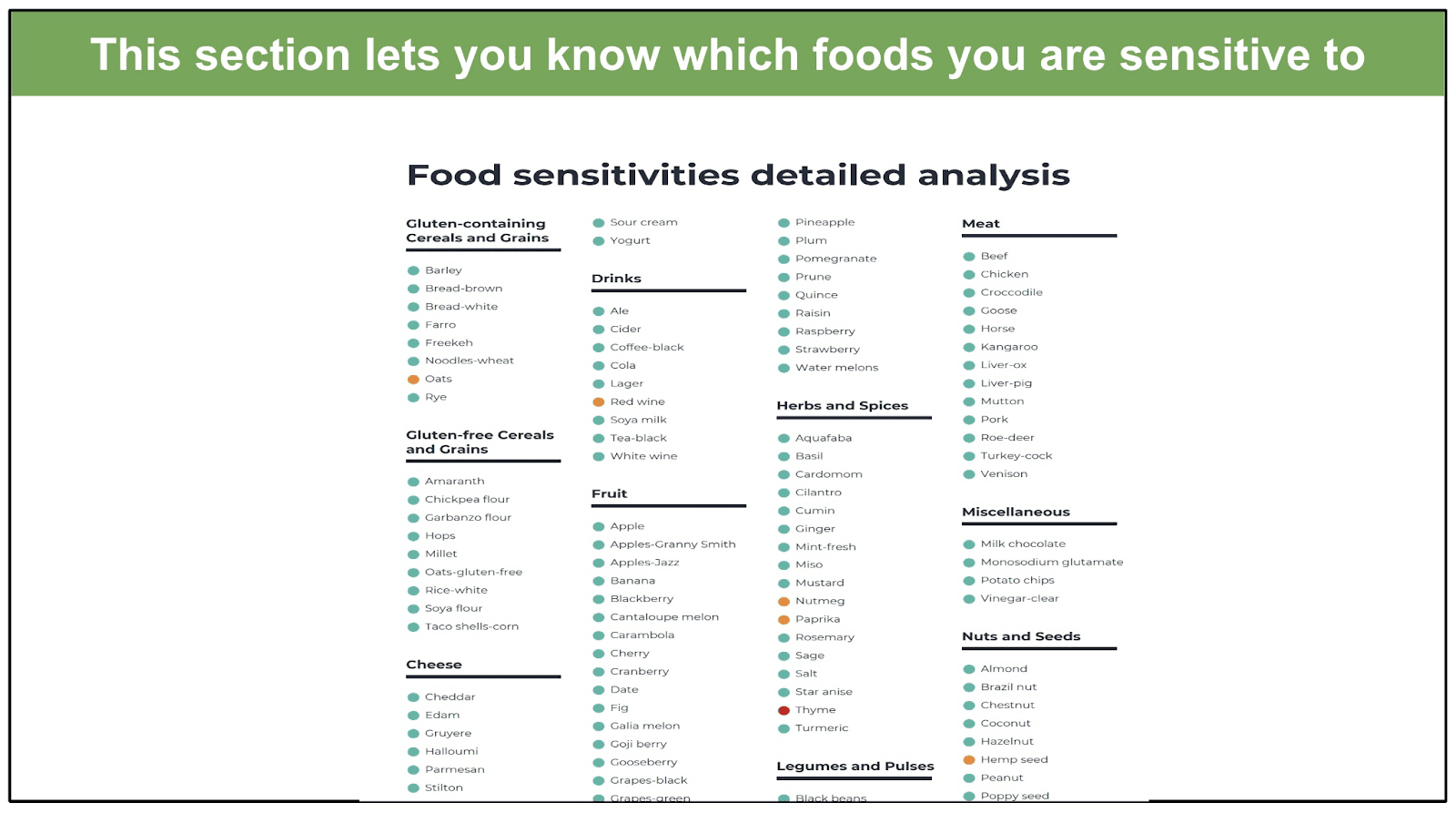 Non-food sensitivity analysis
CMBH's sensitivity tests will also check your sensitivity toward non-food items. Non-food items include plants, flowers, insects, organic compounds, and more.
However, it's important to note that the test won't let you know if you have pollen allergies, only if you are sensitive to pollen.
Metal sensitivity analysis
The metal sensitivity analysis isn't really a sensitivity test. I'm not sure why it's named this way. This section actually shows you the levels of exposure to different heavy metals in your body.
The exposure levels are characterized by high reactivity, moderate reactivity, and no reactivity.
Heavy metal toxicity can cause abdominal pain, dehydration, diarrhea, nausea, or vomiting. The more sinister effects include brain damage or memory loss, kidney damage, liver damage, miscarriage in pregnant women, and more.
Minerals and other nutrients analysis
Again, this isn't exactly a sensitivity test. It lets you know the minerals and nutrients (like calcium, copper, iron, and sodium) you're deficient in.
If the nutrient is below range, it'll get marked in red, and if it's within range, it'll be marked in green.
Vitamins A-K analysis
Vitamin deficiencies can cause mouth ulcers, bleeding gums, hair loss, and more. This section will help you determine the levels of vitamins in your body, so you can take corrective action.
Additives analysis
Additives are substances like aspartame, sweeteners, stabilizers, and preservatives that are added to the food. Your body can also be sensitive to these.
This section lets you know the level of reactivity toward the different additives usually used in food.
Elimination diet
The previous sections dealt with the sensitivity and levels of different items in your body.
In contrast, this section gives you step-by-step instructions on eliminating and removing these items so you can get rid of the symptoms and become healthy. The process is carried out for four weeks or more.
Once the problematic items are removed, your gut will "reset", and you should notice a decrease in the negative symptoms. You're then supposed to introduce the foods one at a time and see if the symptoms return.
In this way, you'll be able to see how each item affects you, enabling you to make better lifestyle and dietary choices in the future.
I think CMBH could do better by providing personalized recommendations rather than general ones. Nevertheless, I understand why it can't do this – a personalized elimination diet plan would require a specialist to work with you, which would increase costs.
How to Order CMBH's Food Sensitivity Test
Ordering the test report is really simple. Let's look at what you need to do:
Choose whether you want the Complete Health Sensitivity Test or the Essential Health Sensitivity Test, then add it to your cart.
Go to your cart. Check My Body Health automatically adds a Meal Planning Service. You will need to remove this if you don't want it. Then select Proceed to Checkout.
On the next screen, you'll be asked for your billing address, card details, and any extra information in relation to your order.
After this, you'll receive an email confirming your order. Next, you'll have to fill out a submission form from the website where you enter your name, contact information, and dietary and allergy history.
You'll then be sent to a landing page with instructions on how to take a hair sample and send it to the lab.
The gist is that you'll have to take a sample of your hair, put it in a sealable bag (like a ziplock) and send it to the testing facility. If plucking your hair is uncomfortable, then you can take a sample from your comb or brush.
Keep in mind that you'll have to provide the envelope as well as postage.
The results will come by email in 3-5 days, so all you have to do is wait for it!
The Bottom Line
Check My Body Health is one of the best sensitivity tests on the market. The Complete Food Sensitivity Test in particular is a great choice as it tests 970+ items to see if you're sensitive to them.
It goes way beyond sensitivities to food and other items in the environment, too. The test also lets you know what minerals you're deficient in, if you have any heavy metal contamination, and if you have sufficient levels of vitamins in your body.
Once you send your hair sample to CMBH, you can expect to receive the test results within a week. The quick turnaround is important as you'll be able to start the elimination diet immediately and make changes to your health without any delay.
It isn't easy changing to change what you eat, but I find that the easiest way to try a new diet is to find a meal delivery service. My team and I have reviewed plenty of meal delivery services that cover a range of diets like gluten-free, paleo, vegan, and more – so you can choose from a variety of tasty foods while staying healthy and avoiding sensitivities.
If you want to know more about these services, you can read our Best Meal Delivery Services of the year.
FAQs
What are food sensitivities and allergies?
Food sensitivities are not the same as food allergies. Food sensitivities are digestive-system related. They occur when your digestive system reacts to certain foods and cannot break them down properly.
On the other hand, food allergies are caused when the immune system reacts to the allergenic substance by mounting an attack on it.
A test, like the one from Check My Body Health, will detect if you have a sensitivity to something, it doesn't detect if you are allergic.
Why is a food sensitivity test needed?
Not all foods are ideal for your body – eating the wrong foods can cause problematic symptoms.
If you suffer from similar symptoms and suspect it is due to a particular food, it's important to pinpoint the food using a sensitivity test and eliminate it from your diet.
Is Check My Body Health Legit?
The method used by Check My Body Health to identify food sensitivities is tried-and-tested, and a well-recognized practice in alternative medicine. In addition, Check My Body Health has partnered with ISO and UKAS-accredited laboratories.
Its 6-week money-back guarantee will also put your mind to rest, as you can get your money fully refunded if the service isn't for you.
How do I know if I have food sensitivities?
You'll usually show symptoms after eating a certain food. Here's a comprehensive list of symptoms to look out for:
Fatigue

Stomach pain

Brain fog

Bloating

Diarrhea

Gas

Headache

Nausea

Mood fluctuation

Cramps
It's recommended that you cut these foods from your diet for a while to reset your gut health and eliminate these problems.