Pros

Cons

Options for many diets

Main dishes only

Over 200 options per day

Poor meal customization

Meals prepared by top-rated chefs

Delivery not available for some regions

Current deal – SAVE 30% ON YOUR FIRST WEEK
What's on the CookUnity Menu
CookUnity's food caters to people with various dietary needs and preferences. If you're a fan of meat, fish, eggs, and vegetables, check out Paleo-friendly specialties. Lovers of seafood are likely to enjoy shrimp- and salmon-based dishes. If your diet consists of gluten-free specialties, no problem.
Whatever your needs or preferences, you can always check who prepares food and what it contains. You can easily find meals prepared by your favorite chef. If unsure, select the dish and refer to the star rating. The list of ingredients and basic nutritional values accompanies every meal, too.
CookUnity prepares food in various local kitchens. That helps its staff deliver fresh meals to users in pretty much all US states. If you live in CookUnity's delivery area, you can enjoy chef-prepared meals consisting of sustainably sourced components.
CookUnity offers meals you can filter by:
Diets, including vegetarian, vegan, pescatarian, keto, paleo, and more

Dietary restrictions, like gluten-free and low carbs

Main ingredient, such as beef, poultry, seafood, tofu, and more
| | |
| --- | --- |
| Diet | Is CookUnity Good For This Diet? |
| Pescatarian | Yes, there are many options |
| Vegetarian | Yes, there are many options |
| Keto | Yes, there are some options |
| Paleo | Yes, there are some options |
| Gluten free | Yes, there are many options |
| Dairy free | Yes, there are many options |
| Low Sodium diet | Sort of, it depends on your location |
CookUnity delivers around 200 cooked meals nationwide. Dishes boast a wide variety of proteins, including seafood, poultry, and a selection of vegetarian and vegan meals. And you only need to heat them before eating. These are single-serving and not designed to feed a family.
CookUnity employs renowned chefs who prepare diverse meals comprising healthy ingredients. You can find the name of the chef who prepared the meal on the label.
If you're after gluten-free, low-carb, or dairy-free food, you'll find multiple options on CookUnity's menu. Keto and paleo dieters have a decent number of alternatives. I found a specific low-sodium filter on the website's menu, but the options were limited.
CookUnity prepares meals from a variety of world cuisines such as Italian, Indian, Thai, Mediterranean, and Caribbean. Of course, there are some traditional American dishes, too.
Note that the meal delivery service specializes in main dishes. Breakfasts, treats, and drinks are extras available only to New Yorkers, who need to sign up to see the full menu. If you live elsewhere and wish to add sides, soups, or desserts, you'll have to contact another provider. For example, bistroMD offers shakes, cakes, and bites.
I'd also like to point out that dining options tend to vary in numbers by region even if you're only concerned with one specific diet. There are approximately 40 vegan dishes in the East Coast region, but only around 10 in Texas. As for low-sodium meals, only West Coast residents could order them at the time of writing.
It appears that CookUnity targets adult foodies. However, it does have some child-friendly meals, too. Buffalo Chicken Mac and Cheese and Roasted Chicken and Broccoli are a few of them.

Blackened Mahi Mahi with Mango-Habanero Salsa and Coconut Rice is another dish I find enticing.

Customization
Like many meal delivery services, Cookunity doesn't allow customization on individual meals. When you click on a dish, you can examine its ingredients, but you can't change them. Luckily, CookUnity has hundreds of available options, so you should find meals that suit you sooner or later.
I discovered that most dishes feature dozens of ingredients. Pancit Bihon with Chinese Sausage, for example, has Kosher salt, Soybean extract, and green cabbage, among others. Wagon Wheel Pomodoro is among the dishes featuring fewer components (9, to be precise). Spanish onions, ground black pepper, and canned tomatoes are some.

CookUnity offers a huge selection of meals. Despite the large menu and extensive filters, you can only filter by one thing at a time. For example, you can't sort for vegan and low sodium at the same time. There's no allergy filter on the website. To place restrictions, go to the Preferences section.
If you're a big fan of chef-prepared food but don't want to compromise on personalization, consider checking Factor. It sources ingredients carefully, and dietitians approve their meals. Plus, the service changes meals weekly.
If you stick to CookUnity, note that most of its meals are quick-heat ready. Meaning, you can heat them in a microwave or an oven. You'll also find the chef's recommendation, which may require extra effort, but is worth it.
You get CookUnity's meals in compostable, reusable, or recyclable packaging. All the meals contain fresh ingredients and their packages have expiration dates, heating instructions, and nutrition information.
All the meals come fully prepared so you only need to heat them up. You may need to remove certain components from microwave and oven-safe trays. The instructions are easy to understand, and you can warm your meal up quickly or take some additional steps recommended by the chef for an even tastier meal.

The expiration date of CookUnity's dishes ranges between 5 and 7 days. If you order meals for 1 week, put them in the fridge upon receiving them. To keep them fresh for up to 6 months, put them in the freezer before expiration. Wait for frozen food to thaw before heating it.
Practical boxes and other packages are environmentally friendly and recyclable. Orders come in insulated tote bags accompanied by gel packs. Being part of the Returnable Packaging Program, CookUnity encourages its customers to return bags to reduce waste. At present, the program's active in New York, Miami, and Los Angeles. Alternatively, you can reuse the bags.
Papers, liners, trays, and cooling packs are recyclable, too. But you'll have to take gel packs to a dedicated drop-off location for recycling.
Cooking with CookUnity
CookUnity delivers fresh, not frozen, meals to you. If you ordered a lot of meals, put those you intend to eat later in the freezer. Store those you plan to consume before expiration in the refrigerator. Put others in the freezer before the Use by deadline on the label.
You can heat every meal. While heating in the microwave is the quickest, warming food in the oven is a better option. For further tips, check out the chef's recommendation on the label.
Some steps may be heating sauces on the stove, steaming, or heating in the oven. While you may heat some dishes in 5 minutes when following the chef's instructions, others may take up to 20 minutes. It should be worthwhile if you aren't in a hurry. As for quick heating in a microwave, a few minutes should be enough.
You shouldn't have to chop, mix, or prepare food yourself. Meal containers are microwave- and oven-safe. Cleaning is easy, too, just rinse the container.
Shortlist of My Favorite Meals
CookUnity has such a large menu it was hard to choose my favorites. Here are some I thought sounded particularly delicious.
Fans of Greek cuisine should enjoy Traditional Greek Salad with Herb Grilled Chicken with Red Wine Vinaigrette. This Mediterranean specialty caters to keto dieters and those wishing to limit calorie intake per meal below 600. Note that the dish is high in proteins and fat while being low in carbs and gluten-free.

Some ingredients are Kalamata olives, Feta cheese, cherry tomatoes, and red onions. A few of the many spices the chef uses to make the dish delicious are Kosher salt, oregano, honey, ground black pepper, and thyme.
Cuban Style Beef Picadillo may suit you better if you prefer spicy food. You'll find the specialty rich in proteins and gluten-and-nut-free. Choose this option if you need to improve your calorie intake. But remember that the dish is fat-rich, too.

Ingredients I like are garlic, green olives, Spanish paprika, tomato, and white wine. The dish also features distilled vinegar, ketchup, onion powder, garlic powder, Ancho Chili powder, and carrot puree, among other welcoming extras.
Hanger Steak with Baby Bok Choy is another specialty I'd recommend. It's a simple nut- and dairy-free meal rich in proteins and fat. Extra-virgin olive oil, ginger, garlic, lemon juice, and mushrooms are some of the additional components. The dish has fewer ingredients than most CookUnity's dishes.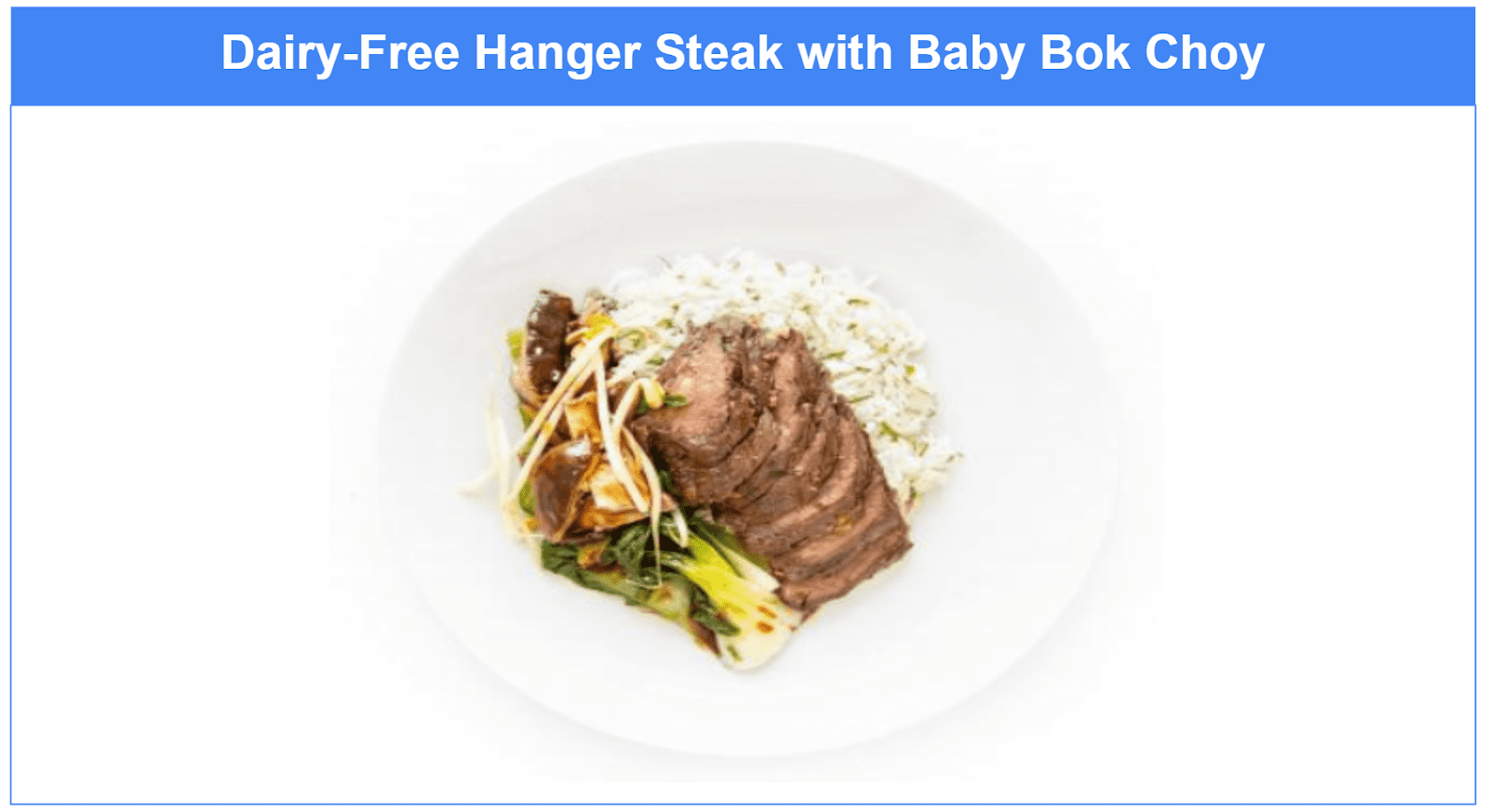 | | | |
| --- | --- | --- |
| Meal price | Order size | Shipping Fee |
| $11.09 per portion | 16 meals per week | Free |
| $11.19 per portion | 12 meals per week | Free |
| $11.69 per portion | 8 meals per week | Free |
| $12.29 per portion | 6 meals per week | Free |
| $13.59 per portion | 4 meals per week | Free |
Meal prices depend on the membership plan you choose. The fewer weekly dishes you order, the higher cost per serving you'll pay. The most affordable option is 16 meals in the long run. But you may need a freezer because most CookUnity's meals can last 7 days in the fridge, at most.
If you order 16 weekly meals, you'll pay $11.09 per serving, equalling $177.44 per delivery. If you order 4 meals per week in 4 batches, you'll pay $13.59 per serving, equalling $217.44 so if you do have the freezer space, you'll make a big saving if you make a larger order. The meal delivery service doesn't charge extra for shipping.
CookUnity has a generous discount for new customers – SAVE 30% ON YOUR FIRST WEEK. Claim it by landing on the Membership Plans page.
Depending on the ingredients, extra fees for premium specialties may apply. These typically vary between a few and several USD. You'll get a surcharge notification before confirming your order.

You can request a refund if you find the dishes unsatisfactory. File a complaint no later than 2 days after the delivery. You may need to provide photo documentation. If CookUnity accepts your refund request, it'll provide a partial or full refund of the price you paid for the disputed delivery.
CookUnity accepts the following payment methods:
JCB

Visa

Discover

DinersClub

MasterCard

American Express
CookUnity'll keep delivering your meals weekly following your initial order unless you cancel it. Depending on your location, it charges for the upcoming delivery between 3 and 6 days before it takes place.
Shipping & Delivery
CookUnity delivers meals to most US states save North Dakota, South Dakota, and Alaska. It also doesn't ship food to parts of Nebraska and Colorado and most of Wyoming and Montana. State your zip code in the dedicated box on the CookUnity website for further details.

Available delivery days vary by location. The service delivers food to you once a week, but you can choose a day that works best for you. In my case, the available days were Tuesday, Wednesday, Thursday, and Friday. You can choose a time delivery window (i.e., between 2 pm and 5 pm, too. Once the order's underway, you can track the shipping progress by signing in to the Orders page.
You can reschedule an upcoming delivery for another day. Go to the Upcoming deliveries page when you sign in and choose a different day. Don't miss the cutoff time, which is typically 4 to 6 days ahead.
You can track shipments via email or SMS, depending on where you are. You get SMS notifications if you're in New York or Los Angeles, for example. If further afield, check your email. CookUnity's team delivers food in NY and LA. UPS handles shipments elsewhere.
Subscription
You can subscribe to CookUnity's services with ease.

How to Sign Up
1. Enter your email address and zip code when you land on the https://signup.cookunity.com/ page.
2. Select your membership plan (4, 6, 8, 12, or 16 weekly meals). After that, choose up to 3 of 6 available protein options to get personalized results.

3. Pick your favorite specialties based on the previous input. Specify quantities by clicking the plus (+) and the minus (-) next to the meal's name.

4. Specify your personal information, such as first and last name, phone number, and delivery details like address, delivery window, etc.

5. Choose the payment method and evaluate the cost to conclude your first order.
Managing Your Subscription
CookUnity considers orders recurring when you order for the first time. But you can pause, change, or cancel your order anytime. Click the My Account option to manage future deliveries.
Go to My Plan when you access My Account to cancel orders. You'll also find the Skip option, which allows you to skip next week's order. Ensure to perform any of these actions before the cutoff date listed with the upcoming delivery. If you miss it, changes will take effect only after the pending delivery.
CookUnity'll confirm the changes by sending you a confirmation email. You'll receive another one a few days before a scheduled delivery takes place.
If you wish to find the specialty's daily value (DV), nutrition info, or heating recommendations before ordering a meal, select it in the menu. You can also manage quantities from there.
Customer Service
You can contact CookUnity's customer support via email, live chat, or phone. Their email is support@cookunity.com, and you can text them at +1 (347) 835-5020 phone number. I found it strange that their phone is available for messaging only.
In light of that, I considered live chat the best option to get quick information, especially since it was late and CookUnity prides itself on providing 24/7 assistance. But I learned that I'll have to do research because the bot didn't provide a satisfactory answer.
The only good thing was that the bot responded immediately. But it didn't provide me with a straight answer, which I found very frustrating. I think that reputable meal delivery services should provide better customer support than that.

When I selected the Contact Support button for additional help, the bot prompted me to email. This led me to the conclusion that finding information on CookUnity's website quickly isn't possible.
I sent an email next. I was surprised when I got an email back asking for my phone number to arrange a call to talk about the issue. I also asked if customization on request is available. It took a few more days for me to get answers. To cut a long story short, an agent explained how to avoid unwanted ingredients and that you can't personalize meals.
However, I found that the FAQ section is comprehensive, answering many questions new and existing users may have.
How CookUnity Compares to Other Meal Delivery Services
CookUnity vs. Factor: Like CookUnity, Factor prepares and distributes chef-prepared food to end users. Both services offer various specialties, but Factor has sides, desserts, and other meal types, besides mains. Another thing I like about Factor is customer service. You speak with an actual agent who provides you with the solution quickly, and you only have to wait for a few minutes to connect with them.
CookUnity vs. Fresh N Lean: CookUnity offers more meals, but Fresh N Lean offers dishes divided into 7 diets (CookUnity has 2 – Keto and Paleo). These are Protein, Standard Vegan, Low-carbon Vegan, Whole30 Approved, Mediterranean, Keto, and Paleo. Fresh N Lean delivers its specialties to every US state, unlike CookUnity. The cost of its meals starts at $7.93 per serving, while the lowest price per serving CookUnity offers is $11.09.
CookUnity vs. Blue Apron: Unlike CookUnity, Blue Apron delivers culinary specialties everywhere in the mainland USA. Plus, you'll pay less for its high-quality meals. Blue Apron's customers also benefit from a big selection of add-ons, such as pies, rolls, and cupcakes. Last but not least, you can order your favorite wine from Blue Apron for a competitive price lacking middleman-related expenses.
The Bottom Line: Is CookUnity Worth It?
CookUnity is worth a try if you're a fan of chef-prepared meals. Order high-quality CookUnity dishes and receive them at your home or office. You should find this meal delivery service an excellent option if you're environmentally conscious and prefer the convenience of not cooking.
A main drawback to many people is the lack of entrées, sides, and other meals since CookUnity specializes in main dishes only. You also might not like CookUnity if you suffer from a particular allergen since you can't customize ingredients.
FAQ
Can CookUnity Meals Be Frozen?
Yes, you can freeze CookUnity meals, just ensure to put them in the freezer before the Use by date. Consider thawing food in the fridge before heating and consuming it.
Is CookUnity Healthy?
Yes, CookUnity carefully sources ingredients and delivers healthy food. It provides keto and paleo dieters with delicious meals and has options for vegetarians, vegans, meat-eaters, and other diets. Among others, you'll find gluten-free, low-carb, and dairy-free options on their menu.
Is CookUnity Expensive?
CookUnity hires experienced chefs to prepare food, so the prices of its dishes are higher when compared to most of its direct competitors. But you can reduce the cost a little by choosing a membership plan comprising more dishes. That way you can save up to $2.50 per serving. When researching pricing, I found that the minimum price per serving for a CookUnity meal was $11.09.