Customization
You can't customize individual dishes on the Crowd Cow website. But, you can easily find suitable meals by using the dedicated filters. These allow you to narrow down your search based on a variety of factors, such as Price, Product Type, and Protein.
These filters may differ depending on the category or special you choose. For instance, if you opt for the Weekly Deals special, you can filter by the following:
Protein (Beef, Lamb, Pork, Turkey, Seafood, and more)

Variety (Pasture Raised, 100% Grass Fed, Organic, and more)

Product Type (Biscuits, Hams, Lobster & Crab, and more)
But if you select Japanese Wagyu, some available filters will be:
Variety (Kagoshima Wagyu, Miyazaki Gyu, etc.)

Product Type (Briskets & Roasts and Steaks)

Farm (Hokkaido Wagyu, Kagoshima Direct, Kagoshima Farms, etc.)
When you choose a category using the Shop button at the top of the Crowd Cow page, you'll just see a small selection of what's available for that category. To see the full range, select Shop All.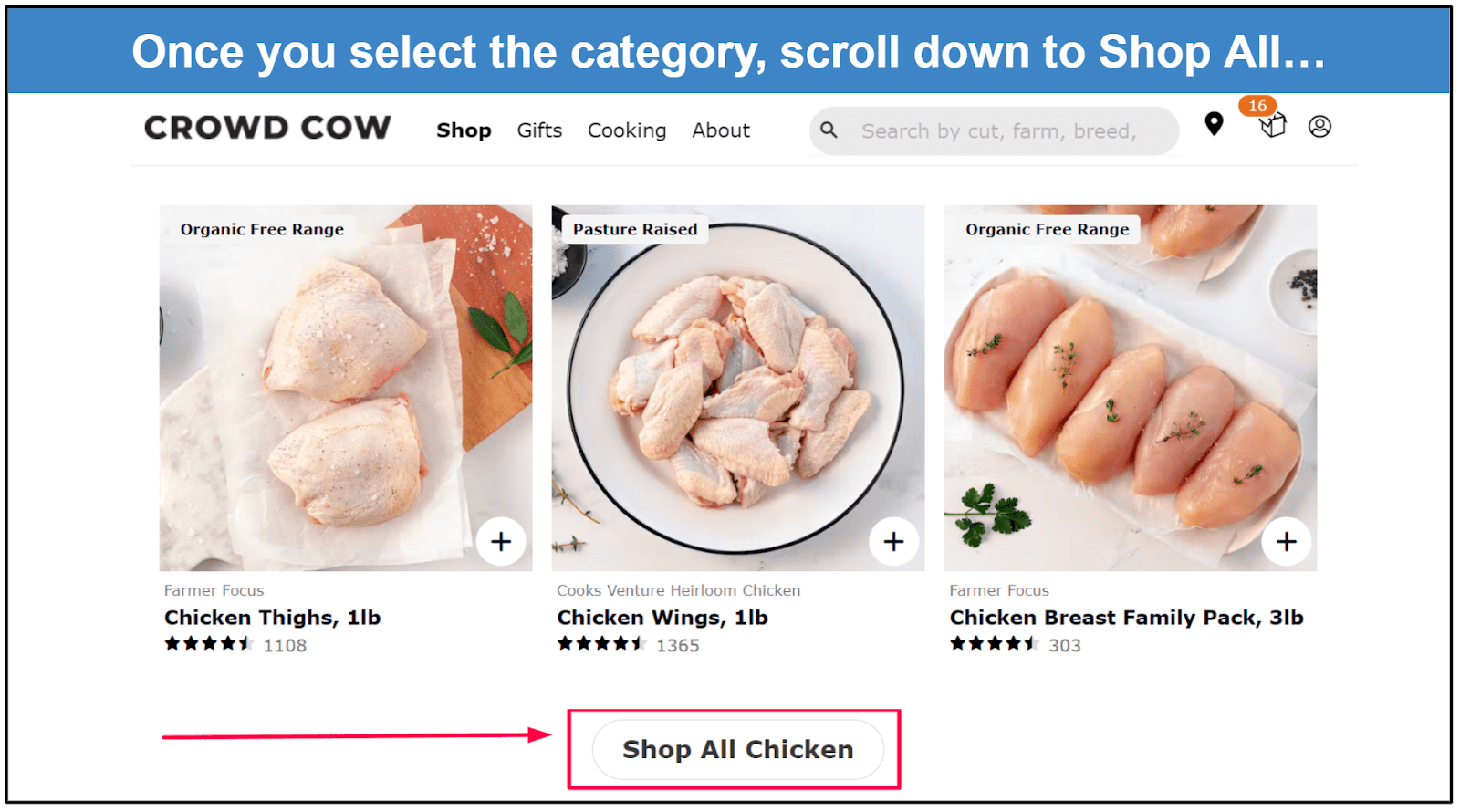 Unboxing
Crowd Cow ships its products in eco-friendly packaging. The company uses 100% recyclable materials and compostable insulation to deliver frozen meat to you. You may reuse the insulation as a fire starter or let it dissolve in water. You can also recycle the cardboard and plastic.
Take a look at a label with important information accompanying each product. Among everything else, you'll find the product's origin info, the farm's address, and safe handling instructions. Each cut has its own airtight cryovac package, in which it's vacuum sealed. Lastly, dry ice ensures that Crowd Cow products arrive at your door fully frozen.
Cooking With Crowd Cow
Crowd Cow has video guides with cooking tips on preparing meat you ordered. Find these short cooking videos by clicking on Cooking in the main menu of the website. Then, browse by meal type. With these guides, you can learn how to cook each meat type it sells, including beef, chicken, and Japanese Wagyu. You'll also learn the serving times of these dishes.
Now let's introduce the serving procedure for a few special meals, such as frozen New York Beef Strips, Chicken Breast, and Japanese Wagyu Chuck Steak.
New York Beef Strips: Place frozen beef in cold water for 2 minutes. Remove the meat and season both sides with salt and pepper. Preheat an oven-proof pan and add canola oil. Sear the meat on both sides for 2 to 2.5 minutes. Then, transfer the pan to the oven and cook for 10 to 16 minutes, depending on the thickness of the meat. Make sure meat reaches an internal temperature of 135°F to 140°F. Once done, let the meat rest for a while before slicing it into strips.
Chicken Breast: Preheat oven to 375°F. Drizzle the breasts with oil and season with salt and pepper. Heat a tablespoon of oil in an oven-proof pan and cook the chicken in the hot pan for 2 minutes on each side. Then, transfer the pan to the oven and cook the chicken for 15 to 20 minutes, or until the internal temperature reaches 165°F. Let the chicken rest for a few minutes before serving.
Japanese Wagyu Chuck Steak: Let the steak come to room temperature before seasoning it with salt. Preheat a stainless-steel or cast iron pan over medium-high heat. Sear the steak for approximately 1.5 minutes on each side, or until it reaches your desired internal temperature. Place the steak on a wooden cutting board, let it rest for a few minutes, slice, and serve.
Shortlist of My Favorite Meals
Wagyu Boneless Ribeye is my favorite Crowd Cow meal. I could choose between Wagyu Cross, pasture-raised, or 100% grass-fed ribeye, and I have chosen the Wagyu Cross. This juicy and flavorful piece of meat has just the right amount of sweetness.
This ribeye weighs 16 oz and is perfect for a hearty meal. Crowd Cow recommends grilling each side over high heat for 1-2 minutes for the best results. Pan-frying the meat in a hot skillet until it reaches medium-rare doneness also provides excellent results.
Another favorite meal of mine is the Wild Sockeye Salmon by Cannon Fish Co. This healthy Alaskan fish weighs 6 oz and brims with Omega-3 fatty acids. It has a delicious buttery flavor, a stronger taste compared to other salmon varieties, and a slightly smoky finish.
You can easily bake, grill, or fry it to your liking. But the service recommends pan-searing it skin-side down in a hot skillet for the best results. Cook it until the skin is crispy and the flesh cooked through.
Prices
Cost starting from

Product or service

Shipping costs

$8.99 per lb

Beef

Shipping fee: $24.99 (fixed)

Minimum shipping order: $99

Free shipping: $149+

Free shipping for members: $125+

$99.98 per lb

Japanese Wagyu

$5.59 per lb

Chicken

$15.99 per lb

Seafood

$6.99 per lb

Pork

$13.32 per lb

Wagyu

$16.99 per lb

Bison & Lamb

$9.99

Sides & Desserts
Crowd Cow's meats are more expensive than those you can typically find in a local store, especially if you have to factor the shipping fee in. But you can avoid delivery expenses by spending at least $149 or $125 if you're a member. Besides, you can benefit from our special deal – 20% off your first order! – to lower the cost further.
I found spices on the Crowd Cow website besides meat products and other meals. In Sides & Desserts, for example, I found Himalayan Pink Salt.
Crowd Cow charges your credit card the day before it ships your order. The company sends multiple emails and messages before charging to give you time for changes if you subscribe to recurring delivery. Available payment methods are all major credit cards (Visa, Amex, etc.) and Apple Pay.
Shipping & Delivery
Crowd Cow delivers to most addresses in the continental US. But it doesn't ship to Alaska, Hawaii, and Puerto Rico at this time. Simply enter your zip code in the dedicated box to see if you're eligible for delivery. If not, you'll receive a notification instantly. Otherwise, you'll be able to shop.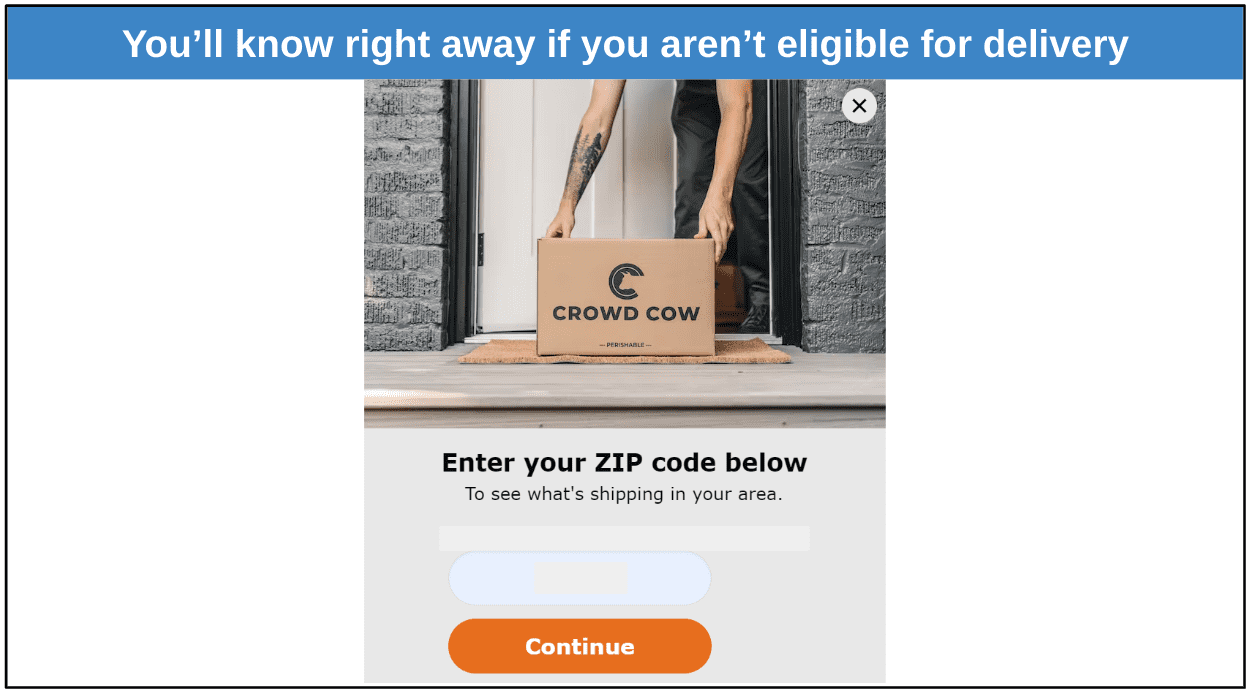 You'll learn the estimated delivery date during checkout. If it doesn't work for you, you can reschedule it at this point. When Crowd Cow ships your order, it'll send you a notification with an expected delivery date. You'll receive the notification via email or text message. In it, you'll get tracking info, too.
Crowd Cow mostly relies on UPS to handle its deliveries. However, it may entrust Axlehire to deliver packages to customers in certain areas on the West and East Coasts. These carriers provide estimated delivery dates, and the delivery is punctual 90% of the time. Occasional delays do occur, but even then, the order typically arrives no later than the following day. At this time, Crowd Cow doesn't have expedited shipping, unlike some other meat delivery services.
Note that you don't have to be home to receive your package. Loads of dry ice will keep your meat and other products frozen for a long time after the box arrives. You'll receive a notification when the courier leaves the package at your doorstep.
How Crowd Cow Works
You can buy dishes from Crowd Cow as a guest. However, becoming a member has its perks, such as a lower threshold for free shipping and earning double reward points. The best part is that signing up for membership is free.
You'll notice a shopping box icon in the upper-right corner of the page as you pick items on Crowd Cow's website. Click on it to review and adjust your order as needed.
How To Sign Up
Click Become a member at checkout after building your box to become a member, it's as simple as that. By subscribing, you'll enjoy the following benefits:
Get free shipping on recurring orders over $149

Gain exclusive access to free items and special deals

Earn 2 x more Moolah Points for every purchase
The sign-up process goes like this:
Check the products you've chosen by clicking on the shopping box. You'll also see related quantities and other basic product details. You can also find promotional items if your total is over a specified amount. Information about total savings and points earned will also be available. Once you're happy with your purchase, hit Checkout Now.
You can check your shipping address and purchased items (once more) at this point. Once you ensure everything's OK, scroll down to the bottom of the page and select Continue to Payment.
Enter your credit card details or select the Pay with link button to complete your order. You can pay with Visa, MasterCard, American Express, or Discover cards. Specify your billing address, phone number, and state, among other details. Then, check the Estimated delivery date under the Total and Points Earned fields. Click on the date if you need to reschedule delivery. Lastly, click on Place Order to complete your purchase.
Managing Your Account
You manage your account simply by building your box and claiming rewards. And free gifts and discounts are the most popular among them. Note that you can reschedule your delivery by selecting Change Delivery Date on the Reschedule page. You can also find this option via the order confirmation email. In case you need to cancel your order, do so before Crowd Cow processes your payment, which is typically within 48 hours from the moment you fulfill the order.
You can redeem 500 Moolah Points to get Ōra King Salmon Portion for $20.99 or any of the following free proteins or discounts:
If you earn 1,000 Moolah Points, you can get St. Louis Spareribs for $32.97 or any of the following:
$25 off

Picanha

Wagyu Filet Mignon

Wild Maine Lobster Tail Pair

Small Lobster Mac & Cheese

Japanese A5 Wagyu Petite Ribeye
Redeem 2,000 Moolah Points for 4 x New York Strip Steak for $95.96 or some of the following items or deals:
Customer Service
Getting in touch with Crowd Cow customer service can be tricky. And agents obviously take their time to respond. The live chat option isn't available, and you need to take a few steps to contact customer support. Click on About on the website's main menu and select FAQ from here. Alternatively, scroll down to the footer and click on Help Center.
First, select Help Center in the page's footer, just above the FAQ link. This will direct you to a page with Featured Articles and Shop on Crowd Cow sections. Look to the bottom-right corner of the screen to locate an orange Help icon. Clicking on this icon will allow you to access a chatbot or submit a request to customer service. Note that you can also send a message via support@crowdcow.com or at 206.539.0639 (messages only). As stated on the website, agents operate 24/7.
The chatbot might suggest articles that could help answer your question. They didn't help me, though. If you need more help, press the Get in touch button and send a message. Remember to put your name and email address so they can reply with an answer.

Note that it may take some time for them to respond. And I mean days, not hours. Pretty long for getting an answer to a straightforward question.
I felt a bit let down as I didn't receive a clear response, or any at all, even after 24 hours. But I finally got the answer addressing my question precisely. I wondered whether Crowd Cow had turkey, duck, and venison on offer when I sent the message, and this was an agent's response:
How Crowd Cow Compares to Other Meal Delivery Services
Crowd Cow vs. Factor: Crowd Cow ships frozen meats, while Factor delivers fresh, pre-cooked meals you only need to heat. The latter service allows you to personalize your meal plan according to your dietary needs, especially if you're a keto, vegan, or calorie-conscious foodie. Unlike Crowd Cow, Factor offers breakfast options in addition to lunches and dinners. Lastly, you can benefit from Factor's coaching if you have questions about nutrition.
Crowd Cow vs. Green Chef: Green Chef offers meal plans for gluten-free, keto, and vegetarian eaters, among others. Plus, Green Chef is an organic-certified company. Moreover, it publishes its menu 4 weeks in advance, giving you plenty of time to plan your meals. It also offers breakfast options and has efficient customer service. So, Green Chef should be a better fit if you need to accommodate various dietary needs. But if you're a passionate carnivore, opt for Crowd Cow.
Crowd Cow vs. Blue Apron: Crowd Cow offers a great selection of high-quality meats, making it a go-to for meat lovers. But, Blue Apron focuses on personalized meals to meet dietary needs, allowing you to replace ingredients in various meals and create a more rewarding dining experience. Expert nutritionists design Blue Apron's dishes, and the service offers options for vegetarian, carb-conscious, diabetic, and other dieters. To sum up, Crowd Cow is a great option if you're looking for diverse meats. But if you want to personalize your meals or have specific dietary needs, Blue Apron should be the better choice.
The Bottom Line: Is Crowd Cow Worth It?
You really should try Crowd Cow if you're a meat lover. It has high-quality, sustainably-sourced meat got from wild-caught, pasture-raised, and grass-fed animals. Plus, it delivers products to most of the contiguous US. Moreover, you can easily manage your account and claim rewards and deals.
On the flip side, Crowd Cow's products tend to come with a high price tag. Additionally, its customer support should clearly work on efficiency. Another downside is that the bar for free shipping is relatively high – $149, or $125 for members. Finally, Crowd Cow has limited options at best for those looking for ready-made and quick-prep meals.
FAQ
Is Crowd Cow good?
Yes, Crowd Cow is a great option for meat lovers who value high-quality meat. It offers a variety of cuts and meat types, including wild-caught, pasture-raised, and grass-fed options. However, the service may not be the best fit if you're looking for prepared meals. Also, the pricing can be on the higher side.
Who owns Crowd Cow?
Joe Heitzeberg and Ethan Lowry from Seattle are co-owners of Crowd Cow. These entrepreneurs founded the meat delivery service in 2015.
Is Crowd Cow legit?
Yes, Crowd Cow is a legitimate meat delivery service, albeit it isn't BBB (Better Business Bureau) accredited. It offers meats sourced from small, independent farms. The company has been in business since 2015, gaining a reputation for quality products along the way.
Where does Crowd Cow meat come from?
Crowd Cow sources its meat from a network of independent farmers and ranchers. Its suppliers are from the United States, Australia, New Zealand, and other countries. The company partners with producers who practice sustainable and ethical farming methods, focusing on grass-fed and pasture-raised animals.