Overview
Maybe you've been wanting to try cooking Korean food for yourself at home, but have gotten discouraged? Maybe you've heard Korean food is difficult to prepare, that it takes a long time, or there are far too many ingredients involved that you may not be able to get your hands on…
Well, none of that is really true anymore, especially thanks to services like DooFood.
In this DooFood review, you'll find out whether it can really help you to prepare restaurant-quality Korean meals in a jiffy that you'll be proud to serve your friends and family.
My team and I have spent a tremendous amount of time researching and validating DooFood and not only did we find the meals extremely simple to cook – since everything you need comes prepared – but all the meals take just five to 15 minutes to get on the table, and taste delicious too!
Pros
Cons
No prepared meals available

Doesn't deliver to Hawaii

Minimum order is $60
DooFood's menu features 25+ different recipes every week, many of which are on rotation.
So what you see one week may not be available the next – but you can view the menu up to three weeks in advance.
Each dish is delivered as a meal kit that can be cooked at home.
At this time, DooFood doesn't provide heat-and-eat-style prepared meals, but the fast prep time makes up for this in my experience. Expect to spend no more than about five to 15 minutes preparing each dish – though most tend to fall somewhere in the middle.
You'll be able to choose from a variety of different dishes, including the world-famous bibimbap (an assortment of seasonal veggies and beef over rice), Korean barbecue, soups, stews, noodle dishes, stir-frys, pancakes, and more.
There are also add-ons like extra meat, kimchi, cooked white rice, sprouted rice, and rice mixed with black rice. Now that's a mouthful – pun fully intended!
All of DooFood's ingredients promise to be high-quality, non-GMO, and contain no MSG (monosodium glutamate) or antibiotics either.
Each dish is supposed to be a single-serving portion, but the portions tend to be quite generous and you may find that the serving sizes for soups and stews in particular will feed up to two. It very much depends on your appetite!
Like all good Korean food, the meals are packed with fresh veggies, spices, garlic, and onion.
If you're looking to go easy on flavor or spice levels, DooFood does suggest omitting a little bit of sauce or spice during the cooking process.
This could potentially make your meals a little bit more palatable for those trying Korean food for the first time, and it's one of the excellent benefits of meal kits versus prepared meals.
One thing to note is that DooFood doesn't really cater to specific dietary preferences like vegetarian, vegan, paleo, keto, or pescatarian. However, some of the meals may fall into one or more of these categories – it's just a case of looking through each recipe.
For example, the Seafood Kal Guk Su is suitable for vegetarian or pescatarian diets since it doesn't include meat, only seafood such as mussels, clams, shrimp, and squid.
You'll find a few meals that work for certain diets throughout the menu, so I recommend carefully analyzing each dish's ingredients to ensure it works for your preferences. Most meals do contain meat, so I recommend being extra cautious if you can't eat animal protein.
Lastly, and sadly, none of the dishes allow for customization, but I found there to be a large variety of options with different types of meat like beef, chicken, pork, and seafood to choose from.
Check the website often (maybe about once a month) as DooFood does try to improve the service from time to time, and might add customization options down the road.
Unboxing
Everything you need to make your meals comes delivered in an insulated box with frozen ice packs. The ice packs keep everything at fridge temperature, but not forever – so I recommend getting all of the ingredients into your fridge or freezer as soon as possible.
All the ingredients arrive chilled (never frozen), and will stay fresh for about five to seven days after delivery. DooFood recommends freezing all the proteins until you need them, and that everything else be refrigerated until use. Dry ingredients, of course, don't really have any specific storage indications.
In terms of the packaging, some items that come in the box might be recyclable, along with the box itself, and some may not. If you're not sure which items are recyclable, check with your city to find out for sure as this can be location-specific.
All of the ingredients you need to make your meals will arrive in your box, with the exception of basic store-cupboard essentials like olive oil, salt, and pepper. Any utensils, appliances, pots, and pans are up to you to provide yourself, of course.
One thing that I love about DooFood meals is that you don't need a knife to prepare these dishes: everything comes chopped, washed, and ready to cook. Every meal can be prepared within five to 15 minutes, and sometimes even less than that.
You'll notice that the sauces and seasonings are ready-mixed, too. This helps you focus on simply cooking all of your ingredients to perfection. That's something I really liked.
Shortlist of My Favorite Meals
My favorite meals from DooFood have to be the Bibimbap, Korean Chicken Soup, and the Bulgogi BBQ.
Bibimbap is a very traditional Korean dish that comprises a delicious crunchy rice base topped with sauteed veggies, onion, garlic, soy sauce, and a choice of meat – usually beef. Sometimes it's topped with a sunny-side-up egg, too. Bibimbap literally means "mixed rice", so just before eating, the dish gets all mixed together to form a striking flavor and texture combination.
Korean chicken soup is a flavorful combination of simmered chicken with sweet rice, jujube fruit (also known as Chinese dates, or "red" dates), garlic, and fresh scallions. I like this one on a rainy, grey day outside to keep you warm as it's pretty hearty.
The Bulgogi BBQ is another traditional Korean dish made from thinly sliced barbecue beef marinated in sauce and served with three varieties of fresh veggies – in this case, onion, scallions, and carrots.
All three meals are quick to prepare and offer excellent flavor combinations. They're also not too spicy or exotic, so they could be suitable for picky eaters and children, too.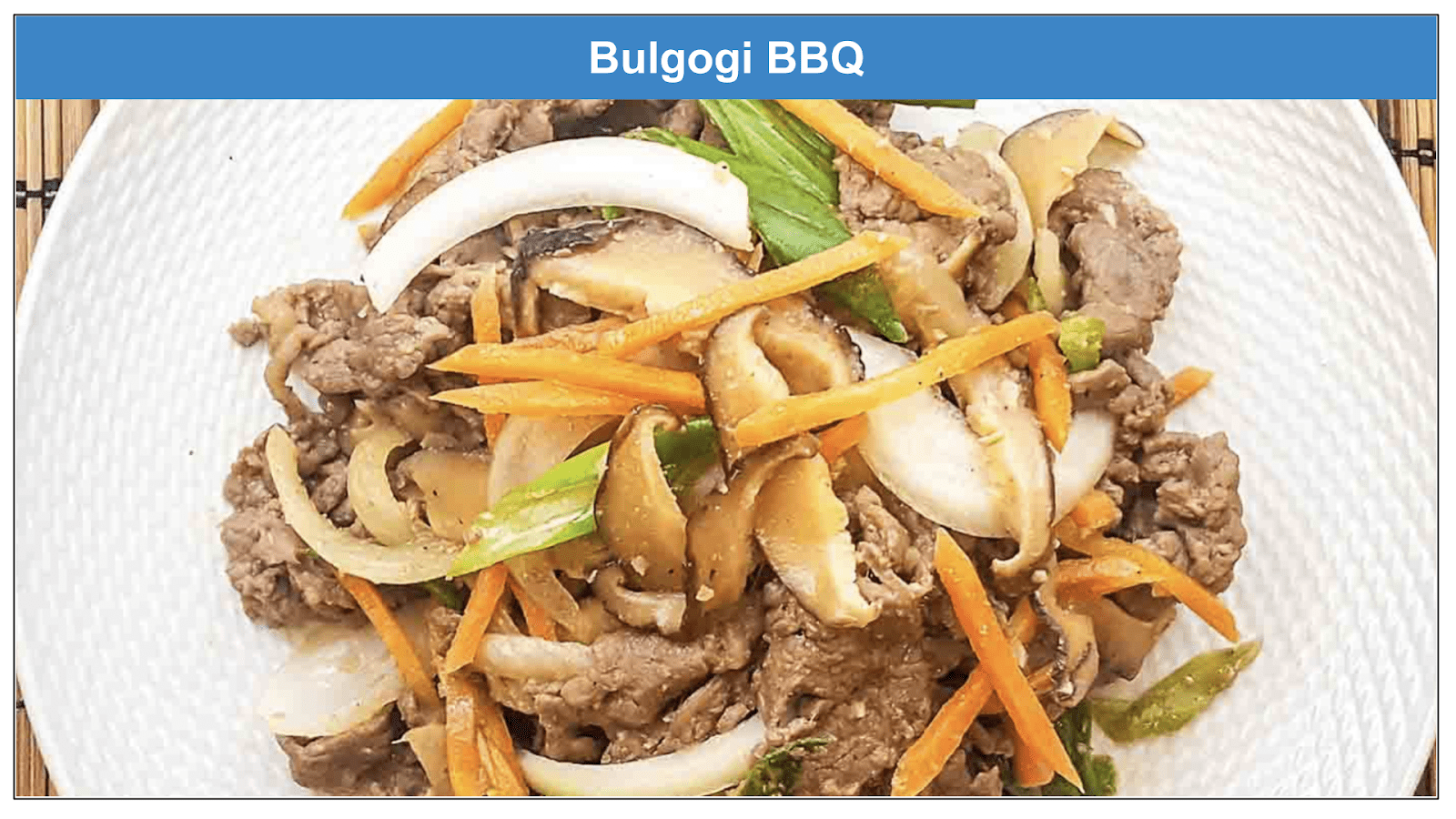 Shipping is available in all 48 contiguous US states, along with Alaska. At this time, though, shipping is not available to Hawaii. For most of the US, orders get shipped out twice weekly.
If you want to track your order, it's easy to do that as well. You're sent an email with tracking information once your order is dispatched. You can also track your package anytime on the Order History page in your account.
If you're not home during a delivery attempt, don't worry – the courier will simply leave your package at the door.
The order deadline for deliveries from Monday to Wednesday is Saturday at 8 am, and for deliveries occurring from Thursday to Saturday, Tuesday at 8 am. For exact delivery dates to your region, check out the DooFood site and enter your zip code.
Subscription
It's really easy to sign up for DooFood. After entering your zip code (to ensure DooFood delivers to your area) you can take a look at the menu first without having to input your credit card information.
How to Sign Up
I found the signup process one of the simplest of all the meal delivery services. In fact, shopping at DooFood is a lot like shopping at Target, Walmart, or Amazon. No subscription is necessary – everything can be ordered a la carte:
Visit the DooFood homepage: Once you're there, click on Menu in the top right-hand corner of the screen. Enter your zip code here to find out if the service is available in your area. For the purpose of this review, I used Beverly Hills, CA, 90210.
Choose your dishes and add them to your cart: Browse the menu and add as many items as you like to your order. Keep in mind that the minimum spend is $60.
Fill out the information: There are four fields to complete – Create an Account, Shipping Address, Payment Details, and Billing Address. Fill out all the required fields, then click on the Place Your Order button at the bottom of the following page.
Managing Your Subscription
If you need to reschedule a delivery, you first need to cancel your order under the Order History page and place a new one. After cancelling, a credit will be applied to your account for the amount of the original order which can then be used to place a new order without having to process a new payment on your credit card.
Keep in mind that DooFood is also not a subscription-based meal delivery service so there's never a need to "cancel" your account – only place orders for the weeks you want.
Deliveries are not recurring, so just make sure to order for each week you want a delivery.
Customer Service
There are three primary ways you can get in touch with DooFood – through the contact form on the website, via email, or via live chat. However, I tried the live chat feature twice – once on a Sunday and again around 11.30 am on a Monday. Both times, nobody was available.
Instead, I sent an email to the support team. I wanted to find out where DooFood ships to since some of the information in the site's FAQ section seemed to be outdated.
DooFood now says it offers shipping to Alaska, whereas in the FAQ section, it states that it doesn't. I received a very fast reply within two hours of sending my message, confirming availability in Alaska.
It appears to be easy to contact DooFood with any pre-sales questions via email. I was pleasantly surprised at the friendly, knowledgeable, and professional style of the support team.
| | | |
| --- | --- | --- |
| Starting from | Minimum Order | Shipping Fee |
| $14.00 per portion | $60 | $15 per order, or free depending on location |
Prices for DooFood's main dishes start at around $14 per serving for more basic dishes such as soups, and can go as high as around $30 (or more). However, the vast majority of meals fall somewhere between $15-20 per serving.
The most expensive meal I've spotted so far is the Braised Short Ribs at $39, while most of the add-ons are very well priced. The rice, for example, costs a nominal $3 per portion. In general, the add-ons range from about $3 to $7.
DooFood is definitely not the cheapest meal kit delivery service around, but for exciting Korean dishes that take such a small amount of time to make, and for high-quality, non-GMO ingredients, I can accept the price.
The minimum order requirement is a little higher than I'd like to see – but you can make it worthwhile by ordering as much as you can at one time to save on repeated shipping charges.
In most cases, shipping costs $15 per order, and in some locations it's free. For example, all of the northeast, parts of the midwest (like east of Chicago), and part of the southeast (north of Georgia) gets free shipping. Shipping to anywhere else in the US, including Alaska, costs $15.
The Bottom Line: Is DooFood Worth It?
In my opinion, DooFood could be worth it for you. I can't tell you that with certainty, because only you know the answer after reading this article.
If you want to try Korean food that's both extremely easy and fast to prepare, DooFood really could be a great option. That's especially true considering how complicated and convoluted it can otherwise be to prepare Korean food from scratch.
I also like that it's not a subscription-based model, which means no unwanted recurring deliveries. You get to decide when to order. No stress means a much more enjoyable experience, in my opinion. For me, that makes DooFood well worth the price.
FAQ
What is the most popular Korean dish?
In any Korean restaurant or household in the world, both bibimbap (비빔밥) and kimchi (김치) are staples. Bibimbap is also the first dish you'll find on DooFood's website. If you want to get a good sense of the most popular Korean meals, I highly recommend adding bibimbap to your next order.
Is Korean food healthy?
Korean food is widely regarded as some of the healthiest in the world. Each dish is made up of a large portion of veggies, balanced carbohydrates, and high-quality proteins. In Korean cuisine, you'll find very balanced plates of food that support excellent health and wellbeing.
How much does DooFood cost?
DooFood starts at around $14.00 per serving – but keep in mind that the minimum order amount is $60. You don't have to subscribe for automatic re-deliveries which means you can simply just order food for the weeks that you want.
What is the DooFood delivery area (where does it deliver)?
DooFood currently delivers to all 48 contiguous states in the US, and Alaska. Unfortunately, at this time, it does not offer delivery to Hawaii – but I recommend checking the website frequently as there might be a chance that this will be updated in the near future.