Overview
Finding a good butcher can be an enormous challenge. Finding a decent cut of meat amidst the imported and factory-farmed offerings at your grocery store can be even more difficult. Good Chop makes it easier with monthly shipments of organic and sustainably harvested proteins.
This may seem too good to be true. But I've studied Good Chop's sources, checked their certifications, researched their reviews, and consulted my colleagues. And I'm here to tell meat lovers that Good Chop has some of the finest meat and seafood you can buy and to give you our special Good Chop discounts.
Good Chop's approach is simple. Every month you choose from a selection of flash-frozen pork, chicken, beef, or seafood packages. When your order arrives, you put them in the freezer and thaw as required. Cook your meat to your tastes and your inner carnivore will be dancing a jig.
Pros
Cons
Some cuts can get expensive

Only offers monthly subscriptions

No recipes or cooking instructions
Good Chop Is Best For
Good Chop May Not Be Great For
Vegetarians and vegans

One or two-person households

People looking for complete meal kits
What's on the Good Chop Menu
Good Chop sends high-quality meat and seafood. But there are no meal kits, no recipes, and no side dishes. If you're used to meal kits with instruction cards, you may find Good Chop's approach too bare-bones for your liking.
All Good Chop pork comes from heritage breeds raised in a crate-free environment, and all seafood is wild-caught and certified sustainably harvested by the Marine Stewardship Council. Tags on the menu let you choose between USDA Choice and USDA Prime beef cuts, with tags for grass-fed and Angus beef, while all chicken is free range and most is organic.
Good Chop offers a choice between a Medium and Large monthly box. The Medium box holds six "cuts," Good Chop's term for a menu selection. The large box holds twelve.
Cuts vary substantially in weight. For example, the Organic Chicken Drumsticks cut is a single package consisting of three 1.5-pound drumstick packages, while the Alaskan Halibut cut consists of just two four-ounce filets. Good Chop also offers seasonal packages like Thanksgiving turkeys.
Every month brings a selection of 40-50 cuts of beef, pork, chicken, or seafood. Each cut has between two and six servings. Cuts range from pulled pork to ribeye steaks to chicken breasts and salmon and halibut filets.
Unboxing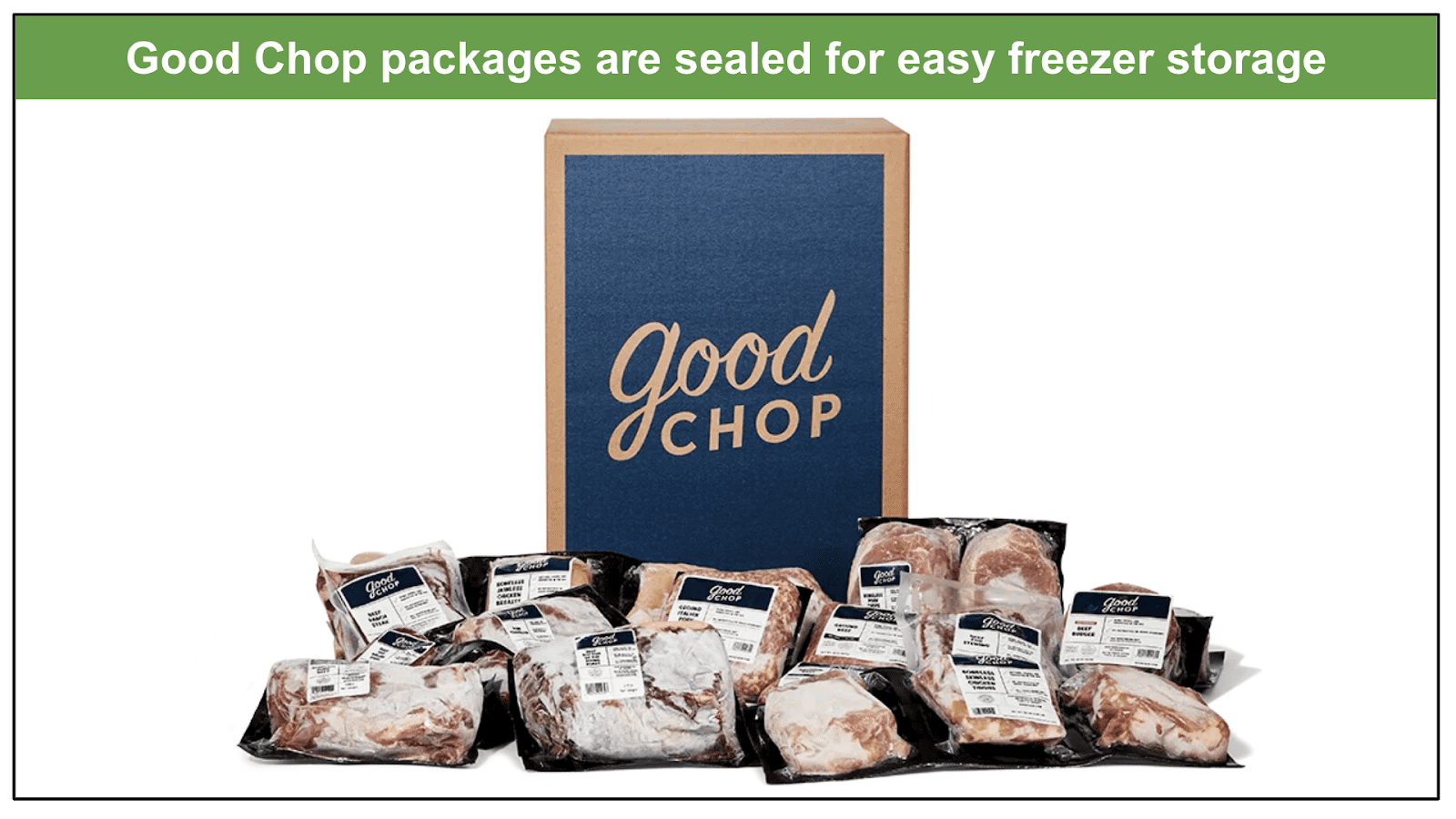 Good Chop orders are kept frozen with dry ice and TemperPack packaging. TemperPack insulates with corrugated heavy paper Climacells that you recycle with the box. This is the most environmentally friendly frozen delivery packaging I've seen to date, yet it's still designed to keep your order frozen on your doorstep for up to 6-8 hours after delivery.
Each cut is flash-frozen, then vacuum-sealed for easy freezer storage. All are clearly labeled so you'll have no trouble distinguishing between cuts. Your Good Chop cuts are good for up to 12 months of freezer storage.
Because they're frozen, Good Chop cuts should be thawed before cooking. USDA guidelines recommend thawing your meat for at least 24 hours in the refrigerator at a temperature between 35°-40°F. (Surprisingly, Good Chop doesn't include thawing instructions).
I chose one representative "cut" from the beef, chicken, pork, and seafood selections. As I mentioned earlier, there are no recipes included in the box, nor does Good Chop offer recipes on its site. Their products are fabulous, but what you do with them is entirely up to you.
Shortlist of My Favorite Meals
Good Chop's USDA Choice ribeye steaks are cut from Angus cattle born, raised, and harvested in the United States. They're marbled with juicy, flavorful beef fat that renders down into the tastiest steak you've ever eaten. And, like all Good Chop meats, these ribeye steaks are completely free of antibiotics, growth hormones, preservatives, or artificial ingredients.
Good Chop's Ribeye Steak cut consists of two 10-oz steaks.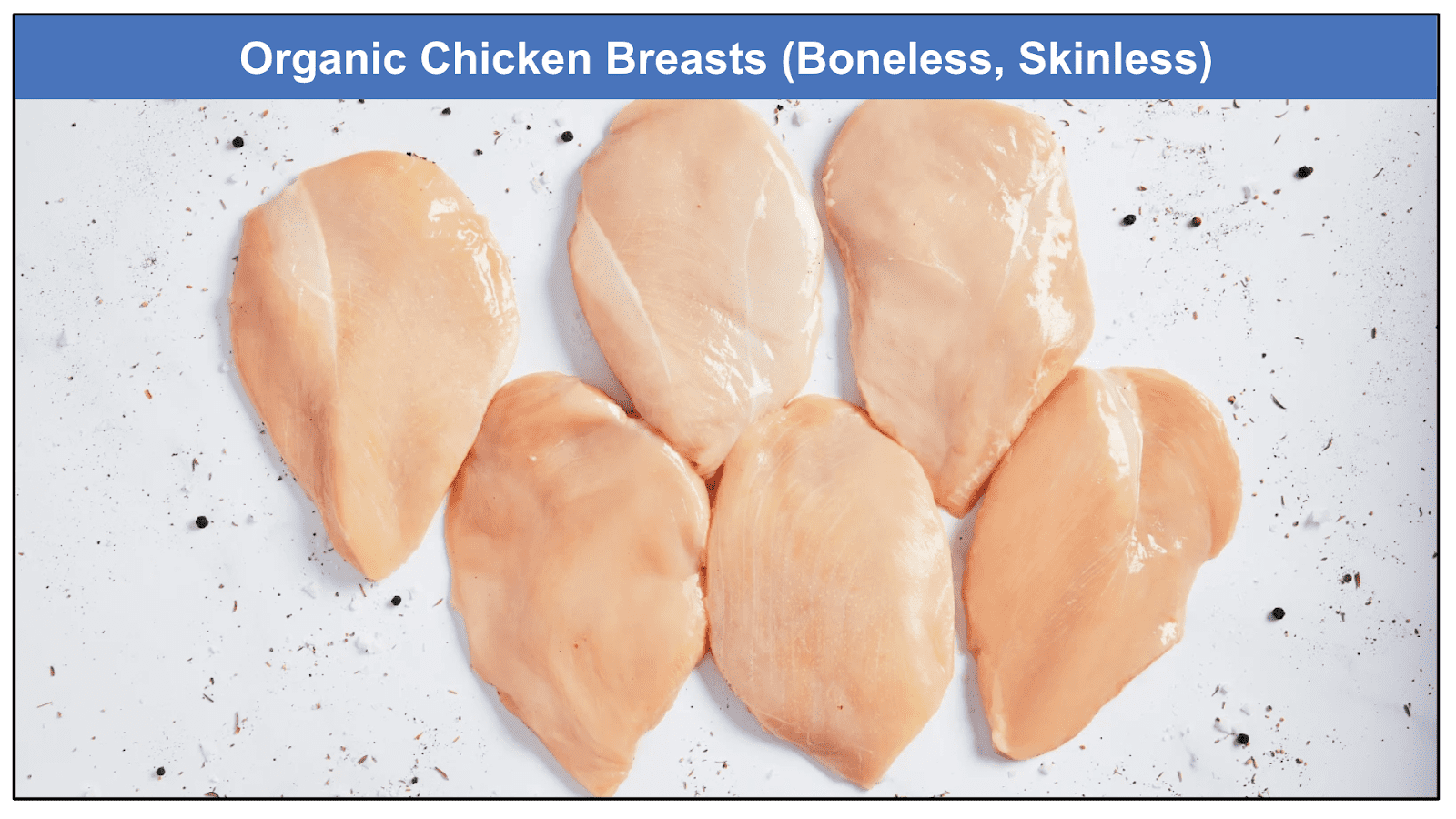 Good Chop's organic chicken breasts get their start on a family farm in Virginia. Farms and processing facilities are certified humane by two different third-party groups, and their chicken feed is 100% organic and non-GMO. But don't take their word for it – check the Farm ID that lets you trace your chicken breasts back to their farm.
Good Chop's organic chicken breasts cut consists of three 1-pound chicken breast packages.
Alaskan Sockeye salmon is loaded with heart-healthy omega-3 oils, and Good Chop's Sockeye salmon filets are among the best you can buy. There are no chemicals, no coloring, and no bones. And this wild-caught salmon isn't just tasty and nutritious, it's certified as sustainable by the Marine Stewardship council.
The Sockeye salmon cut consists of three packs of two 5-ounce filets.
If you're in the mood for grilling, Good Chop's St. Louis pork ribs will be the star of a barbecue you won't forget. These ribs are cut from the belly, not the back, so they're meatier. And because these hogs are fed a strictly vegetarian diet after weaning, they have a sweet, juicy taste that'll have you swearing off grocery store pork forever.
The St. Louis pork rib cut is a full 2.6-pound rib rack cut in half for convenience.
Good Chop delivers on Tuesdays, Wednesdays, Thursdays, and Fridays. Available days may vary depending on your location. Arrival times may also vary between 8 am to 8 pm, but you'll receive a tracking number as soon as your order ships.
While Good Chop deliveries have a large arrival window, no signature is required so you don't have to worry about missing your package.
You can change your delivery date and address by logging into the website and selecting Settings > Plan Settings. The deadline for these changes is five days before your next delivery date. Otherwise, the change will only be reflected in your future deliveries.
Subscription
Once you order your first box, Good Chop will send you another box every four weeks. This gives you plenty of time beforehand to check new cuts and recommendations and build your next box. But it also means you'll need freezer space for a month's supply of meat.
How to Sign Up
You sign up with your first order. The process is simple and straightforward: you just need to provide your shipping information and a payment method.
Managing Your Subscription
While Good Chef offers some pre-selected suggestions, you're free to make any order changes you like up to five days before your next delivery date. You can make changes by logging on to your account on the Good Chef website.
Customer Service
Good Chop's Live Chat feature is available Monday-Friday from 7 am to 9 pm EST, and from 7 am to 7 pm Saturday and Sunday. (If you don't see the chat icon in the lower right-hand corner of your screen, you may need to turn off your ad blocker). Good Chop is available during those hours by phone at 929-203-4850.
I tested Good Chop's Live Chat function with a question about pricing. The customer support representative was fast, friendly, and provided the necessary information quickly. In a world full of chatbots, speaking with a competent person was a welcome change of pace.
Good Chop also makes it easy to pause or deactivate your plan from their website. Just make sure you do so at least five days before your next delivery.
To cancel your Good Chop subscription:
Log in and navigate to Settings and select Deactivate your plan

Select Cancel anyway

Enter your reason for cancellation

Select Deactivate now
| | | |
| --- | --- | --- |
| Starting from | Minimum Order | Shipping Fee |
| $3.74 per portion | Medium Box: $149 | Free |
At first glance Good Chop's pricing plan seems simple: $149 for six cuts or $269 for 12 cuts, both with free shipping. But when you take a closer look things get more complicated.
Each cut contains between two and six portions. Six ⅓-lb hamburger patties, two 6-oz filet mignons, or four 8-oz pork chops all count as a single Good Chop cut. So your 12-cut large box could hold 72 burgers, 24 filet mignons, or many other combinations.
Some cuts are also marked Premium and come with an upcharge. In the case of the filet mignons, you'd be paying an extra $3.99 per cut. So while a cut full of hamburgers in a large box costs $3.74 per portion, a cut of filet mignon would cost $13.20 per portion.
Good Chop's prices aren't cheap, but they're reasonable given the quality of its products. And if you're not satisfied with your order in any way, contact Customer Care and they'll provide you with a refund or credit on your next order as you prefer.
The Bottom Line: Is Good Chop Worth It?
Is Good Chop worth it? My expert opinion, arrived at after lengthy rumination and crunching of data, is "it depends."
For those who love meat and are willing to pay a bit extra for the best, Good Chop is worth it.
If you're looking for superior organic and grass-fed meat and sustainably-harvested seafood, Good Chop brings it to your door.
If you're a competent chef who knows how to cook and prepare meat and seafood without the aid of an instruction card, Good Chef is worth it. The prices are in line with what you would pay at a good butcher's shop for the best products, even before you factor in our Good Chop discounts.
I wish Good Chop offered some recipes, and it would be great if they could throw in some side dishes along with the meat. But what Good Chop does, it does very well indeed.
FAQ
How much does Good Chop cost?
Good Chop offers a Medium Box (six cuts) for $149 and a Large Box (12 cuts) for $269. While Good Chop's prices start at $$3.74 per serving, portion costs vary significantly between different cuts.
Where does Good Chop meat come from?
All Good Chop meat is raised and harvested in America and comes from family farms and independent ranchers. All Good Chop seafood is sustainably harvested in American waters.
What does Good Chop charge for delivery?
Shipping frozen food is expensive, and many frozen delivery services charge high shipping fees. Thankfully, shipping is always free with your Good Chop orders.