Overview
The paleolithic diet ("paleo" for short) remains popular with many health and fitness buffs. But finding paleo-friendly meal delivery services can be challenging. Ice Age Meals brings prepared paleo meals to your doorstep, but you'll need to find out more before you decide to try it out.
Ice Age Meals is a solid choice for serious paleo dieters who are seeking the convenience of prepared meals. I've pored over the Ice Age Meals menu, consulted colleagues, and done careful research on the paleo diet. If you're a paleo dieter, Ice Age Meals will have you eating like a caveman with a freezer and a microwave.
Ice Age Meals may not be a good fit for non-paleo dieters, who might do better with the more generalized menus on our list of the best meal delivery services. But if you're interested in healthier eating, you definitely should check out the cooking classes "Paleo Nick" runs at Ice Age Culinary. Read on to find out more!
| | |
| --- | --- |
| Pros | Cons |
| Paleo-compliant meals | Limited appeal for non-paleo dieters |
| No subscription required | No vegetarian or vegan entrees |
| Also offers paleo snacks and extras | Fixed menu with limited rotation |
What's on the Ice Age Meals Menu
Ice Age Meals offers chef-prepared, ready-to-eat paleo meals. Proteins include game meats like grass-fed bison and elk as well as fresh vegetables (organic where possible). All meals are free of gluten, dairy, and soy in keeping with the paleo diet.
Meal Options
You choose from a fixed menu of 34 prepared meals, including breakfast items and main entrees. Meals are added and removed occasionally, but the rotation is limited. Ice Age Meals also offers a modest selection of paleo snacks and spices.
Meals come in single-serving portions, but you can order up to 60 meals, so Ice Age Meals might still work for paleo-eating couples. If you're feeding a family, Green Chef offers organic meal kits with up to 6 servings.
| Diet | Is Ice Age Meals Good For This Diet? |
| --- | --- |
| Paleo | Yes, all meals suit paleo dieters |
| Keto | Yes, there are a few keto entrees |
| Dairy-Free | Yes, all meals are dairy-free |
| Gluten-Free | Yes, all meals are gluten-free |
| Soy-Free | Yes, all meals are soy-free |
| Nut-Free | Sort of. Some meals use coconut milk, but all others are nut-free |
| Organic | Yes, Ice Age Meals uses many organic ingredients |
| Vegetarian | No, there are no vegetarian entrees |
| Vegan | No, there are no vegan entrees |
The menu is made of American meals with some Mexican thrown in, too. You'll find things like Smoked Brisket with Rice, Pork Carnitas with Salsa Roja, and Fajita Pie. Some of the breakfast options include a Deep Dish Breakfast Pizza. The selection is good enough to find something different for each day of the week, but you'll definitely be repeating the breakfasts as there were only 3 options on the menu at the time of this review.
There are some snacks and spices available to purchase, too. These are under the Shop section of the website and aren't immediately obvious. The snack selection is small, but you can choose from a couple of different types of jerky and dried fruit. The spices include Lemon Pepper, and Ice Age Meals own Super Radical Rib Rub.
The spices and snacks are available to purchase in a variety of pack sizes. If you're not sure what to do with the spices, just click on View Product, and you'll see recommendations about how best to use it and a full ingredient list. There's also the Merch section with t-shirts, aprons, and hoodies.
If you fancy a bit of cooking, you can sign up for the 21-day Culinary Crash Course. Here, you'll receive a weekly grocery list, recipe PDFs, and instructional videos for 21 recipes, so you can prepare Ice Age Meals at home. You'll need to go shopping as the ingredients aren't sent to you. If you're short on time, you should stick with the prepared meals.
Because Ice Age Meals sends prepared meals, your customization options are limited. All items have ingredient lists and nutritional information on the label. Since the paleo diet excludes legumes, grains, and dairy, you don't need to worry about those problem ingredients. But there are no filters to help you avoid ingredients like tomatoes or eggs.
All meals are dairy, gluten, soy, and nut-free, so you can rest assured you'll find suitable meals if any of these allergies affect you. Some meals contain coconut, but there are no other nuts in the meals.
The only customization option is the number of meals you can order. Choose from boxes of 16, 30, or 60 meals. Ice Age Meals isn't the only paleo-friendly meal delivery service and some have more customization options. Check out our list of the Best Paleo Meal Delivery Services for 2023 for more options.
Ice Age Meals is geared strictly toward serious paleo dieters. If you're just looking for healthy prepared meals, you will do better with a more generalized prepared meal service like Factor. Outside of the dried coconut snacks, Ice Age Meals has nothing for vegans and vegetarians, so you should check out our list of the best vegan meal delivery services.
Unboxing
All meals are fully prepared and flash-frozen to preserve flavor and nutrients. The containers are clearly labeled and designed to fit nicely in your freezer. Meals are clearly labeled with nutritional and ingredient information and macros for paleo buffs. All shipping boxes and insulation are recyclable.
Cooking with Ice Age Meals
Ice Age Meals make paleo dieting easy. There are no fires to start and no mammoths to be killed. You simply remove the sleeve from the frozen meal (leave the plastic on) and microwave for 4 minutes. Remove the plastic, stir the food, then microwave for an additional 1-2 minutes, and your Ice Age Meal is ready to eat.
If you've defrosted your meal in the refrigerator overnight, you can microwave for 2-4 minutes, then stir and heat for 1 minute. You can also heat your meal in the oven for 25-30 minutes at 375 degrees. And if you're interested in cooking your own paleo meals from scratch, check out the Culinary Crash Course.
Shortlist of My Favorite Meals
Main Entree: Elk Shepherd Pie
Elk Shepherd's Pie is flavorful paleo comfort food. House-ground elk meat is mixed with diced onions, carrots, celery, green bell peppers, vine-ripened tomatoes, and a house spice blend. But instead of dairy-heavy mashed potatoes, this Shepherd's Pie is topped with a naturally sweet yam puree that accentuates the sweet, clean flavor of elk meat.
Macros: Carbs: 59g; Protein: 50g; Fats: 17g; Calories: 591
Breakfast: Smoked Pork Belly and Eggs with Organic Purple Sweet Potato
Smoked Pork Belly and Eggs combines richly seasoned and smoked pork belly with eggs, organic purple sweet potatoes, and zesty tomatillo salsa. The tangy flavors of tomatillo, onion, cilantro, and serrano chiles cut the richness of the tender pork belly and scrambled eggs. The accompanying organic purple sweet potatoes make this a tasty and nutritious breakfast.
Macros: Carbs 43g; Protein 49g; Fat 62g; Calories 925
Ice Age Meals' Bison Jerky is an ideal on-the-go protein-packed snack made from grass-fed and grass-finished bison. This jerky is gluten-free, soy-free, and contains minimal sugar, with the only added carbs coming from the organic coconut aminos. Whether you're hiking, traveling, or simply in need of a quick and nourishing bite, Ice Age Meals' Bison Jerky is a go-to choice.
Macros: Carbs 2g; Protein 11g; Fat 0.5g; Calories 60
Super Radical Rib Rub is a versatile and flavorful all-purpose seasoning that'll enhance carne asada, burgers, blackened shrimp, ribs, steaks, and more. It strikes a balance between a hint of heat and a deep, robust flavor profile, making it a versatile choice for any meat or savory dish. Super Radical Rib Rub gives your meals an extra kick of flavor you'll love.
Ingredients: ancho chile powder, kosher salt, paprika, granulated garlic, granulated onion, black pepper, mustard powder, cumin, cayenne pepper.
Nick Massie's Culinary Crash Course is a great education in cooking paleo meals at home. Before he founded Ice Age Meals, Massie was a professional chef and culinary educator. His course provides you with 21 paleo recipes, a shopping list, and video instructions on how to prep and cook these meals.
One of the hardest parts of starting a specialized diet is learning new recipes. The Culinary Crash Course gives you a solid, basic grounding in paleo cooking techniques.
Prices
| | | |
| --- | --- | --- |
| Starting From | Order Size and Price (Before Shipping) | Shipping Fee |
| $11.99 per portion | 16 Meals: $191.84 and up | Free |
| $11.99 per portion | 30 Meals: $359.70 and up | Free |
| $11.99 per portion | 60 Meals: $719.40 and up | Free |
Ice Age Meals doesn't provide bulk discounts, so you'll pay the same price per serving whether you buy 16, 30, or 60 meals. The least expensive meal on the menu, Chicken Tikka Masala with Rice, costs $11.99. All other meals range from $12.99 to $15.49. With a selection of meals that I found appealing, my 16, 30, and 60 Meal Box orders cost $223.84, $406.70, and $811.40, respectively.
Snacks come in 6- and 12-packs with some also available in a 4-pack. Prices range from $24.99 for a 6-pack of dried coconut to $99 for a 6-pack of bison jerky. The Crash Culinary Course costs $99.
Shipping costs are included with your order. Getting frozen meals to your doorstep is much more complicated than sending fresh food with ice packs. Most frozen meal companies charge high shipping fees, so the free shipping at Ice Age Meals is especially nice.
Shipping & Delivery
Ice Age Meals only ship on Monday and Tuesday. The cutoff date for placing or changing weekly orders is Tuesday at noon Pacific time. All meals ship from Ice Age Culinary headquarters in Nevada and are sent for 2-day delivery, so your meals should arrive on Wednesday or Thursday.
Ice Age Meals ships throughout the United States, including Alaska and Hawaii. Only a few meal services ship outside the continental United States, and those that do generally hit you with a hefty surcharge for Alaskan and Hawaiian orders. With Ice Age Meals, even paleo dieters in Anchorage or Honolulu get their orders shipped free!
Ice Age Meals doesn't have a dedicated app, but its website is very phone browser-friendly, and you should have no trouble placing meal orders on your phone or your desktop.
How Ice Age Meals Works
With Ice Age Meals, you order meals by the box. There's no subscription and no commitment. You order the entrees you want, make room in the freezer, and you have paleo-compliant food that's ready in just a few minutes.
How to Sign Up
Choose Your Meal Box
You can choose between a 16 Meal Box, a 30 Meal Box, or a 60 Meal Box.
If you choose any other number, customer support will contact you to fix your order.
Choose Your Meals
You can choose any meal on the menu, in any quantity, so long as you choose 16, 30, or 60. Whatever you order, I recommend checking your freezer to make sure you have room. I wouldn't recommend the 60 Meal Box if you don't have a dedicated chest freezer to store the meals.
Checkout
When you've finished choosing meals, click the Checkout button. While you can also order snacks and spices, they'll be billed and shipped separately.
Enter Your Billing and Shipping Information
Ice Age Meals offers several payment methods. In addition to using major credit cards through ShopPay, you can purchase your Ice Age Meals using Paypal, Google Pay, or MetaPay.
Confirm Your Purchase
Your order will be shipped out on the following Monday or Tuesday and should reach you within 2 days after your tracking number arrives in your email.
Managing Your Subscription
There's no subscription to manage, so things are easy here. If your order is delayed, you can contact UPS or give Ice Age Meals a call.
Customer Service
Ice Age Meals can be reached by phone, text, e-mail, or webform. Its website, alas, doesn't provide business hours. And while it offers answers to 5 Frequently Asked Questions on its site, there are many other questions that remain unanswered. In its defense, Ice Age Meals is a small operation and one where the chief wears many hats.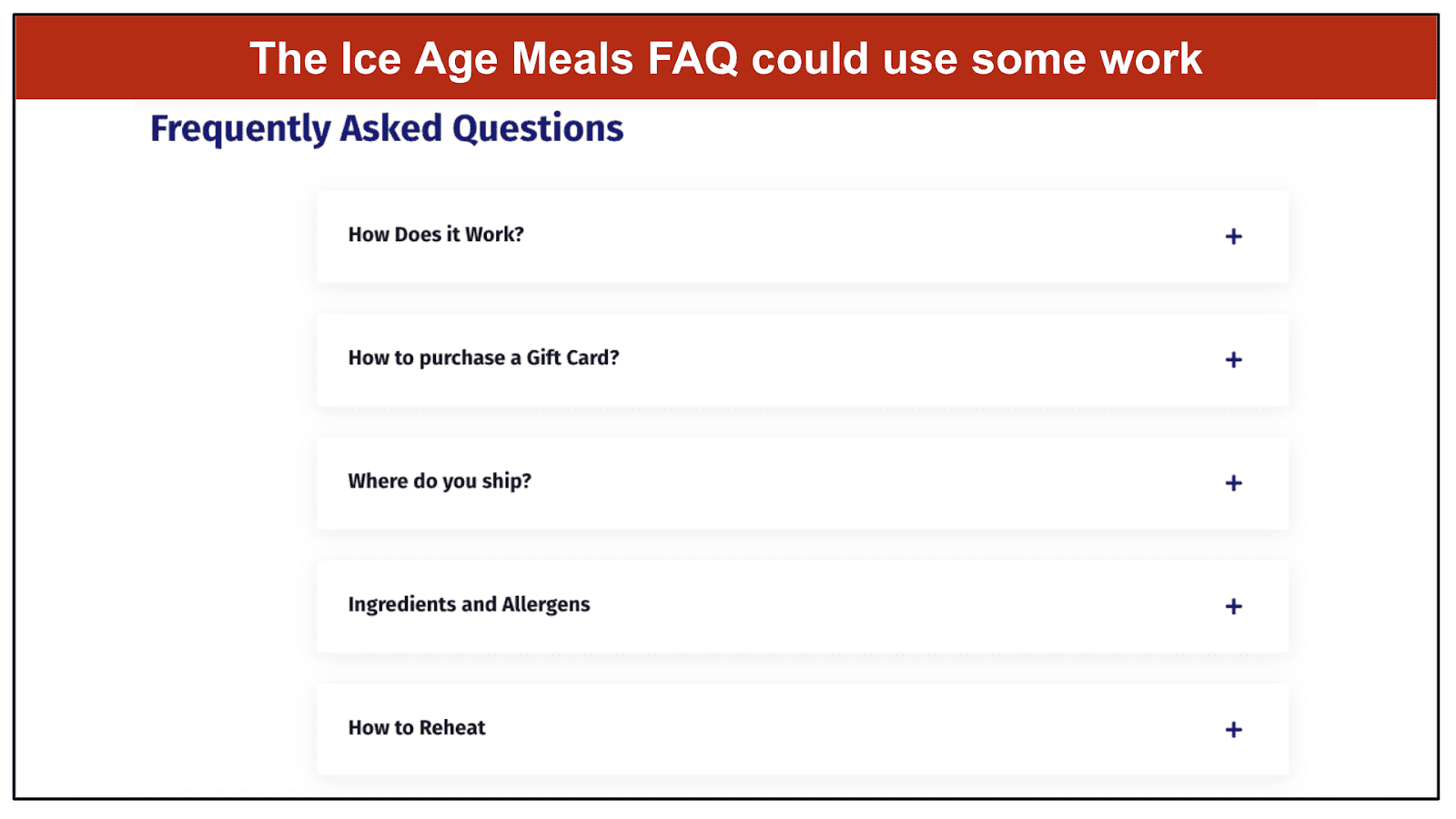 I reached out to Ice Age Meals using its webform to ask about shipping costs to Hawaii or Alaska. I sent the query on a Friday afternoon and heard back on Monday. The response told me there's no extra charge for shipping to those places. It took a bit longer than other big meal services with full-time customer service, but the reply came directly from the owner, Nick "Paleo Nick" Massie!

Ice Age Culinary (the Ice Age Meals parent company) should take time to update the FAQ. Other than the FAQ, I have nothing to complain about with the customer service. It's not every day I get a response from a Paleo and Crossfit celebrity.
How Ice Age Meals Compares to Other Meal Delivery Services
The Bottom Line: Is Ice Age Meals Worth It?
If you're a dedicated Paleo dieter, you might find that Ice Age Meals is worth the cost. The ingredient quality is excellent, and there's no recurring subscription, so you're under no obligation.
If you want to learn how to cook paleo meals at home, I recommend signing up for the Culinary Crash Course. It's a brilliant way to learn paleo cooking, though you'll have to buy your own groceries.
If you're not a paleo dieter and just want healthier prepared meals, I recommend Factor's fully prepared meals designed by dietitians and cooked by chefs.
FAQ
How did Ice Age Meals do after Shark Tank?
Ice Age Meals didn't receive any Shark Tank investor funding, but owner Nick Massie has kept Ice Age Meals in business. Massie has even expanded his offerings to include paleo culinary training as well as paleo snacks and spice blends.
What meats are best for a paleo diet?
The best meats for a paleo diet include lean cuts of grass-fed and pasture-raised beef, poultry, and pork. Many paleo dieters also enjoy lean, nutrient-dense game meats like bison and elk. Ice Age Meals offers a choice between jerkies made with beef or bison.
What is the 85/15 paleo rule?
Many paleo gurus recommend at least 85% paleo-friendly foods and no more than 15% non-paleo items. This gives you some wriggle room, so you can enjoy treats like cream in your coffee while reaping many of the benefits of paleo. One of the best ways of ensuring an 85/15 paleo diet is by signing up with a company like Ice Age Meals that offers only paleo-compliant items.
What's the difference between keto and paleo?
Paleo restricts dairy products, while dairy products like cheese and cream are common keto ingredients. Although Ice Age Meals has a few meals that are suitable for keto, serious keto dieters will find more options with 1 of our best keto meal delivery services.