MamaSezz is a vegan service offering high-quality prepared meals made from whole foods-based ingredients. In this MamaSezz review, I'll tell you everything you need to know about this plant-based meal delivery service.
I've taken a deep dive into its offerings, ingredients, delivery options, and overall quality. I've also considered how it compares to other vegan meal delivery services.
Overall, MamaSezz delivers on its promise of whole-food, plant-based meals. Its menu isn't as broad as leading vegan services like Purple Carrot, but it offers unique filters like SOS free (meals with no salt, oil, or sugar). For certain diets, MamaSezz may be the best option.
| | |
| --- | --- |
| Pros | Cons |
| Time-saving prepared meals | Limited menu rotation |
| Whole-food, plant-based ingredients | Prices can be a bit high |
| Lots of unique dietary options | No shipping to AK or HI |
MamaSezz's menu is filled with prepared vegan meals. There's a selection of breakfasts, lunches, and dinners, but there's a lot more to the story than that. You can choose from several meal bundles, depending on your needs and preferences.
For example, there are 2 categories of bundles – Featured and Specialty. Each category contains around 5 to 7 bundles.
Under Featured Bundles, you'll find 7 options:
Á La Carte

Detox & Reboot

Guaranteed Weight Loss

Guaranteed Weight Loss 2

Get Me Started

Protein Bundle

Peak Performance
There are also 4 Specialty Bundles:
The menu is focused on whole-food, plant-based ingredients, and it offers a variety of gluten-free, oil-free, peanut-free, and low-sodium options to support different dietary needs.
On the MamaSezz menu, you'll find a wide range of meals, snacks, and sides that are designed to make healthy eating easy and enjoyable. Some popular menu items include the Mama's Burger, which is made with a mix of lentils, walnuts, and vegetables, and the Superfood Salad, which features a mix of nutrient-rich greens, veggies, and seeds.
MamaSezz also offers a variety of meal plans to make healthy eating more convenient. These plans include options like the Lean Protein Power Pack, which is designed for athletes and those looking to build muscle, and the S.O.S. Free Bundle, which is low in sodium and perfect for those looking to support their cardiovascular health.
It's best for busy individuals who want to eat healthy but don't have the time to cook their own meals. It's also a great option for those following a plant-based or vegan diet, as all of the meals are free from animal products.
I find it frustrating that you can't easily view the menu without first having to answer an annoying questionnaire. However, when you do finally reach the menu, you'll find a good variety of options to support different lifestyles and health goals.
MamaSezz is a good choice for anyone with specific dietary needs, although Factor has a bigger menu of healthy prepared meals as well as better prices. It has plans for keto and other diets, with a smaller emphasis on plant-based meals. If you're not a strict vegan, Factor is likely a better choice than MamaSezz.
Meal Options
MamaSezz offers a wide range of plant-based meals free of animal products. These dishes are packed with flavor, protein, and other essential nutrients, making them a great choice for vegans and non-vegans alike.
MamaSezz's menu options include mains and sides. Mains include food like the pictured High Protein Burger and sides include options like Mama's Baked Beans, Mama's Southern Style Potato Salad, and Tuna-Ish Salad. I call these items "food" rather than "meals" since each item isn't really intended to be a full meal.
MamaSezz intends you to use individual items to form your own meals throughout the week. For instance, you could take the High Protein Burgers and combine those with the Mama's Baked Beans for a balanced and nutritious dinner.
In addition to mains and sides, the menu has snacks, desserts, and other add-ons. These include Chocolate Dream Cookies, MamaSezz's Organic Tortillas, Cacao Maca Magic Superfood Mix, and lots more. These are available at any time.
MamaSezz caters to multiple different dietary needs and preferences, including options for peanut-free, gluten-free, and dairy-free diets. I appreciate that the company understands how common food allergies are. Everyone deserves a safe (and delicious) dining experience.
MamaSezz also offers oil-free meal options that are low in fat and high in nutrients. This is great if you're looking to reduce your oil intake, as these meals are made with whole-food ingredients and are free of added oils or fats.
| | |
| --- | --- |
| Diet | Is MamaSezz Good For This Diet? |
| Oil-Free | Yes, you can find a good number of options |
| Paleo | No, this is not a good service for paleo |
| Low-Carb | Yes, plenty of meals fall into this category |
| Low-Calorie | Yes, there are weight loss-specific meals |
| High-Protein | Yes, there are several good options |
| Gluten-Free | Yes, there are some gluten-free options |
| Peanut-Free | Yes, this is definitely available, too |
Customization
MamaSezz lets you choose from a variety of meal plans, including options for weight loss, performance, and family. They aren't really customizable, though you can create your own custom plan via the à la carte menu.
While there aren't customization options, you can filter for specific meals or ingredients. Some examples here include dietary needs like Nut Free, SOS Free, and Soy Free. You can also simply select the meal types you want including Breakfast, Dessert, Dinner, Lunch, Sauces, Side Dish, or Sides.
If customization is a priority for you, consider a meal kit like Blue Apron. Many of its recipes are customizable with options like Make It Vegetarian. The menu is less diet-specific, but you get a variety of meal kits as well as microwavable prepared meals.
Unboxing
Your order arrives in a cardboard box along with an insulating liner. Inside the box, you'll find all of your food packaged in individual containers, which are neatly labeled for easy organization.
MamaSezz uses environmentally-friendly packaging that is specifically designed and tested to maintain the freshness of the food during transit. These boxes are like fully recyclable mini-fridges, which is on par for most prepared meal delivery services.
Overall, I like the way the food is packaged. Things like mish-mash jumbles of containers, spilled ingredients, and unlabeled items can really damage the unboxing experience. It may seem like a small thing, but I think a well-organized box shows that the company cares.
MamaSezz's ice packs can maintain a low temperature for up to three days, so you can trust your food will stay cold. Just remember to transfer all items from the MamaSezz box to your own fridge as soon as possible after receiving your order.
I found the recycling practices to be quite unique compared to other services. I've never seen another company offer a hassle-free return process for its packaging materials. I support any company with a proactive recycling program!
Each box comes with a return shipping label, and you can schedule a free FedEx pick-up either by calling 1 (800) 463-3339 or by visiting the FedEx website. To return the packaging, place the empty materials back into the box, attach the provided return shipping label, and schedule a pick-up with FedEx.
Cooking with MamaSezz
I was pleasantly surprised to learn that MamaSezz's meals arrive fresh and never frozen. The service includes a "use or freeze by" date on all its packaging, which is usually scheduled within 10-18 days from the delivery date.
You can extend the storage time by freezing the food for up to 2 months but expect a slight reduction in meal quality. This also isn't advisable for all of MamaSezz's offerings. Some individual items, like cornbread, don't freeze well.
Some of MamaSezz's items are shelf-stable, though most should be refrigerated. This includes many desserts, cookies, and other add-ons. If you're unsure about any particular item, it's always a good idea to check the label as this information is readily visible.
Heating up MamaSezz meals is a hassle-free process. For meals that come in a tray, you can simply remove the wrap and heat it in the oven or microwave. If your meal comes in a bag, empty it into a saucepan or microwave-safe bowl to heat it up on the stovetop or in the microwave.
Shortlist of My Favorite Meals
One of the meals that sounds intriguing to me is No Salt Millie's Chili. Unlike most of MamaSezz's menu, this chili works as a stand-alone vegan dish. That means you don't really have to pair this with another side dish to get a complete, balanced meal.
I also love all the possibilities of options like these BBQ Protein Strips. These soy-based "chicken tenders" make a great snack by themselves. You can also transform them into a meal by tossing them in a salad or on a sandwich.
However, if you're after the tastiest vegan food, I'd be looking at Purple Carrot instead. It offers much better-looking meals that really celebrate both veggies and internationally-inspired cuisines and dishes.
Prices
| | | |
| --- | --- | --- |
| Starting From | Order Size and Price (Before Shipping) | Shipping Fee |
| $19.88 per portion for the Á La Carte "Small Bundle" | 8 meals for "1+" people/week: $159 | Free |
| $19.90 per portion for the Á La Carte "Classic Bundle" | 10 meals for "1+" people/week: $199 | Free |
| $9.48 per portion for all other bundles | 14 days' worth of breakfast, lunches, and dinners – 42 meals for 1+ people/week: $398 ($199 per week) | Free |
MamaSezz's pricing is fairly simple. You can get any of the bundles for $199 per week or the Á La Carte "Small" or "Classic" bundle. The bundles all contain 14 days' worth of breakfasts, lunches, and dinners (42 meals). The Á La Carte Small Bundle comes with 8 meals, and the Classic Bundle has 10 meals.
Keep in mind that there are extras, add-ons, and snacks you can add, too. These cost anywhere from around $8.99 for 4 Chocolate Dream Cookies to around $23.99 for 14+ servings of the Cacao Maca Magic Superfood Mix.
I found the Á La Carte Small and Classic Bundles to be a little confusing. The website says they're suitable for "1+" people. Every household is different, though, so this information feels a bit arbitrary.
You might've noticed that this is a pretty expensive service. I mean, $398 for 2 weeks' worth of food isn't the most economical meal delivery service out there. Purple Carrot, for example, has prices starting from $8.50.
At least you have every meal time of the day covered for that price, as most meal delivery services only cover lunch or dinner. To me, there's something to be said about the convenience of never having to worry about shopping or cooking. That makes the price more worth it, for sure.
MamaSezz doesn't let you pick your own delivery days. Your order will generally arrive "by Thursday or Friday", according to the website.
You'll have to place your order by 8 pm EST on Sunday to get it by the following Thursday or Friday. Keep in mind that this is also the same deadline to make any changes to your order.

You can get delivery to all 48 states, or you can pick it up in person if you're located near Keene, New Hampshire. To do this, simply place your order online and include "Keene pickup" in your cart notes by 8 pm EST on Sunday.
You can choose to subscribe for recurring shipments or order one-off, Á La Carte orders. Options for delivery frequencies include every 1, 2, 3, or 4 weeks.
Depending on which route you want to go, there are several steps to follow. Here's how it all works.
How to Sign Up
Click Get Started on the home page: Once you're there, begin the process of filling out the questionnaire.
Fill out your state.
Choose your bundle: Select whether you want the Á La Carte or Curated Bundle option. By the way, it's important to remember that the Curated Bundles are the same ones as can be seen in the top menu bar.
Choose your bundle size: For Á La Carte bundles, decide what size you'd like – Classic or Small.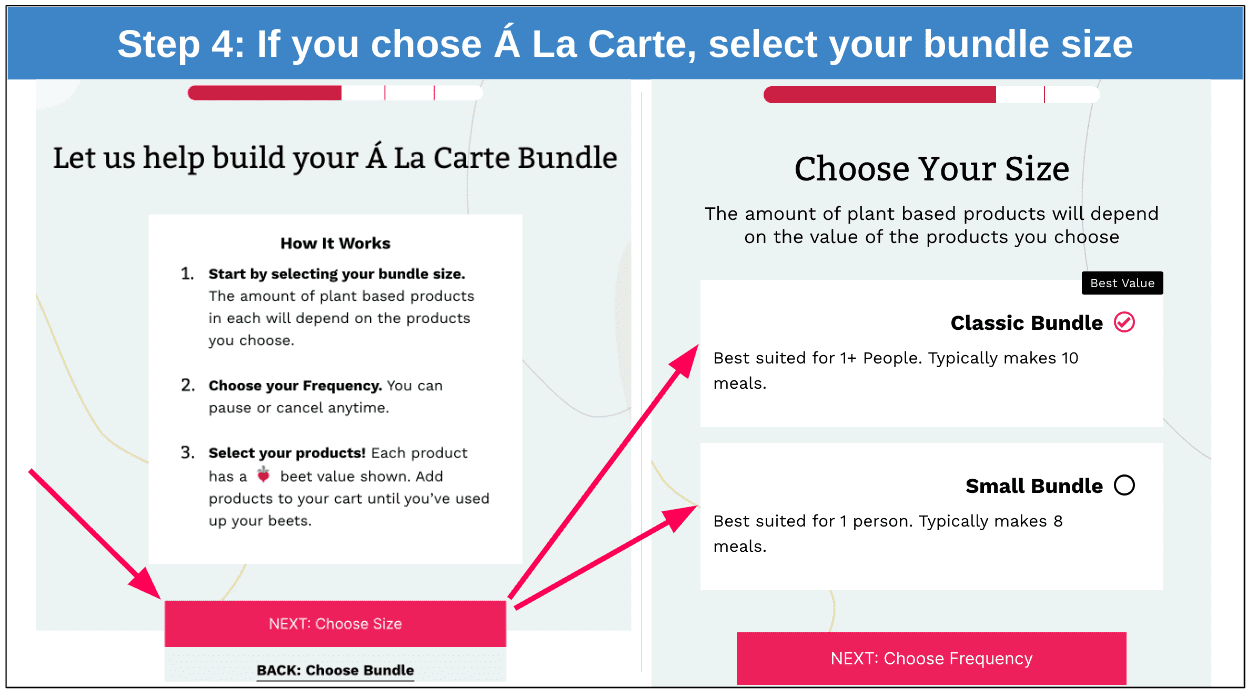 Choose your bundle: Here's what you'll see whether you chose the Á La Carte or Curated Bundle (you'll see the same screen regardless). Now choose your favorite bundle.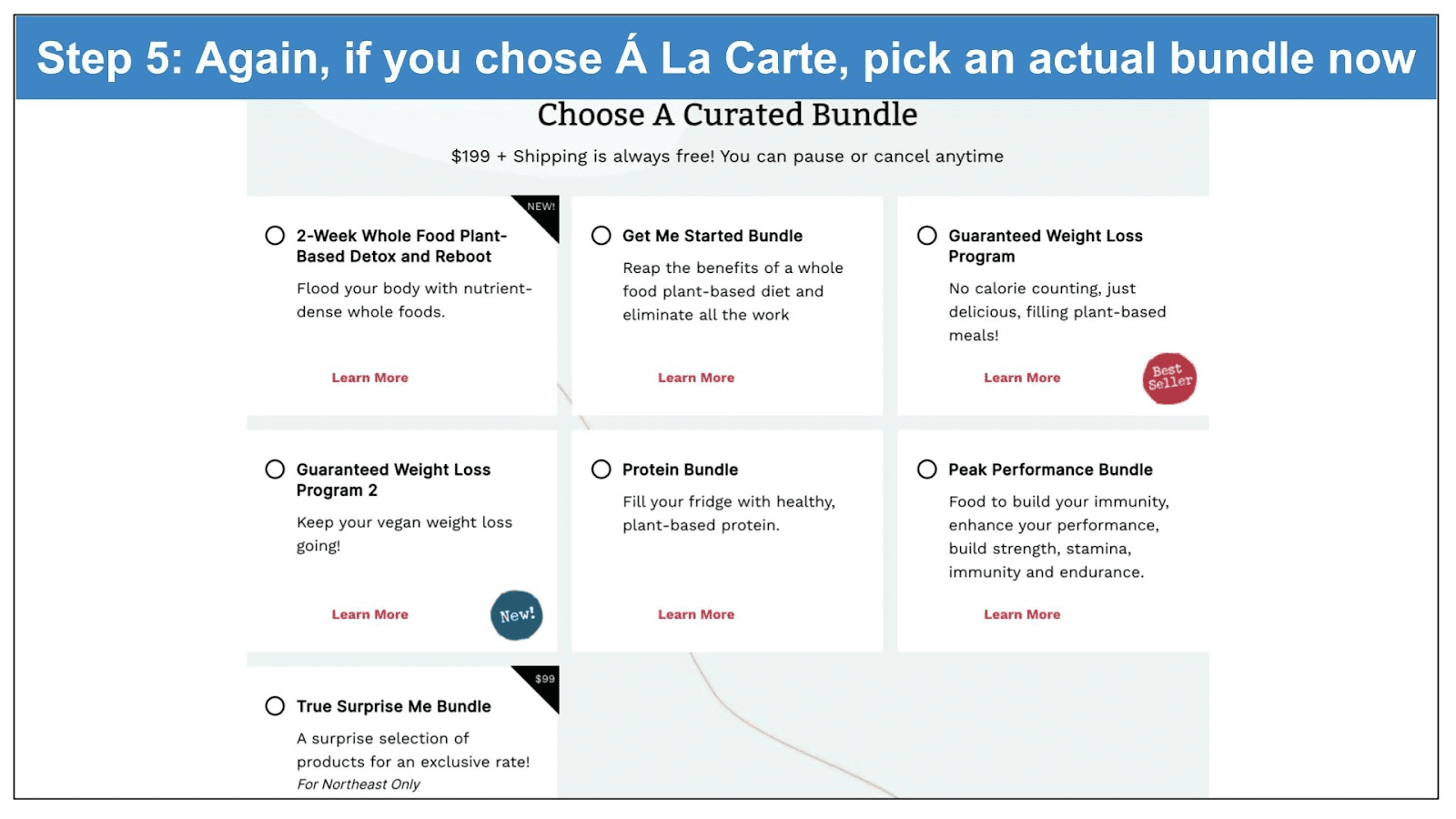 Choose your delivery frequency: Choose whether you want a one-off order or recurring shipments every 1 to 4 weeks.
Select any add-ons (or skip this step).
Select your meals (Á La Carte only).
For Curated bundles, choose your add-ons.
Check out: Finally, add your information to complete the checkout process.
Managing Your Subscription
If you need to make any changes, you can easily do so from within your account dashboard. If you need any help, you're always welcome to contact the responsive and friendly customer service team as well.
Customer Service
It's easy to get in contact with MamaSezz via phone, chat, or email. For instance, the website features a live chat service available from 1 am to 4 pm EST on Monday and Tuesday, and from 12 pm to 8 pm from Wednesday to Saturday.
Through this service, you can check the status of your order at any time. If you prefer to communicate via email, email the support team at heartbeetgang@mamasezz.com.
I found the live chat agent to be friendly and helpful. They were clearly enthusiastic about MamaSezz, and they answered all my questions. Overall, I really have no complaints.
MamaSezz guarantees a refund if its products arrive damaged as a result of shipping. However, the company cannot guarantee refunds for other reasons. I recommend getting in touch with the customer service team if you have any questions about that.
How MamaSezz Compares to Other Meal Delivery Services
MamaSezz vs. Factor: Factor is a favorite of mine thanks to its high quality prepared meals. Each dish contains ethically-sourced protein and delicious vegetable-based sides. The vegan and vegetarian selection is slightly more limited, however, as most of Factor's menu is designed to be keto-friendly.
MamaSezz vs. Purple Carrot: I prefer Purple Carrot because it has a wider variety of vegan meal options and provides more flexibility than MamaSezz. There are meal kits, prepared meals, and a Plantry for vegan grocery items. Meals are complete and fully balanced, so you don't have to combine mains and sides like you have to do with MamaSezz.
MamaSezz vs. BistroMD: BistroMD's prepared meals are better for general weight loss. It offers a wider variety of specific dietary plans, like gluten-free and diabetes-friendly. However, it can't compete with MamaSezz's range of plant-based options. BistroMD is the more affordable service, so I recommend it unless you adhere to a vegan diet.
The Bottom Line: Is MamaSezz Worth It?
MamaSezz offers plant-based prepared meals designed to be healthy, convenient, and delicious. It's expensive, but it could be worth it if you're looking for a convenient way to lose weight or simply enjoy plant-based meals throughout the day. If you're just looking for a few meals a week, , I highly recommend checking out Purple Carrot instead.
FAQ
What is MamaSezz?
MamaSezz is a meal delivery service that offers plant-based prepared meals designed to be healthy. It offers several "Bundles" like Detox & Reboot, Guaranteed Weight Loss, Protein Bundle, Peak Performance, and Mastering Diabetes, depending on your needs.
Are MamaSezz meals healthy?
Yes, MamaSezz meals are designed to be healthy and are made with whole-food ingredients. They are free of animal products, refined sugars, and processed foods.
How does MamaSezz work?
MamaSezz offers a variety of meal plans and options for customers to choose from. You can order meals online and have them delivered to your doorstep. Or, you could pick them up if you leave near Keene, New Hampshire.